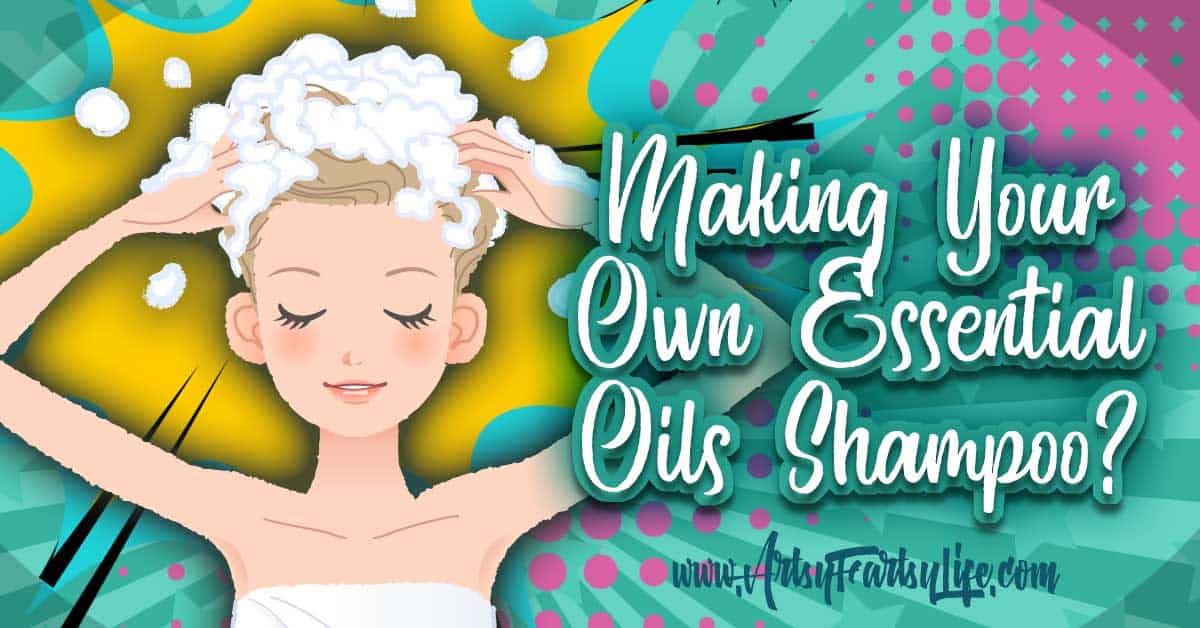 Everyone has a complaint about their hair. It's too straight. It's too curly. It's too short. It's too long. It's too oily/dry. It's thinning… so many things and so many shampoos, conditioners and serums pushed by the hair care industry.
Note: Some links in this post are affiliate links, which means I receive a commission if you make a purchase. I try to find amazing things that my readers will love as much as I do!
All with limited results. So what can you do? What your grandparents or great grandparents did… use essential oils to get back to basics. Sometimes getting back to the simple is better for you. After all, where do you think the chemical bases come from that the big companies use?
Essential oils are distilled from parts of plants or other substances. Plant based essential oils use seeds, roots, flowers, leaves, fruit peel or wood. Uses of essential oils date back thousands of years and were successful in medicinal, culinary, cosmetic or perfume uses.
When looking at uses for hair, there are several oils that can be used alone or in a blend to accomplish many goals. Different oils or blends can help you have healthy, shiny hair or treat dry scalp and dandruff, reduce hair loss and promote new hair growth.
Oils can be used "neat" or not, diluted with a carrier oil, mixed with a carrier oil like coconut or jojoba, or put into your shampoo and/or conditioner. If used neat or with a carrier oil, just massage a few drops into your scalp. If used in shampoo and/or conditioner, keep in a dropper bottle and add a few drops into your palm along with your shampoo or conditioner, mix and use on your hair.
There are a bunch or oils that you can use, but here are the most common:
Lavender – this flower and plant has been used for centuries for a myriad of uses. In haircare, the oil moisturizes the scalp and balances sebum production. It's great for any type of hair, but that last part makes it great for oily hair. Regular use can increase scalp circulation, reduce hair loss and make hair strong and shiny. It also helps with psoriasis and dandruff and soothes irritated scalp. And it smells great!
Vetiver – Vetiver is derived from the roots of khus grass. It has an earthy or woody scent and is known to help calm and soothe the mind and body. It also has cooling properties that are great in prevention of hair loss.
Rosemary – This oil is one of the best for hair care. It is full of antioxidants that fight the free radicals that cause greying and thinning of hair. It adds shine and silkiness, and is great for treating dandruff, itchiness, and scalp irritation. The scent is strong and helps lift mood.
Chamomile – Chamomile oil has been used for hundreds of years as a healing oil. It has anti-inflammatory, antiseptic, anti-itching and anti-allergenic properties. It helps treat dry, irritated scalp, dandruff, eczema, and scalp acne. It is known to promote faster and healthier hair growth, and makes hair softer and shinier.
Thyme – Another herb known in the kitchen that can help your hair. It helps increase blood flow to the scalp and hair follicles which in turn helps promote hair growth and prevent hair loss. It also helps your shampoo clean more deeply leaving your hair lustrous and bouncy.
Cedarwood – who hasn't smelled a cedar chest? That great scent has amazing benefits for your hair. It treats thinning hair and conditions such as alopecia and promotes hair growth. It also can be used to treat dandruff.
Clary Sage – this oil is an amazing treatment for hair growth. Its hormone balancing effect helps treat female pattern baldness. It also nourishes hair to leave it soft and manageable.
Cypress – cypress oil works by improving blood circulation to scalp. This promotes hair growth and also affects the texture and shine of your hair. It has some of the same properties for hair as Clary Sage.
Ok, so 1) yes, you can use oils on oily hair and 2) no it won't make your hair and scalp oilier (trust me, I know!). There are all kinds of hair recipes out there and a simple Google search will render hundreds.
Here is a basic one that I use that helps promote new hair growth, leaves hair shiny and soft (you don't even have to "make" your own shampoo!):
Easy Essential Oils Recipe For Promoting New Hair Growth
Mix in a dark colored dropper bottle. Add 2 or 3 drops of the mixture to your shampoo and to your conditioner. Leave the conditioner on for 2 or so minutes and be sure to massage it into your scalp.
You should see new hair growth within about 2 weeks of daily use. You can also massage it into your scalp neat. It smells fantastic! It works so well that my hair stylist asked me what I was doing differently!
Rosemary Mint Shampoo
I love that super expensive rosemary mint shampoos that you get when you stay in hotels! AND I don't mind paying for things that make my life amazing, but even the best shampoos have ingredients that I don't love using on my body.
With that in mind I have been working on the "perfect" rosemary mint shampoo. This may change from time to time as I discover new concoctions!
I make mine in 8 ounce PBA free dark colored flip cap bottles. This keeps the shampoo safe from light and I don't have to worry about dropping it in the shower!
10 Tbsp Baking Soda
20 drops Rosemary Oil
15 drops Peppermint Oil
3 Tbsp Almond Oil
Fill bottle with Aloe Vera Gel (about 6-7 ounces)
Note: It is tempting to make "batches" of shampoo so you have backups, but the aloe vera gel is not all that stable once you mix it with other ingredients. It is fine in this size bottle but don't try to get fancy and make multiple bottles. You could save them in the fridge to extend the time, but generally it is best to make smaller bottles more frequently. 
I get my essential oils from Rocky Mountain Oils who has great resources and a high quality product! (oh and fun rewards program that let's you get free products from time to time!) 
(Visited 27 times, 1 visits today)