Cold and flu season are a miserable time! And one thing I hate is having to take lots of different cold medicines… this one for sneezing, this one for stuffy head, etc. The nice thing about essential oils for colds is that you can make a special blend just for you or your family's symptoms!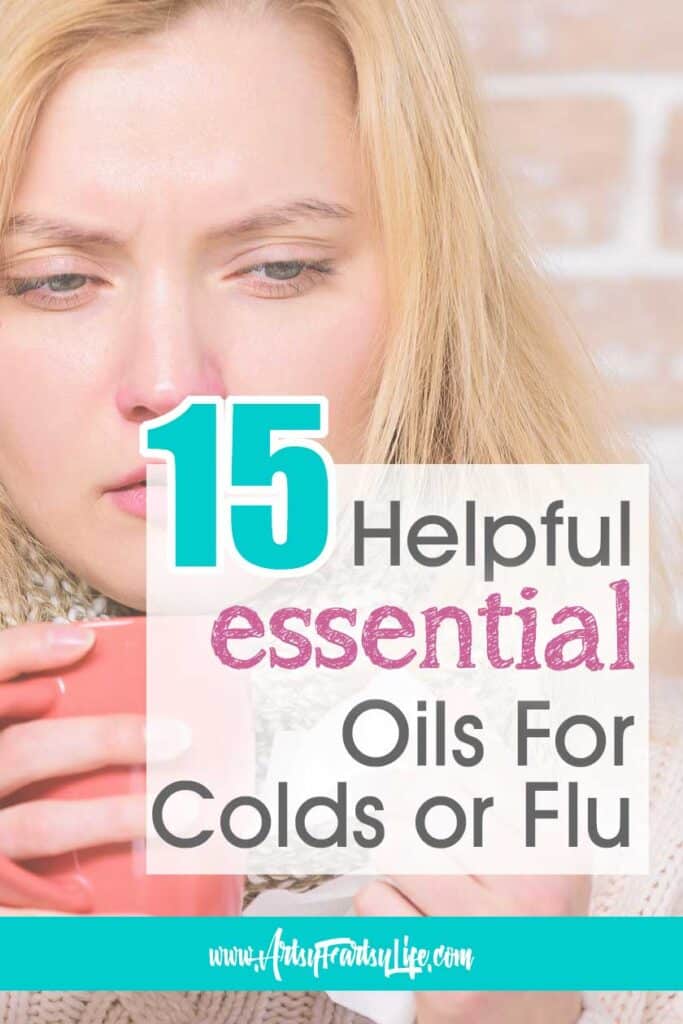 please note :: as an Amazon associate I earn from qualifying purchases, read my full disclosure policy here
Essential Oils For Colds and Flu!
Essential oils do all of the things that you need when fighting a common cold or the flu: antiviral, antibacterial, antimicrobial, astringent, anti-inflammatory, disinfectant, warming, expectorant, pain-relieving, and immune support.  
Use them in the bath, diffuse, hot or cold compresses, steam inhalation or massage.  
The thing that I didn't understand about essential oils when I started was that there are "rules". You don't have to have a recipe for making a "cold blend" because you can just mix up things that work for you and your cold symptoms!
For example, I KNOW tea tree oil is a great antibacterial BUT I HATE the smell and it is super bad to diffuse into the air if you have cats!
So I use other oils that have a similar property, but which I can stand using on me or in a diffuser!
For oils recommended for the bath, you can make a small bottle of your mix and then put about 20 drops in your bath.
You can also use a roller bottle or "inhaler tubes" that go right up your nose for easy access to your nasal passages. I like these inhalers because they get the smells right up in your nose and you can pick a color for each of your family members!
Here are the best essential oils for your colds!
Frankincense Essential Oils
Frankincense essential oil has outstanding healing properties. It's naturally antiseptic, astringent, anti-inflammatory and is a good expectorant.  
It will also relieve anxiety, which is important when you're sick.  Use in the bath or steam inhalation for congestion.
Oregano Essential Oil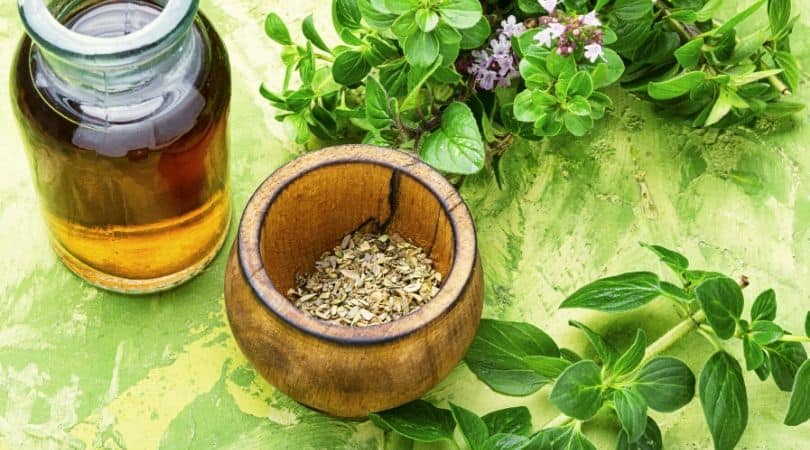 Oregano essential oil is known for having powerful antiviral and antimicrobial properties. Diffuse for best results.
Eucalyptus Oil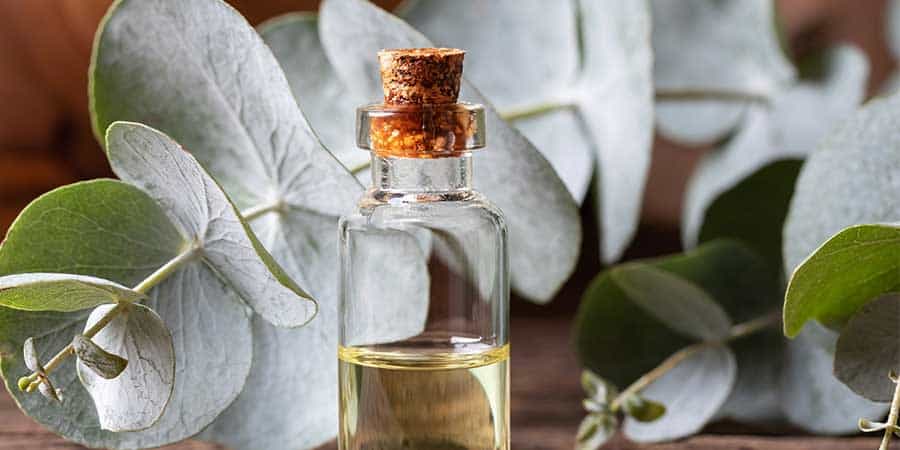 Eucalyptus essential oil is a good strong answer to congestion in your head and chest. Think about it, Vicks and Mentholatum chest rubs use eucalyptus in their products too… that is because it helps with a stuffy nose!
NOTE:  DO NOT INGEST!  It's toxic taken internally.
You can diffuse, massage, use in compresses or in a bath.
Tea Tree Oil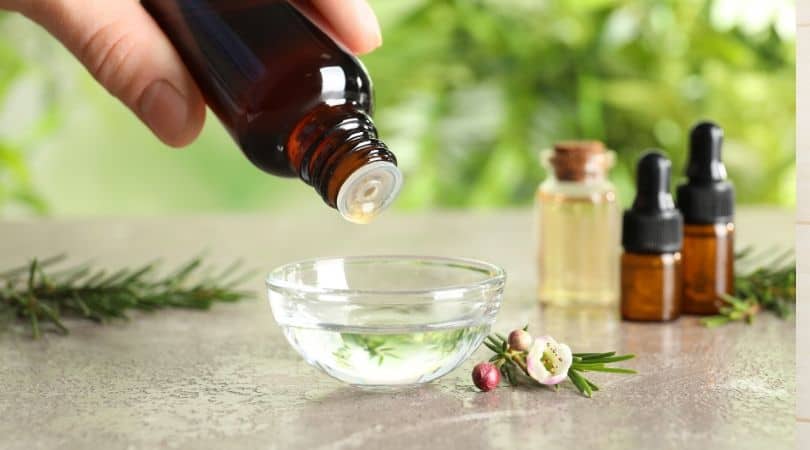 Tea tree essential oil is the superhero of your medicine cabinet. It's anti-viral, antibacterial and anti-microbial. It's excellent for relieving coughs, bronchial congestion and sore throats. Diffuse, steam inhale, massage or in the bath, tea tree will definitely shorten your sickbed stay.
Lemon Essential Oils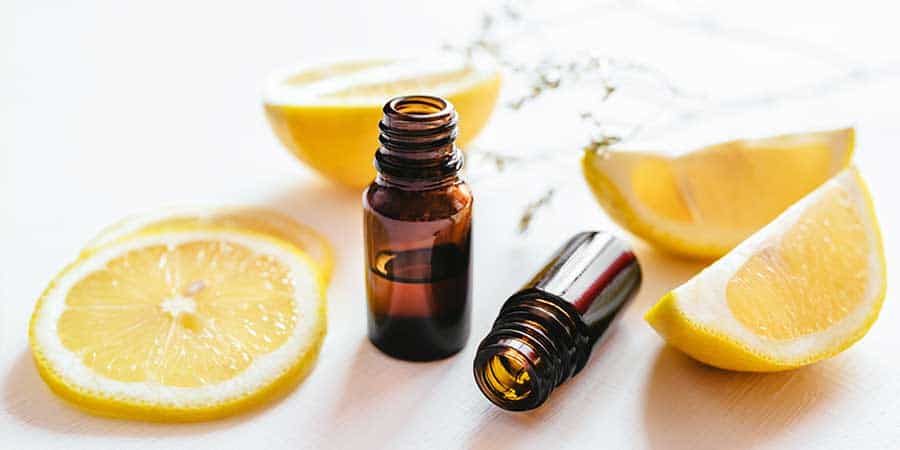 Lemon is especially good for treating the flu. It's known to reduce fever and help with fatigue. It's also antibacterial, antioxidant and anti-inflammatory which can also soothe body aches.
Diffuse or add a drop or two to your glass of water.
Lavender Essential Oil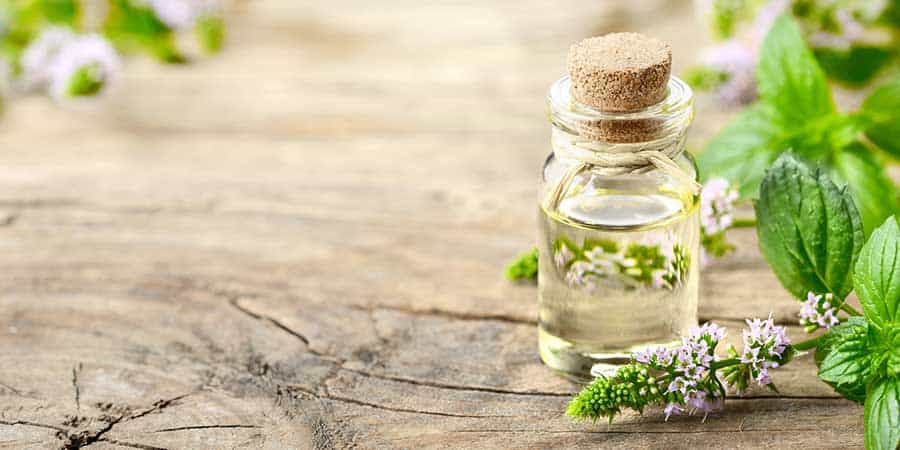 Lavender is a good help with congestion, coughs and pain. It will also help you sleep. Sleep is so important when sick since your body restores itself when you sleep. Massage, diffuse, steam inhale or add to a bath.
Lemongrass Essential Oils
Lemongrass essential oil is a good fever reducer. Diffuse, massage or steam inhale.
Peppermint Oil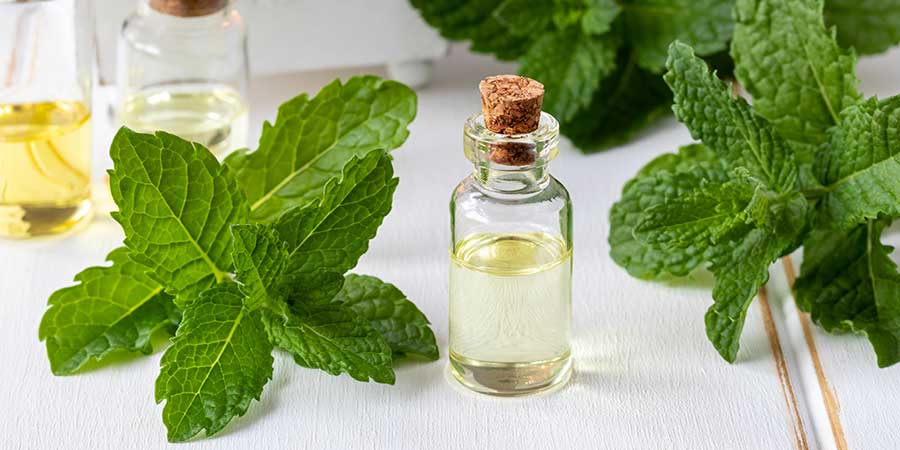 Peppermint essential oil has always been known to help with upset stomach and digestive issues.  So if your flu has you nauseated, diffuse or add to some water.  
It's also good for relieving congestion and can help with body aches when used in massage.
Additional Resource: Peppermint Essential Oil for Cold Sores
Cinnamon
Cinnamon is known for its digestive, circulatory and immune-deficiency properties.  It's also anesthetic, antiseptic, antimicrobial and antioxidant properties making it an ideal essential oil for colds and flu relief.  
Massage (diluted with a carrier oil), diffuse or add to a hot bath.
Clove Bud Essential Oil
Clove oil has a strong numbing effect when diffused or used in massage (diluted in a carrier oil).
Grapefruit Essential Oils
Grapefruit essential oil is known to ease nervous exhaustion, to relieve indigestion, is detoxifying and clarifying. It's also a diuretic, disinfectant, stimulant, antidepressant, and antiseptic. Diffuse or use in a bath.
NOTE:  If you are taking an antidepressant, DO NOT use this oil.  It will cause a negative interaction with your antidepressant.
Sandalwood Oil
Sandalwood essential oil is naturally calming, astringent, antiviral, antiseptic, anti-inflammatory and expectorant properties making it perfect for cold and flu relief. Massage, diffuse or steam inhale.
Basil Essential Oil
Basil is great for fatigued or sore muscles and joints to relieve swelling and pain. It also can reduce congestion. Diffuse, massage or steam inhale.
Juniper Berry Oil
Juniper berry is known to be a diuretic and is also detoxifying. It's also antiseptic, antirheumatic, antispasmodic, and astringent. Diffuse, steam inhale or massage. Mix with cedarwood, pines, firs, balsams and add to a hot bath to relieve body aches.
Ginger Essential Oils
Ginger is a natural digestive aid and also relieves coughs, rheumatism, aching muscles and joints. Fresh ginger is very warming and helps so fight viral infections by slightly raising the body temperature which makes it harder for viruses to survive. Massage, diffuse, steam inhale, add to a bath or put on a compress.
Pine Essential Oil
Pine is a naturally antibacterial, analgesic, diuretic, and antiseptic, and really help with body achiness and fatigue. Steam inhale, add to a hot bath or massage.