You know I love art journaling and it is super fun to have Christmas quotes to use in my Christmas cards, mixed media, junk journal or scrapbooking projects!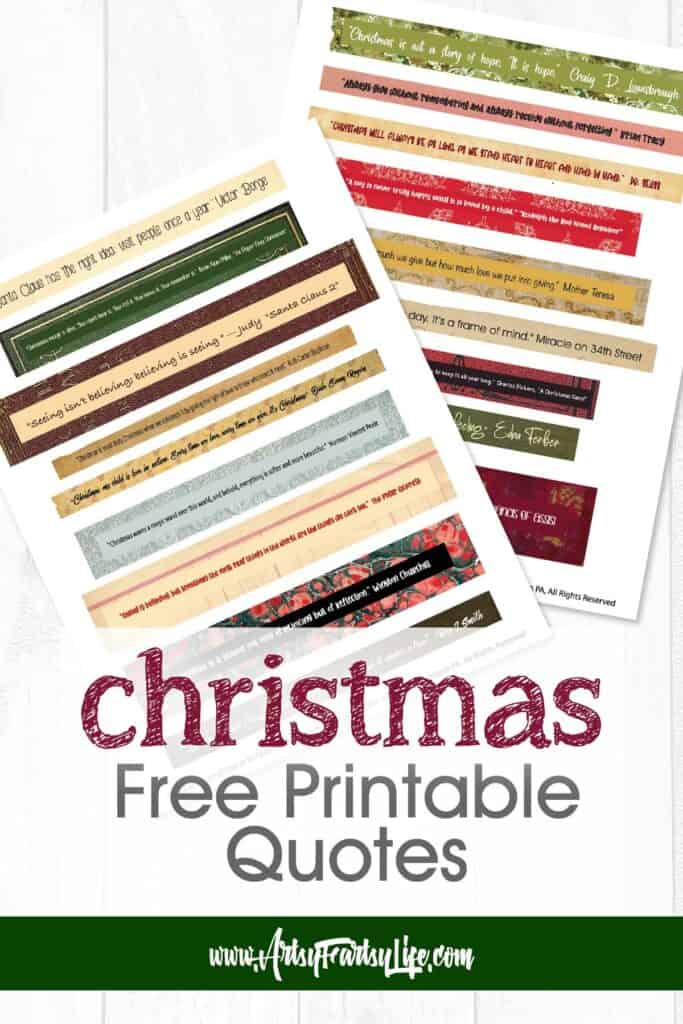 Please note: This article contains affiliate links, and that means that I may earn a commission if you buy something. Read my full disclosure here.
All The Christmas Quotes
I love seeing what I am going to get before scrolling! Here are all the quotes that are available for your artwork! (download full sized files below)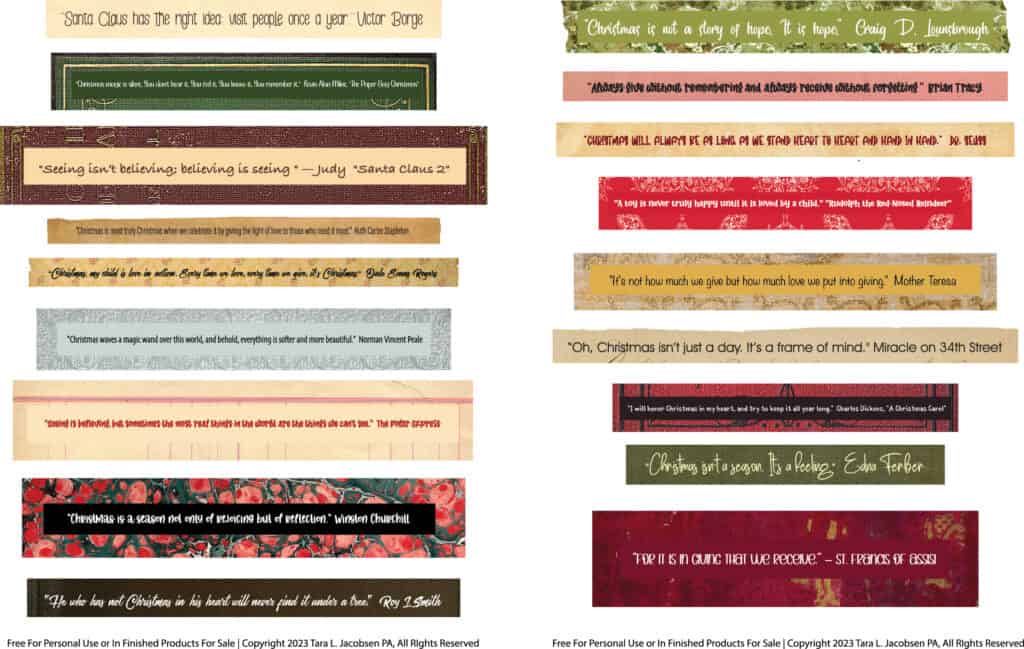 Why I Made These Free Printables
I LOVE having cute words to include in my junk journals and mixed media pieces!
Luckily I am graphic artist so making these kinds of fun ephemera is super easy for me and I love sharing them with my friends!
I used public domain images from the graphics fairy and my creativity to make these word quotes.
Christmas Quotes
Here are even more Christmas quotes (some I used in the printable and some are just too darn long to that way!) They are a mix of heartfelt, funny and charming.
"Christmas isn't a season. It's a feeling." — Edna Ferber
"I will honor Christmas in my heart, and try to keep it all year long." — Charles Dickens, "A Christmas Carol"
"Oh, Christmas isn't just a day. It's a frame of mind." — "Miracle on 34th Street"
"Christmas, my child is love in action. Every time we love, every time we give, it's Christmas." — Dale Evans Rogers
"Seeing isn't believing; believing is seeing." — Judy, "Santa Claus 2"
"Christmas magic is silent. You don't hear it. You feel it. You know it. You remember it." — Kevin Alan Milne, "The Paper Bag Christmas"
"Always give without remembering and always receive without forgetting." — Brian Tracy
"A toy is never truly happy until it is loved by a child." — "Rudolph the Red-Nosed Reindeer"
"Christmas will always be as long as we stand heart to heart and hand in hand." — Dr. Seuss
"There's a certain magic that comes with the very first snow. For when the first snow is also a Christmas snow, well, something wonderful is bound to happen." — "Frosty the Snowman"
"This bell is a wonderful symbol of the spirit of Christmas as am I. Just remember the true spirit of Christmas lies in your heart." — Santa Claus, "The Polar Express"
"Our hearts grow tender with childhood memories and love of kindred, and we are better throughout the year for having, in spirit, become a child again at Christmastime." — Laura Ingalls Wilder
"It's Christmas Eve. It's the one night of the year when we all act a little nicer, we smile a little easier, we cheer a little more. For a couple of hours out of the whole year, we are the people that we always hoped we would be." — Frank Cross, "Scrooged"
"What I don't like about office Christmas parties is looking for a job the next day." — Phyllis Diller
"I love Christmas. I receive a lot of wonderful presents I can't wait to exchange." — Henry Youngman
"Christmas is a time when you get homesick — even when you're home." — Carol Nelson
"Santa Claus has the right idea: visit people once a year." — Victor Borge
"Christmas waves a magic wand over this world, and behold, everything is softer and more beautiful." ―Norman Vincent Peale
"Christmas is most truly Christmas when we celebrate it by giving the light of love to those who need it most." ―Ruth Carter Stapleton
"Christmas is not a time nor a season, but a state of mind. To cherish peace and goodwill, to be plenteous in mercy, is to have the real spirit of Christmas." ―Calvin Coolidge
"Seeing is believing, but sometimes the most real things in the world are the things we can't see." ―The Polar Express
"My idea of Christmas, whether old-fashioned or modern, is very simple: loving others. Come to think of it, why do we have to wait for Christmas to do that?" ―Bob Hope
"It's not how much we give but how much love we put into giving." ―Mother Teresa
"Christmas is not a story of hope. It is hope." ―Craig D. Lounsbrough
"Let us keep Christmas beautiful without a thought of greed." ―Ann Garnett Schultz
"Christmas is a season not only of rejoicing but of reflection." ―Winston Churchill
"He who has not Christmas in his heart will never find it under a tree." ―Roy L. Smith
"For it is in giving that we receive." – St. Francis of Assisi
Why Give Them Away For Free?
I have sold these types of printables in the past on sites like Etsy or my own blog, and yes, the income in nice.
But I am super lucky that I have ads now, and I afford to take the time to make freebies to give away instead of having to charge for them!
And no, you don't have to click the ads to help, but if you want to help, share this page with your favorite Facebook group of crafters or share it to your Pinterest. Sharing helps more than you could ever know!
Commercial License For Printed Items
I allow virtually any use of these printables, if they are printed out!
For example, a fellow in Africa sells whole sheets of these, printed out at the bazaar in his town.
Other gals have used them in junk journals they sell on Etsy and also cut up and sold as packs at the local craft shows.
There is no license for digitally sharing these. So you can't put them on your website, sell the digital version or email them to your friends. Instead send her the link and let her get all the goodies for herself in the freebie library!
How To Print These Collage Pages
I like to use a high quality paper like bright white cardstock or presentation paper for this kind of ephemera.
It has a little more weight to it and won't get crushed in a junk journal or mini album.
That said, they are formatted for letter sized paper (8.5″X11″) so you could print them out on copy paper!
Sign Up For Freebie Library!
Click here to sign up for the free printables library …. if you are already signed up, click here and use the password that is included in every weekly newsletter.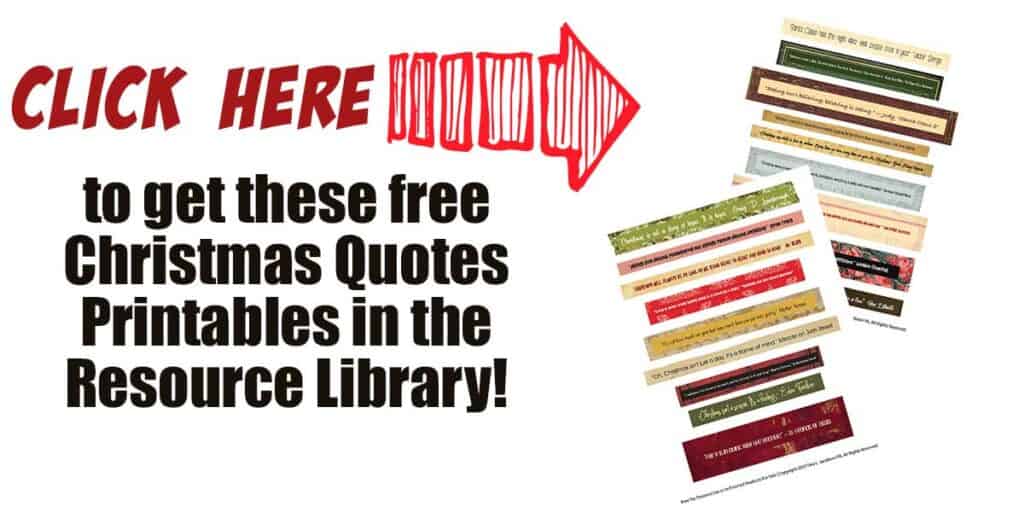 Free Christmas Quotes Wrapup
I hope you love using these in your Christmas junk journals, Christmas cards or mixed media projects!
If you have any more ideas for free printables email me (tara@marketingartfully.com) and I just might make them for you!!!