If you're like me and worry about the neurotoxins in the bug sprays you can buy in the grocery store, worry no more!  You can make very effective DIY insect killers with some of the things you may just have around the house.  
What's even better is that some can even be used on your body as a bug repellent.  No DEET anywhere to be found.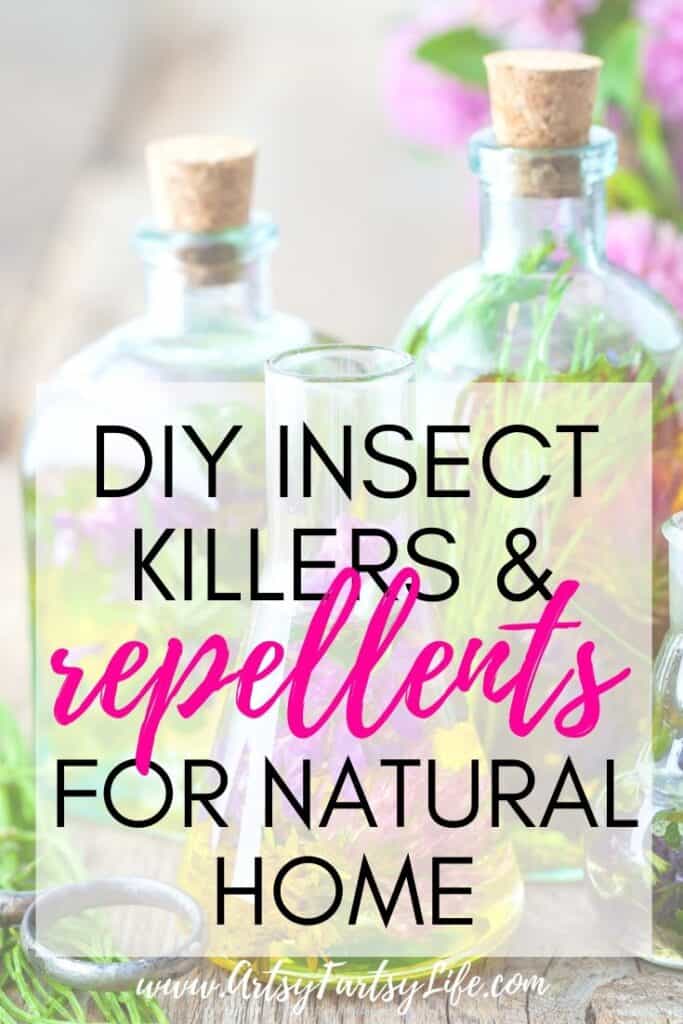 Living in Florida we get insect infestations pretty regularly (ants come in with us when it is cold and fruit flies are a year round problem here).
I do a lot of homemade bug sprays and repellants using dark glass spray bottles and essential oils, vinegar and herbs.
I love that natural bug and pest control methods are available so I don't have poisons laying around my house!
Killing Ants Naturally
It is pretty easy to kill ants (luckily for us!)
Ingredients:
Mix the vinegar and water in a spray bottle and squirt on the ants. The nice thing about this is you kill ants, clean the area and can do a couple of squirts there when you are do to leave the vinegar as a deterrent!
Boric Acid and Borax
I don't use these personally so I am not a great source for recipes, but both of these are natural insect killers.
Both must be kept away from kids and pets (my house is full of kids and pets) and you should use gloves when workin with them!
Ground Cinnamon and Cornstartch
You can use either of these to smother bugs. Simply pour either over the insects and they will be killed by breathing them in.
This is a super messy way to kill insects (especially the cinnamon) but it is great to check if you want a natural way to kill bugs.
Essential Oils Natural Insect Repellant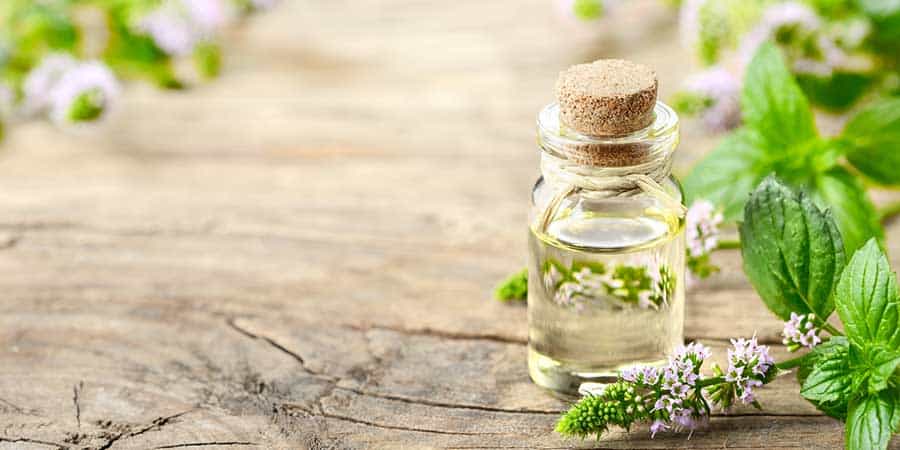 Yes, killing bugs is a great idea, but better yet is to keep them away in the first place. Here's one you can use on yourself, your home or clothing!
Ingredients:
30 drops geranium essential oil
30 drops citronella essential oil
20 drops lemon eucalyptus essential oil
20 drops lavender essential oil
10 drops rosemary essential oil
1 tbsp vodka or rubbing alcohol
½ cup natural witch hazel
½ cup water (or vinegar)
1 tsp vegetable glycerin (optional)
Instructions:
Place essential oils in a glass spray bottle. Add vodka or alcohol and shake well to combine.
Pour in witch hazel and shake to combine. Add the glycerin if you decide to use it, as it helps keep the oils and other ingredients combined. Then add water and shake again. Shake before each use as the oils and water will naturally separate some over time.
Any combination of these essential oils will work: citronella, clove, lemongrass, rosemary, tea tree, cajeput, eucalyptus, cedar, catnip, geranium, lavender, mint.  All of those have insect and mosquito-repelling properties. 
 This recipe uses 100 drops of essential oil in total, so if you don't have one or the other of those listed above, you substitute any of the others listed here.
Note: Be careful using these directly on the skin of children. For them spray on clothing.
Fresh or Dried Herbs Insect Repellent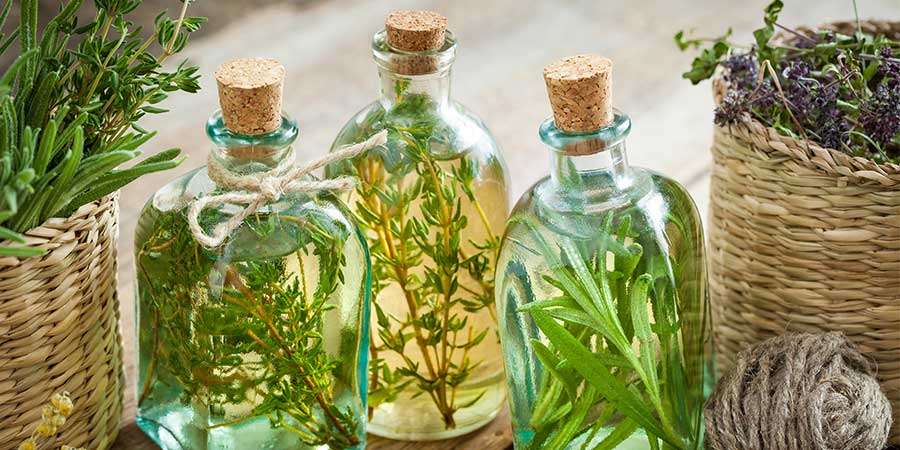 Ingredients:
Distilled water
Witch hazel or rubbing alcohol
Dried herbs
Can include peppermint, spearmint, citronella, lemongrass, catnip, lavender… you should definitely use at least one herb from the mint family.  
A quick list of some herbs in the mint family besides mint are basil, thyme, rosemary, sage, marjoram, oregano, lavender, Melissa (also known as lemon balm), bergamot (also known as bee balm) and catnip.
Instructions:
Boil 1 cup of water and add 3-4 tablespoons of dried herbs total in any combination from the above.  Add to the boiling water, mix well, cover and let cool (covering is important to keep the volatile oils in!).  
After it cools, strain the herbs out and mix water with 1 cup of witch hazel or rubbing alcohol.  Store in a spray bottle in a cool place.  Use as needed.  It smells great and it's very refreshing on your skin on a hot day.  You can even keep it in the refrigerator and use as a cooling spray.
Vinegar To Repel Ticks And Insects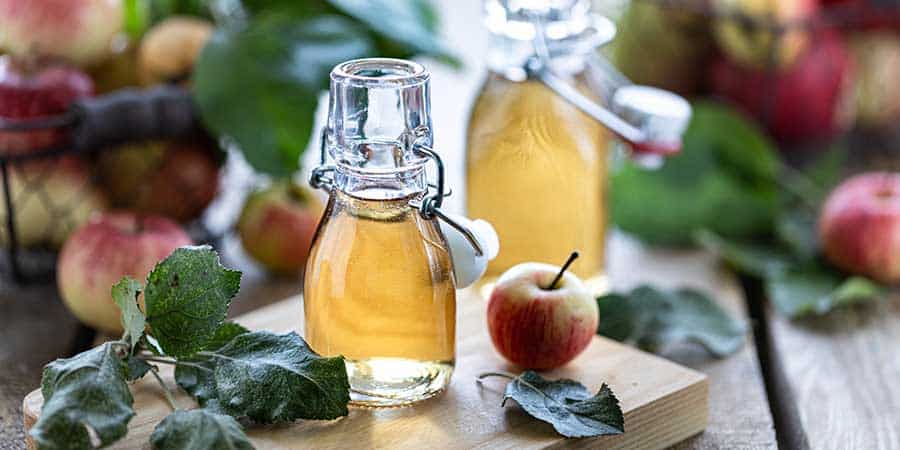 Here's a historically fun one! The legend is that during the Black Plague in the 14th century, thieves and grave robbers would take this blend internally and also rub it on their bodies externally to keep from catching the plague.  
What I'm sure they didn't understand then, but we do know, is that it kept the flies and other bugs away from them thereby keeping the bugs from infecting them.  
Either way, it's a really good repellent to use, especially to keep ticks at bay.
Ingredients:
1 32-oz bottle of apple cider vinegar
2 tbsp each of dried sage, rosemary, lavender, thyme, and mint
Quart-size or larger glass jar with airtight lid
Instructions:
Put the vinegar and dried herbs into large glass jar.
Seal tightly and store on counter or place you will see it daily. Shake well each day for 2-3 weeks. After 2-3 weeks, strain the herbs out and store in spray bottles or tincture bottles, preferably in the refrigerator.
Use on clothing at full strength. Use on skin diluted half water half mixture.
Note: This mixture is very strong and has antiviral and antibacterial properties. It can also be used as a tincture for any illness. For adults, dose is 1 tablespoon in water several times a day. For kids over two, the dose is 1 teaspoon in water several times a day.
ALSO: It's really smelly when you first spray it on, but the smell dissipates as it dries.
Additional Bug Repellents
Add vanilla extract to either of the above recipes, or just rub on the skin. You can also mix vanilla with witch hazel and water for a spray version.
Rub lavender flowers or lavender oil on your skin, especially on hot parts of body (neck, underarms, behind ears, etc.) to repel insects.
Rub fresh or dried leaves of anything in the mint family all over skin to repel insects
Learn more!