These are perfect for your junk journals, art journals and scrapbooking. Just print these free digital downloads out and you are ready to go! You can even use them in items you have for sale.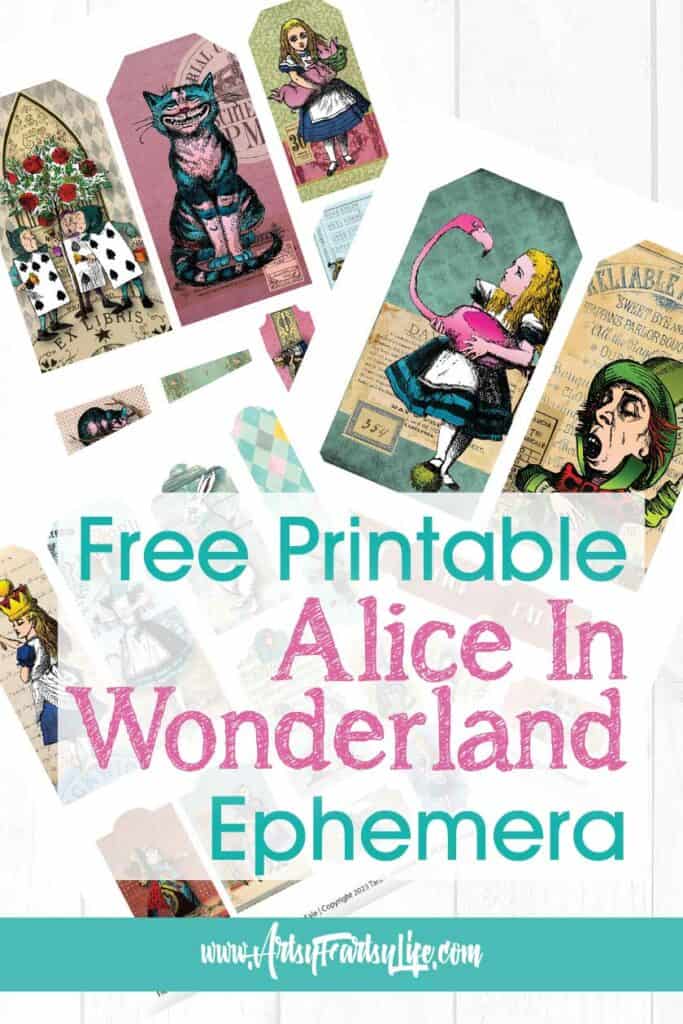 Vintage Alice In Wonderland Printables Video
Why Did I Make These Free Printables?
I am a junk journaller like you AND a graphics nerd so it is fun for me to make these kinds of printables for you to use in your artwork too!
Also, I am super fortunate to have ads on my site so I can afford to keep making freebies for my peeps! And NO! You don't have to click on the ads, just being here is enough to help.
But if you do want to help a little more, share this link on your Facebook groups or Pin it to Pinterest… those things help more than you can ever know!
Commercial License
I offer these as a free printable with a commercial license! Whoo who!
This means you can print them out and use them any way that you want…
Add them to a physical junk journal you have for sale on Etsy
Use them for Scrapbook pages you sell in person at craft fairs
Print them out and sell them at markets (a fellow in Africa asked me about this one!)
What you can't do is distribute them any way (including but not limited to email, posted on your website) as a digital file. If you want to share them with a friend, please send them over here to get the printables for themselves from me!
How I Made The Alice In Wonderland Printable Downloads
I use a service that is called Graphics Fairy which has vintage images available which are in the Public Domain.
Because I use them to create my own original designs, I have the right to share them with anyone that I want… yay us!
Get Your Free Printable Downloads
I have all the freebie printables I offer in a resource library that is super easy to access once you sign up! Just click to go to the freebies library or click the image below!