These free butterfly printables are perfect for your junk journal, scrapbooks or mixed media projects. Great for sales too with a commercial license for printing!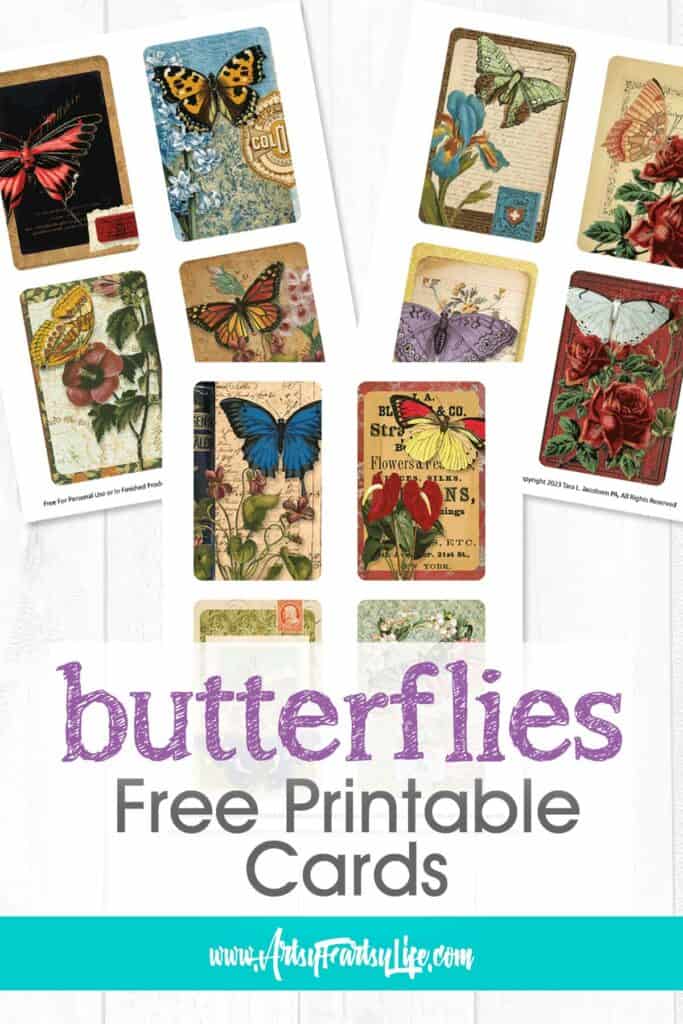 Please note: This article contains affiliate links, and that means that I may earn a commission if you buy something. Read my full disclosure here.
All The Butterfly Cards!
I know I like to see what I am getting before I scroll on down there, so here are all the butterfly cards in one place so you can see them!
I used a combination of my creativity and the Graphics Fairy public domain images to make these amazing free printables for your butterfly crafting!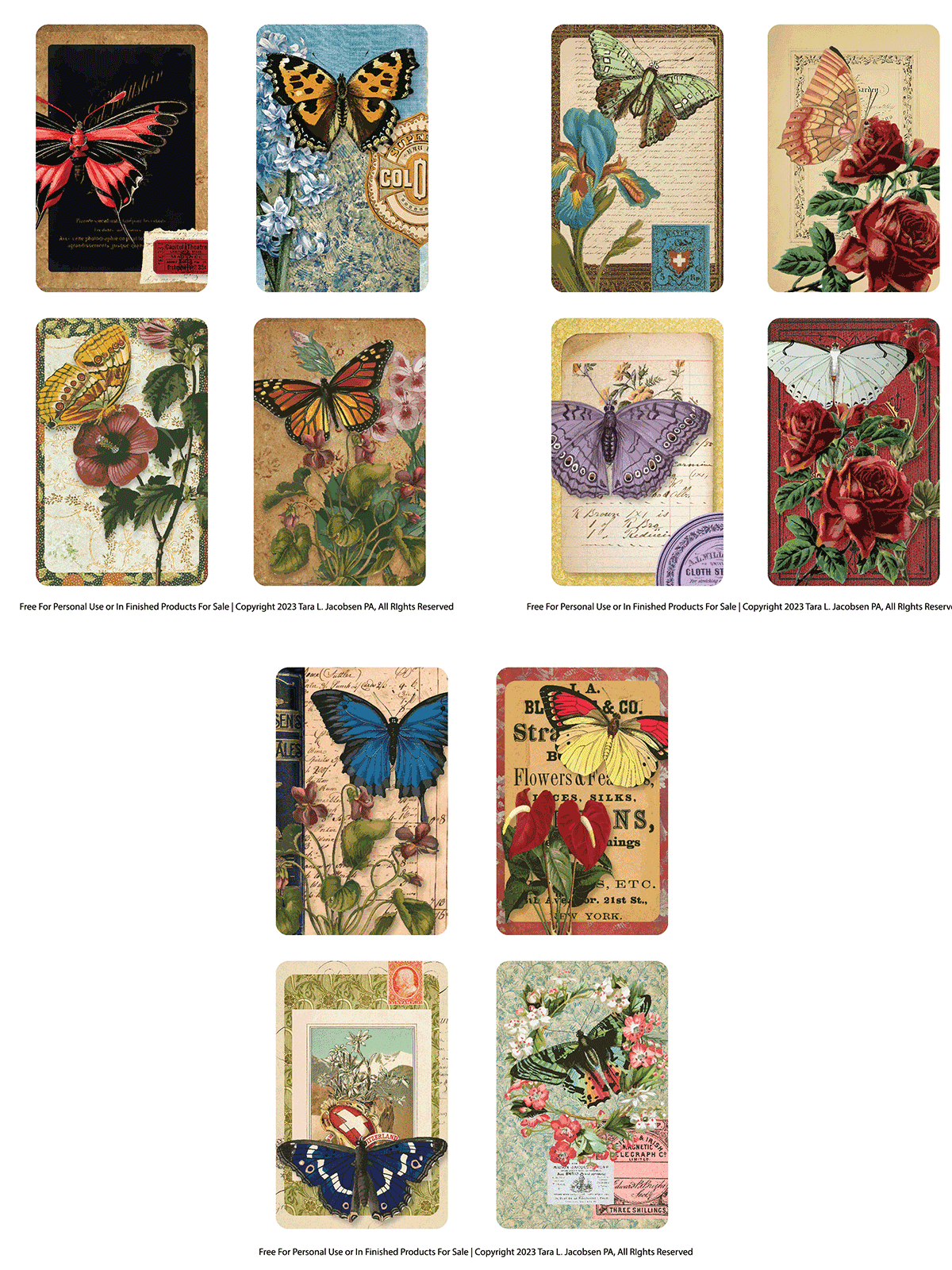 Why I Made The Butterfly Printable Collage Sheets
I made these wicked cool collage sheets to use in my own butterfly art journals or nature themed art!
And because I am a graphic artists, making these kinds of printables for us all to use is super fun for me… I watch Youtube and law nerd out on trail coverage as I "work" on making free printables.
Also it is my year of freebies so I am giving away LOADS of free printables to my peeps (make sure you sign up to the newsletter to get informed when I launch a new one!)
Why Are These Printables Free?
I KNOW, it seems super weird to give away something that you could make money off of, but I LOVE all the messages I get from my peeps about how they are using these in their art AND….
I have ads on my website which allows me to take the time to make these for you and me to use in our artwork!
And nope, you don't have to click the ads to help, but if you did want to help you could share this page to your favorite Facebook group or Pin it to Pinterest!
Free Commercial License For Printing
You CAN use these free printables in items you have for sale, as long as you print them out first!
Here are some examples of how people have done this in the past:
Sold collage sheets whole in a market in Africa
Printed out, cut up and used as collage fodder in junk journals for sale on Etsy
Sold as greeting cards with these printables as the card fronts
There is no license for using these digitally in any way. So you can't upload it to your Google drive and share the link, list them for sale or free on a website or post the file in a group online.
If you do want to share these with a friend, just send her the link and she can get all the freebies herself!
How To Print These Beautiful Butterflies Out!
I like to print them out on fancy paper like card stock (bright white) or heavy presentation paper.
I think they print out more colorfully and the weight of the paper makes them easier to use in my artwork!
They are 8.5″X11″ letter sized paper and can be printed at home or at a commercial printer (there is a copyright notice at the bottom).
How To Get The Butterfly Printables
You can get these free printables and so many more in the freebie library! Click the text link or the picture below to get your password or if you already have the password click here to enter the library!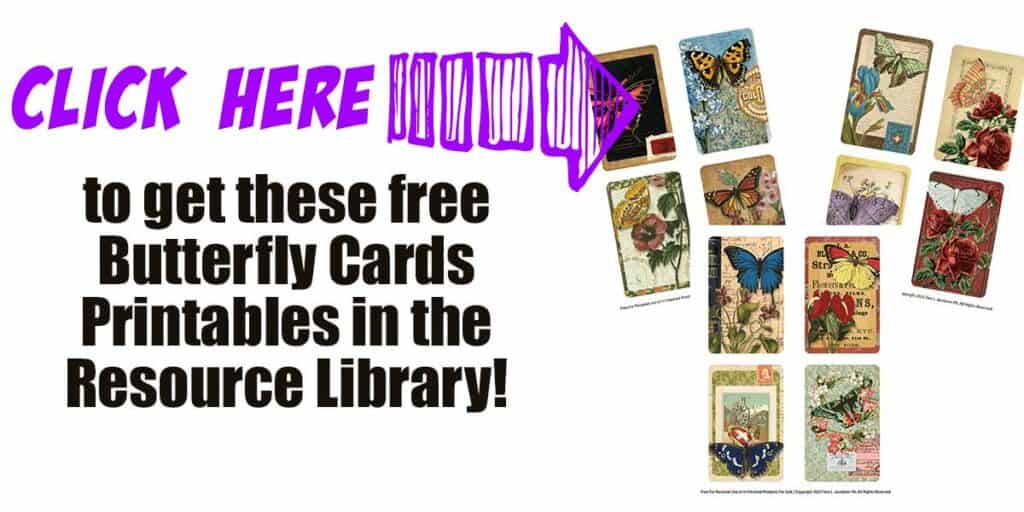 Free Printable Butterfly Cards Wrapup
I hope you love these as much as I do! Butterflies are so pretty and colorful, they add a super fun pop of color to your junk journals, mixed media, scrapbook pages or even greeting cards!
You can decorate the butterflies anyway you want to make them your own.
Please let me know if you would like me to make any other printables for you (tara@marketingartfully.com).