When I am doing my junk journals or planners I use a lot of connectors and I need to have "hearty holes!" Here is a free digital download of 1/2″ paper binder hole reinforcers for hole punched pages to keep your holes from ripping!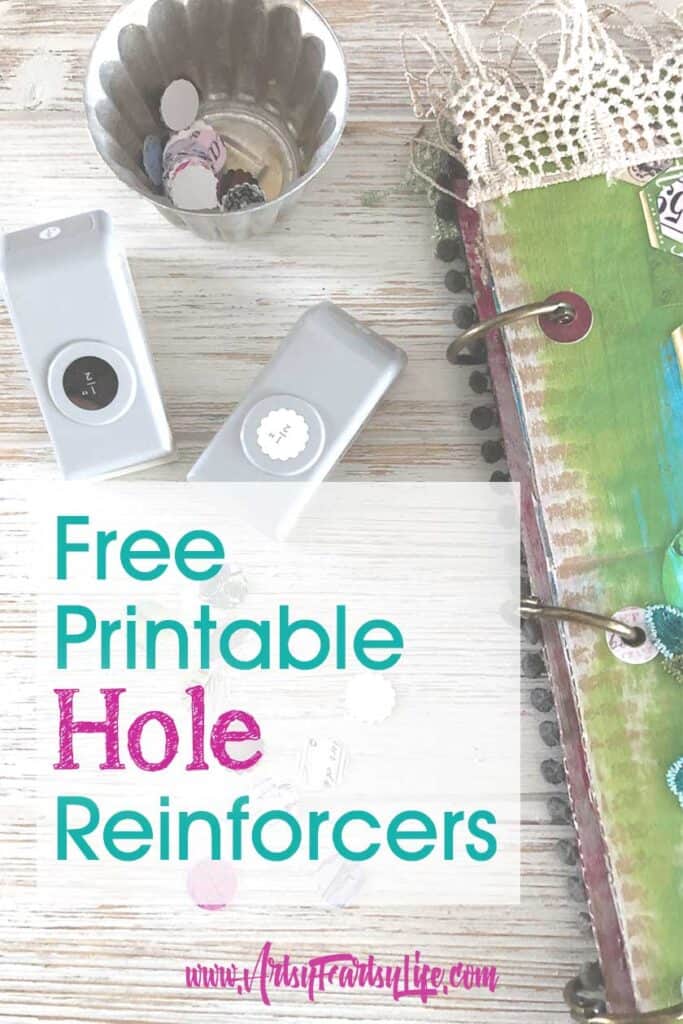 please note :: as an Amazon associate I earn from qualifying purchases, read my full disclosure policy here
Hole Reinforcers Video
Why I NEED Hole Reinforcers
I make "bulky" journals, lots of pages, layers and connectors and one thing that I found was happening a lot was my holes blew out!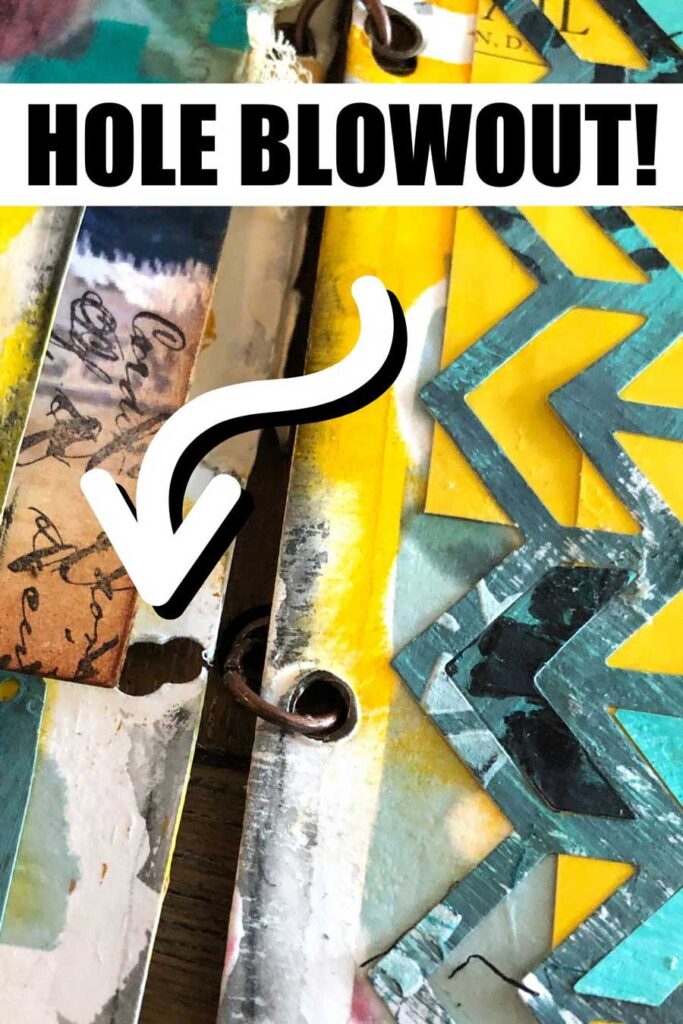 Okay, I admit that one blew out because because I had to punch the hole twice in my bee journal but that is not the only time that has happened!
So I of course went on the interwebs and bought some hole protectors from Aliexpress … they took like 3 months to get here, were TINY and not all that "protectory"… sigh.
Then I went to Office Depot and bought some fancy ones… THAT WERE PLASTIC… sigh. You can't dye or paint plastic so my holes looked like they had crazy white circles around them… not my style at all!
So I Made My Own Binder Hole Reinforcer!
During all this foolishness I decided to take my wicked cool design skills and make a whole bunch of little, colorful circles that I could cut out and use as hole protectors… whoo whoo!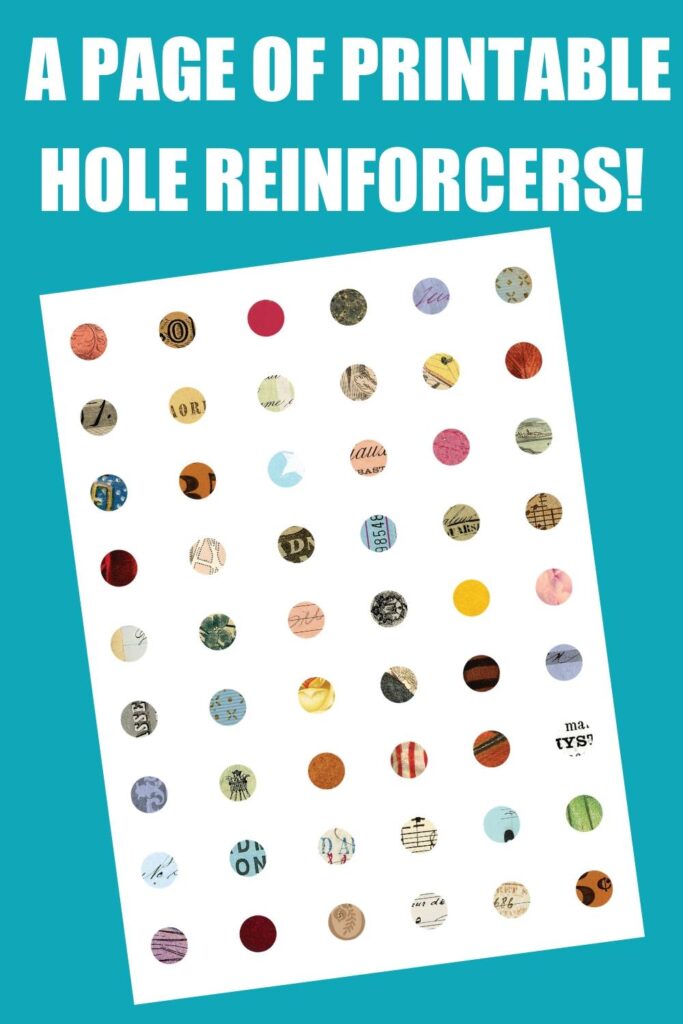 They are a little fancy with words, numbers, patterns and colors! And you COULD cut them out with scissors if you aren't derpy like me.
Here they are in action on my new journal that has LOTS of binder rings…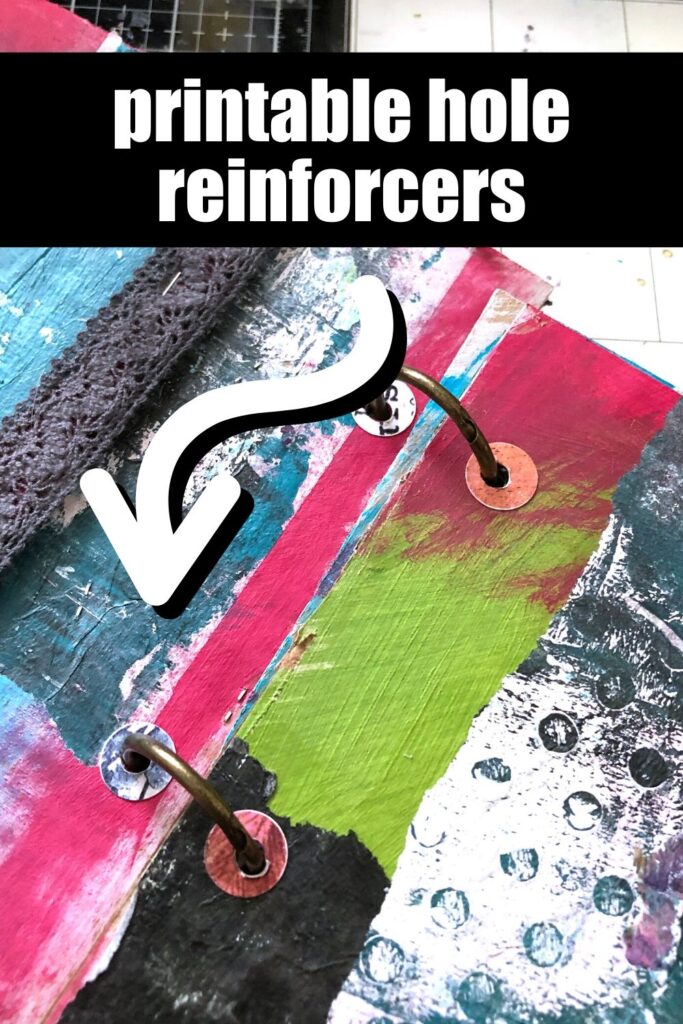 Now you could be better at this and get the holes in the center, but that doesn't really matter to me. No one notices after I have eleventy billion layers and colors on there!
Punches For Easy Hole Reinforcers
As you can see from my lame hole punching, I am not super detail oriented so when I was cutting out my reinforcers it looked like a ADHD toddler was doing it.
So I found these punches (1/2″ punches) that work PERFECTLY for cutting out circles!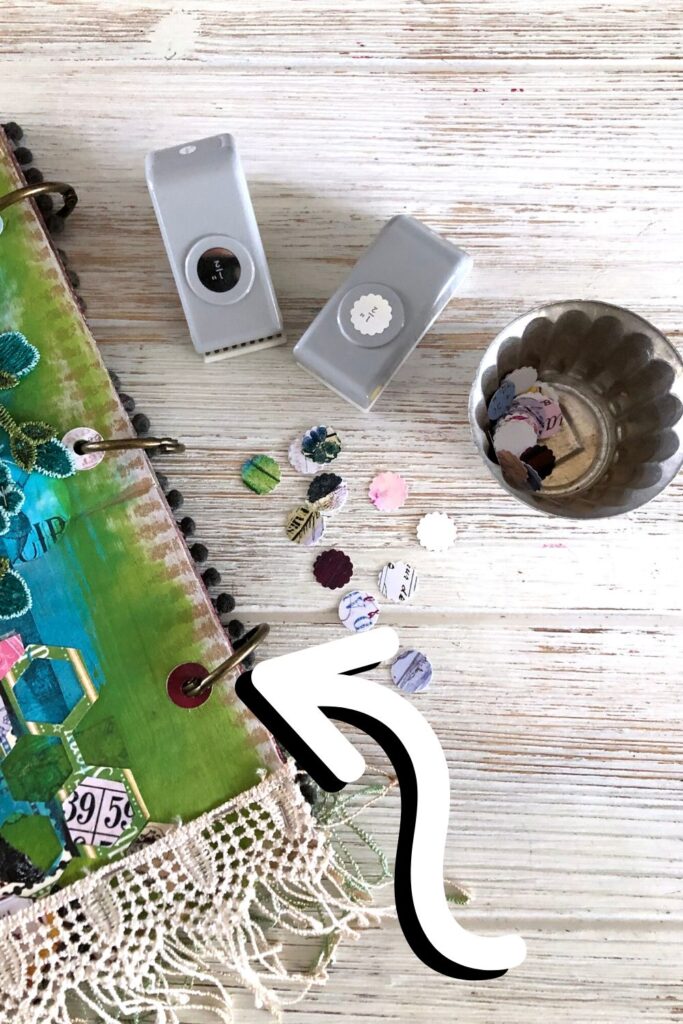 I got the scalloped one accidentally first, and then the one that has smooth edges. I like the scallops for vintage and the smooth for modern!
EK Tools Circle Punch, 0.50-Inch

EK Tools Circle Punch, 0.50-Inch Scalloped Edge

You just print out the sheet, cut the circles into strips and then punch them out!
I tend to do two sheets at a time, and punching them out and keeping them in that cute little metal container!
The coolest thing about these is that fit standard holes sizes OR even super small holes because you just punch through them. They work for loose leaf paper, scrapbook paper or any kind of tag or craft paper you use in your art!
I use either Art Glitter Glue or Mod Podge to stick them down and then punch through them so the holes line up!