Looking for an easy way to keep track of your loved ones medications? This free printable PDF chart lets you record pills they take, doses, time of day and physician. Great for trips to doctor's offices, hospitals or nursing home stays.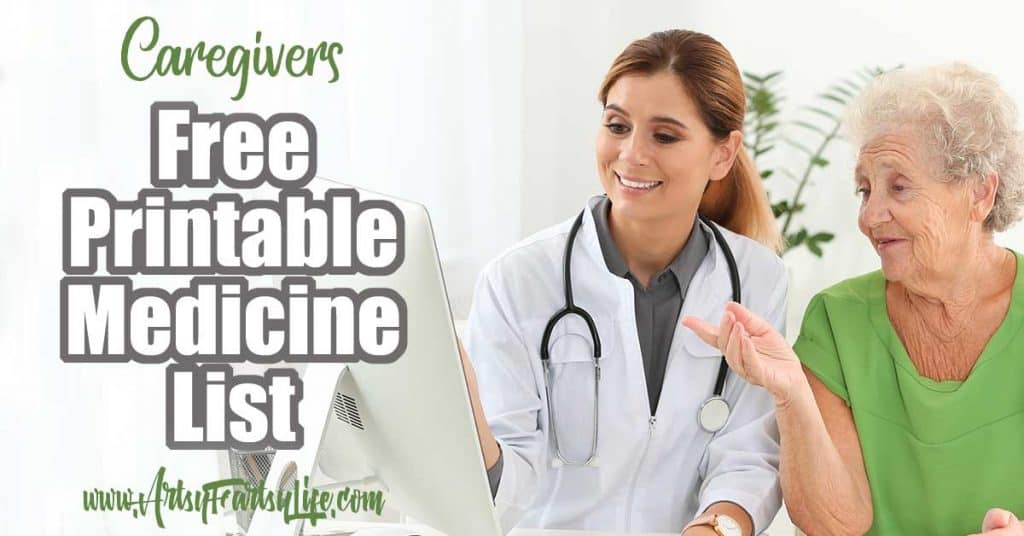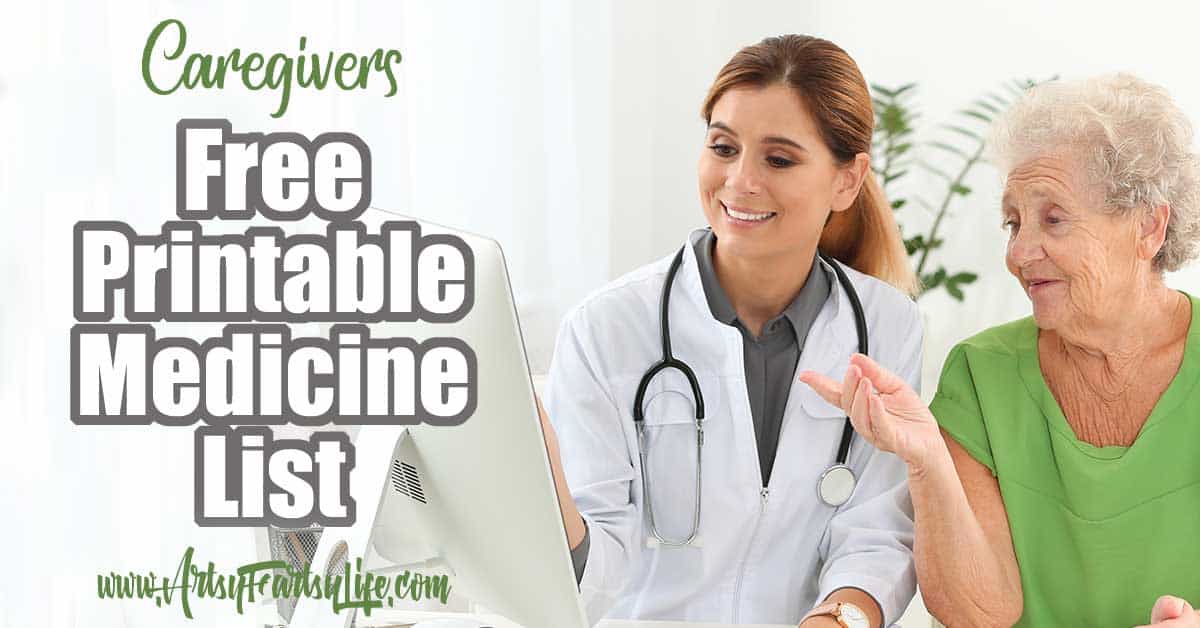 I never knew that I would need a list of Mom's medicines. While she had been a little forgetful, it seemed from the outside that she was still on top of everything that she was supposed to take!
Well, a couple of months before she fell I started going to her doctors appointments and tried to get a handle on all the pills she was supposed to be taking. I asked her primary doctor all happy for a list and she said there was no way to know all of them!
What? Mom was going to a diagnostic clinic where everything was all together and no one could give me a list of everything she was supposed to be taking?
Her primary said it was up to Mom… that each doctor prescribed medications and that she should know everything that she should be taking.
Well for sure Mom didn't know, her doctor didn't know, so I put on my detective hat and started to figure it all out. (It was a little scary that none of her doctors was checking to make sure that the pills were not causing more complications, but that is a post for another day!)
please note :: as an Amazon associate I earn from qualifying purchases, read my full disclosure policy here
Why Do You Need A List of Medicine?
Honestly, I really didn't think much of "my list", surely if something happened there would be an official record somewhere the medical community could access… wouldn't there be?
Shortly after Mom started living with us she had a seizure and had to be hospitalized. We got her settled into a room and then a nurse came around and asked me for a list of all Mom's medications. I handed over what I thought was a complete list and that became her official medication regime.
When she was discharged to the nursing home, same list, and from discharge on it was my list.
What would have happened if I didn't have a list?
Additional Resource :: The Risks of the Prescribing Cascade (source New York Times)
How To Find Out What Pills They Should Be Taking Now
Right about now you might be thinking, how do I get this kind of list? Well you will have to be a little bit of detective yourself!
First I gathered up all the pills that Mom had in her house. Some of them had LOTS of pills in the bottles, some had duplicate medications in different doses and some seemed to quite old. Huh.
That was when I got at least a partial list from the doctor, but that was a little sketchy too, it didn't match what I was seeing on her counter.
So I went to the pharmacy and requested a list of all the pills that they had dispensed to Mom over the last year… Eureka! This was the best list, but still not what I had on the counter… some were missing from home that were on the list.
Well Mom had just not picked those ones up months ago so effectively she stopped taking them… ack!
And with that list I could see where the doses of things like her thyroid medicine had changed over the year, increasing in dosage so I knew which one to give her now!
Last but not least I looked up each of the pills names and then matched them with the kind of doctor that would prescribe them and either called and asked or scheduled an appointment for Mom to see them.
Additional Resource :: How To Figure Out Which Medicines Your Mom Is Taking
Taking It To The Doctors Office
Whether your Mom lives with you or at her own home, I would for sure take this list to her doctors office and see if you have a good record of everything your loved one should be taking!
You can also ask if it is still needed or if the dose you have recorded is right for her current condition.
For sure it is up to YOU to be an advocate for your Mom… they are not aware of everything that she has going on.
Who Does This List Work For?
It works the best for caregivers tracking loved ones who take multiple different medications. It is important to know current doses, the doctors that are prescribing the medication and what it taken for.
Good for:
Pregnancy
COPD
Cancer
Epilepsy
Functionally anytime you need to be responsible for knowing the meds that your loved one should be taking!
A Simple and Organized Way To Keep A Record of Medications
Okay, now to the "official list form". I know that there are online trackers and tracker apps and a million different techy ways to do this, but I am a pencil and paper gal from way back!
The added benefit to writing them down is that you can snap a picture of it and keep it on your phone each time you update it!
Get the Free Printable Medicine List PDF
Click the picture to get the free printable Medicine List!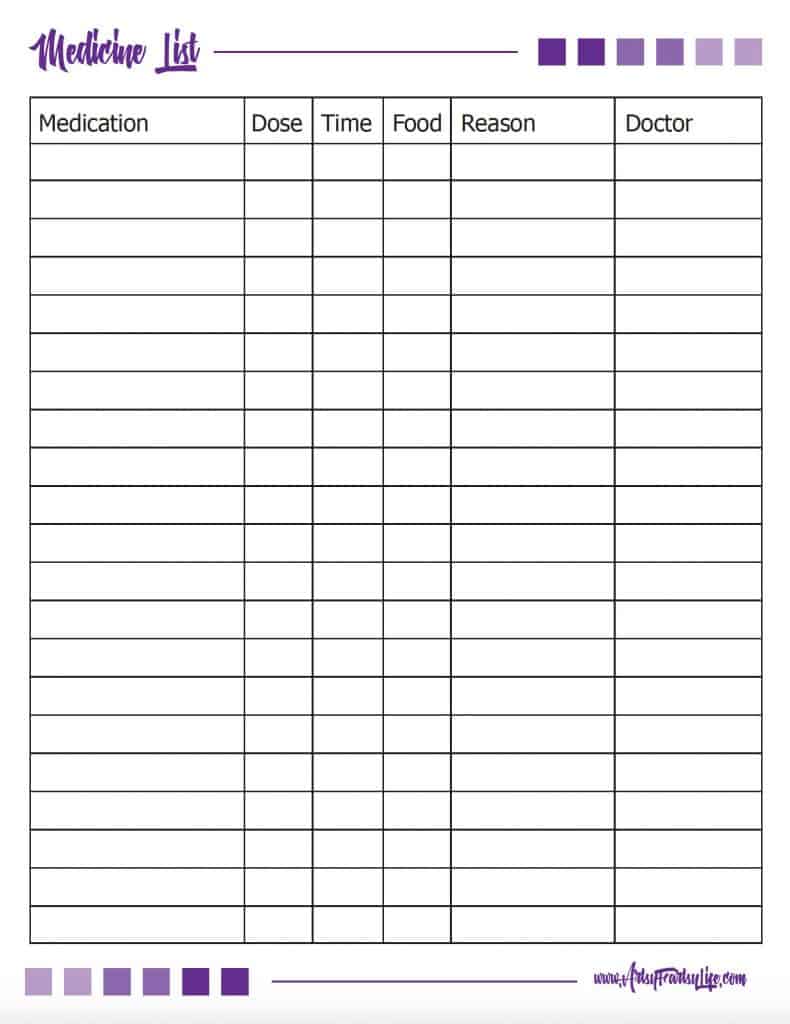 How To Manage Their Pills
Once I got a handle on the pills she should be taking, I needed a good way to make sure that we gave her the right ones every day!
We use this kind of pill keeper, using the top two rows for morning and night the first week and the second two rows for the following week. I just grab her nighttime one when I put her dog in with her!
Apex 7-day Mediplanner Pill Organizer

The thing that I like about this is that you can't take out the little sections. I KNOW, it seems like that would make it easier, but for sure I found that this is so much simpler to manage!