These circus snippets turned out so wicked cute! They are perfect to use in your junk journals, art journals and scrapbooking supplies. And there is even a free commercial license so you can use them in products you have for sale… whoo whoo!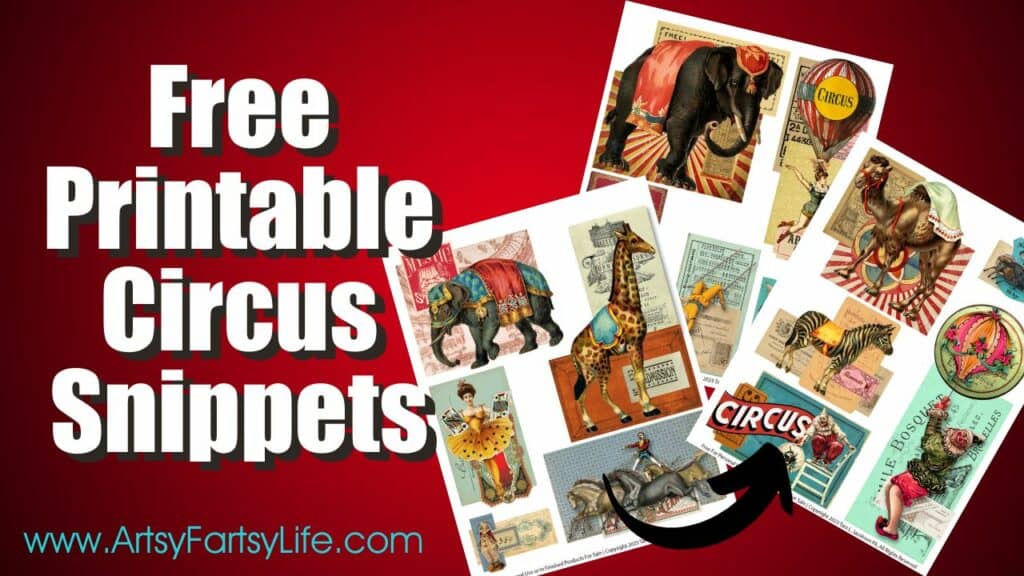 Please note: This article contains affiliate links, and that means that I may earn a commission if you buy something. Read my full disclosure here.
All The Circus Snippets At Once
I know I like to see what I am getting right off the bat so here are tiny versions of the pages (you get full letter sized papes for printing below!)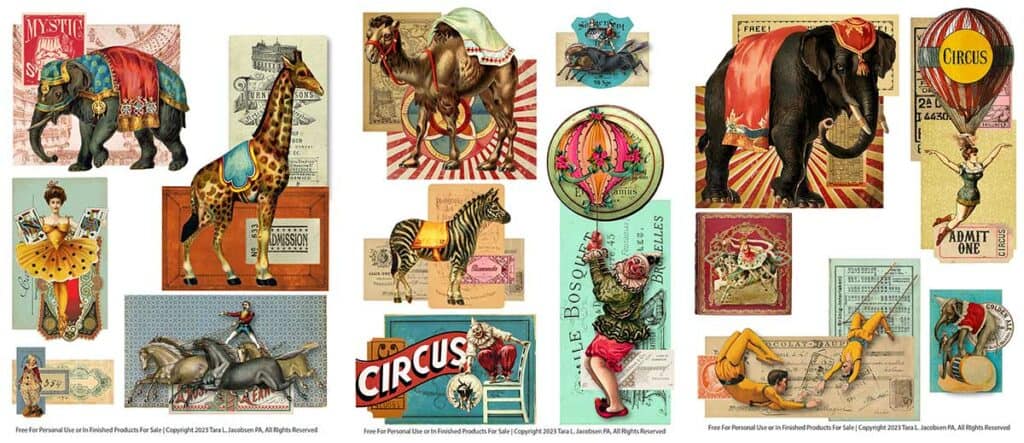 Why I Made These Printables
I LOVE using free printables in my junk journals and mixed media collage projects!
That said, sometimes doing all the fussy cutting around the images is hard for my creeky old hands, so I made these snippets super easy to cut out!
Most of the edges are either just straight cuts or a circle which are simple to go around and look great in your artwork… all fancy but easy to do!
Why Are They Free?
I KNOW, there is no free lunch… but there are free circus printables! HAHA!
I make these free because I actually made them to use in MY art and my Mom always told me it was nice to share. Yay Mom!
Also I am lucky enough to have ads on my website and so I get a tiny bit of money each time someone visits my pages! And NO! You don't have to click the ads, it is enough that you are here.
That said, if you would like to help, please share this page to favorite Facebook group or Pin it to Pinterest!
Commercial License
These printables include a commercial license for any PRINTED products for sale. Here are a couple of examples of ways they have been sold:
Printed out and sold at a bazaar in South Africa
Used in junk journals for sale on Etsy
Sold as a set at a local craft fair in a bag
Functionally, as long as you print them out, you can use them in any way you see fit!
There is no license for digital distribution… so no emailing them to a friend, saving on your Google drive and sharing or posting them on your website. I do issue takedown notices when I find out people have done that.
If you would like to share this with a friend or coworker, just send them the link and they can download them themselves.
How To Print The Circus Snippets
These are formatted for 8.5″X11″ paper. I send them out to UPS to have them printed on cardstock or presentation paper in laser color which come out beautifully!
That said, you for sure could print them at home on either a laser in inkjet printer on plain copy paper if you want to save some money.
How To Get The Free Printables
These are included in my Freebie library where I have tons of great printables for you to use in your artwork! Sign up here or click the picture below to get your password!
If you already have a password you can click here to enter the freebie library.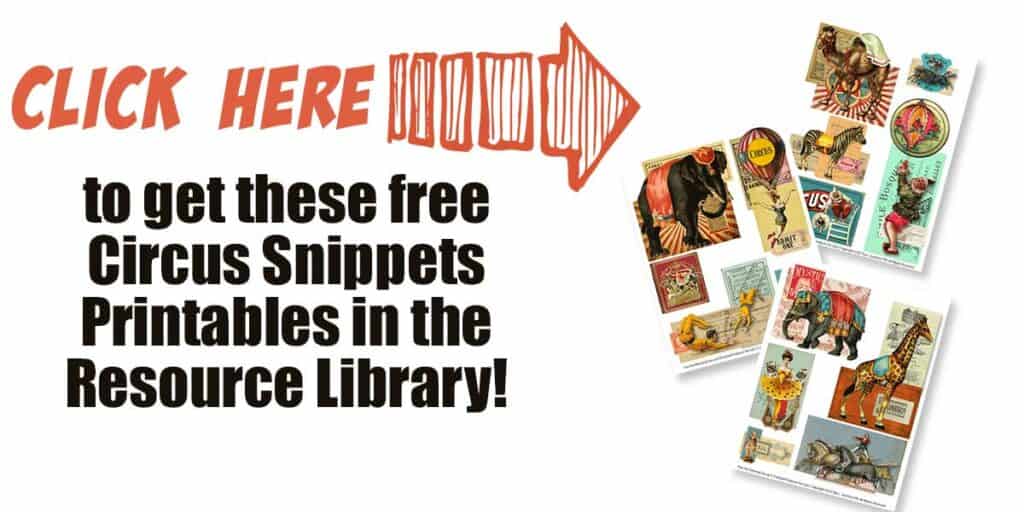 Free Printable Circus Snippets Wrapup
I hope you love these as much as I do! I am making a whole series of these printables so make sure to check out the freebie library to get your copies!
If you have any ideas for other free junk journal printables you would like to use in your artwork, please let me know at tara@marketingartfully.com and I might make them for you!