A fun way to start spiffing up your creative journalling, note taking or doodling! All my best tips and ideas for how to let your creativity flow and impress your friends and kids with your amazing "drawings".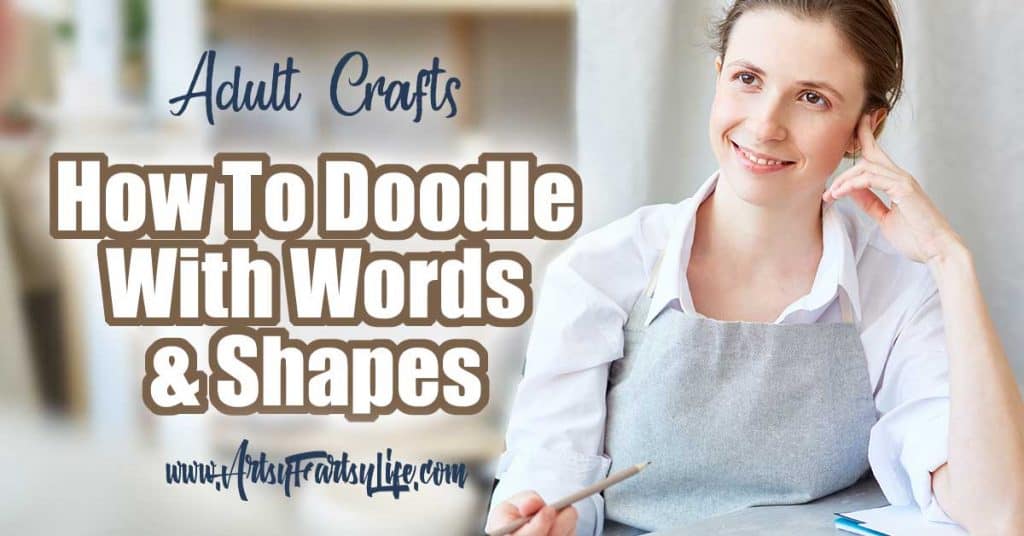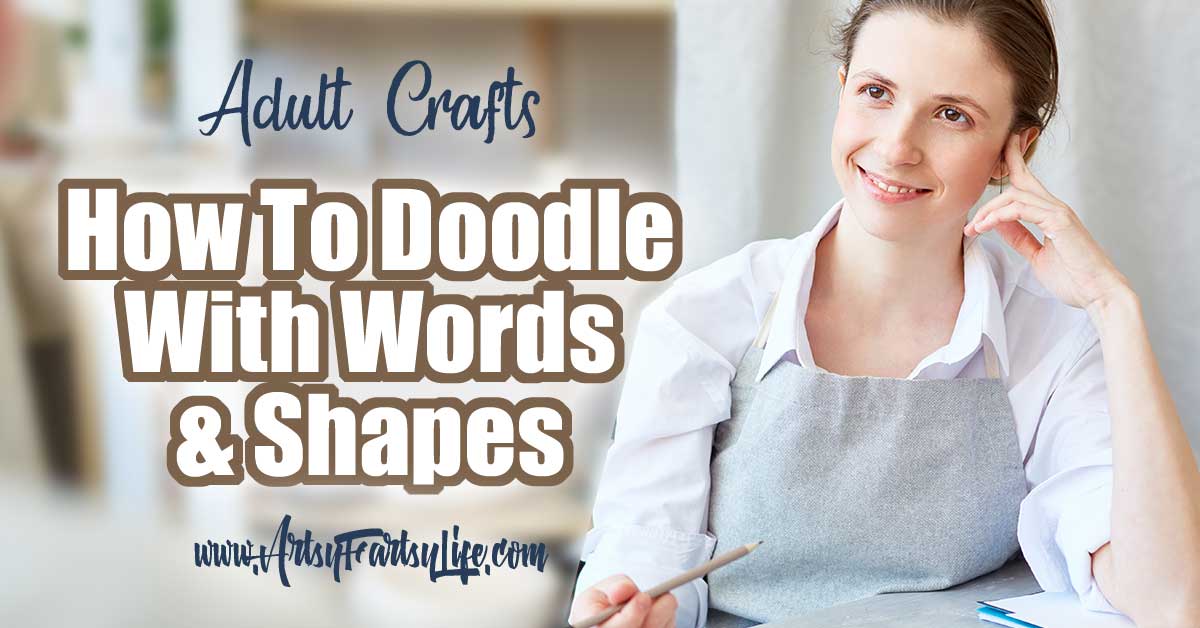 I never knew I was weird until years ago I was in class "taking notes" my normal way, with lots of pictures and arrows and funny letters. The gal sitting beside me stopped listening to the lecture and started staring at me, doodling away at my notes.
She was fascinated by how COOL my notes looked and how much fun it seemed to be doing them!
Fast forward to today and my kids think I am the best "drawer" ever! But I have a little secret, the crown you see in the picture below is about as good as I get at drawing. Rather I am good at doodling!
And you can be too!
What I Made
Today I am going to be talking about how I made this Alice In Wonderland doodle…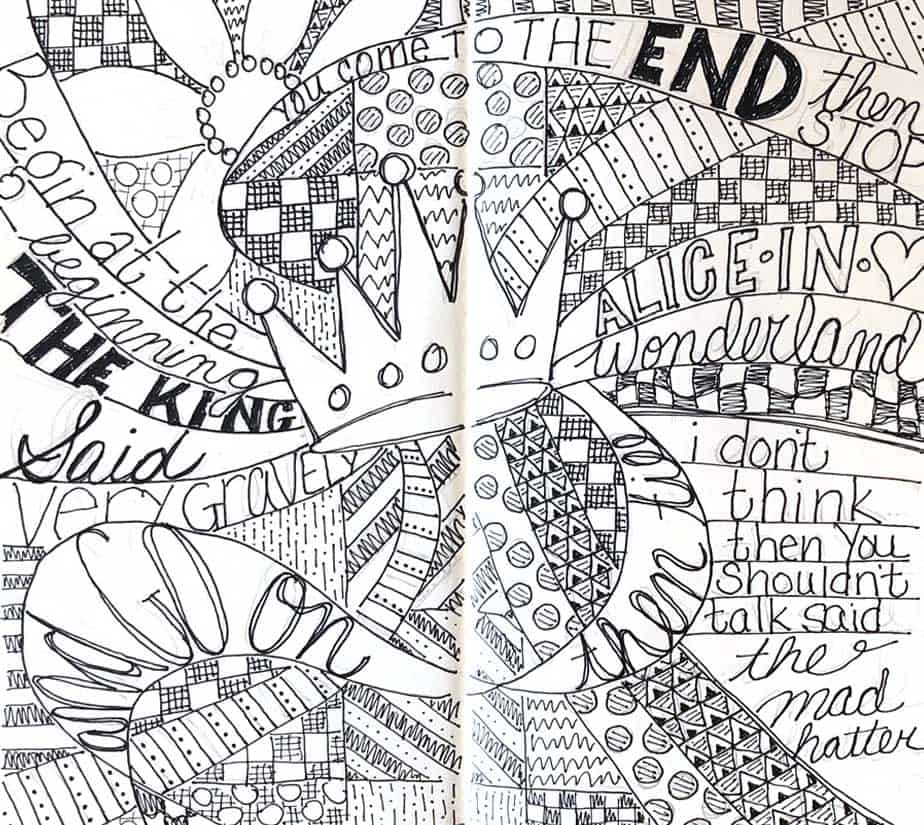 1. Start With Some Inspiration
Okay, if you are just get getting going with your doodles, staring at a big blank page is just going to be intimidating so you need to get some inspiration!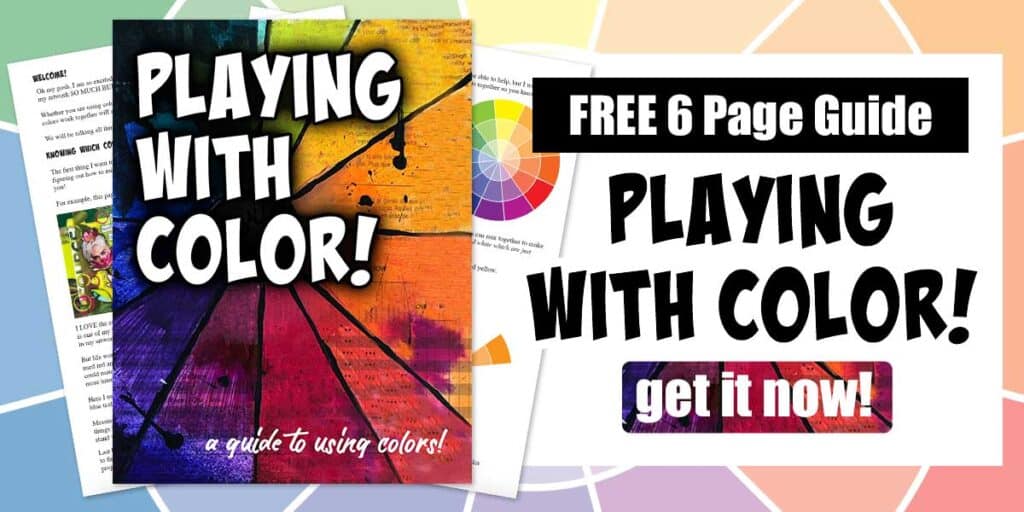 I do this by having a Pinterest board where I collect different drawings by different people. You can search for doodles, zen tangles, patterns, boarders, mixed media or other fun words to find ideas!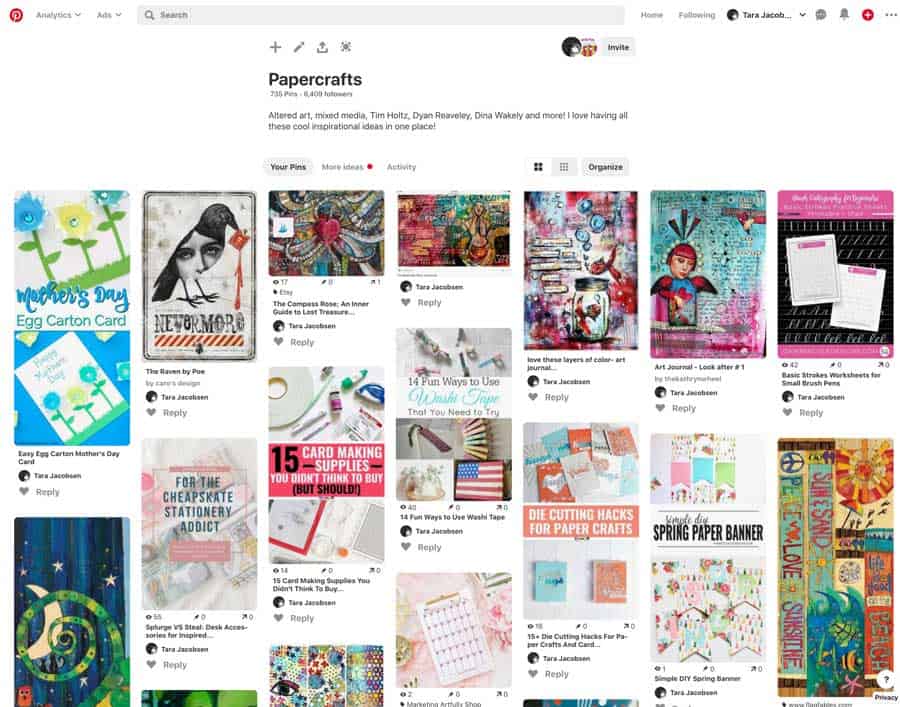 While there are some super cool ideas on my board, the one that stood out while I was doing this example doodle is the heart with all the "ribbons" sticking out of it.
This is by an artist named Juliana Coles and this is a custom artwork by her on her Etsy shop! Now, understand, I am not saying that I am an artist by any means, I am just taking her ideas and starting my project with it!
I am also super intrigued by the circle doodle that looks like Nightmare Before Christmas and the "hippy" one in the bottom right corner. I will probably do something with those sometime too! here is my whole Pinterest board if you want to check them out
For the words… sometimes I have a fun idea I just want to scope out, like this doodle I did to get the parts of my website straight in my mind….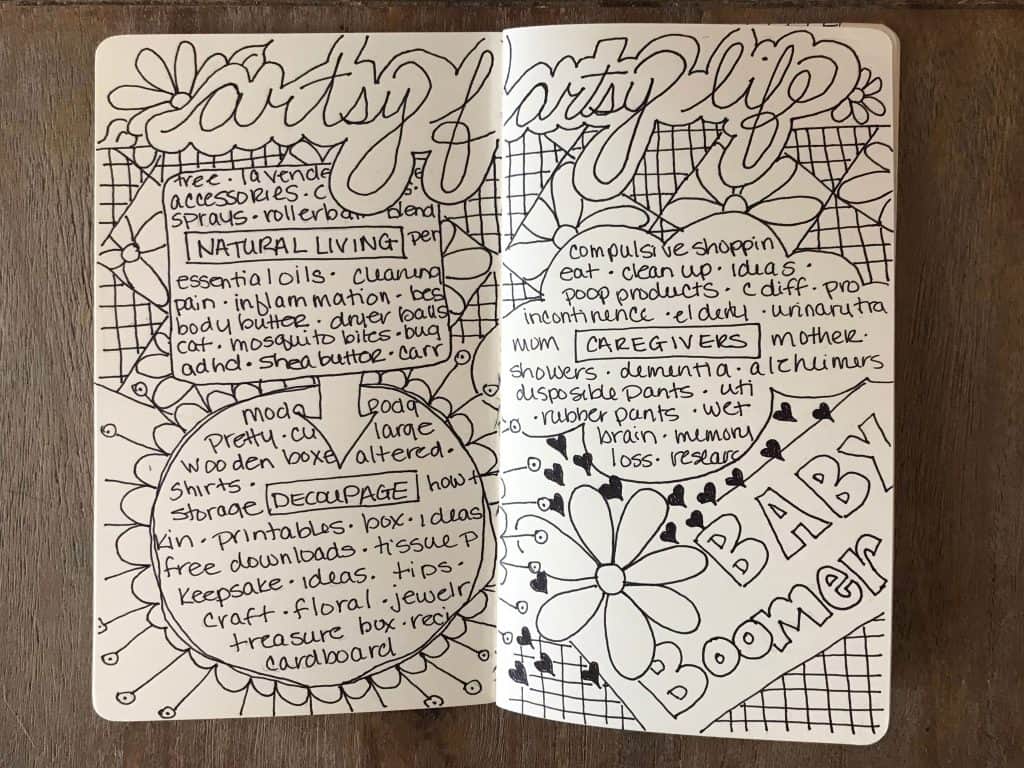 These are all words that I wanted to think about and remember from my own life.
But sometimes I don't have any exciting words to use, then I use quotes like I did in the piece we are working on today. I took a couple of different Fairy Tale quotes from Alice in Wonderland and used them!
You can use any words you want, don't get hung up on doing a perfect drawing, you just need to have something okay enough to practice on!
2. Have A Place To Doodle
I use a Dyan Reavely Dylusions Travelers Notebook to do my doodling in. I love hers because it is heavy paper that is made for artwork so the pens don't bleed through on each page.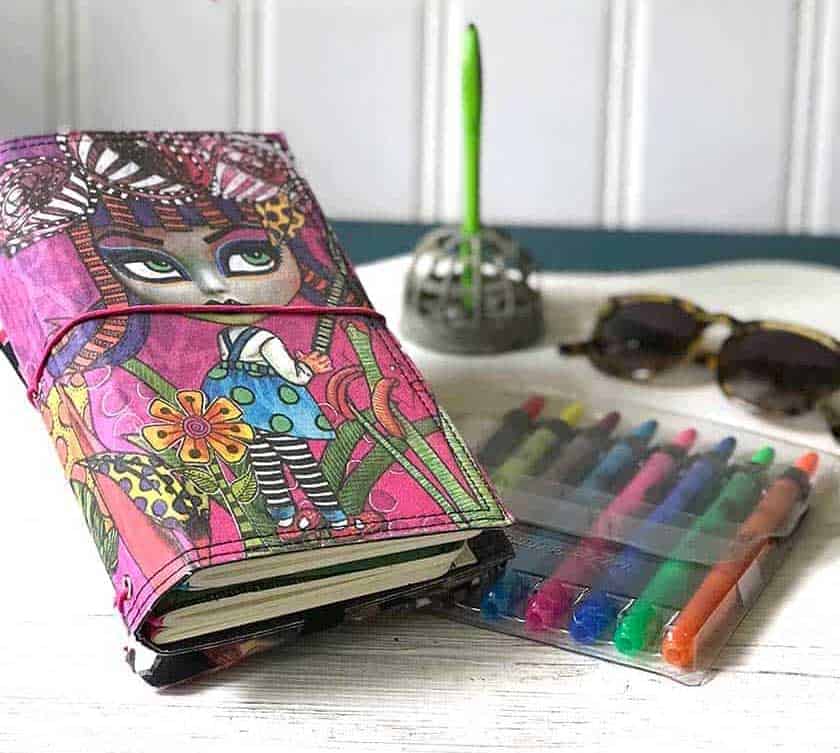 But you might like to use a regular watercolor pad of paper or even copy paper until you get better at it (you are already good enough to "deserve" good paper, but I understand the sentiment!)
3. Sketch Out Your Design On Your Paper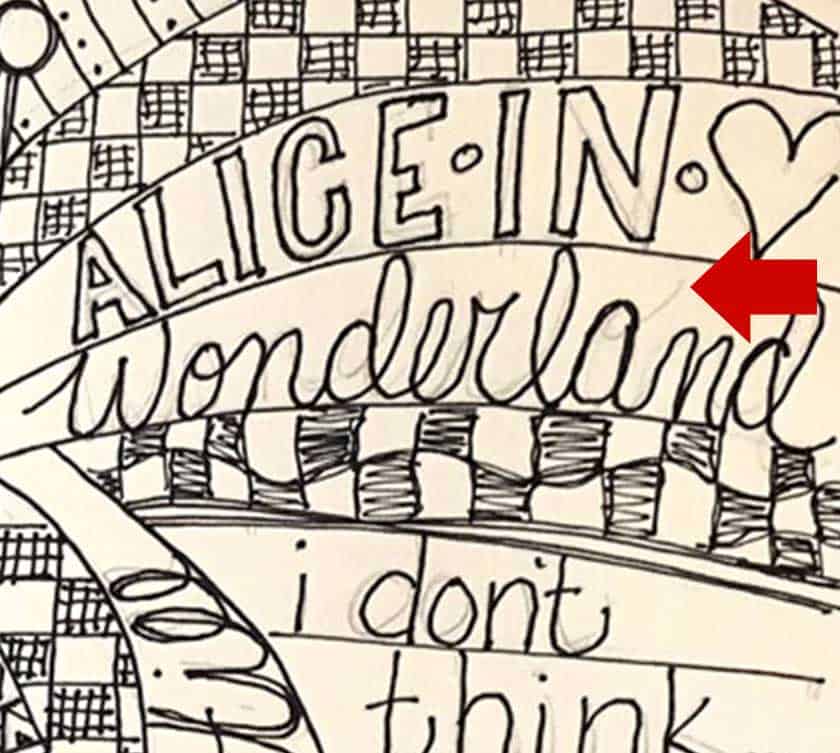 I KNOW! All the drawing classes you take say that you don't have to use a pencil first, just dive right in there and start with your pens or paint, but I am not that good at this!
I have to do my designs and then "tweak" them. For example getting "wonderland" to fit into the space I had, I had to draw and redraw it a few times until I liked how it fit.
Make some sections
One of the things that makes a doodle like this work is breaking up your project into sections.
For the Alice one I did squiggly ribbons all over the page, for the notes about my website I knew I had three things I wanted to mastermind so I made a square, a circle and a cloud space.
Do the words first…
I like to start with adding all the words in there first. They are what I think is the coolest part about it and if you color in too many of your sections, you might not have room for them!

Fill in the rest with patterns..
Last but not least fill in the rest of the areas with patterns. I have printed out a bunch of different ideas from Pinterest and just pick and chooses ones that I like.
A great way to make it seem cohesive is to repeat them over and over again in different sections of your work!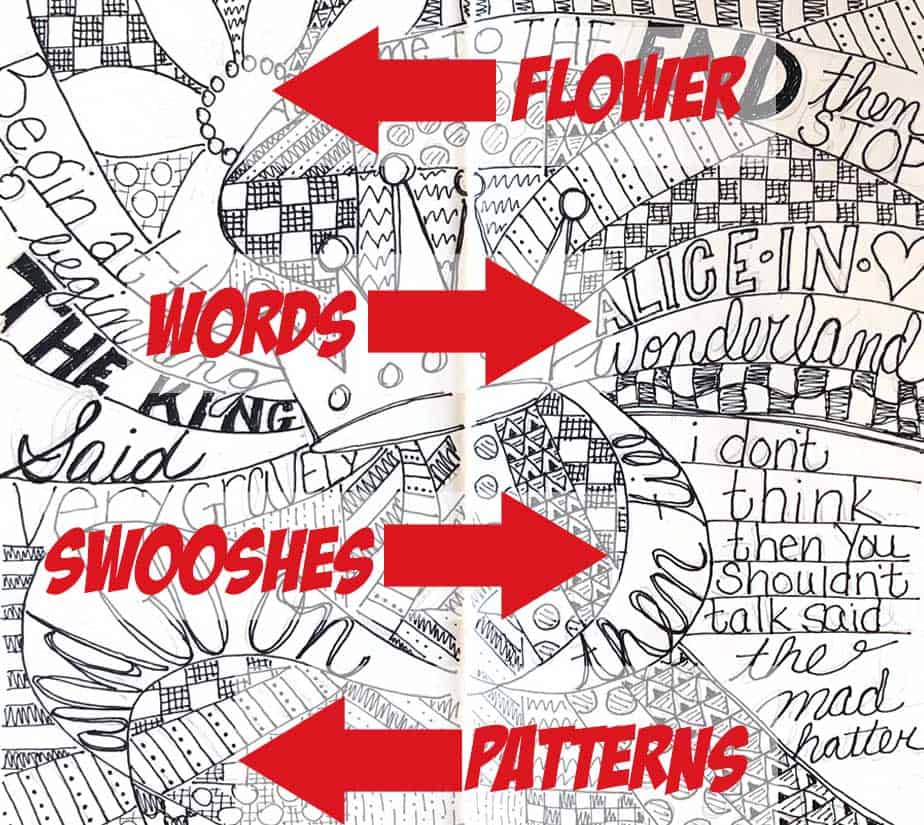 4. Use A Pen To Do The "Final" Write Over
I have searched and searched for pens that I like to use on my drawings. In the past I have used Sharpies, fancy pens and gel pens, but right now my favorite is "Le Pen".


The reason I like it is that it has a fine point, is acid free so it will last a good long time and it doesn't bleed through to the back of the paper that I use.
5. Erase Your Lines
After you get everything done, you can erase your lines before you are "officially" done or ready to add color.
Because the pencil is charcoal, if you leave it there it can make the colors less vibrant or get dirty and blurry on the page!
Final Thoughts on Doodling
Okay, I just want to leave you with a few things…
There are no mistakes! You might think that you "made a mistake" but anyone looking at it will not know that. There are no mistakes in art!
Fixing a mistake! Okay, say you do think something is a mistake, then just fix it with a little more of that same problem. For example, I went back to do a little more on a line and it looked terrible, so I just made the whole thing a double crinkly line, problem solved!
You are going to suck at first! We all want to be perfect when we start doodling, but that is not a thing. When you start you are going think "this looks terrible" and it probably will. But then you will another one and get better, and the next one will be even better yet!
This is supposed to be fun, so don't be so hard on yourself!
Yield: 1
How To Doodle Words and Shapes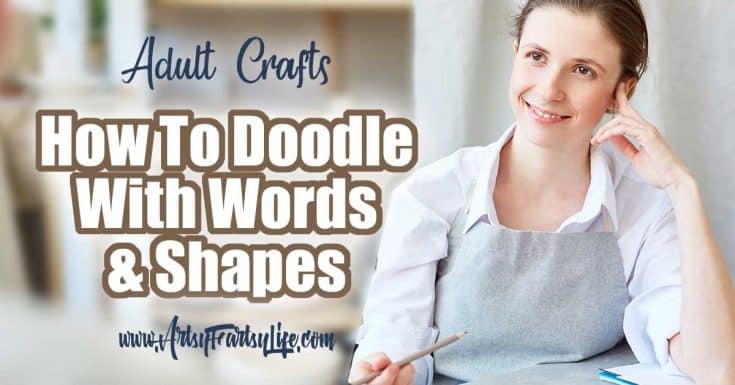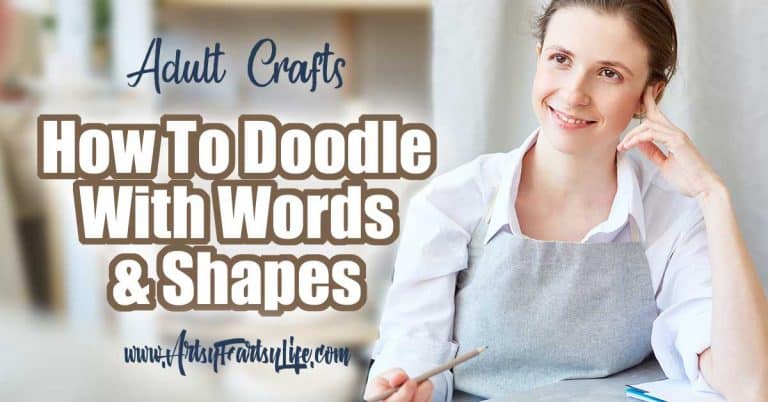 Doodling like this is a fun way to start to be more creative with your note taking or journalling!
Active Time
1 hour
30 minutes
Total Time
1 hour
30 minutes
Instructions
Start with some inspiration from Pinterest
Have a place to doodle (travelers notebook, watercolor pad, etc.)
Sketch out your design on paper using a pencil (make some sections, write your words, fill in with patterns)
Use a pen to do the final write over
Erase your lines
Recommended Products
As an Amazon Associate and member of other affiliate programs, I earn from qualifying purchases.