As a daily Posca paint pen user, I have some tips and ideas about how to pick the right size for your art journal, doodles or travelers notebook!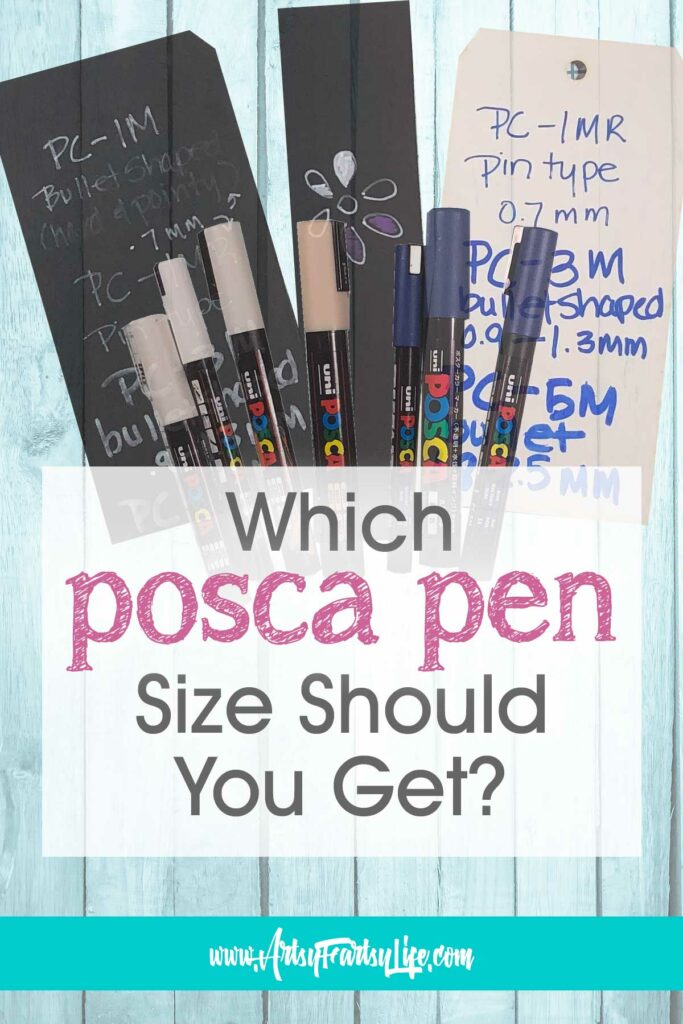 My Posca Paint Pen Story!
A few years ago I started to get back into journaling and doodling and I started by using Signo Uni Ball pens which are a gel based pen. They were fine, but didn't always work on paint and the other surfaces I was making.
Then I stumbled upon paint pens while visiting Dick Blick art store with my father in law (who is a capital A Artist). He said paint markers were great for adding highlights… boy did he create a monster when he showed me them!
Now I use Posca paint markers on the daily and love how well them work on my mixed media, collage and art journals that I doodle in!
Posca Paint Pen Video Walkthrough
Which Size Posca Should You Pick?
I use three different sizes of Posca paint pens, I think of them as skinny, fill in and giant (I would not get the giant ones again!)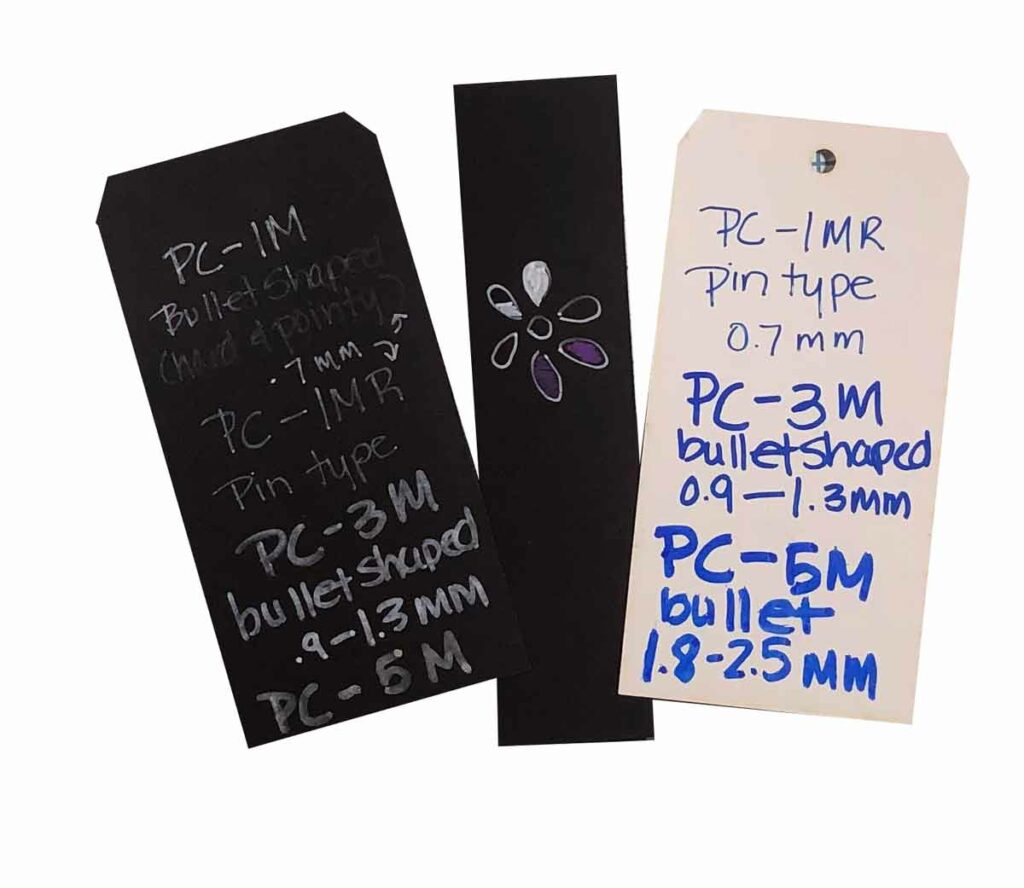 Here are technical details of the three sizes (there are four because the skinny's have two different kinds of nibs!)
PC-1M Posca Paint Pens .7 MM (Bullet Shaped)
This is the kind of Posca pen that has a hard, pointy nib. I don't like this kind at all because it tends to spit out paint in splatters on my artwork!
I have heard a rumor that this was the kind first introduced in the US and that we didn't really have broad access to the pin type until a bit later.
PC-1MR Posca Paint Pens .7MM (Pin Type)
This is my FAVORITE size and nib type. It is great for outlining and doodling! You can also do a wee bit of filling in if need be, but if you are filling in a lot, for sure get some 3Ms too!
PC-3M Posca Paint Pens .9-1.3 MM (Bullet Shaped)
I find this is the perfect size for filling in small areas. I use these in conjunction with the skinny ones for almost all of my artwork.
PC-5M Posca Paint Pens 1.8-2.5 MM (Bullet Shaped)
These are the size that you find the most in "sets" and they are just a bit big to do any fine kind of detail or outlining. They are good for covering big areas, but for art journaling I wouldn't buy these again.
POSCA Paint Pens FAQs
I had SO MANY questions about Posca markers and made some rather expensive mistakes buying the wrong ones to start. Here is my best info about Posca pens to help you!
Is There A Difference Between Posca Paint Pens and Posca Markers?
I have not found a difference. I think it depends on what the retailer calls it in their store, rather than there being a difference in them both being paint pens.
Why Are There Two Different Nibs On The 7MM Paint Pens?
I think the idea is that the Bullet Shaped (plastic) nib is for super fine details and the Pin Type nib is for thin lines.
I definitely don't like the bullet shaped nibs for my art journals as they "spit" out paint onto my pages making a bit of a mess.
Where Do You Buy Posca Paint Pens?
I buy Posca pens anytime I see them on sale! Here are some of the places I have gotten mine…
Big Box Stores – Places like Michaels and Joanns in the US are great places to pick up "sets" of Posca paint markers, especially when you can get a 20% or 40% off coupon.
Joggles Online – I like shopping at Joggles online because they have an overall, 10-15% off on art supplies. Get your Poscas at Joggles!
Dick Blick In Store or Online – Dick Blick art supply store has a great selection of Posca paint pens and they have a LOT because they can buy in bulk. I tend to buy them in person at Dick Blick because how they list them on their website is confusing and I have bought the wrong kind of skinny ones. Get your Poscas at Dick Blick!
What Color Posca Pens Should You Buy?
Ohhhh this is a tough one because I have loved some of the colors and not so much other ones! For example, I like the dark red very much and don't like the regular red at all (it has a pinkish cast to me!)
I have a skinny violet and a 1MR and 3M dark purple. I tend to use the dark purple more, but do like the violet to add highlights.
You might do well to buy a cheap set and test the colors for yourself, and then fill in the ones that you are missing with open stock (single pens).
This is the way I did it, adding teal, dark red and gold to plainer primary colors that I got in sets.
Do Your Posca Pens Run Out Fast?
I have some white Posca pens that I have been using for a month or more and they just seem to keep going and going even though they are skinny and there can only be so much ink in them!
I have been super pleasantly surprised at how long Posca pens last!
What Can You Do If Your Posca Pens Stop Working?
It is so darn frustrating when one of your pens stops working! Usually this happens to me when I have been too impatient and used them on wet glue which messes up the nib and is not fixable.
I have hear stories about people who can change out their nibs, but I tend to just toss them and get a new one!
That said, if there is gunk on the end of your nib, sometimes a quick dip in Isopropyl Alcohol will clean it off and get the paint flowing again!