When you are starting a gratitude journal, all those blank pages can be super intimidating. Here is a great guide for picking your journal, and then how to make it a part of your daily life!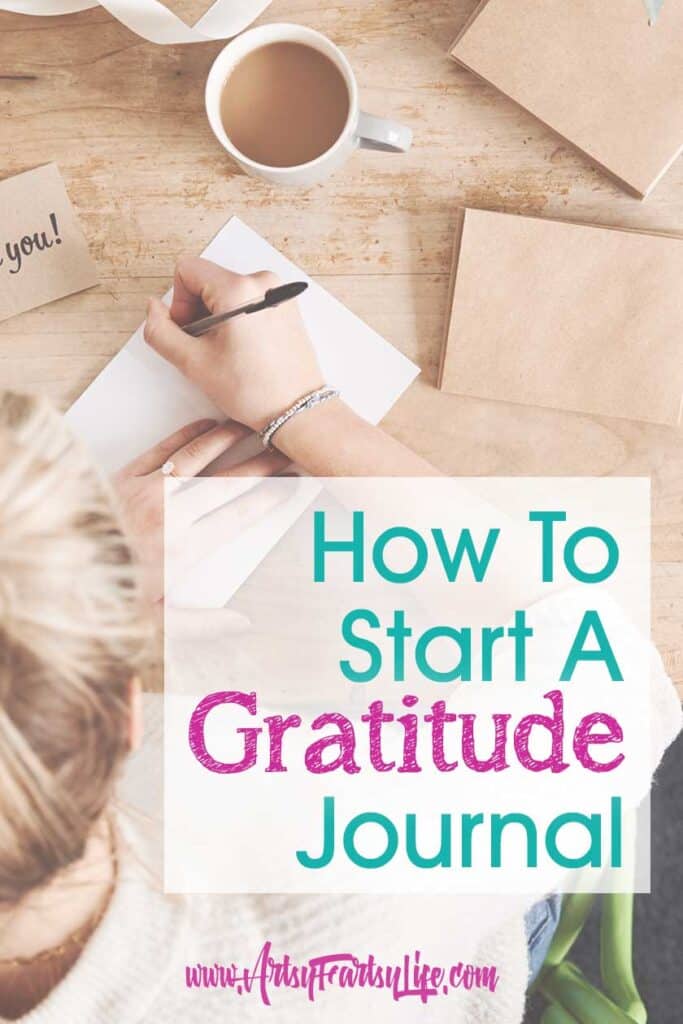 please note :: as an Amazon associate I earn from qualifying purchases, read my full disclosure policy here
When To Start A Gratitude Journal
Starting a gratitude journal is one of those counterintuitive things, you need it the most when you are feeling the worst!
Here are some times I have turned to a gratitude journal in my life…
During isolation either from the pandemic or even when I just felt alone and lonely
During job loss… I got laid off and needed to find something to feel good about
Death of a loved one… whoa this one was hard. After the death of my mother I was super lost and DEFINITELY didn't feel grateful for her passing
When your kids are little and you feel like you are carrying the weight of your family on your back
With any of that negativity, it can be hard to see the positives, much less find gratitude each day.  But negative begets negative and finding that gratefulness is so very important these days.
What Is Gratitude?

So what is gratitude?  It's defined as the quality of being thankful; readiness to show appreciation for and to return kindness. Gratitude is a powerful emotion that can be life transforming.  It changes your perspective and outlook.
I admit that practicing gratitude is a difficult thing for me.  Not that I'm not thankful for the blessings in my life.  I recognize them and I am.  
But if you, like me, suffer from depression or anxiety, seeing the forest of gratitude through the trees of negativity is especially hard to do.  
One way to combat it is to start a gratitude journal.  Not only will it have you looking for the positives, it will give you a written record that you can go back to when things get especially tough.
Here's a wonderful side benefit to a gratitude journal: it can give complicated problems a simple solution. I know that it doesn't seem like a logical statement, but discouraging thoughts block clear answers.
Don't think that waiting until you are happy to find gratitude.  Happiness doesn't bring gratitude, quite the opposite.  Gratitude brings joy and a feeling of contentment.  
You notice that I didn't say "happiness."  
I did that on purpose.  Happiness is fleeting.  It's a passing emotion.  Grateful people are content with their lives.  They feel less anxious.  Small problems don't devastate them and while they may strive for more, being in the moment and enjoying what they have is also important.
Picking Your Gratitude Journal
Okay, you will want to think about how you like to journal. Will you be writing thoughts for each day, will you be adding drawings or pictures, or will this be a full-on visual journal that you do art in every day?
Using a calendar for gratitude journalling
I think there is something so simple and clean about using a regular calendar for journalling. You know exactly which day you are on and will have a written record of a time in your life.
I had a little "gratitude" section on my daily planner pages when I was working with clients full time.
After a hard day of dealing with problems and people, it was nice to take a second and remember what I was happy for in my life and business.
"Official" gratitude journals
If you are looking for a "real" gratitude journal, there are some that include prompts and a more structured layout.
These have the benefit of helping to prompt you about what you might be grateful for or give you a little bit more guidance if you are just a beginner!
These kind of journals can be general, bible focused or even a bit irreverent and saucy.
Good Days Start With Gratitude: A 52 Week Guide

Simply Thankful Gratitude Journal: A Christian Journal

Zen as F*ck

Artistic gratitude journals
My blog is called artsy farty life so OF COURSE when I do a gratitude journal I am going to be filling it with doodles and pictures and "stuff".
When I do a gratitude journal it winds up looking like a royal mess, but that is okay! You can be "normal" or "funky" there is no wrong way to do a gratitude journal!
Dylusions Dyan Reaveley's Creative Journal, 11.375 by 8.25-Inch

Dylusions Dyalog Insert Book 4.375″X8.25″

Anything will work!
With all these suggestions, I just want you to know that ANYTHING will work for gratitude journalling!
I have used a $.99 composition book and a $100 handmade journal.
The thing about a gratitude journal is that it is supposed to make YOU feel good about using it… the journal is just a tiny little part!
How To Keep Your Journalling Practice Going

Some people are amazing at maintaining a gratitude journal habit (I bet their houses are super clean too!)
But a lot of us find it hard to keep the process going on a regular basis, so here are some things you can do to make it a habit.
Be sure to choose, or make, your journal carefully.  
You want to make the process fun so you keep doing it.  If you are a very visual person, you'll want a journal that you love to look at, as well as write in.  You can take the simple idea above and decorate the cover inside and out with pictures of people or things you love.
If you just want to find a premade journal, look in a place that has many kinds to find the one that appeals best to you.
Ok, so now that you have your journal, how do you get started?  
You make it a habit by making it a ritual.  What I mean by this is find a way to help get yourself in the right frame of mind.  
Light a candle or diffuse calming essential oils.  Play music.  Pray.  Whatever you need to do to relax and let words flow.  Then always do that before you journal.  The actions will become a "muscle memory" for your brain and body to be consistent.
Do you have to write the great American novel?  
No.  Write a list, draw, make a collage, write a poem, use your creativeness, you do you.  
Most importantly, get past feeling awkward and just feel the gratitude as you create.  You may write a plethora of words today, and just one tomorrow.  That's ok.  
Go for quality of feeling not number of words.  
If you find yourself going off topic, either refocus and keep going, stop for the day, or go deeper into the "rabbit hole" and you may find answers, or small things to keep you content.
When To Write In Your Gratitude Journal?

There are those who think that gratitude journaling should be done at the end of the day.  Hey, if that works for you, have at it.  
If you find that there is a better time of day where you can find that few minutes of peace and quiet you need to journal, do it then.  Keep it daily or weekly or both.  Just whatever you do, make it a habit.
Journalling On Your Phone
Oh, and for you techies out there, using apps on your phone or tablet are totally ok too.  It is one way that you can journal on the go.  
Plus side, you can easily add photos to your journal along with words.  It's more easily backed up (most phones have an auto backup feature) so if you break/lose/trade in your phone, the stuff is still there!  
You can set an alarm to actually journal on your phone or tablet.  Oh, and you can search more easily too – a lot of apps have word search capability.
Gratitude Journaling Wrapup
Whew that was a lot, but what I want you to remember is that writing down things you are grateful for each day is a way to focus on the good things in your life (especially when things seem the darkest!)
You can keep it for your eyes only or share it online for everyone in the world to see (only me?)
The thing I love the most about it is seeing all the positive events in my life all in one place at the same time!