This year I participated in the Sketchbook Project… scary since I am not an "official" artist. But I became brave and decided that I would at least try… and I think my Happily Ever After book came out great!
Here is my live "Happily Ever After" Sketchbook on the Brooklyn Art Library site!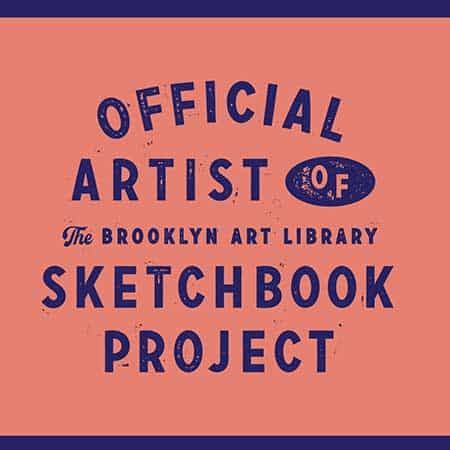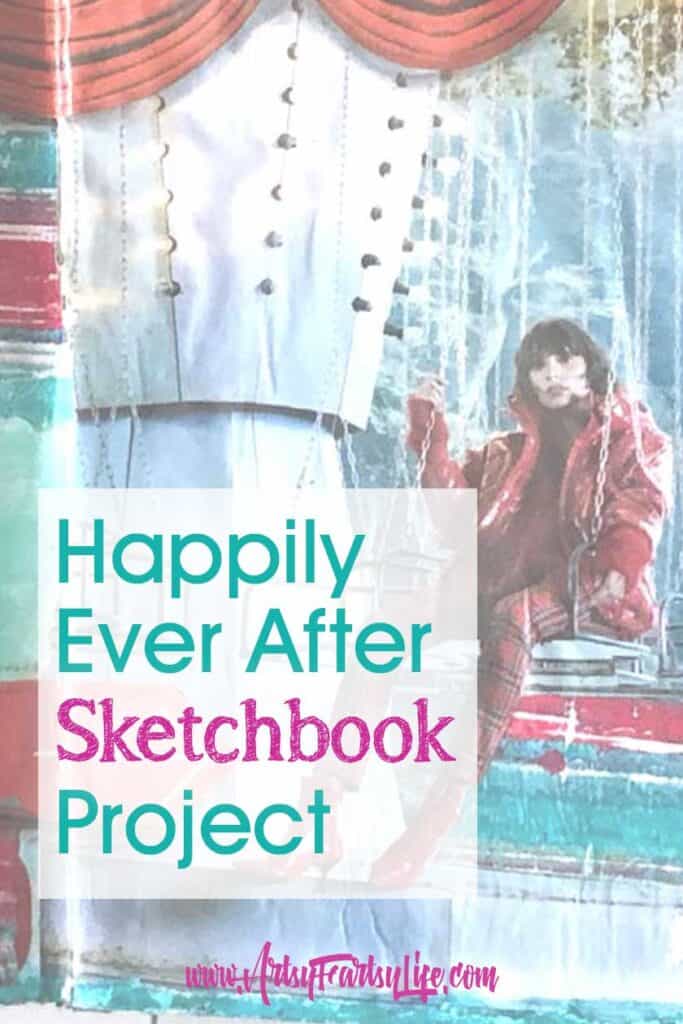 The Sketchbook Project
How it works… they send you a blank book and you have to fill it up with with your art… ack!
Each year they have themes like "A Lasting Impression", "Time Trapped" or "Anthem". I picked "Scenes From A Story" as my theme (honestly, I wanted to do a fairy tale book right from the start, so I picked a theme that matched my vision!)
You do your artwork then send it into the Brooklyn Art Library and they will add it to their collection… but wait, there's more!
You can have them digitize it and they will post it on the internet for people to see AND they will drive it around the country for people to look at… what?!?!
Plus the there is a barcode, so, as the artist, you can find out when someone has looked at your book in the online digital library or in person because they scan the barcode on the back of your book! Whoo whoo… I can't wait!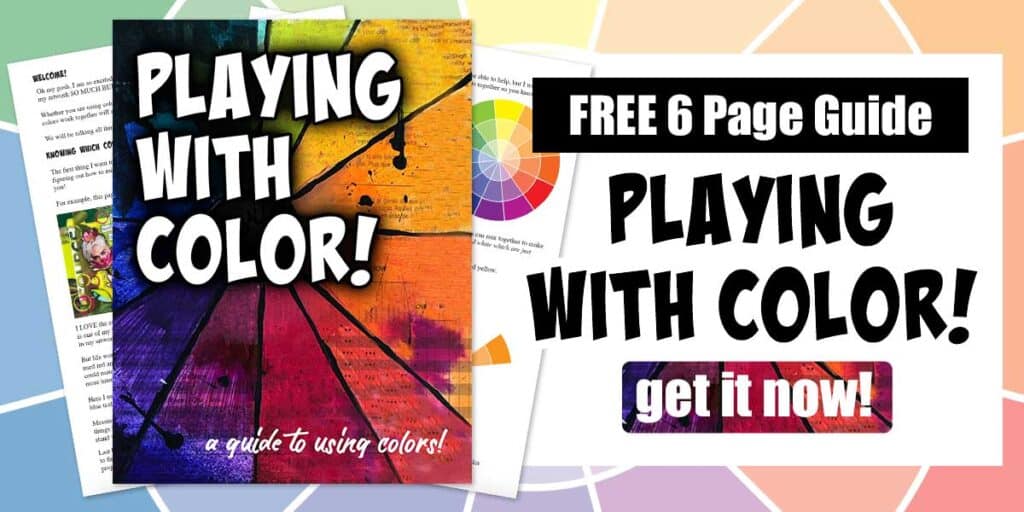 Happily Ever After Sketchbook Project
Once my sketchbook is on the site I will link it up, but in case you want to see it before then, here you go!
I had the idea to do an updated book of fairy tale princesses, strong and bold. But then I thought about some of the ones that had male protagonists, fables and legends.
I don't know if you have done magazine collage yourself, but it is a little different, you have to be led by the images you find rather than by your whim the way drawing or painting artists do.
So some I had in mind never made it into the book and some sprang forth from pictures I found!
The Cover and Back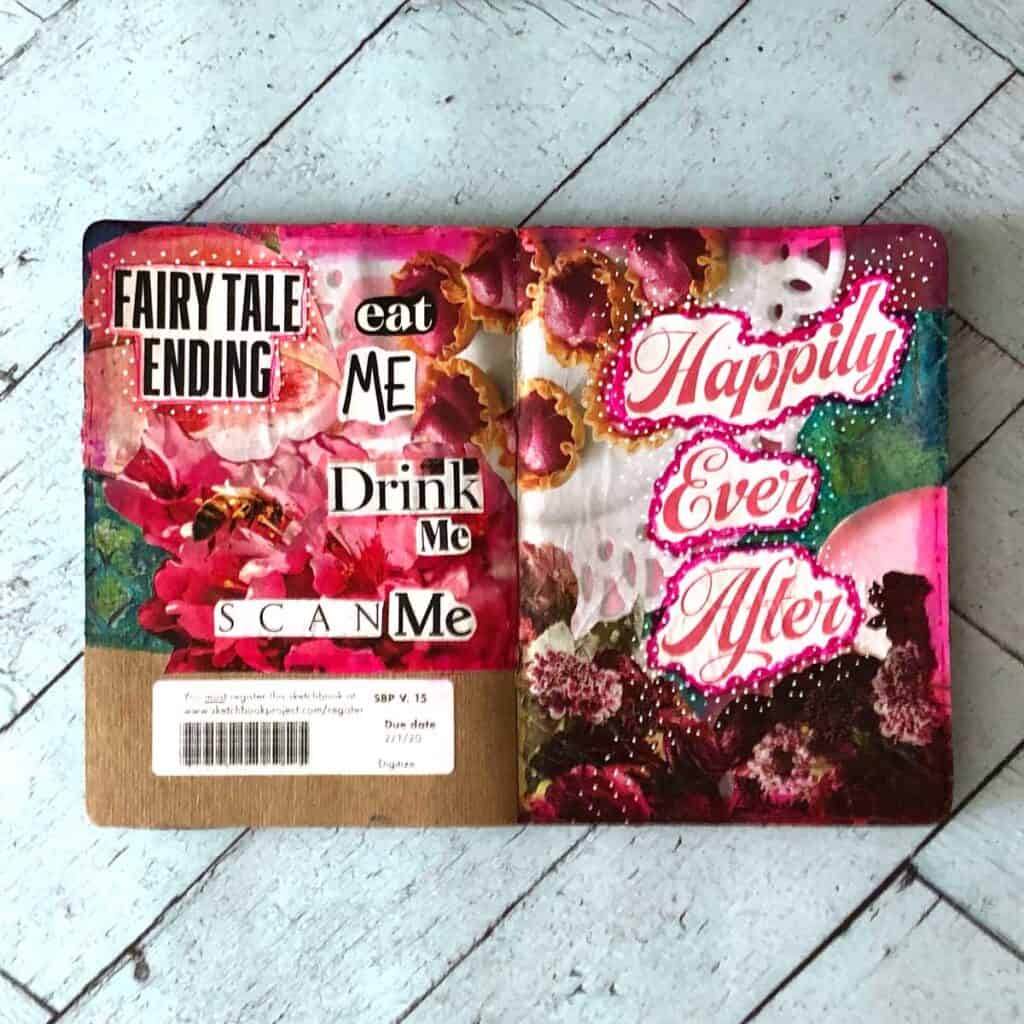 This is the cover and back, there is nothing on the bottom of the back because that is where people scan it!
I LOVE how this turned out! I started with the plate of tartlets, added some flowers, a couple of glasses of pink and then had to have a bee in there because I love bees!
Also, because I am competitive AND in marketing, I wanted to remind people to scan the back of my book so I can see when they checked it out!
Alice In Wonderland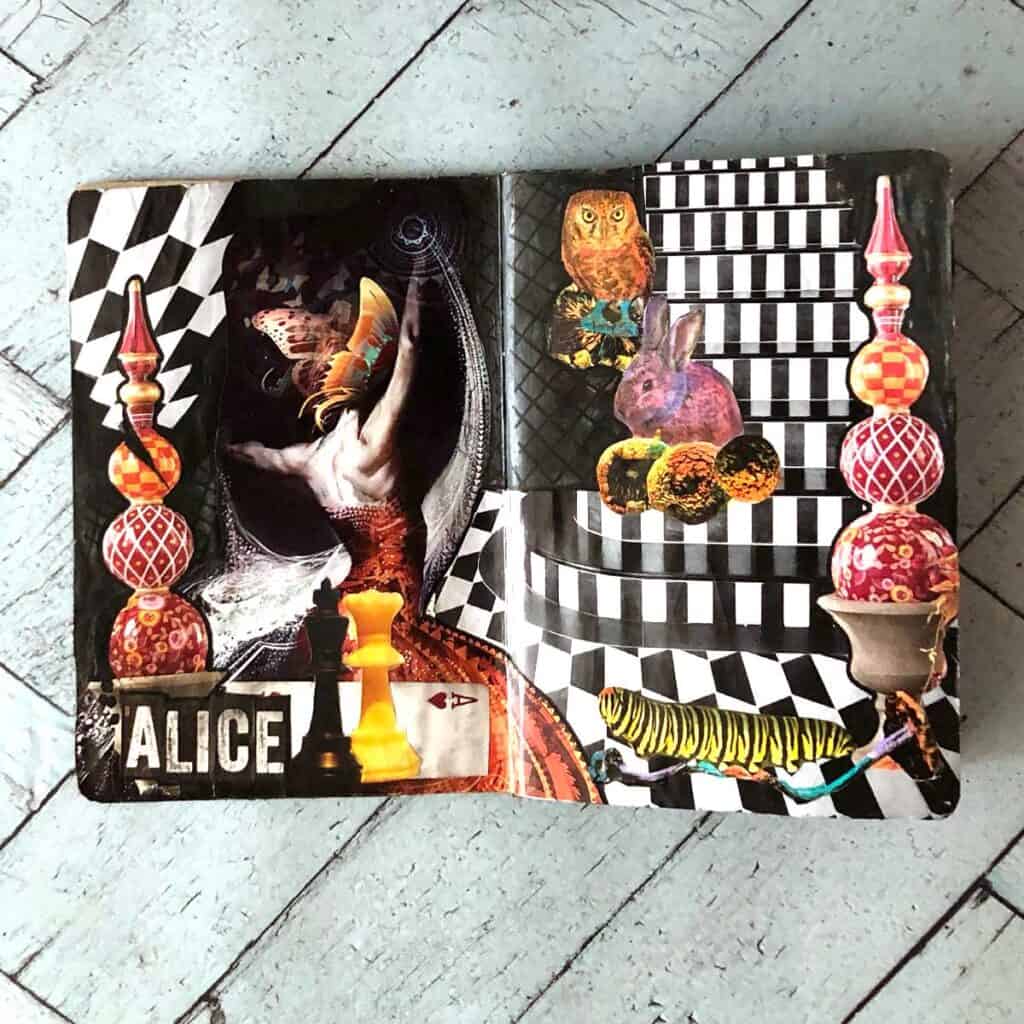 The black and white checkerboard stairs where one of the first elements I stuck in my book! I knew I wanted to do Alice In Wonderland page right from the start.
I love all the trippy elements to this, the caterpillar, magic mushrooms and crazy animals hanging around!
King Midas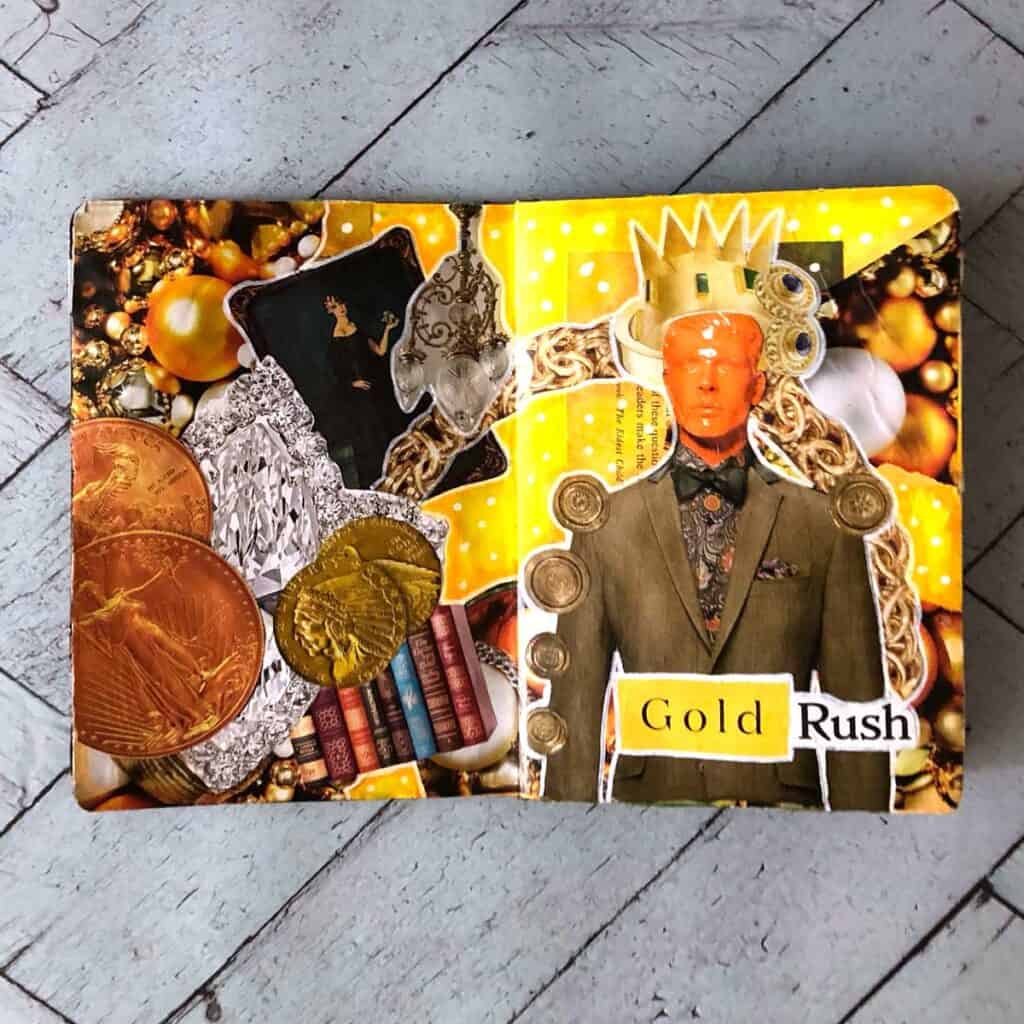 When I was doing the book I wanted to include more than just Disney princesses so I originally thought I would do King Midas AND Ganesh, but I couldn't find enough cool imagery to do a old god with an elephant head.
This is a modern take on King Midas with all the gold, but also artwork and knowledge thrown in!
Snow White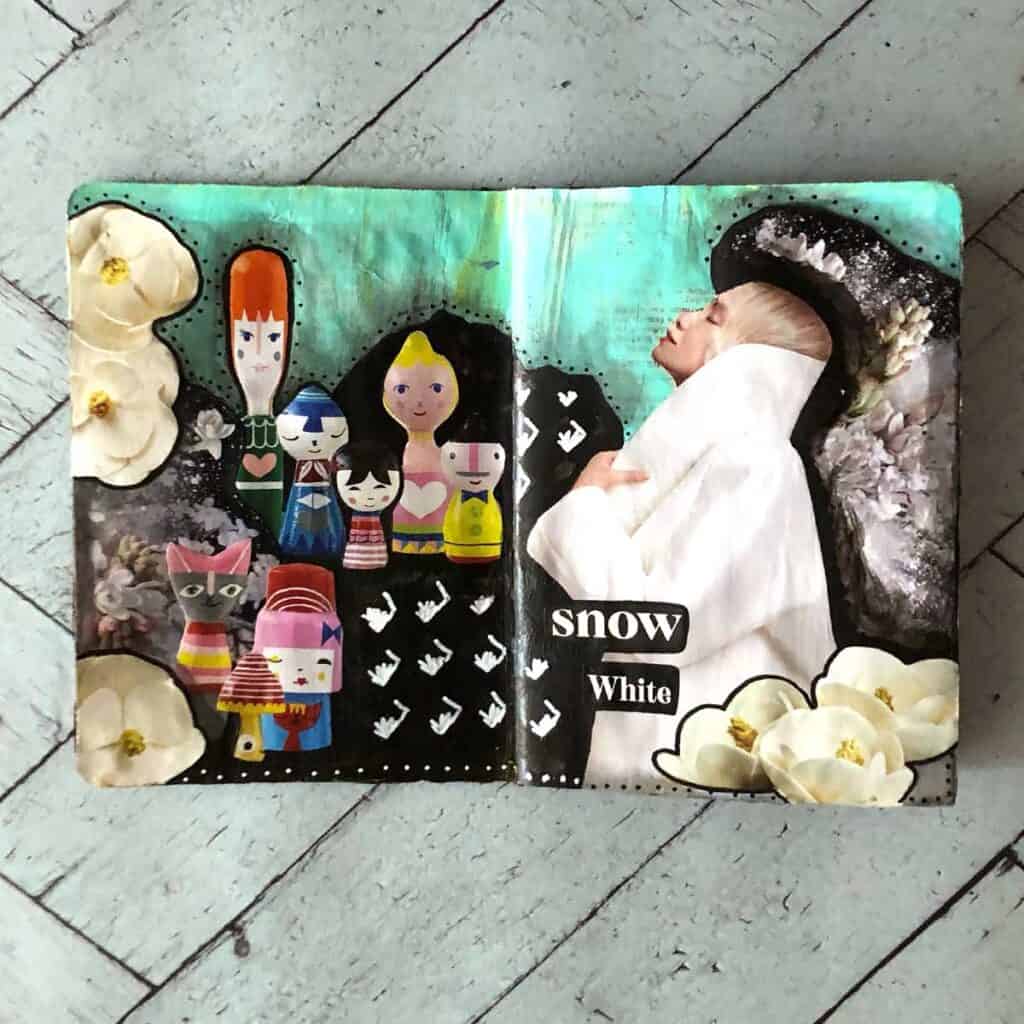 I really struggled with this one at the start, a white person on a white page wasn't very cute, but eventually, with layers and the little "dwarves" it started to come together!
There are seven little dolls and then a mushroom, NO there are not 8 dwarves!
This is one of the few pictures that I told exactly who it was, just because I found cool words to "label" her!
Rapunzel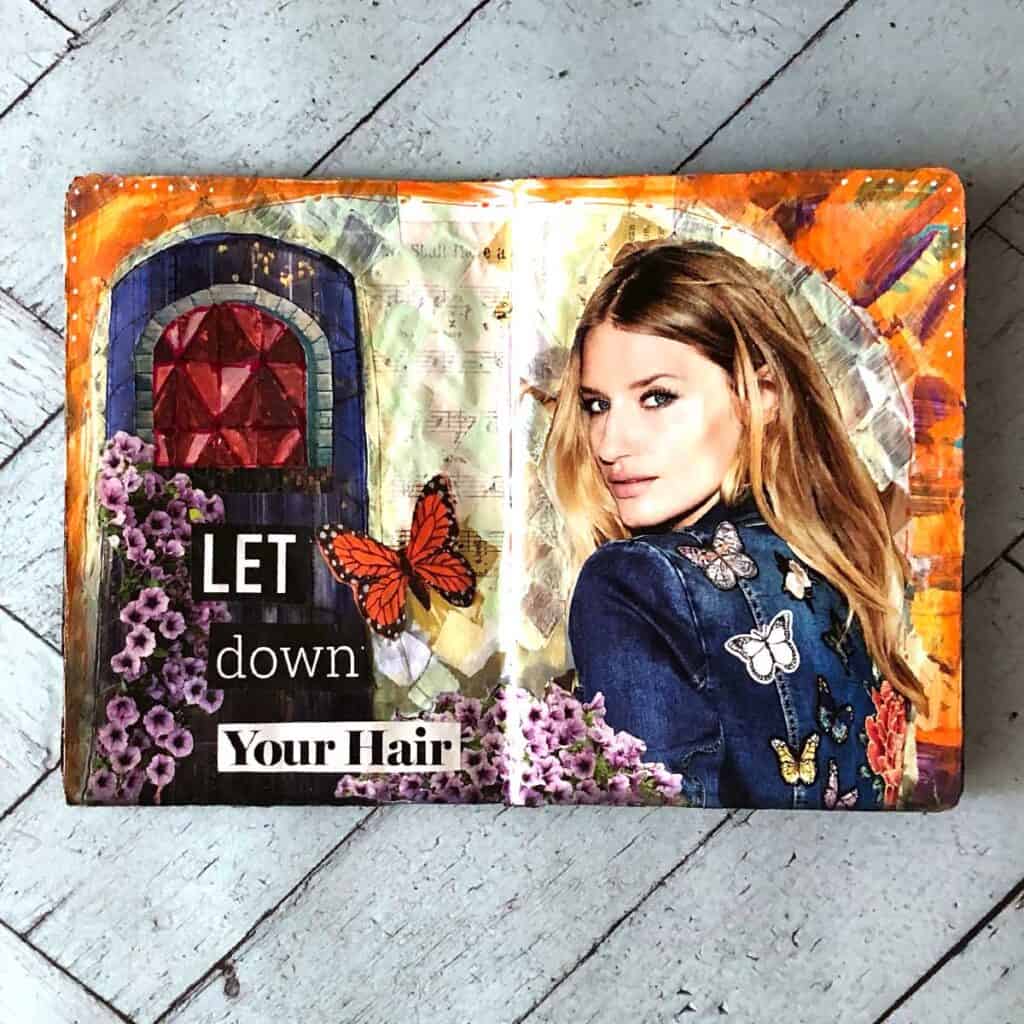 It is funny, this page started out as Sleeping Beauty page, on the left there is more "texture" with the bed in the back covered up (you can always add more layers if you "mess up").
I love how the tower turned out, the "stained glass" is actually a drinking glass that I colored with the beautiful red hues. The tower is from an old "Out" magazine… there are a line of naked men climbing up it under those pretty purple flowers! (if this had been my own journal I probably would have made them "flip up"! but you are supposed to keep it under an inch thick and I was already getting a "fat" book!)
Princess Jasmine From Alladin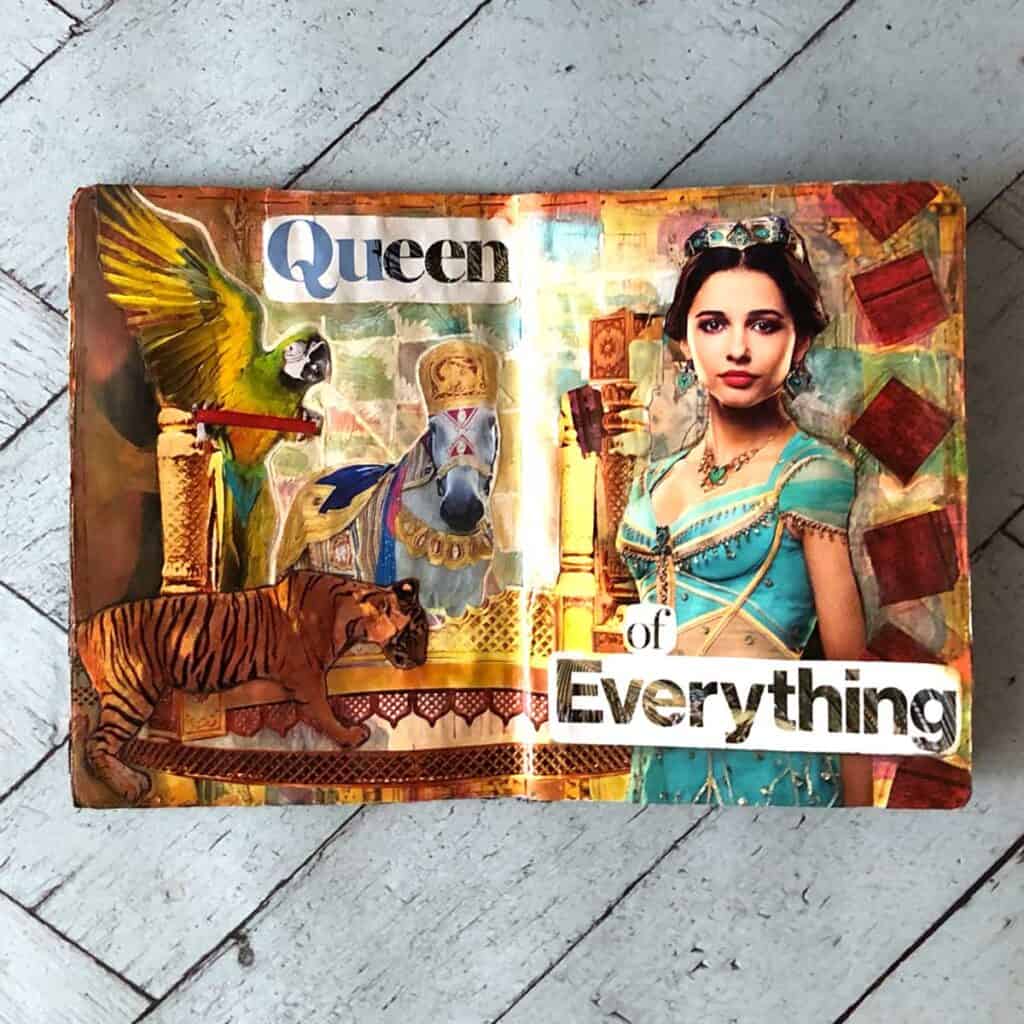 This one was much plainer until my daughter insisted that Jasmine needed a parrot and a tiger (when your teenager shows an interest in what you do, you comply!)
I love the bold colors of her dress! Funny thing, the "corral" is an Indian wedding lattice turned upside down. I found a super cool magazine in my local Indian Restaurant and went crazy!
Little Red Riding Hood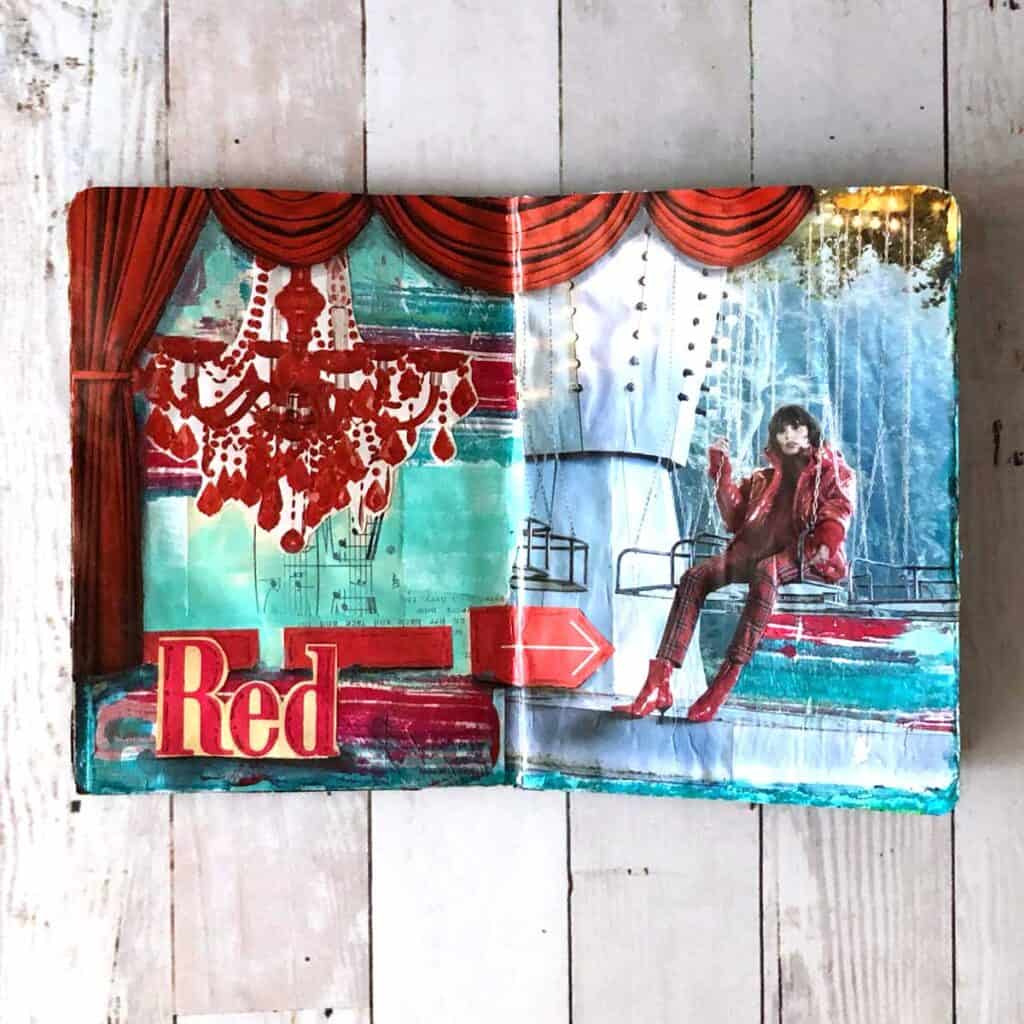 After King Midas, this is the one that people are having the hardest time figuring out! I LOVE how this page turned out (it may be my favorite!)
In this version, Little Red is sassy and fun, no wolves or Grandmas in sight! Turquoise and red are my two favorite colors together so I kept this one pretty "doodle free" and just let it stand for itself.
Frozen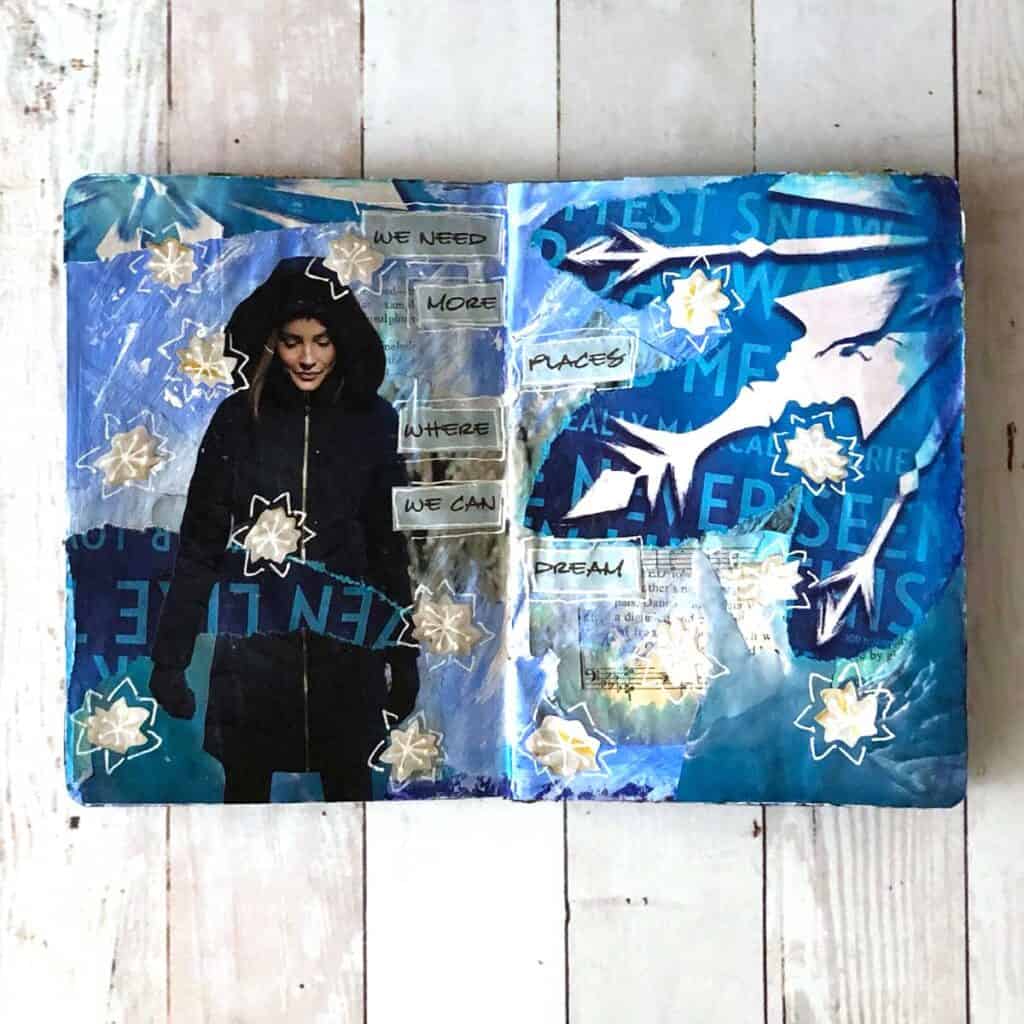 This is the first page that I finished! And then I found the star shaped "snowflakes" from a cooking magazine and bam, that was the perfect addition.
Maleficent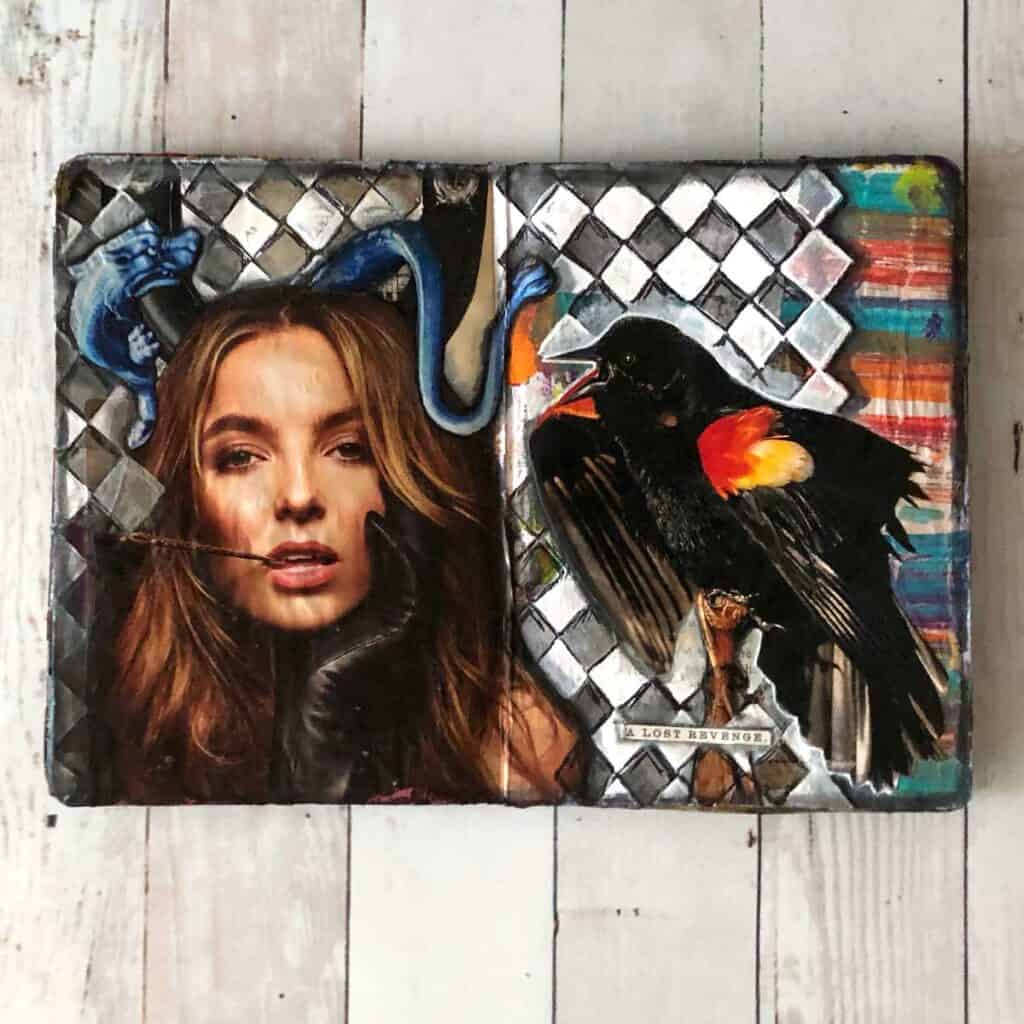 I did get Sleeping Beauty in here with her witch! Her horns are a purse handle and the dragon around them are a ceramic sculpture that was just the right size!
This was the second page I finished and the first that I used a gel plate background to make colored textures. I love how the right hand side pops the bird out with the colors.
Mirror, Mirror on the Wall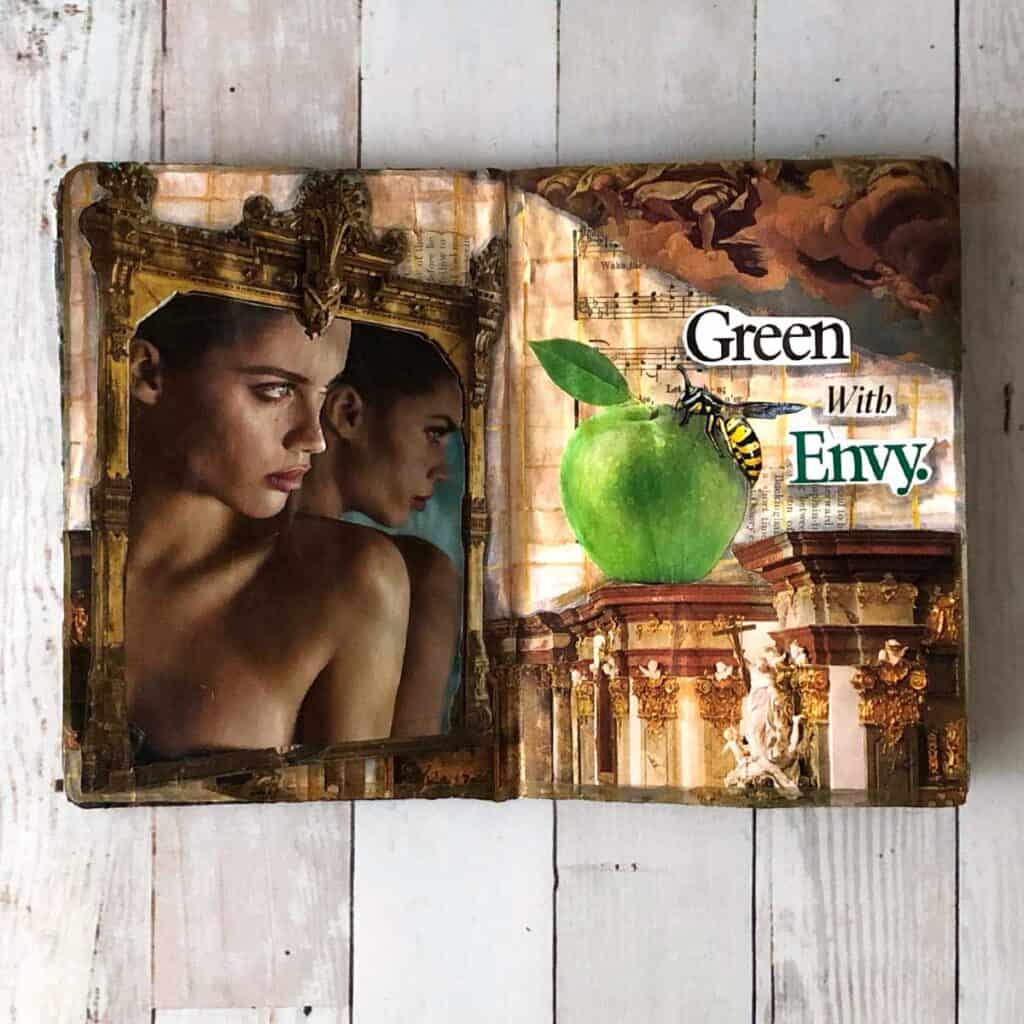 For those of you playing along, this is the SECOND Snow White page. That is the only story that got two pages because I found this amazing mirrored woman picture and then spent DAYS finding the right sized mirror to fit the picture and the book!
I love how she is looking at the apple and you can just tell she hates Snow White SO MUCH!
Hansel and Gretel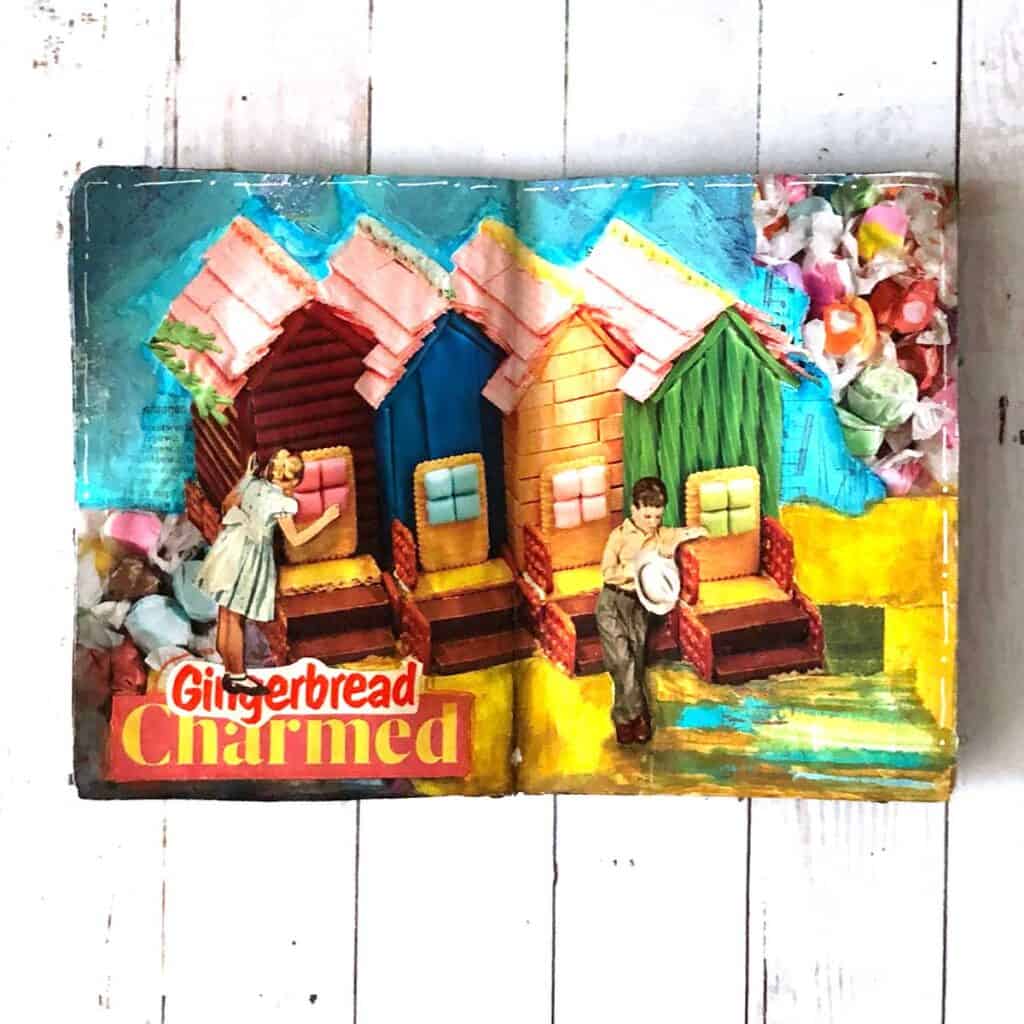 Okay, I just want you to love this one because it took about 1,000 years to find the kids that would match AND fit on the size of the gingerbread houses! #magazinecollageproblems
Honestly, I love the "dirt" at the bottom the most. I struggled to get the background right on this one and luckily finished it FINALLY. Layers on layers on layers.
The Wizard of Oz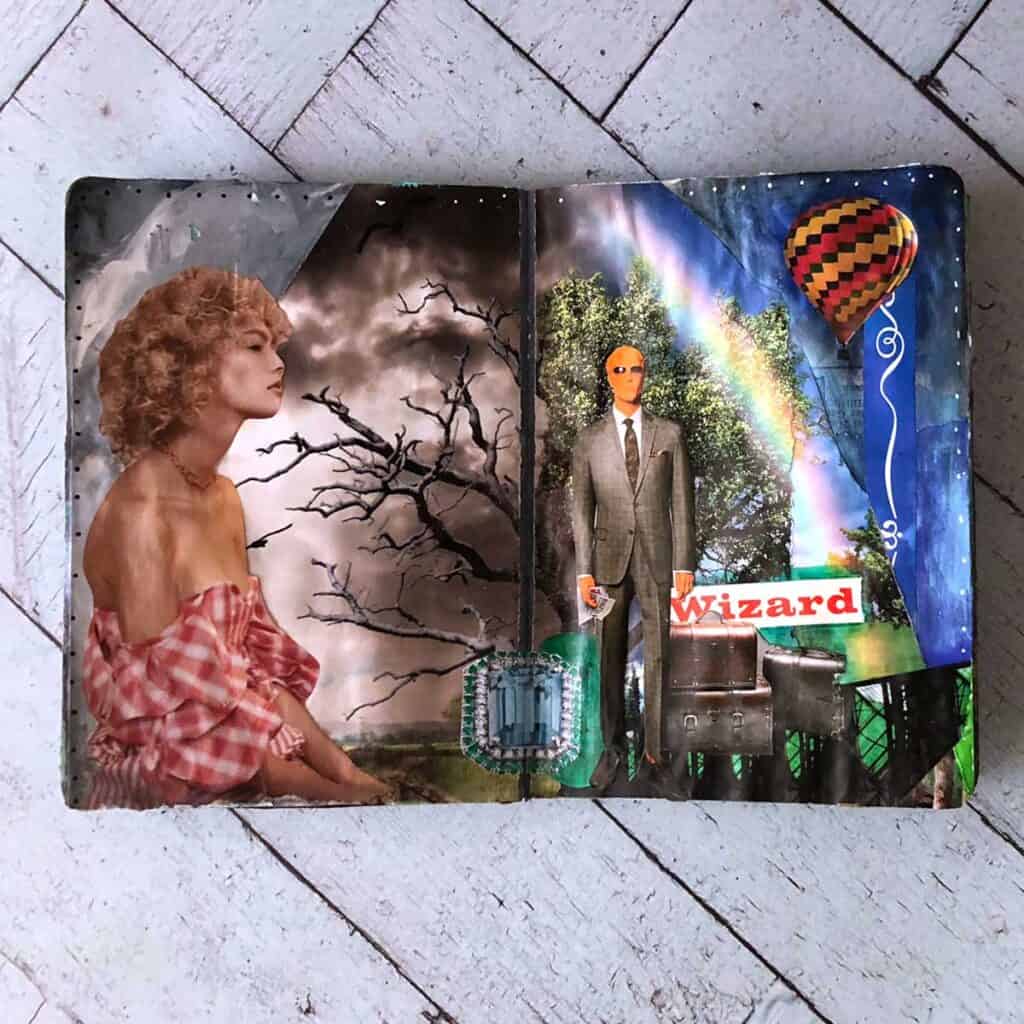 This is another one of the first ones… it came together so easily for the wizard, and then I found the most perfect "Dorothy"… modern and all the red and white checks!
When I started this I thought I would "break" up the pages in the spine so it wouldn't get too thick, but I only did it on this one!
Jack and the Beanstalk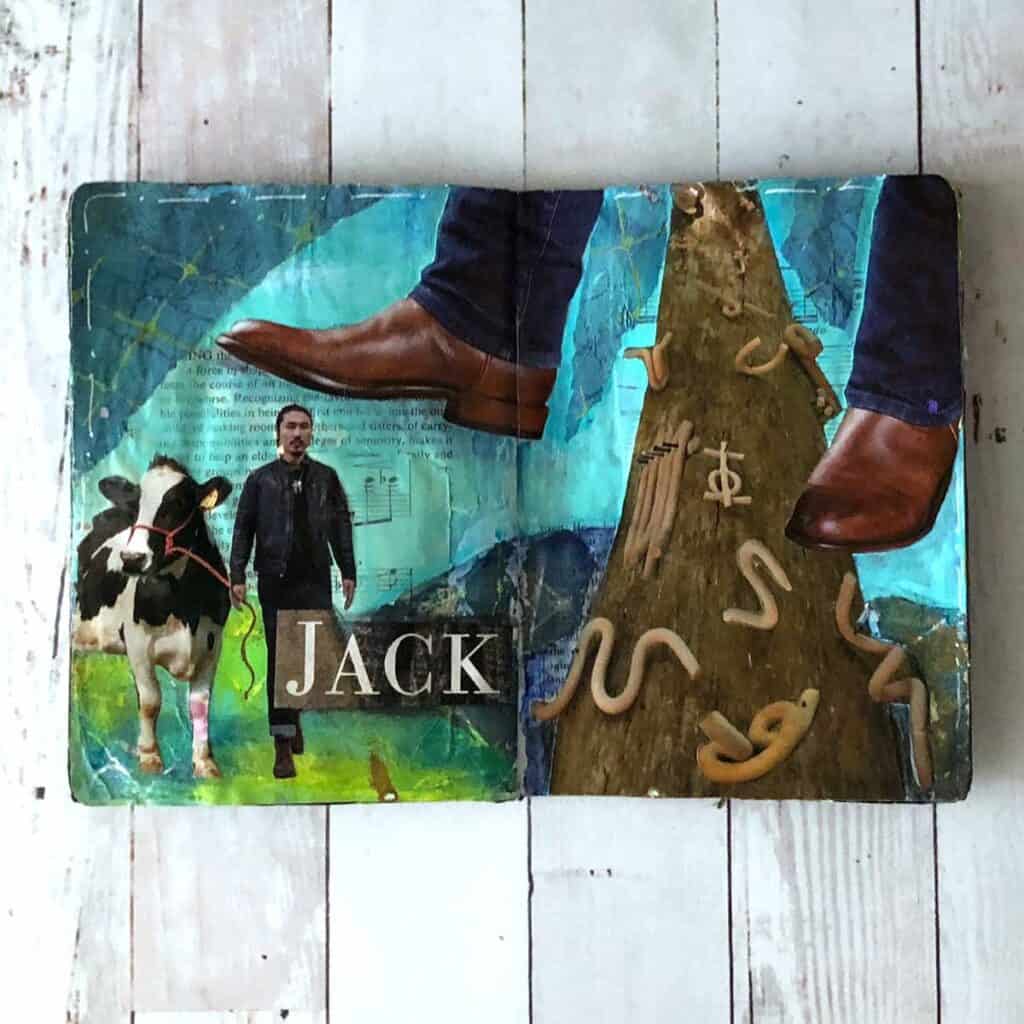 This one tickles me! I had the concept in my head and found just the right sized "feet" and the beanstalk pretty easily. But finding a cow is a pain… they are shy creatures and don't photograph well… ha!
Luckily I got all the parts and love that my "jack" is a rapper from Rolling Stone… so cool and hip, dragging around his cow!
The Little Mermaid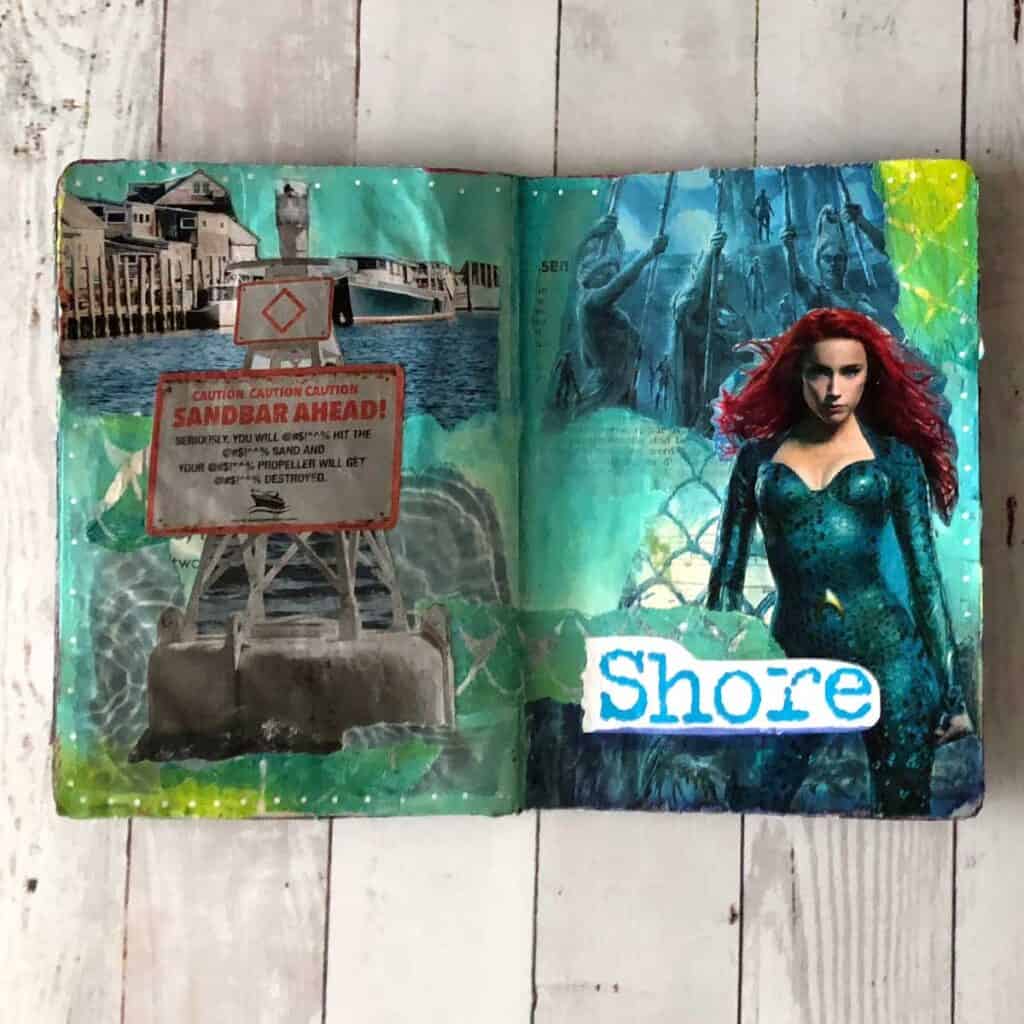 I know, this gal is really from Aquaman, but as soon as I saw her, I knew I wanted this gal to be my modern little mermaid. So strong and cool!
So funny, I have a lot of "buoys" because my husband gets a fishing magazine, this one just fit in here perfectly!
Cinderella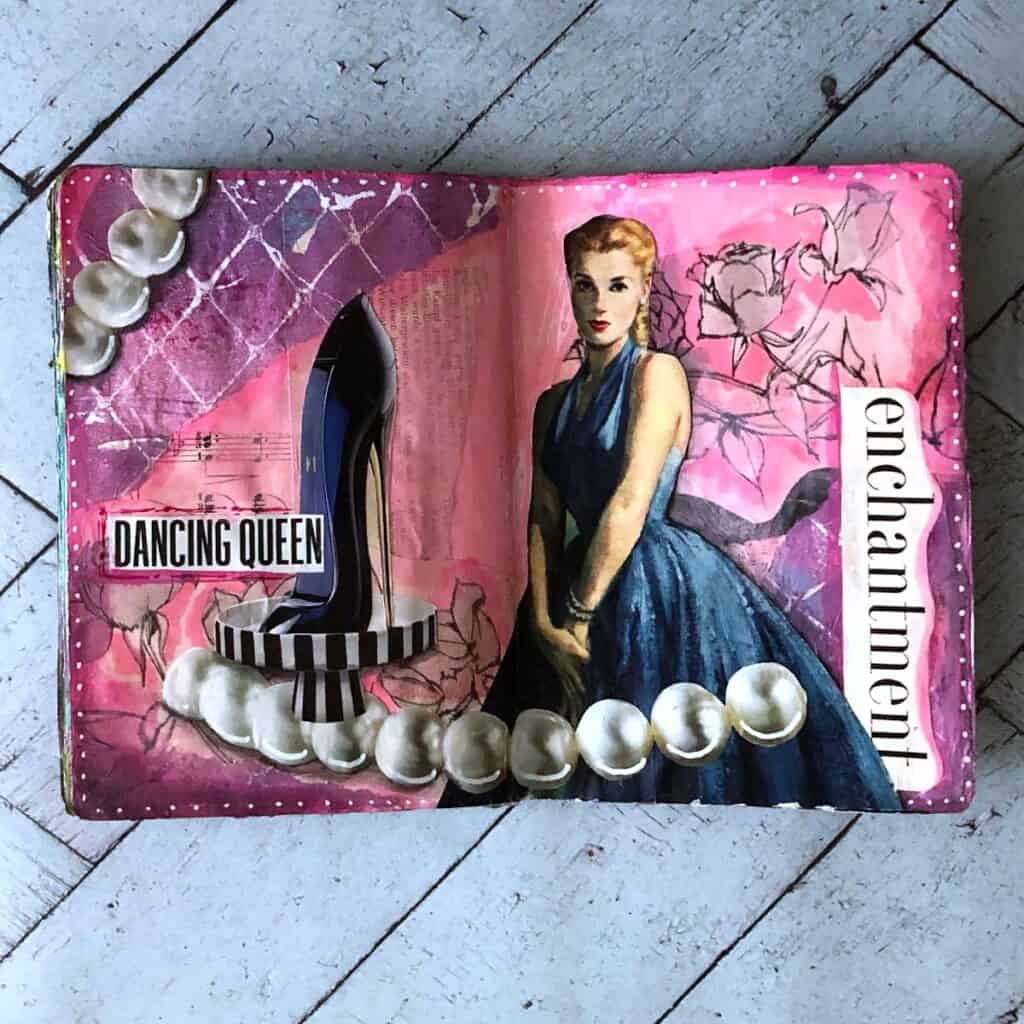 This is the only "non-modern" gal I chose. I felt like I should honor the genre just a wee bit with this 1950's magazine lady. She was so elegant and just perfect with the old fashioned flowers I found.
And then of course I had to update her "slipper"… that is one HIGH HEEL!
The Princess and the Frog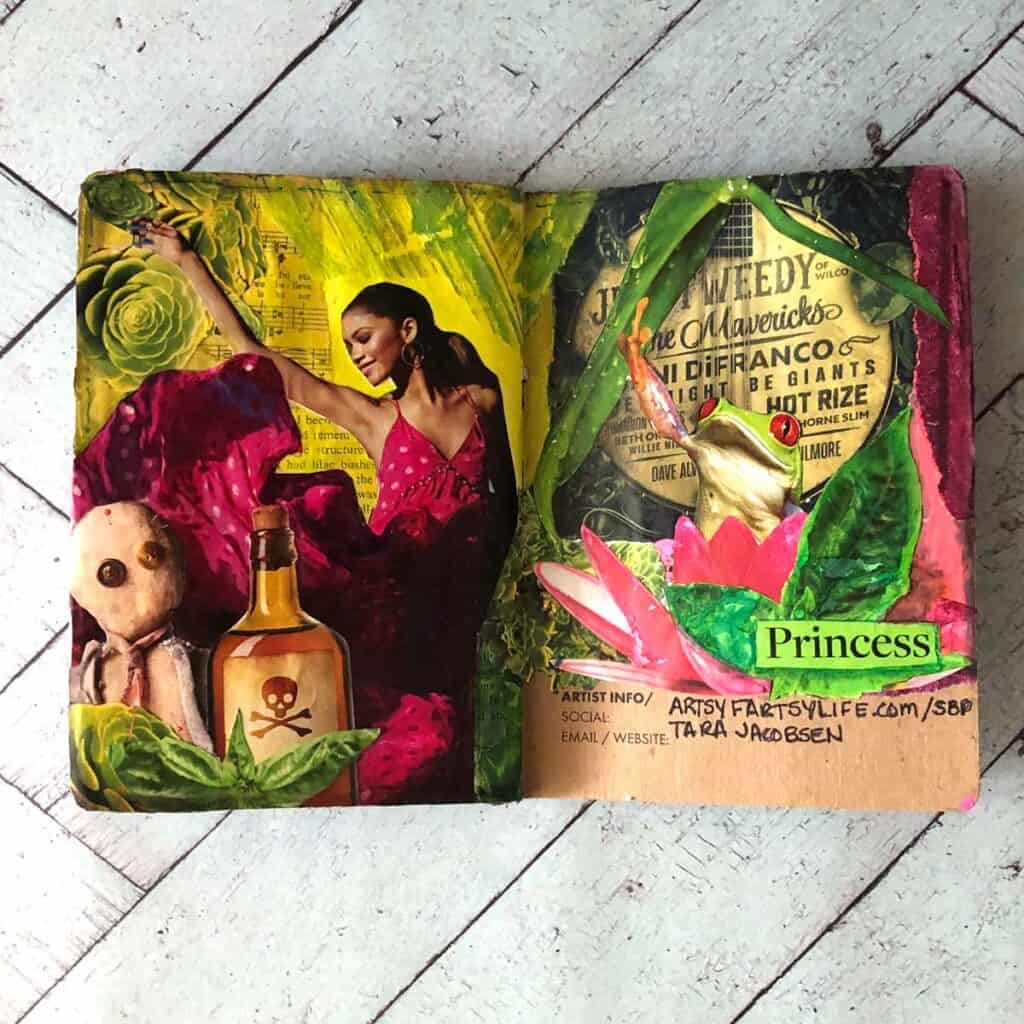 This one is for my daughter too! We found the best frogs in a National Geographic children's magazine and Desy said we had to the princess and the frog.
I read up on it a little bit and it is set in New Orleans and has a voodoo theme… I KNOW I saw a voodoo doll somewhere… back through the bagillions of magazines I had already looked through and FOUND IT!
The Sketchbook Project FAQs
Before I started this I had a LOT of questions. Here are some some things I learned along the way.
Who can do this?
Everyone! I was worried it was just for "artists" or people who are good at drawing, but that is not true. All kinds of different artists do these sketchbooks!
Check out all the "in progress" works on Instagram! #sbpprocess
How did I keep my acrylic pages from sticking?
My most used medium is acrylic paint and they expressly said that you should not use acrylics because they stick together (they do!)
So I did some research and found out there is a solution!
First coat it with matte medium to set the paint colors and markers (if you don't they will spread). I used Liquitex Matte Medium, you could use Mod Podge too! Let each page dry at least 15 minutes.
But wait… matte medium sticks too, right? Yep! All the art supplies I use stick together…sigh. So lastly I used a coat of Dorland's Wax Medium. You just need a tiny bit and have to wait an hour between pages.
It took about an extra 20 hours, but it was worth it to do the kind of art I like!
Can you change the book?
It is 5X7″ and you can't make it any bigger or smaller than that. You also can't make it fatter than 1″ thick (I am a close on this one!)
I took out a bunch of pages before I started so that I would have room for "fat pages" with lots of layers!
Would I do it again?
Maybe… it took about two months of doing nothing else but this book. I like moving around and doing all kinds of different project.
That said, I got it in December so I only had two months to finish it by the deadline so… maybe I will do it again if I give myself more time!