I made the cutest Junk Journal out of actual "junk" and then filled it with Tim Holtz ephemera and Paper Dolls in a magazine collage style… whoo whoo! Here are my best tips and ideas for how to make your own fun junk journal!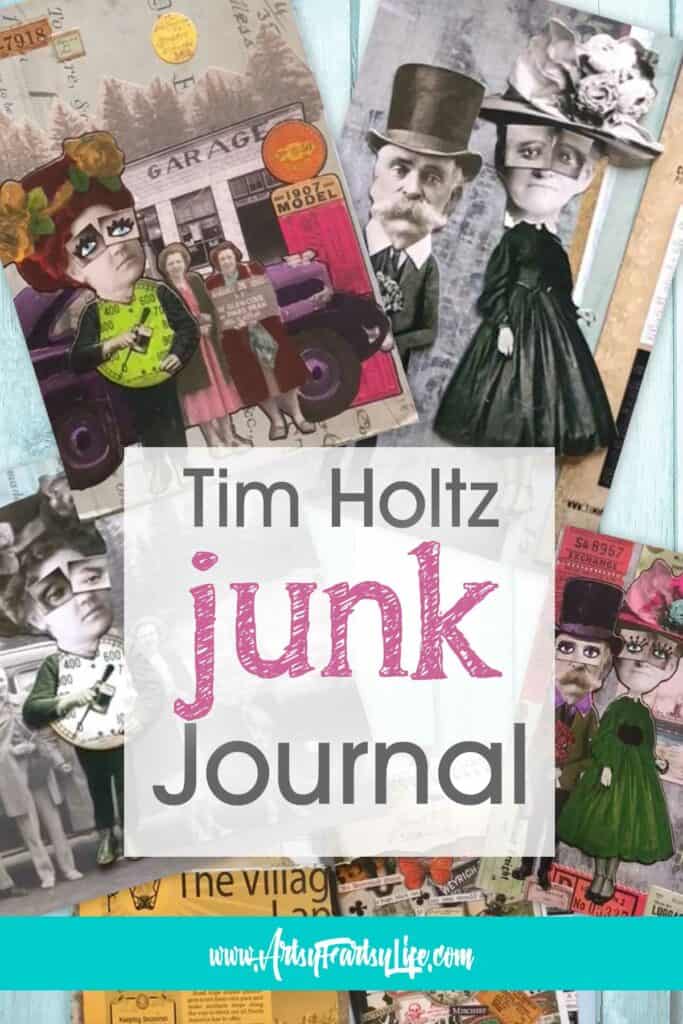 Please note: This article contains affiliate links, and that means that I may earn a commission if you buy something. Read my full disclosure here.
Why I Made This Project A Junk Journal
I went on a bit of a Tim Holtz buying binge, darn that man for making such cool things!
With all that buying came a ton of packaging… AND being a bit of a tree hugger, that made me really uncomfortable just throwing it out so I decided to collect it and make a "junk journal" out of actual garbage that normally I would have thrown away!
Making The Junk Journal
The way that I started this was collecting all kinds of cool different packaging, mail and left over bits.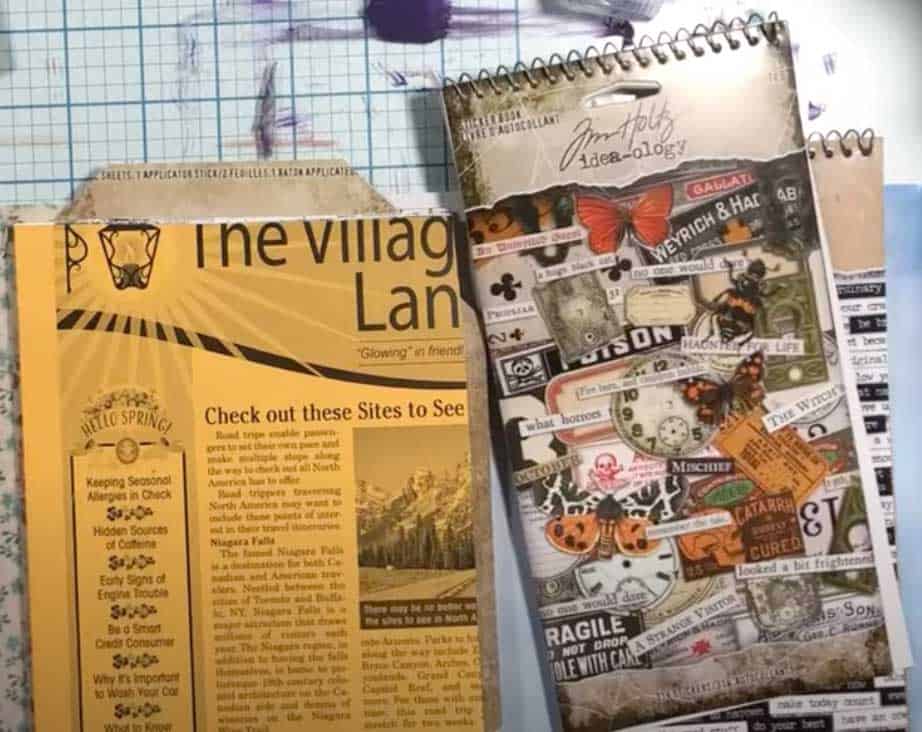 As you can see I used just junk… that yellow bit is the update newsletter from my subdivision and those on the right are the left over packaging from Tim Holtz sticker books!
Products Used In The Junk Journal… functionally, garbage and packaging that I just didn't throw away!
Junk Journal Walkthrough Video
Adding Paper Dolls and Ephemera
The next step was to make the actual design of the journal!
When Tim Holtz came out with his Paper Doll Portraits (the big sized paper dolls) I knew I could use them to make magazine collage style people! I laid out the paper dolls, combined with background papers to tell a story!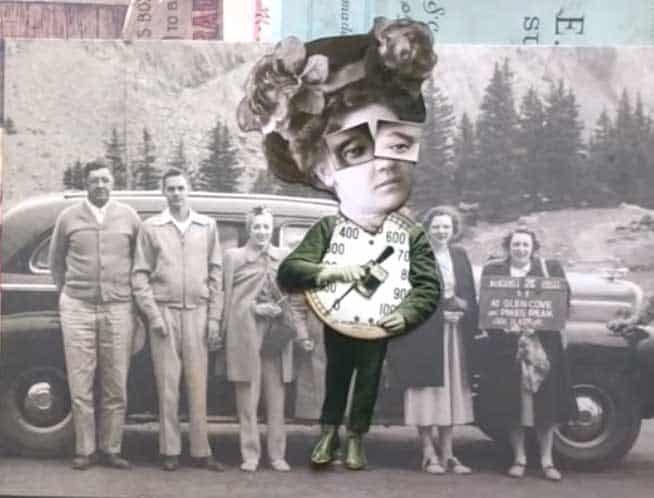 It was SO fun laying out these people to use in my journal! I combined the medium sized and portrait sized Paper Dolls to make magazine collage style images!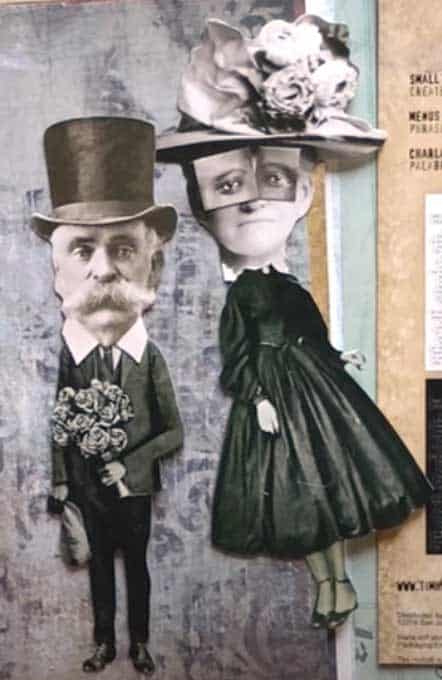 I feel like these two sweet peas turned out so darn cute!
Making The Paper Dolls and Backgrounds Video
Products Used To Make The Paper Dolls
"Painting" The Paper Dolls With Embossing Powder
The next step was to add color to the Paper Dolls! It was so fun to use Distress Embossing Glaze to color the Paper Dolls.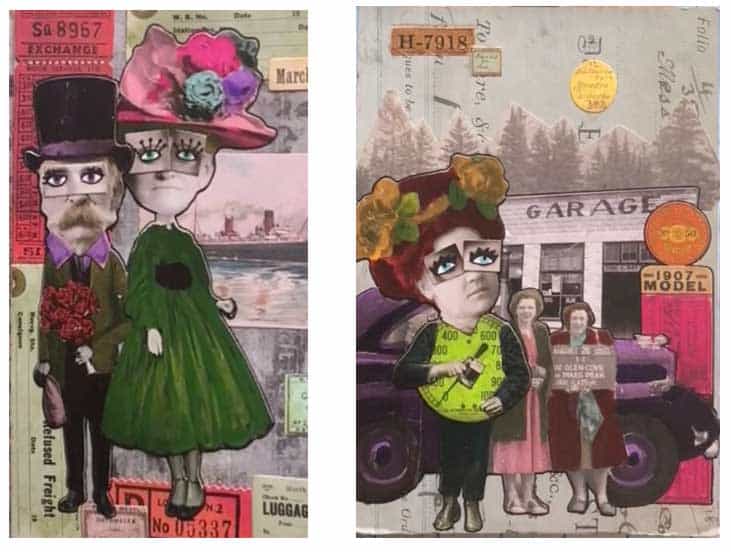 Being able to add color to the paper dolls in a translucent embossing powder is a super fun way to fancy them up!
How To Emboss Tim Holtz Paper Dolls Video
Products Used To Emboss Paper Dolls
Here are the products I used to emboss the paper dolls!
Junk Journal FAQs
I know I had a bunch of questions about junk journals, here are a few things to think of!
Do You Have To Use All Junk To Call It A Junk Journal?
There are "junk journal" police out there who will say that is only "counts as a junk journal" if you use all trash through it all.
While I did use junk for the basis of this journal, I used all new Paper Dolls and Tim Holtz Ephemera for the content of the journal.
So some people will for sure say this is NOT a junk journal, but to me it is! And that is all that counts!