Here are three of my best pillow spray recipes to help you get to sleep! Tips and ideas for essential oils to use that can be calming and help you sleep.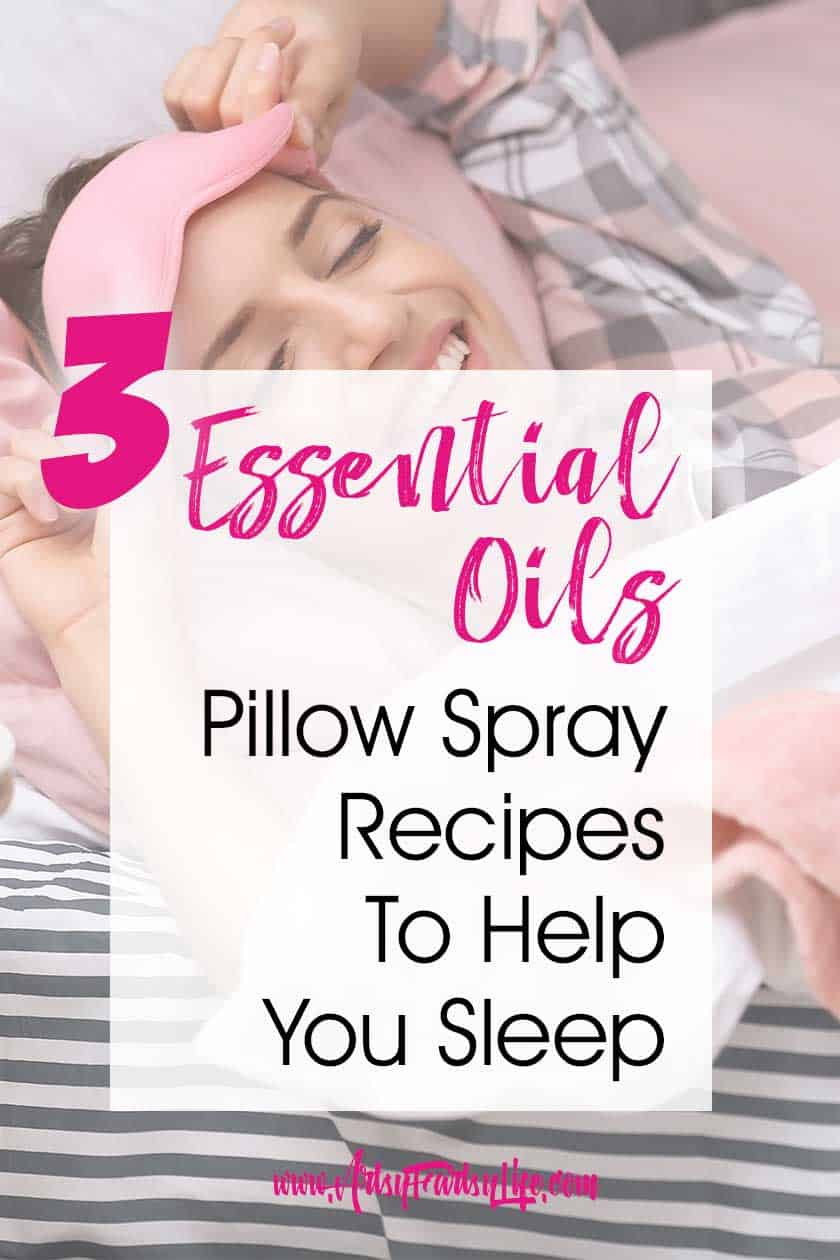 It happens to everyone from time to time. You can't sleep. Too much on your mind, too tired to actually sleep, anxiety or a plethora of other reasons that keep people up at night.
Instead of turning to sleep aids that can leave you groggy the next morning, or supposed "natural" pillow sprays that are full of preservatives and other less than natural chemicals, try something a bit more natural. There are a bunch of different essential oils you can use to make your own pillow sprays to help you relax to sleep.
This post contains affiliate links. If you purchase anything, I earn a small commission at no extra charge to you. Thanks for your support! check out all my policies here
My Story
All in all I am a pretty good sleeper most times, but I started using essential oils when we had a nipping incident with my beagle and I was super worried. During that time and for at least a few months after I couldn't get to sleep with all the thoughts running through my head.
And now I have turned to sprays again… my mother in law with dementia has moved in and things are crazy again. I am her daytime caregiver while my husband handles her roaming around later at night. I go to bed early, but I like to dink around in there and read my iPad and watch YouTube videos which isn't the best for falling into sleep…
BUT, my awesome pillow sprays are great for "triggering" me that it is time to go to sleep!
I will dink around, and dink around, but after my last trip to the potty I will do a couple of sprays and then turn everything off and it is much easier to fall asleep! Here is my setup (without the fancy tray, usually mine sits on my messy side table!)
Additional Resources :: All The Best Essential Oils To Help You Sleep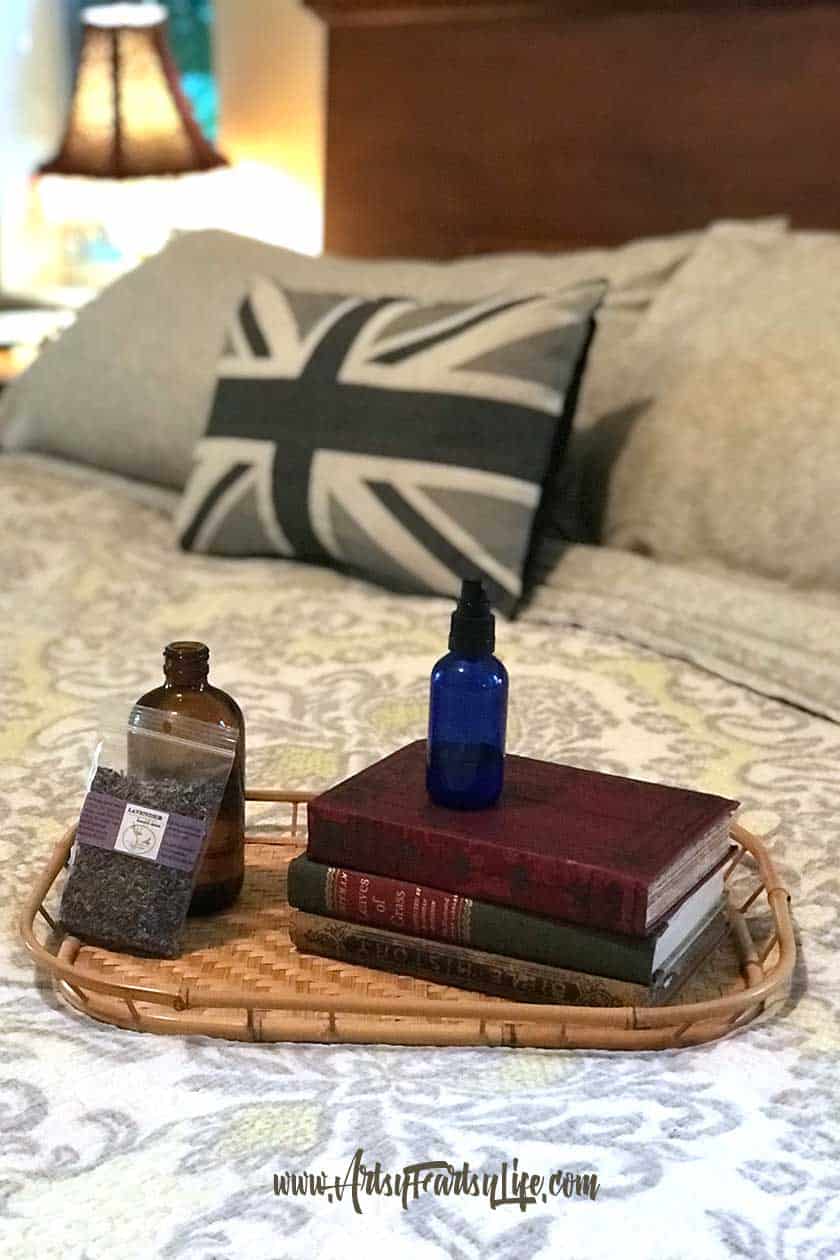 Lavender
A few words of warning about using lavender. As you will see below, lavender can be very calming. However, if you use too much it will calm you, but also keep you awake. Lavender is actually a stimulant and in larger doses if increases activity in the brain. Small doses will relax and calm you making it possible to fall asleep. Also keep in mind which essential oils are kid, cat and pregnancy safe.
Pillow Spray Base
Ok, so onto the recipes! The basic recipe, before adding the essential oils, includes rubbing alcohol (or vodka or witch hazel) and distilled water. Using a typical carrier oil will stain sheets, so don't use it.
You'll also need a small, dark glass spray bottle, preferably with a fine mist pump. Use amber, blue or black glass bottles to keep light, especially sunlight, from breaking down the essential oils as quickly. In fact, keeping the spray bottle in a drawer or on a shelf out of direct light is suggested. How much you use of everything depends on the size of the spray bottle.
I have big clear glass spray bottle for my DIY kitchen cleaner (I KNOW, clear is not perfect but my husband got it for me special) and I love making larger batches for that because I use so much. But for my pillow sprays I a little bottle because I use just a couple of sprays a night and like to change it out from time to time!
Calming Essential Oils
First let's look at essential oils that are good for sleep and relaxation. There are many, but some of the more popular and/or more effective are listed here:
Ylang Ylang is a rather potent relaxer and is popular with perfumers due to its scent. It is known to relieve anxiety and as a sedative.
Bergamot is a citrus fruit, and like other members of the citrus family, it has an uplifting scent that helps ease tensions, lift mood and relax the mind.
Lavender is one of the most popular essential oils for relaxation. It has been proven to relax the mind and improve sleep quality.
Sweet Orange, another citrus oil is used to reduce stress hormones, uplift the mood, and calm the body.
Frankincense is known to relieve stress and improve relaxation and peace of mind.
Chamomile, Roman or German, is known for having mild sedative properties, calm the nerves and promote relaxation.
Cedarwood is soothing. It has been shown to calm the mind, relieve tension and anxiety.
Vetiver has been used as a natural insomnia remedy for centuries. It is a very grounding and soothes both emotions and the body.
Geranium is soothing too and helps with anxiety, depression, and balancing emotions.
Pillow Spray Recipes
Okay, let's get this out of the way first! When I started using essential oils I was SURE there were specific "recipes" that would solve my problems or that particular blends made by fancy companies would fix everything.
What I have found is that some things everyone likes (patchouli I am looking at you!) creep me out and some that I love don't work for other people. Do what is right for you and use the recipes as a starter point.
Oh, oh, oh, and if you don't have every oil I recommend, don't fret and DON'T feel like you have to run out and get every single one right now. Get a couple, try them and then add a few more. Because you are using just a few drops they last a relatively long time and you can space out your ordering!
Essential Oils Pillow Spray Recipe #1
So one basic recipe to get a great night's sleep uses lavender and chamomile essential oils. Assuming use of a 2 ounce spray bottle, use one ounce of alcohol, one ounce of distilled water and 10 drops each of lavender and chamomile (for a total of 20 drops). Shake the bottle well before each use and spray on your pillow or PJ's before bed.
Essential Oils Pillow Spray Recipe #2
Another great recipe includes a few of those oils. In a 2 ounce bottle add ½ teaspoon of vodka, 4 drops of ylang ylang, 12 drops of lavender and 8 drops of bergamot. Put these all in the bottle, swirl to combine, and then fill the rest with distilled water. Shake well before using.
Essential Oils Pillow Spray Recipe #3
If you need another blend that is kid (and pregnancy) safe try using the half alcohol, half distilled water mix, and add 10 drops of lavender, 5 drops of sweet orange and 5 drops of roman chamomile (assuming a 2 ounce bottle).
BONUS Recipes!
You can also try the following mixes with the 50/50 mix of alcohol to distilled water base and drops per ounce:
15 drops chamomile and 5 drops lavender
10 drops chamomile, 5 drops sage, and 5 drops bergamot
10 drops rosemary and 10 drops lavender (this one is my favorite! I love the smell of rosemary and it tones down the lavender a bit!)
As always, be sure to shake well before using.
So go on and give them a try. All you have to lose is a little insomnia!
I get my essential oils from Rocky Mountain Oils who has great resources and a high quality product! (oh and fun rewards program that let's you get free products from time to time!) They have a blend called Dreamtime that I haven't tried yet, but looks cool!