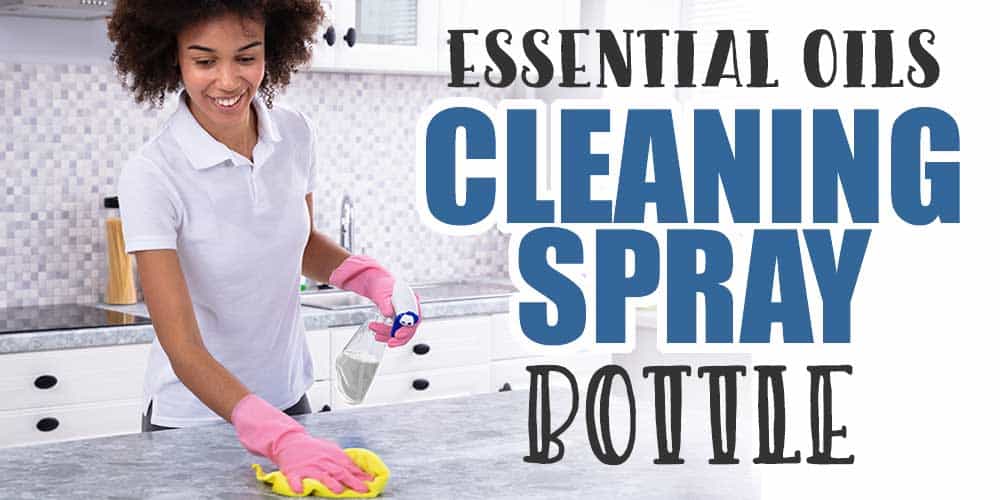 I admit it, I have a bit of a kitchen counter cleaning obsession. With 1 husband, 3 kids, two dogs and two cats all eating out of the kitchen all day long, the counters are always covered in crumbs and gook.
Years ago I used heavy duty cleaners like Windex or Clorox all day long. I was spraying the counters and cleaning, cleaning, cleaning, happy in the knowledge that I was making my home safer.
And then I found out that I was severely allergic to almost everything and started checking everything that crossed my hands. I read about those "cleaners" and was horrified!
They were filled with truly toxic chemicals that could absolutely be contributing to my breathing problems.
For the next few years I used green cleaners and that was a huge step up! The benefit was that they were easy to use and did clean well. If you are looking for a great green cleaning solution check out the Kitchen Cleaning Kit from CleansGreen. I still use this for "real cleaning".
But then I discovered essential oils and took the whole thing one step further! Now I use a mix of water, vinegar and essential oils for my "through the day" cleaning.
I LOVE that it is all natural and that the smells are fantastic. These essential oils recipe blends will help you to clean your counters without toxic chemical cleaners.
Water As A Base
The base of my mix is 50% water. This gives a great consistency for my cleaner and is almost free. Because I am adding other ingredients I don't use distilled water but you could absolutely use it for "extra credit".
Vinegar As A Cleaner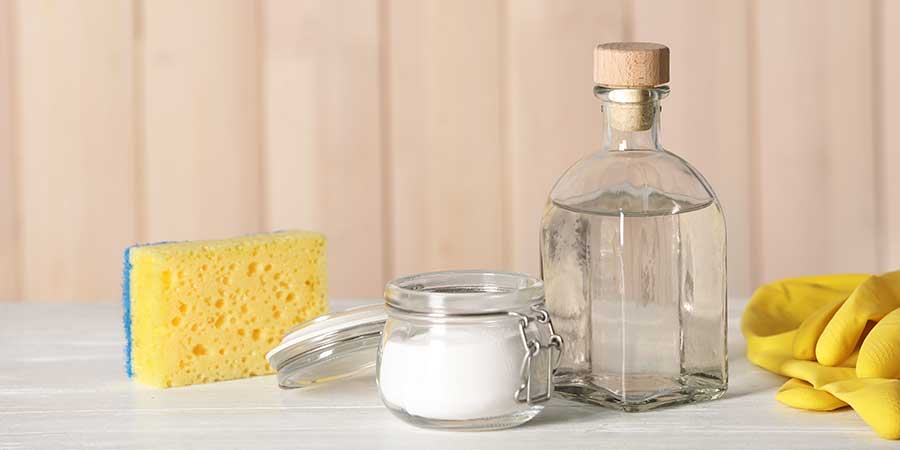 Vinegar has been used as cleaner for thousands of years. Egyptians used date vinegar and ancient Romans used dates and figs to make vinegar. The Chinese made vinegar from rice.
For cleaning I use white or distilled vinegar. This kind of vinegar has 5% to 8% acetic acid in water, with a pH of about 2.6. (1) It is the acid and and low pH value that helps with cleaning, helping to release dirt and grunge.
One thing to note about vinegar is that it is not a great germ killer nor does it disinfect (which is why we need to use essential oils to cover that part of cleaning).
A Container For Cleaning
Before you get all your materials together you need to have glass spray bottles for essential oils.
You could recycle an old cleaner spray bottle, but the best thing to do is to use a amber, glass spray bottle. Using an amber or blue colored bottle will extend the life of your essential oils. Being exposed to the light makes them degrade faster.
I use a clear glass bottle myself that my husband gave me (he didn't know about the dark glass). Because I go through my essential oil spray cleaner so fast, there isn't much time for it to go bad.
My bottle is a 16oz bottle that lasts long enough to not be annoying and short enough that I can change my recipe up whenever I like!
It does a pretty substantial spray, but you can turn the nozzle for a fine mist if you like that better.
Essential Oils for Cleaning
Okay, now let's talk about which essential oils you can use for cleaning! One thing I didn't understand when I started was why there weren't specific "DIY essential oil recipes". It seemed awful loosey-goosey to me. Some people used this and some used that.
This is because, unlike commercial cleaners, you can tailor your kitchen counter cleaner to you and your family's needs.
Add a bit of Tea Tree if you live alone without animals (more about that later), use a bit of Peppermint for smell if you like that scent. YOU are in charge of your cleaner.
Lavender – My number one essential oil I use in almost everything is lavender. Lavender is great for cleaning since it has a natural fungicide, antibacterial, antiviral and antiseptic properties. I am so glad it also has anti-inflammatory properties, just by cleaning I am helping my joints feel a little better!
Additional resource :: Essential Oil Room Spray For A Good Night's Sleep
Peppermint – Awesome smell and naturally antibacterial.
Lemon – Is a typical smell in cleaning products for a reason. Lemon essential oils are great for cleaning. it is antiseptic, antifungal and antiviral (plus it smells so nice!)
Oregano – Oregano oil is super high in antibacterial properties that has found to be able to kill some of the superbugs (dang).
Tea Tree Oil – Tea tree or Melaluca oil is great for fighting germs, bacteria and viruses.
Orange, Sweet Orange, Wild Orange – All of the orange oils have a degreasing property that will be super important if you are doing deep kitchen cleaning.
Eucalyptus – Super good for killing germs.
Cinnamon – Have antibacterial and antiseptic properties.
Pine – Cleans bacteria, fungi, pathogens and yeast.
Cypress – Has antibacterial properties.
Cedarwood – Okay, this one might creep you out a wee bit unless you live in a tropical client like I do! Cedarwood is great as an insect repellant, so discourages those icky "palmetto bugs" (cockroaches) that like to hang out in the kitchen.
Thyme – Germ fighting.
Frankincense Antiseptic – Eliminates bacteria and deodorizes.
Homemade Essential Oil Recipes For Cleaning Spray Bottles
#1 – Smells Good, Cleans Great
I love having a spray bottle sitting on my counter just for little clean ups and spills. Because I use only essential oils, vinegar and water, I know that I am not contaminating my body every time I wipe up!
My go-to mix is 40 drops of Lavender Oil, 40 drops of Lemon, and 20 drops of Oregano (I KNOW, freaky right, but great for killing germs! Fill to the top with half water, half white vinegar.
#2 – Grease Fighting Essential Oils
I have a special bottle I use just for around my stove on the greasy bits! In this one I forgo the vinegar and use two teaspoons of Castile soap for added cleaning, 25 drops of lemon essential oils, 25 drops of orange essential oils and then fill to the top with water. You will notice that many cleaners use citrus, that is because the grease cutting properties are unbeatable!
#3 – Fights The Germs
Tea Tree, Lemon, Oregano & Lavender will all help you to kill germs on your counters! Use 30-50 drops of each, then fill your container with half water and half vinegar. You could add some Thyme for added benefits.
Natural Essential Oils Cleaning Spray Bottle Blends Wrapup
So there you have it, my love note to my kitchen essential oils cleaning spray bottle. I have to say that this feels like the most concrete and healthy change I have made in my home for my health.
I truly am addicted to clean counters so when I was using Clorox or Windex continually, I was absorbing A LOT of chemicals into my skin and breathing in the fumes on a continual basis (not good!)
One last thing you might be asking yourself… do I have any "normal" cleaners? YUP!
Occasionally I will use the kitchen cleaning spray from CleansGreen, Greased Lightning for deep grease cleaning and I do use toilet bowl cleaner, but for the most part I stick to essential oils, Castile soap, vinegar and water.
I get my essential oils from Rocky Mountain Oils who has great resources and a high quality product! (oh and fun rewards program that let's you get free products from time to time!)