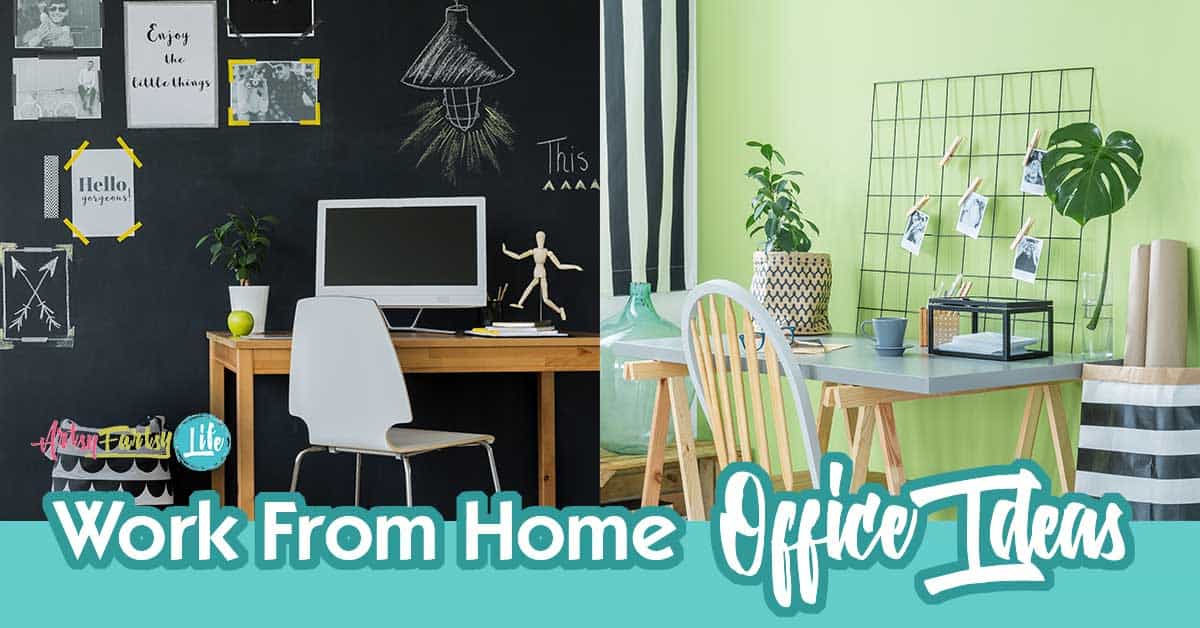 I have been a work from home office gal since 2001 when I started my first little business. Today I have three separate work areas in our home and run a 3 person team out of my home office!
Over the years I have found some things that I absolutely love about my home office (lots of cabinet space or bookshelves) and some things that are "common wisdom" organizing ideas that I hate like getting drawers for filing doesn't work for me because I am visual.
I really take a lot of time to make sure I am comfortable in my office. It is logical is that making your home office "homier" with things that you like makes you happier. Makes sense. It's like a child who has to have all their beloved toys on their bed when they go to sleep. Having your own things around is comforting.
I always feel like I am more grounded when I have things I love around me. My office is a little weird… I have a wooden Santa Claus in the corner and a stuffed animal my family gave me right next to my monitor.
No one can see these when I do doing videos or webinars, but I can see them and they make me smile!
If you are setting up or changing up your home office, please remember that this is where you are working and you should have an effective and beautiful area to spend your time.
Many gals I talk to feel like they don't "deserve" to have a beautiful space or worry that their family or friends will tease them for having a "weird" home office. Don't worry about anyone else… focus on making a space that you love working in!
Note: Some links in this post are affiliate links, which means I receive a commission if you make a purchase. I try to find amazing things that my readers will love as much as I do!
1. Lighting
To improve your sensation and perception, change the lighting in your office. Add calming varieties of light instead of harsh lights and use dimmers or adjustable lamps.
Instead of just overhead pot lights or (heaven forbid) fluorescents, use table lamps for a more calming feeling.
I do product photography for my ecommerce stores so I have white sheers over my windows that I use with natural lights and the man made lights off (don't mix types of light in your photos). But then for work I have two different small table lamps on either side of the room to provide a nice glow when I am working!
I also love using "fairy lights" to add a bit of fun around my office (and to have a cool background for my picture!)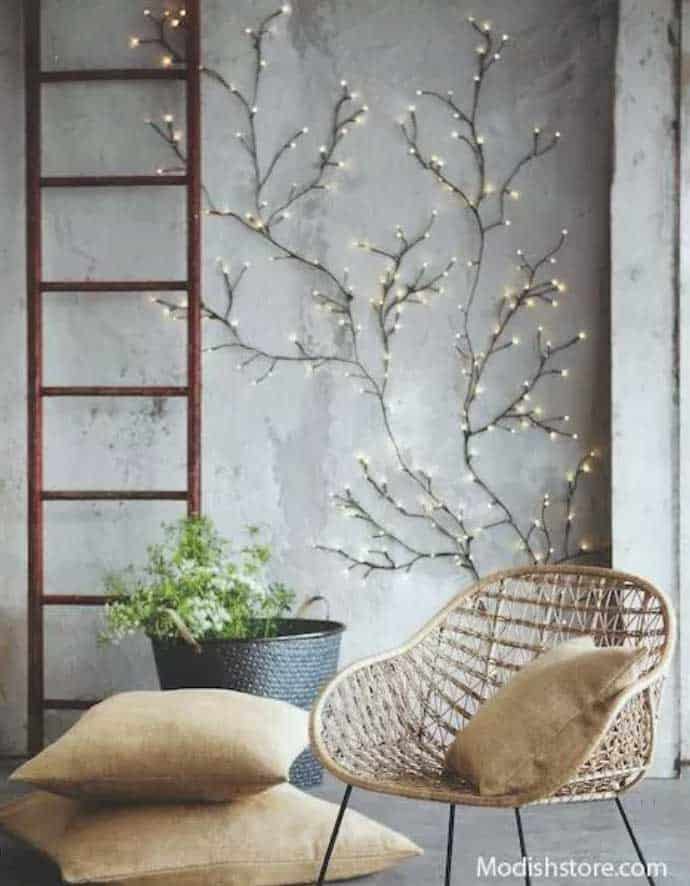 2. Space Planning
Want to make making decisions easier? Move things around to help take the guesswork out of each day.
For example, keep your paper recycle bin near the door where you come in after getting the mail. That way you can throw away junk mail right away instead of stowing it and having to decide to keep or throw away later.
If you have to walk across the room to get to your printer, consider moving it closer to your desk within arms reach.
A few tweaks to the arrangement can make an amazing difference!
To improve your learning and memory, bring in furniture with rounded edges. Really! The University of California found that rounded decor can actually encourage more brain activity than other types and you won't constantly be poking yourself as you move around the room.
3. Add Some Plants
To improve your emotional well-being, add live plants into your home office.
Keep pets and small children in mind when choosing them, but having live plants around can reduce stress and improve concentration.
Try a window sill herb garden and grow fresh herbs to use after work in your kitchen. Not only will they help keep your air cleaner, but herbs also smell amazing! Rustle your rosemary leaves for a quick blast that will wake you up during that mid-day slump.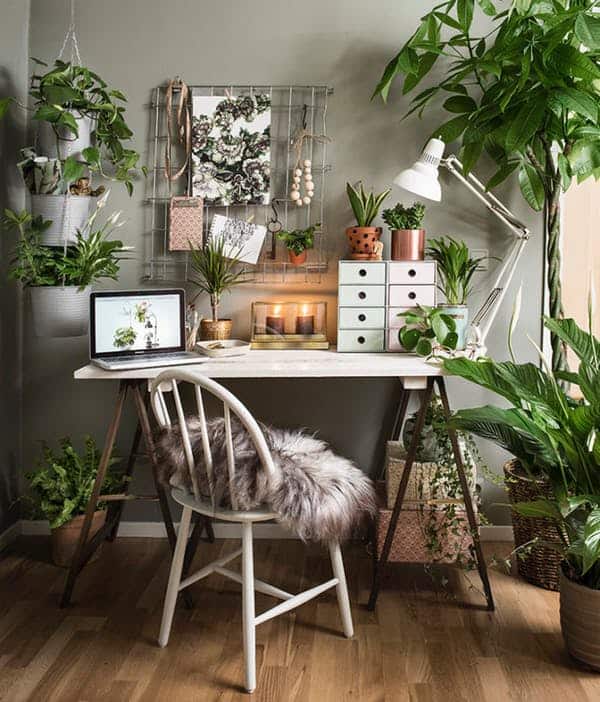 source Apartment Therapy
4. Clean & Organize
Deep cleaning and rearranging your office is something that we rarely do. Not once a month, but at least every few years. You don't have to go buy new furniture each time, but try moving your desk to a new location, or get new more comfortable desk chair… you are worth it!
Then get some fun new baskets to contain clutter and maybe invest in a few filing systems.
Are you a visual organizer like me? Consider going vertical with pushpin boards and files hanging on the wall. Put cute coffee cups on your desk to hold your pens to add a pop of color.
I KNOW that sometimes I feel like just moving things around is a waste of time, but when you get everything in order you will not believe how much more work you will get done!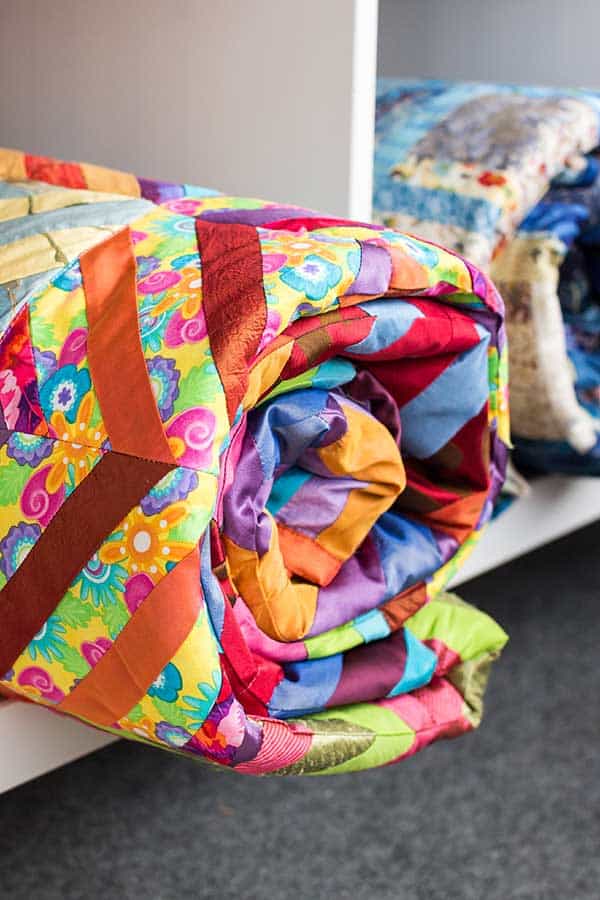 5. Play With Color
It is amazing how much color can affect our mood! Just by painting some walls or adding some pops of color you can change the whole vibe of your office!
Red is a color of energy
Red is intense and can cause an adrenaline rush. If you want to make your office feel more exciting, use red. It also raises blood pressure and speeds up your heart rate and respiration. If your want to be "jazzed up" while you are working, red is a great color choice!
Yellow is a happy color
Yellow makes people think of sunshine and is a welcoming color. It can make you feel energized and uplifted. However, studies have shown that people are also more likely to lose their temper or be frustrated in a yellow room, so use it wisely. If you tend to get "anxious" while you are working, maybe pick something else.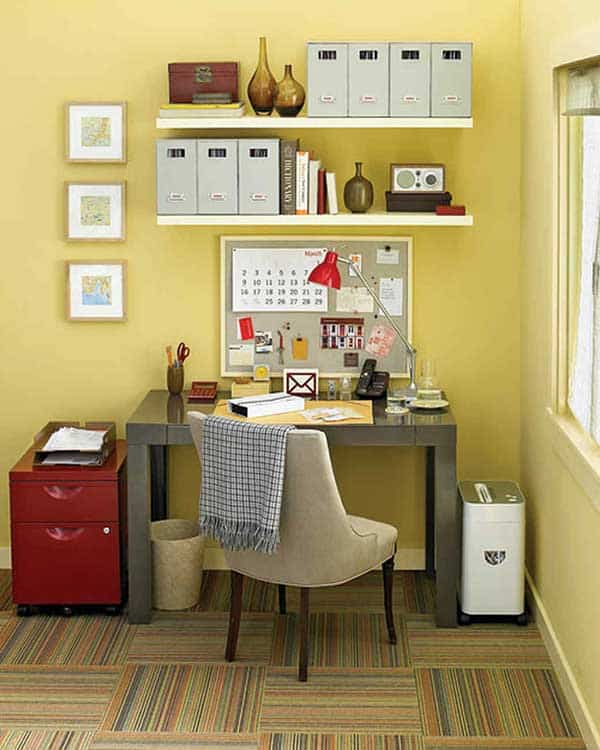 source Martha Stewart
Blue is calming
A blue room will make you feel better physically! It lowers blood pressure, heart rate and respiration rate. Pastel shades can appear cold though, so be sure to keep that in mind and add in warmer hues to balance it. While always calming, some shades are warmer and will be relaxing while social. Shades like periwinkle, cerulean or turquoise fill this bill. Also be careful about going too dark. dark blues make people feel sad, not serene.
Green is the easiest and most restful to the eye
It combines the serenity of blue with the joy of yellow and will work just about anywhere. A cooler mint green can be more relaxing, and a warm sage can make your office feel more cozy.
In shades like aubergine / eggplant it is rich, dramatic and sophisticated, luxurious. It helps creativity. Lavender and lilac are restful and evoke similar reactions as blue without being chilly. I always feel like purple is a snazzy choice!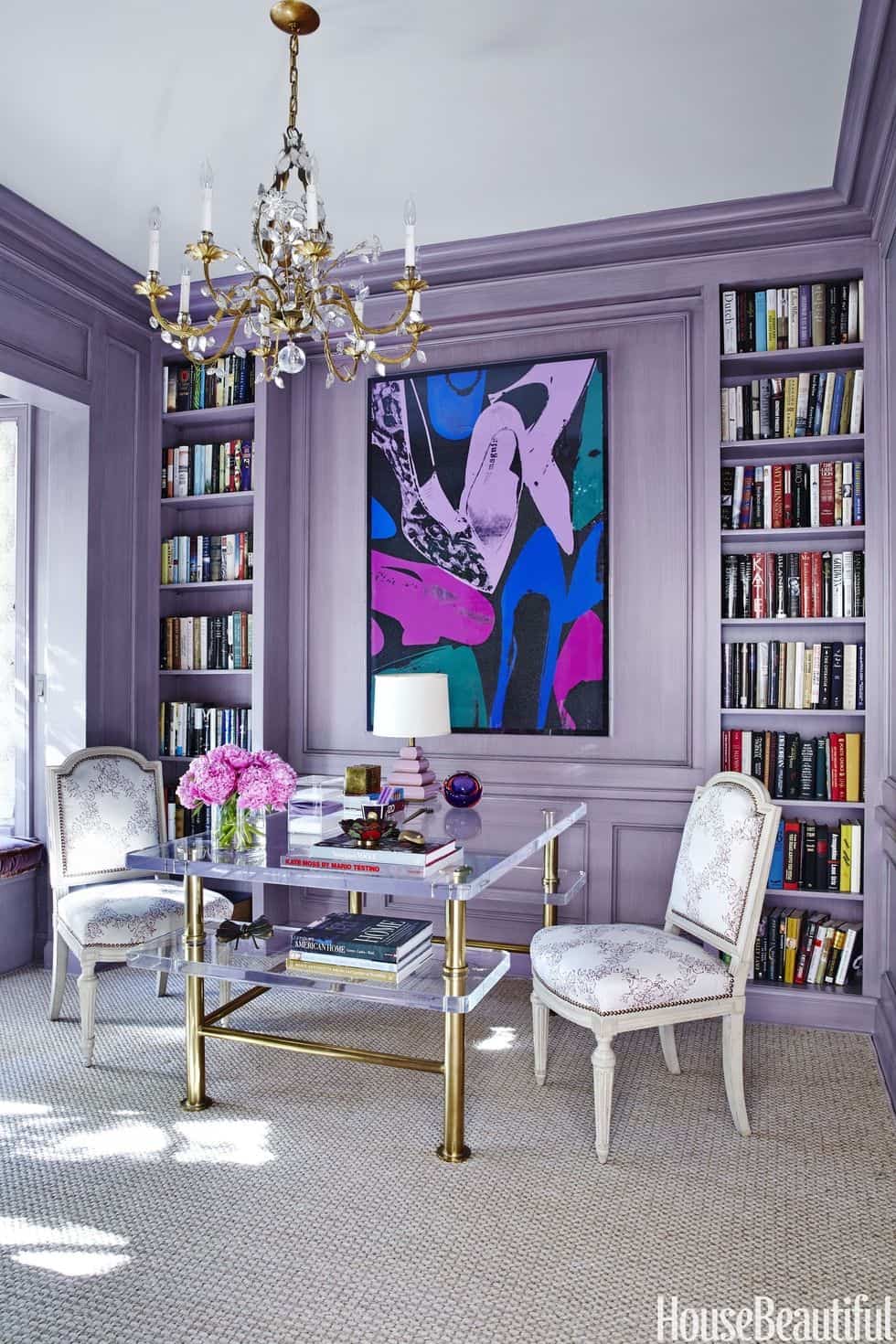 Source HouseBeautiful
Orange is bright and energetic
Orange makes people feel excited and enthusiastic! I have seen some corporate offices that were done with orange and the "buzz" in the office was obvious. I tend to like more muted, vintage colors so orange is not for me, but if you like modern and fun, it could be just right for you!
Neutrals
Neutral colors, white, gray, brown and black, don't really evoke any kind of reaction, but are great to use as a backdrop to other colors. My whole downstairs is painted beige and at first I thought we should paint all the rooms a different color. But because they all run together there would be weird transition points AND our ceilings are super tall so I left them "for now". Almost three years late I am pretty happy with my beige office because it makes using fun accessories easy!