Today we are going to look at a range of art supplies including sprays, oxide, crayons, inks and acrylic and how they react with water, Mod Podge or Collage Medium.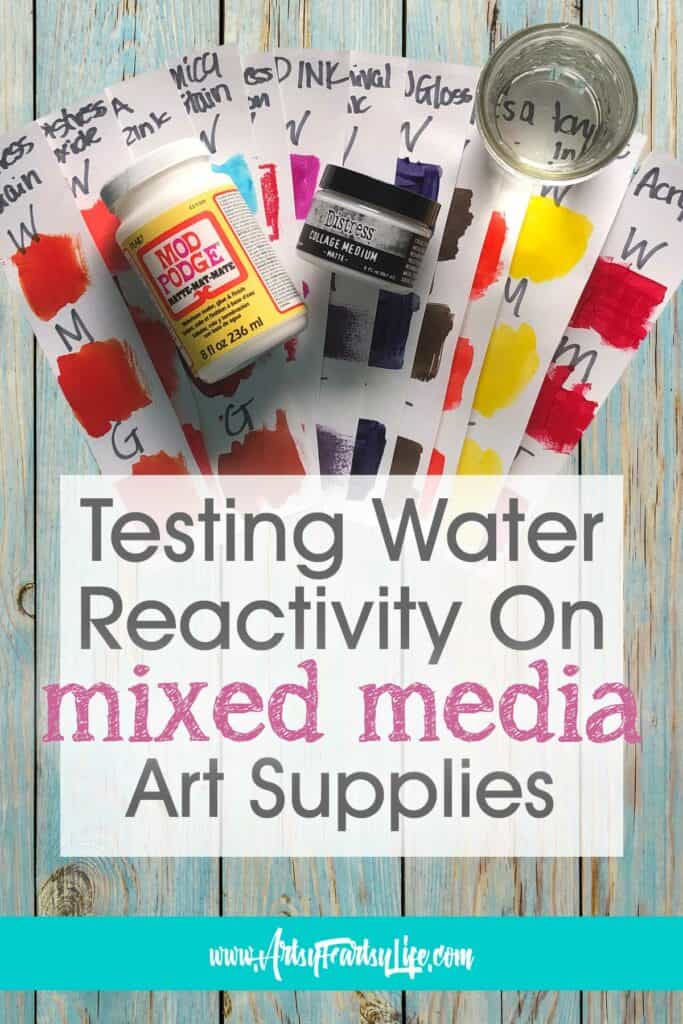 Please note: This article contains affiliate links, and that means that I may earn a commission if you buy something. Read my full disclosure here.
Why I Did This Experiment
I LOVE doing mixed media, but there is nothing worse than having a great piece get ruined by using a layer that you didn't know was going to react later on in the process.
I tool all the different art supplies that I had in my craft room, swatched them out and then tortured them with the liquid mediums and rubbing them with my paint brush.
I used plain old tap water, Mod Podge and Ranger Ink Collage Medium (you could use any kind of matte medium you have in your stash).
If you have any questions about how to use the supplies, make sure to check each description rather than just the pictures because some really had to be agitated before they reacted and you could use them if you were careful!
VIDEO :: Testing Art Supplies
Testing Art Supplies For Reactivity With Water, Mod Podge or Collage Medium
I made swatches of each of the different kinds of craft supplies and now we are going to test and see how they react to the different kinds of water soluble products.
Ranger Ink Distress Stain (Tim Holtz)
Ranger Ink Distress Stain is made to be water reactive so it was no surprise that it did react. That said, if you did a super light touch, you might get away with it with Mod Pod or Collage Medium!
Water yes
Mod Podge yes when agitated
Collage Medium when agitated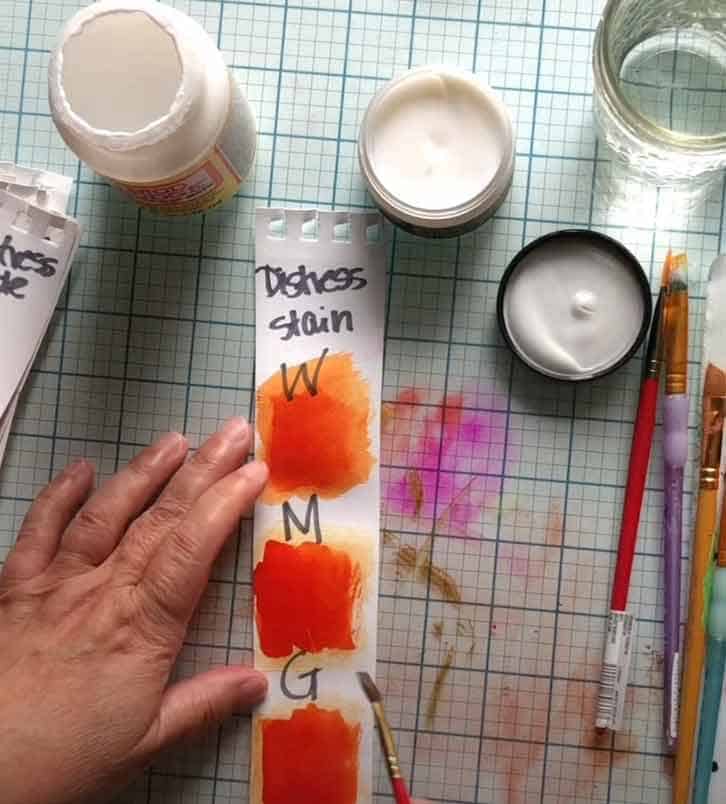 Ranger In Distress Oxide (Tim Holtz)
I went ahead and "activated" the oxide spray by spraying it with water after I swatched it. If you are using non-activated oxide your results may vary. I was super surprised by how little the oxide moved with Mod Podge or Collage Medium after it was activated.
Water not as much as distress stain
Mod Podge tiny bit
Collage medium just a tiny bit and had to try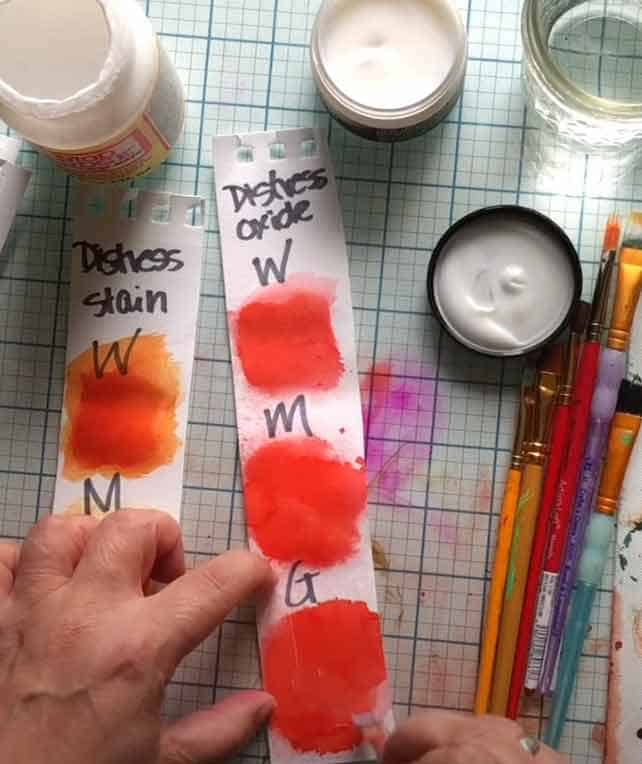 Izink Spray (Seth Apter)
I have heard Seth say that after a while his Izink sprays are fairly stable (less water reactive). I did heat set these and leave them overnight to dry. I feel like if you did Mod Podge and were gently you would only have a little movement!
Water yes
Mod Podge tiny bit .. less than collage and water
Collage second best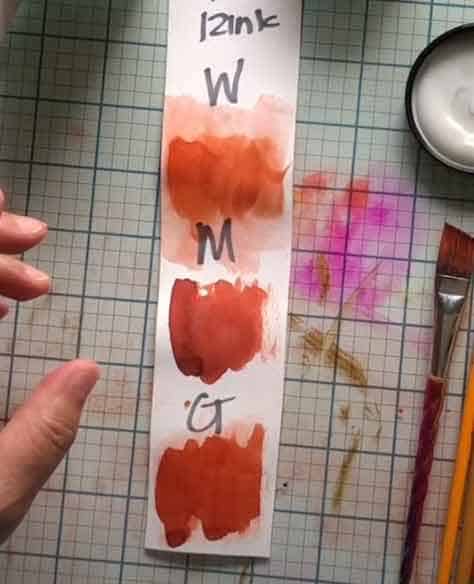 Ranger Ink Mica Spray Stain (Tim Holtz)
Okay, Mica Spray is not what I thought would happen. My assumption was that because the base was Distress Spray it would wick like crazy the way the Distress Sprays do. That said, I was super surprised that a collage medium did so little to disturb it!
Water yes
Mod Podge yes AND takes away the mica glossy-ness
Collage Medium – a quick light coat was okay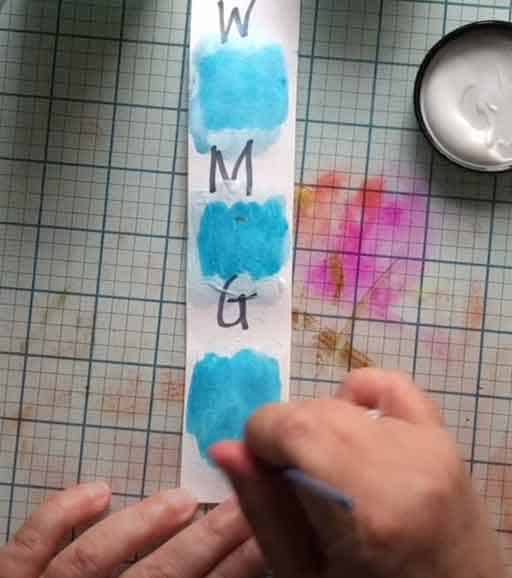 Ranger Ink Distress Crayon (Tim Holtz)
Okay, here is the thing with Distress Crayons… if you don't bother them, they won't bother you! And by that I mean if you put them down and rub them with a dry finger, you are good. If you put them down and splash water on them, you are good.
The only way they activate after they are dry is if you wet them AND agitate them!
Yes, no with water if you don't agitate it
Mod Podge less than water
Collage Medium was the most reactive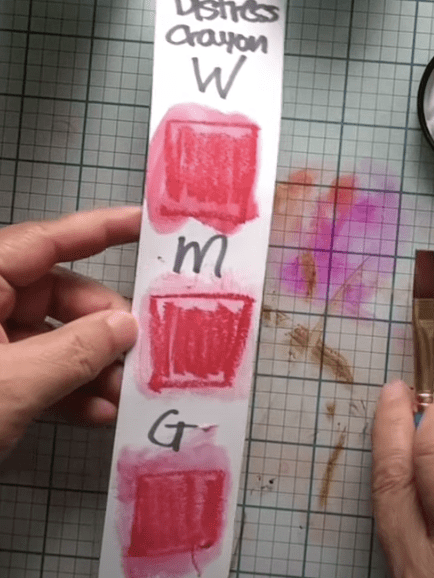 Inkredible Ink (Jane Davenport)
I LOVE Jane Davenport's Inkredible Ink colors…. so vibrant! That said they are super reactive … to everything but Mod Podge? That seems like a weird thing, but the swatches don't lie.
Water yes
Mod Podge just a hint… could do a quick, light coat
Collage Medium activated immediately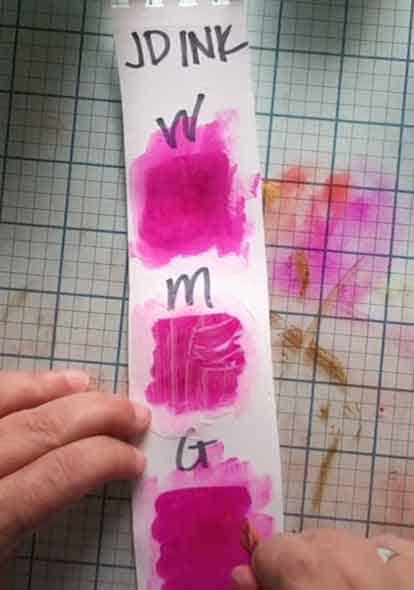 Ranger Ink Archival Ink (Tim Holtz)
All of the Archival Inks are supposed to be permanent (and I have NEVER had a problem!) That said, the Collage Medium did make it move a tiny bit so watch out for that one!
Water no
Mod Podge no
Collage Medium … tiny reaction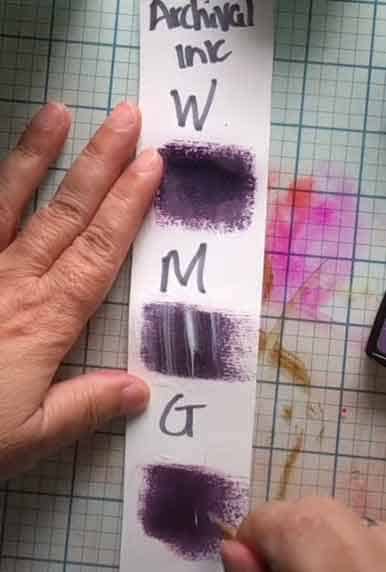 Ranger Ink Gloss Spray (Dina Wakley)
I LOVE Dina's Gloss Sprays, that said I had to decant them to get them to work (I am NOT careful about my craft supplies and the nozzles kept getting clogged! That said, because they are acrylic sprays they are permanent.
Water no
Mod Podge no
Collage Medium no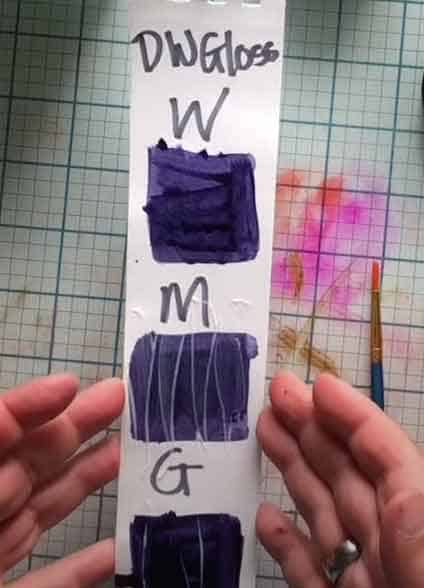 Marabu Acrylic Spray
I wanted to try a different kind of acrylic spray to see if all the nozzles clogged and YEP, the Marabu Acrylic Spray nozzles clog too. That said, they ARE permanent!
Water no
Mod Podge no
Collage Medium no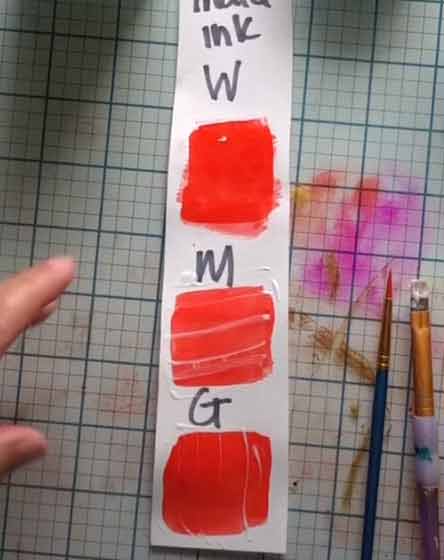 PH Martin India Ink
PH Martin India Ink may be my favorite art supply of all time! Super bright colors, bottles last forever and all PERMANENT!
Water no
Mod Podge no
Collage Medium no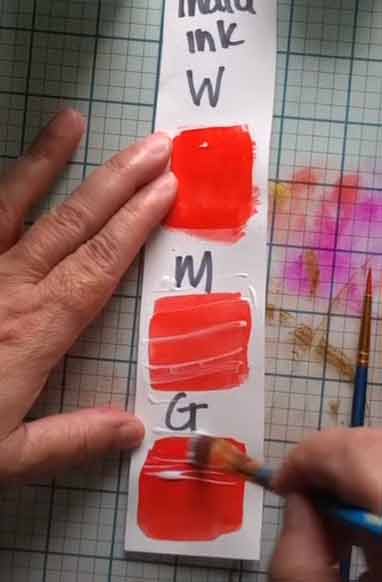 Liquitex Acrylic Ink
I don't use this as much as I should! Liquitex Acrylic Ink is great for painting and making drips on your canvas!
Water no
Mod Podge no
Collage Medium no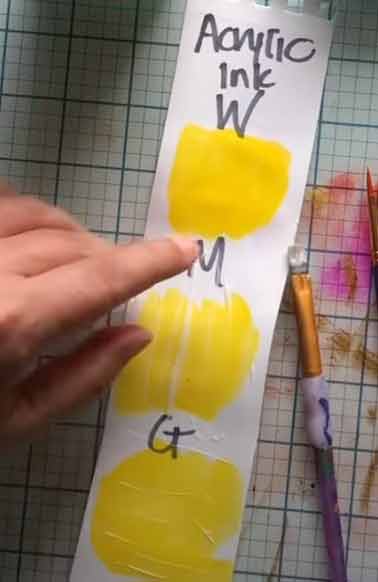 Acrylic Paint
Okay, this is ALL acrylic paint in your stash, from fancy Golden paint to the ones you get from Michaels on sale with a coupon. ALL acrylic paint is permanent!
Water no
Mod Podge no
Collage Medium no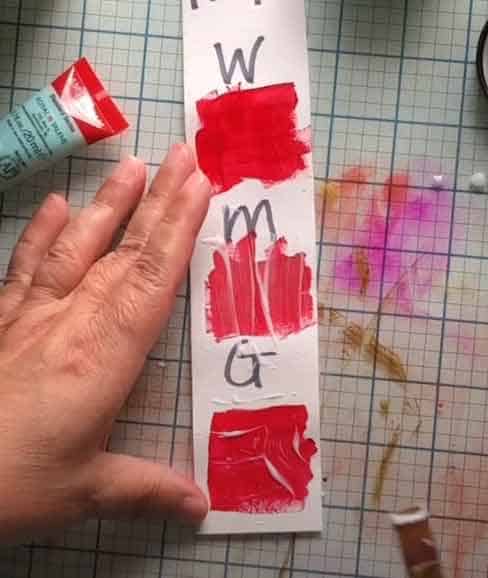 Art Supplies Water Reactivity Wrapup
I am SO glad I did this experiment! While I knew most of the results going in, I found a few ways I could use some of the more reactive supplies with specific mediums in my mixed media artwork!
If you have other gel mediums or sprays, try yours out to see if you can make permanent layers in your work!