I know I love looking at pictures and getting tips and ideas for how to organize Ikea Kallax Cubes! Here is my current setup (which I have worked on for a couple years and I LOVE!)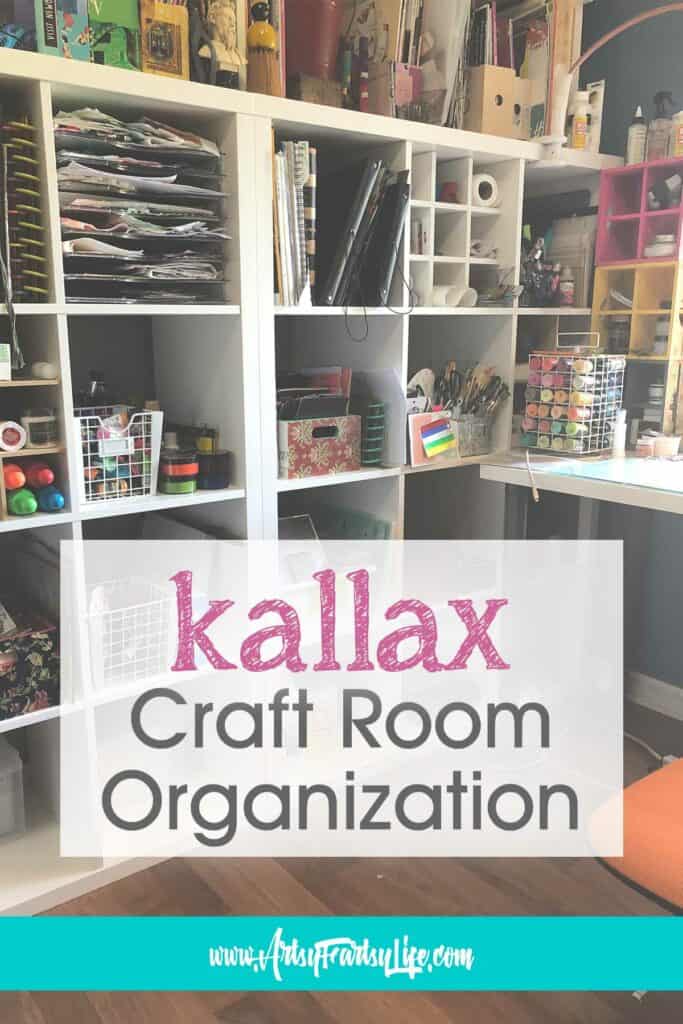 Please note: This article contains affiliate links, and that means that I may earn a commission if you buy something. Read my full disclosure here.
My Ikea Kallax Story
I got my Kallax cubes when I was setting up my craft room in the formal dining room of my house (I used bookcases to make "walls" which worked fine at the time!
I just moved my craftroom to my daughter's old room that has actual closets and doors (whoo whoo!) I also set up my Kallax cubes PERFECTLY and have used the for a few weeks so I feel good about sharing my tips and ideas!
My Kallax Cubes Setup
Here is my "wall of Ikea cubes"…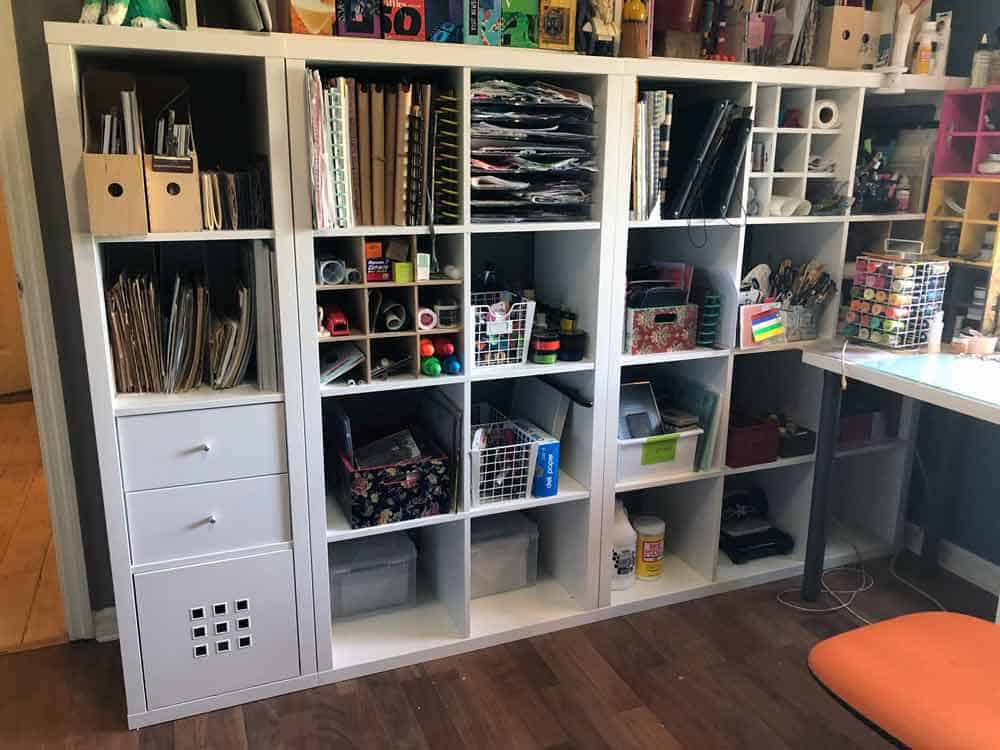 I think you can see it in the pictures but just in case… there is a 3X4 set on the far right, a 2X4 set in the middle and a 1X4 set at the left edge.
I am SO GLAD I didn't get the whole unit in one big piece! This way I can move the little one with the drawers around to anyplace I want it and not have to unscrew them and mess up my cubes.
Walkthrough Video of My Ikea Kallax Shelving Unit
How I Organize My Kallax Cubes
Now I will go left to right and let you know all the ideas and products that I found over the years that help me to keep my cubes organized and functional!
1. Regular Magazine Holders
I am a magazine collage artist so OF COURSE, I have collection of magazine holders! That said, they are super good for putting my littler paper pads from Tim Holtz and Vicki Boutin in to keep them organized!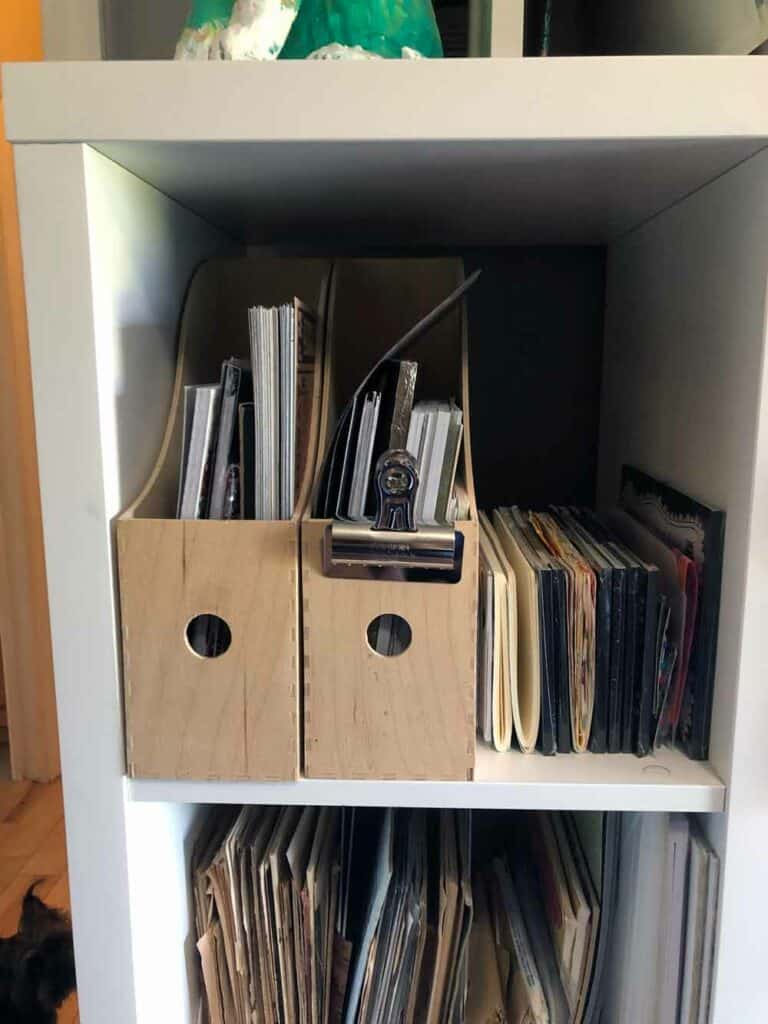 I have both paper magazine holders and wooden ones (I get these at Michaels with the discount coupon)… I like the wooden ones better because they are heavy enough to stand on their own.
Next to this is my spare Dylusions Dyalog Travelers Notebooks!
2. Scrapbook.com 12X12 Paper Holders
This cube has my random papers in it (sheet music, old book pages, vintage patterns, etc.)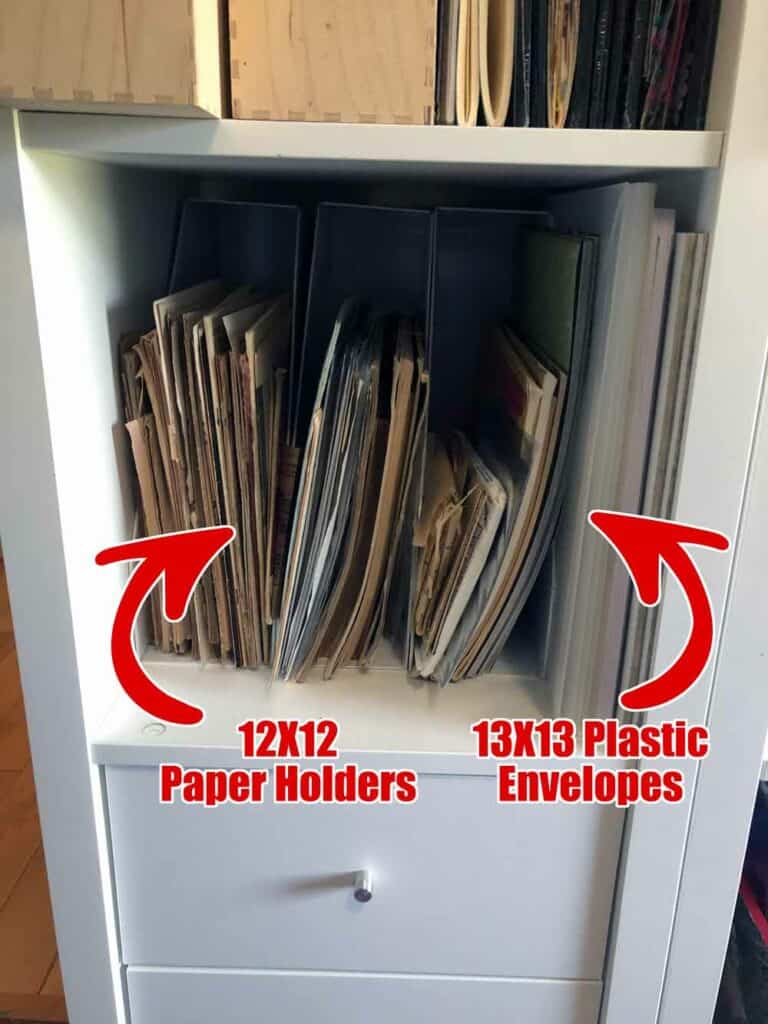 I use 12X12 scrapbook paper holders turned on their sides to organize my loose papers. This works well because they extend almost to the back of the cubes and keep my papers from flopping all around!
3. Scrapbook.com 13X13 Plastic Folders
On the right in that picture are 13X13 plastic folders from Scrabook.com that I use to store smaller pieces of paper and also my cut out magazine collage images.
These are brilliant because they are thin but rigid and use up the whole depth of my Kallax units!
4. Kallax Insert With Two Drawers
I was not sure I would like having drawers in my cubes (especially because they seemed to have lots of wasted space), but I find that storing my tape in the bottom and glues in the top works brillantly!
These are "official" Ikea drawers and have to be screwed into your cubes so you wouldn't be wanting to move them around too much.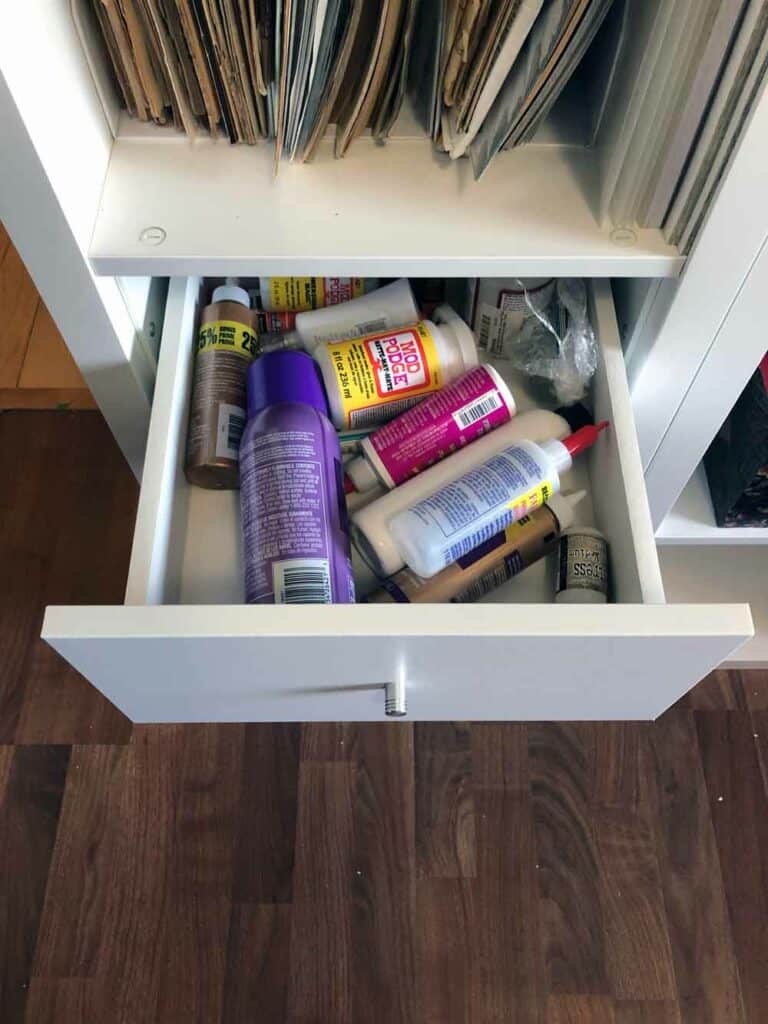 5. Ikea Kallax Storage Box Insert
I think that the style of storage bins I have is out of date (they are called Kuggis boxes now) but I am not sad that I don't have more of these.
I find that it is great to put my technology bits in because they don't really have to be organized, but I wouldn't want to have too many of these because they are just a dumping ground and not easy to keep neat.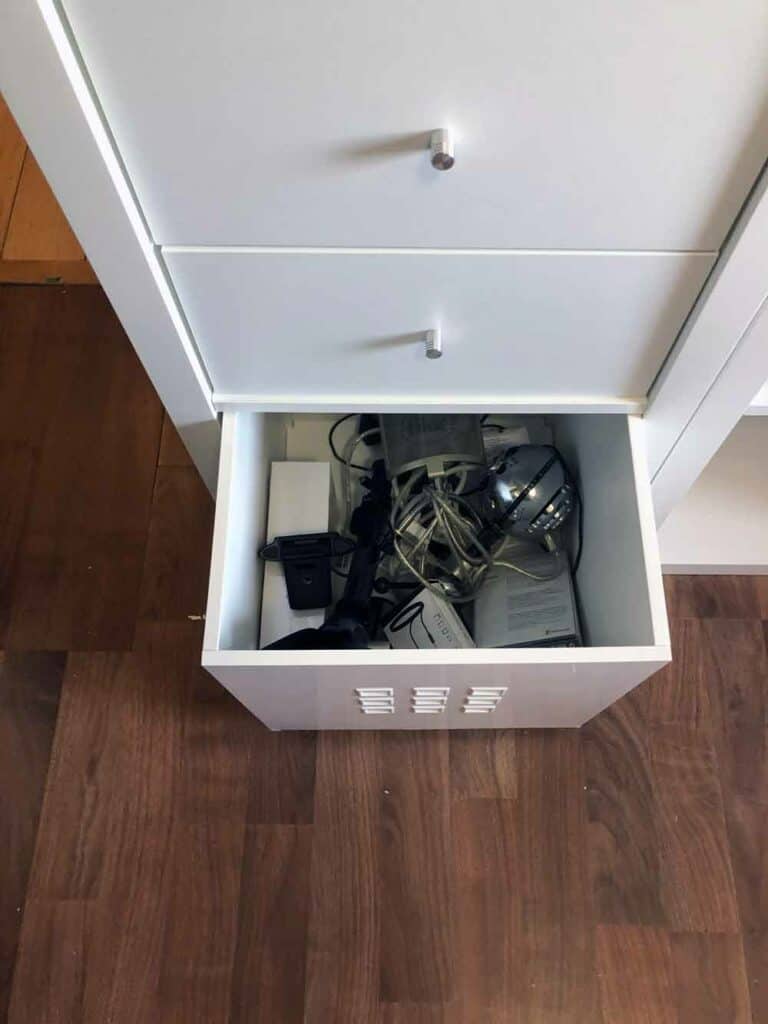 6. 3×3 Kallax Dividers
I have two of these 3X3 dividers in Kallax cubes. One is the official "insert for bottles" and one I got on Etsy.
The one from Ikea is MUCH better quality and is about 1/3 the price so I am fully in the, "get the official one of these camp."
That said, they only have that one divider insert so I did get a 4X4 one that is okay, still not as good quality but works for what I want to do! I don't see it listed on Etsy anymore (maybe because it is a little floppy and they got complaints?)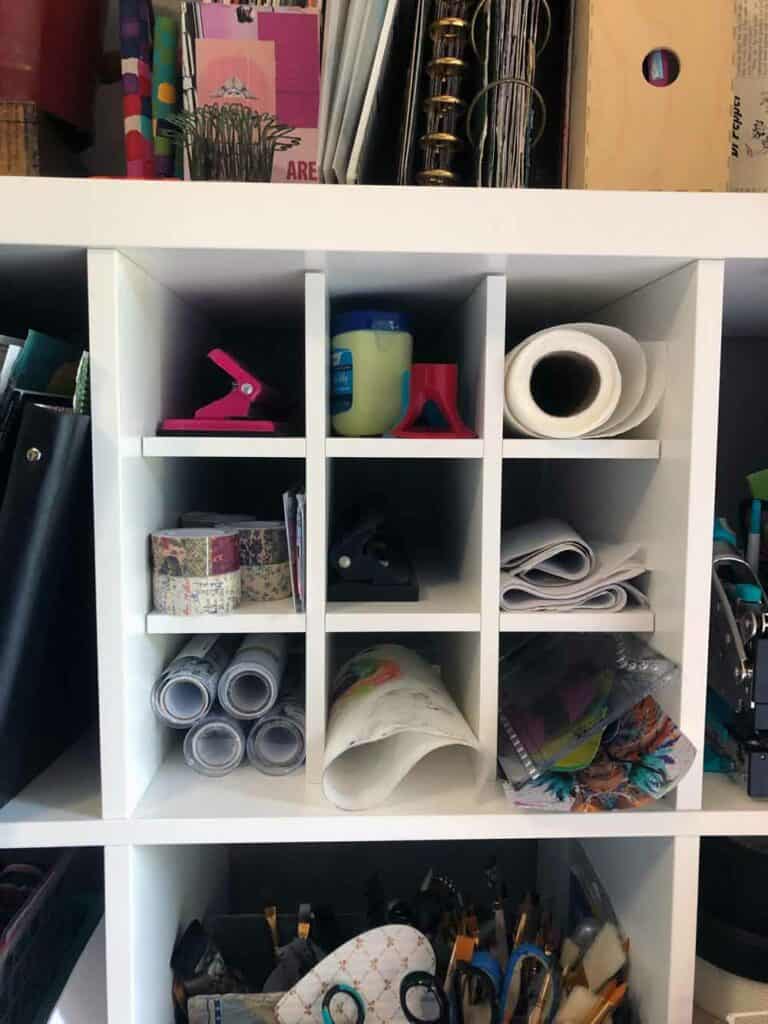 7. Storage Boxes
I made a bunch of decoupaged wooden storage boxes a few years ago and these work great in my Kallax units! I got them super cheap when Michaels discounts their out of season boxes.
Not only can you store things in then, but they act as a divider section so you can put other things in that cube as well! I have my smaller gel plates and accessories in the box and then the big gel plate standing on a DIY acrylic block on the side!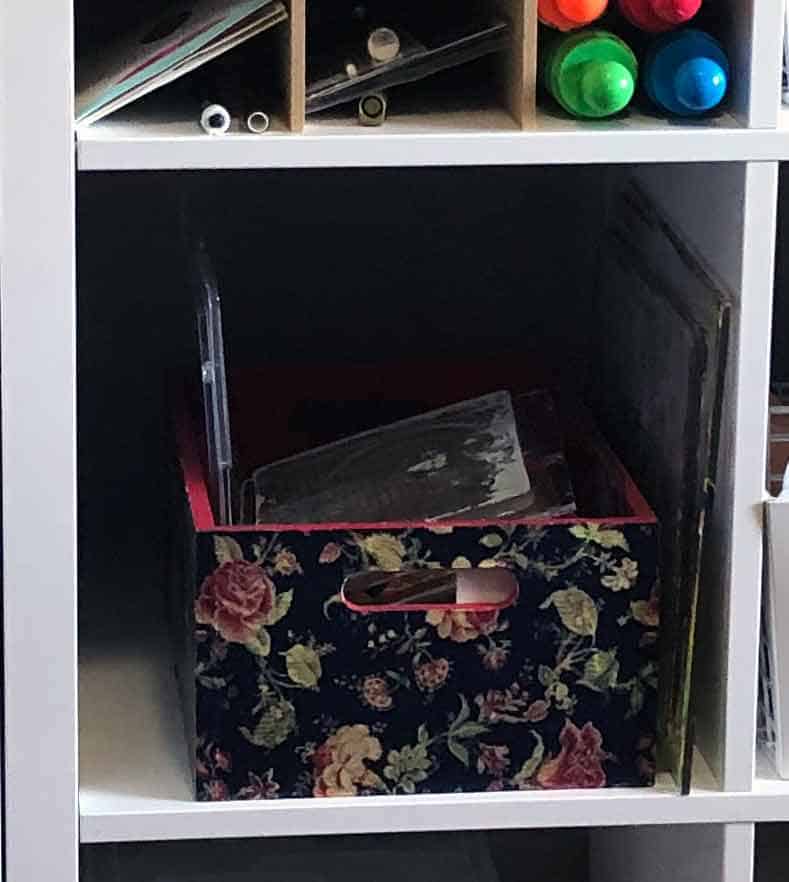 8. We Are Memory Keepers Stackable Paper Trays
Okay, not going to lie, this was shockingly expensive! I had to get two sets of these We Are Memory Keepers stackable paper trays to fill my cube and they are like $35 each set (so about $70 bucks for one cube storage!)
That said, I am glad I have at least one of these and I like that they are see through so I can see the kind of paper that I have to use. I don't like the wooden ones that you can buy on Etsy because I am so visual.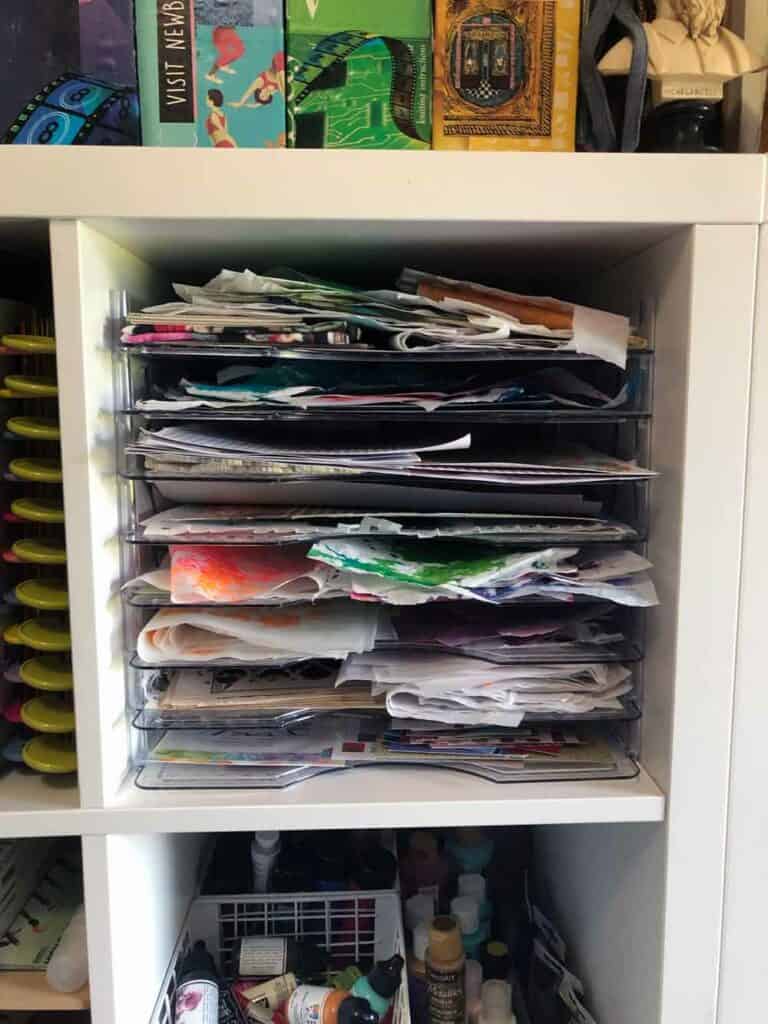 9. Wire Baskets
I kinda love these wire baskets I use to store my paint!
I get them at Michaels (on sale of course) and they generally fit two deep into cube so I can put my "use often" paints in the front and my "use sometime" paints in the back.
I like that I can just take out the whole basket and put it on my desk instead of having to schlep tubes of paint back and forth!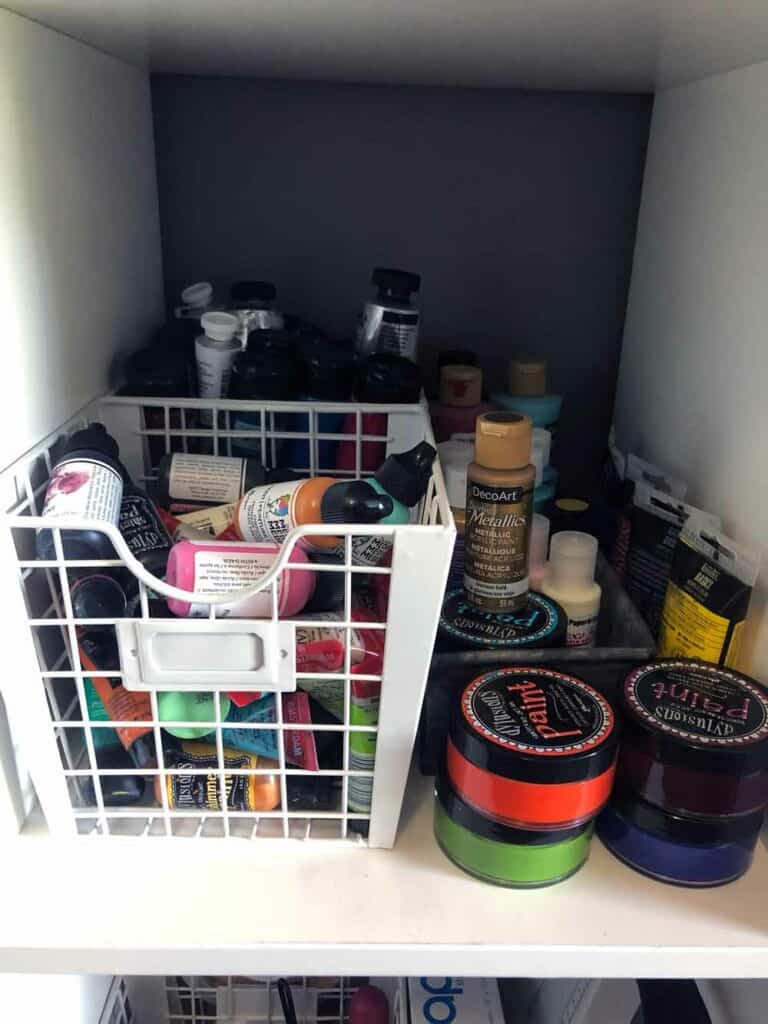 10. Down Low Storage
In the bottom cubes I store backup supplies and things I don't use often. This keeps me from "wasting good cubes" and I don't have to bend over that often!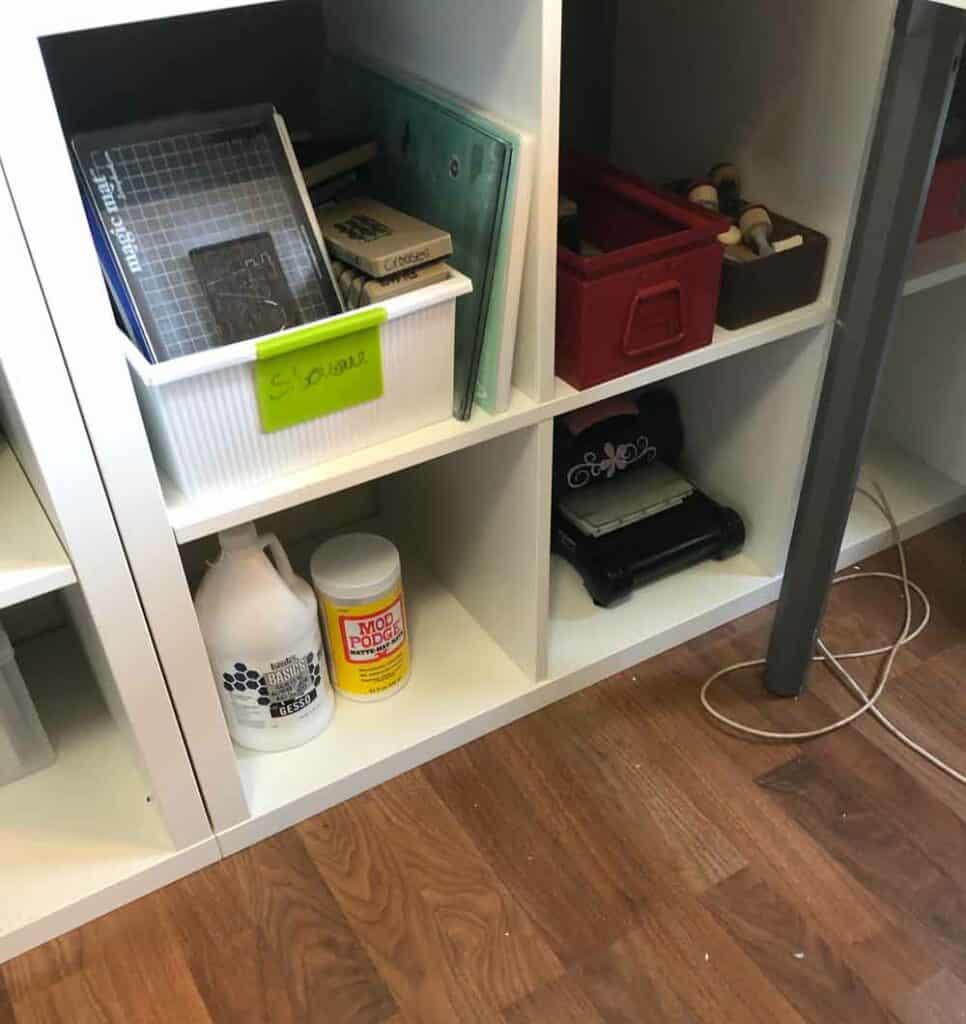 11. Desktop Organizer
I used to have this desktop organizer on my desk with all the paintbrushes and extra papers sticking out all over the place.
It made my work surface smaller and was not pretty to look at…sigh. But now it is PERFECT!
I put it in the cube right beside where I work and it is great for grabbing brushes or my scissors and my craft room still looks pretty and organized!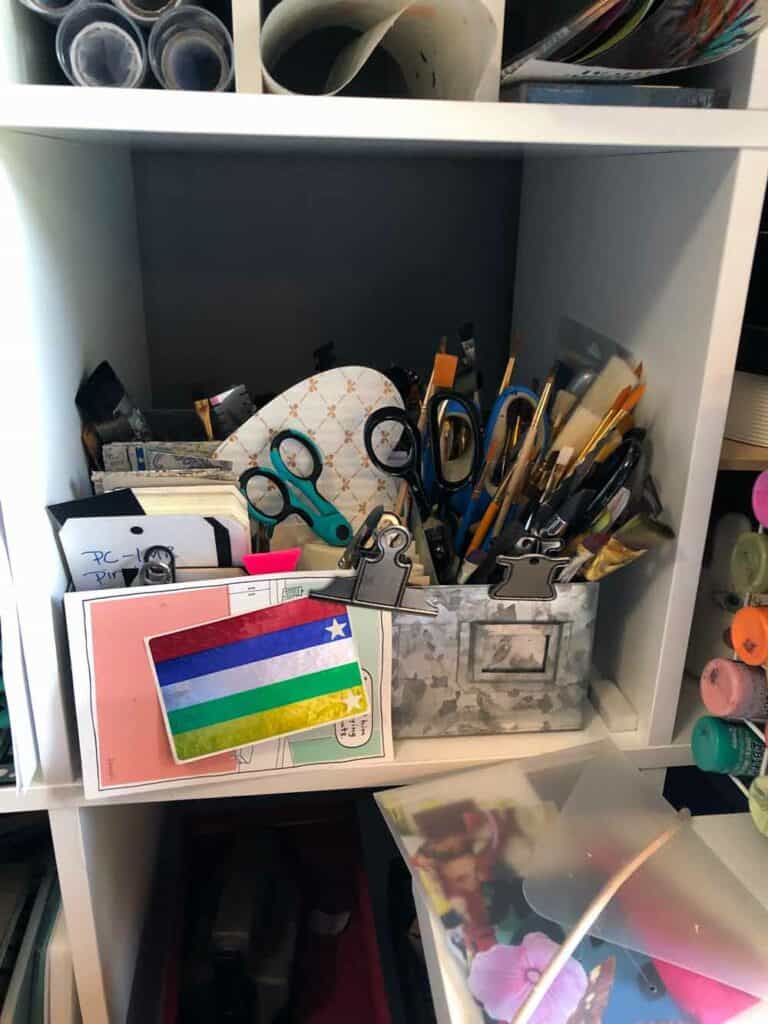 Kallax Craft Room Storage FAQs
I know that I had so many questions about organizing my cubes when I was just getting started. Here are some of my best tips and ideas for how to maximize your art room storage!
What Is My Favorite Storage Solution?
I have to say that I love the wine dividers because I can put smaller things in the cube and still be able to see them all!
Yes, I could put them in a drawer or bin, but I have to see everything or just disappears, so segmenting the cubes like that is a perfect solution!
What Is The Best CHEAP Kallax Organization Hack?
The cheapest one (and one of my favorites) is the 12X12 scrapbook paper holders. When you turn them on their sides you have open access, but they divide up your cube so that you don't have things just flailing around in there!
Did I Buy Everything At Once?
I KNOW! There is a feeling of having to get your cubes perfect all at once, but for sure I built this system up over time!
I got the wine divider, one storage box and the drawer set when I bought the cubes. I am glad I didn't get more at the time because the only thing ever wanted more of was the wine divider.
I never even thought of putting my desk organizer in there until this move, and just got the Scrabook.com 12X12 paper holders in the last month.
Get a few things to organize your cubes, use them for a bit and then see what else you might need!