Today I am going to be showing you how I finessed the Kallax cubes in my craft room to make them more functional! Tips and ideas for how to pick the right inserts for your Ikea Kallax Cubes!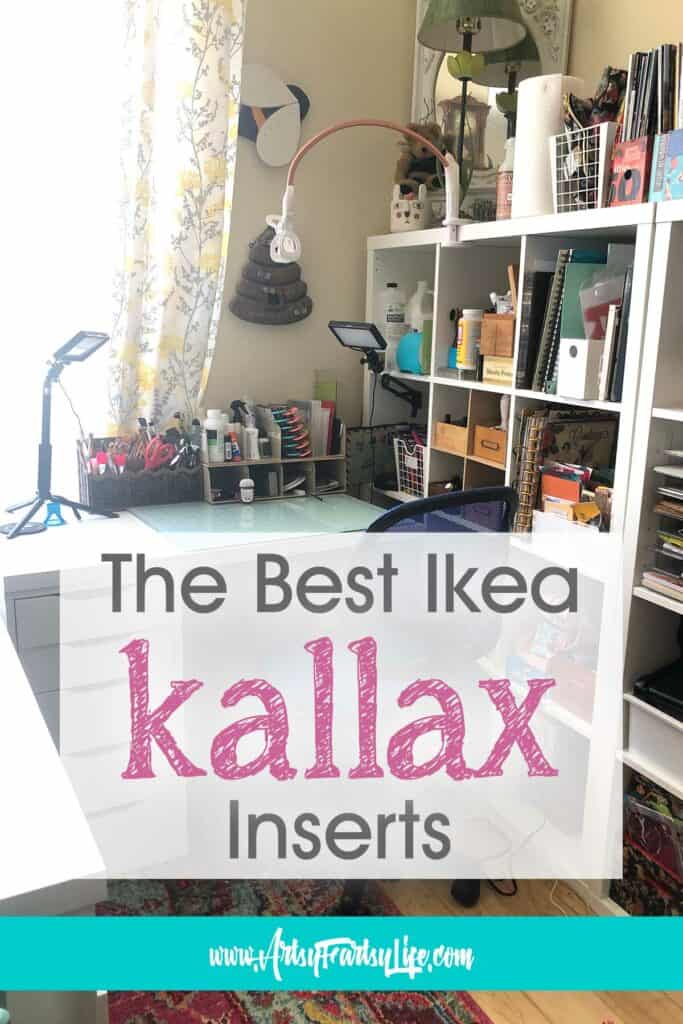 Please note: This article contains affiliate links, and that means that I may earn a commission if you buy something. Read my full disclosure here.
My Kallax Cube Story
I did a HUGE reorganization of my Ikea craft room late last year and bought a series of Kallax Cubes that made a 6X4 grid along the side of my craft room and then two Alex desks that are my workspace. While I need extra storage, I also am visual so being able to see everything was super important to me too!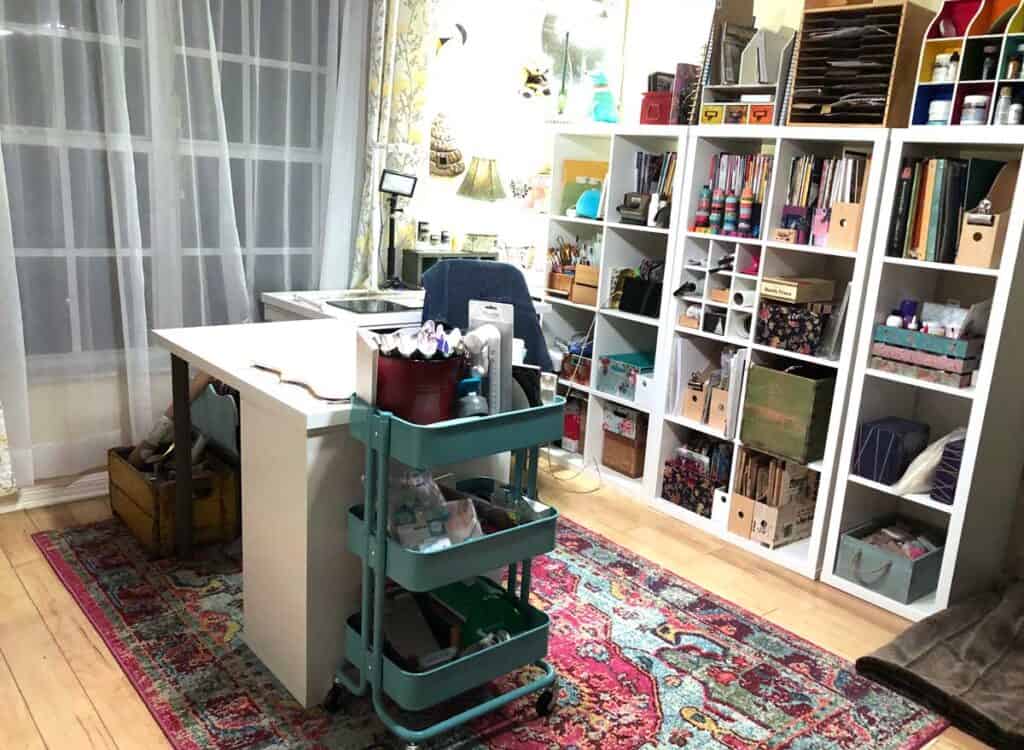 At the time I had one little insert that I could use for organizing and KNEW that I would want to have more ways to break up the storage unit!
With that in mind I ordered all kinds of organizational items to trick out my Kallax cubes and I will share those with you today!
Full Walkthrough Video Showing All My Kallax Inserts In Action!
Why You Need Kallax Inserts
Okay, say you are new to the Kallax game and you just dropped a ton of money on the units, it is okay to wonder WHY you have to now spend even more to get inserts! Fair enough!
I have found that while I LOVE the ways you can separate everything with the cubes, one big open area isn't great for organization!
Genuine Ikea Kallax Inserts and Why They ROCK Hard!
I have three different genuine Ikea Kallax inserts and they are super well made and fit into the units EXACTLY the right way (more about this later).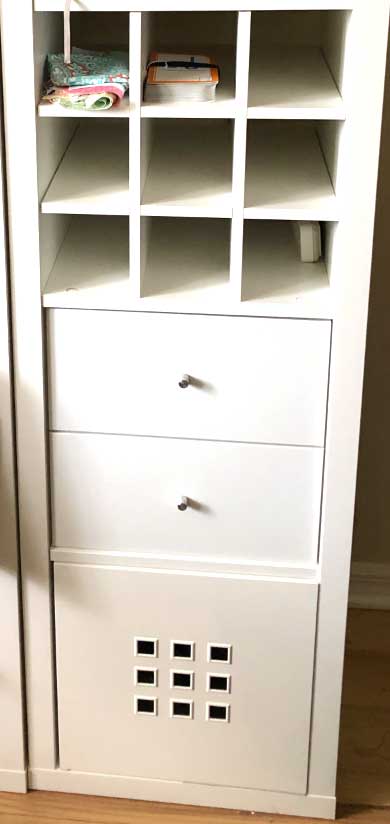 Kallax 9 Hole Insert
The very first insert I got was the 9 hole (bottle) insert. This one is amazing for splitting up the Kallax unit into manageble sizes for smaller items! It is about $15.
I have a bit of open space there right now, but I love how it makes it easy to divide little things.
BONUS TIP… I have my Kallax unit a bit out from the wall and there is an extension cord in there for a plug so I don't have to pull the whole thing out if I want to plug something in!
Kallax Insert With Two Drawers
Okay, this is a favorite and I might be getting at least one more! It is approximately $25.
As you can see in my video I use it to keep my glue in and the two drawers work a treat! I have no complaints what-so-ever about this one except you have to screw it in so it is kind of stuck there now. I think I might have put it somewhere else had I known better, but it works great!
Kallax Drawer Insert – Lekman Box
Okay, this Lekman Box or drawer insert was a bit of a disappointment for me. It is SUPER deep (as deep as a cube) and not very "organizy". If you have something large to store it would be great, but I like my cubes broken up a little more than this one does.
Kallax Inserts From Etsy
While I love the quality of the inserts from Ikea, they didn't really have all the shapes and sizes that I needed!
I ordered this one from a seller who isn't on Etsy anymore, but SmugNStuff has lots of the ones that I checked out before!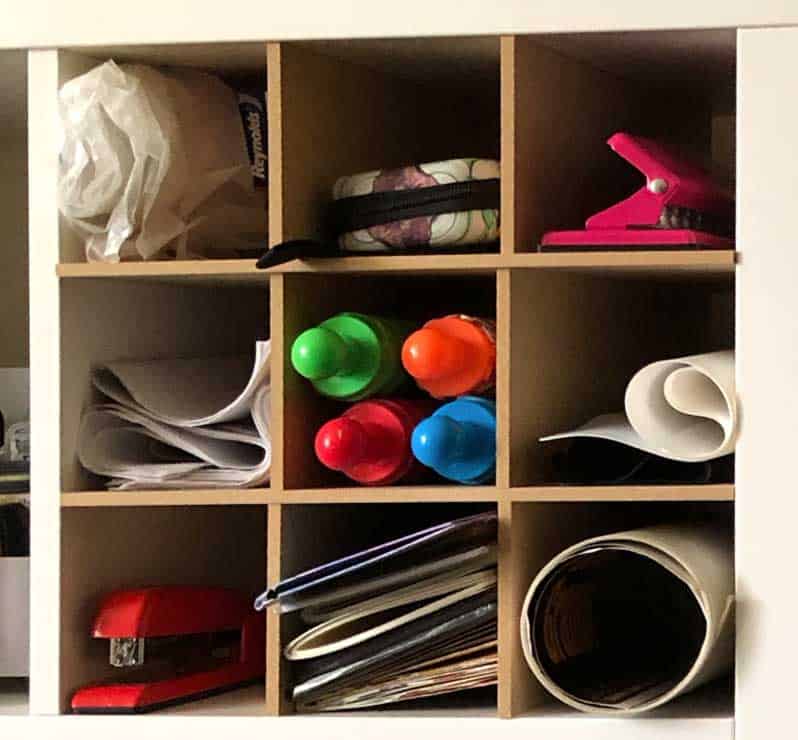 I messed up and ordered the same, 9 hole shape that I already had, but you can find ALL kinds of different configurations to use in your cubes on Etsy!
The thing about these is that most of them are unfinished and made of balsam wood or MDF which can be hard to paint without warping. I haven't been brave enough to paint this one yet so it isn't the same color as my Kallax cubes!
Organizing Ideas For Your Kallax Cubes
While these are not "officially" inserts, I have gotten some things that make my Kallax cubes much more functional!
Paper Holder from Scrapbook.com
I had an old paper holder from a school on my desk and it was very handy but it wouldn't fit into my Kallax cubes. I found this cool paper holder from Scrapbook.com (you have to get 8 levels to fill the cube).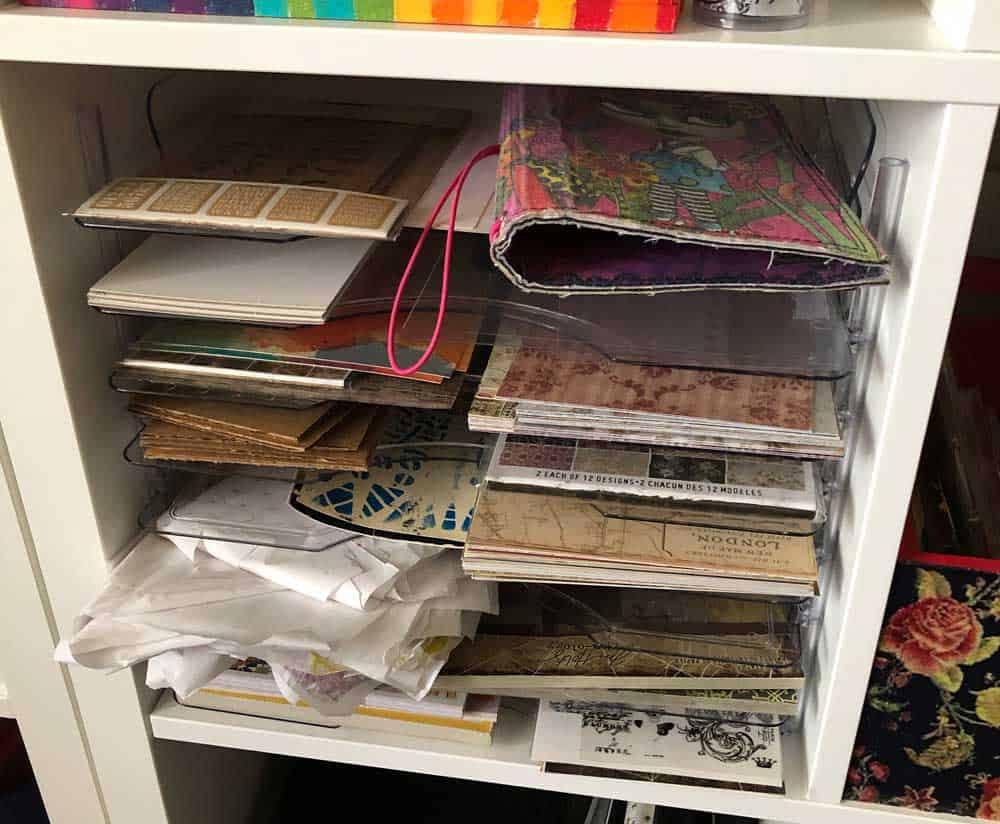 Now this is not cheap (I think it was like $50) but it works great! They are actually We Are Memory Keepers and you can get them on Amazon too, but they are a little more expensive there.
Ink Pad Storage Holder
There are super expensive ink pad holders on Etsy, but I LOVE this kind of "stadium seating" ink pad holder because I can pull it out and put it on my desk when I am doing a big inking project! It is like $25-30 versus a hundred for the actual ink pad holder on Etsy.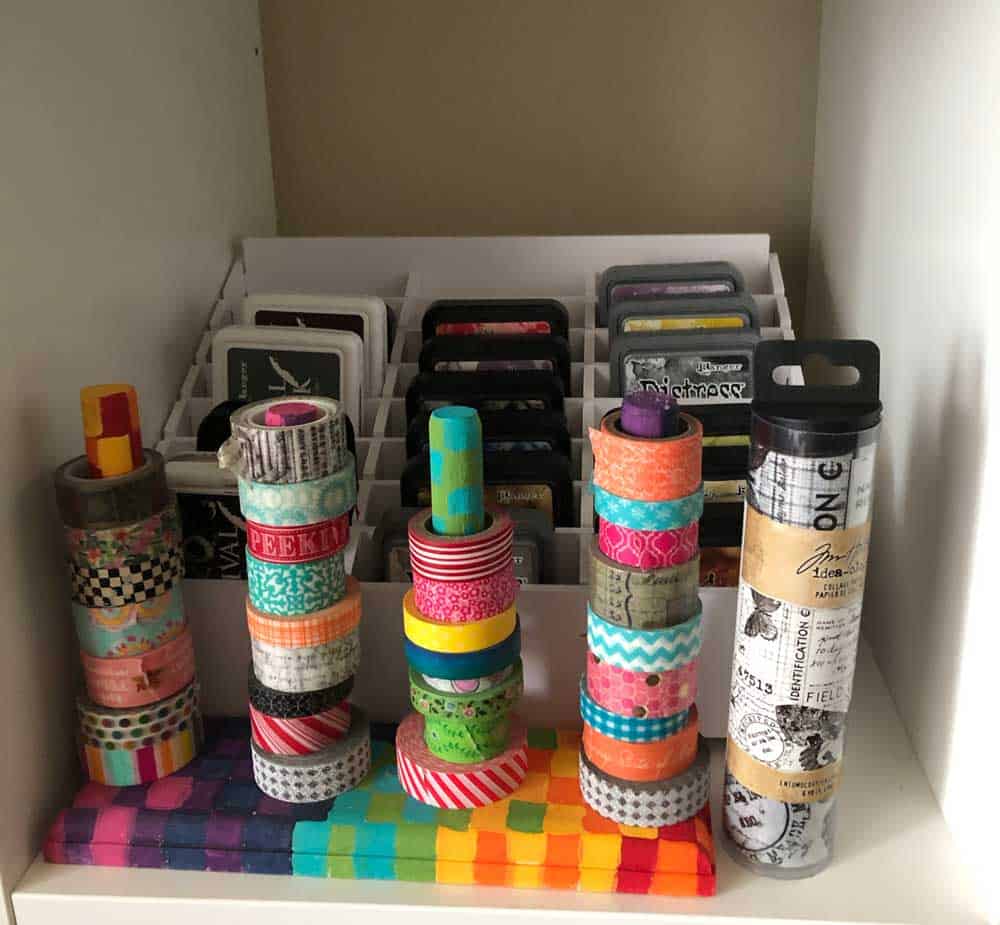 That cool little gizmo out front is my colorful washi tape holder… I LOVE it so much!
Pull Out Paper Dividers
The last thing I really love is these pull out paper divider thingies (they are actually Ink Pad Storage Trays). I can keep all my paper scraps in there and they are organized and visible for me to use!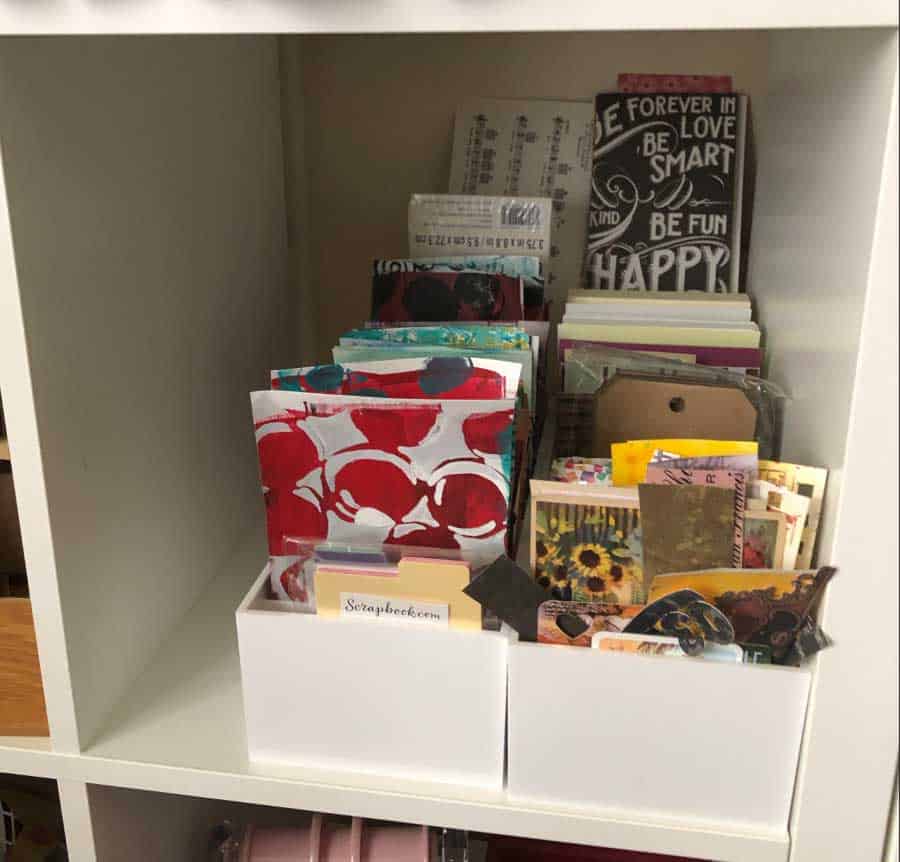 The Best Kallax Inserts Wrapup
I was going to use the fancy pictures from the websites instead of my derpy pictures of my messy craft supplies, but I know I like seeing things really in action instead of all perfect pictures to I decided to lift my skirt and show you my real life!
Hopefully this post will help you find some inserts for your shelving unit that you can use to make your craft room and kallax cubes more organized and fun!