Okay, I love me some Ikea, and I am sure you do too! But there are SO MANY OPTIONS that I wanted to sit down and think really hard about what I NEED for my craft room storage before I go to Ikea.com and get all star struck by the options available!
Here are all my best tips and ideas of things to think about while you are designing your Ikea craft room!
Related Post :: See the final Ikea Craft Room Makeover!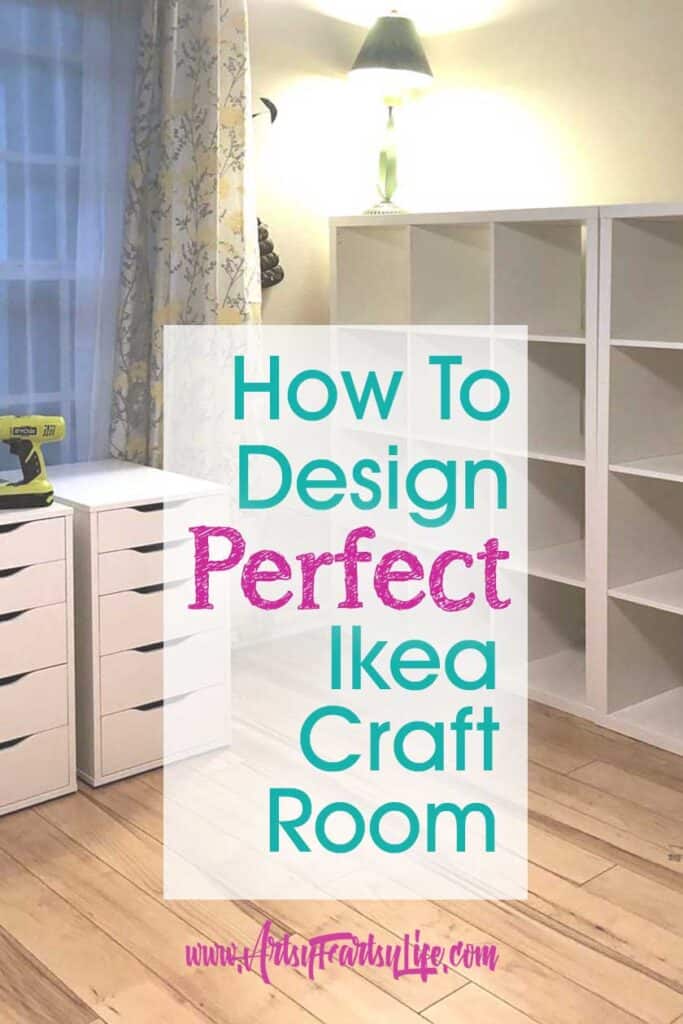 Please note: This article contains affiliate links, and that means that I may earn a commission if you buy something. Read my full disclosure here.
Update April 2022!
I did it again! I moved my craft room and the Kallax cubes and Alex desks to my new craft room! If you are thinking about getting these amazing bookshelves, I am a super fan and have been so happy with the choices I made so that I wasn't "stuck" with a system that I couldn't learn and grow with!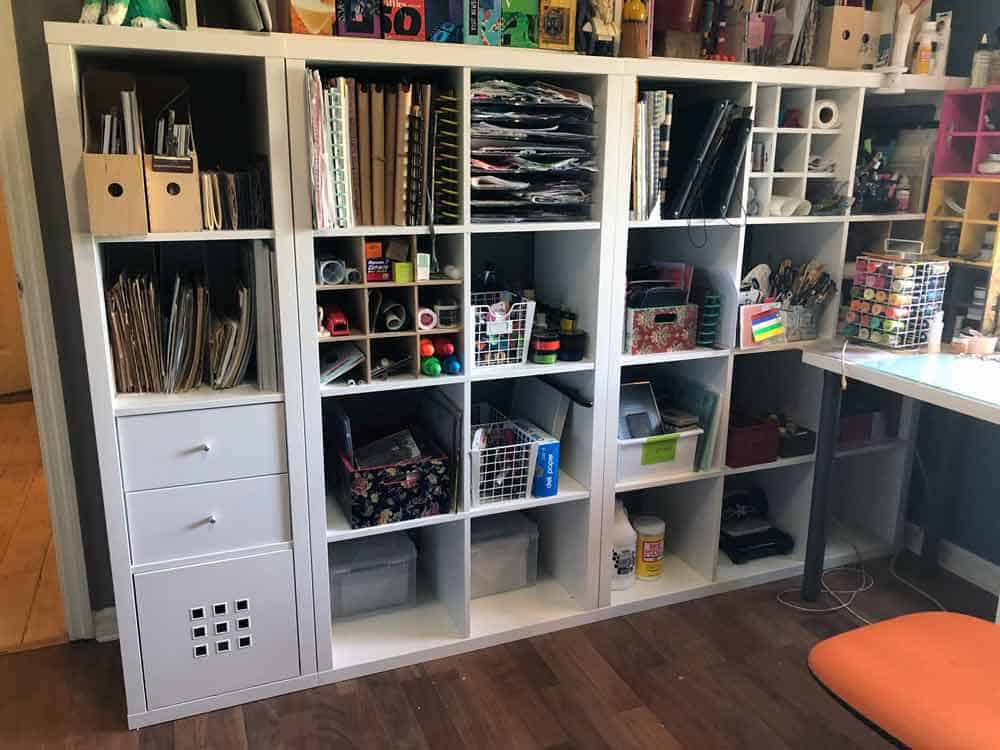 About Designing The Perfect Craft Room!
I am going to be lifting my skirt for this post and showing you some of my good bits and some of my "not so good" bits (as in my hot mess areas!)
That said, before we start I want to say that this 1000% better than it was in the past and there are some things that I have learned that work for me!
Related Post :: What I learned from A Slob Comes Clean about cleaning my craft room!
VIDEO: Redesigning My Craft Room With Ikea Hacks
What Is Working?
So first, let's talk about some of my storage solutions that ARE working for me now…
I LOVE having my embossing stuff right beside my chair so I can reach over and grab it
My rainbow magazine holders work great, I just need to get them to a place I can actually reach (my husband says I have T-rex arms… I don't think that means they are long… hahaha)
My faux apothecary box for my metal embellishments works great
And my tiered storage unit is perfect for my sprays and stains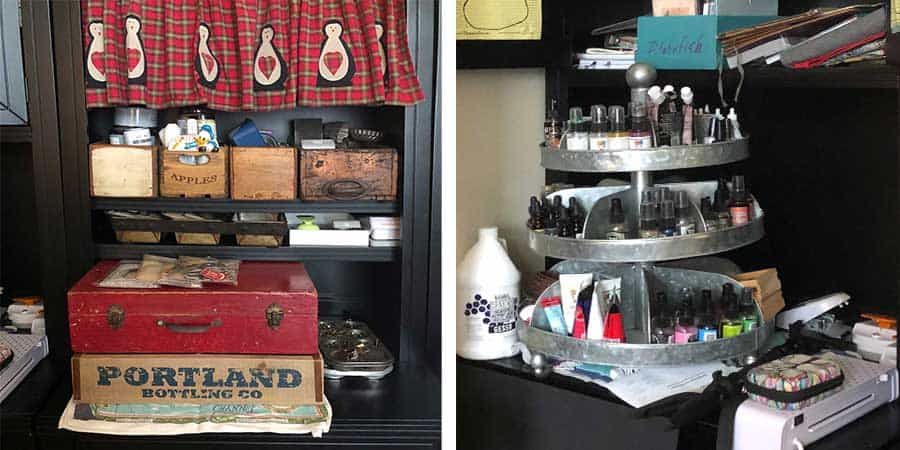 What Is Not Working?
I think there are a number of things that are not working (#mistressoftheobvious).
I have gotten a different small solution for each organizing problem I have and none of them are working together
I don't have any flat places to put "works in progress" or even set things down to dry
My desk is too deep (considering it is a dining room table, that is not a huge shocker)
I have to see everything so it looks messy even if I am not feeling like it is messy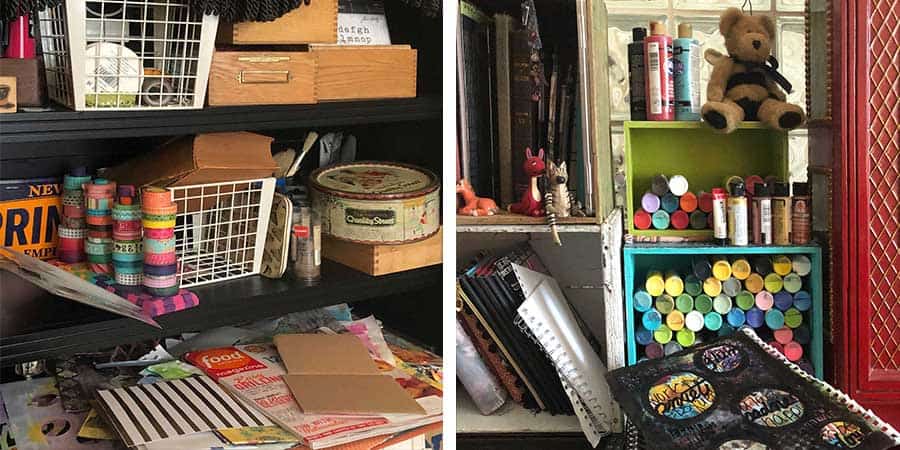 Things To Consider About Your Organizing
So now you know all my problems (well at least my craft organizing problems), so let's think about some things that you might not have really thought through until now!
Are You A Shelf Gal?
I am a shelf gal! I love having a huge bookcase that I can use decorative boxes on to organize my "stuff".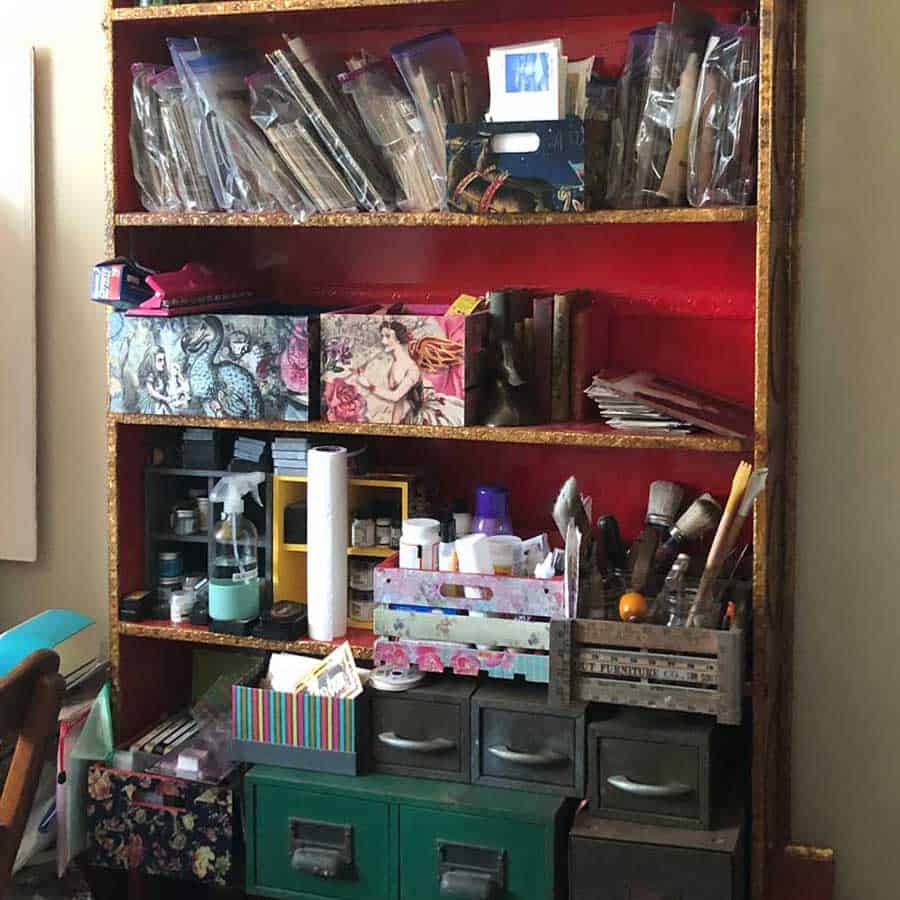 I got this bookcase/desk combo at an antique auction and I just love how the huge areas give me lots of room.
With my Ikea choices I am going to have even more shelves! I am getting the "Tetris of shelves"… a 4 shelf, 8 shelf and 12 shelf trifecta!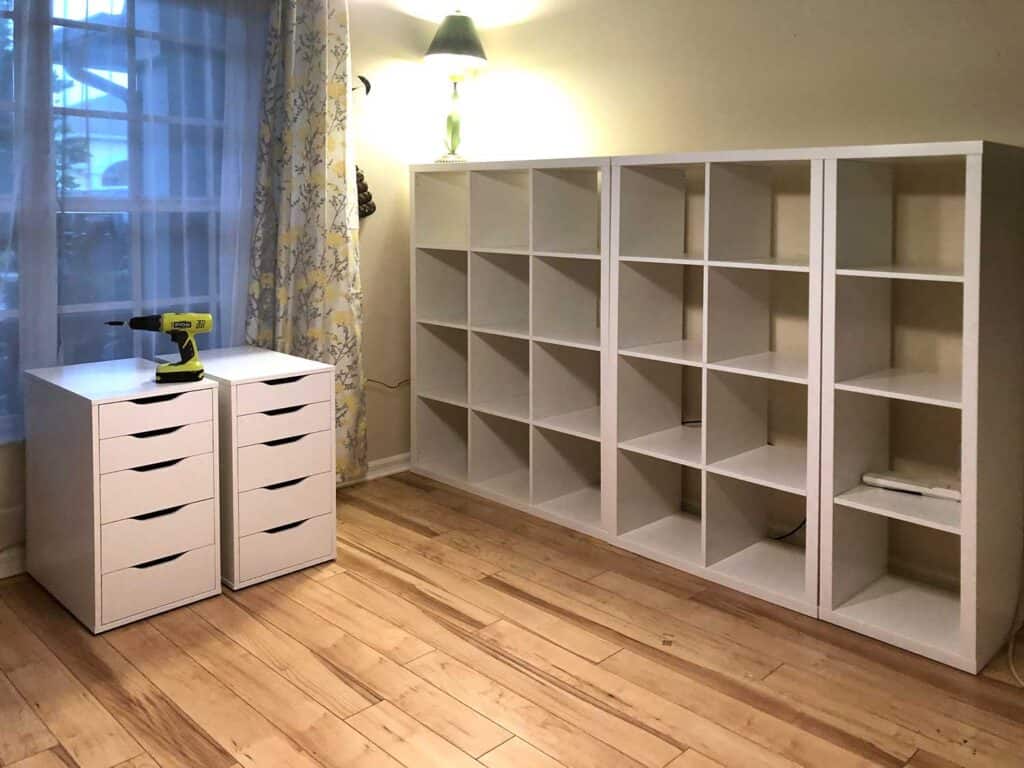 And here is the final version of my craft room!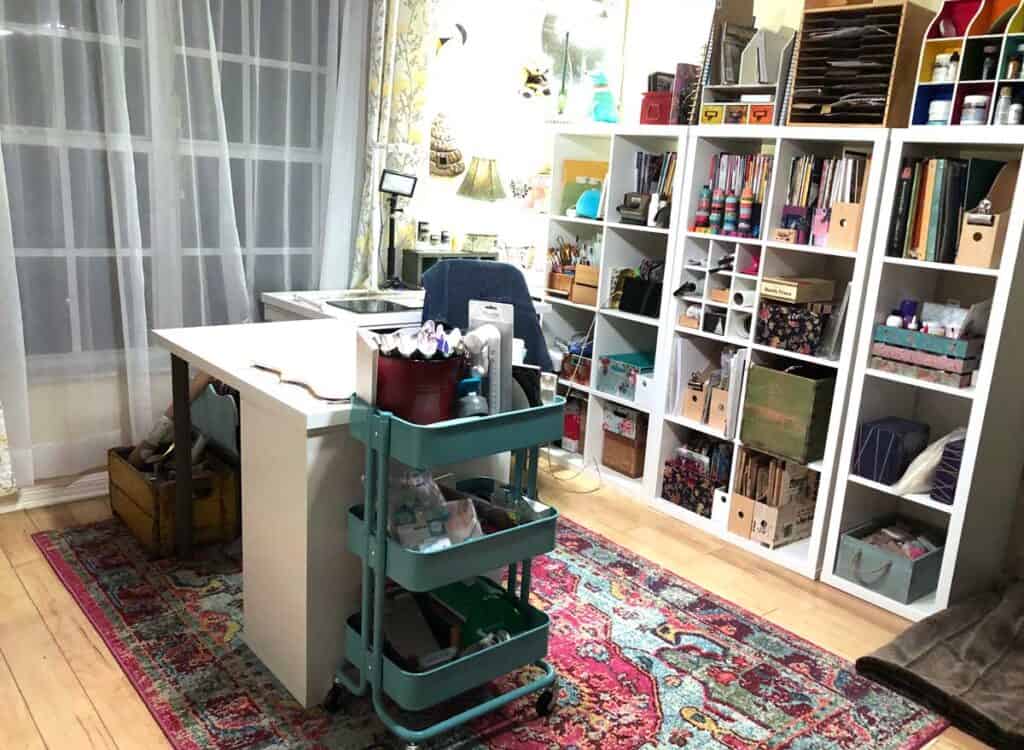 Are You A Wall Hanger?
But maybe you are not such a "shelfer" like me, you might need to have a cool "wall of thread" or a fun pegboard like Jennifer Maker shows you how to make!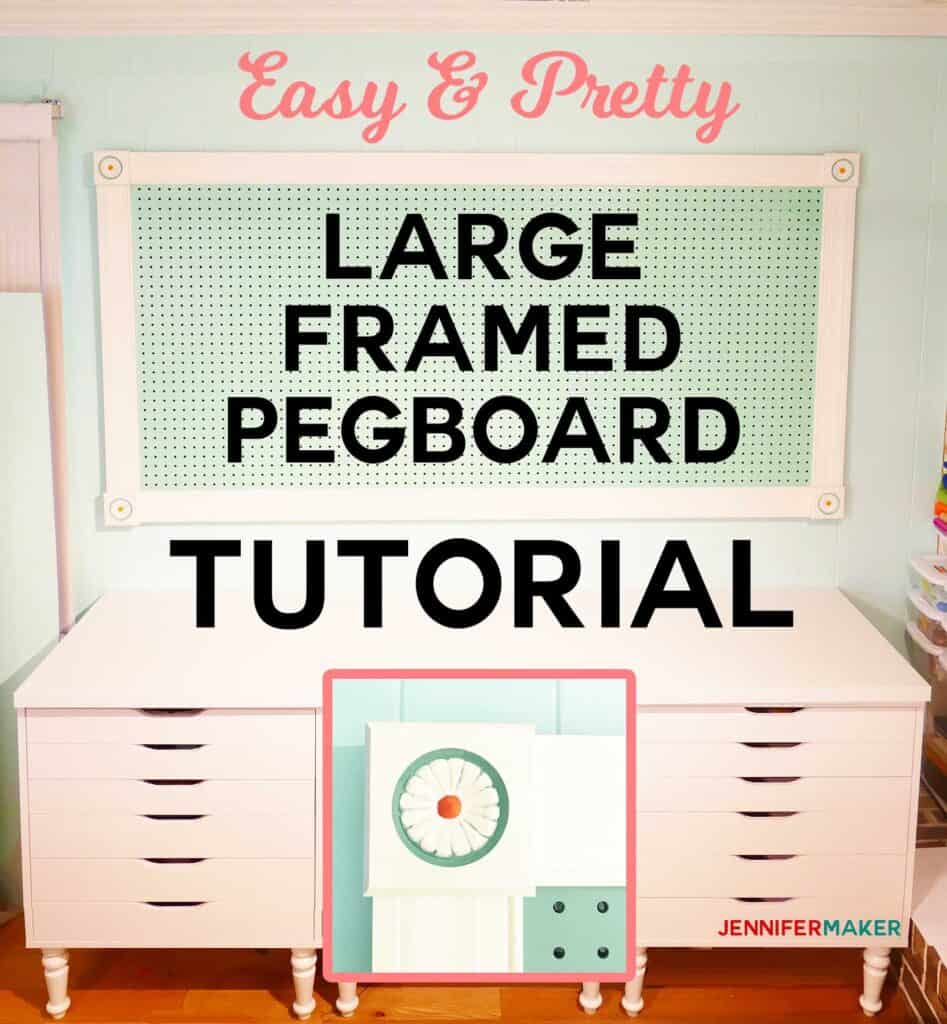 Not only does hanging things on the wall not appeal to me, but our walls are horrible and hanging anything on them is a recipe for disaster!
Are You A Visual Organizer?
One of my biggest problems is I am a visual organizer! I have to see everything out in the open or I forget that I have it.
I found a lady that categorizes clutter people as Clutterbugs. I am some kind of butterfly or something, but she says I have two different overlapping circles… visual AND large scale organizing rather than lots of little boxes.
If you are struggling with organizing you might want to check out her free quiz.
Do You Need Flat Surfaces?
Okay, this is a big one for me… do you need to have more flat (open) spaces in your craft room?
I don't have great areas to put things down and I have about a 2X3 area in the whole room to do work on.
So I got two new desks AND cubbies that are a little lower so I can put things on top of them too!
Ikea Storage Color… Black or White?
Okay, now comes a big question! Should you do all white, all black, a mix or what.
I already had a white cabinet, red bookcase and desk and black bookshelves in my craft room so I was going to use one of those colors.
I really would have liked to do black (it doesn't get as messy with all the paint and "stuff" I use for my art), but Ikea's "black" is really brown black and I thought it would look super derpy to have black and brown and red and white, so I went with the white!
That said, now that I have the white units I am super happy with them. They are light and bright and I feel like they do make the room a little more cheerful!
What Else Do You Do In Your Craft Room?
Some of us can have a dedicated crafting area and some of us have to have multiple uses for our room. I have 3 uses for my craft room…
Crafting
Taking pictures for my blog and store
Making videos of my crafts for YouTube
You definitely want to think of all the different functions that you have in your space and make sure you have an area where you can accomplish that task.
Measuring Your Space
Now you want to measure the area you have to use for your storage. I have a ring of bookcases and cupboards around my crafting area, but the space I had to use for my Ikea Cubes and my desks was 7'X8′ which is actually a pretty big area once I started plotting things out!
The one thing you don't want to do is try to cram three rooms of storage into one space, so much so that you don't have room to work!
Doing Your Layout
Now you want to lay your "craft room" out on paper or on the computer. I did a 1″ equals 1′ kind of deal which I think is kind of normal for people who don't use the metric system.
I did two different versions of my layout, because I KNEW I would want to move things around later.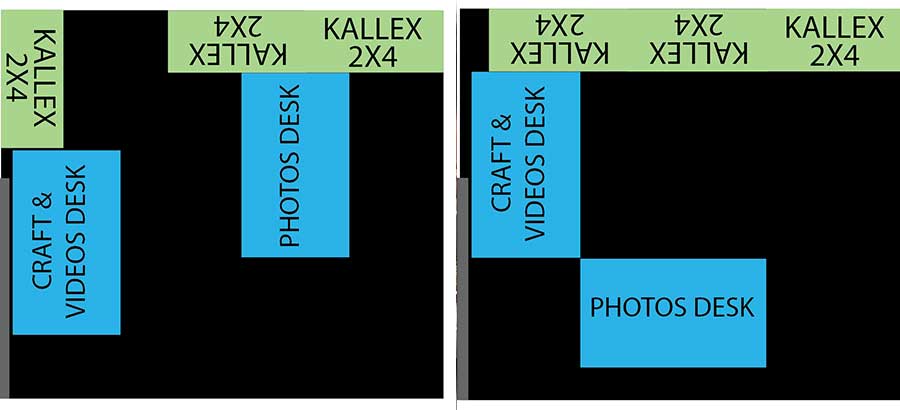 Originally I thought I would get all 2 X 4 Kallax Cubes, but then I realized that having a variety of sizes would allow me to do so many different arrangements.
Can You Go High?
Last but not least to think about is "going high". I like that I can reach the top of the shelves when they are 4 high, but I had also thought about putting the 1 X 4 Kallax cube across the top to make a 5th row of cubes.
UPDATE August 2023
When I moved to my new craft room I added a bookcase tipped on its side and put on top of all the Ikea Kallax cubes. I found that this was brilliant!
Not only did I get more shelves, but there are now longer spaces to put things that are wider than the cube size.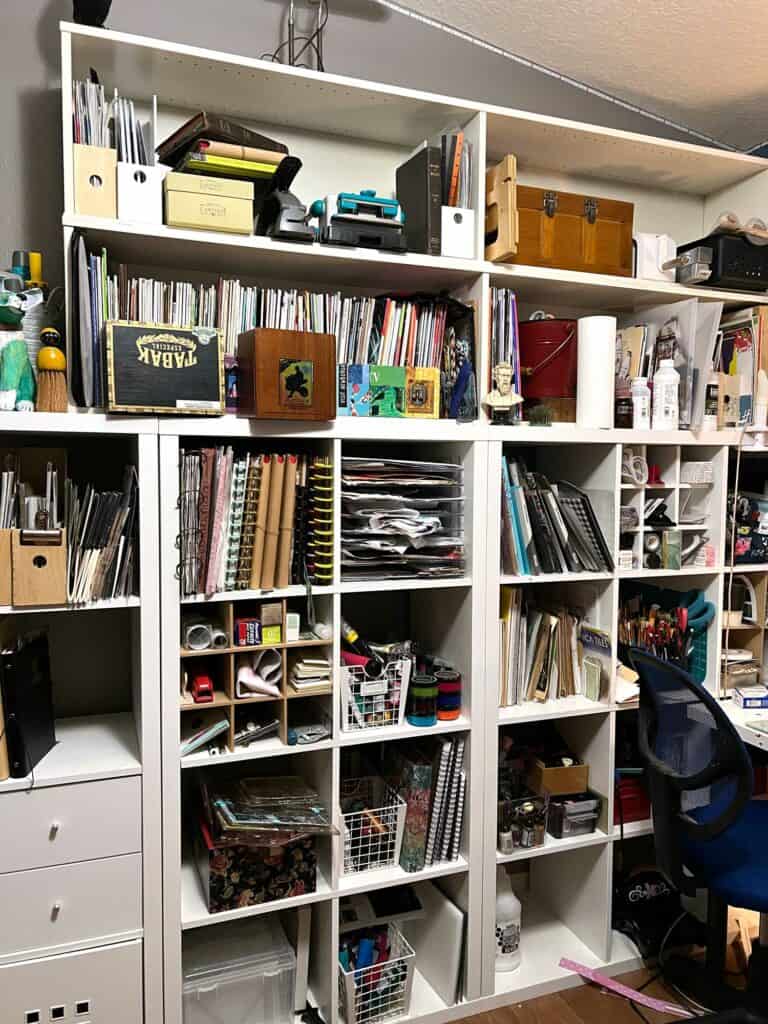 This was just a random white bookshelf that my daughter left in the closet when she moved out and my father in law was actually the one who suggested putting the bookcase on top of the cubes!
Ikea Craft Room FAQs
I had SO MANY questions before I got all my Ikea storage units. I KNOW, you can return them, but I wanted to get it right the first time so I obsessed over every little thing… ha! Here are some of the questions that I had before I got my units!
Is There Covered Storage For The Ikea Cubes?
There is! You can get doors for your cubes or even drawers for them.
Kallx Insert With Door

Kallax Insert With Drawers

Is The Ikea Kallax Good for Craft Rooms?
I have gotten a ton of messes on my Alex desk and so far all of them have come off (once I had to use alcohol). The shelving unit is sturdy and the desk tops are super durable and the finish is a tiny bit shiny so that they are easy to clean.
Is There An Ikea Craft Room Planner?
Ikea has a planner for the Kallax units, but I found that just using the little one by one squares worked the best! That said, if you are an uber nerd and like doing things the fancy way, go for it!
Does Ikea Sell A "Craft Table"?
They for sure have a range of different desk tops that you can mix and match with different table legs or even the Alex drawer units like I used to replace two of the desk legs.
One thing I will say is that I had a "craft table top" rather than a "craft desk". I have been using my new desks for about a month now and I am over the moon having those drawers there for craft supplies right at my finger tips… it is just so darn convenient!
What Kinds Of Craft Space Will This Work For?
These are great for all kinds of craft rooms… here are some ideas about each!
Sewing rooms – oh my gosh, those upright cubbies would be amazing to hold folded fabric or if they are on boards to wrap the fabric around
Crafts and scrapbook – the cubbies are just great for keeping papers and since they are 13X13X15 they hold scrapbook size paper easily!
Mixed media – I have SO MANY different types of craft supplies and I love that they can all have their own nooks and crannies!