It was time! Time to get my craft room in order and so I picked the Kallax bookcases and two Alex desks from Ikea to organize my craft room storage area. Here are all my best tips, ideas and inspiration for getting your craft supplies organized!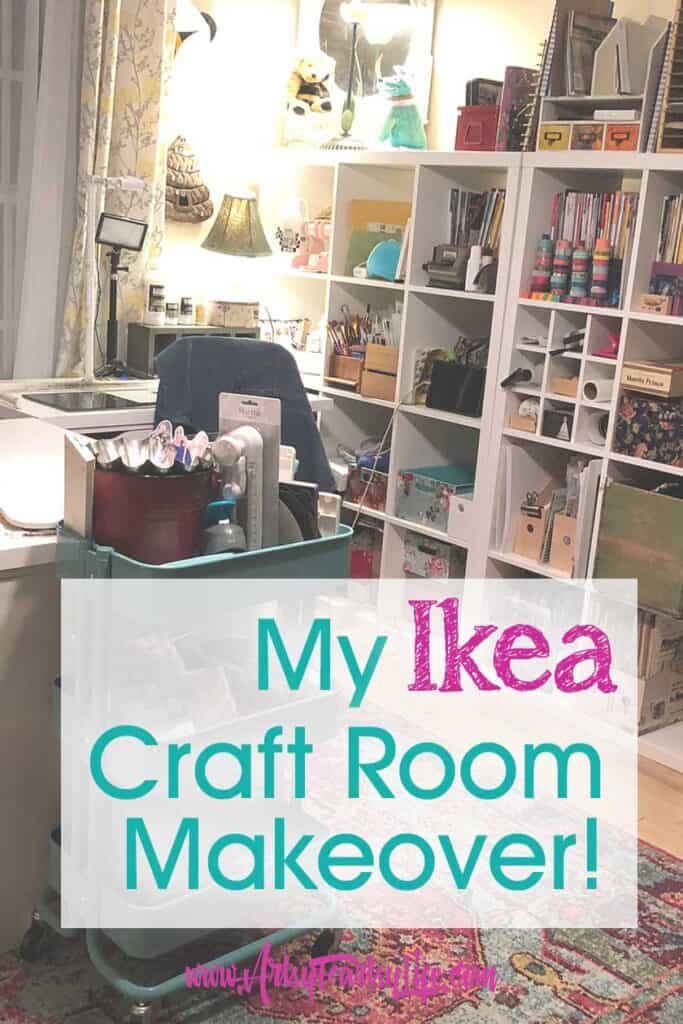 Please note: This article contains affiliate links, and that means that I may earn a commission if you buy something. Read my full disclosure here.
My Craft Room Before
Oh lordy, my craft room was a bit of a mess beforehand! If I had to pick one reason it wasn't working, it was because I kept finding individual solutions to each problem.
For example, I LOVE this little unit that holds three of my decoupage decorative boxes, and if it was the ONLY little storage idea, it would be okay, but I also had a round end table kind of thing and then all kind of different vintage milk crates (which I love, but you can see that everything is all higgldy-piggldy when it is all in a jumble!)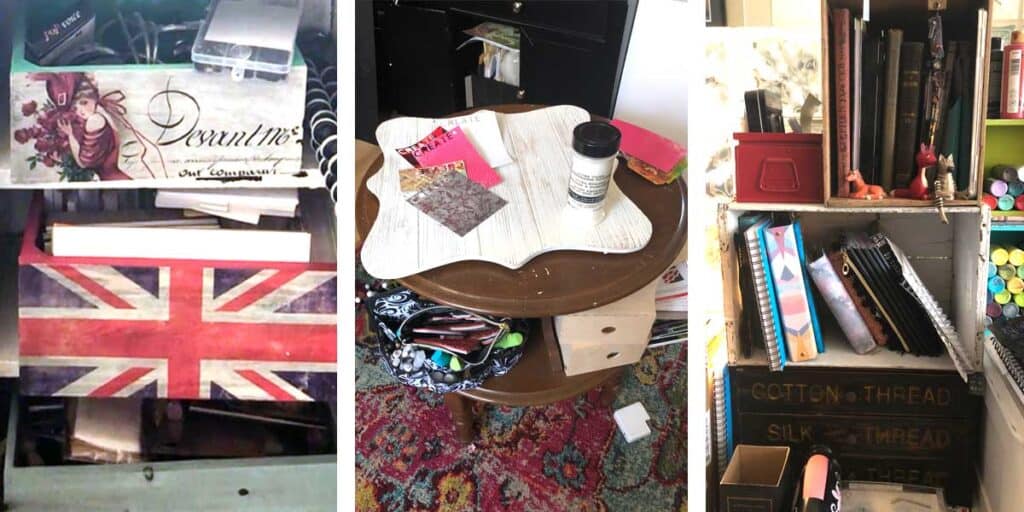 But honestly, even though it looks a mess, I did have some areas that were working like my Apothecary box that holds my metal embellishments, the tiered rack that holds my sprays and stains and my huge bookcase that holds so many craft supplies!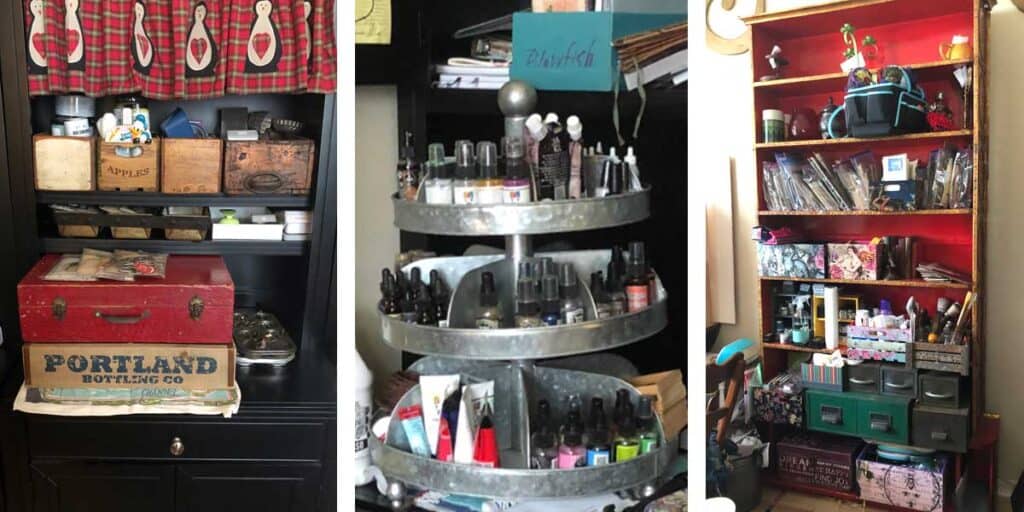 After The Ikea Craft Room Makeover!
Okay, I have to say that my craft room went from a jumbled mess that made me nervous and sad to a haven that just makes me smile!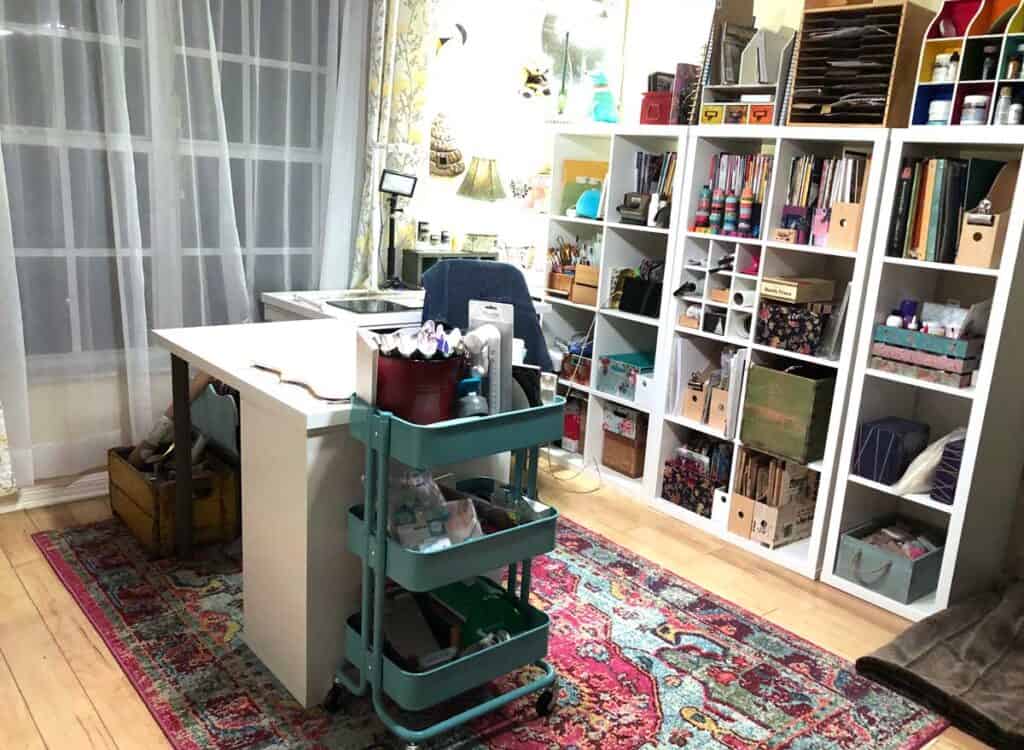 I already had the Raskog cart (which I think was like $30) and the bookcases and the desks were $500 all together. I ordered them right from Ikea (the prices were MUCH higher on Amazon!)
Pieces I used (include affiliate links, which I will get a small commission for if you use!)
The area that the Alex desks, Raskog Cart and Kallax book cases are in is 7'X8″ (my craft room is bigger than that, I have black bookcases on the one side and the red desk and bookcase on the other side).
Full Craft Room Makeover Video
If you would like to see my full craft room makeover from start to finish, here are the full befores and afters!
Craft Projects Mentioned In The Video
FAQs For My Craft Room Makeover
I learned a lot from doing a huge project like this that I wanted to share with you!
Do you like the Ikea Alex drawers?
I like them very much when paired with the desk unit. One of my big challenges using a dining room table top for my desk was that I didn't have any drawers that I could keep any of my "daily use supplies" handy. Now that I have two craft desks with the Alex drawer units, I can keep things handy.
Is it hard to put together Ikea Kallax Units?
My daughter and I put together all three Kallax bookshelves in about an hour. We did the 3 wide first to get it out of the way and it was pretty easy (I watched this video from the Ikea Hunk first which helped a lot!)
The 1X4 was honestly the hardest one to put together, the other two it really helped to have two people to do it. If you can use a drill, if we had to use the allen wrench it would have taken a lot longer!
Why did I get 3 different sizes?
I tend to like to move things around so I thought that having 3 different sizes would help with that! If I was even a little taller I would probably move the 1X4 to the top and have a taller, skinnier bookcase, but I am only 5'2″ so I like being able to reach up and grab things from the top.
Do I like the Kallax book cases for craft supplies?
I DO! They hold A LOT of craft supplies. That said, I like the Alex desk with drawers too because they are a bit bigger and hold longer things. For example, I have all my stencils in a drawer that pulls out because they are longer or wider than the Kallax holes!
That said, I also pulled my units out a bit from the wall so that I could put longer things in there! I have my tissue paper in legal folders and that little extra bit of space keeps them from poking out the front!
Should you get black or white bookcases?
This one is super personal, but I did want to mention why I got the white desks and bookcases (especially since I already had black bookcases in the room!)
I have to say that the white Ikea furniture is definitely lightening up the room and I needed more light bouncing around because of the huge overhangs my Florida windows have.
Also, I make videos and they look nicer on white. That said, if you like black better, I think they would look great too!
Ikea Craft Room Ideas Wrapup
Whew, that was a lot, but honestly, I feel like this was the best storage solution that I could find for all of my storage supplies.
I use one of the desks for my craft table and one for taking photos for this blog. It is nice to have a dedicated craft space that I always have open!
I had seen lots of craft room organizing video where the gals gave organizing ideas using the Ikea storage, but wondered if it was really as good as it seemed. For me it is!!!