This faux apothecary bottles DIY project was super easy and fun to do (I even had my kids help!) We used old prescription bottles, plus recycled cans and jars. The printed labels were perfect for adding vintage grunge to the bottles.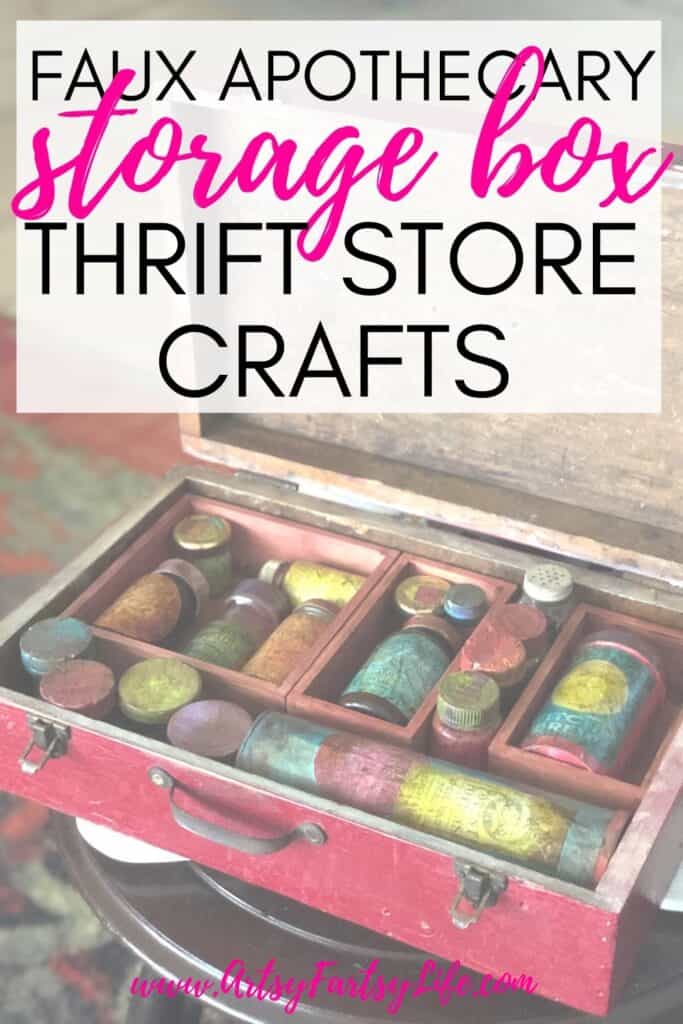 please note :: as an Amazon associate I earn from qualifying purchases, read my full disclosure policy here
Apothecary Box
I found this super cool vintage red box with clasps and handles on Ebay! It was the perfect size for keeping my craft supplies organized.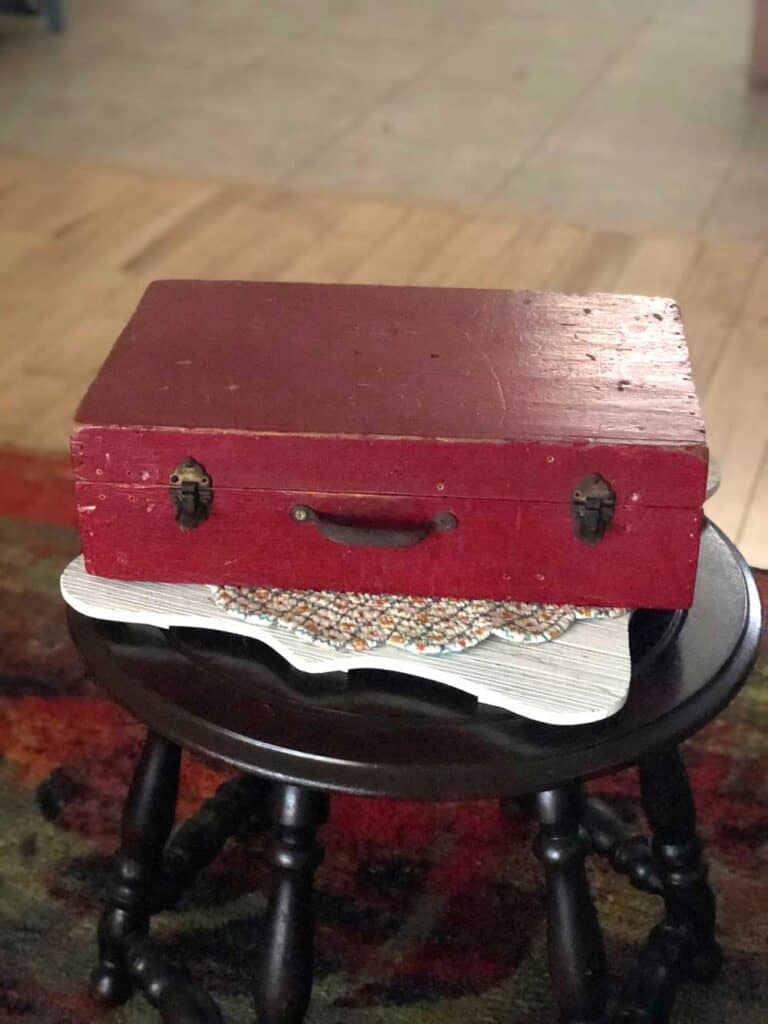 I knew I wanted something big enough to hold lots of bottles, but also small enough that I could actually carry it around when it was full!
Also I am a lazy crafter so I like to make sure the boxes I buy have all the things already in place (I KNOW I could add clasps or a handle later, I just know me and I would never get around to it!)
Making Dividers Inside
Just a huge jumble of bottles inside would be a nightmare to keep organized so I wanted to have dividers somehow to separate it out. Luckily I had a stash of bamboo boxes that I had gotten and they were PERFECT (after some pickling and a wee bit of distressing these turned out great!)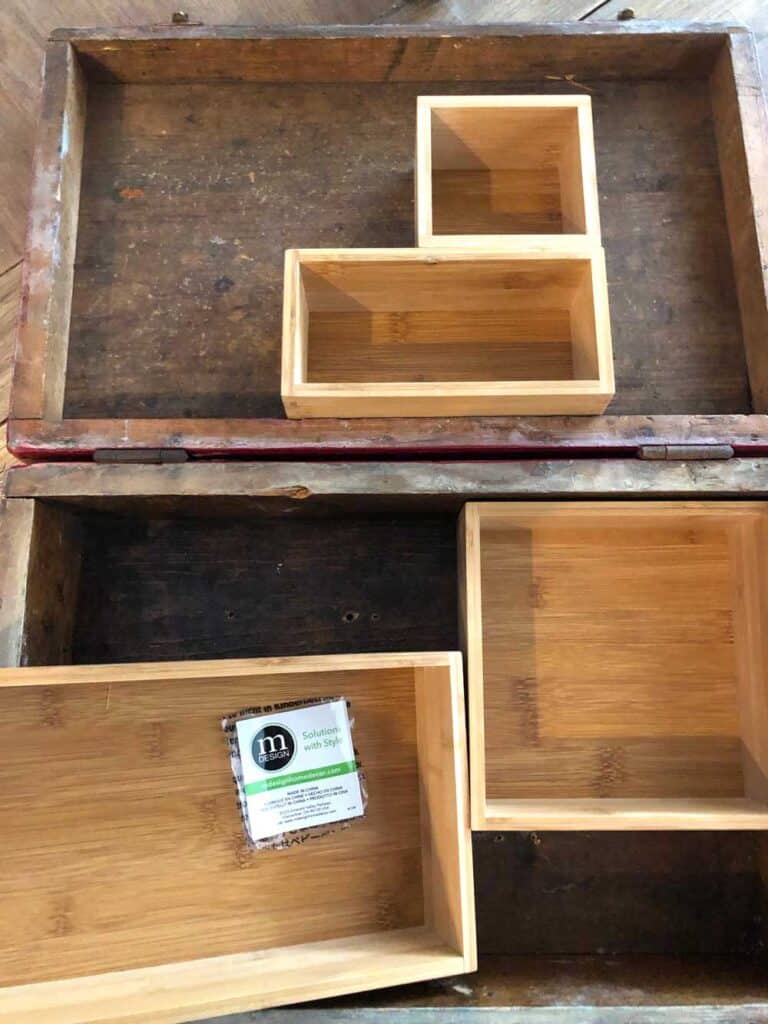 Figuring out which ones would work with the bottles I had was a like a puzzle! I finally settled on using three that were the same length, and a little different widths.
Finding Old Bottles and Jars
Okay, confession time here, I am a little bit of a hoarder (a little bit?) so I had saved a bunch of pill bottles that my mother in law has. I also had saved a leftover spice jar, some vitamin bottles and a plastic fish food container.
The key to having a cool looking box is to have all different sizes and shapes of jars so it doesn't look to made up or perfect.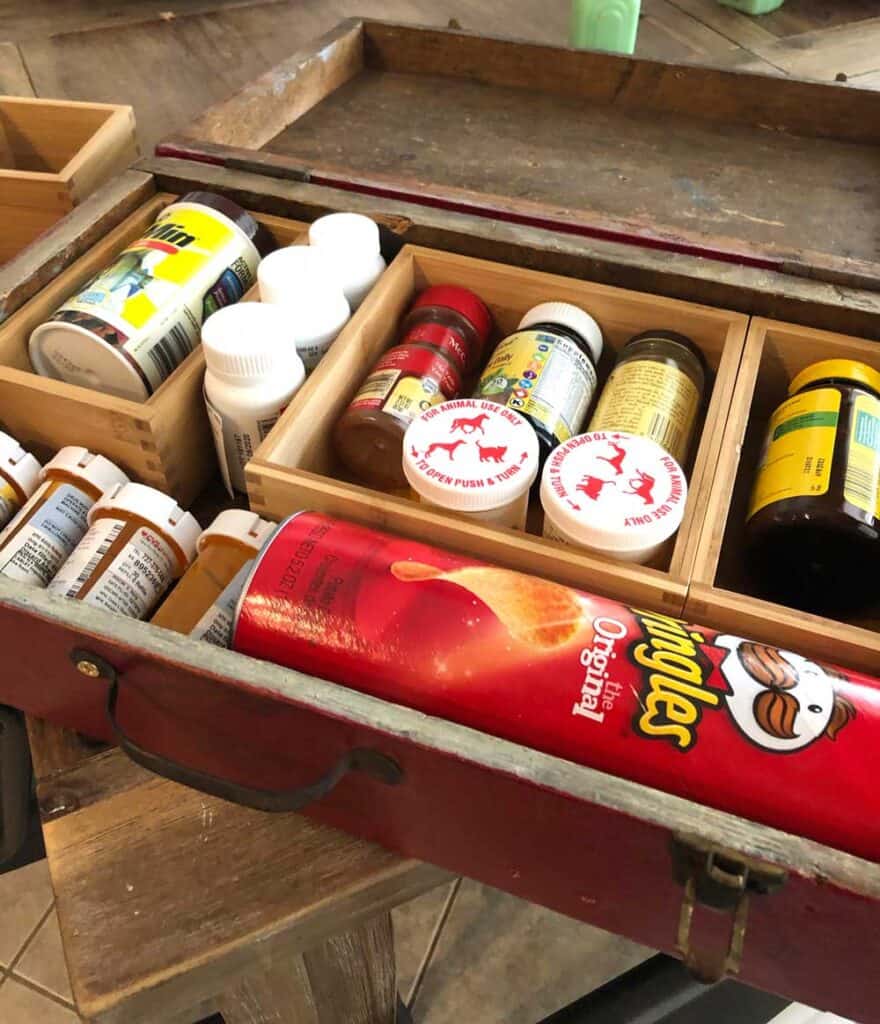 The only ones I really had to do anything to was the ones with the dividers in the top that looked a lot like modern pill bottles. On those I used some Mod Podge to put some tissue paper on them to smooth out the harsh lines of the grooves.
The Pringles container turned out to be everyone's favorite!
Spray Painting The Bottles
The first coat of "grunge" we put on was spray paint. I think if I had it to do again I would have done some kind of priming layer because the paint does chip off here and there (I just "fix" it with some black paint from my Posco Paint pens).
Because we were stuck at home, we used the colors of spray paint we had on hand. I would have preferred having more colors, but in the end it didn't matter all that much!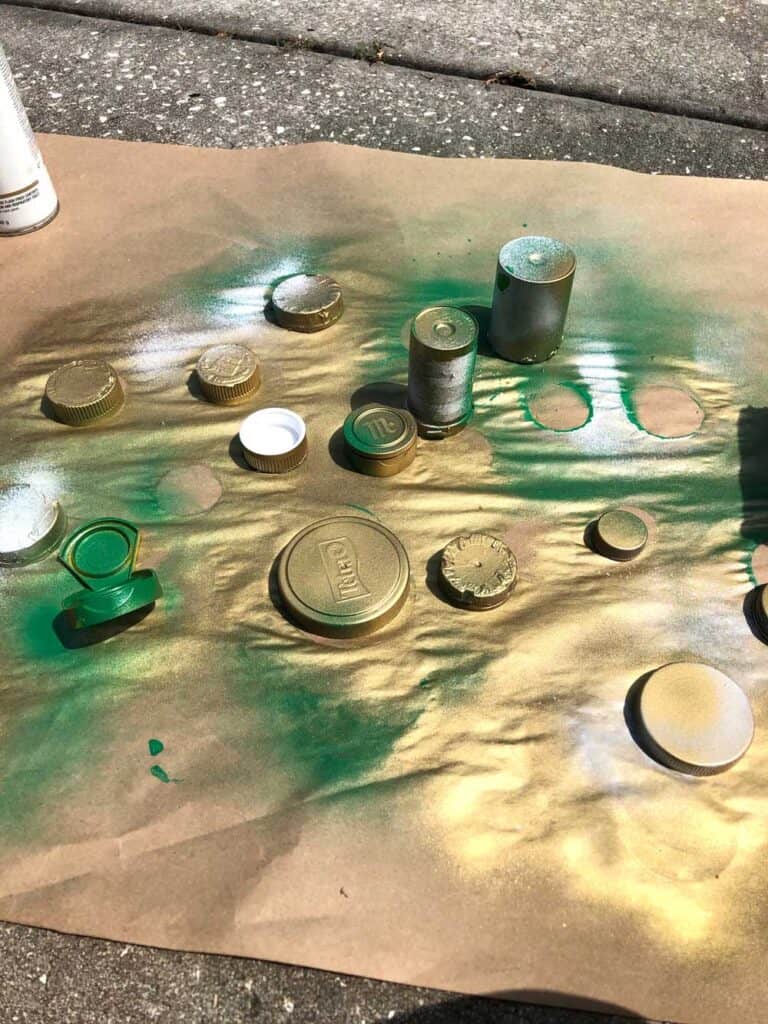 What you do want to do is not make them perfect. The key to "selling" the finished bottles is that there is a lot of different colors and textures.
We did not use "plastic spray paint" which could have also helped with the chipping part later.
Painting The Pill Bottles and Jars
The next step was to paint the jars. Again, the less perfectly you paint these, the better they will look!
I used three different shades of the same color on each jar… so three different reds, three different purples, etc. If you don't have three different colors, here are some ideas for making different oranges, purples and greens.
We also put a "stripe" of lighter or contrasting color on the bottles. So on the purple bottles we put an orange stripe, on the blue a yellow stripe, etc.
There is no need to use any special kind of acrylic paint, I used cheap ones from Michaels.
Making The Labels
I downloaded these cool Halloween potion labels from Etsy!

They were perfect! A little creepy and old looking, but still super fun graphics.
At first I printed them on typing paper and they didn't look very good, so I used bright white, 92 pound paper and that worked a treat!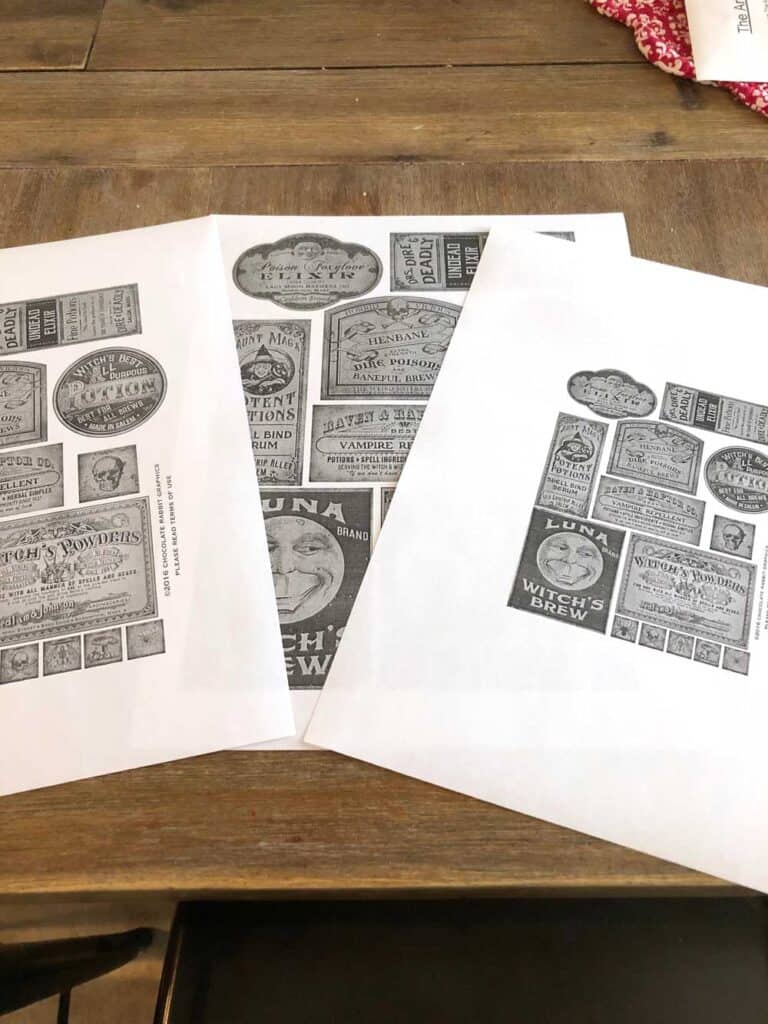 I printed them at 100%, 75% and 50% to fit on all the different sized jars and bottles I had!
Antiquing The Bottles
The very last step was to antique the bottles using Antique Mod Podge! This gave them that yellow, old fashioned look.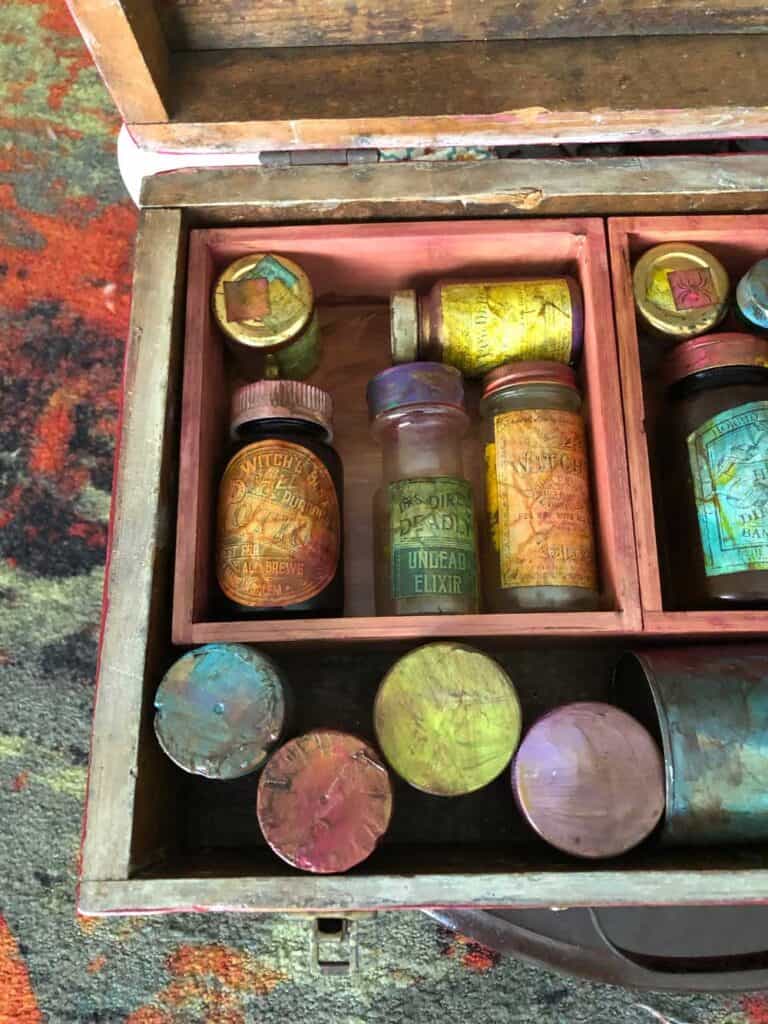 The Final Faux Apothecary Box
Oh my gosh, I LOVE how this turned out! It has SO MANY different places to put my craft supplies (I used a paint pen to write "grommets" or "brads" on the bottles so I don't have to open them up each time to see what is in them!)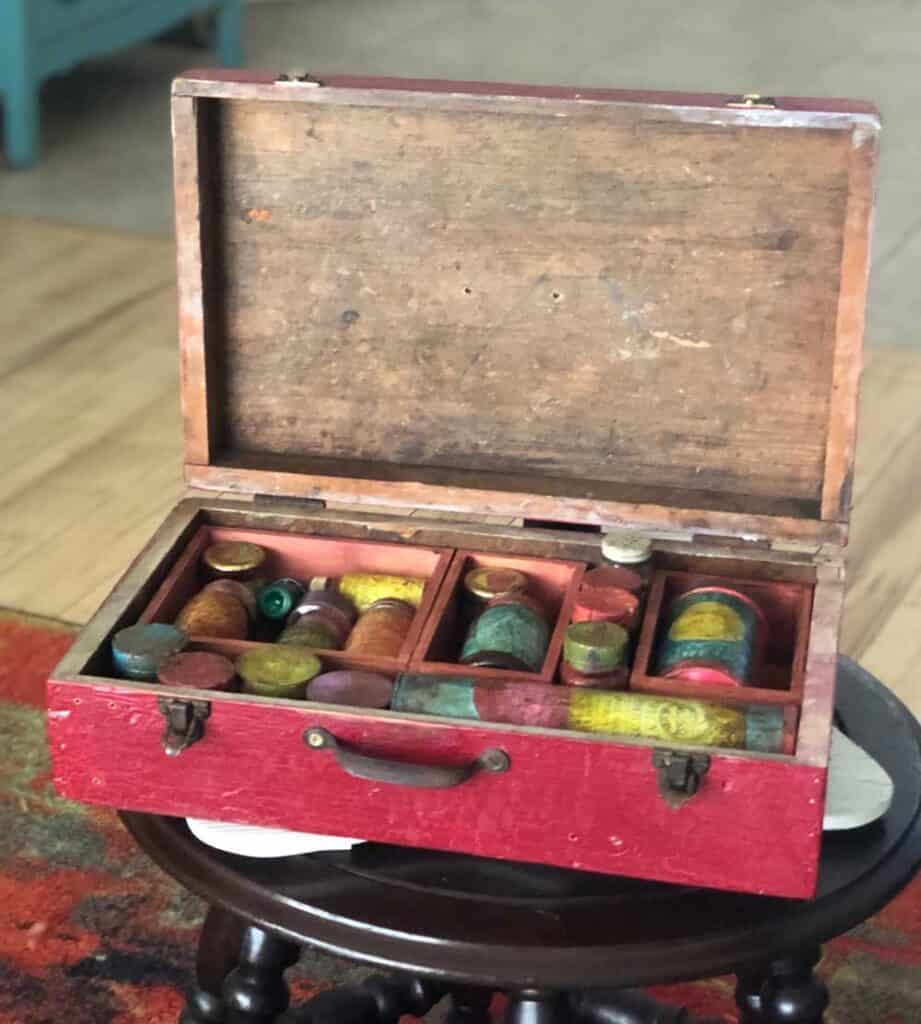 I feel like this is just the best solution to my craft room storage needs! There are lots of little containers, but it is easy to carry and I can leave it sitting open on my craft space when I am not moving around!