Dana White is Nony The Slob… and I love her so much! Her reality based organizing tips and ideas have helped make my craft room cleaning so much more effective and given me more space to work!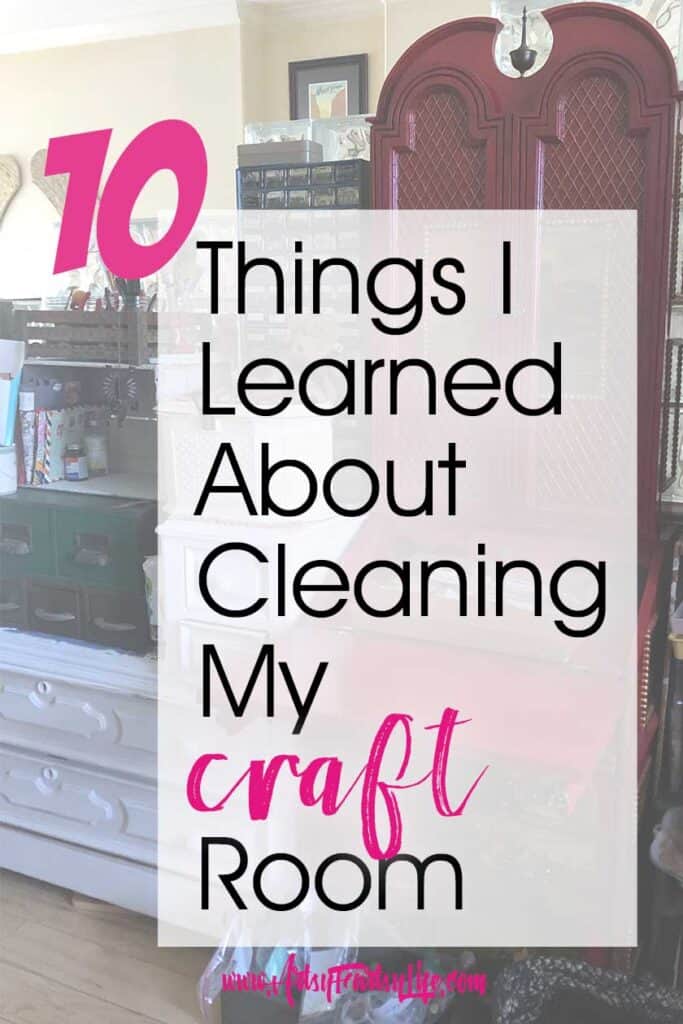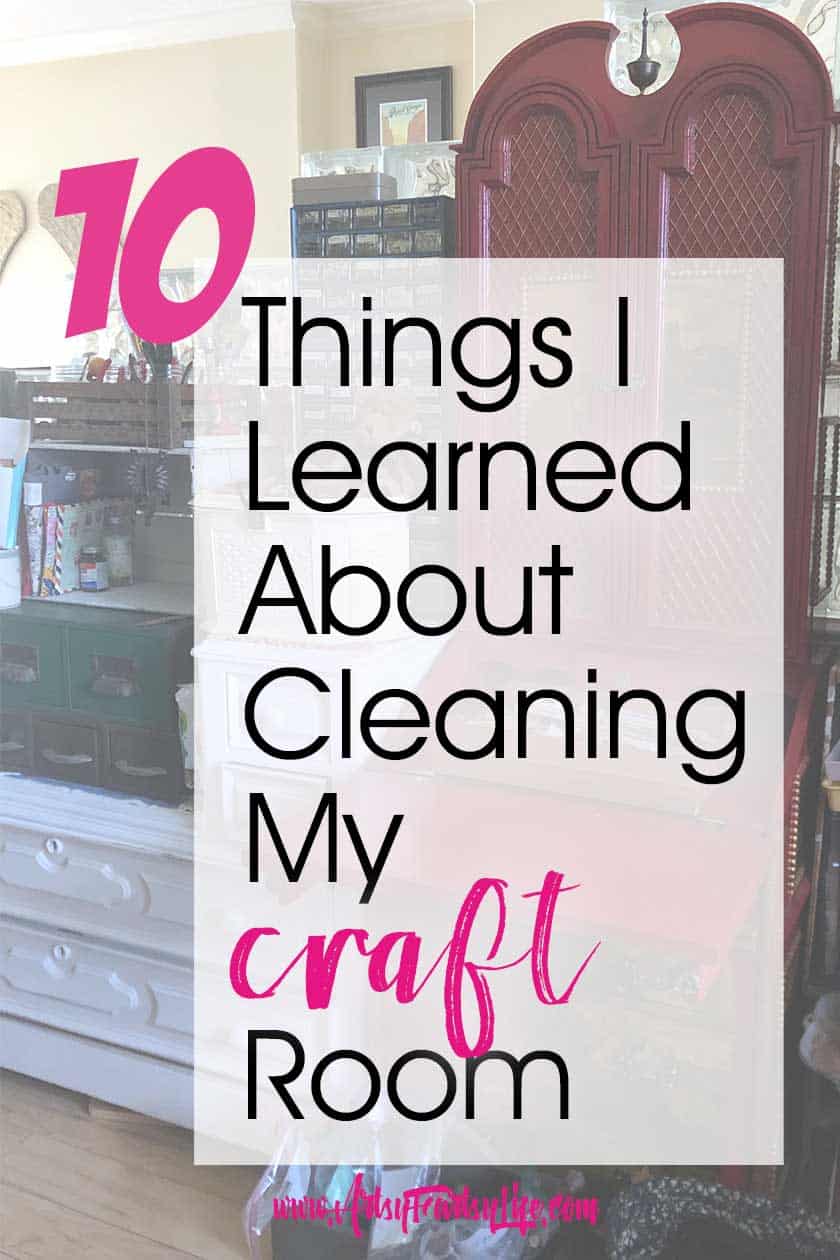 Please note: This article contains affiliate links, and that means that I may earn a commission if you buy something. Read my full disclosure here.
If you are here you are probably creative and cool like me! I would SO much more rather make a mixed media journal page than clean my craft space (or my toilet).
But I also am not able to be as creative when I am sitting in jumbles and piles and stacks of mess… sigh.
I started listening to the A Slob Comes Clean podcast and EVERYTHING Dana said applies to me! We are soul sisters!
So if you are creative and cool too AND want to get your craft room cleaner, check out how she has helped me SO MUCH!
1. The Container Concept
Dana's main point about cleaning is The Container Concept. Your house is a container that can only hold so much, your craft room is a container that can only hold so much and your boxes are containers that can only hold so much… BRILLIANT!
I used this concept yesterday when I was cleaning out the place where I keep fabric. Now, I am a papercrafter so I really don't need that much fabric, but I had some really cool old towels that I wanted to keep, a huge tablecloth, and old shirts that I thought I might cut up and use in a project.
So I found this box that would be the container for my fabric. Having a container meant that I could only keep as much as would fit into that box.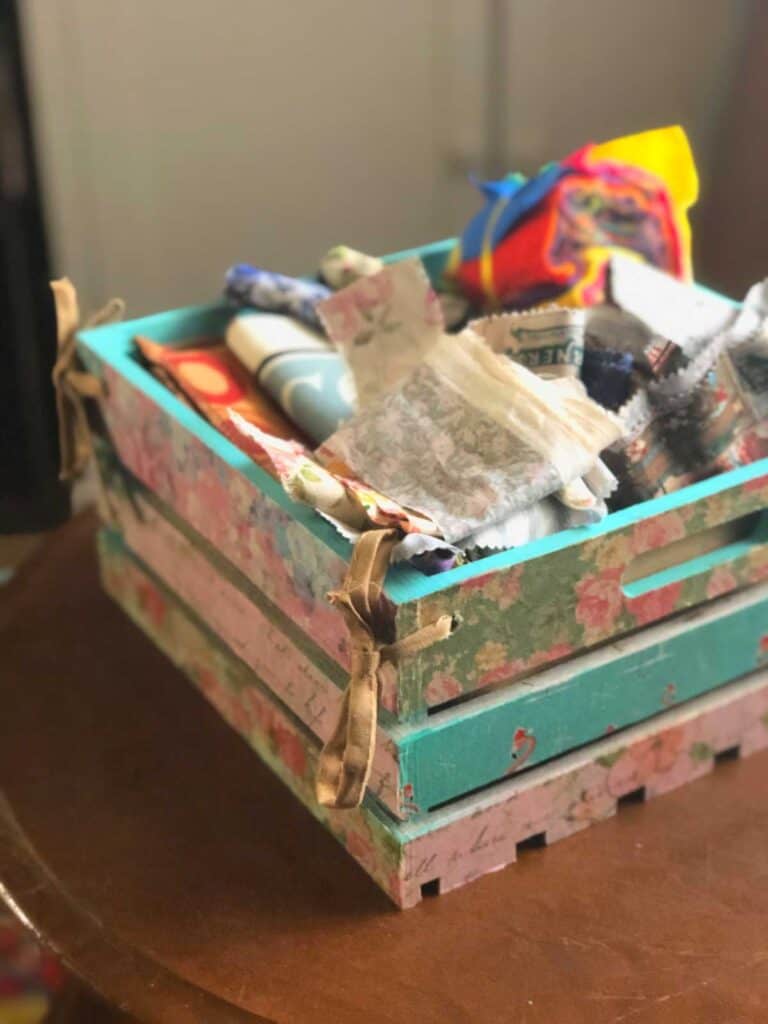 The towels were a non-starter for decluttering, I want to keep those for sure. And I had found a bunch of fabric pieces all over the room that I wanted too… whoo whoo!
But the clothing… would I really ever use those? And the HUGE tablecloth? Did I REALLY want to take up all the room with one boring white tablecloth? NOPE!
The tablecloth got put in the trash (I had already cut a couple of pieces out of it) and the clothes went into the donate pile. Done!
Update! I have a fabric craft shelf now! I have made 2 bags with fabric crafts so I added an extra spot to my fabric stash "container"!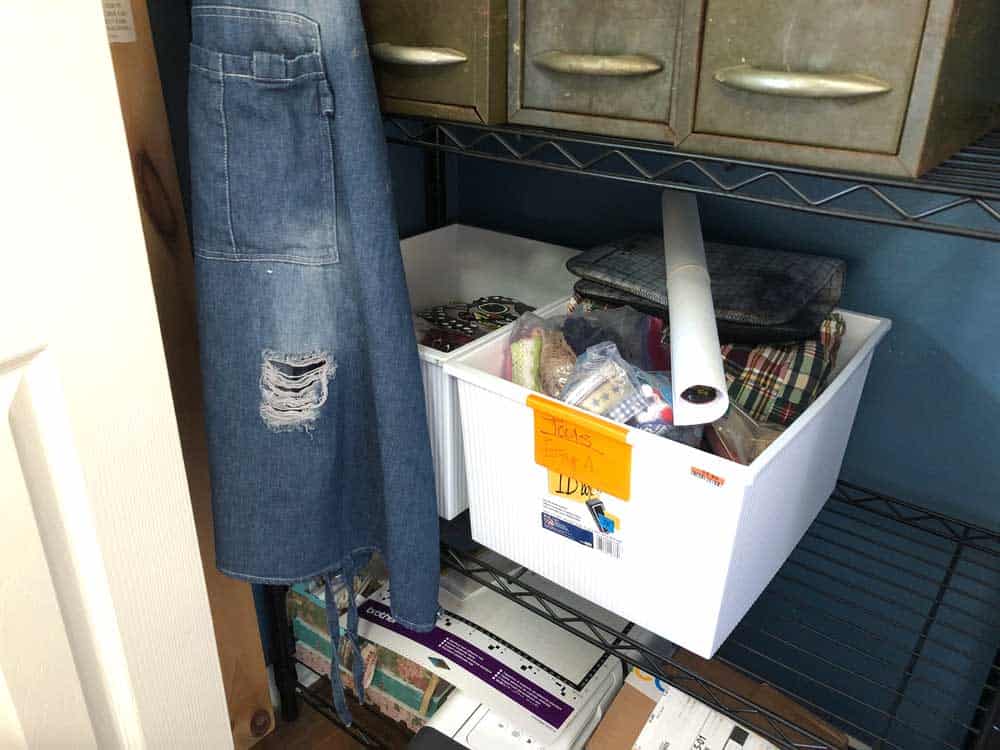 Any thing can be a container, plastic tubs, wooden boxes or even just a shelf on your bookcase!
Additional Resource :: See my best 11 tips to organize your craft supplies!
2. Doing Better Is Better Than Doing Nothing
One thing Dana said that helped me so much is that having things look "better" is better than doing nothing!
I used to have my dies and stamps all over my craft room (I wonder how many I lost over the years?) But now I have the best die and stamp storage system EVER!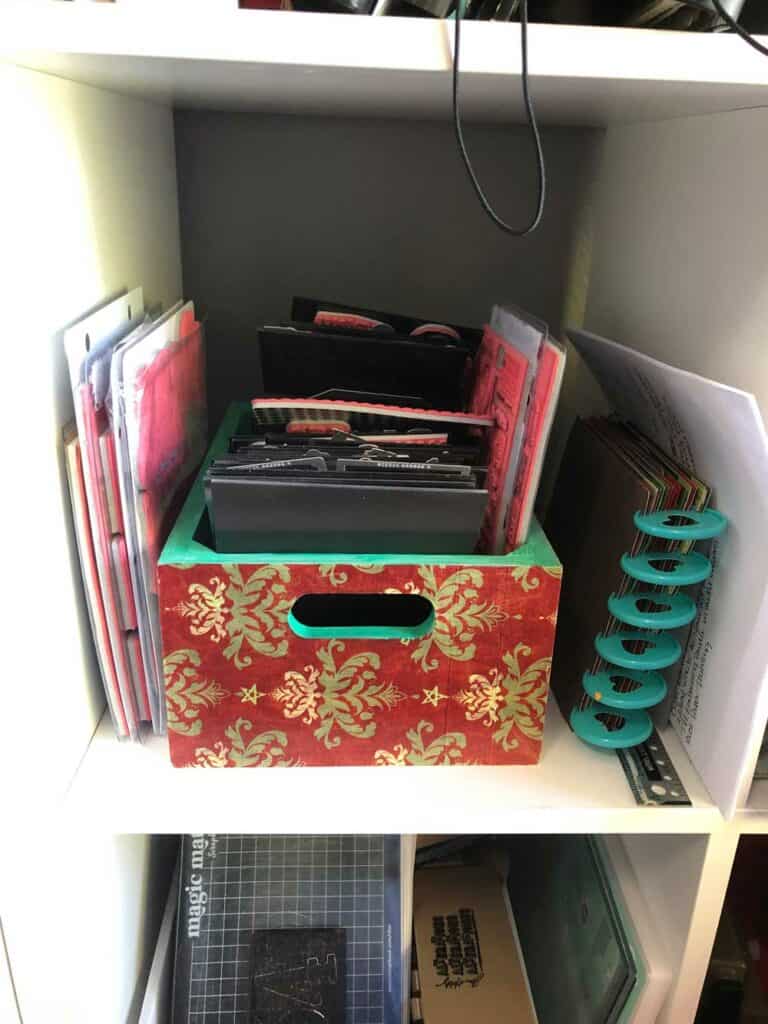 As you may have noticed already, this is not a post with perfect pictures of my supplies all organized. This is my actual craft room and how I have found ways to keep it more clean than it was before!
3. Non Negotiables
This is the one thing that I am sorta good at! Every night I do the dishes and every morning I put them away, no questions asked…. just slog on out the kitchen and do it!
But there are some new craft room non-negotiables I have implemented…
Michaels and Hobby Lobby bags get emptied as soon as they come in
No "stuff" stays on the table when I am done crafting (so I have a clean surface the next time I come back)
Empty boxes and put things away as soon as I get them
I also have life ones, like putting my clothes out each night so when I stagger out of the shower I don't have to think about dressing myself (I struggle with this too… dressing your personality type helps!)
Here is my "mostly" clean desk that I left after the last time I played in my studio… not perfect but I could definitely sit down and start creating!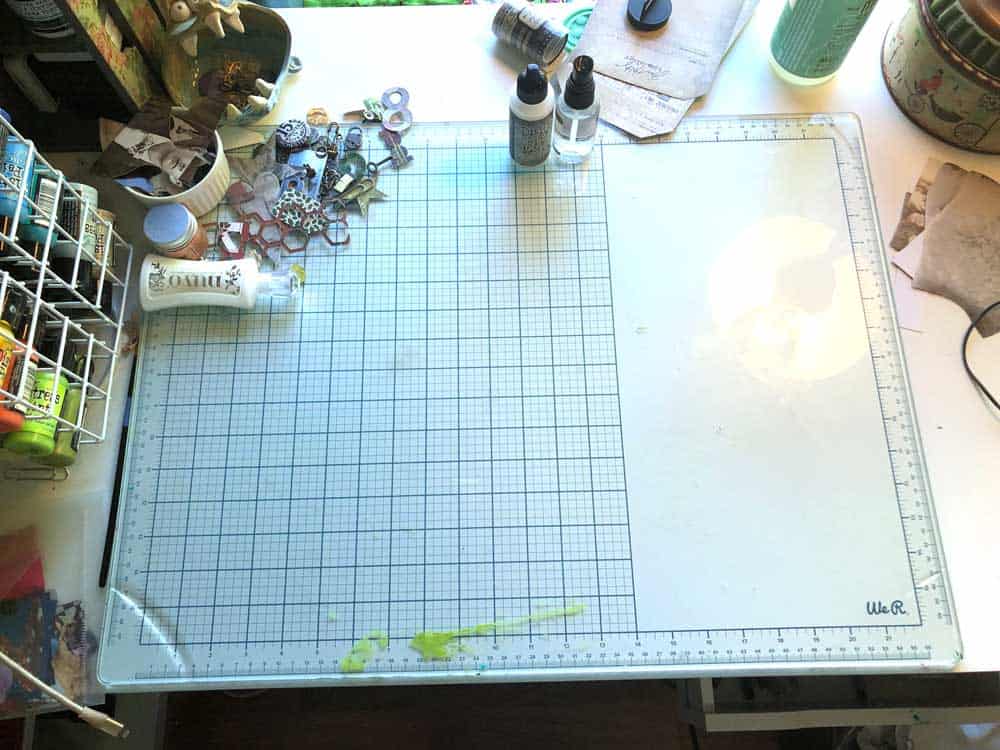 4. Your Clutter Threshold
Here is another one that really opened my eyes, everyone has a clutter threshold they can maintain order in!
My friend Tena D is super organized and cleans that bottom drawer of her stove once a week (have I EVER cleaned that?!?! I don't think so, but maybe once?)
She has her cabinets organized just so and will pull out a million things to get to that one thing in the back that she knows exactly where it is.
And then put all that stuff right back… sigh.
I DO NOT have a high clutter threshold. If I pulled out a million things, they would stay out while I used that one thing… who am I kidding, I would never be able to find that one thing and would get a new one!
I can't have complex organizing systems. I need simple. So my clutter threshold is SUPER LOW.
For example, I just took my sewing machine and put it away in the garage (I always think I am going to like sewing and I never do).
I did this so I could free up the top rack of my craft cart. Then I could put all my cutting tools up there and free up room below for weird shaped things like my glue gun and my punches!
I don't have to move anything, just reach in, grab something and I am ready to go, plus I can pull it over by my desk if I am doing a big project… bonus!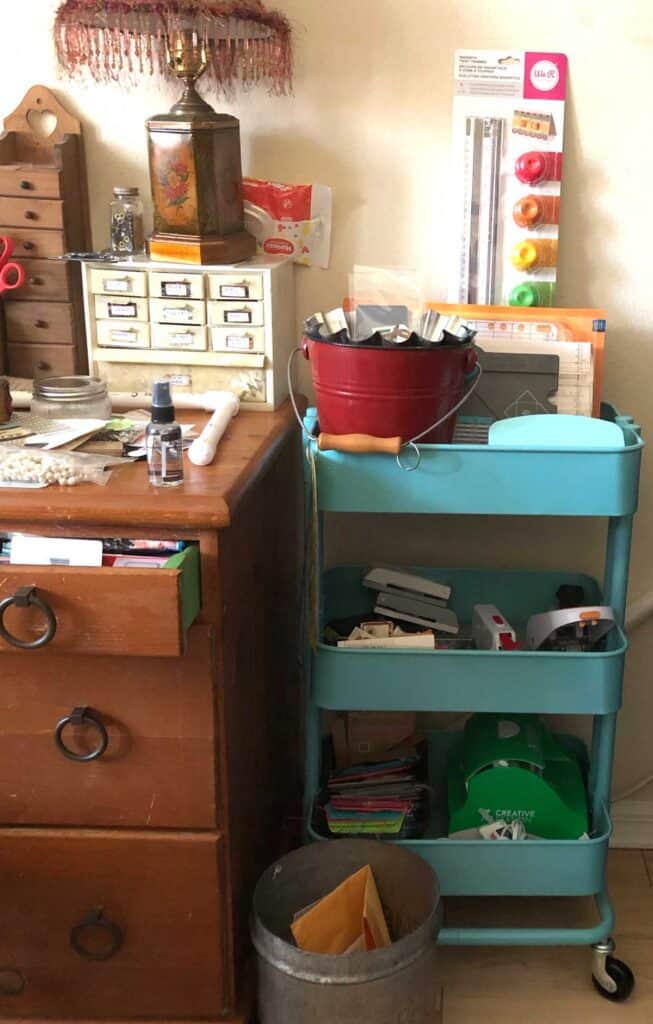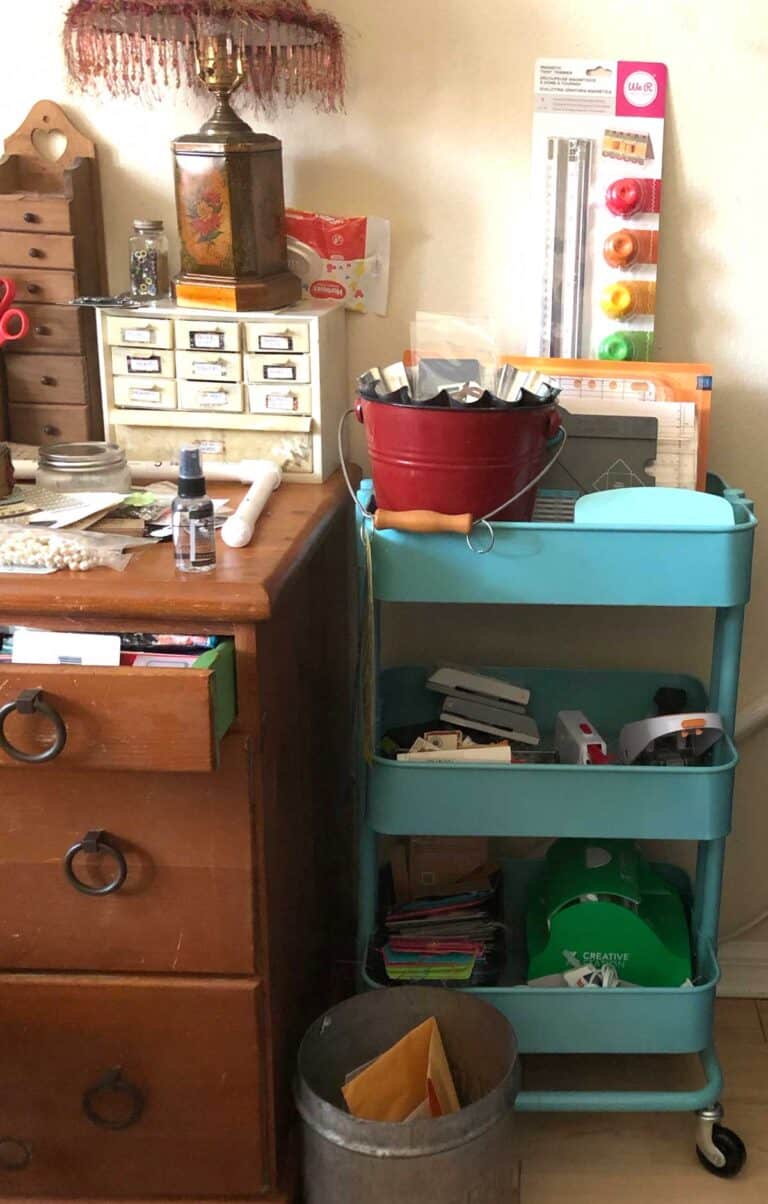 5. The Project Concept
This is my favorite one!
I like projects! I am working on Rainbow Journal project right now and have a million other projects going… happy dance!
I am good at projects… they have a start, a middle and an end.
I also like cleaning projects. I would rather clean up a HUGE mess than put away a few piddly things at a time that doesn't really seem to make any difference.
What does it matter if I get all my scraps in one box, when the REST OF MY CRAFT ROOM IS IN SHAMBLES!
Cleaning my whole craft room, top to bottom and getting pretty new matching boxes to organize it all in at Michaels is a project… whoo whoo!
But I don't have time to clean my craft room. I have two kids at home, a mother in law with dementia who has a doctor's appointment today, a blog post to write, three dogs, three cats, fish, a turtle and it is my night to make spaghetti.
But what I do have time to do today is to put all my grommets in the grommet drawer (yes, I have a grommet drawer, don't judge me!)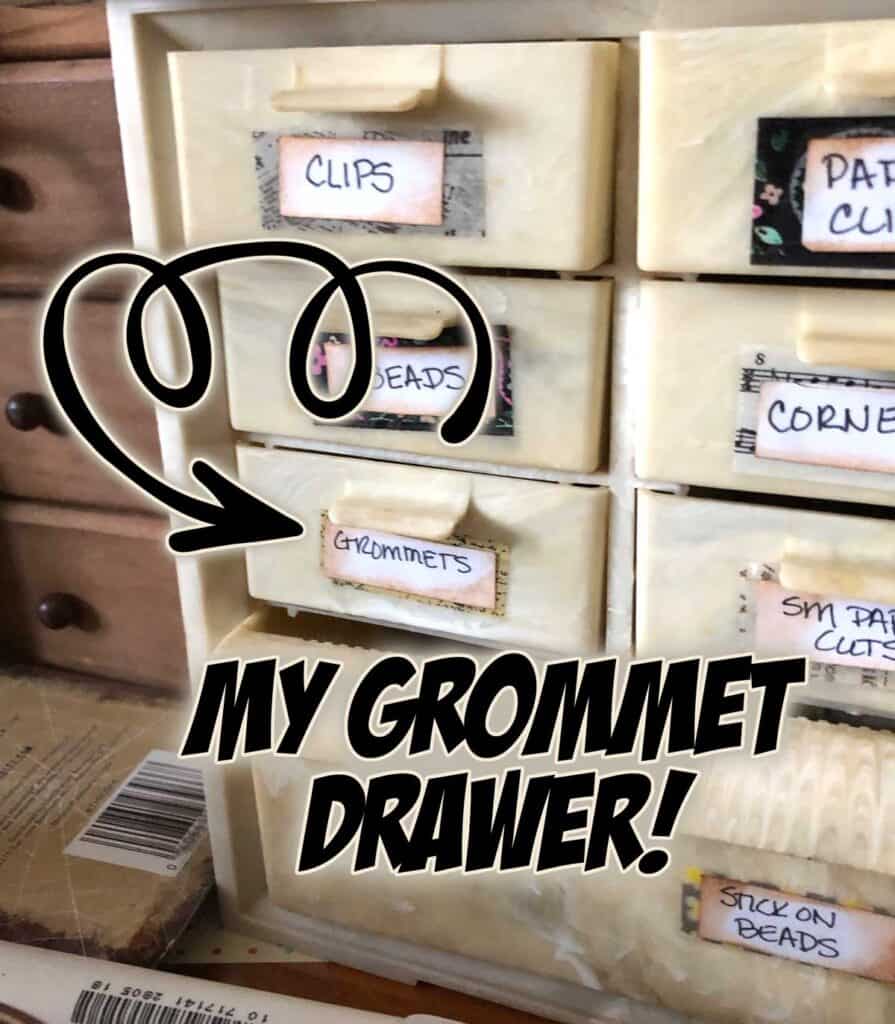 Will that change the world? Nope. But it will mean that I don't think I need grommets and buy more, that are not in grommet drawer, so I buy more! See… organizing will save you money too!
6. Creative People Are Bad At Cleaning
I am super creative! I write blog posts and make videos and papercraft and sell on Etsy and do a million other creative things…. yay me!
I can also think of a million things to do with old toilet paper rolls, pill bottles, that cute fluffy yarn on clearance and almost anything that comes across my life.
So I start saving them, knowing that someday, in the very distant future, I will do something with them.
Then, just to get in my craft room to do what I actually like, I have to hurdle over the bag of pill bottles, dart around the piles of toilet paper rolls and push that god awful ugly fluffy yarn aside to find what I am actually looking for!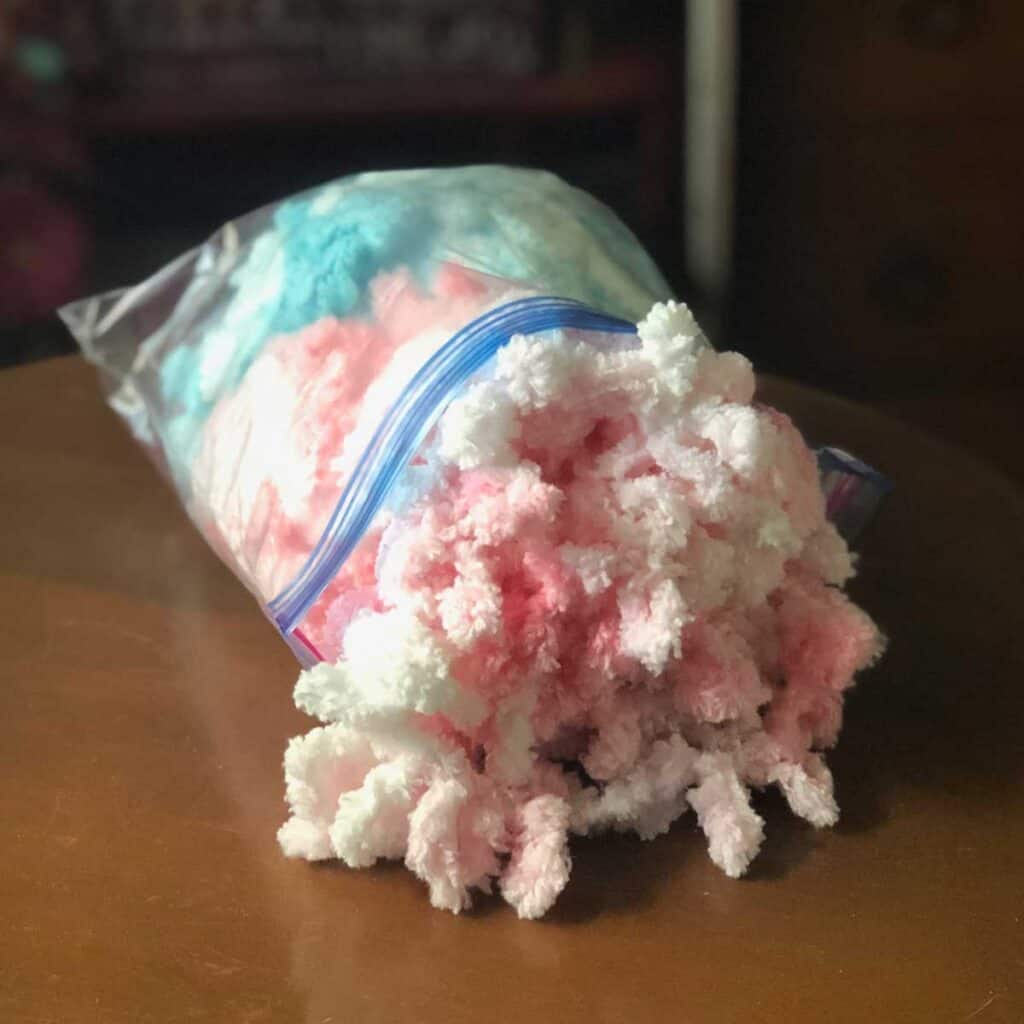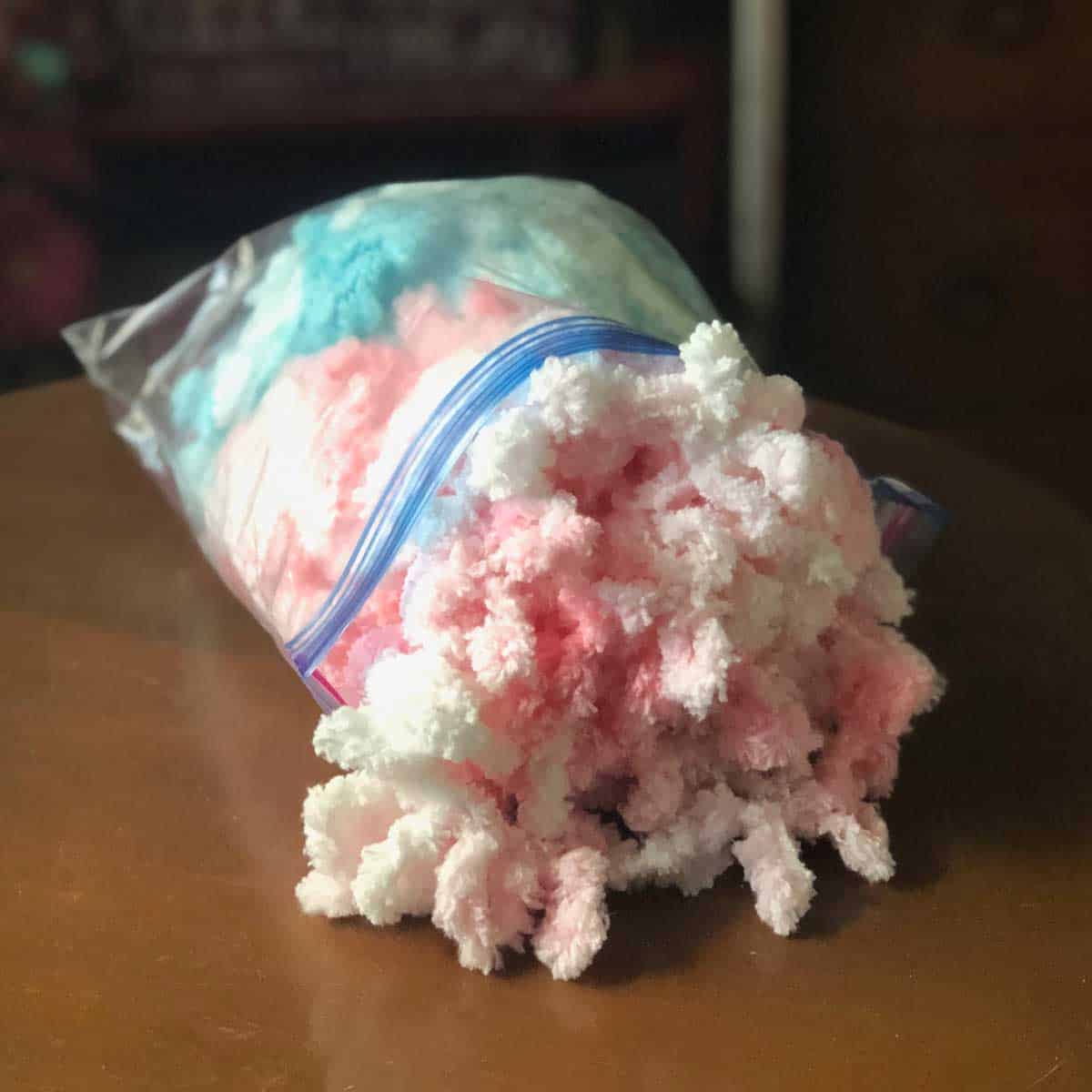 I hate that yarn so much!
But I bought it and it could work in a project someday… right? NO! Today I made the executive decision to donate to the local Elementary school who might actually use it for something!!
A note about craft supplies on clearance….
…sometimes clearance is a godsend. I have gotten SO MUCH cool stuff I will actually use in a creative way.
But there is also a "sunk cost" problem with clearance. Sometimes I buy something that is cheap, but not anything I will EVER use. But I have paid money for it so I think I need to keep it! That is the "sunk cost".
I have found that if I think of it as a present for the local teachers, or a donation to a crafter that doesn't have as much money as I do, that I can feel good about donating to someone who will LOVE it, AND get it out of my house (more about this later!)
7. I Think Too Much
If you can't tell by this incredibly long post about cleaning my craft room, I am a thinker!
I love thinking about a new project and how I am going to do something… and most times I even buy supplies to make that thing before I even start!
Here is a funny story… years ago I thought I would like decoupaging glass bottles. So started collecting bottles AND paper napkins AND dangly beads. I collected stuff for about 6 months before I was ready to start.
So THE DAY comes. I have time to do the decoupage bottles and I sit down with all my supplies. I paint the glue on the bottle and stick on the napkin scrap and within 10 minutes know I HATE THIS SO MUCH!
Crap.. but I have all this stuff to do decoupage. Out in the donate box it all goes.
Fast forward about 10 years and I decide to try decoupage again. This time on square boxes to store my stuff in. I LOVE my decoupage boxes!
But this time I didn't collect things for months, I did one and then realized it is something that I would like to do!
Here is my favorite shelf … you know you are old when you have a FAVORITE SHELF!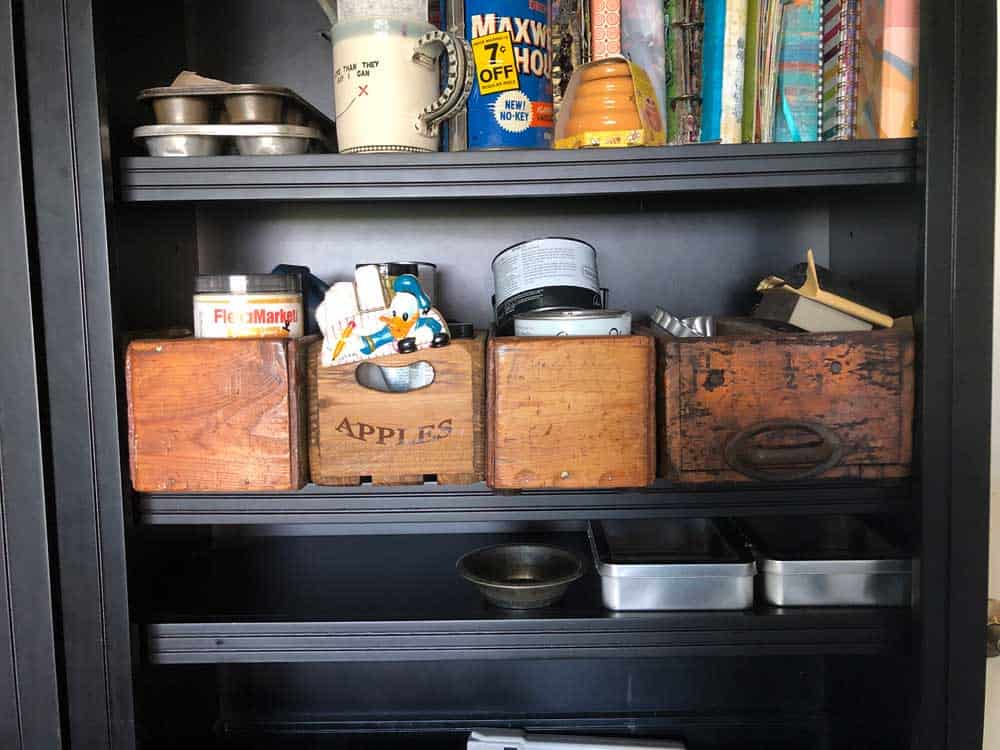 I love it because it has my sand paper, my waxes and chalk paint. Also it has been "stable" for years now. I know where those things are and never put anything else in there!
Oh and that clip? It came from my childhood home and reminds me of my Mom who passed away years ago… shoutout to my Mom!
8. If You Do Laundry All At Once It Is Done For A Week
I KNOW, this isn't a craft room thing, but hear me out!
Dana says to do all your laundry on one day instead of putting into the washer, forgetting it, rewashing it, rewashing it again, drying it and then going to the dryer every time you need underwear (just me?)
The concept is that you do all of something boring at once and then it is done for a while.
What comes to mind for me is tea dying paper. I sometimes get a bee in my bonnet that I need some tea dyed paper so I drag everything out and make a big mess instead of doing a ton of it all at once and cleaning it up as soon as I am done.
I am sure you have some craft "chores" that you could do all at once, like doing all your sewing at once and then putting the sewing machine away or doing all your die cuts at once and putting your Big Shot away!
9. You Have To Get Stuff Out Of Your House
I hate this one.
I heard a gal talk the other day about how she loved that her craft room was like a store, she had every kind of supply she would ever need (how big is her craft room!?!?)
I love this concept that I could have any kind of craft supply at my fingertips. But I don't really like sewing, or sequins, or fluffy yarn (I REALLY HATE THAT YARN!)
So instead of putting those kinds of supplies into a drawer, way in the back, I need to get them out of my house.
This will make more room for things I actually like, like a million magazines!
Seriously, stop keeping all the things that you never use! Donate them or throw them away and make room for things you love!
Additional Resource :: Wicked Cool Rainbow Magazine Holder DIY
Here is my shelf where I keep my tissue paper for collage. I don't use tissue paper much so I can only have that one little napkin holder worth of it hanging around!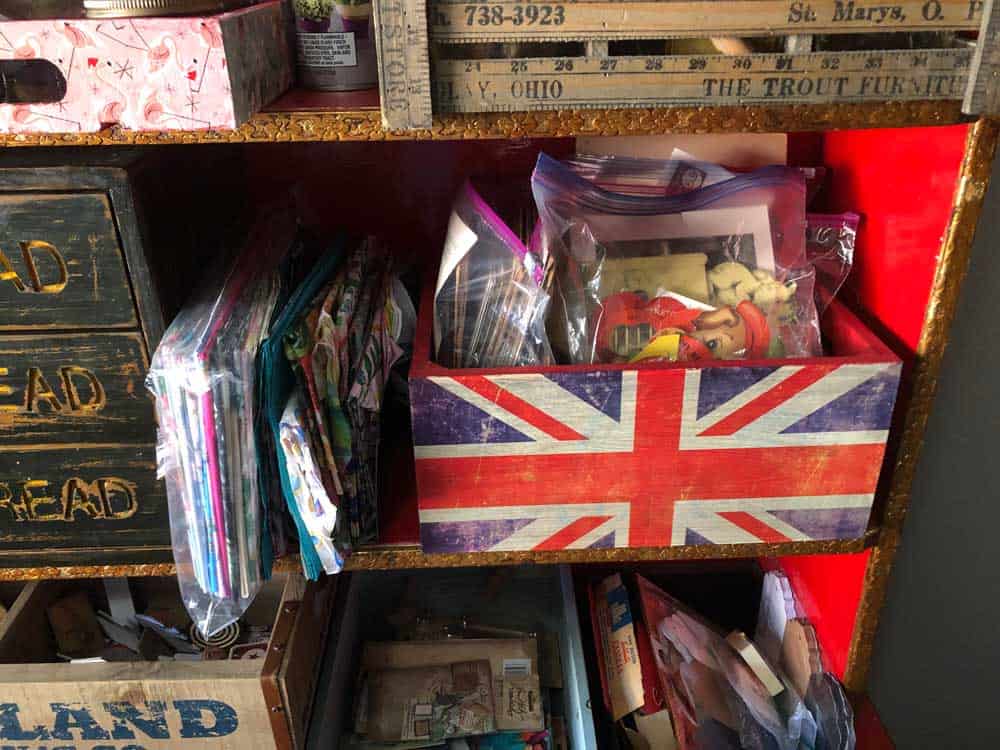 10. You Can't Do It All At Once
I wish I had an organizer or fairy godmother who would magically clean my entire house in a day.
But I don't.
And I don't have time to get everything perfectly in order all at once…sigh. Even if I did, some child would mess it up, or a dog would knock over a trash can or I would start a new project.
And it would be messy again because LIFE!
Life happens so you can't just clean it once and have it perfect forever. For real.
This is my last picture… the space I have for papers for collage… and there is still room!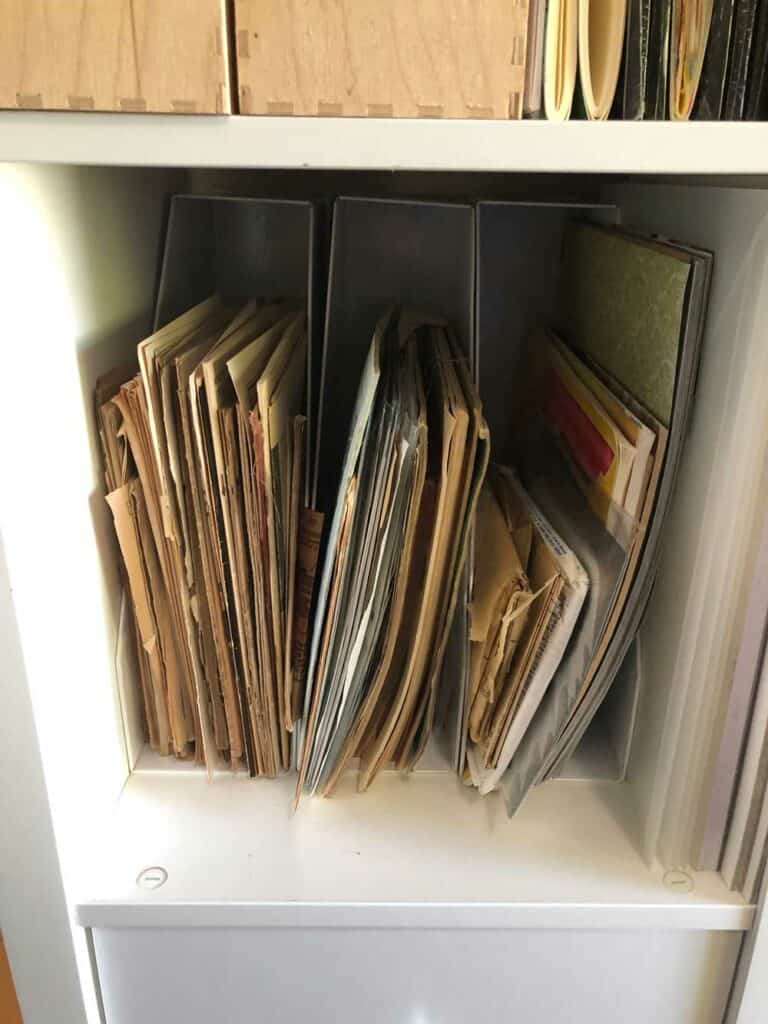 Get Dana's Book!
So get Dana's book, Decluttering At The Speed of Life or watch her videos. FOR REAL, this gal is super helpful for creative people like us!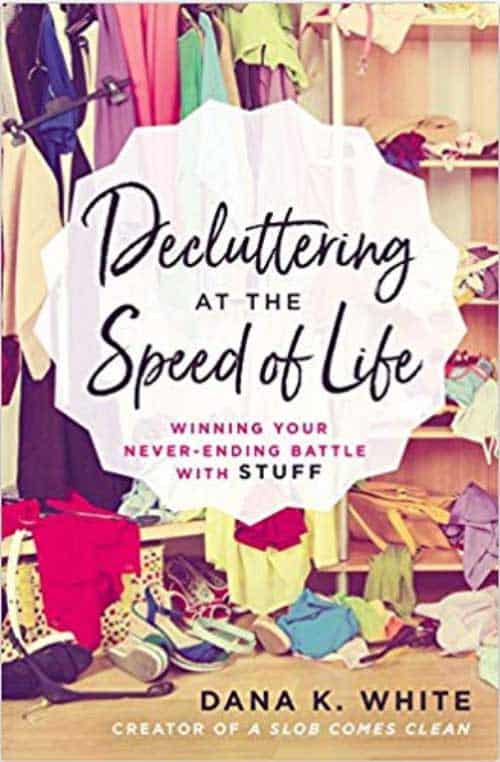 BONUS… You Probably Don't Need More Craft Supplies
Okay, time for some tough talk (to myself, you can listen too if you want!)
I don't need anymore magazines from Ebay, I have enough jump rings to last a lifetime, I have enough ribbon and fabric for at least a couple of years and I for sure DON'T NEED ANYMORE SCRAPBOOK PAPER!
You know how I know that? I have cleaned my craft room… whoo whoo, thanks Dana!
And I found bags upon bags of jump rings. I also found those stamps I bought a few months ago, the damn postcard I have been searching for and everything else I have needed but had no idea where it was!
Once you get everything together and organized, maybe do what I am doing and impose a "stash" rule.
For the next 4 months I am going to use my stash to craft (a project… yay!)
No more buying supplies, just using what I have which means that I may have to get more creative, double yay!
Craft Room Cleaning Wrapup
I am super happy now that my craft room is better (not perfect, just better!)
There is easy access to all my supplies and I know for sure that I have plenty of "stuff" on hand to make beautiful art.
And I have Dana to thank for that! Her plain talk about how the world works has totally helped me to understand the hows and whys of why it gets so messy in first place and has given me a way to organize it so it will be cleaner in future!