Today I am going to show my best tips and ideas for how to make your rubber or silicone stamps and craft dies easy to use on a daily basis with this amazing storage solution!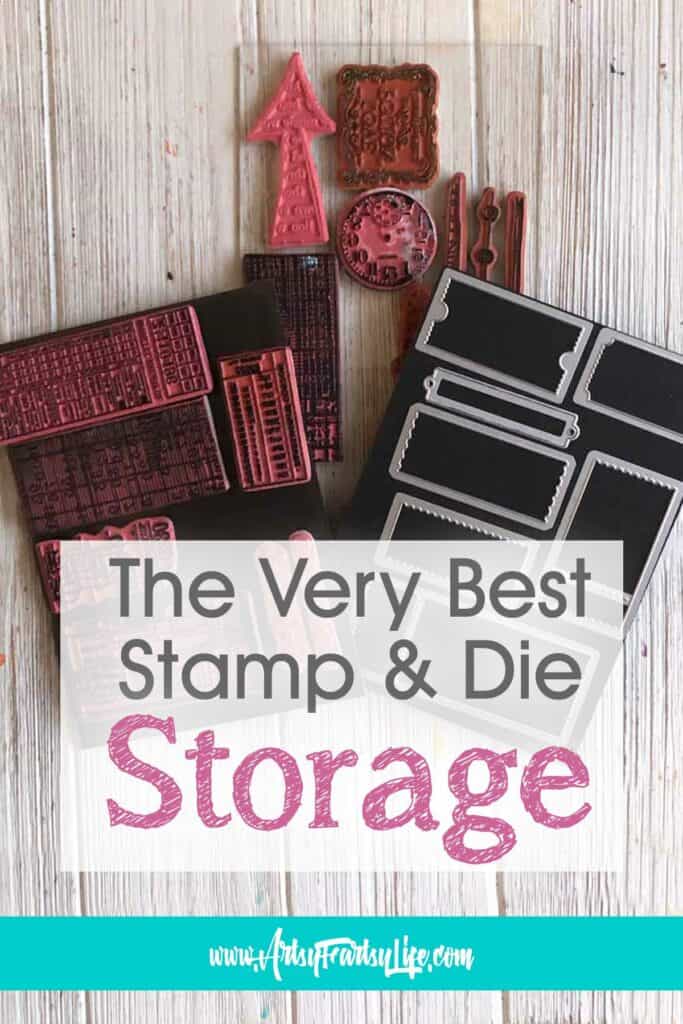 please note :: as an Amazon associate I earn from qualifying purchases, read my full disclosure policy here
I am a craft room organizing nut… I am willing to spend unlimited time, money and effort to figure out how to make my craft storage solutions work better!
I am also frugal and a bit of a penny pincher… if you think that makes things a little rough, you are not joking sister… the struggle is real.
So when I wanted to buy some new stamps and dies I had to ask myself… are you actually going to USE these or are they going to sit in the cupboard like all the rest of them… sigh.
So I decided to figure out WHY I didn't use my stamps and dies and HOW to make them super accessible to my day to day crafting.
Just The Links…
If you are like me, you might not need to see all the details and just want to know what to order! Here are links to the:
You are welcome!
Why I Didn't Use My Stamps or Dies
I am a visual type of person so out of sight was out of mind. I am also somewhat lazy, so getting up to find my stamps or dies was probably not going to work so well for me either.
So once I figured out that, I had to find a solution that was…
Open storage – so I could see them and flip through to pick out what I would use
Easy to manage – I tried envelopes (paper and the plastic ones you could see through) and having to put things in and out didn't work for me
Mostly affordable – this isn't a free solution, but it is in my craft budget and I can get the products easily on Amazon!
Had to have stamps and dies together – when I am doing papercrafts I use BOTH my stamps and dies so they had to be in the same solution
Stamps Stick To Acrylic Blocks… Duh
So when I really started thinking about how to make a storage system I realized that acrylic stamps will stick to acrylic sheets… I KNOW, brilliant right?
So I tried a couple of different kinds until I found these acrylic sheets on Amazon that are the right weight. They are .08″ thick. I tried some that were .04″ thick first and they didn't work as well. (they are actually clear like "real acrylic"… more about that in bit!)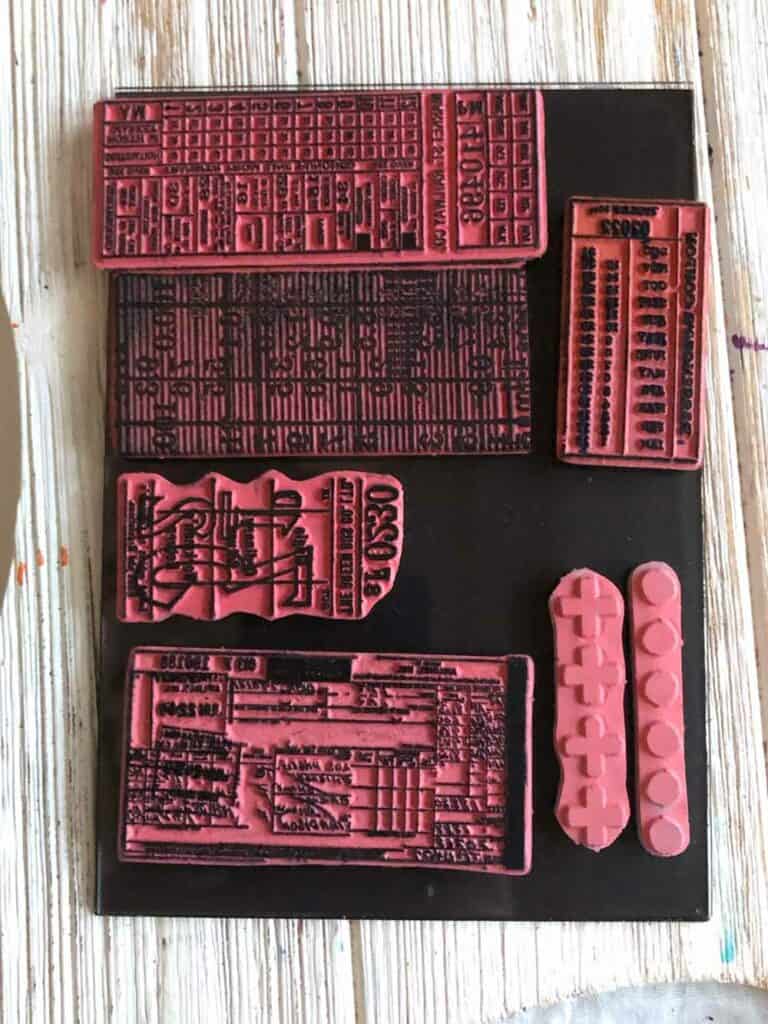 I went back and forth a bit about whether to do 5″X7″ or 8″X10 and in the end I am happy I went with a little smaller size.
Dies Stick To Magnetic Sheets… Double Duh
So then I was like, "I NEED to have my stamps and dies together so I use them both… what about if I stick the magnets for the dies on the back of the acrylic sheets… BRILLIANT!"
The ones I wound up with are these 5″X7″ 30 MIL magnetic sheets.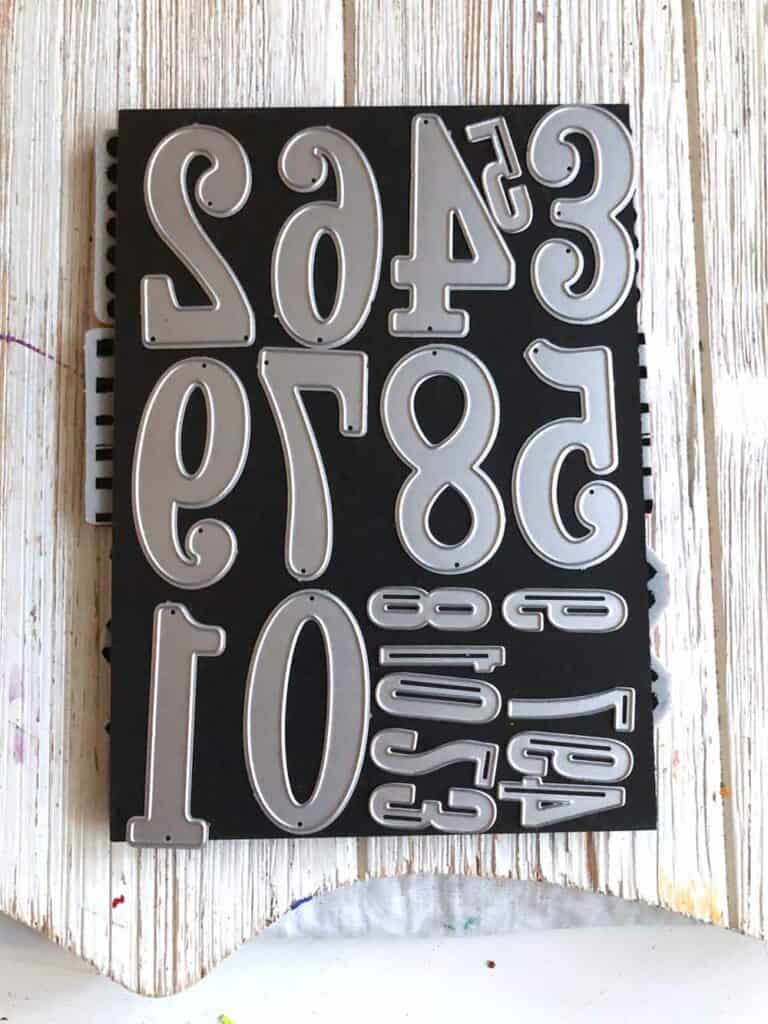 There were other magnetic sheets I got before that were NOT as good (the Craftopia 20 MIL and also vent covers were NOT magnetic enough to keep my dies on there firmly).
The great thing about these magnetic sheets are 1) they are super magnet-y so my dies stay on and 2) they have a great adhesive back that makes the magnets stick to the acrylic blocks.
Putting My Stamps and Dies In The Best Craft Storage Solution
So the cool thing about this is that I have my stamps and dies handy together for when I am crafting! I can flip through one way and see all my stamps and flip the other way to see all my dies.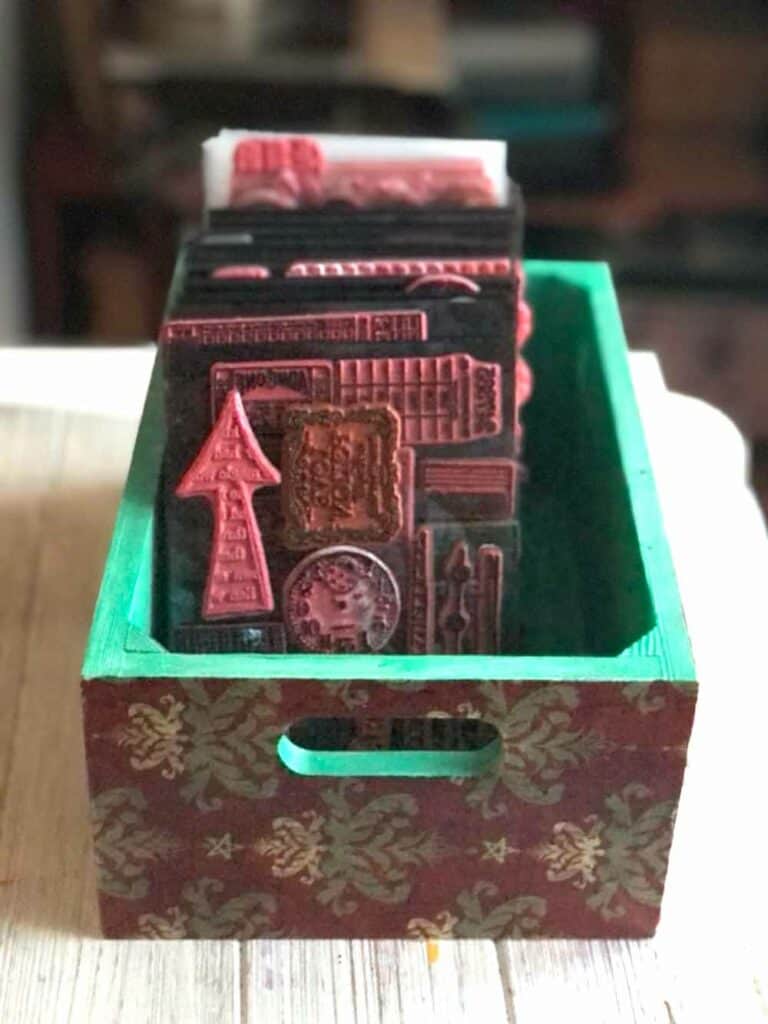 See My Stamp and Die Storage Ideas In Action (VIDEO)
Stamp and Die Storage FAQs
I don't know if you can tell, but I thought A LOT about this… hahaha. With that in mind, here are some questions you might have that came up in my research and failed tries!
My Stamps Fall Off The Acrylic Sheets
As you may know from doing stamping, the reason your stamps fall is that either they or the acrylic blocks are dirty!
You will for sure have to a good cleany-clean on your stamps when you start this system! I have a bottle of Grove Natural cleaner that I keep handy in my craft room with a roll of paper towels all the time (you could also use baby wipes.)
Why Not Thinner Acrylic Sheets? (.04″ versus .08″)
When I was thinking about what kind of acrylics to get, I saw that there were thinner sheets or even Scrapbook.com larger plastic sheets in a cool little tub.
The problem with that is that you need a heavy acrylic to be "stable" and not bend so your stamps don't pop off all the time.
The heavier acrylic can also handle the weight of the stamps, PLUS the magnetic sheet, PLUS your dies. You are asking quite a bit of a nice little acrylic sheet!
How Do You Stick The Magnetic Sheets To The Acrylic Sheets
The ones that I use have a super sticky back to them. You just peel off the backing and stick it right to the acrylic.
Have You Tried Any Other Die Organization Systems Before This?
YES! I tried making fun envelopes and cutting up vent covers to use to stick the dies to on storage cards (I am NOT good at cutting up vent covers) and also tried the Sizzix or Scrapbook.com plastic envelopes. Those DID work, but then my dies and stamps were separate and I wanted all my craft supplies together!
Have You Tried Stamp Pockets In The Past?
While I was semi-okay with pockets for dies, I HATED stamp pockets. I could never get the stamps to stick once I put them in the storage pockets and I couldn't really easily see what I had stamp-wise.
Is There An Easy Way To Store A Whole Stamp Set?
If you are a designer or someone else who has to keep whole sets together, I would FOR SURE use the 8″X10″ acrylics and magnetic sheets. That way you have more room to keep your "sets" together on one sheet.
Can You Use Vent Covers For The Magnetic Sheets?
I DID get vent covers because everyone said they were super cheap (they are!)
That said, they weren't magnetic enough to keep my dies from falling off all the time and also I would have had to figure out how to stick them on!
What Is That Box You Used?
I made a bunch of craft storage boxes a few years ago! They fit well into my Ikea shelving units and are awesome for craft room storage!