I am a bit of a tree hugger, so I try to avoid chemicals as much as I can in my house! With that in mind I have been shopping on Grove for over a year now, so I feel good about recommending them to you!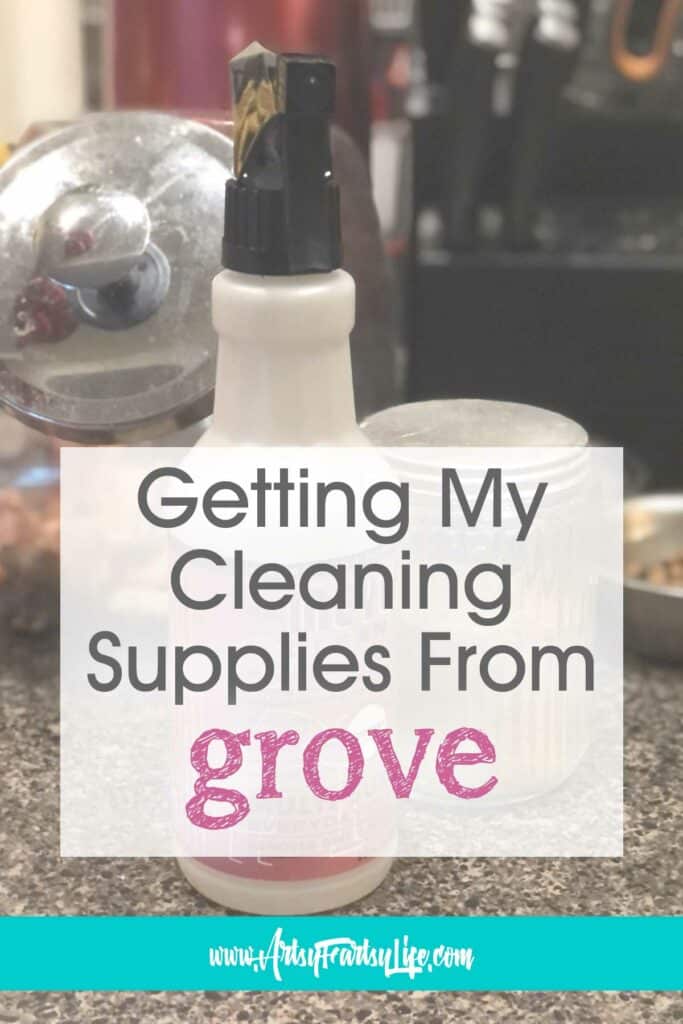 please note :: Please note that this article contains affiliate links, and that means that I may earn a commission if you buy something. Read my full disclosure here.
My Grove Shopping Story
I have a super busy house! Two kids at home, a husband who isn't a great cleaner, three cats and three dogs. It gets grimey in here over the course of a day!
Oh and I am a kitchen counter cleaning freak so I spray A LOT in a day!
When I started getting into essential oils, I made some kitchen counter sprays, but I found that they weren't that "cleany" and that I really didn't have the patience to keep filling them up.
That is when I started checking out Grove. They have a ton of different cleaning brands (I like Mrs. Meyers the best because they smell awesome!) I am a low smeller so having something stinky to clean with makes me happy!
So here is my take on Grove… if you sign up through my link you can get a free starter set… I like the basil or rosemary the best! Sign up for Grove!
The problem with kitties and taking pictures for reference of how my life really works! The spray bottle is right there… just behind the kitty tail!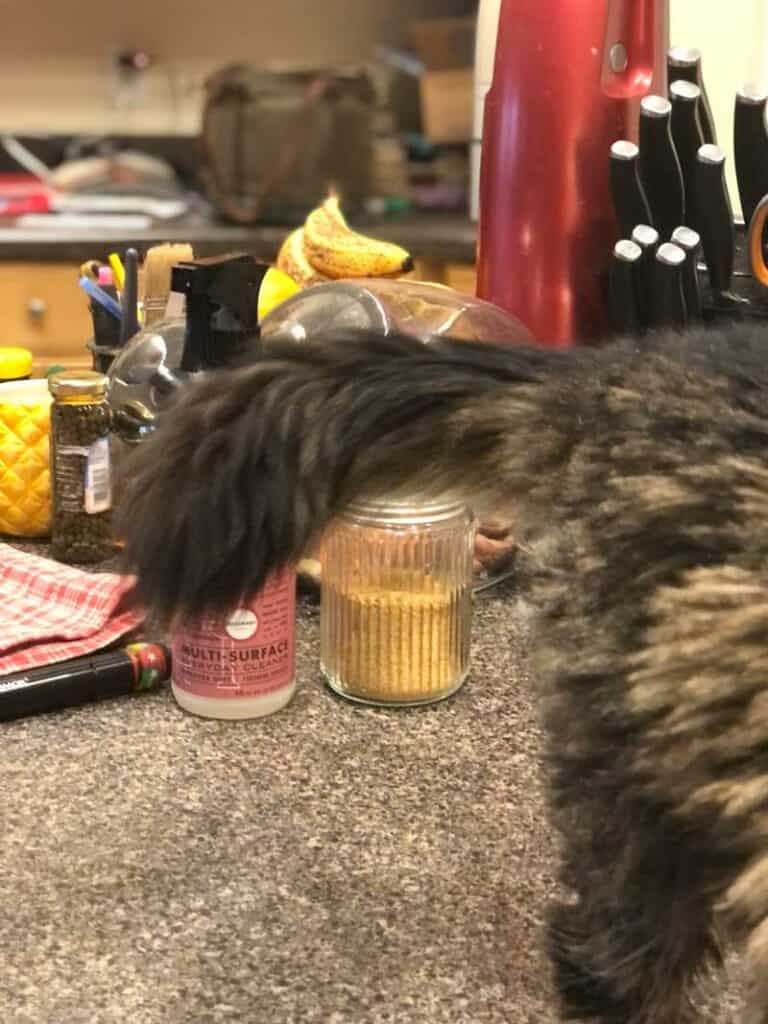 How Grove Works
Okay, I was a little confused when I started shopping on Grove. It seemed like you had to order $35-ish each month and I don't necessarily need that much cleaner.
Functionally every month they load up your cart with past items you bought and then maybe something or other they recommend and send you an email confirming that they will send you those things.
At first this freaked me out… was this mandatory? Did I need that much cleaning stuff?
But then I figured out that I only order what I need, when I need it and that is just a little reminder to see if you want to get your supplies for that month.
I half love it because it reminds me to check my cleaning supplies, and half hate it because they always send that email when I am super busy… hahaha!
How To Avoid Autoships
The "autoships" in Grove happen when they fill up your cart with things that they think you need more of… as you can see I actually have a bit of a counter cleaning obsession!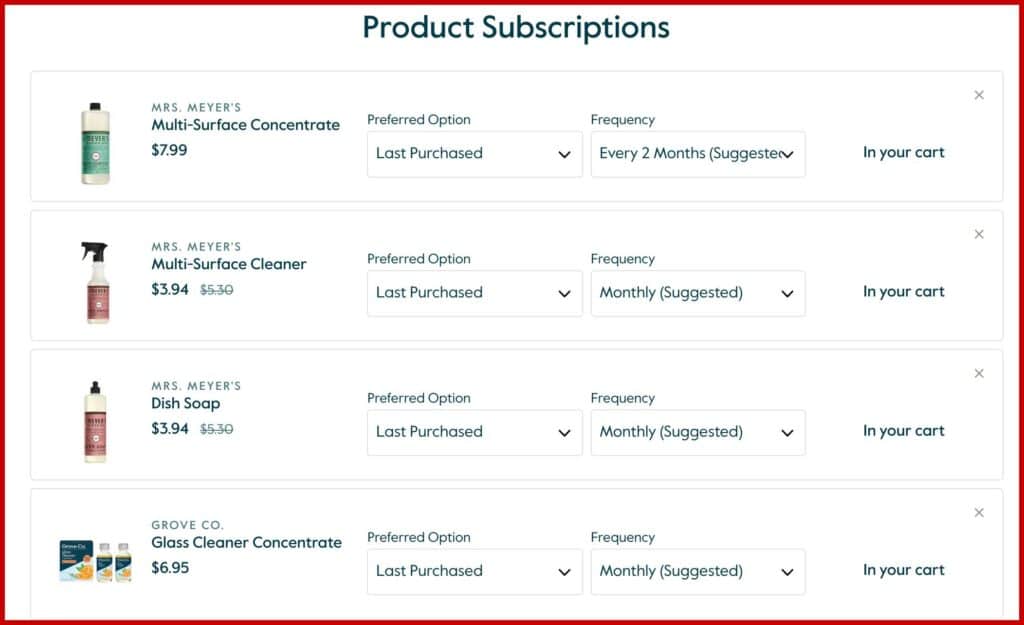 But never fear, I have never gotten an order I didn't want…. I just delete the things in my cart when there is a month that I don't need anything!
No one gets mad, I don't lose my membership, I just don't get anything that month!

The Grove VIP Program
I am a member of the Grove VIP Program (I had to look it up to see what that gets me…. HA!) It is just $20 bucks-ish for the whole year!
So for me it was the FREE SHIPPING that makes it worth it! I am a Amazon Prime member and also a Zazzle Black member, I would rather pay once up front than paying each time for shipping!
And you get goodies 4X per year… just this order I got free cleaner and super cool glass spray bottle… for real, that made my heart happy!
Hidden Fun Benefits of Grove
There are a few things that are really cool about Grove that you might not have thought of….
1. I don't buy as much at Sprouts
I am a vegetarian and LOVE going to Sprouts (the grocery store). They have the Mrs. Meyers I love but also a million other things that I don't necessarily need.
Since I started getting my toilet paper on Amazon and having Walmart do my grocery shopping for me, I rarely go into stores which cuts down on how much I randomly spend!
I feel like a grocery shopping ninja with all my cool online shopping!
2. They have seasonal smells
One thing I love A LOT is that they have smells for the Fall and Winter like pumpkin and pinecones. Just having those scents in my cleaning sprays makes me happy and more into the season!
3. I waste less packaging
I love the fact that I do concentrates for my spray bottles. I get the basil concentrate and just fill up the spray bottles with water instead of buying a million new spray bottles.
I also use the concentrate in my carpet cleaner machine to make things smell nice!
Cleaning Tip – Have Spray Bottles Around Your House!
Okay, one last thing that has changed my life… spray bottles and paper towels in almost every room of my house for quick cleanups.
With two teenagers who have their own bathroom, a dementia Mom who can't clean for herself and needs poop cleanups regularly, and then my own counter cleaning obsession, I am not lying to say I have TWO bottles in my bathroom (one for the counters and one for the toilet)!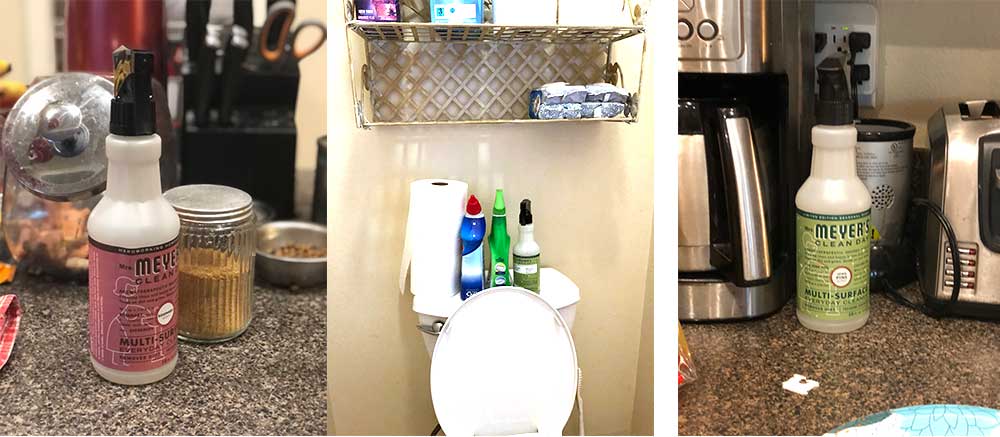 If you don't do anything else but order spray bottles for every room and then the concentrated refill… you will be so happy you did it!