I just started grocery shopping for my family again and reached out to my friends to find out what to do! Almost ALL of them said for sure do the Walmart Online grocery shopping so here are my best tips and tricks I have found after doing it for the last couple of months!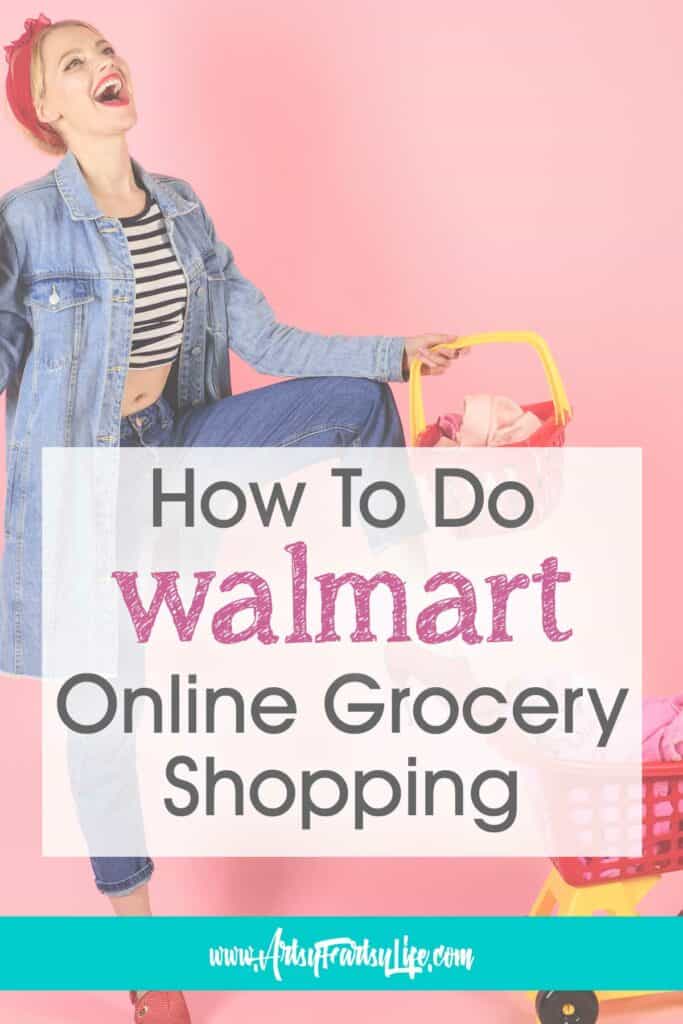 please note :: Please note that this article contains affiliate links, and that means that I may earn a commission if you buy something. Read my full disclosure here.
My Walmart Grocery Shopping Story
Recently my husband had a health scare … we think caused by stress so I took the grocery shopping and cooking back from him.
Right now we have two of our kids living with us and Grandma Linda who is my mother in law so I am shopping for 5 (two of whom are junk food loving teenagers!) and I am a vegetarian / pescatarian.
It is super funny that my kids worried they would starve because my husband has cooked for the family since we adopted 3 kids 8 years ago (but before that I had cooked for the two of us for YEARS!) All to say that I do know how to cook, just wasn't currently cooking!
So when I needed to get back in the shopping game I reached out to my besties to find out any tips they had and almost every one said they had Walmart do their grocery shopping for them… wait what?!?
According to my Irish bestie, "they gather up all your bits and bobs and bring them out and put them in your boot" (your trunk!)
Well that seemed nice, no cart wheeling around the store? Count me in!
Using the Walmart App To Shop
I started shopping using the Walmart App on my phone. You just download the app and then log in with a Walmart account.
Using The Walmart Website to Shop
You can also use the Walmart website to shop AND the cart pulls over from the app!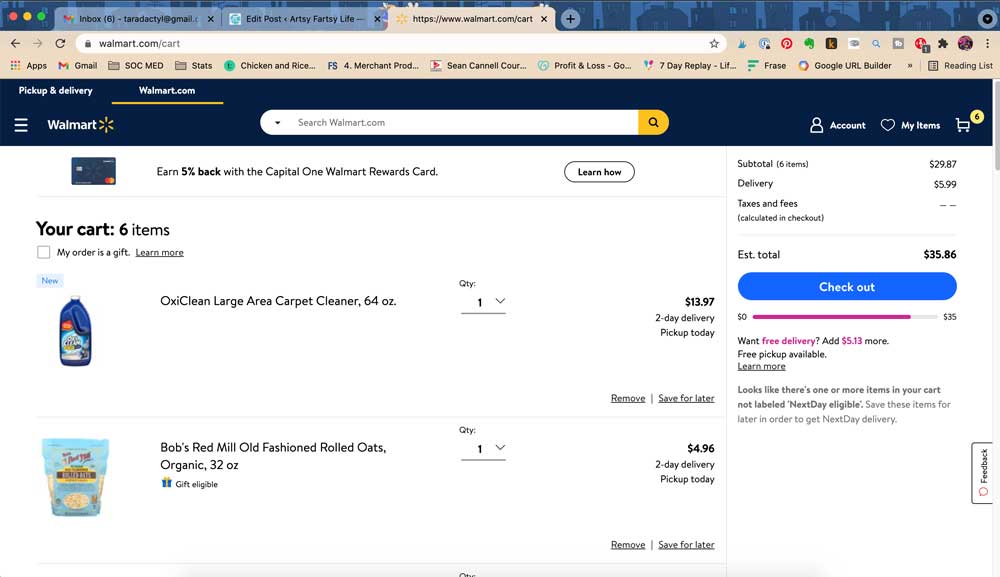 How To Shop For Groceries Online From Walmart
1. Download the App or Shop On Your Computer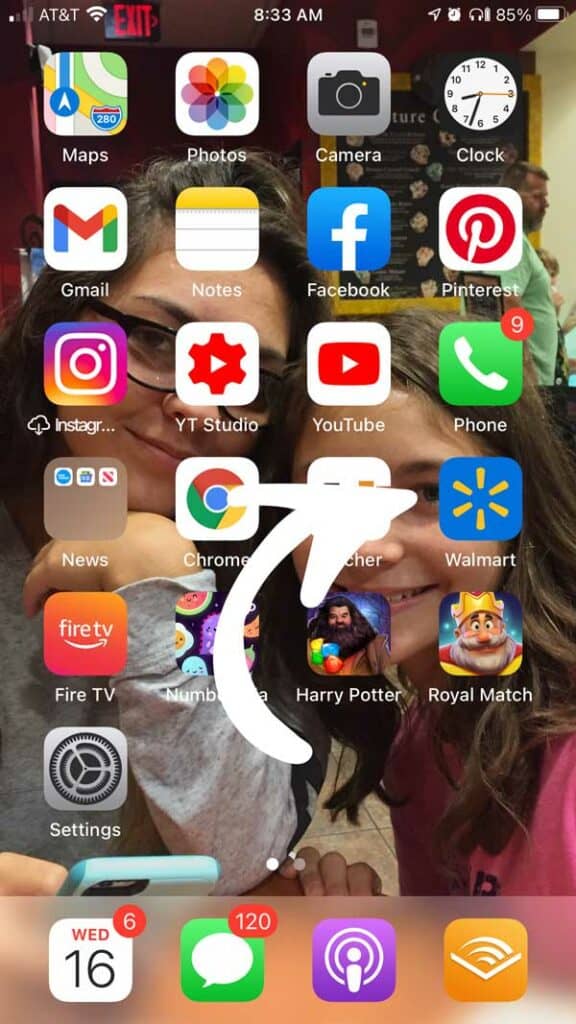 2. Do A Search For Food
The first thing you want to do is search for food… for example, this is a search for apples!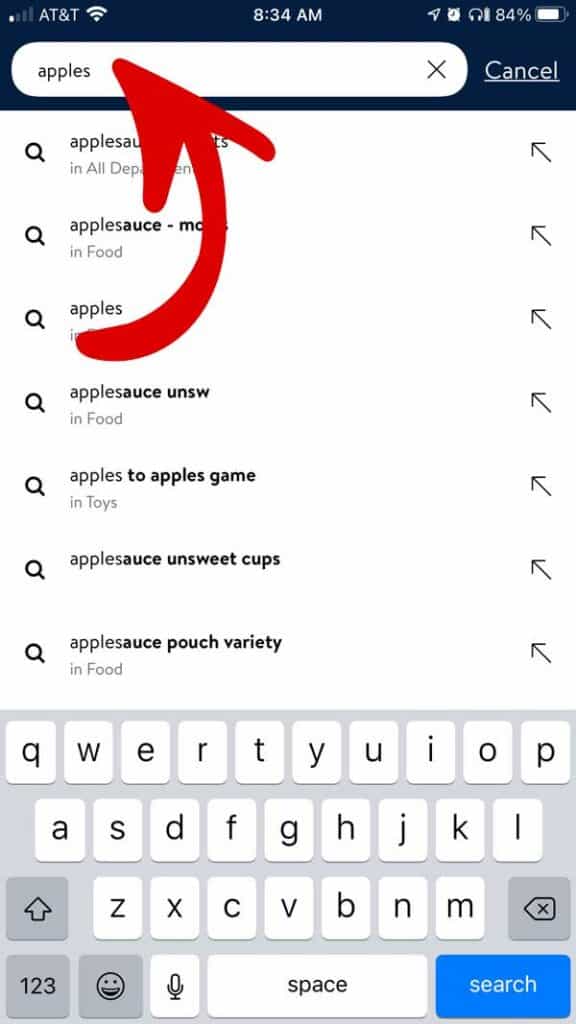 3. Add It To Your Cart
You can pick how many quantity you want and even get all the brands you are used to buying!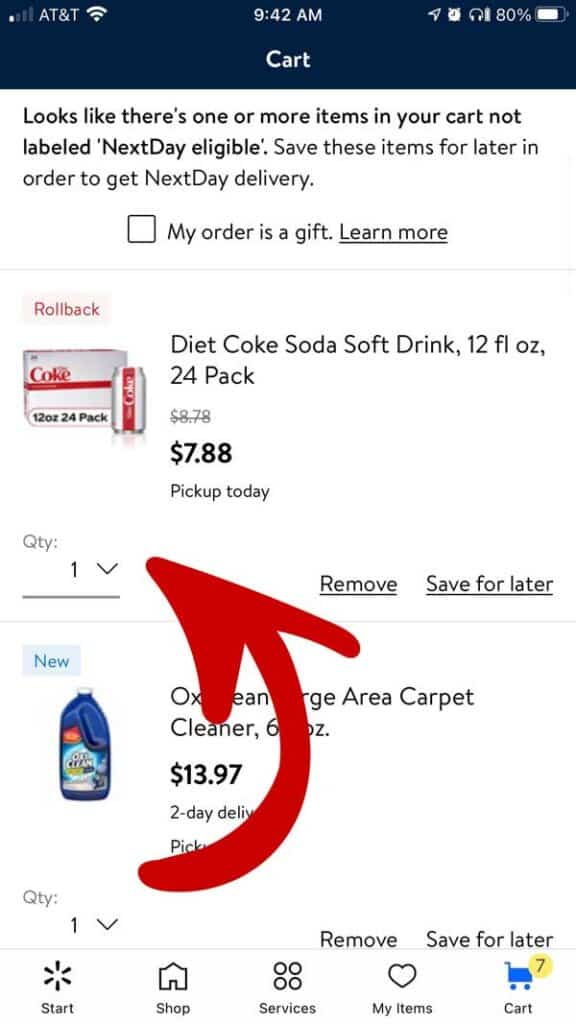 4. Place Your Order
When you place your order they use your credit card that is stored in the system!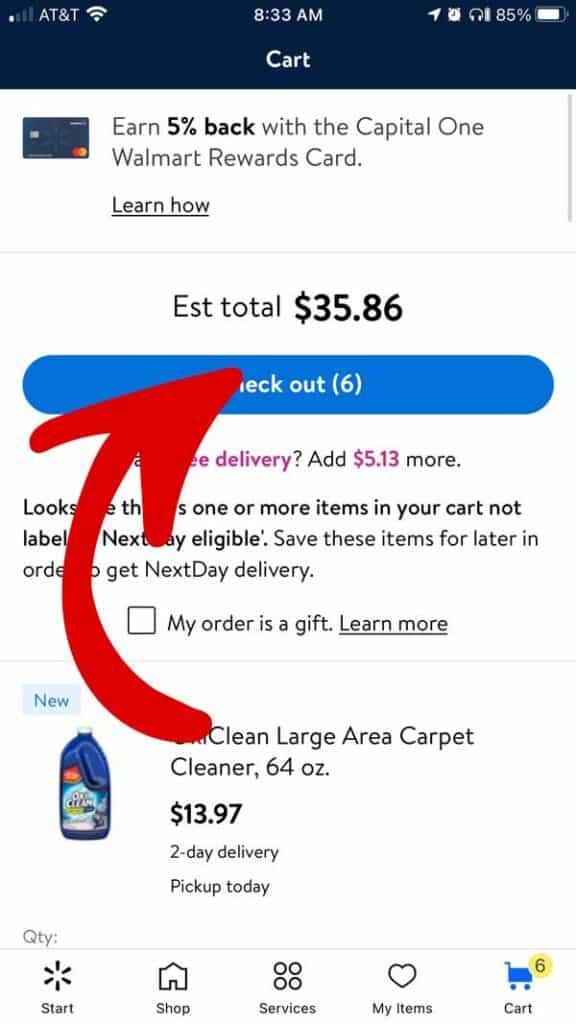 FAQs For Shopping Online At Walmart
I had SO MANY questions before I started, here are some of my best tips and tricks I have learned!
Try and check to make sure you don't have duplicates!
Oh my gosh… funny story! I got a big lumpy bag and wondered what could possibly be in there… well it was 12 apples… what?!?!?!
Come to find out I had accidentally put two kinds of apples in there at 6 each so I had SO MANY apples I could have made a pie!
Now I just take a quick view down my list before I hit buy!
Should you use free delivery from Walmart grocery shopping?
I don't usually use the free delivery because we live in Florida and there have been melting problems in the heat!
Grandma Linda has a wee sugar problem and she discovered she could order candy from Walmart online and they would bring it right to the house (she can't drive anymore because she has dementia!)
Well the driver who delivered it put it in the mailbox (a federal offense I think) and her candy all melted. But thank goodness that happened because I learned a valuable lesson… don't have perishables delivered!
How do you pick up your groceries?
So instead of free delivery I choose a grocery pickup time on the app!
Then I just drive over to my local Walmart and pull up to the "pickup area". There are like 10 signs there and you just "check in" on your app and tell them what color your car is.
It is totally "no contact" delivery … except sometimes the nice gal will hand me my eggs (more about eggs later!)
I have found that I can miss all the regular Walmart traffic and parking by going in the one entrance that goes directly to the pickup area and the pulling out around the back of the store. Easy peasy!
Why do they sometimes give you a curbside pickup store further away?
Since they are shopping for you, pickup times "fill up" and in that case they might show you a store further away. They say that times are reserved to ensure that you get your food fast!
Just look down the list of pickup times until you see your close store and then pick that time!
Substitutions
One thing that is just okay is the substations. If they can't find what you ordered they will change out the item telling you on the app so you have time to fix it if you don't like it.
That said, I don't really pay attention to my phone enough to see the substitutions coming through (my fault not Walmarts!) Nothing has ever been horrible, just I might have skipped that week if I had known I wouldn't get what I had ordered.
We are tiny bits of brand snobs around here!
Have I had any problems with Walmart online grocery shopping?
I have had a few little problems … nothing big enough to stop me from using the service!
One time two of our eggs got squished! And sometimes if they don't have what I ordered they just don't put it in there … makes it hard to make dinner if you are missing something!
Oh and the hamlet… hahahaha! So I was going to make dinner for the five of us, AND my big daughter and her boyfriend… so 7 people! I ordered a ham and it seemed like a great price… sold! When the ham came my husband mocked me and said I got a "hamlet" … it was SOOOO small, might feed a family of 4, but maybe not even that many!
So check the ounces of whatever you buy… I know, math, but it really can make a difference!
Is Walmart cheaper than a regular grocery store?
My husband always shopped at Publix which is a kind of bougie Southern grocery store chain.
I have found that I save about $75 a week shopping at Walmart instead of Publix, but it is not apple to apples because I cook differently than Johnny did!
I took a simple meals course from Dana K. White on how to make easy food and so I use more ground meat and overall less meat than Johnny did which could be helping the costs.
Do I get everything from Walmart?
I do NOT get everything from Walmart! I have found some things (like steel cut oats) are just not available from Walmart so we go to Sprouts (the local health food store).
I also buy our paper towels and toilet paper from Amazon… super affordable and they drop it off at the door!
My next thing I might "outsource" to Amazon to fetch is kitty litter, but that is a post for another day!
Walmart Online Grocery Shopping Wrapup
All in all I am THRILLED with the way we can shop now! I love that I just put everything in my app all during the week and then trot on over to pick it up on Saturday…so darn easy!
While I am not super happy about supporting a giant conglomerate (I am a bit of a tree hugger), I feel like the time and cost savings are so worth it for our family!