I am working on getting my mixed media junk journaling to be more creative and cool. Here are some pictures of my best layouts plus tips and ideas for inspiration and products you can you use in your journals.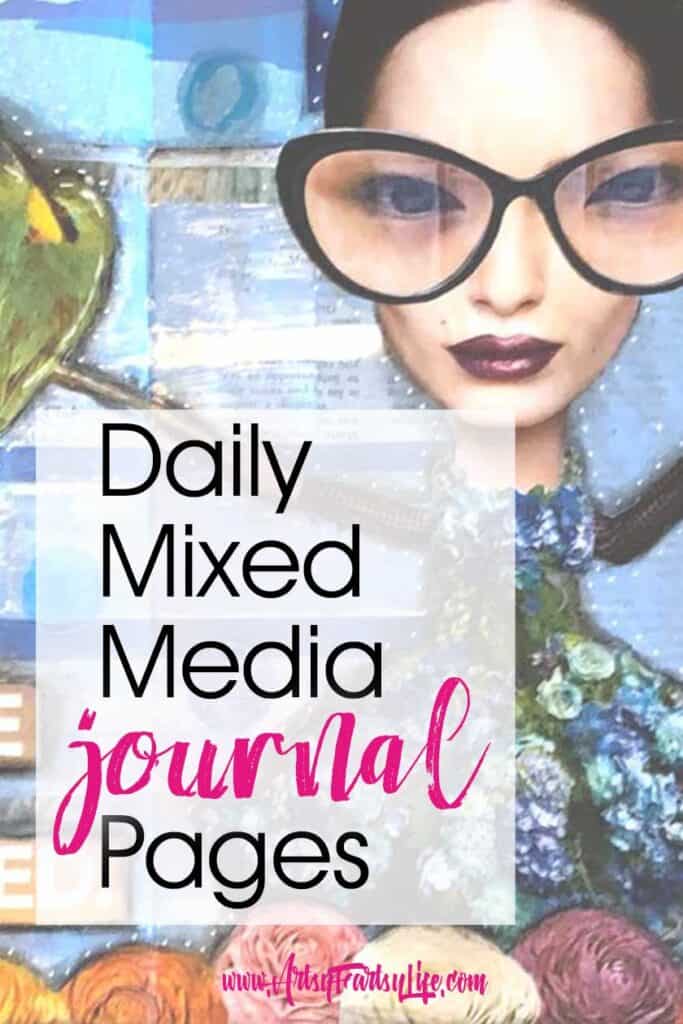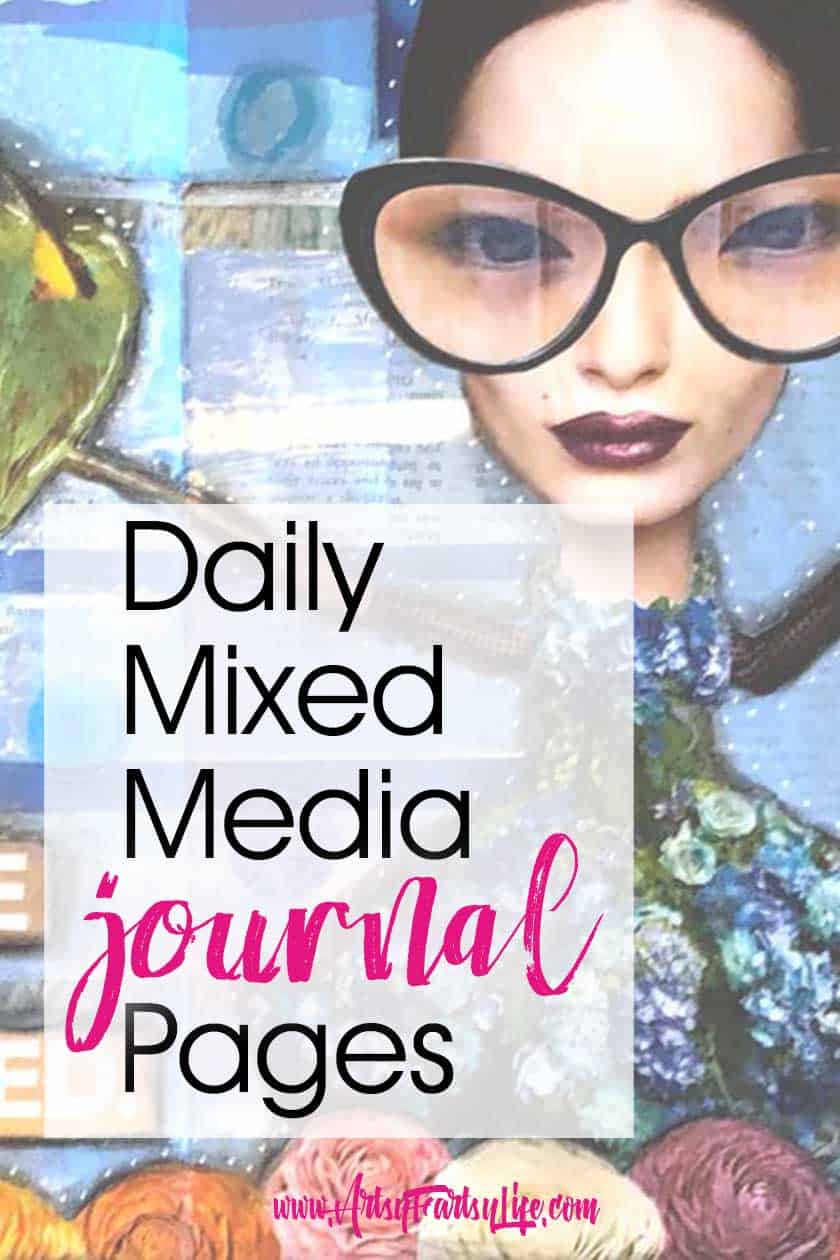 please note :: as an Amazon associate I earn from qualifying purchases, read my full disclosure policy here
May 10, 2020 – Accordion Book
I took another class from Dina Wakley (Accordion Book) and it turned out great! I had a piece of rice paper with 4 "panels" of travel that worked perfectly for this project!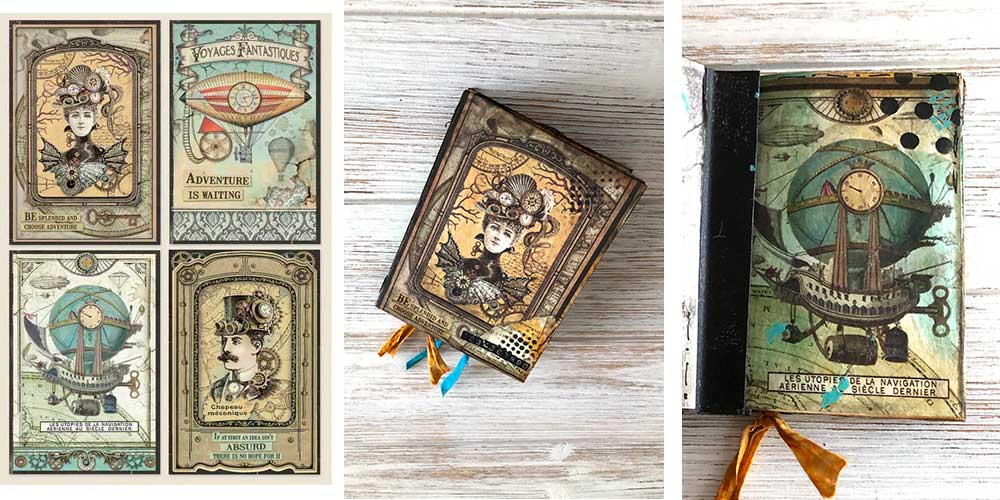 See the whole Steampunk travel journal in process!
April 29, 2020 – Pages In Motion
I took a super fun class from Dina Wakley (Page In Motion) and made a flippy-out journal page! I used vintage tissue paper, Ninnys Napkins, Mod Podge and acrylic paint. A new technique was stamping on tissue paper.

April 22, 2020 – Bunny Collage
Okay, it has been a wee bit since I made a page… it is okay to fall down and then get back up! I have been doing more thrift store crafts than papercrafts!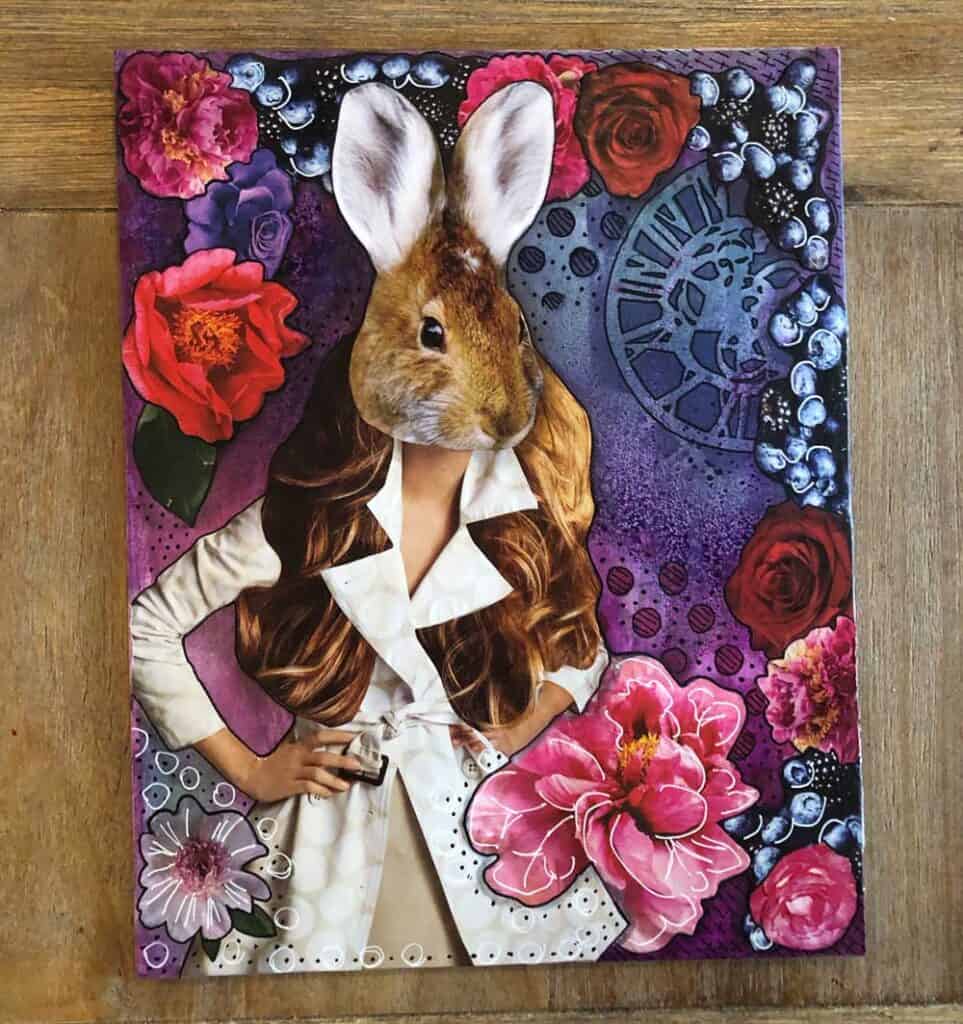 I have had a bunch of questions about how I make my shadows…. I use Stabilo Pencils with water paint pen and also Arteza watercolor paint brushes.
February 25, 2020 – Cloth Cover
Okay, I have been a little lax in my journalling pages after finishing the big sketchbook project so I did something just for fun! This is a fabric cover on a composition book and then just some highlights on the sections of a book I have to work in for the next few weeks!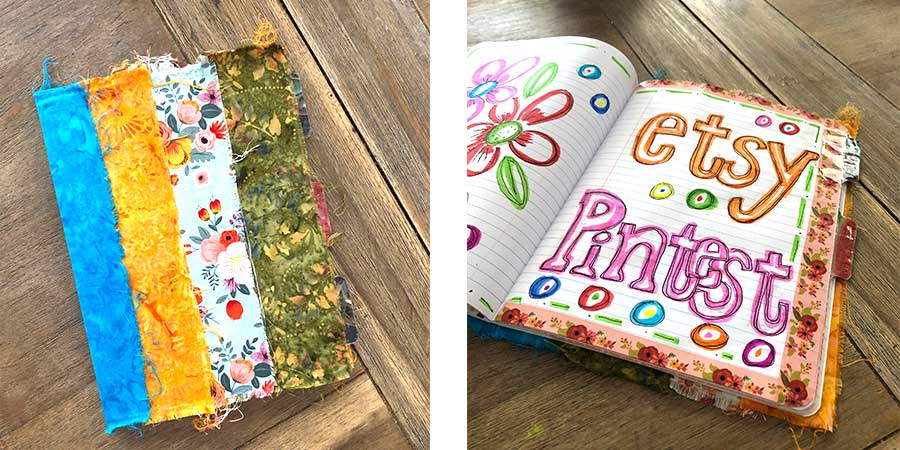 February 1, 2020 – Dog Love Collage Page
Valentine's Day love! I was messing around with using sticker letters that I patterned with a gel press! This little guy looks like my friend's dog. She needs a pick me up so I will send it to her soon!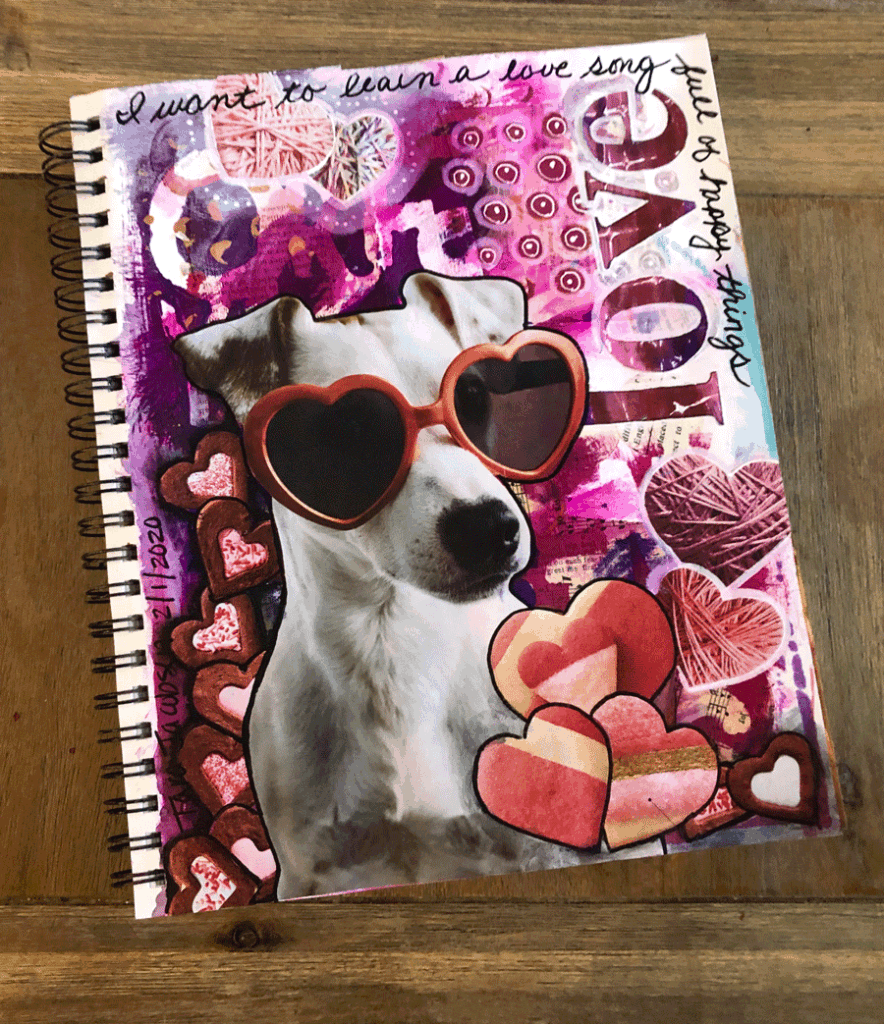 December 15, 2019 – January 31, 2020 – Sketchbook Journal
I was working on my Sketchbook Journal Project…:) Not slacking, I promise!
December 14, 2019 – Winter Wonderland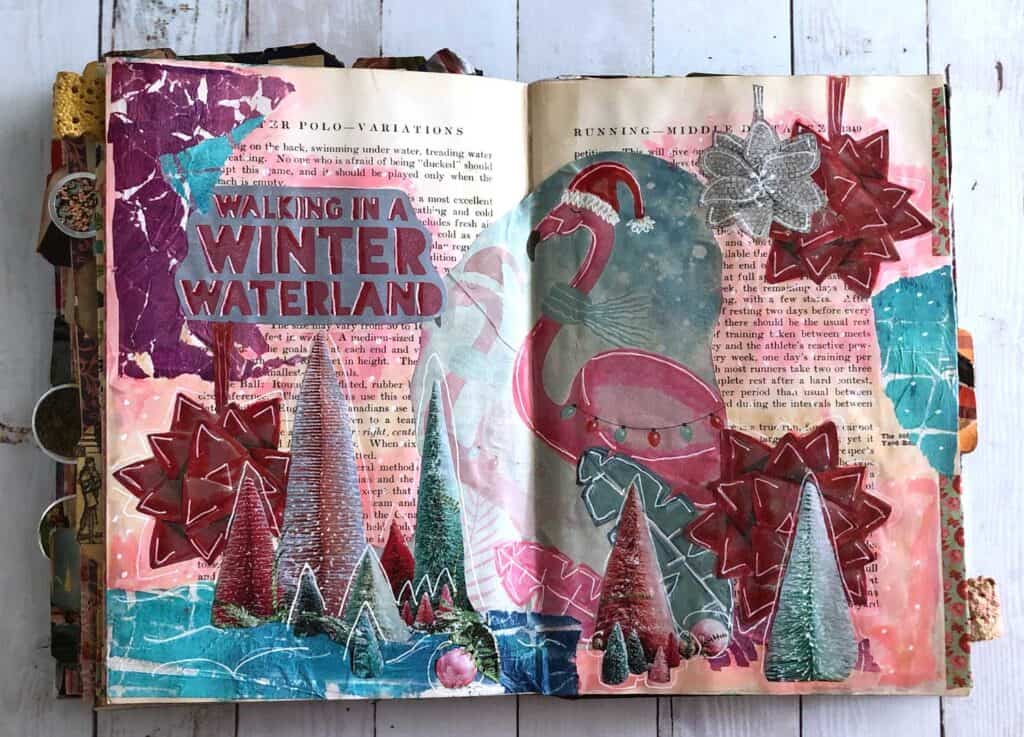 I live in Florida so our Christmas is a little pinker than "normal"! Love this Christmas flamingo that I found for a holiday page.
December 9, 2019 – Tampa Bay Dashboard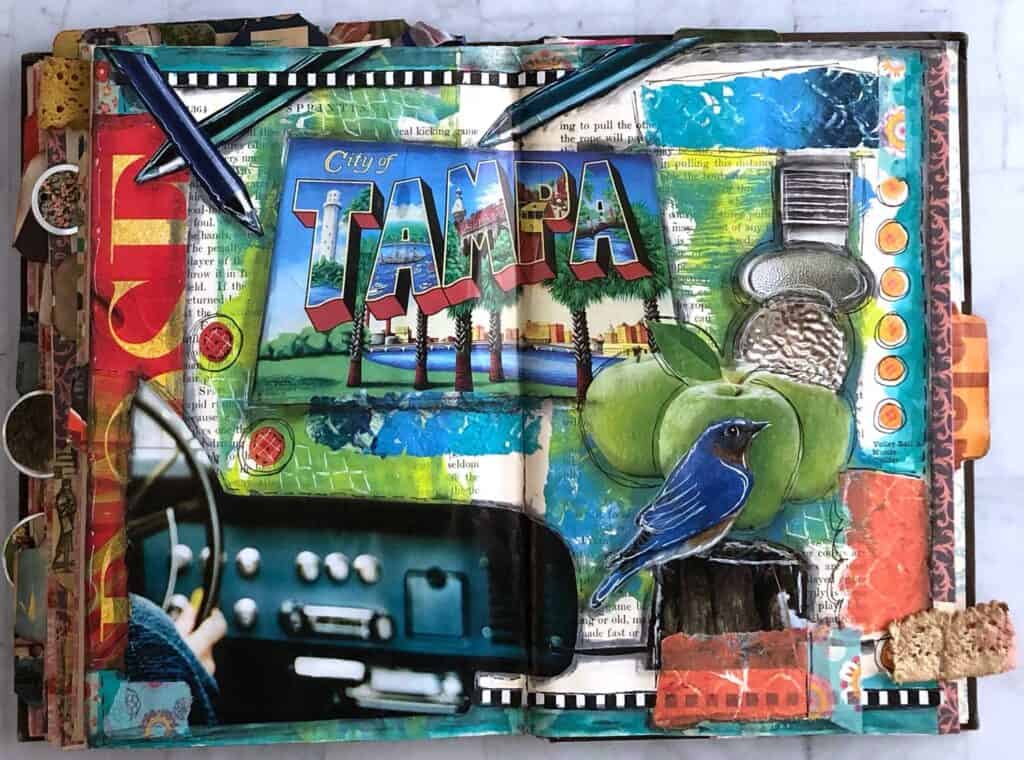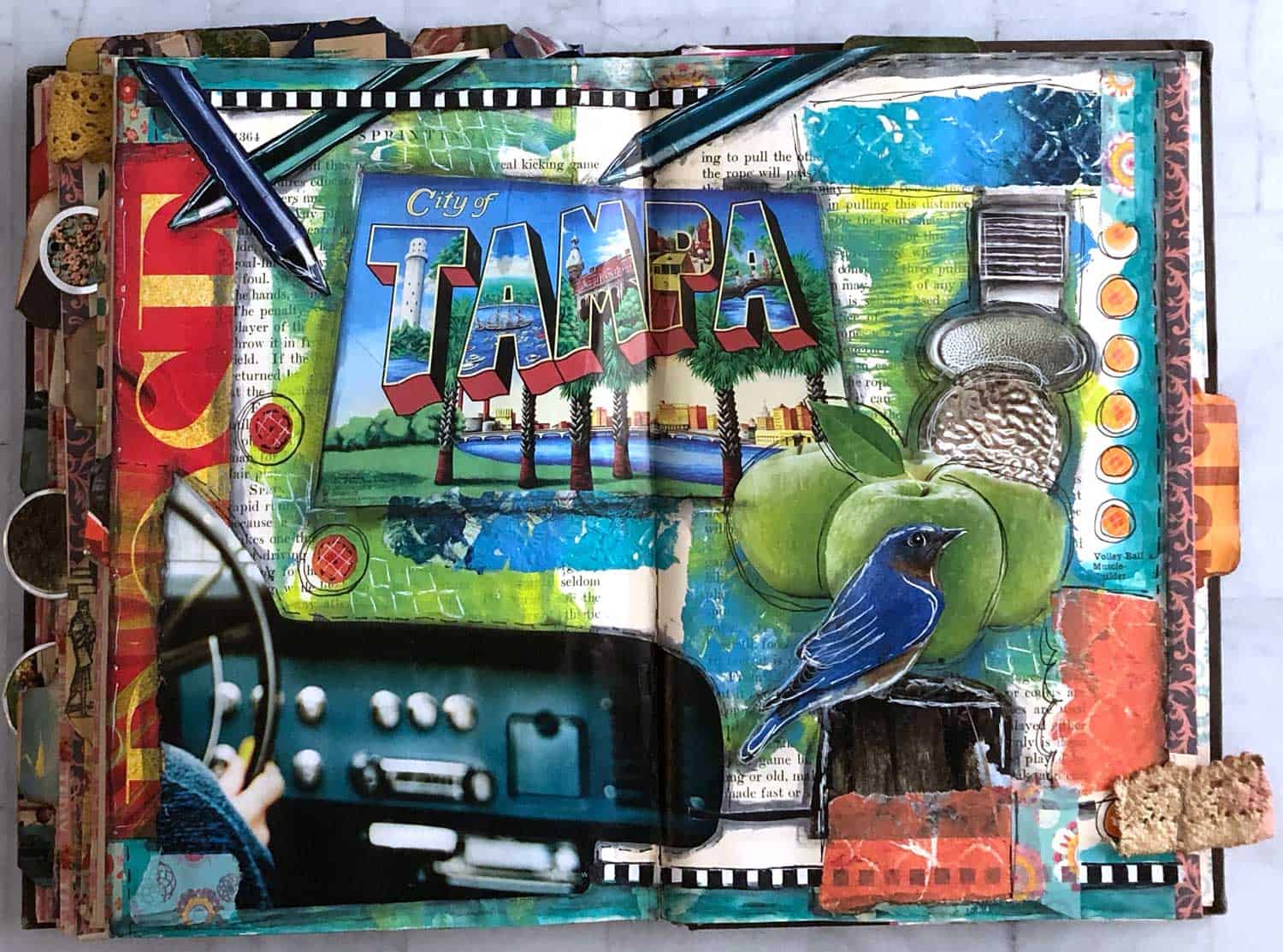 This is my Tampa Bay dashboard page! My daughter said I needed a little bit of orange on the right side so I added the circles and teal background on the right side… LOVE how it came out! This is a spread from my Tab Journal!
November 28, 2019 – Pink and Black Faces
I love how this one turned out! The pieces of the face come together so well in the middle of the page. And the circles are my favorite… I love circles!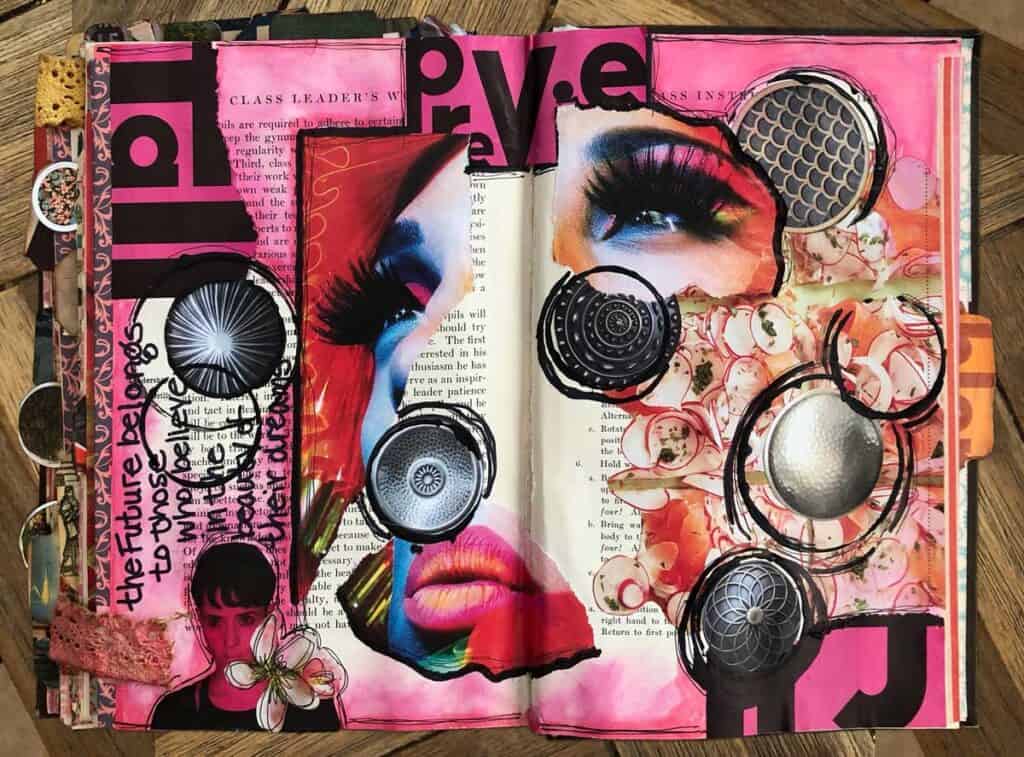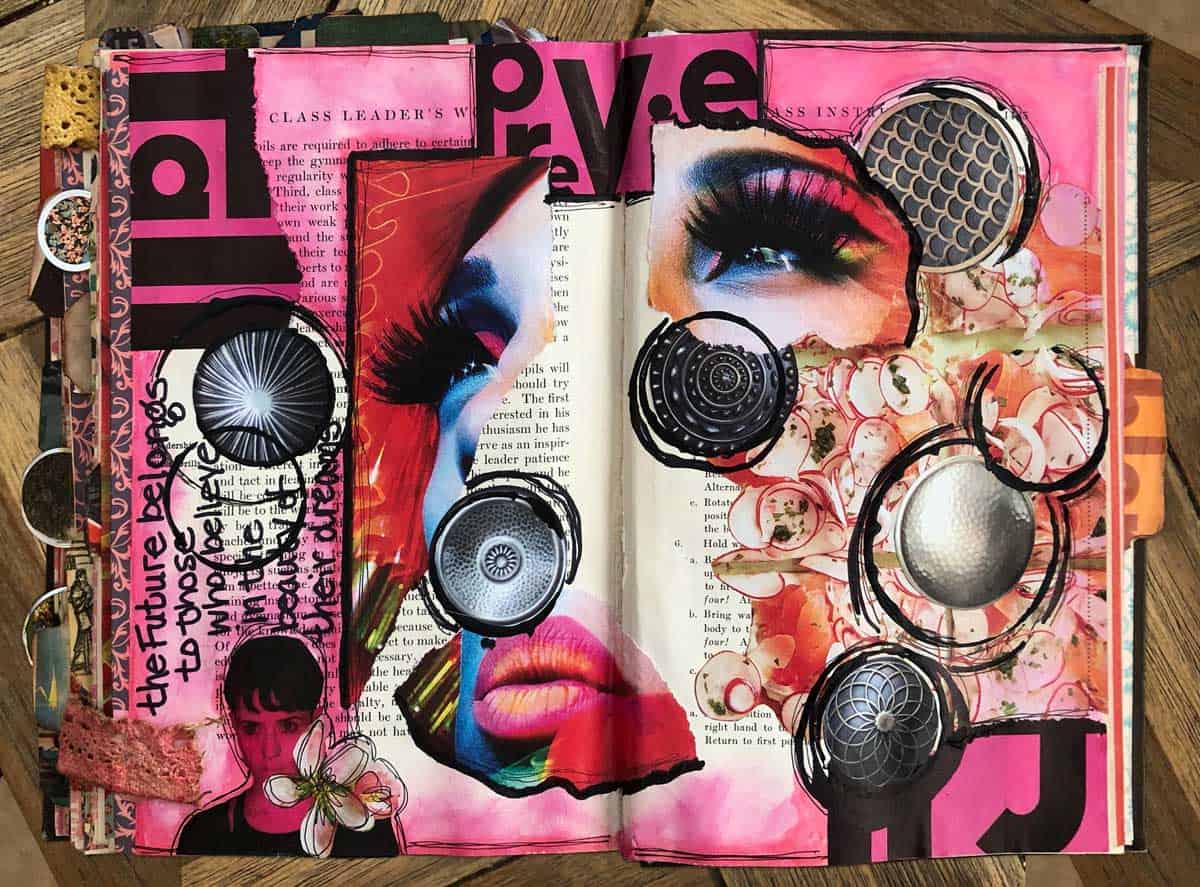 October 20, 2019 – Skeleton Man
This is the back cover of my custom ARC notebook for the convention! I love how he turned out. Washi tape on the surfboard to cover the beer slogan and the birds to keep him company!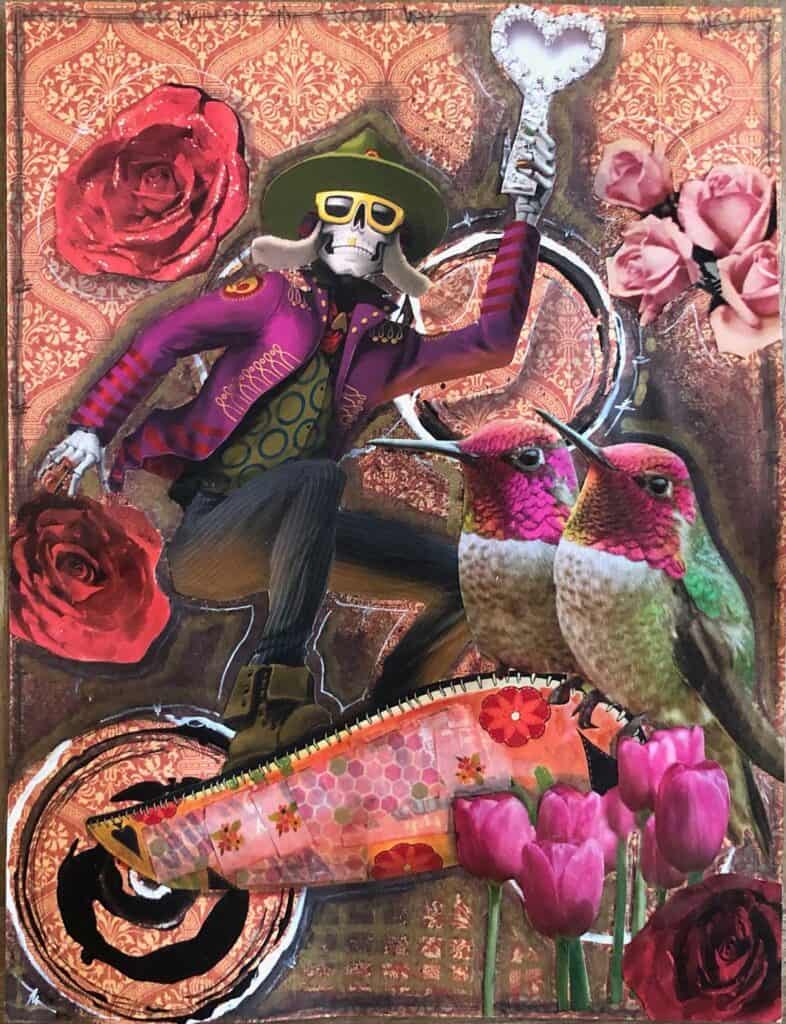 October 17, 2019 – Boy George
I am going to a convention and being an introvert, I figured I would bring a friend along for moral support! Using this in my custom ARC notebook journal!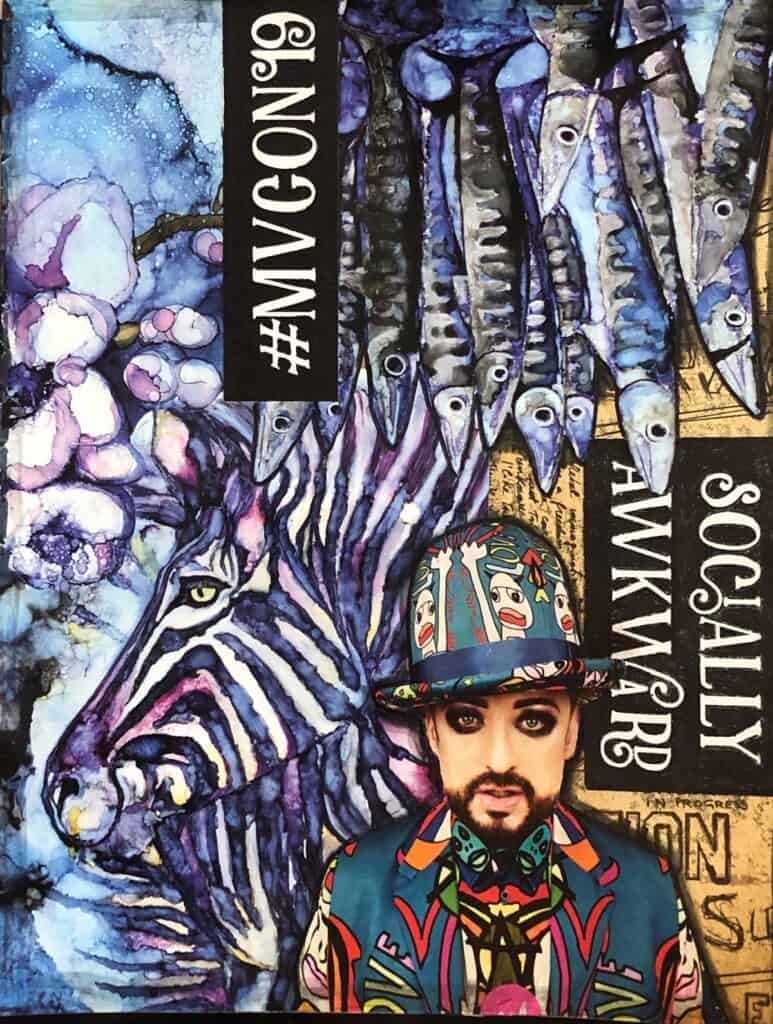 October 14, 2019 – Chord Box
I have been gathering supplies for a big journal project so I have been doing more cutting than sticking, but today I did a really fun decorative box project to keep my cords in order on my night stand!
I did a collage on the top and fun stripes on the bottom of the box!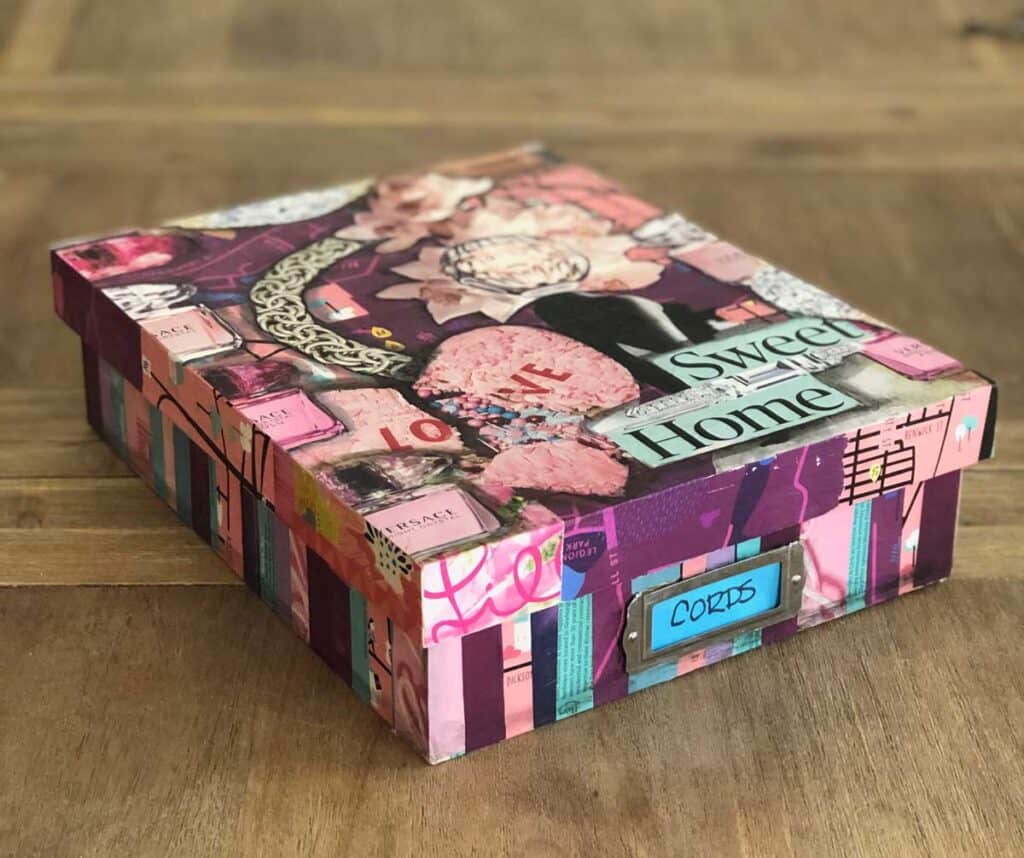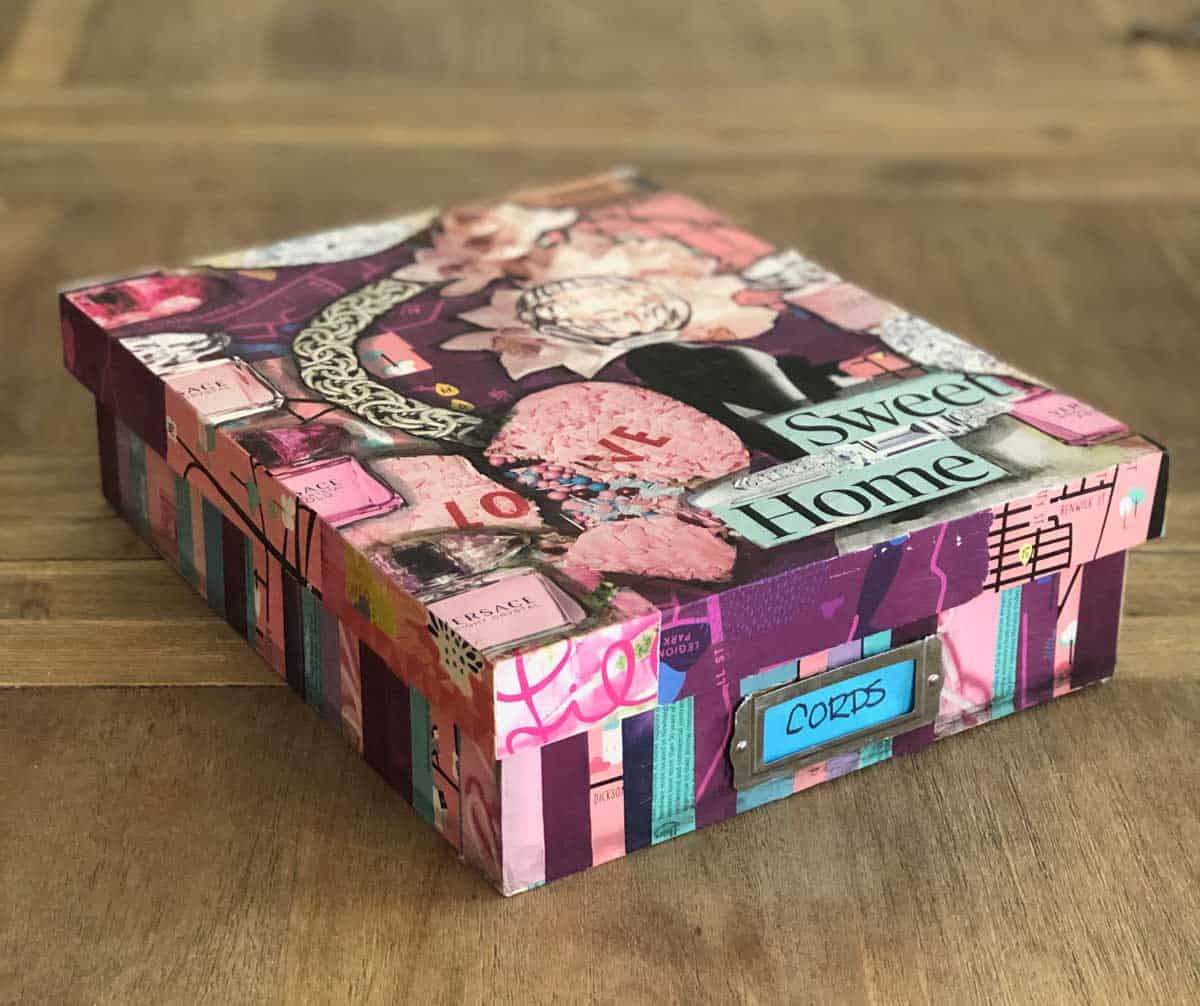 October 3, 2019 – Red Bang
I love how red this turned out! It was totally a mish-mash of things I collected in the red range. Extra borders and washi tape add interest to this piece!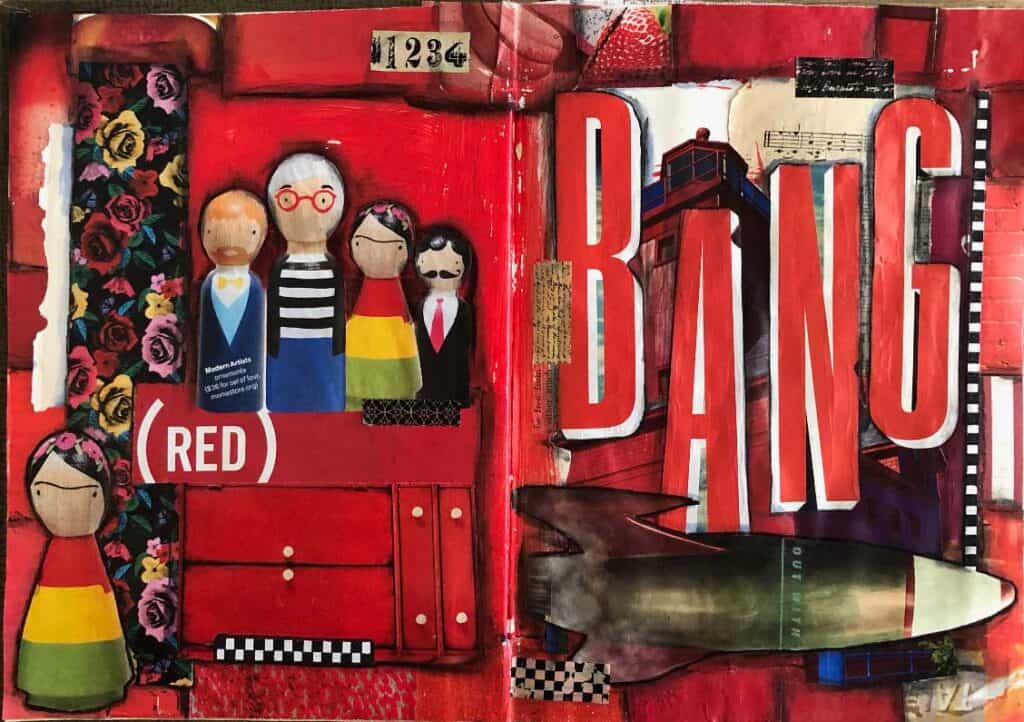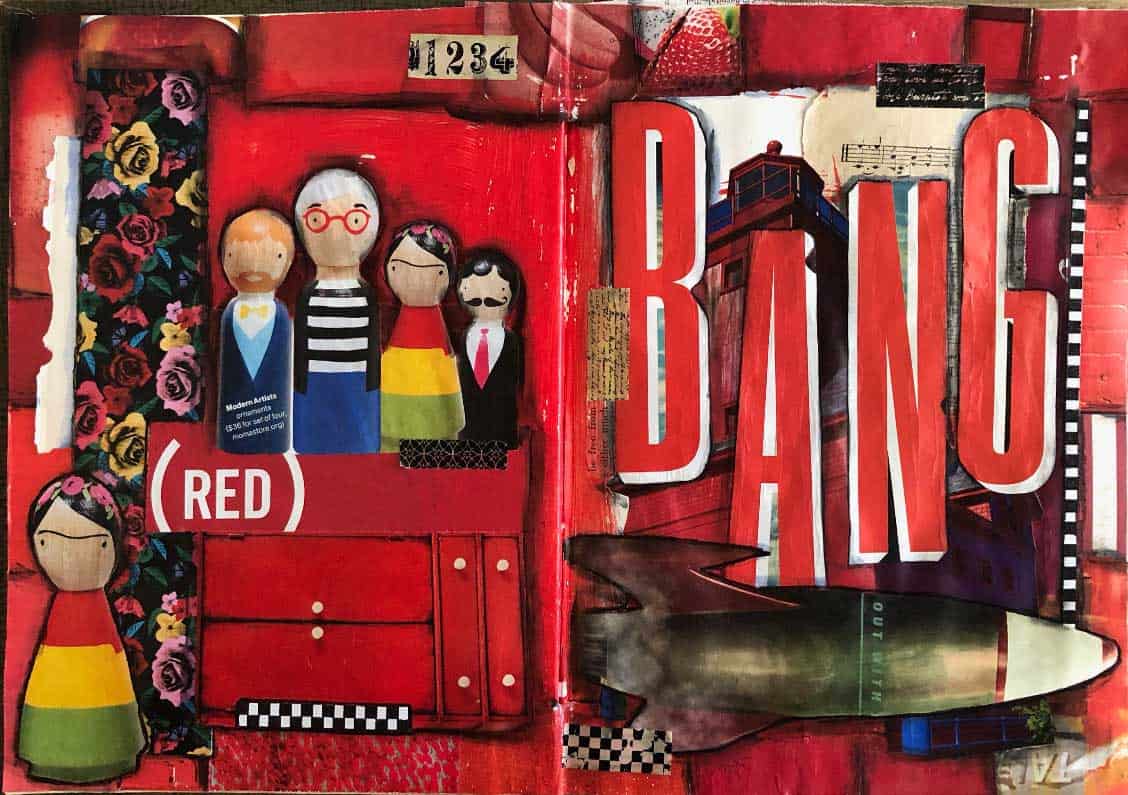 September 28, 2019 – Perfume Girls
I found these cute legs and have been hoarding them for a project… but then I found ANOTHER set and knew they had to stay together. Love the Pink, Blue Green color combination in this piece and borrowed the black outline with the white dashes from a gal in one of the journalling Facebook groups!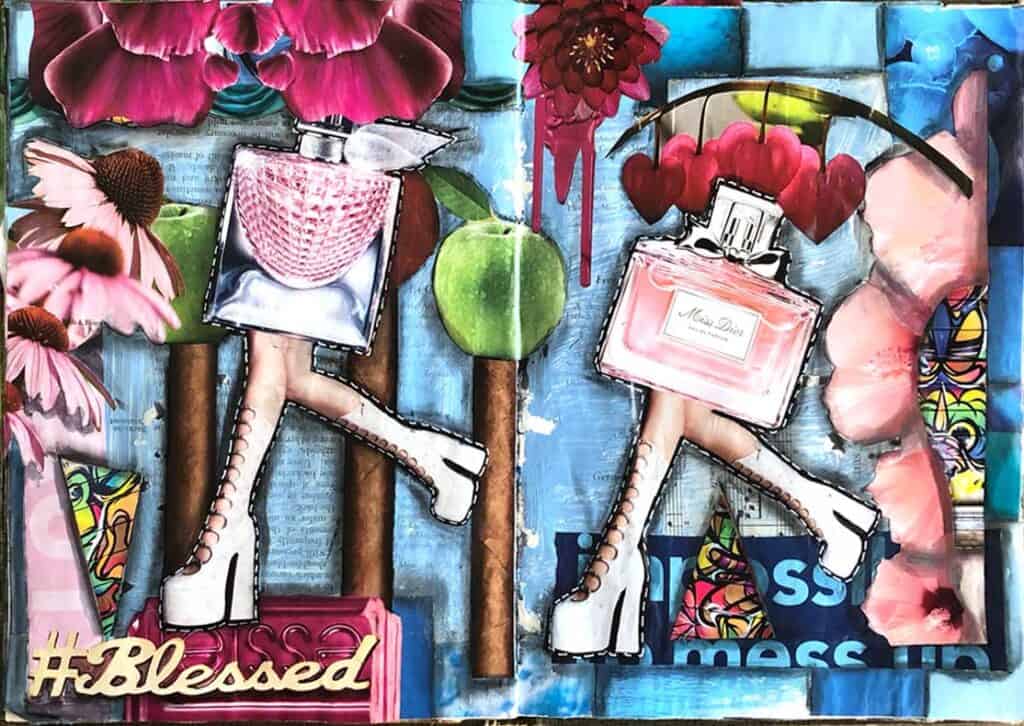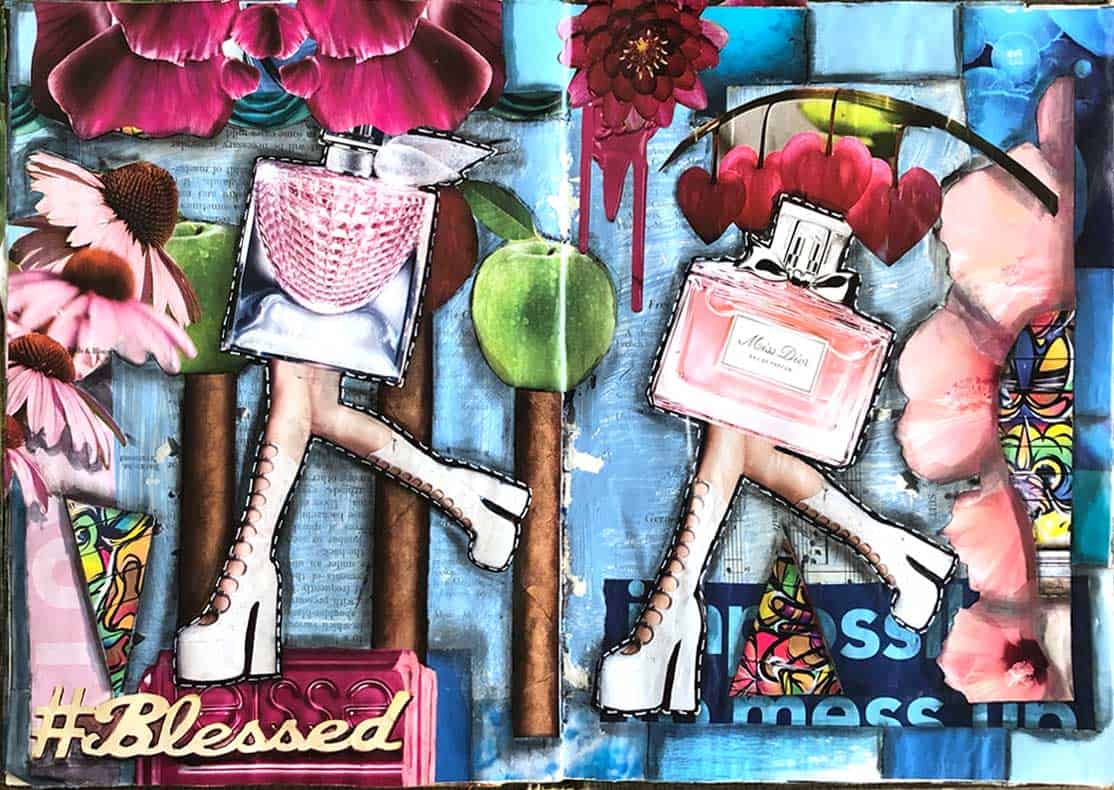 September 26, 2019 – Cardi B Fan Girl
I found this cool picture of Cardi B in a magazine and loved it! She is strong and independent. The quote is from her song "I Like It" (watch out there is some language, well a LOT of language!) But that song makes me feel like I am on vacation!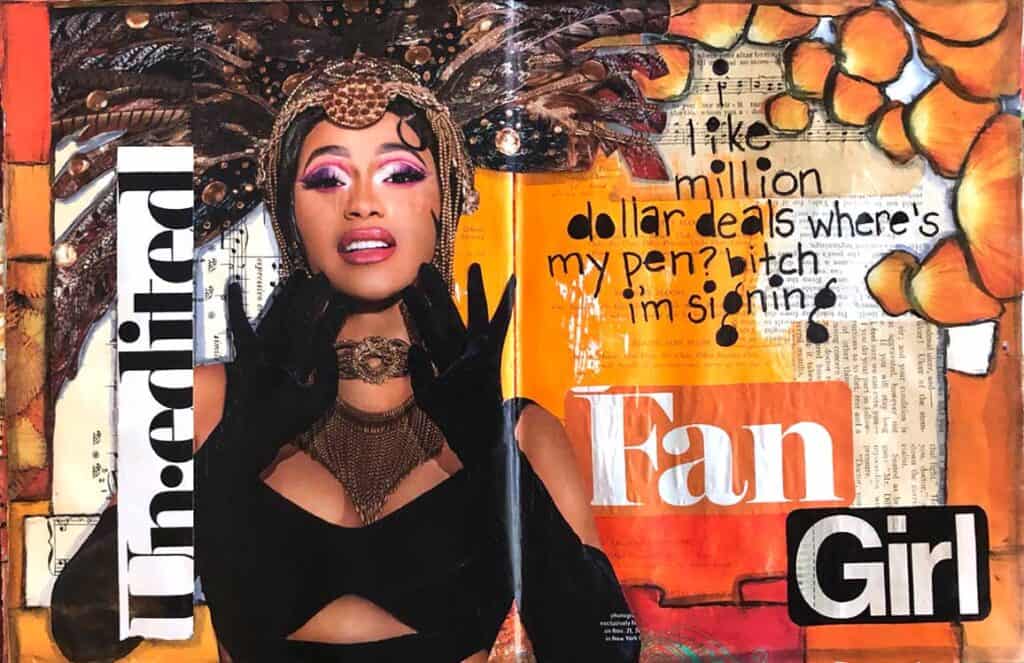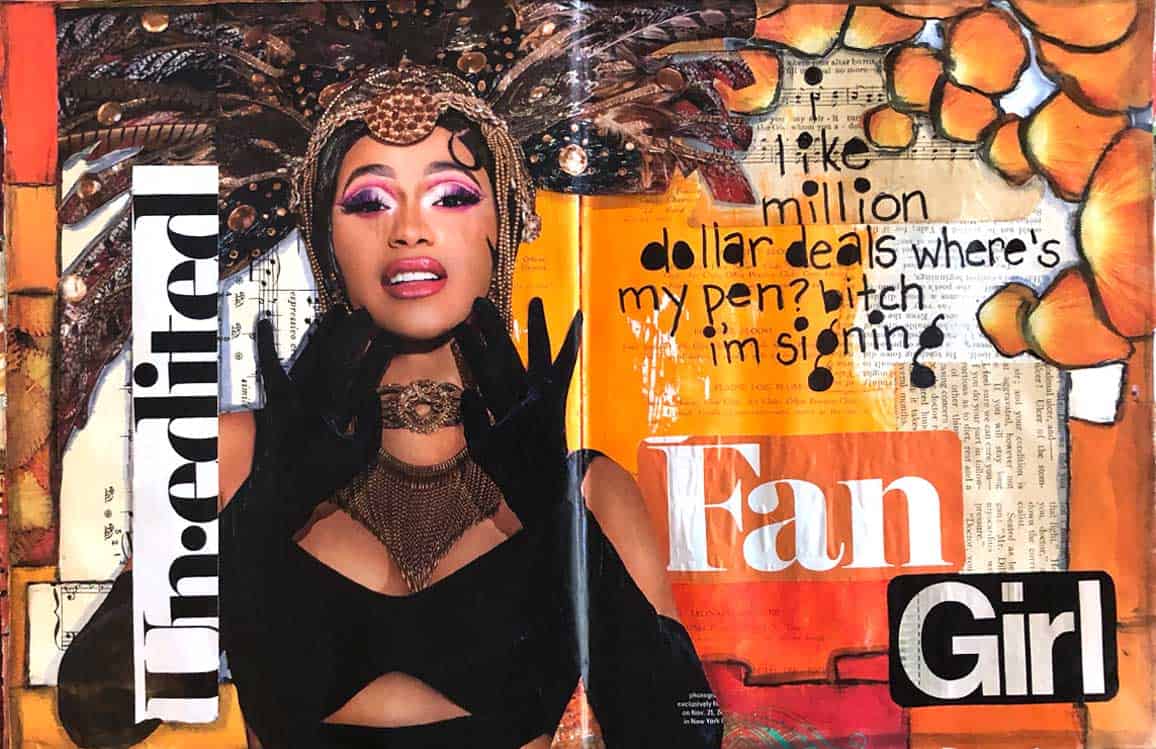 September 24, 2019 – Digging For Gold
Today is my first page in a while (I did a big magazine holder collage project this weekend!) So I was excited to get back into my rainbow journal! This one had about 20 more elements I was going to try to cram in, but overall, I loved how she fit on the page and looks like she is out to kill something!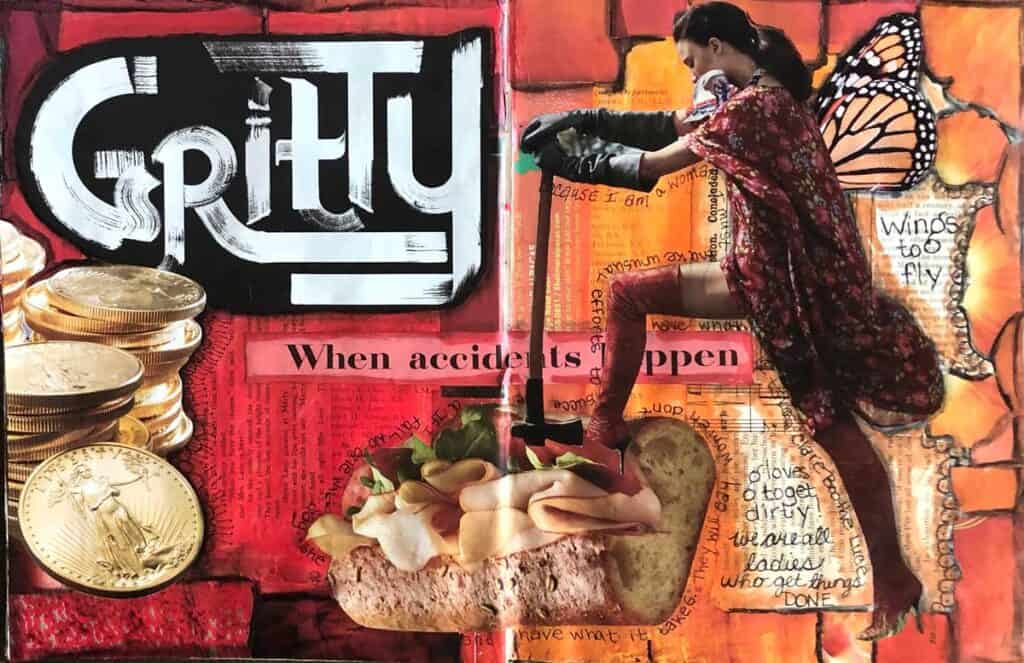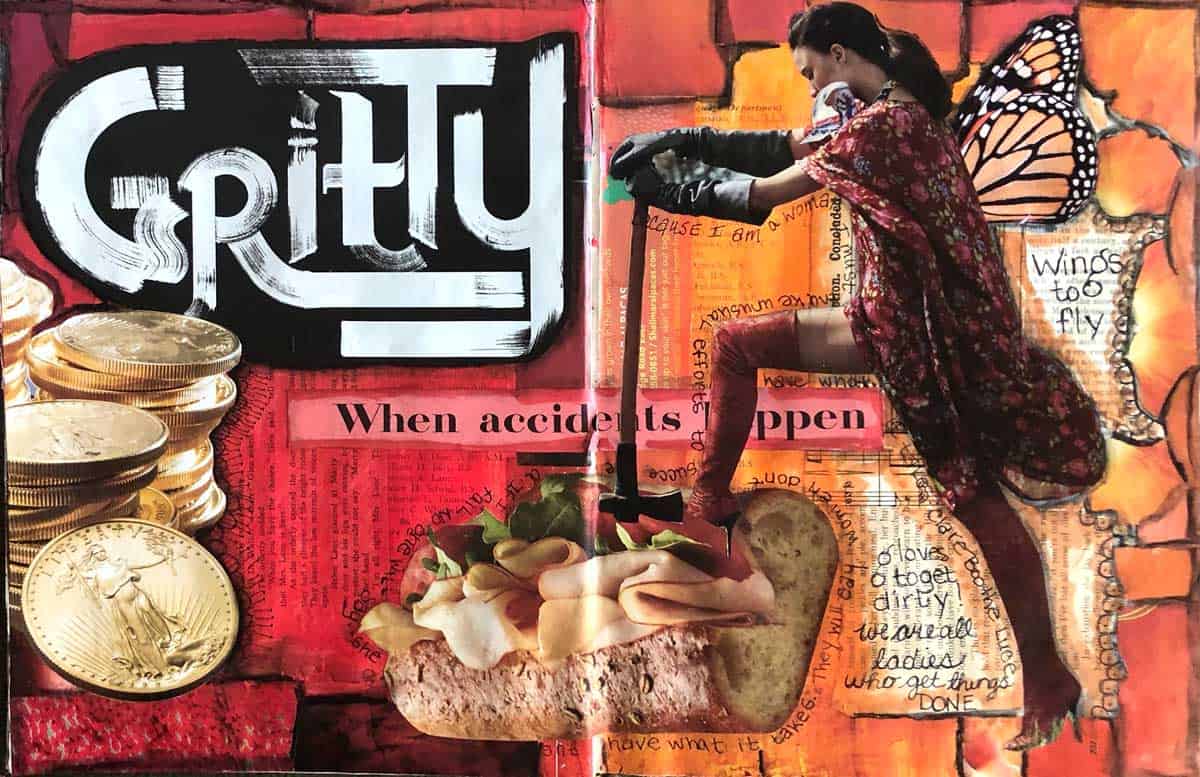 September 14, 2019 – Butterfly Journaling
I used the book 1000 Artist Journal Pages as the inspiration for today's piece. I needed 2 main focal features, color blocks, some magazine words and dark areas to write in white on. This is the first one I actually journalled in and I think it came out great!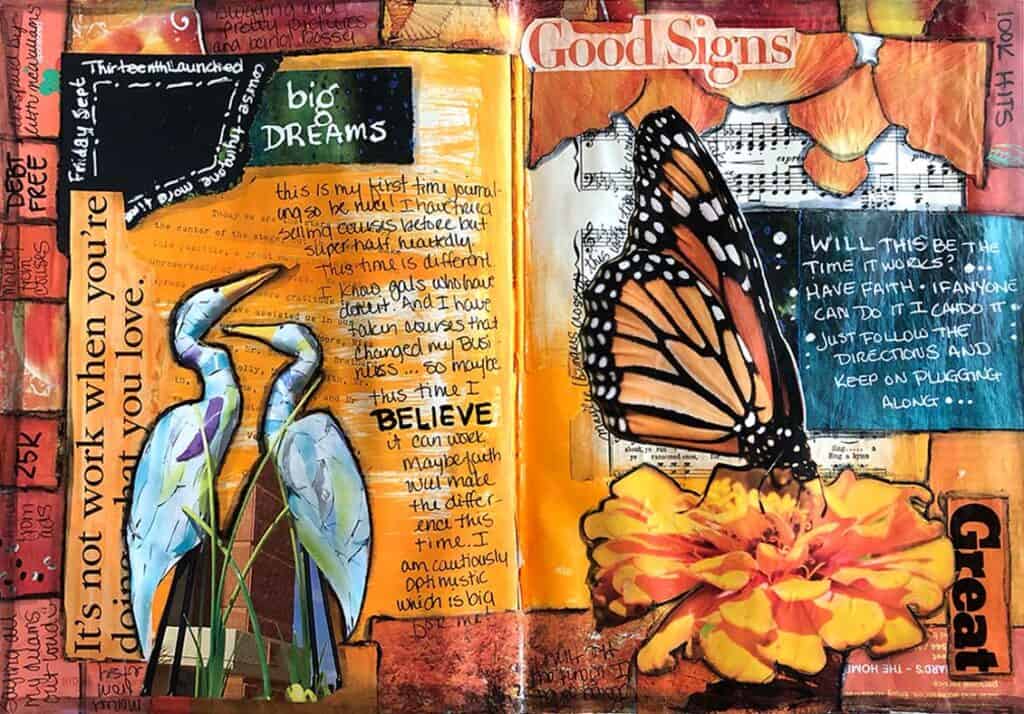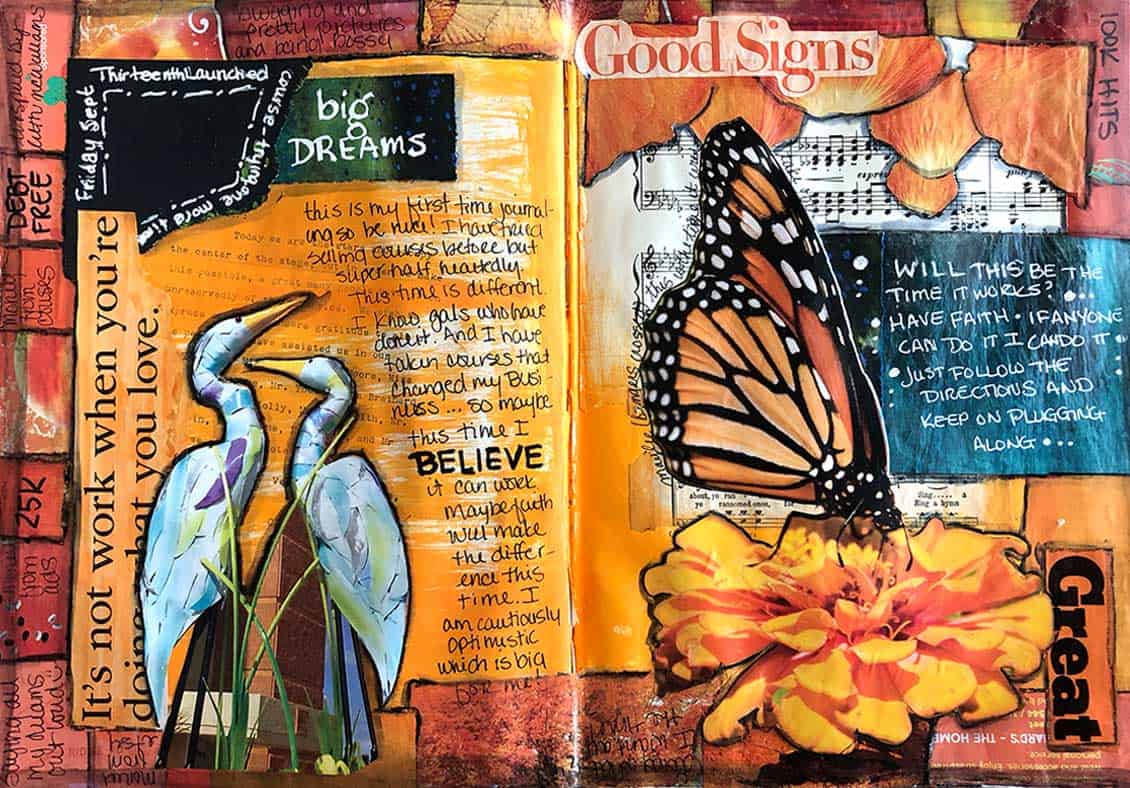 September 7, 2019 – Fishies
I found these cute fishes and wanted to really work on layers and depth! I like all my bubbles and this is the fist one that I officially signed (I am an artist!)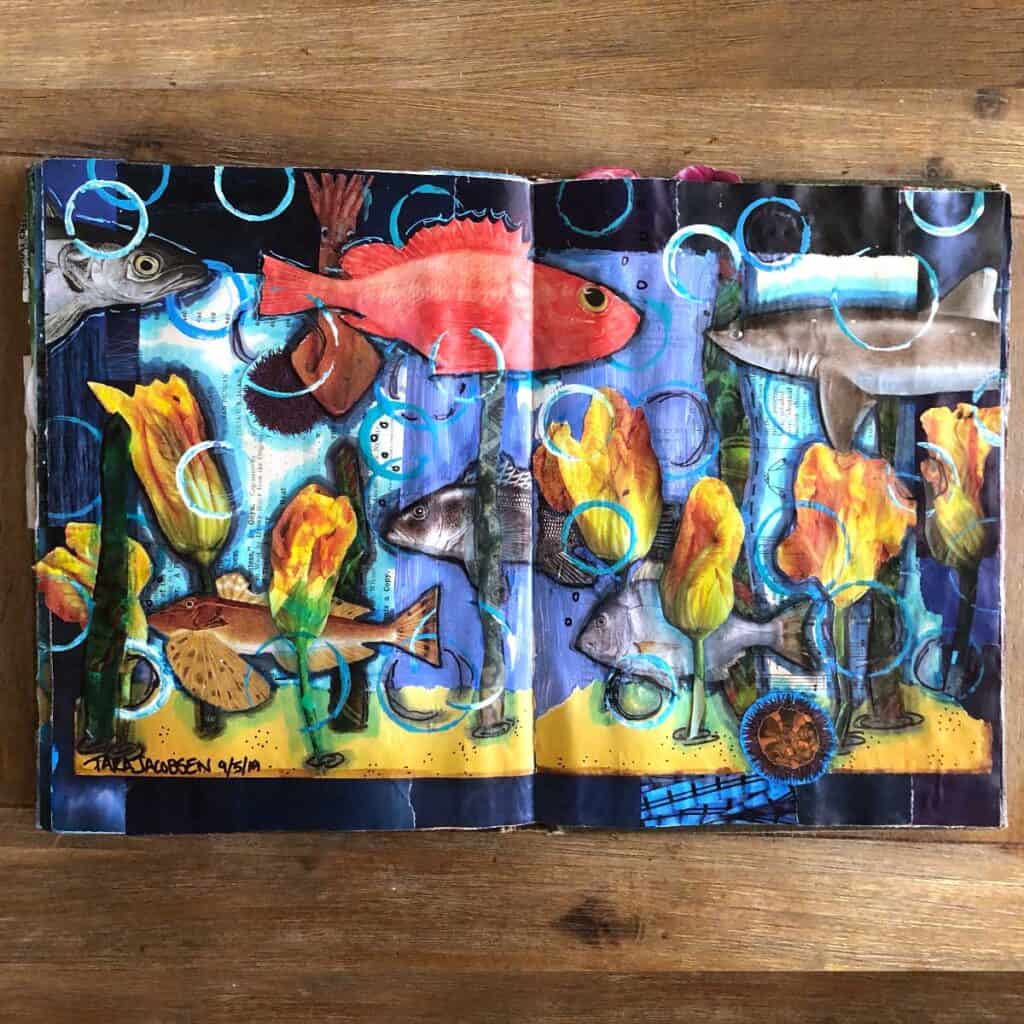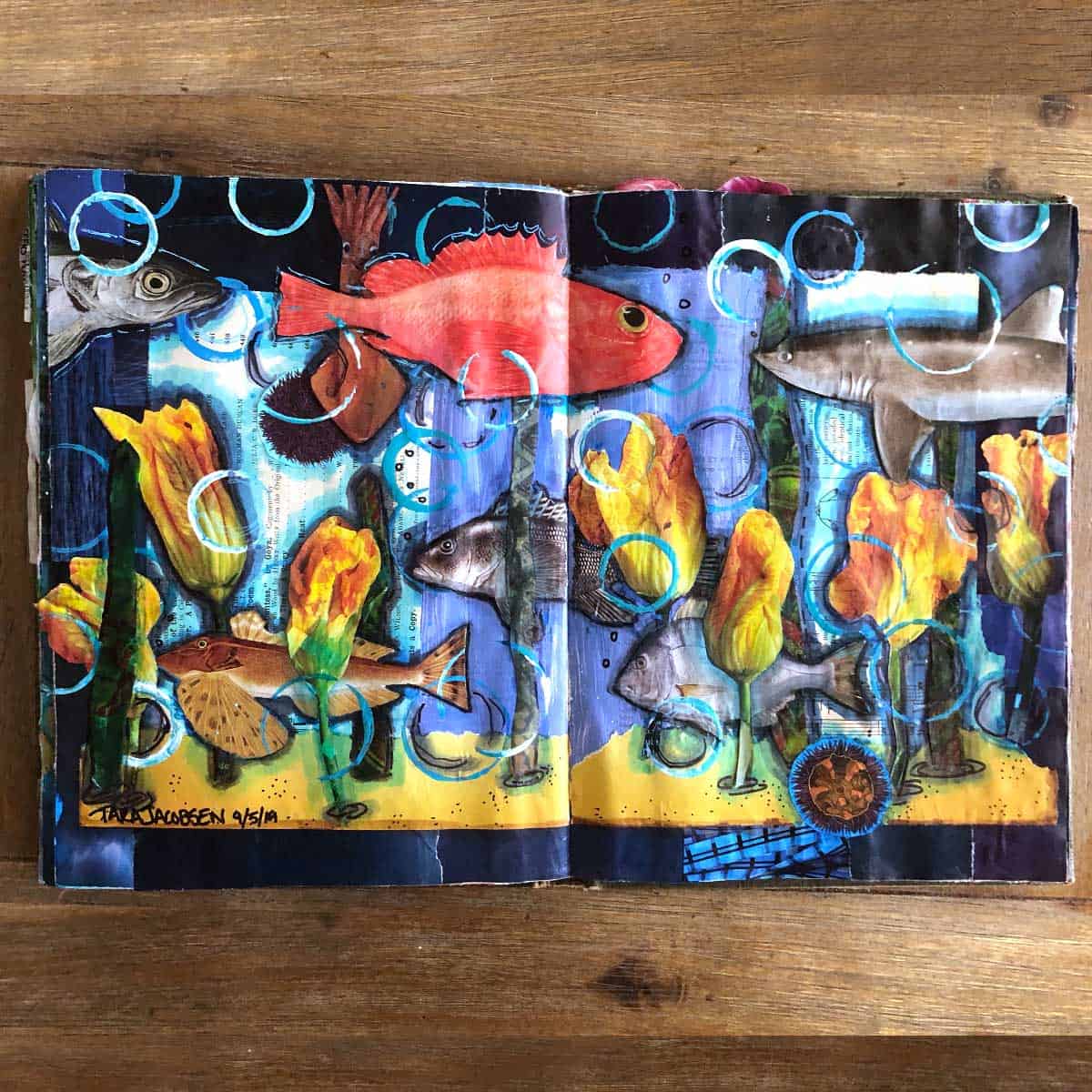 September 2, 2019 – Grandpa Book 1
I wanted to make a book with lots of lots of pictures and tuck spots! This is a Grandpa book with my Daddy and his partner. Lots of pictures of grandpas and kids. LOVE how this turned out!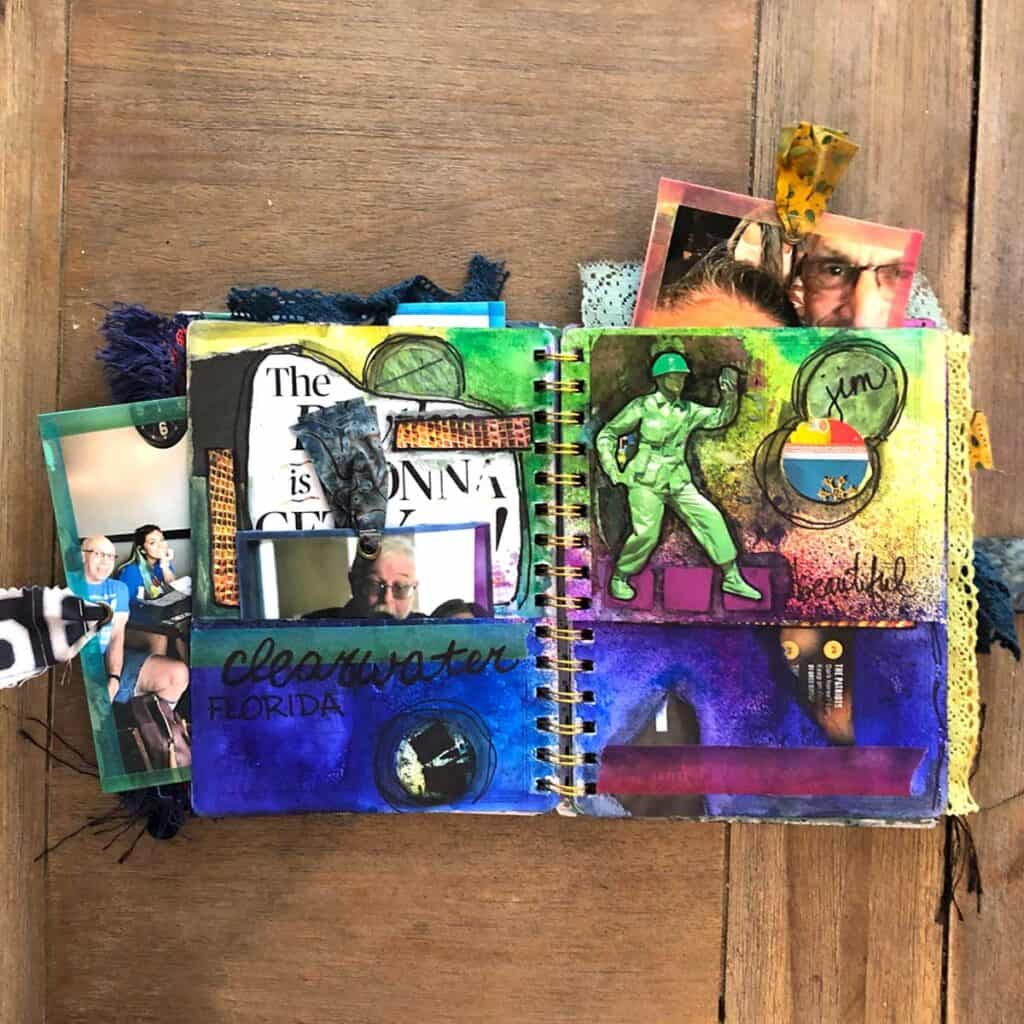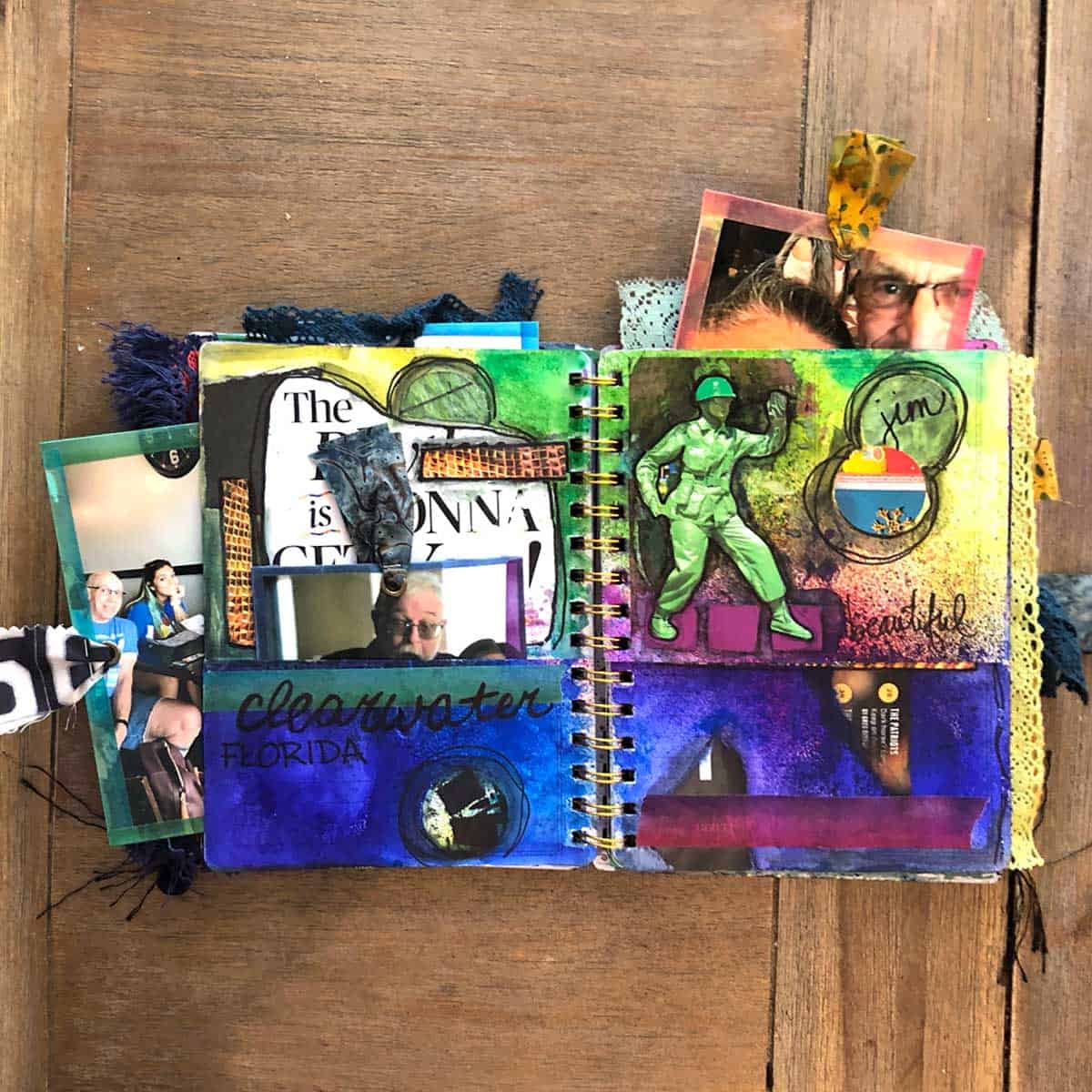 August 28, 2019 – Roses Can't Be Sunflowers
I LOVE how this one turned out! I started with the gal in the top right, and then found the two different pictures of the same woman on the left that would be just perfect for the larger and smaller flower.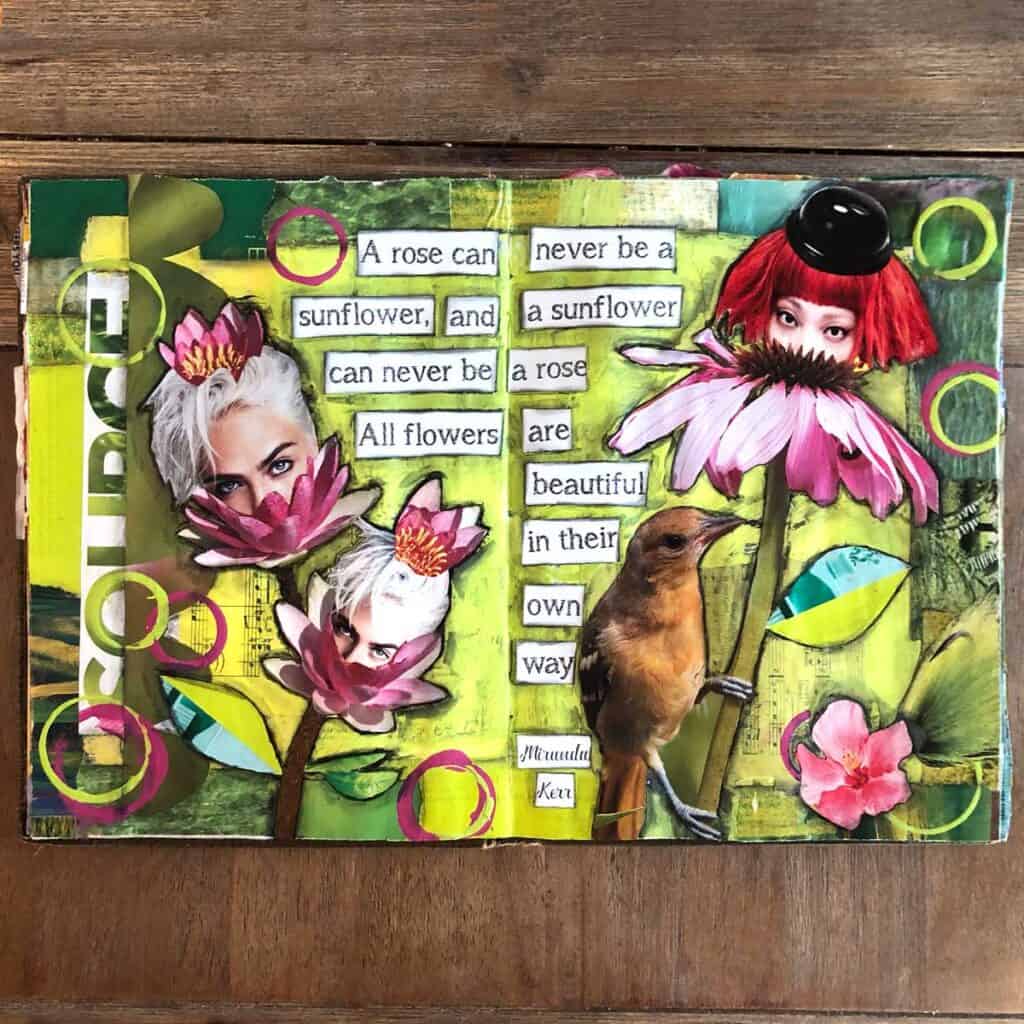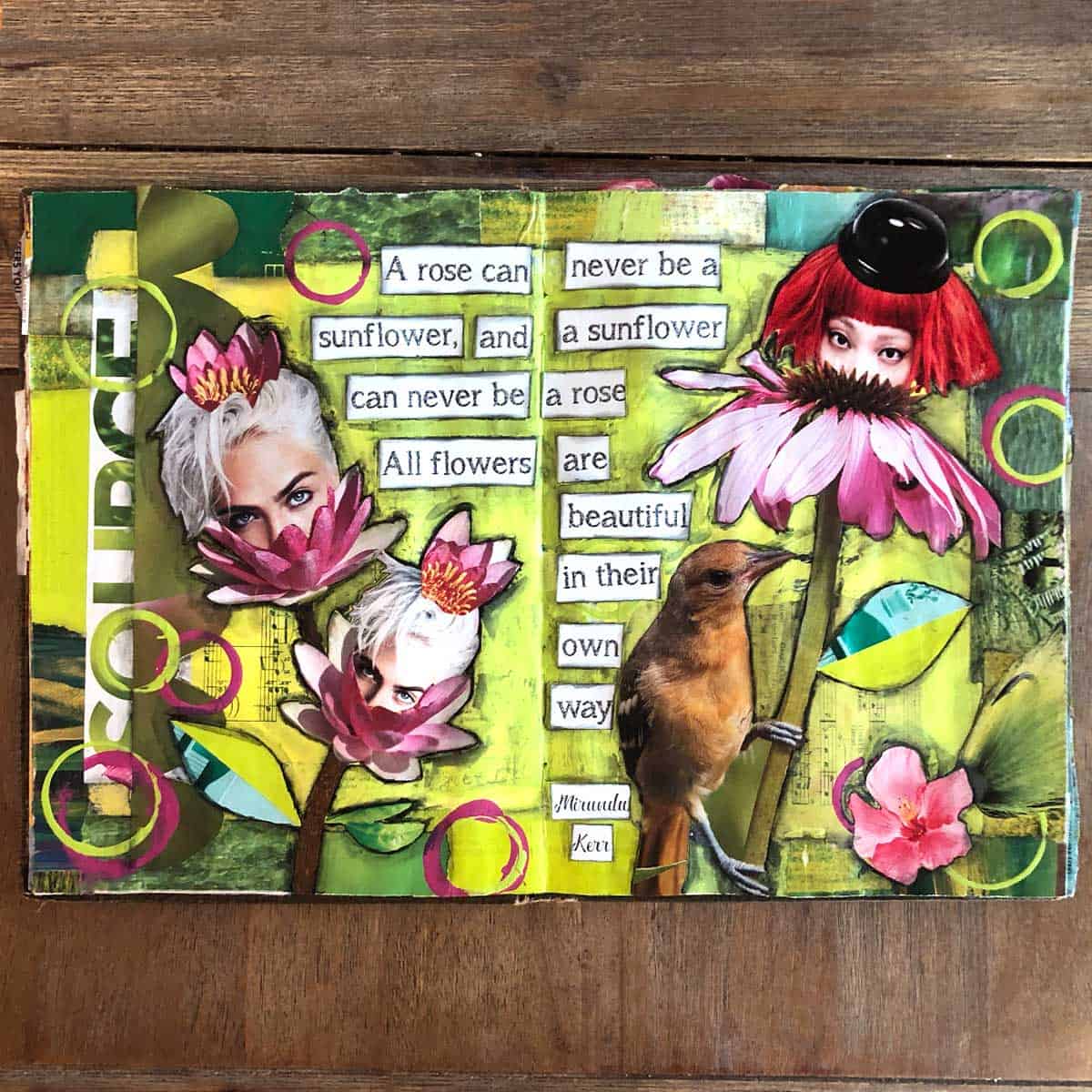 August 26, 2019 – It's Okay To Be A Superstar!
Today's collage is a little love letter to myself, reminding me that it's okay to be a superstar!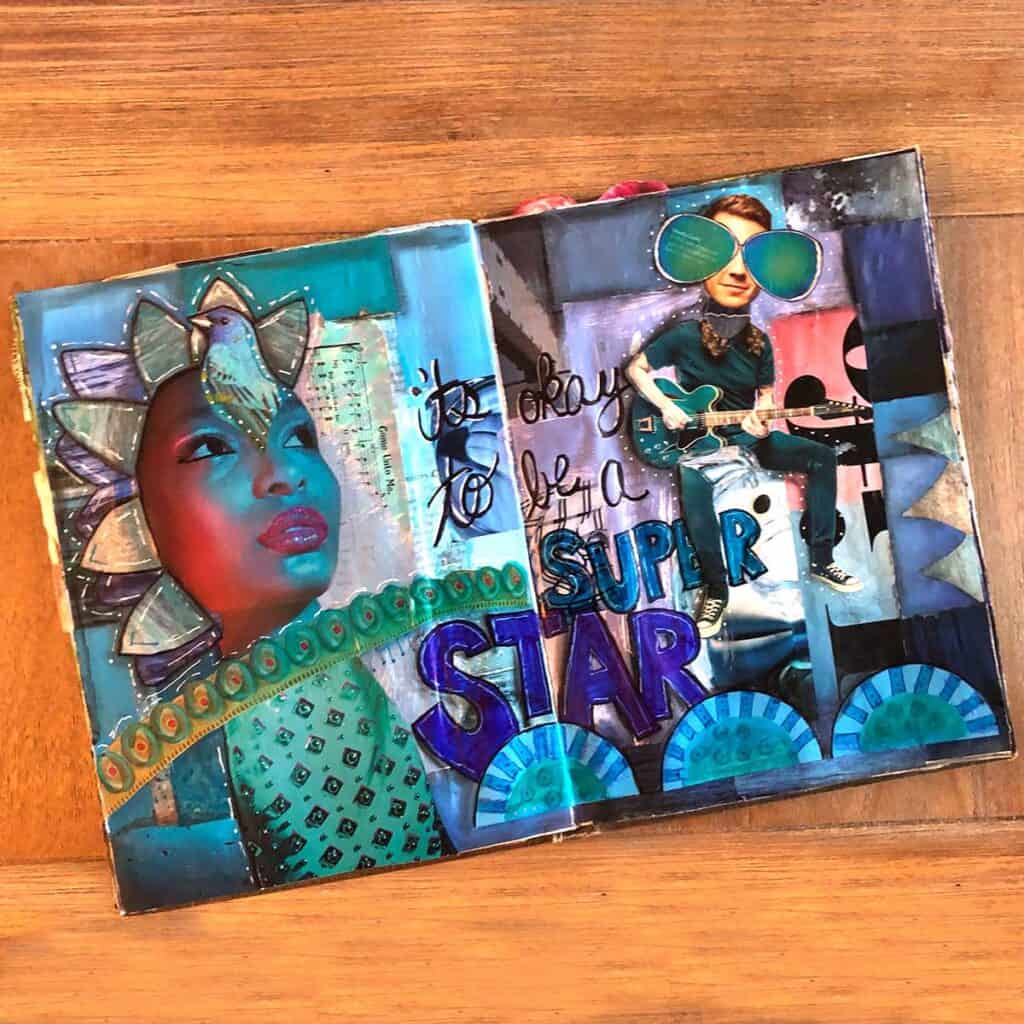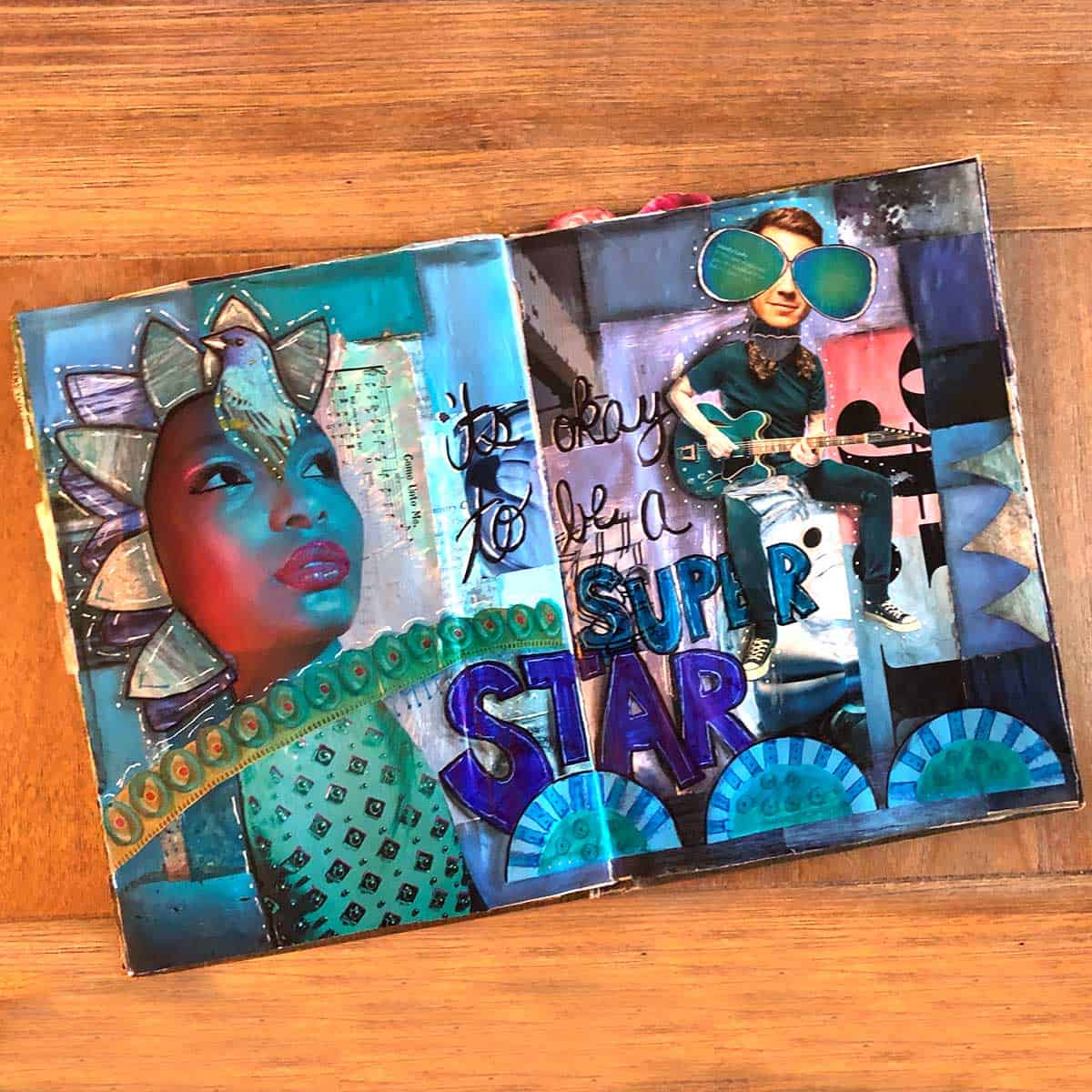 August 24, 2019 – Always Wear Your Cute Shoes When You Try To Fly
Ohhh this is my new favorite! I love how she has her cute little shoes on! I am working on doing fun things with the writing and this one is my first one I did with chisel tip sharpies… made it SO MUCH EASIER!
For this one I wrote a how to do magazine collage post… whoo whoo!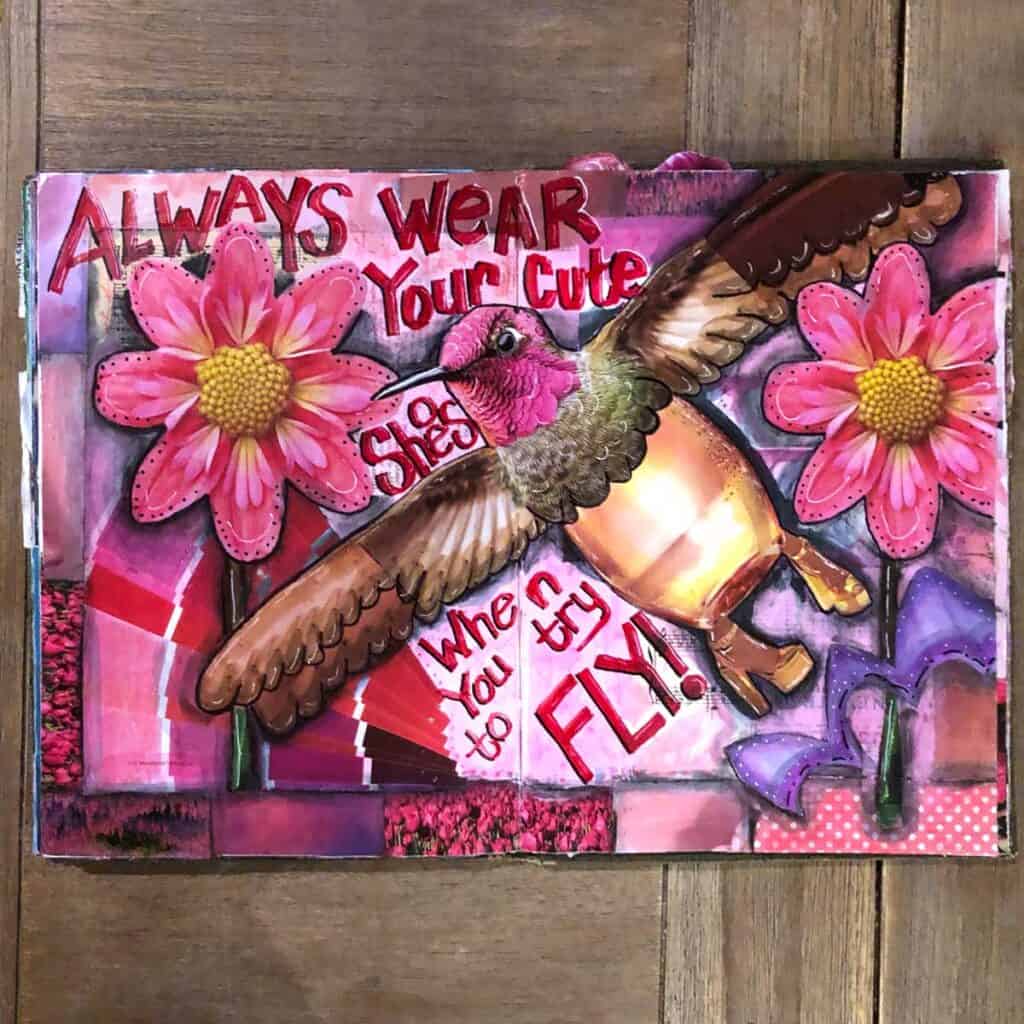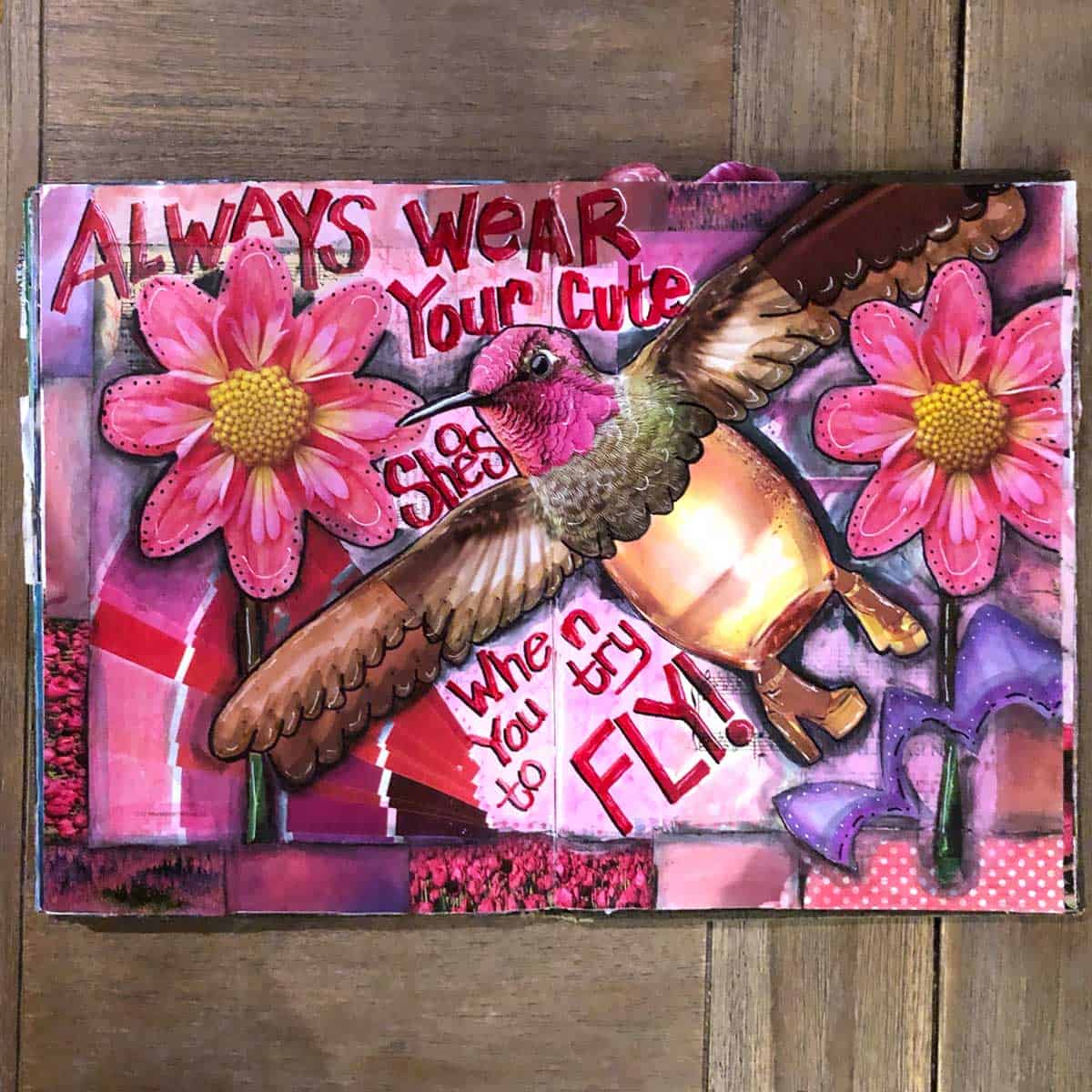 August 22, 2019 – Birds Sing After A Storm
This is the first one that I have written on. In some ways I love it, it is a great orange to yellow page for my rainbow book, but also is a little more busy than I would like to have I think… noted for next time! Birds sing after a storm; why shouldn't people feel as free to delight in whatever sunlight remains to them? Rose Kennedy Quotes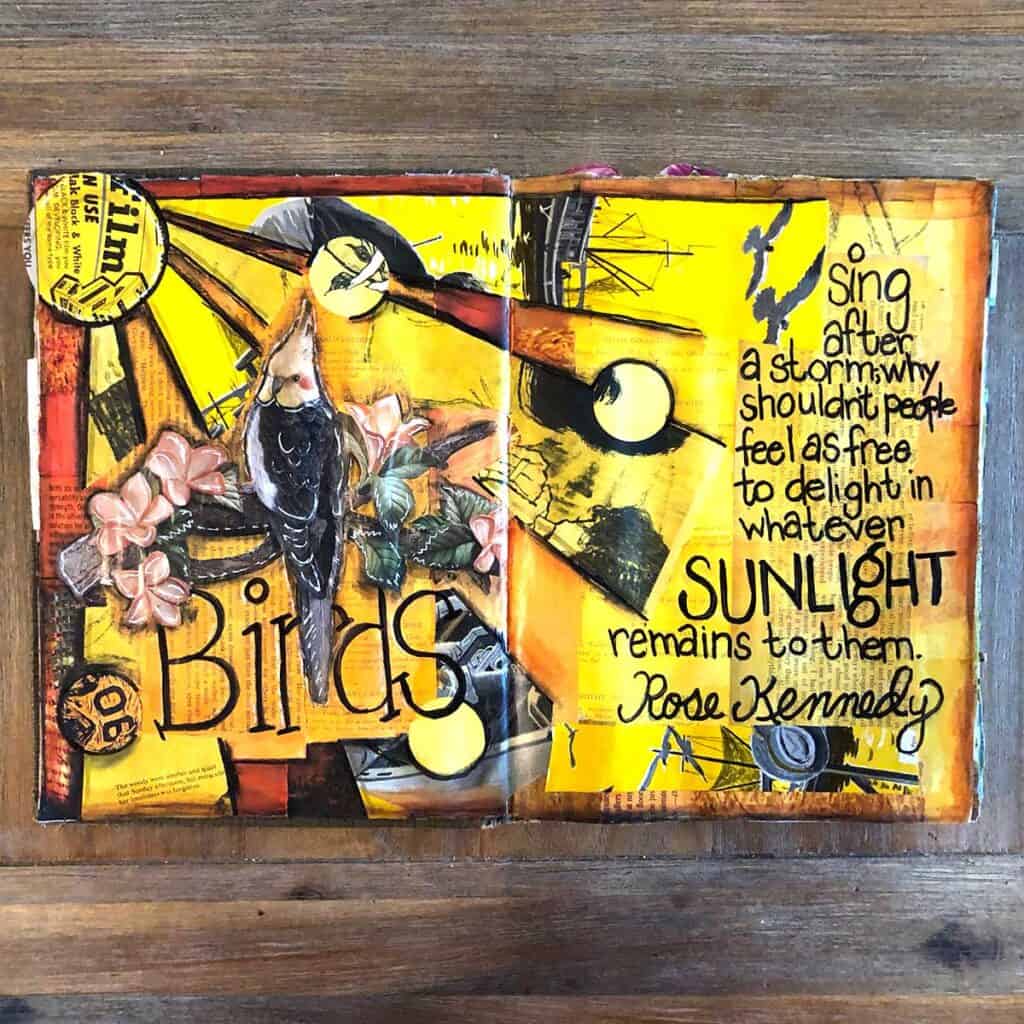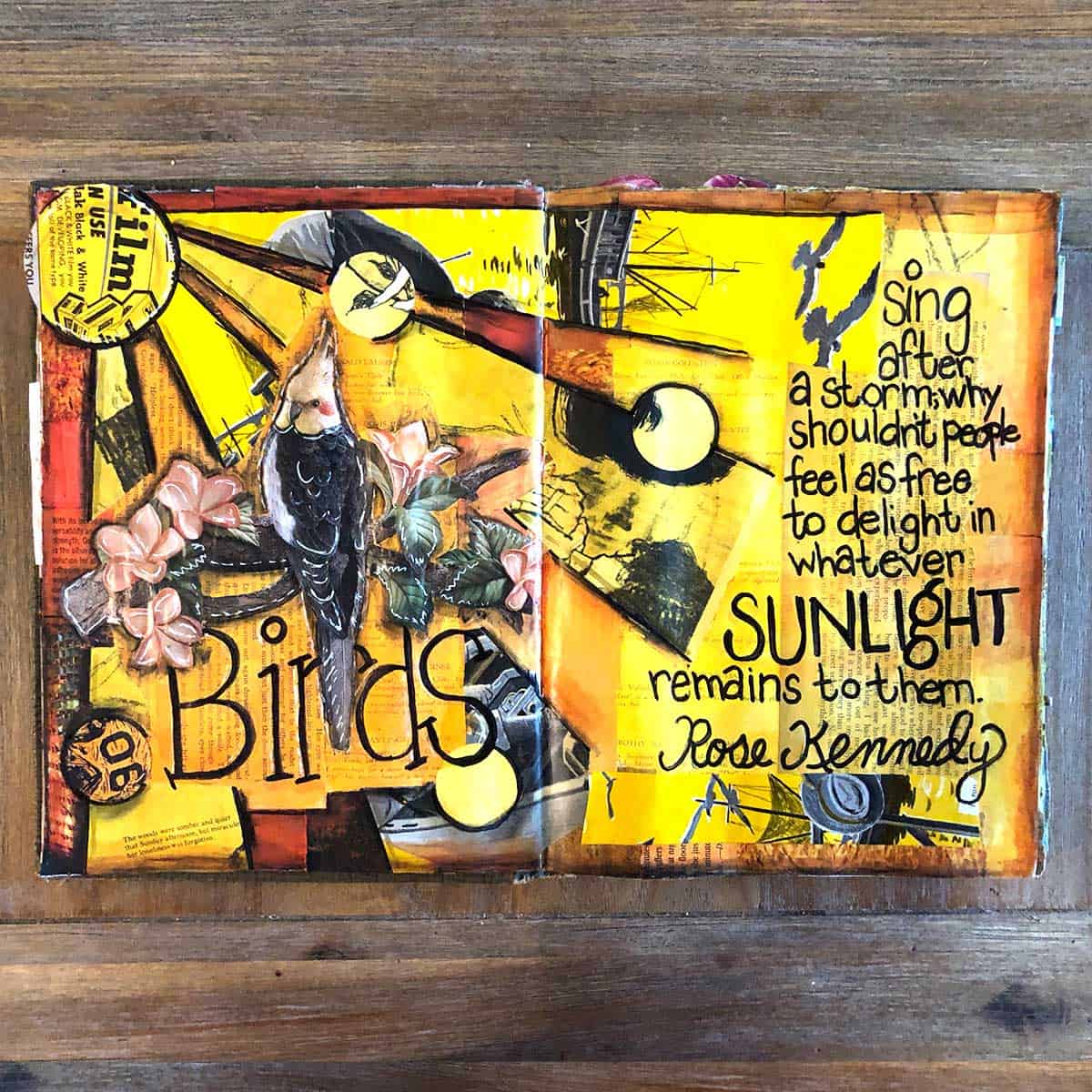 August 21, 2019 – Biggest Beauty Ideas
This one is WAY outside my normal ascetic, very avant garde! I found these big eyes and then had to figure out a way to make them work with a really normal sized face. This is a purple page in my Rainbow book!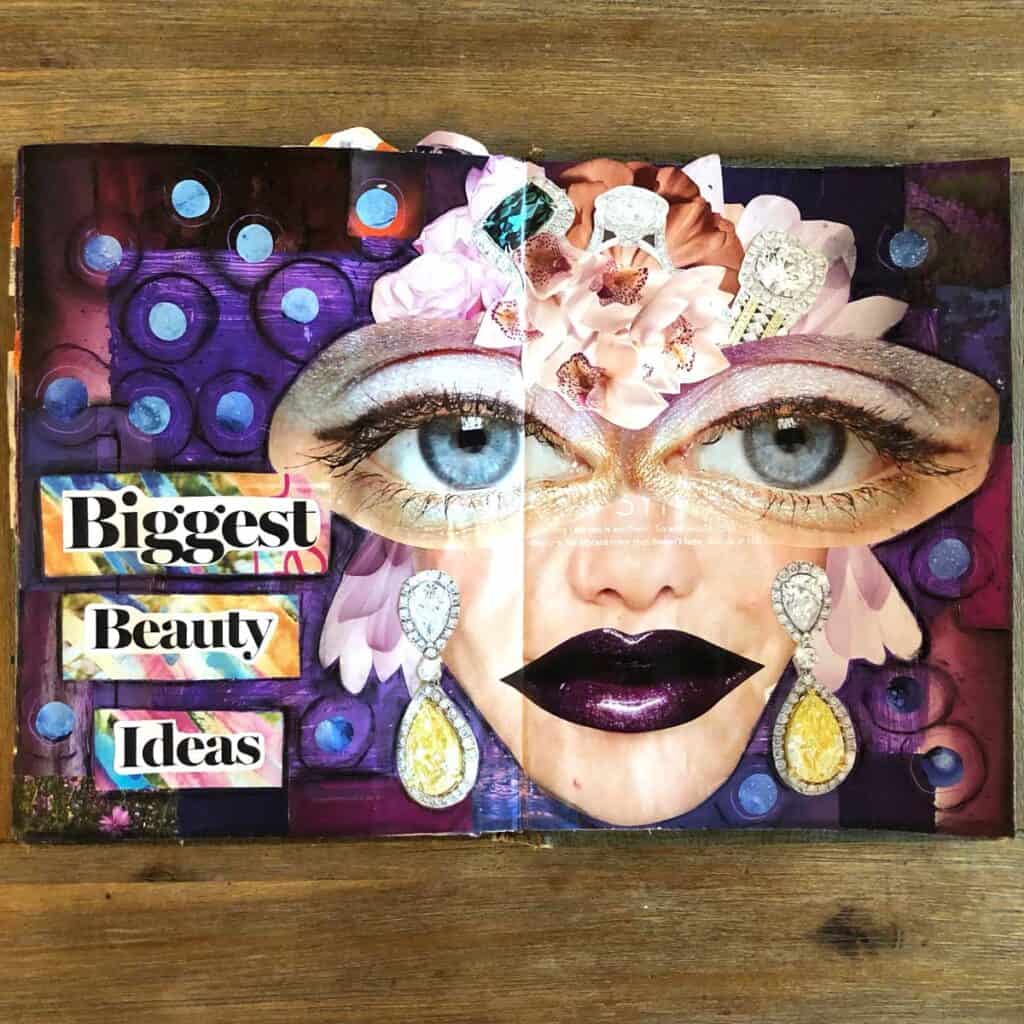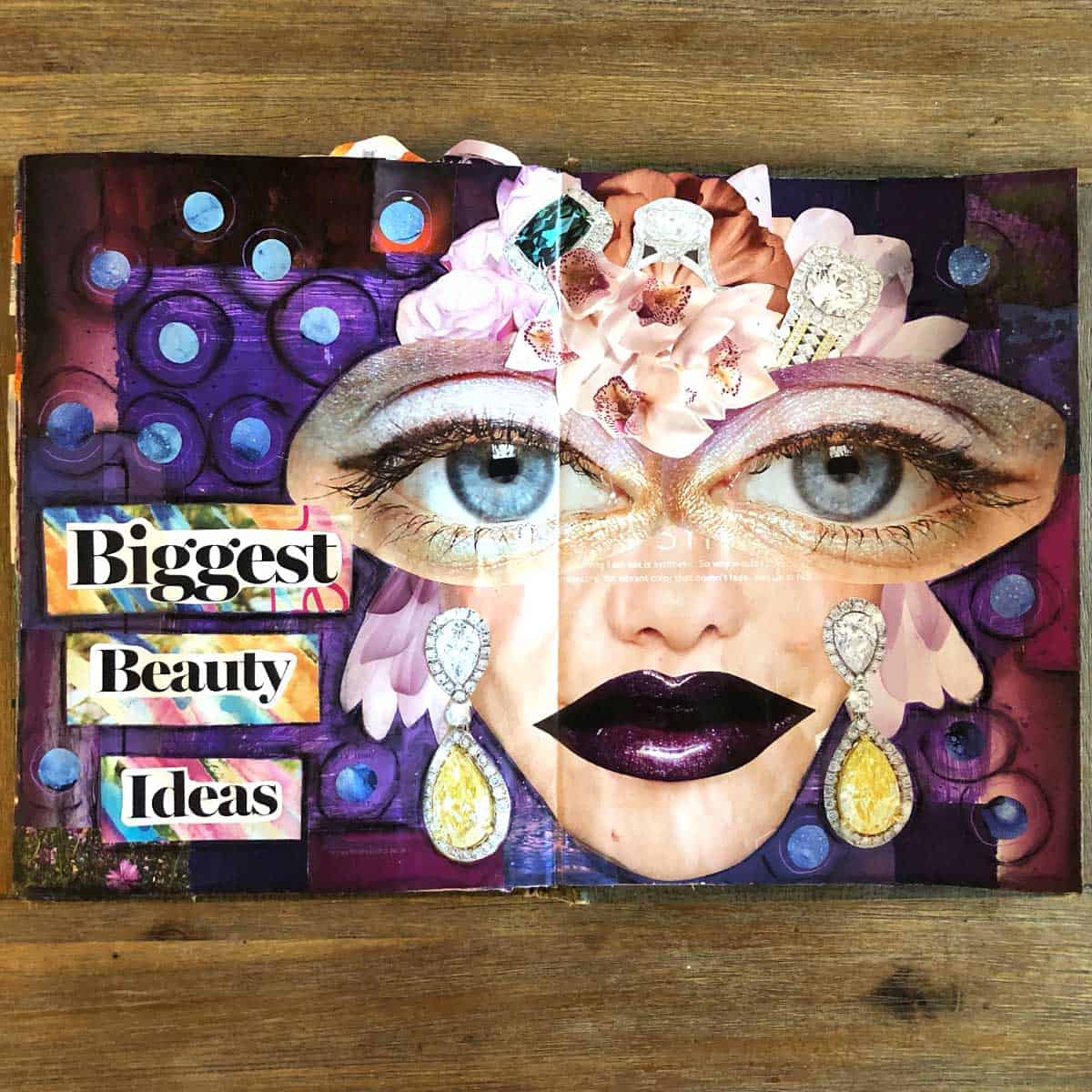 August 20, 2019 – More Than You Could Have Imagined
This is the first layout from my rainbow book. I loved the dress and had to find something fun that would match the whimsey of it! I am pretty obsessed with birds on branches right this second and loved how I could make it look she is holding up those four little guys!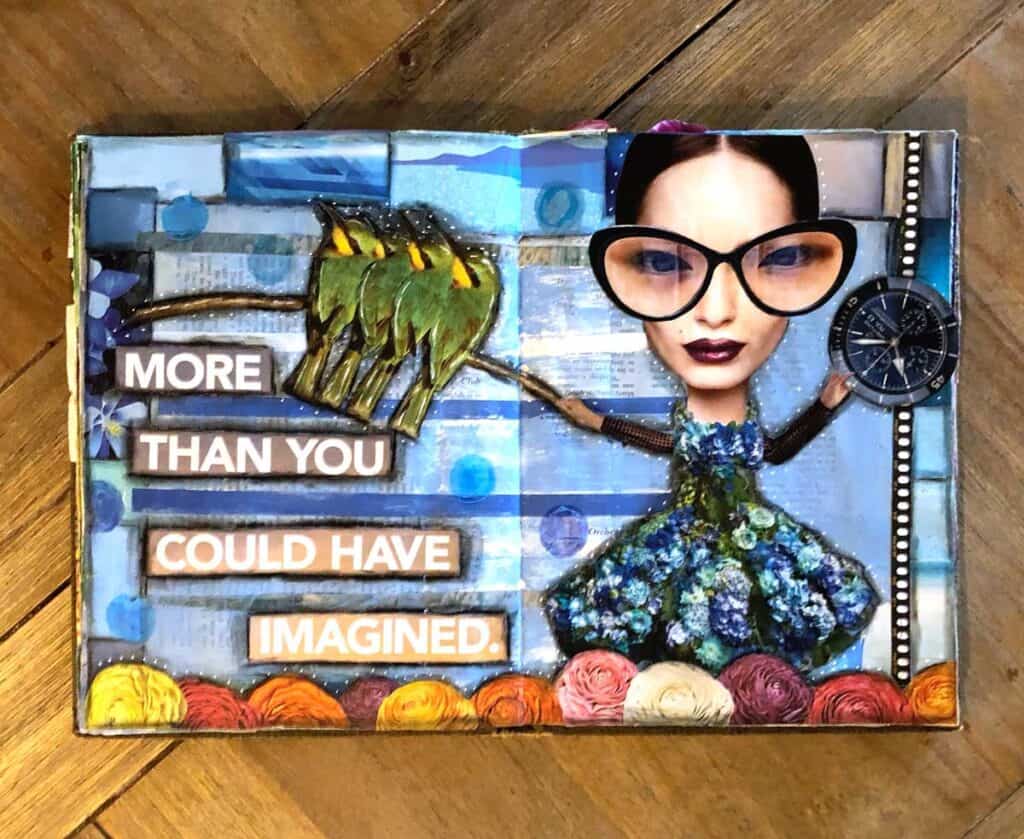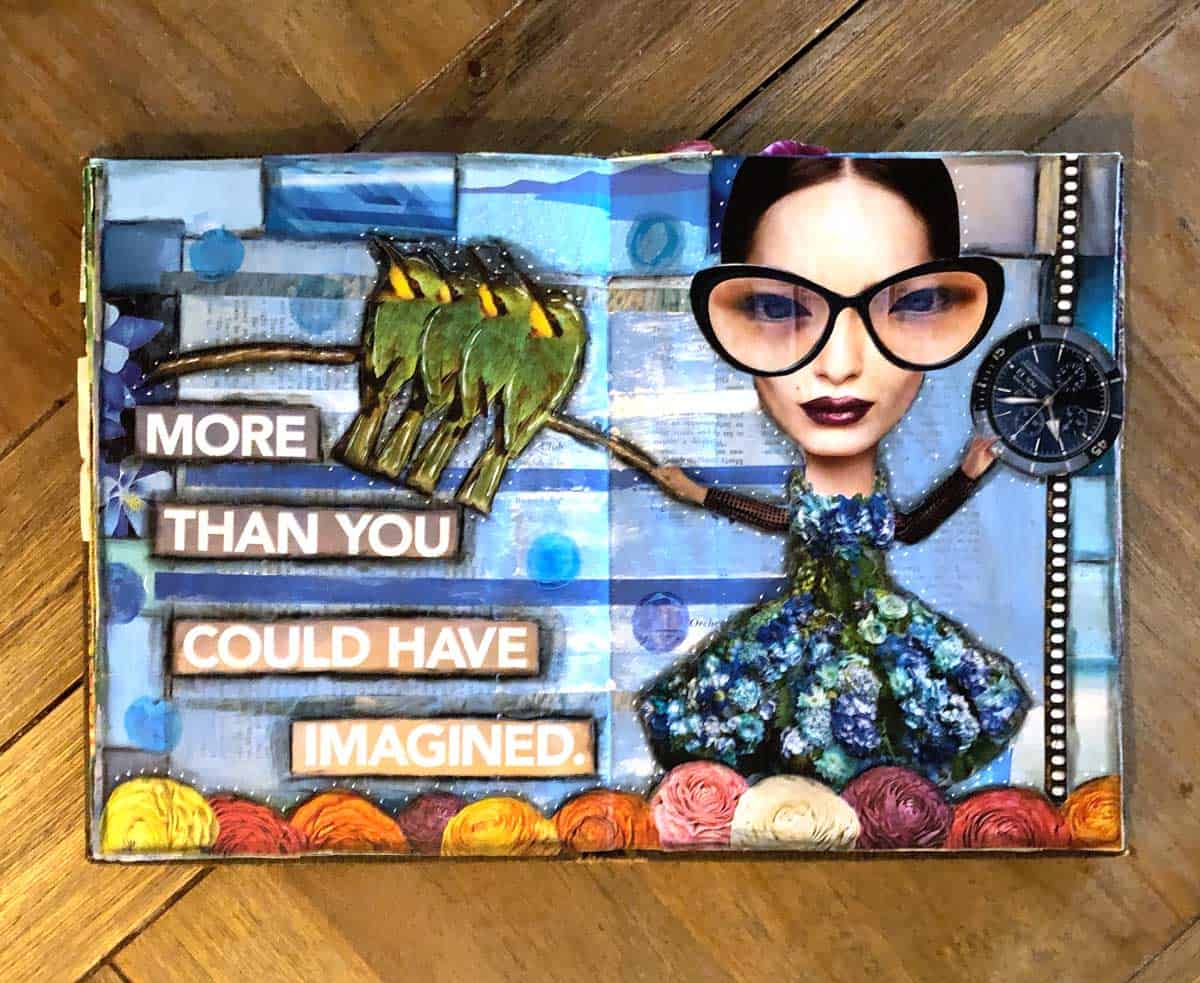 August 13, 2019 – Goals
Ohhh this one was so fun! I wanted to do a goals layout while I was watching a training. I don't have too many goals beyond so many dogs and unlimited craft supplies, but my hubs reminded me he needs a motor home so that went on there too!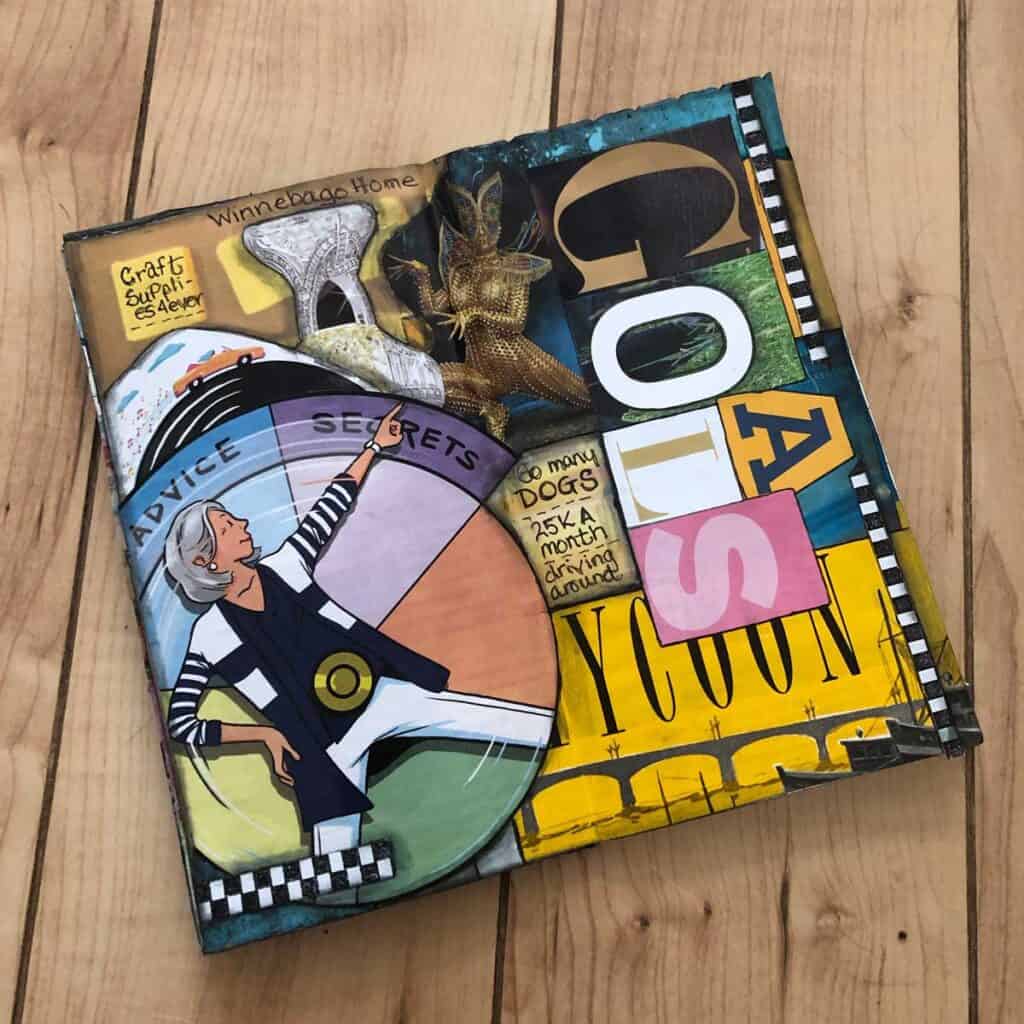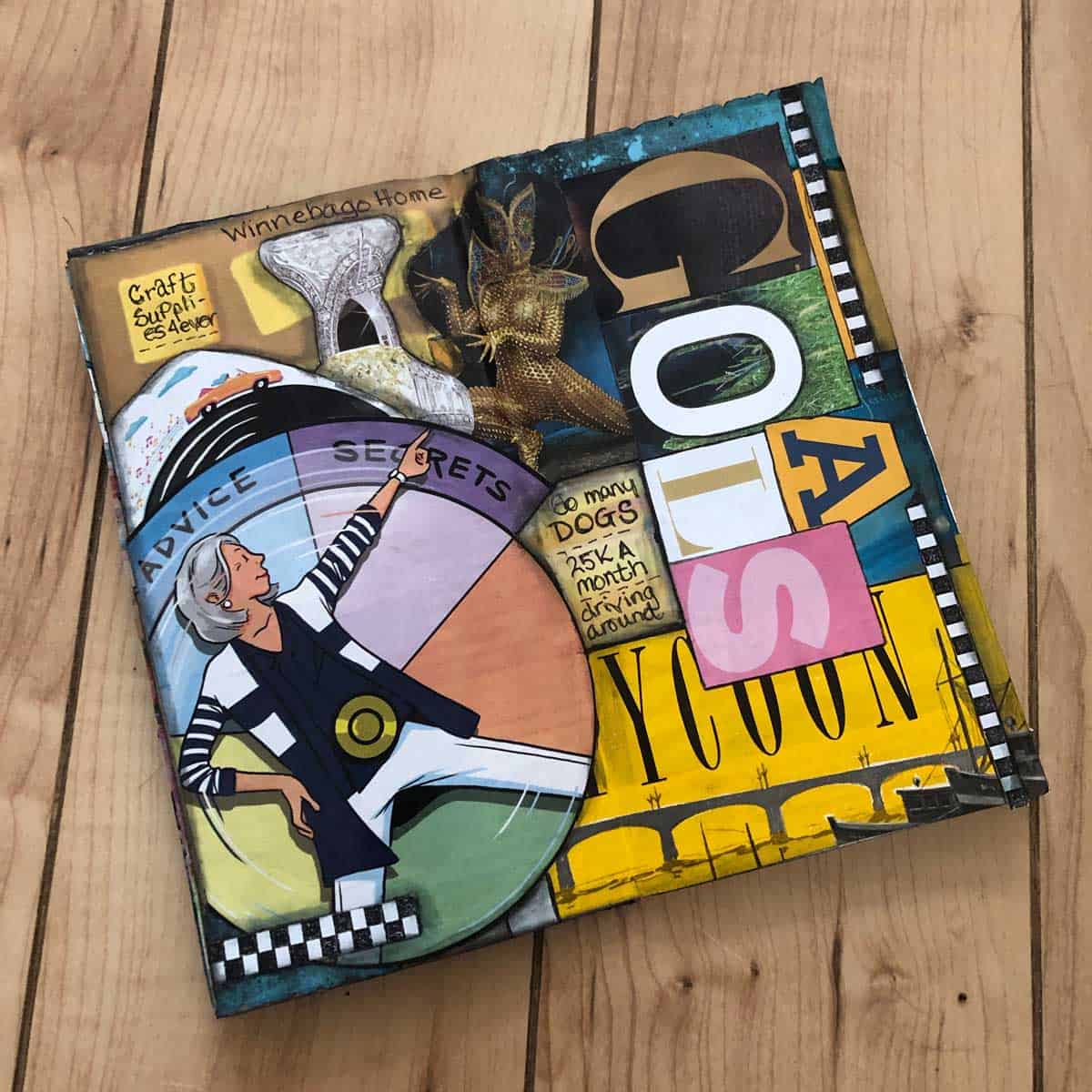 August 11, 2019 – A Try At Happy
Today I wanted to try and make a more colorful, happy page. I think I accomplished that a bit, but it was definitely a challenge. Using bright colors is not my thing.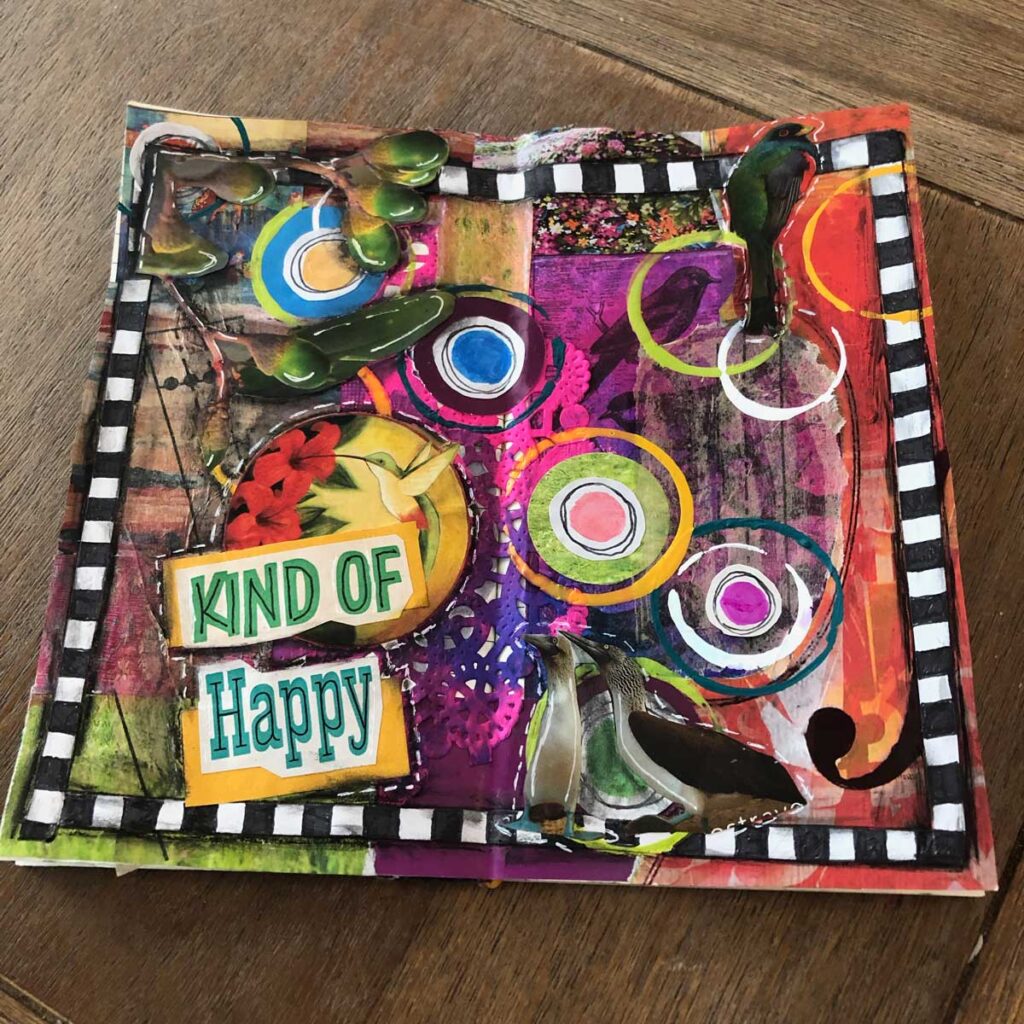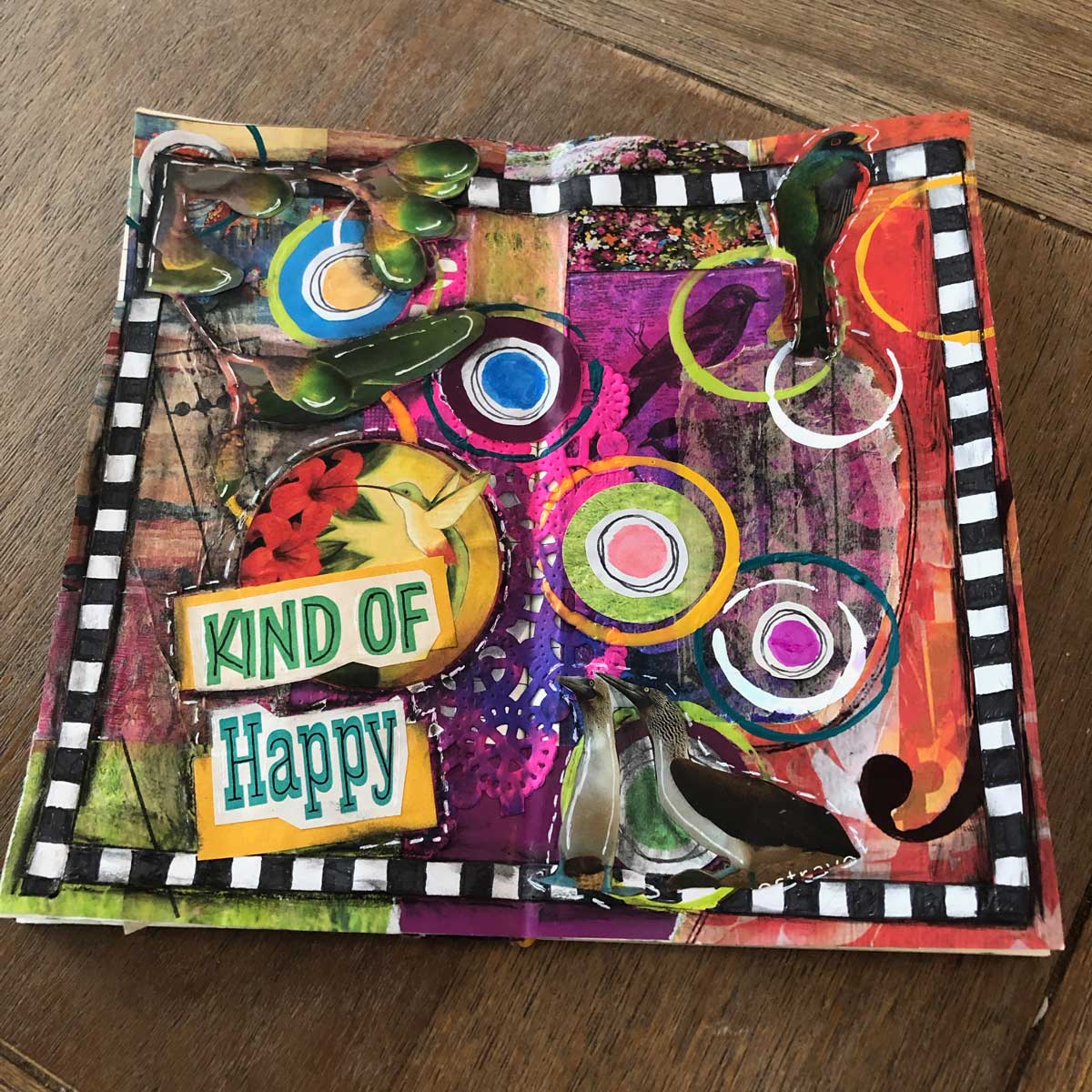 August 10, 2019 – Wahoo Fish
Today's junk journal layout is a one magazine challenge and damn, it was a challenge. I picked my husband's Florida Sportsman that was full of fish and water (lots of blue and green!)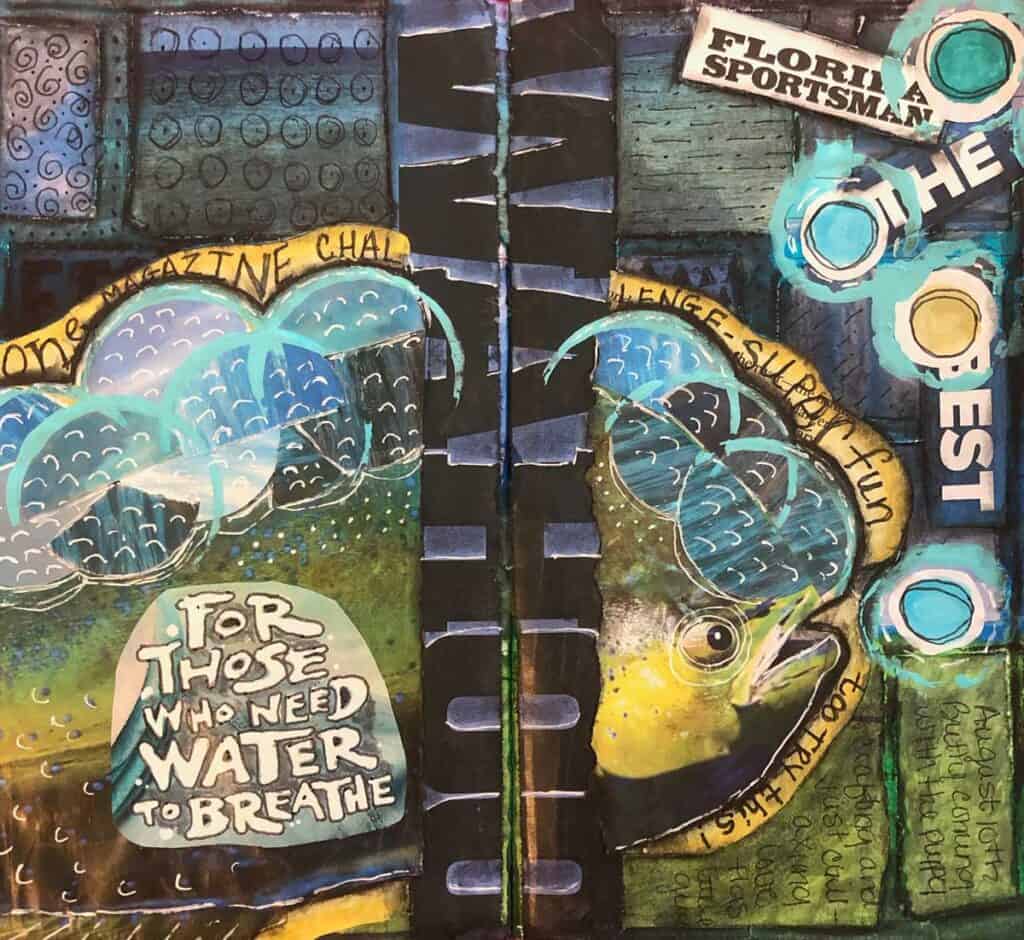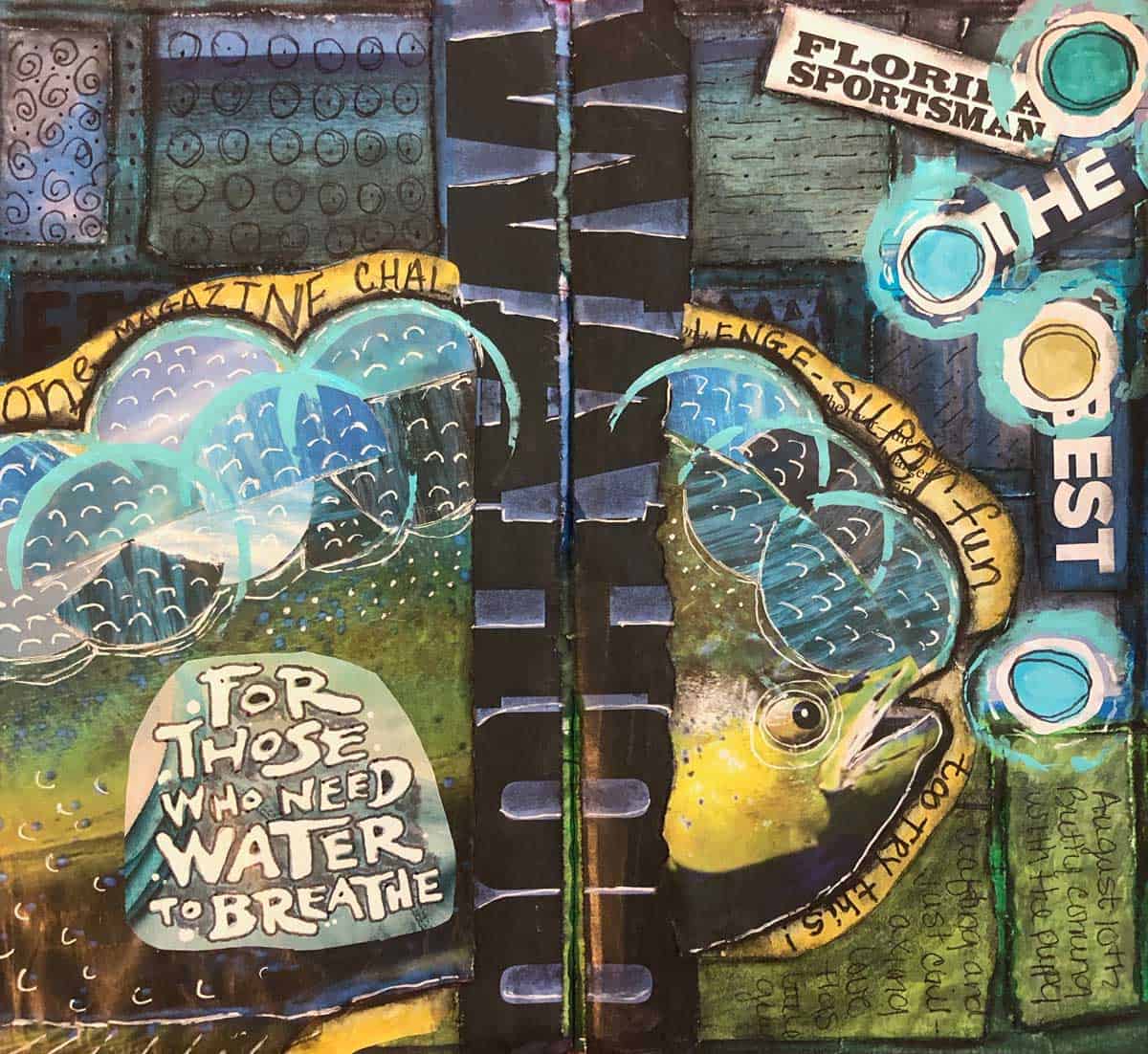 August 9, 2019 – Big Cats, Big Goals
I have been working on my junk journal layouts and today's came out pretty darn good. Big cats, tigers, lions and kitties. August 9,2019. Big cats, big goals. Magazine stouts, Stabilo and white pen.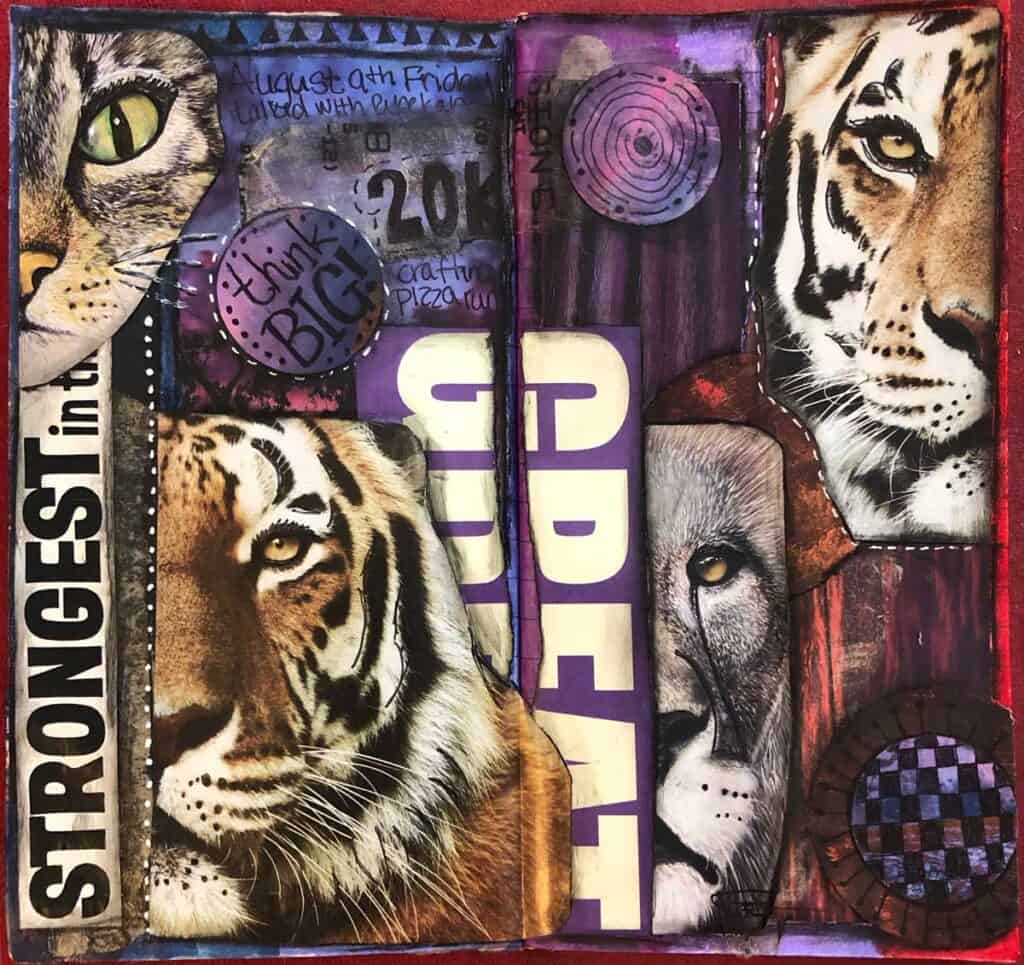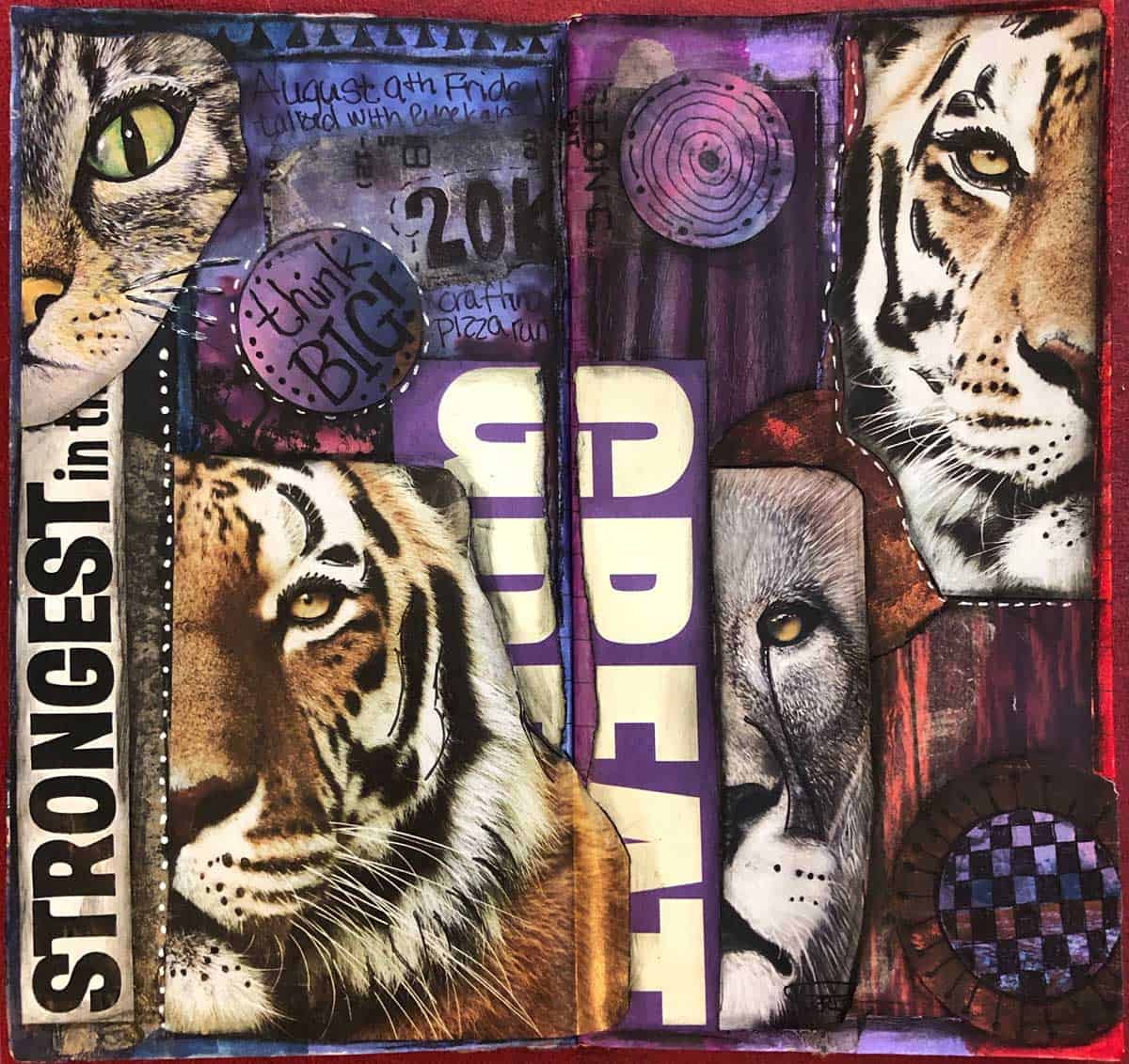 Creating Daily Mixed Media Journal Pages
I have always known that I am creative, but before diving head first into creative journalling and mixed media, I never thought I could ever be an "artist".
That just seemed like something that other, "special" people could do and I wasn't THAT creative or special.
But then I decided to be brave. To start "trying" to make layouts and testing things that I liked and didn't like. (there were some amazingly sad layouts when I started!)
But being over age 50 has given me a little perspective.
So what if I am bad at something? At least I am trying! And while my first ones were sad and boring, I feel like they keep getting better and better as I continue to do them.
If you are thinking about how to start a journal, do it! Think less about having to be a mixed media artist and more about just having fun doing art journaling.
What Is A Daily Art Practice?
Having been around the block for a minute, I know that some people will notice that my "daily" is really every few days, sometimes every day and sometimes a few a month.
But the goal is daily!
And when I am not doing a visual journal layout I am making backgrounds or sourcing pictures or doing some fussy cutting (or even just looking at other artwork for inspiration!)
Setting a goal for daily art and doing ANYTHING means that I have achieved something just for me in my life!
Products I Use In My Mixed Media
Magazines – I get most of my magazines from Ebay
. I try not to spend more than $1 each including shipping. You can do this by search for a "magazines lot".
Vintage Book Pages and Music – I sell packs of vintage book pages in my vintage Etsy store. I love using them as backgrounds for my work! Also the old book pages are sturdier and absorb more color than the new magazine images I use and so add depth to my work!
Acrylic Paint and Gel Medium – To get the translucent backgrounds with cheap Michaels acrylic paint, you need to use a gel medium to make it less opaque.
White Pen – Okay, having watched SO MANY YouTube videos about the perfect white pen, I have finally decided that the Ranger Inessentials is the best for making white dots.
Stabilo Pencil – To make the darker shadows around the edges and feature images I use a Stabilo-All Pencil 8046. It works over any kind of art material and is a little "smeary" and blendable.
Inspiration
No one does anything by themselves and I want shout out some people that I have followed for a while and who were inspirational to my work!
Lorri Marie Jenkins…. Her YouTube channel is a trove of great information about doing mixed media!
Dyan Reaveley…. My own personal goddess of art. I love her freedom of life and just think that she is so darn cool! PLUS she is British and in a past life I think I was British too!
Wally McQuire… My father-in-law who has always been a professional artist and who encouraged thousands of children to believe that they could make art too!
Teesha Moore… Who makes such fun, creative art pieces!