I took a class about how to make accordion books this weekend and I love how this came out both colorful AND steampunk cool! I used a bunch of Ranger Ink products as well as vintage papers and ephemera.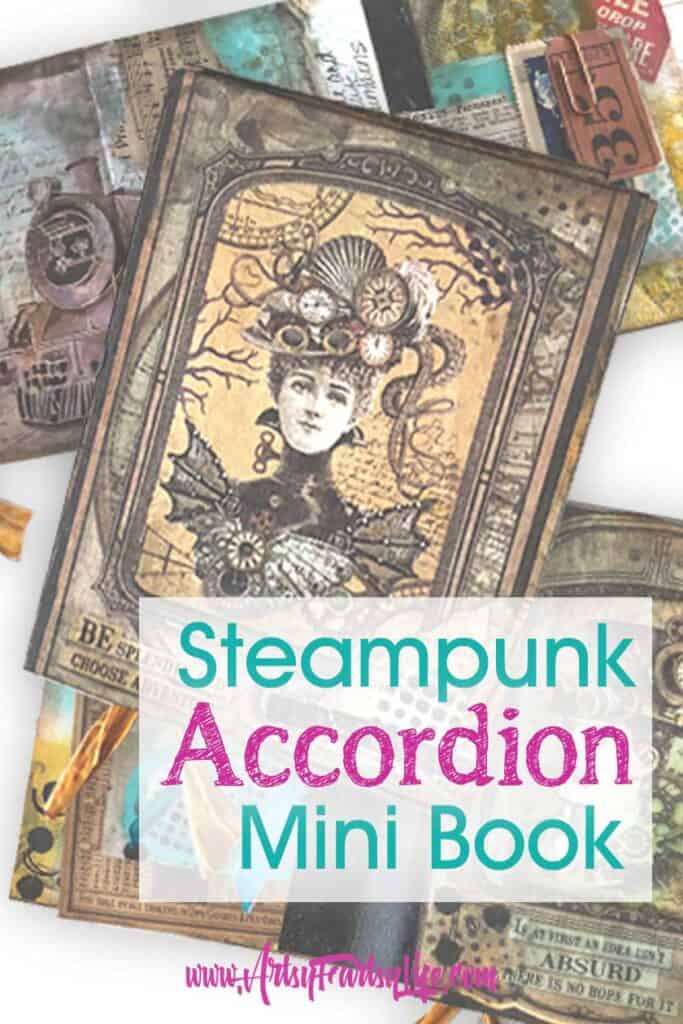 Please note: This article contains affiliate links, and that means that I may earn a commission if you buy something. Read my full disclosure here.
Making The Accordion Book
Okay, this was a 2 hour class so I can't go into all the details, but functionally it was two hard covers, a tag to make the "spine" and then an accordion binding using folds and sticking 3 pages to the "west side of the mountains"… so darn fun!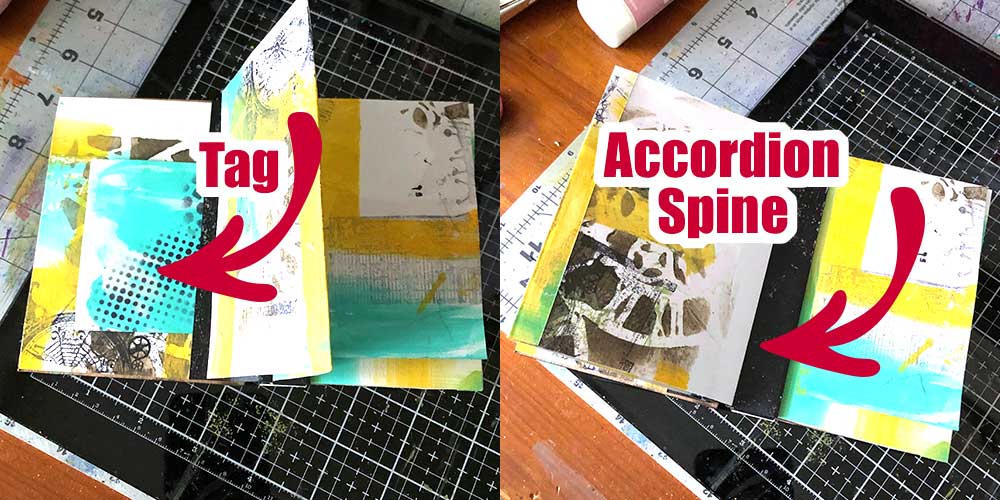 In the class we did the structure of the book and then the first couple of layers using stamping tissue paper and acrylic paint (you don't need any kind of fancy supplies, mostly just cardboard or media board, paint and paper.
Dina Wakley Media Board Mixed Pack

Dina Wakley Media Acrylic Paint 1oz Bottle – Umber

Decorating The Accordion Book
Okay, once you have the fun stuff done, you can start decorating it and adding all kinds of gizmos and gadgets!
To start I picked out a really cool piece of Voyages rice paper that I got at Ninny's Napkins.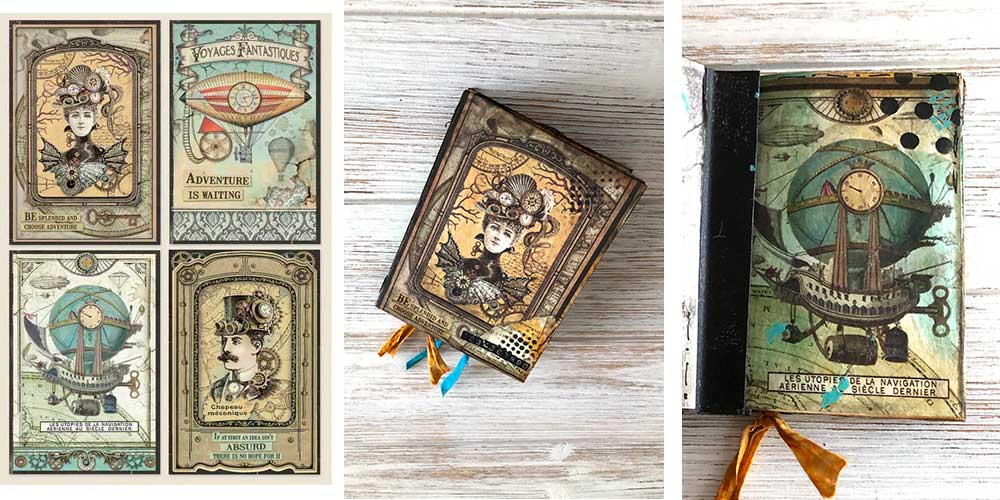 The nice thing about these is that you can start with something really cute and then add your own special touches to it!
I also added a whole bunch of "flippy out" pages that made it even more interactive! Here are the "balloon page" and the "train page".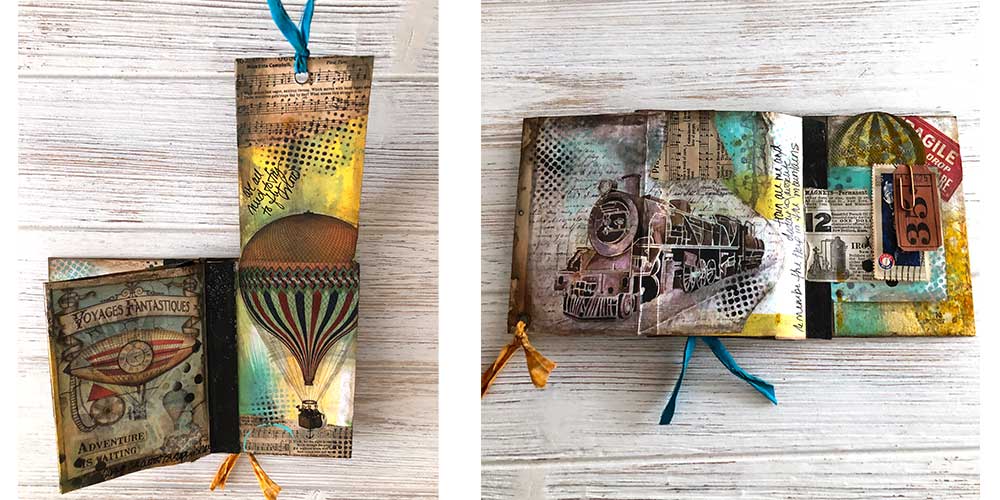 Additional resource :: How To Make Flip Out Pages
The last really cool page was where I cut out the frame of the vintage man and made that a page to open!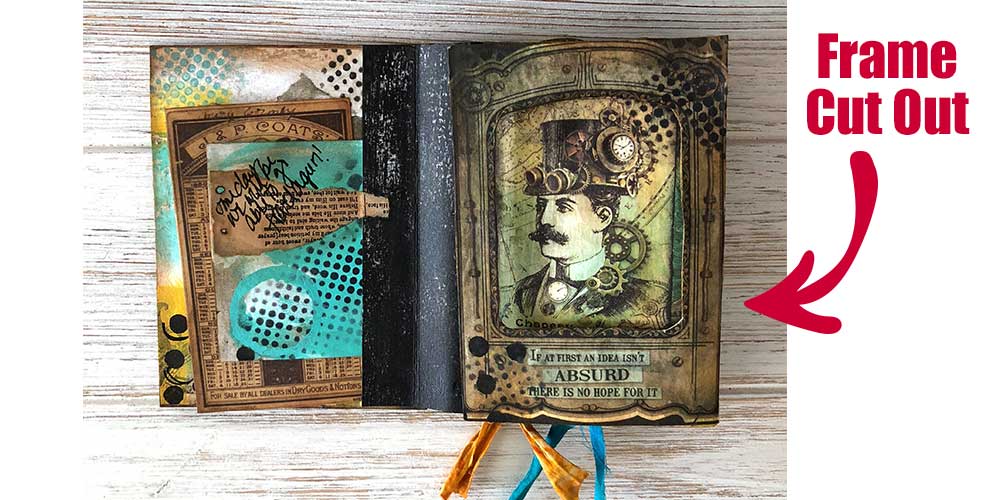 I used my super sharp Tim Holtz Mini Snips scissors (they are great for "fussy cutting" out things like this!
Adding Extra Bits!
One of the things that makes this a little bit more fun are the grommets (holes) and paper clips I used to hook the ephemera onto the front and back tags.
Steampunk Accordion Book Wrapup
I have to say that I LOVED taking this class and having a little book to fancy up! The cool thing is you can make this kind of book any size and you can put your own artwork into it instead of using tissue paper or stamps!