Tips and ideas for how to make a super cute desktop organizer that will let you organize your craft supplies the easy way! Great for your craft room or office work desk. The best wooden organizer with drawers and shelves for all your bits and bobs!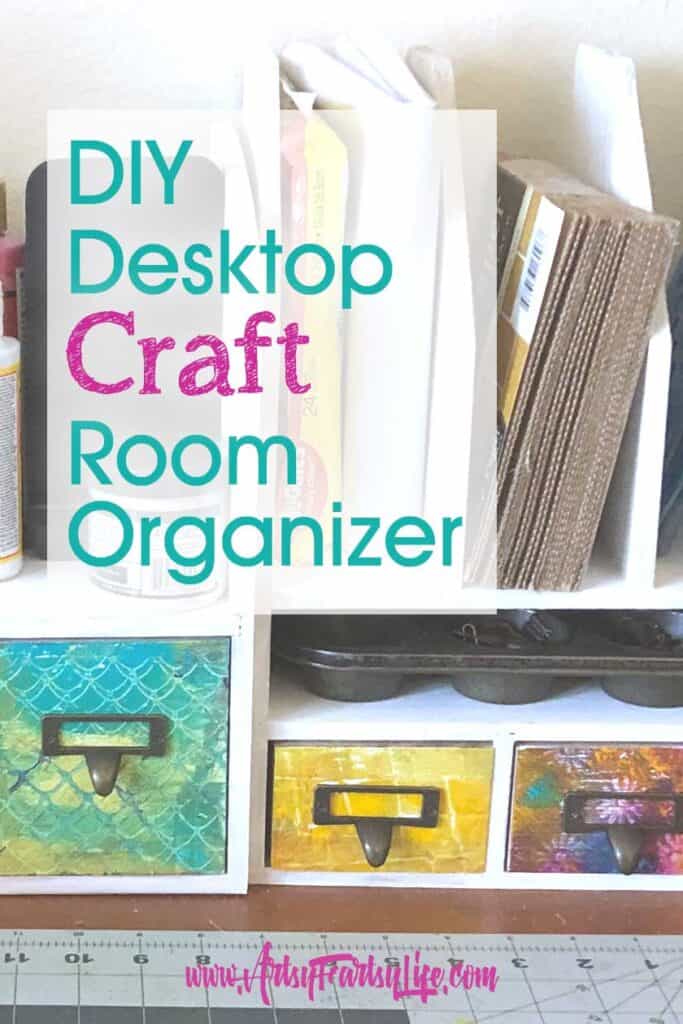 please note :: as an Amazon associate I earn from qualifying purchases, read my full disclosure policy here
My Messy Desk
Okay, no one likes to show their messy desk on the internet, but I wanted to give you a peek so you could see what I was working with! I had a really good small drawer organizer, but honestly the rest of it was just a huge mess that didn't work well at all!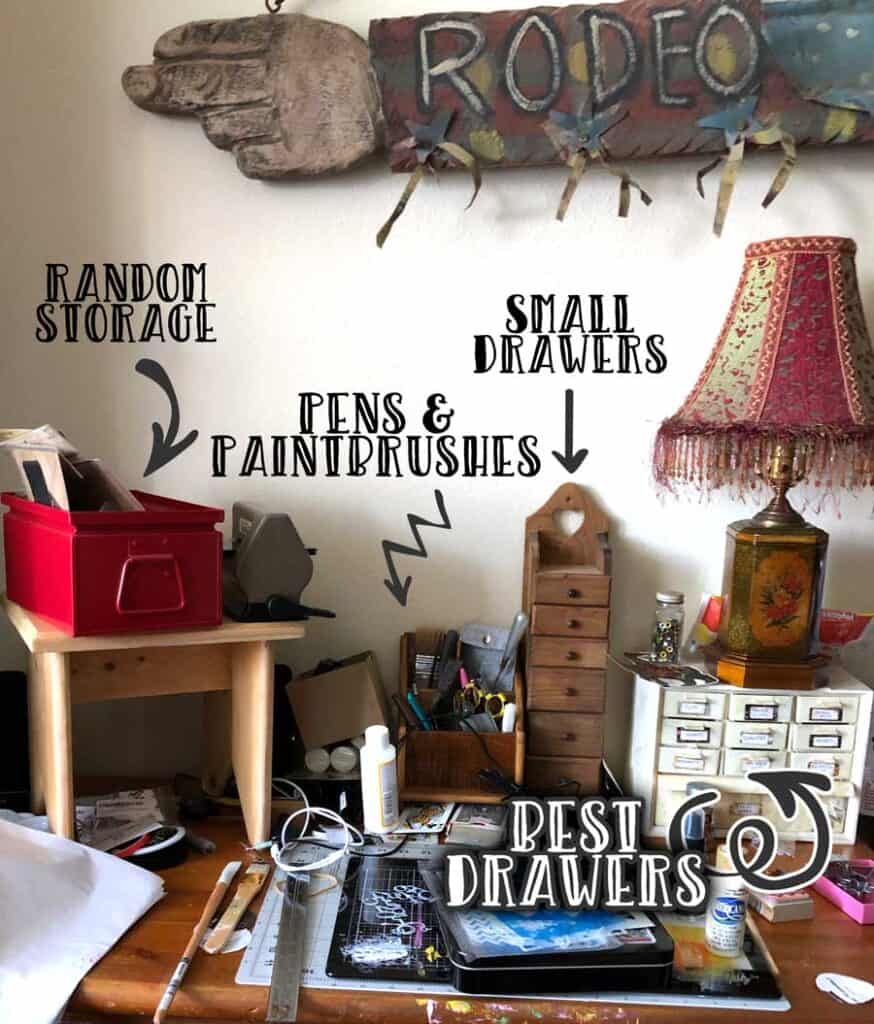 And the problem with having a messy desk that didn't work is that I never wanted to be in there doing any crafting or journaling. It was just icky to have to start by digging out a tiny bit of space at the front before I could get started.
So I started scouring the internet for the perfect desk organizer!
I had some requirements from having failed at this before in the past…
It HAD to be a whole unit, not just a bunch of different pieces thrown together
It HAD to have a lot of different sections so I could sort my stuff out
I wanted a place to keep things out in the open because I am so visual
BUT I didn't want to have to look at my mess all of the time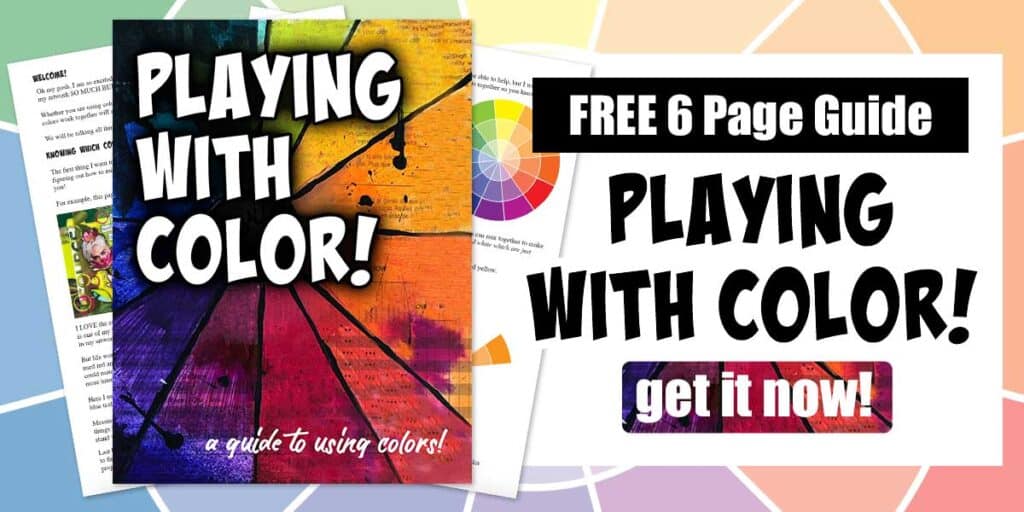 Whew, that was a lot for one little desk organizer to live up to… and then I wanted it to be pretty (but I knew I could DIY it to look how I wanted with the gel plate painting technique!)
How To Organize Your Craft Room Desk
I went on the interwebs and SEARCHED A LOT, finally coming to find the Ikee desk organizer system. They have all kinds of different parts, but I got the expandable section and the file mail sorter because they were similar depths (7 1/4″ deep in total).
Large Adjustable Wooden Desktop Organizer

Wooden Desk Organizer File/Mail Sorter

I love the little drawer handles and that there are LOTS of tuck spots here and there for different things!
These are the other two units I considered…
Wooden Desktop Drawers & Craft Supplies Storage Cabinet

Wooden Desk Organizer

I LOVE the one with all the little desk drawers, but I didn't like that it was 5 1/2″ deep instead of lining up the main organizer. (That said, I just may have to get it soon… I am still pining for it!)
They came all put together in the box and I set them right up on my desk to see how I wanted to arrange them!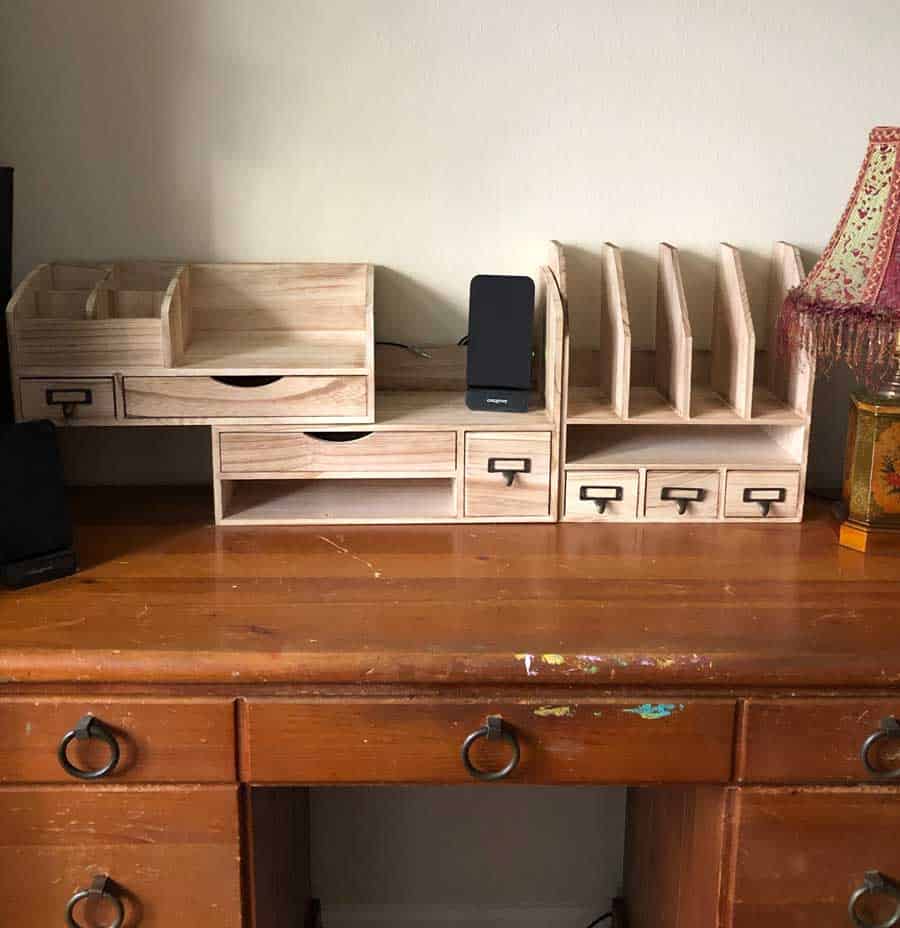 The cool thing about this system is that you can pull the left part apart as wide as you have room for. You can make a letter tray, turn it and make it a corner unit and use the end ones as magazine holders! SO DARN VERSATILE!
But I knew I wanted to make it prettier!
I got this particular one because it did look great with just the wood but I always knew I was going to color up the fronts of drawers. Luckily the handles were super easy to screw off so I could have the flat fronts!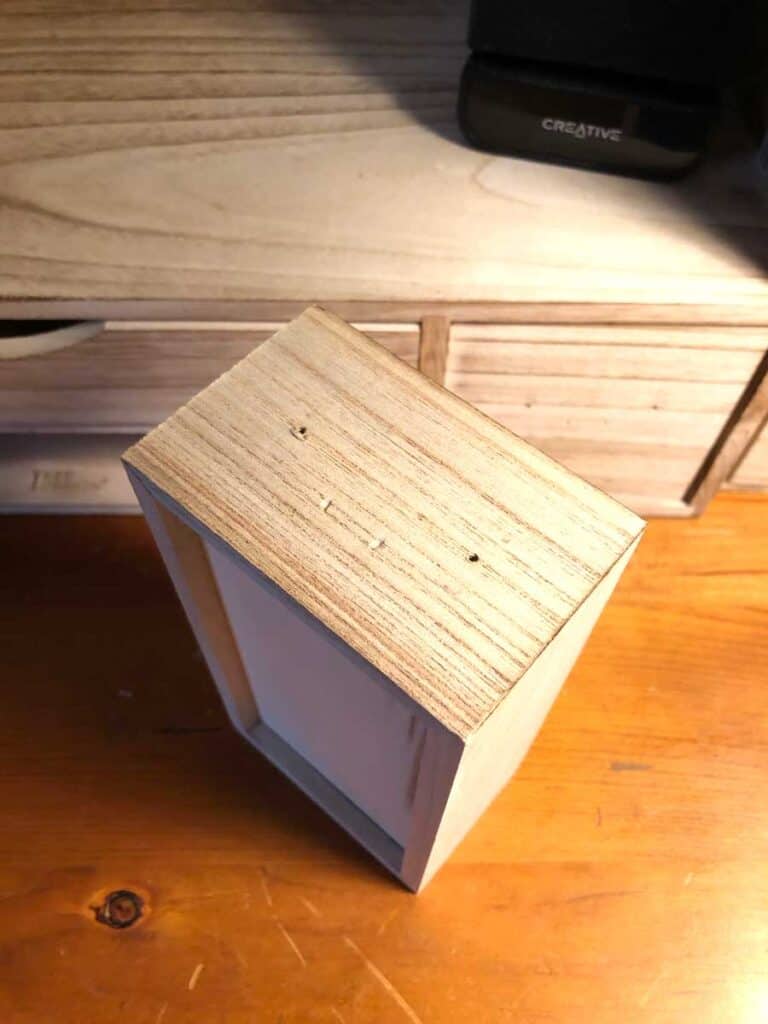 Once I did that I went through and painted the whole thing with white chalk paint which doesn't need a primer and gives that "battered" look.
I also thought about staining it or pickling it white, but I already had this paint on hand so that is what happened!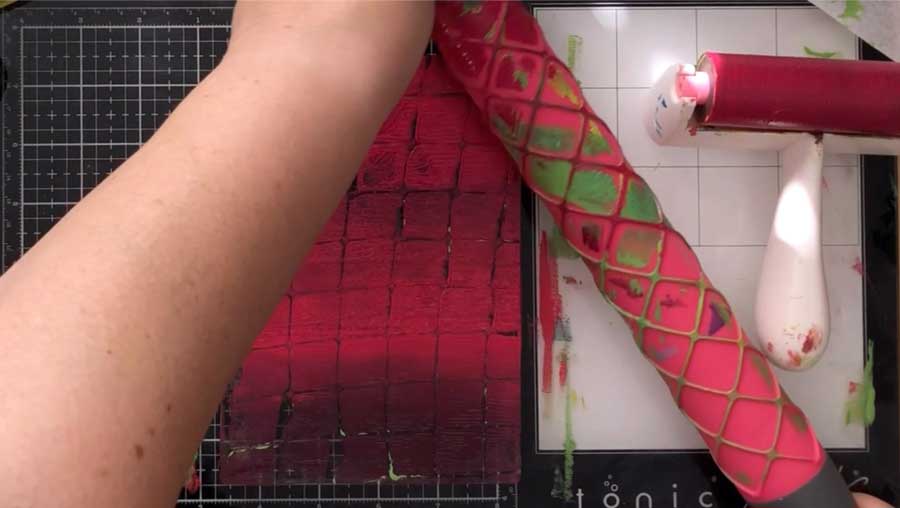 Lastly I used a gel plate to make the textures you see on the drawer fronts. For sure you could just paint them a solid color, but I like the mix of all the colors and brightness!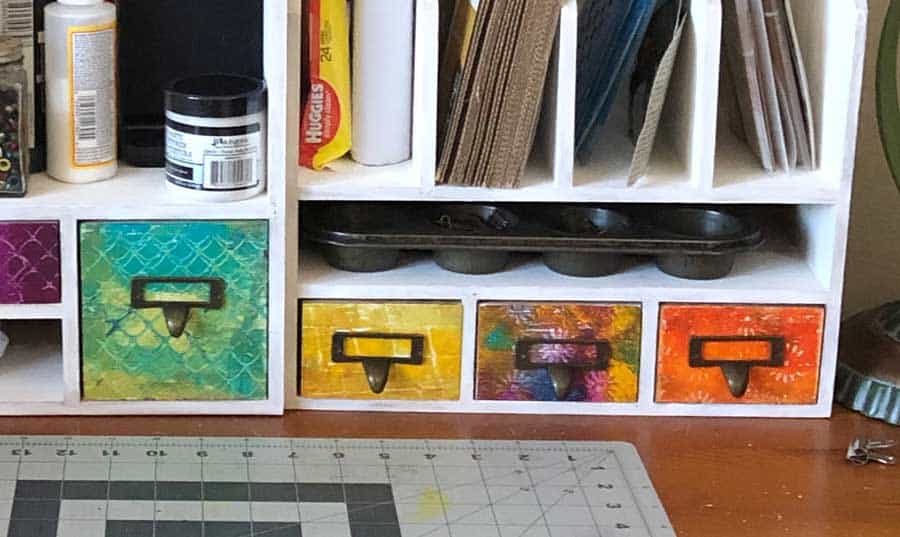 Additional Resource : How To Make Decorative Storage Boxes Using Gel Press Plates
And the final desktop craft storage unit…. I am in LOVE SWOOOOON!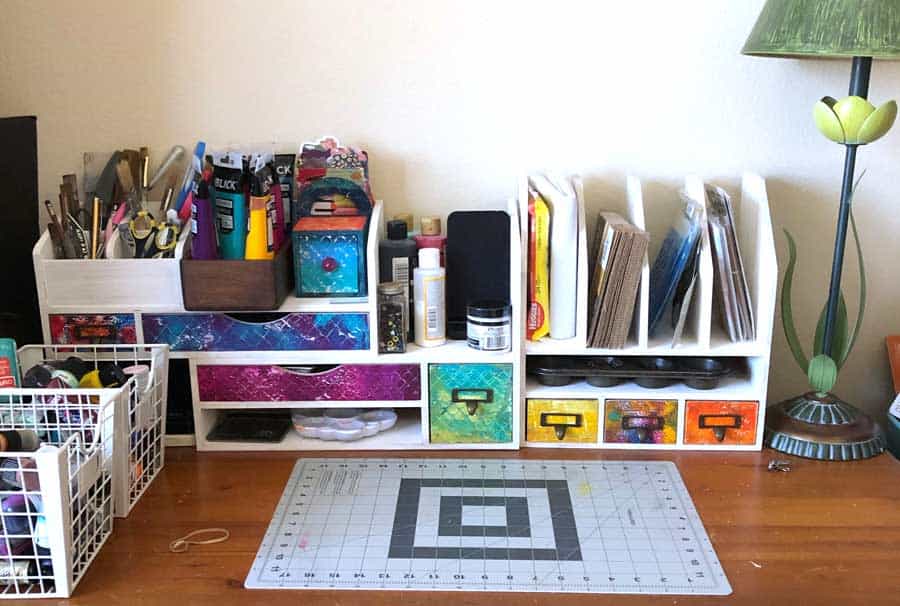 Oh, oh, oh, one last cool thing is that if you want to swing the main piece around the other way, you can put it on the corner of your desk instead!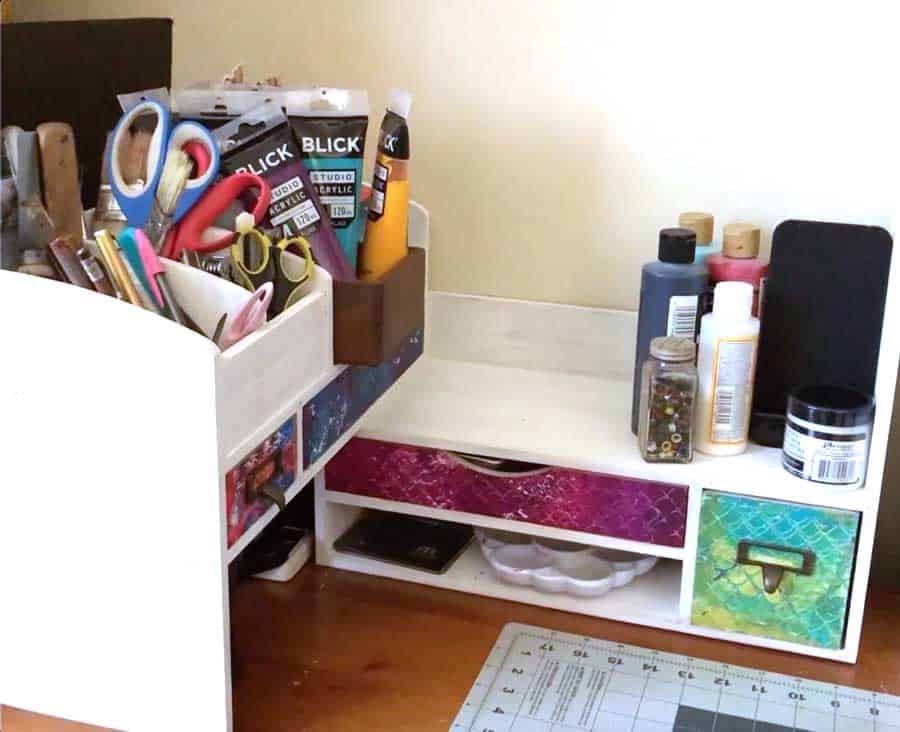 Desktop Organizer FAQ
I had so many questions when I was getting started… here are some of the ones that I know about now!
Is the Ikee storage unit sturdy?
It is pretty sturdy. You could for sure snap the sections of the right side off if you weren't careful when painting, but now that it is all set up, it is for sure sturdy enough to use day to day!
I store both craft supplies and office supplies in there! It really helps to keep my work space open with more room for crafting!
Why did you get a wooden organizer?
I wanted to paint the organizer right from the start! That said, I really don't like the feel of plastic organizers so wood was my very first choice!
Amazon Desktop Organizer
Where did I find the organizer? I LOOKED everywhere! I checked out Ikea, Michaels, Joanns, etc. But at the end of the day I wanted a whole set of shelves and drawers that matched!