If you are looking for a fun (and portable) way to take your art journal with you, for sure you want to use a travelers notebook! Tips and ideas for how to set up and use a travelers notebook for your artwork.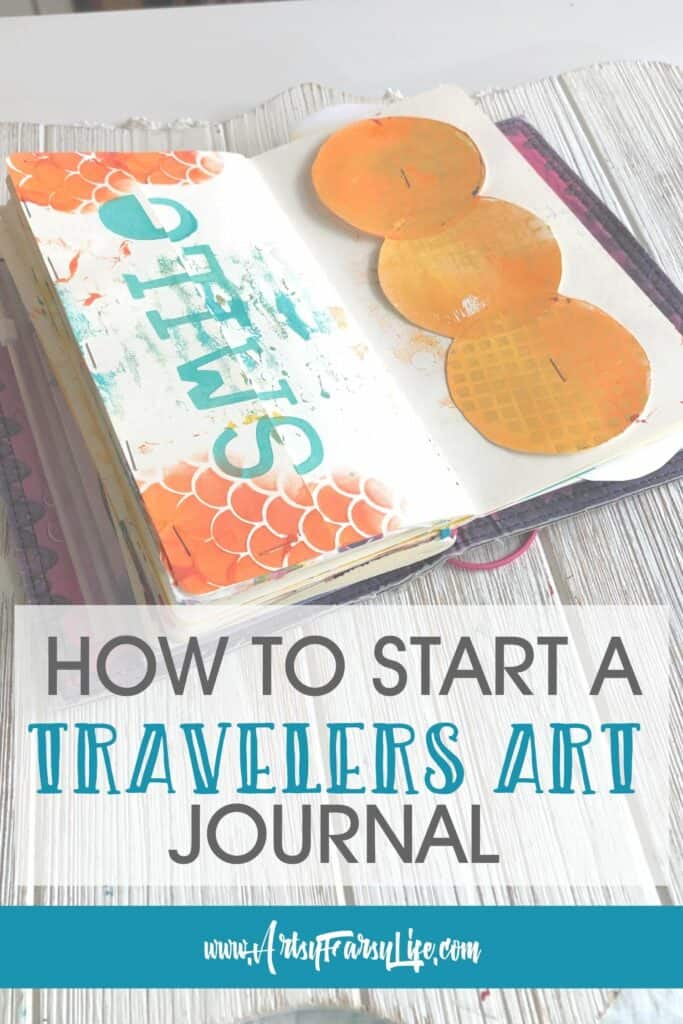 please note :: Please note that this article contains affiliate links, and that means that I may earn a commission if you buy something. Read my full disclosure here.
What Is A Travelers Notebook?
I was so excited when I found out about travelers notebooks!
Functionally they are a cover and bands that you can add different kinds of notebooks to inside.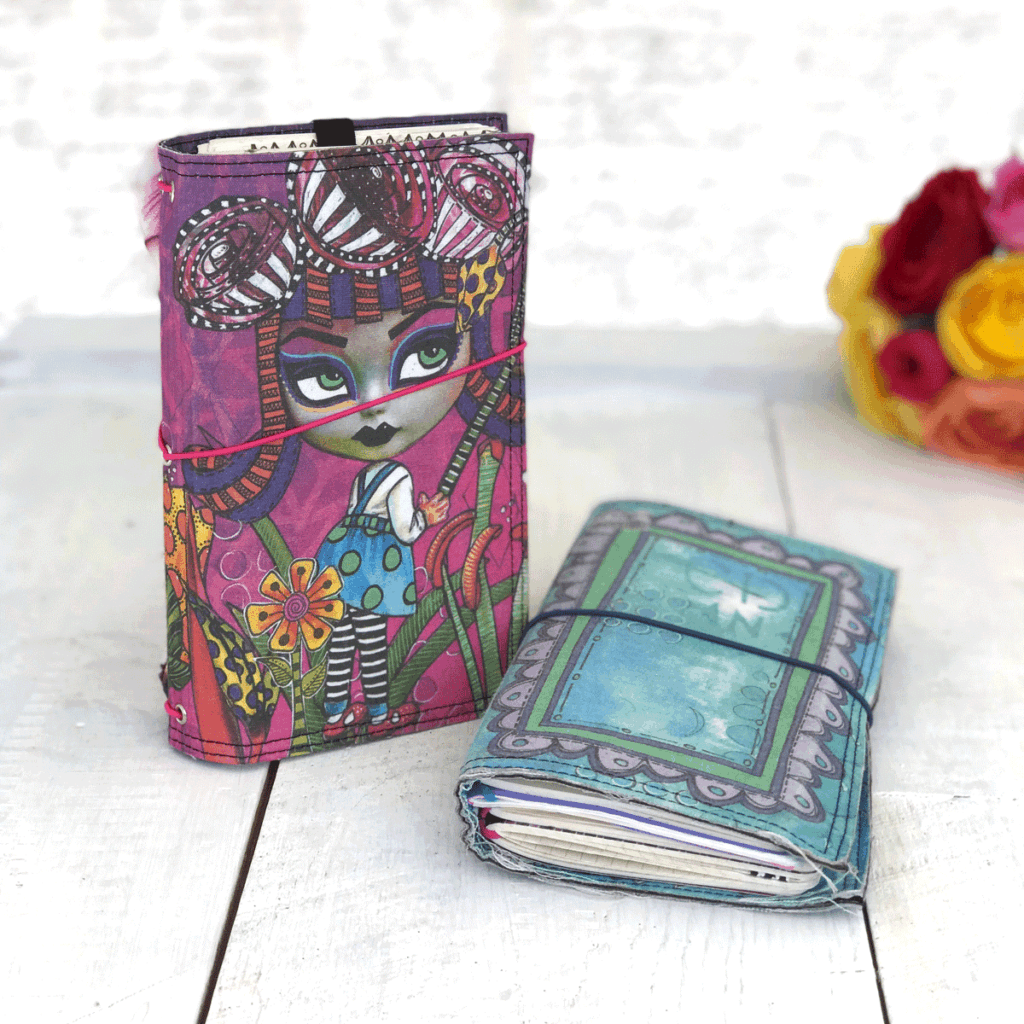 I have had a number of different covers over the years, but I like the ones from Dyan Reaveley the best. Hers are made of cloth instead of leather (I am a bit of a tree hugger and a vegetarian!)
They are also "fatter" meaning you can shove more into them and still have the band around them close!
There are some cool, colorful covers and also a blank cover that you can make your own!
Dyan Reaveley's Dylusions Dyalog Canvas Cover -Believe

Dylusions Dyalog Cover – No Limits – Blank

But then once I got all artsy fartsy I started an art journal insert in my travelers notebook… whoo whoo!
Full Travelers Notebook Art Journal Video Tutorial
PRODUCTS USED IN THE VIDEO
Tissue Paper From Stash
Stencils from Stash
How To Start A Travelers Notebook
So how do you start a travelers notebook?
First off you need a cover. You can use a cute printed cloth one like Dyan's or you can can use a leather cover (these are sometimes called Midori planners).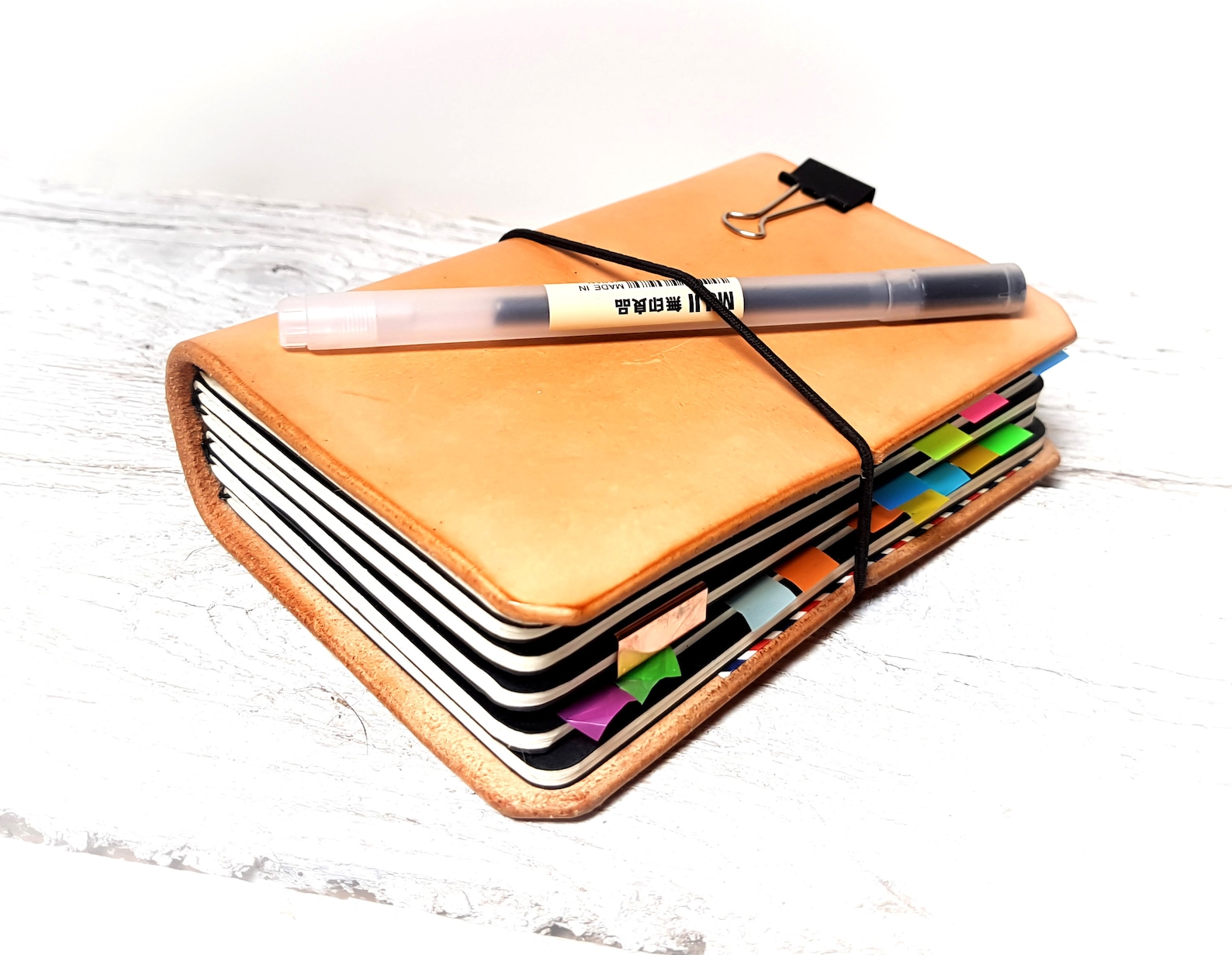 Travellers notebook, Midori notebook cover, Fauxdori cover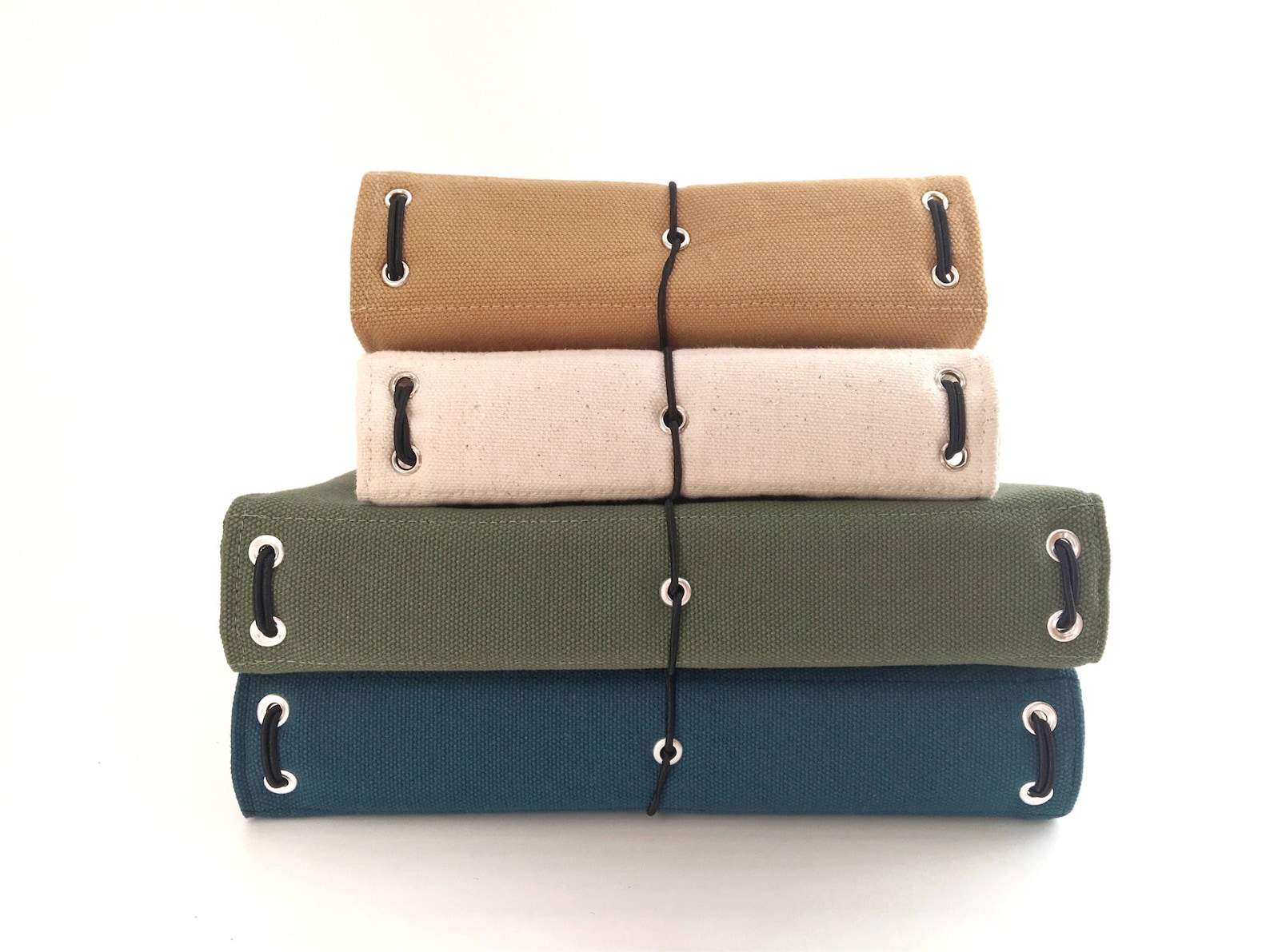 Traveler's Notebook Covers, fabric fauxdori

The covers come with the closure band so you don't have to worry about them!
Then you need bands to hold your notebooks in. These are usually rubber or elastic and are the way you put in your inserts.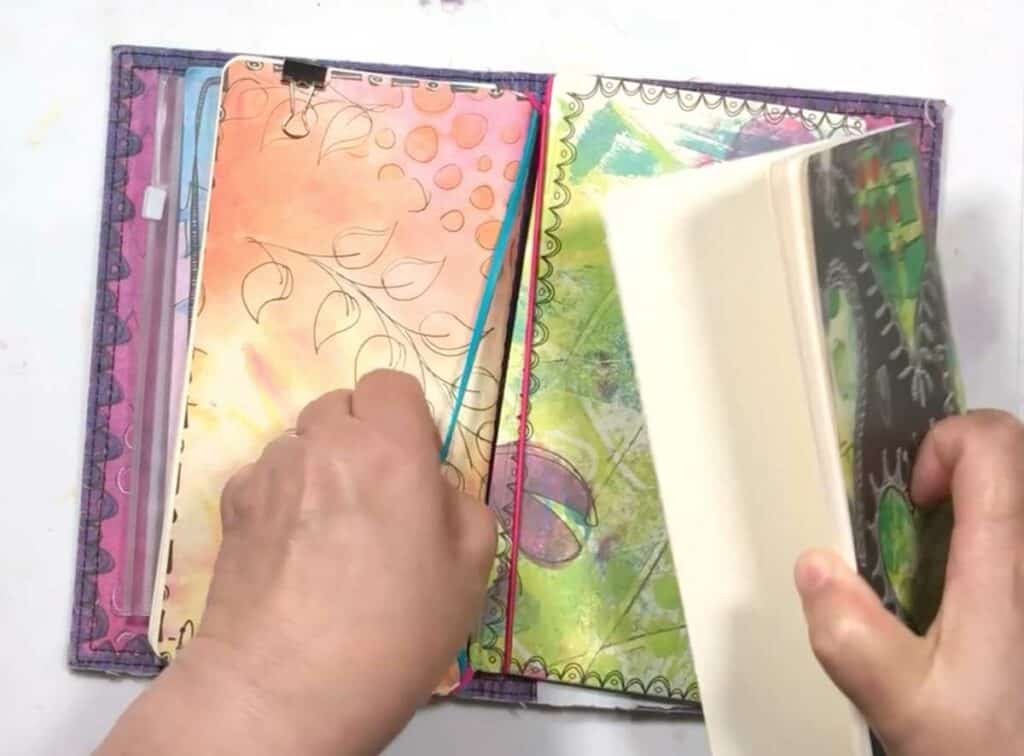 Lastly you need the insert books which are a blank notebook. Dyan's art journal travelers notebook inserts come in different varieties like lined, grids or plain.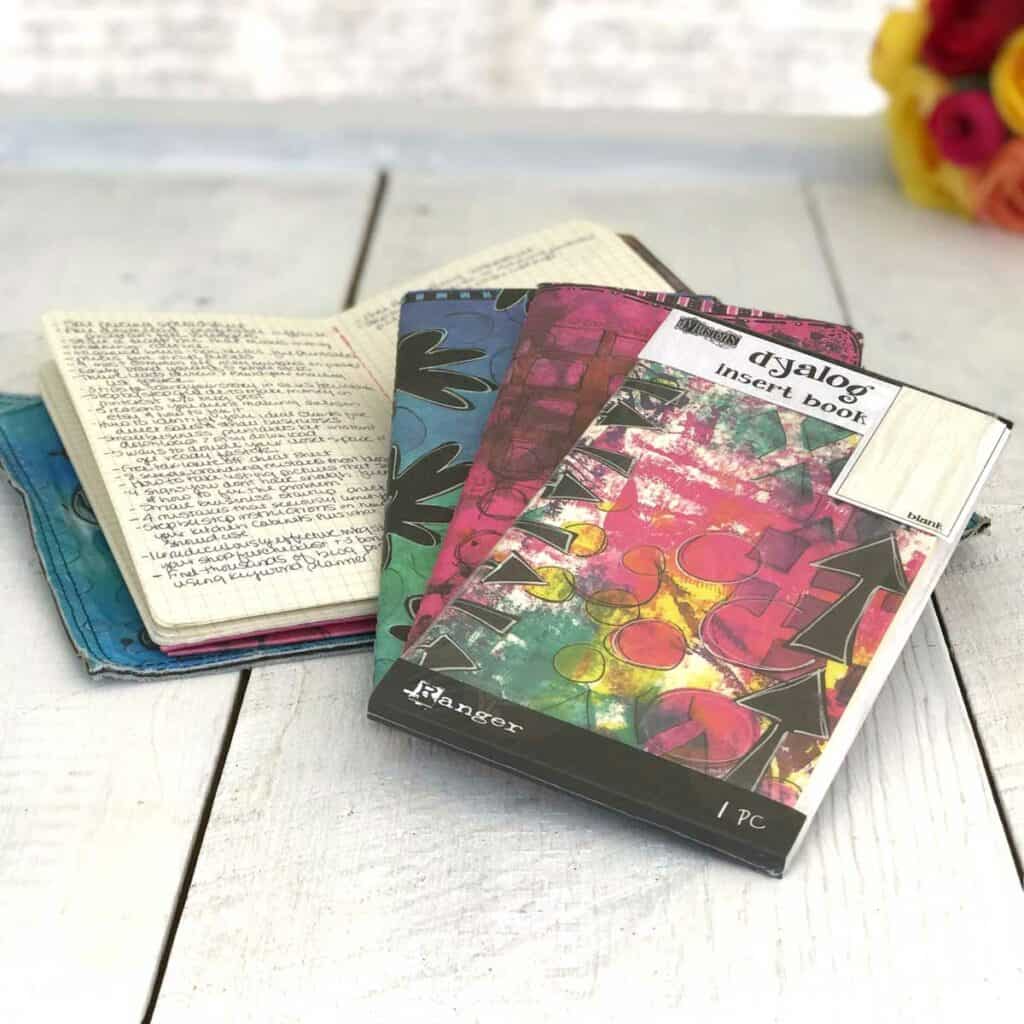 That is about all you NEED. That said, if you would like to see my favorite travelers notebook accessories, check out 5 Must Have Accessories for Your Travelers Notebook!
How Much Will A Travelers Notebook Art Journal Cost?
Okay, here is where the rubber meets the road… how much will this amazing art journal set you back? Not nearly as much as you think!
Here are prices for a beginner art journal with 3 inserts…
So right around $35… BUT the cover and bands don't need to be replaced, so then it is just a few bucks for each insert you need!
Seeing as how the mixed media paper I buy is about $20 a pad, I have always thought that these are a bargain!
Travelers Notebook Inserts For An Art Journal
Okay, one last thing I want to talk about… the Dyalog inserts (the booklets).
Because Dyan is a mixed media artist herself (and a bit of a planner nerd too), her inserts are made from paper that will hold up to art journalling.
Even if you are not a layers nut like me, you will probably use markers, acrylic paint or even water in your art journal and most other inserts just can't hold up to the abuse that products we use give!
Travelers Notebook FAQs
I know I had SO MANY questions when I was thinking about getting a travelers notebook! Here are some of the things I worried about…
What is the difference between a travelers notebook and a midori planner?
They are the same thing! "Midori" is just the brand name (trademarked) for one of the original styles of these planners when they first came out.
You may also see "faux dori" which is the way that sellers avoid violating their trademark if they are selling planner covers or inserts.
How do you string your travelers notebook inserts in?
This is what confused me the most! I tend to just have lots of rubber bands that I hook my inserts in the middle or the front covers. There are already at least one or two elastic bands on the inside to "hook" to.
But you can "hook" two on each band and then slide them inside to use fewer bands. Here Dyan shows how to "thread" them!
What size is a standard travelers notebook?
The cover sizes vary depending on how "deep" the spine is. The dyalog covers are 5.875″ X 8.75″ so there is a little bit around the inserts.
The regular size inserts are 4.375″ X 8.25″. The cool thing about this for an art journal is that the "spread" you can use is about 8.5″ wide, giving you lots of room to make art on the spread journal page!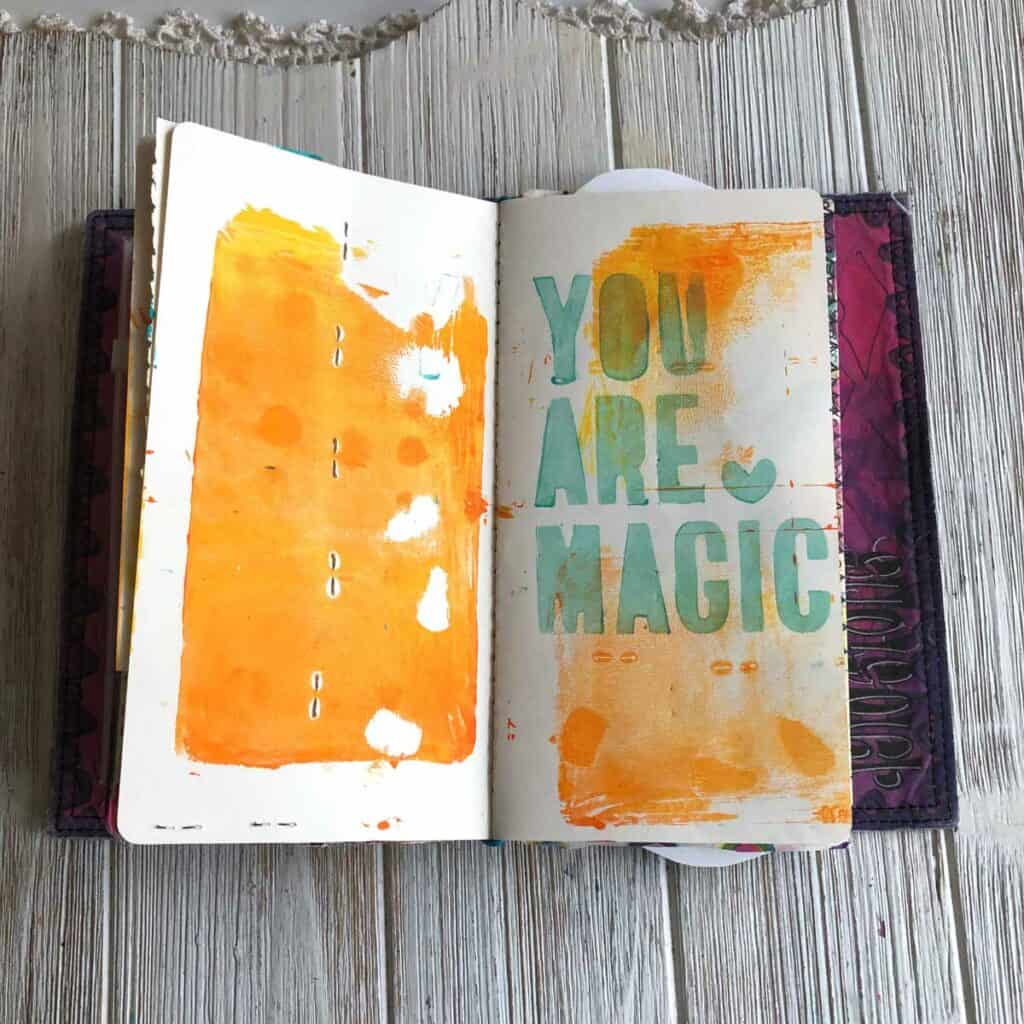 Do you have just one notebook?
I have one cover that I use at a time, but I have books filled with different things. I have ones that I take notes in, one that is my art journal and now one that I am "fancy writing" in to practice my handwriting!
The cool thing about a travelers notebook is that you can pop inserts in and out depending on what you are doing!
For example, I might take my notes insert and my fancy writing insert if I am researching video ideas and messing around with my handwriting. I could leave the art journal insert home to make the journal smaller as I am running around!