Today we are going to look at how Matte and Gloss Mod Podge differ in your artwork, depending on whether you want a plain or shiny finish in your collage.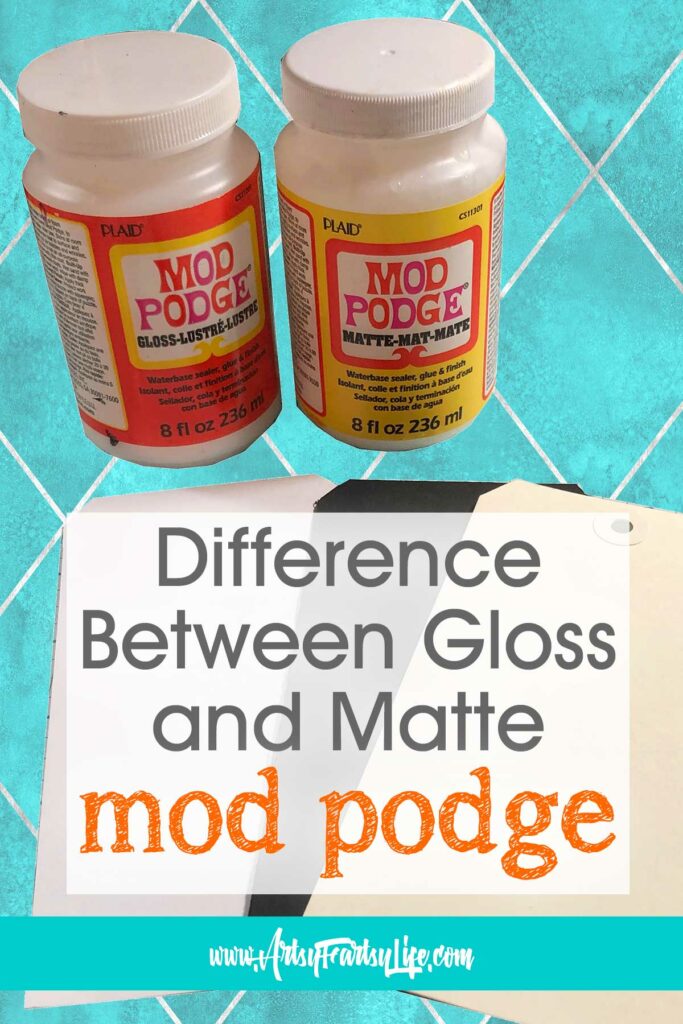 Please note: This article contains affiliate links, and that means that I may earn a commission if you buy something. Read my full disclosure here.
Why Did I Make This Free Vintage Ephemera For You?
I KNOW, everyone says there is no free lunch… but these printables really are free! I make them for me to play with and figure, why not share with my internet friends!!!
I am an artist and graphic designer so playing around with these cool vintage images I get from The Graphics Fairy is just a treat!
Commercial License
If you sell printed items online or in person, you can use these tags and tickets commercially!
Here are some ways that people have said they have used them…
Printed out and sold as collage sheets in Africa
Used as ephemera in junk journals sold on Etsy
Used as gift tags and sold in packets cut out
Functionally, you can print them out and use them anyway you want! You just can't transmit them digitally (email, website or any other online way).
If you do want to share them with a friend or family member, just send them here!
How To Download and Print These
To get these vintage flower tags and tickets just sign up for my freebies library (link below). There are TONS of fun free printables available in there!
You can print these on your home printer, but you can also send them out to a commercial printing company like Office Depot or UPS. The copyright notice at the bottom will allow them to print them commercially.
They are standard 8.5″X11″ Letter Sized paper. I like to use matte presentation paper so they are a little stiffer than if you use just typewriter paper!
Get Your Free Floral Printable Ephemera
Click the image below (or click this link to sign up for the freebies library). If you already signed up for the newsletter, you can go right to the freebies library (the password is in every issue).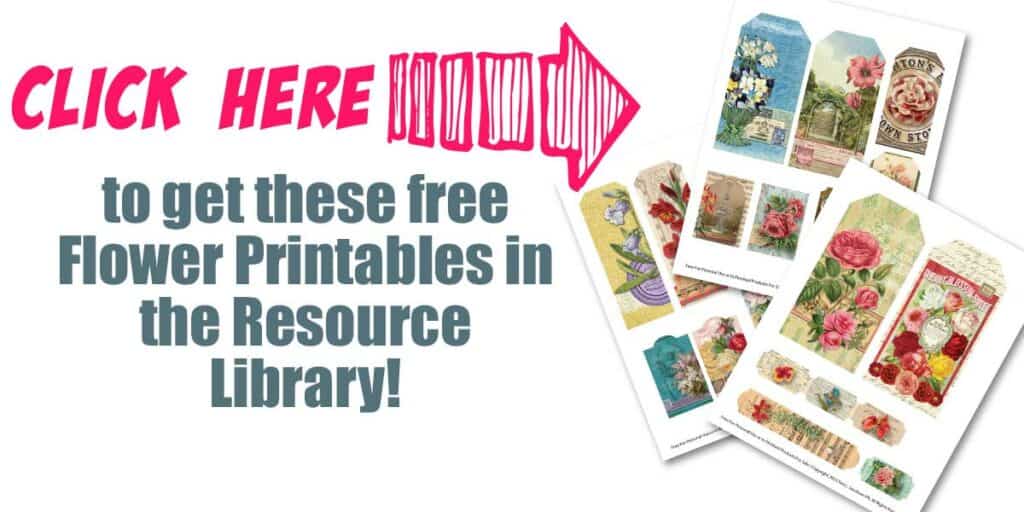 What Is Mod Podge?
Mod Podge is a PVA glue (Polyvinyl acetate) that is water based. It is AMAZING for use in your collage artwork because it can act as many different things:
Seal open paper so it is not as porous
Glue layers together
Final top coat for protection
I find that it is a great glue for layers like tissue paper or stiffer papers like scrapbook paper that are not as affected by the water base.
I rarely use it for my magazine collage images because the light weight of paper really wrinkles when I use mod podge.
Walkthrough Video of the Difference Between Gloss and Matte Mod Podge
What Is Collage?
I LOVE doing collage! Functionally it is adding layer upon layer of mixed media materials like tissue paper, vintage ephemera, scrap paper or fabric… that is where the fun comes, and layers of mod podge!
Here is a project that I am working on right now…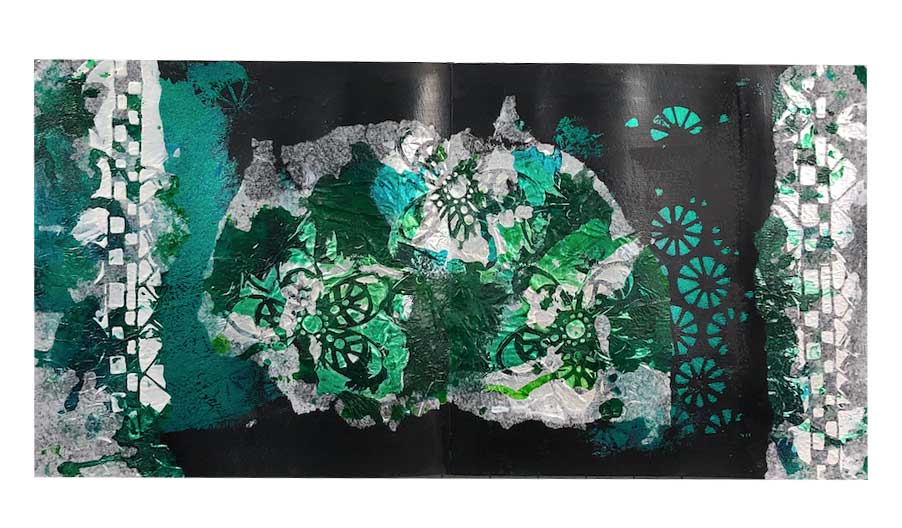 On this one I used Matte Mod Podge since my papers and background paint already had a bit of gloss to them.
Does Matte Mod Podge Dry Clear?
Matte Mod Podge DOES dry clear, on white paper. That said, I have found that when I use it on either Kraft or Black paper, it does change the color of the paper.
That is definitely something to consider when you are working on a project. If you want to avoid changing the color you can put the Mod Podge on the back of the collage material, rather than putting on the base paper and sticking it on.
Does Mod Podge Gloss Dry Clear?
Gloss Mod Podge does dry clear… with a little twist! Because it is a gloss finish, when there are brush lines in the dried surface the light reflects off of them and makes it look like fancy hand painted art!
When Would You Use Matte Versus Gloss Mod Podge
Matte Mod Podge will dull anything underneath it and Gloss Mod Podge will make anything underneath it shiny. That said, besides the finish they are exactly the same formula.
I tend to use Matte Mod Podge most of the time and then the gloss for when I want to particularly have a shine to the project.
Additional Resource: Matte Vs Gloss Mod Podge Challenge on One Artwork!
How Do You Apply Mod Podge?
I use a regular paint brush most of the time, but I also like to use a silicone makeup brush so I don't ruin all my paint brushes by not washing them out. You can also use a foam brush if you want a smoother finish.
Mod Podge FAQ
I know I had a ton of questions about Mod Podge before I used it and I bet you have some too!
Which Mod Podge Is Better, Glossy or Matte?
For glue purposes I tend to use matte just because I rarely want to have weird interlocking layers of shiny materials.
For a final top coat I tend to like the Gloss Mod Podge as it makes a fun, special shiny look.
For crafting projects like my decorative boxes decoupage project I used matte because it didn't need to be shiny.
Is Mod Podge Waterproof?
As it relates to collage art, Mod Podge is waterproof because it provides a sealing barrier between layers of your artwork. That said, I wouldn't want to pour water directly onto my art journal or stick it in the dishwasher.
Is Mod Podge A Matte Medium?
I use a bunch of different matte mediums (mostly Matte Mod Podge and Liquitex Matte Medium). Yes, Mod Podge is a Matte Medium but not as high a quality as Liquitex or other matte mediums.
Mod Podge is great as a glue, sealer and finish. It is not as good as Liquitex as a mixative for acrylic paints.
Additional Resource: Info about Liquitex Matte Medium
Is Mod Podge A Decoupage Medium
YES! I think most of us had Moms who decoupaged something when we were young and I never got over my love of decoupage and collage!
The decoupage part is having the Mod Podge under the paper, wood, fabric and then over it as a sealing top coat.
How Can You Clean Your Brushes
It is super easy to clean off your brushes or work area, because it is water based you can just use soap and water.