This is a super fun and practical comparison of using Matte versus Gloss Mod Podge in your mixed media or art journal. There really is a difference between the two that is noticeable in the finished product!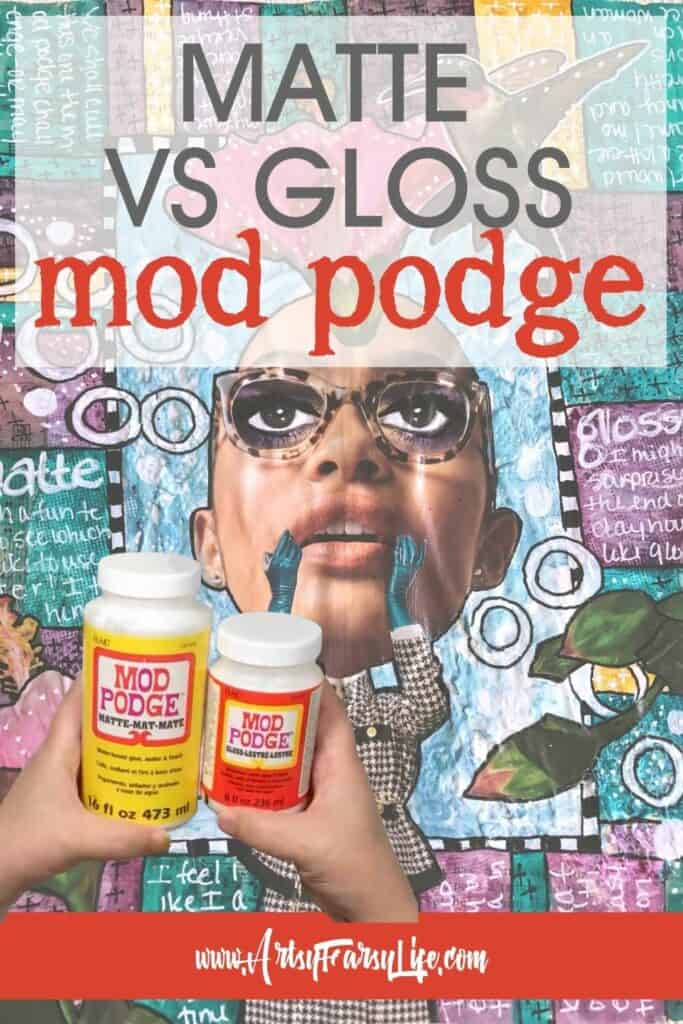 please note :: as an Amazon associate I earn from qualifying purchases, read my full disclosure policy here
The Mod Podge Challenge!
I have used Mod Podge for decades, starting when I was child decoupaging with my Mom in the 1970s!
For this challenge I wanted to see if there was any difference between using matte or gloss mod podge in an actual piece of artwork.
I found that they both stuck equally well and that they both made a good "isolation layer" that lets you add more art supplies without messing up the layers below.
That said, I REALLY liked the depth that I got using Gloss Mod Podge, but sort of hated how smelly it was when you first put it on!
Matte Versus Gloss Mod Podge Mixed Media Challenge
Products Used In the Video
What Is Matte Mod Podge?
I use matte mod podge all the time in my artwork and there are so many cool things about it that I like!
It dries clear
It cleans out of brushes with soap and water
It acts as a base coat, glue and varnish all at once
What I don't like about it…
As a mixed media artist who uses a lot of magazine collage images, it is water based so it tends to wrinkle the images either when they go on or when they dry.
I can mitigate this a bit by using a credit card to smooth the images as I place them, but just the actual product is conducive to making things wrinkle.
What is Mod Podge Gloss Lustre Finish?
So the gloss version has some of the same great properties of matte mod podge…
Dries clear (but with a gloss finish)
Cleans with soap and water
Is a glue, base and top coat
And I do think that when used in repeated layers it adds a luster to the colors and images in my artwork.
That said, I like gloss! I like glossy black embossing and glossy hard surfaces in my artwork. If you are not a gloss gal, then for sure stick with the matte and you can add gloss selectively where you want it!
Additional Resource :: Comparing 4 Different Gloss Mediums
One last thing… I mentioned a couple of times in my video that the gloss smells funny. I am not the world's best smeller and it definitely has an odor, even a day later. After a few days it wears off, but it could be off putting for some makers.
Matte Versus Gloss Mod Podge Mixed Media Project
Here is the mixed media project that I did in my gloss versus matte test! In person it is much easier to see the difference… the matte side looks perfectly plain, but the gloss side does have some similar depth in the colors and pictures.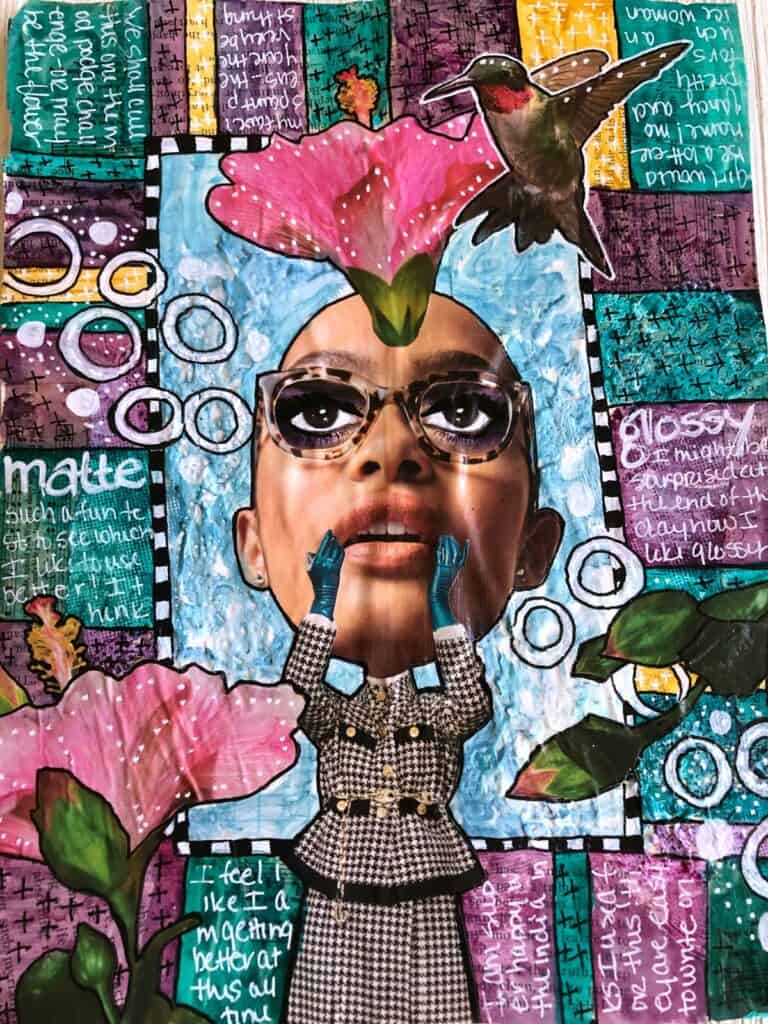 Gloss Mod Podge FAQs
I know I had a LOT of questions about gloss mod podge so here are a few that you may have too!
What Is The Difference In Formula Between Matte and Gloss Mod Podge?
These are the two original products that Plaid sold in the Mod Podge line and they are the same formula with the exception that one adds gloss and the other one dries matte!
Source Plaid Formula Guide
Why Does Mod Podge Wrinkle Paper?
Mod Podge Matte and Gloss are water based products (that is why you can clean your brushes with just soap and water).
The moisture in Mod Podge can cause wrinkles in paper as it dries the same way that Elmers Glue does (you can make homemade mod podge by mixing Elmers Glue with water).
Is Mod Podge Waterproof?
I would consider both of these products "water resistant" or more permanent in the words that mixed media artists use.
You can put a layer of either gloss or matte down between layers and keep your sprays and inks from reacting with each other.
That said, it is NOT a good way to seal water based sprays as it reacts with the sprays (even when dry) and moves them around on your pages!
For sealing those I recommend Distress Micro Glaze.