Here are all my best tips and ideas for how to do heat embossing with black embossing powder. I am an embossing nut and love how the black pops off the pages of my mixed media, art journals and cards!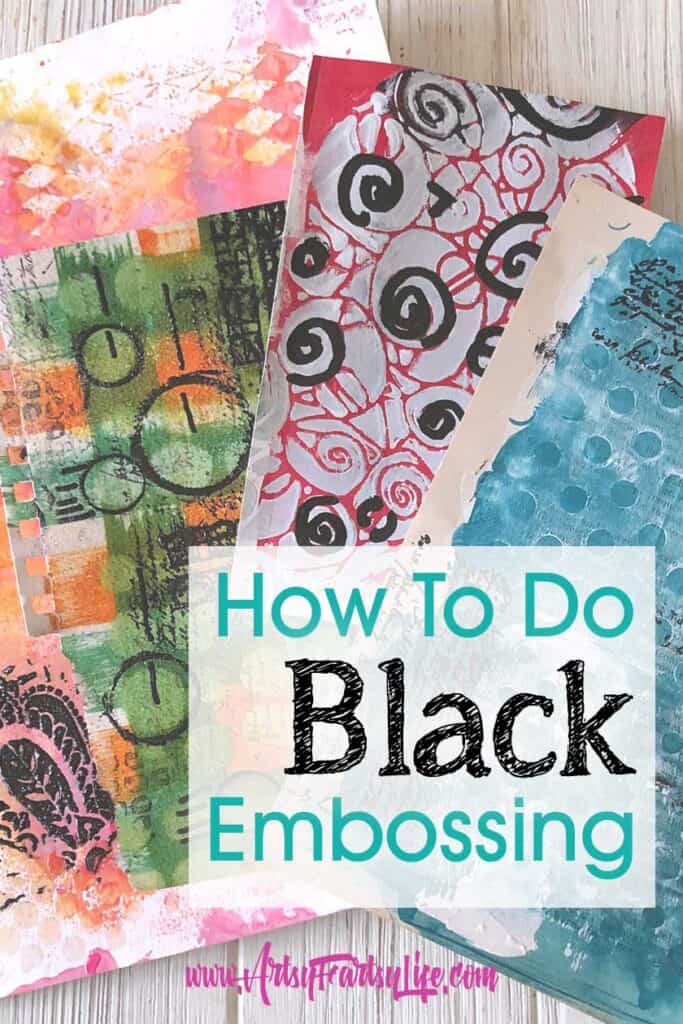 please note :: as an Amazon associate I earn from qualifying purchases, read my full disclosure policy here
Why I LOVE Black Embossing
Okay, you may be asking yourself why I am so passionate about a silly art technique like black embossing, but it so pivotal to my work that I just wanted to show you how to do it too!
I LOVE that it is super shiny and the black pops off the page, making such a fun graphic element in my artwork!
Full Black Heat Embossing Tutorial
EmbossingProducts Used In The Video
Many times I will tell you that you can use any art supplies that you have on hand, but for heat embossing, you want to have certain products that are super important for good results.
Embossing Pad – I have tried a number of different embossing pads and find that the best is Versamark. You can also use Distress colored ink pads (but not their specified embossing pad … it is terrible!)
Full-Size VersaMark Pigment Inkpad, 3-Inch X 2-Inch, Clear

Ranger Tim Holtz Distress Ink Pad, Black Soot

Vicki Boutin Creative Effects – I like to use Vicki Boutin's paste through my stencils. I got it at Tuesday Morning, but she sells it on her website too!
Embossing Heat Tool – Now this one is not as important. I have a cheap one that I have used for years that is great. You can also get ones that have different heat settings and speeds.
Darice Multi-Purpose Heat Tool

Embossing Powder Catcher – This one is TOTALLY optional! A piece of typing paper works just as well, I just like having this dedicated tray to use because I emboss A LOT!
Tidy Tray The"Original" Funnel Tray for All Hobbiests

Embossing Powder – I like to use the Ranger Super Fine Black Embossing Powder. It is great for details and dries super shiny!
Ranger Embossing Powder, .56 Ounce Jar, Super Fine Black

How To Do Heat Embossing
I wanted to show you how easy it is to do embossing (I was super intimidated when I tried it for myself the first time!)
There are really only 3 steps… use some kind of medium on your paper, then put the embossing powder on and then heat it up! That is it!
1. Use an embossing pad, texture paste or other medium on a stamp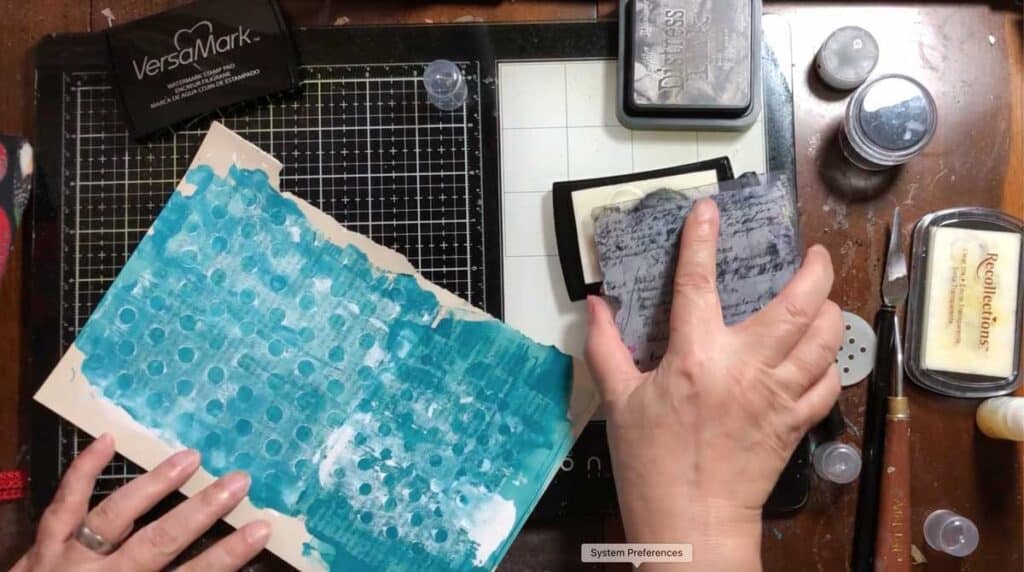 OR use a stencil withs some kind of dimensional gel or texture paste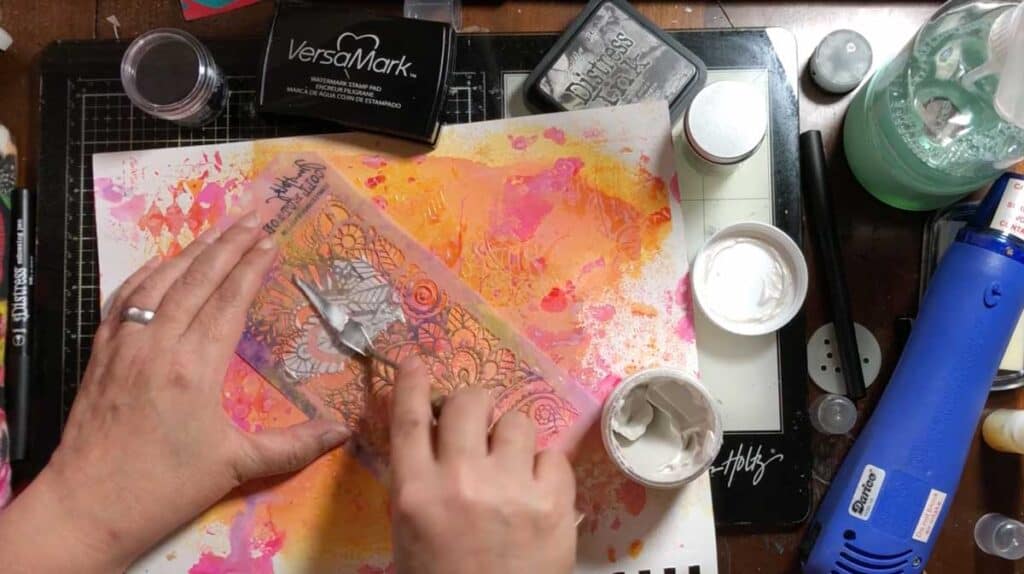 2. Pour embossing powder over the ink or texture paste while it is wet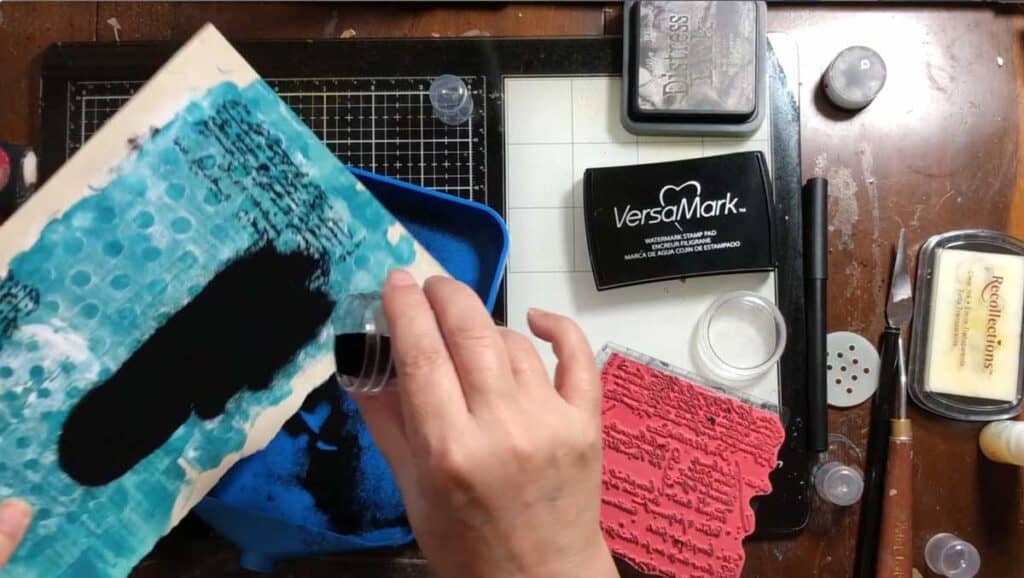 3. Melt the embossing powder with a heat tool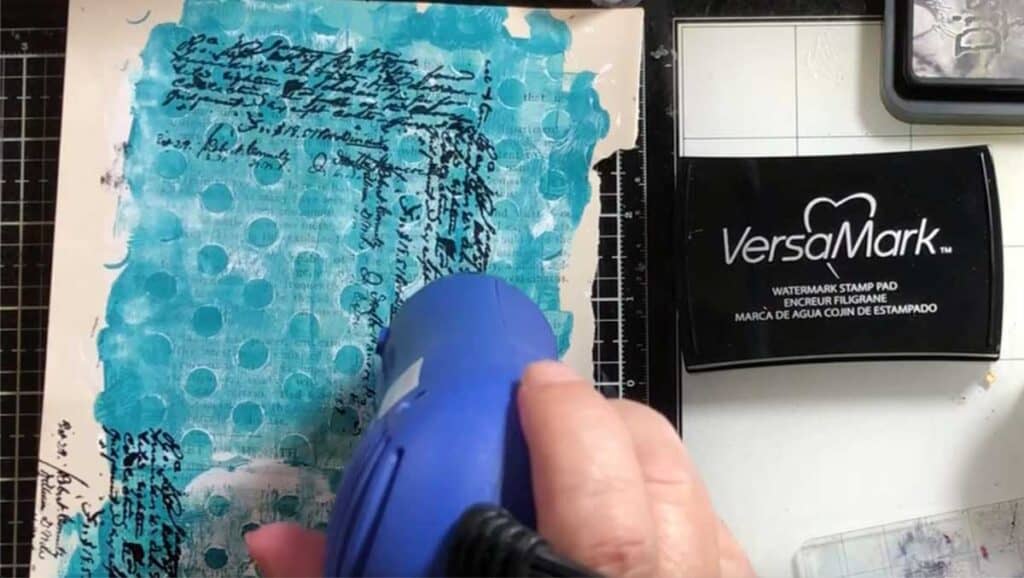 Black Heat Embossing FAQs
I had SO MANY questions when I started heat embossing. Here are a few that come up from time to time!
Can you wait to heat the embossing powder?
The critical time is between when you have inked your stamp or put down texture medium and the put the embossing powder on. If the wet medium dries the embossing powder won't stick to it.
However, once you have the embossing powder stuck on, you can take your time to heat it, just know you might "knock it off" if you aren't careful.
What Can You Use For Embossing Liquid?
You can use any wet medium for embossing (even water!) That said, the ones with a longer "open time", meaning they dry slower, will work better.
You can use embossing pads, water reactive ink pads like Ranger's Distress, or texture paste. You just can't use something that evaporates right away like alcohol inks (their "open time" is seconds!)
What Is Embossing Powder Made From?
Embossing powder is tiny pieces of plastic that melt when you use the heat embossing tool.
Thick embossing powders will make bumpy, uneven embossing and super fine embossing powder will make smoother, even surfaces.