I have super strong feelings about making glossy, hard tags and mixed media projects! In this post I compare Fantastic Glazing Glue vs Glossy Accents vs Dimensional Magic vs Mod Podge Gloss Luster. Find out the best way to get fun, shiny accents for your junk journal or mini album!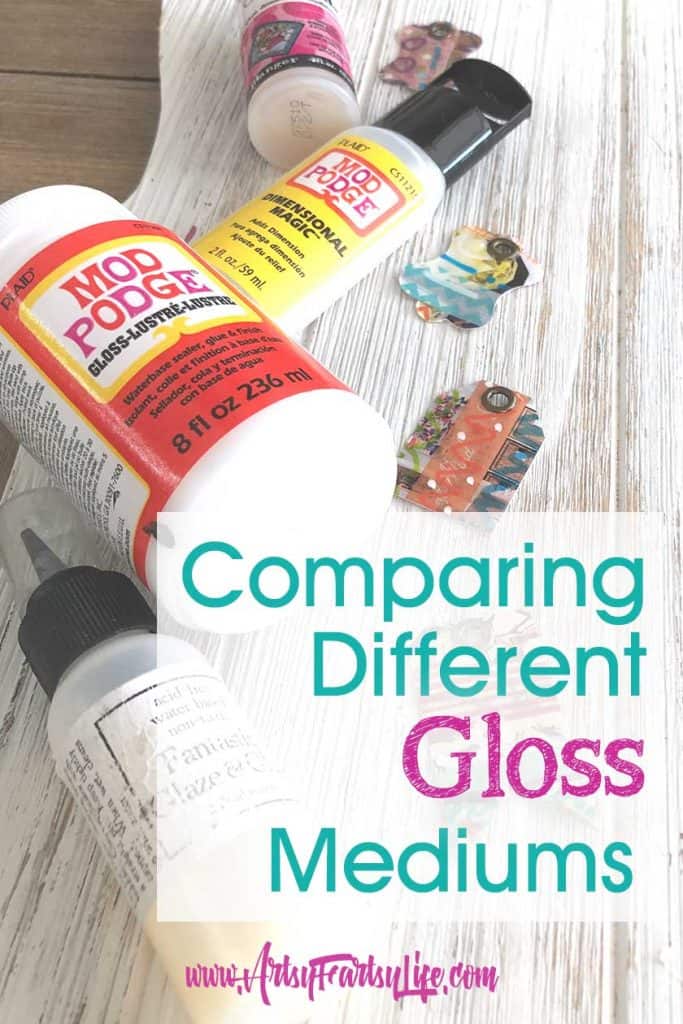 please note :: as an Amazon associate I earn from qualifying purchases, read my full disclosure policy here
Making High Gloss Mixed Media Projects
Okay, I know you are probably just here trying to figure out which type of gloss medium to use, but honestly, I just have to tell you that these kinds of decisions are super important to me!
I REALLY care about having some super glossy, dimensional bits in my artwork and so I have used ALL of these products more than once before now (I hate info coming from someone using a product for the first time… I could do that myself, I want to know the REAL details of what works and what doesn't work!)
4 High Gloss Mediums
In this post I will be comparing Glossy Accents, Dimensional Magic, Mod Podge Gloss Luster and Fantastic Glazing Glue.
They are all both glues and craft supplies (but I only use them as gloss sheen accents, not glues).
High Gloss Comparison Video
The Test Conditions
I tested all four of these products on washi tape tags that I made in my last project.
I live in Florida so drying time is crazy long for each of these, if you live in a more moderate or arid climate, your results will vary!
Some of the tags separated after applying the gloss because they "curled up" a little bit. I fixed them by using Art Glitter Glue to stick them back together again and it wasn't a bother.
The Final Results
Here are my final results, in order and with comments about why I like or don't like each product!
The Winner! Glossy Accents
Ranger GAC17042 Glossy Accents Precision Tip, 2 fl. Ounce

Okay, for YEARS Glossy Accents has been my go-to for all things stiff and glossy. Putting a thick layer of this on will make you look like you have applied resin to product (without all the harsh chemicals or the having to open a window bits).
What I Love:
I love the stiff finish and how how it gets… you can tap it on your glass mat and HEAR it!
It self levels beautifully
It takes a while to dry and you can add extra in if there are "holes"
I just feel like this product can manage itself very well!
What I Don't Love:
There is only ONE thing I don't love about this product. I have such a hard time keeping the nozzle open. I wish it was a little bit bigger so I didn't have to fight it so much.
2nd Place – Mod Podge Dimensional Magic
Mod Podge Dimensional Magic (2-Ounce), CS11215 Clear

I am newer (like a few months) user of Dimensional Magic. I use it as my go-to, fast drying glossy addition to my mixed media projects!
What I Love:
Super liquid-y and easy to use and spread
Dries MUCH more quickly than Glossy Accent
Affordable and easy to use
What I Don't Love:
It doesn't put AS stiff a coat of "resin-like" finish on the projects.
3rd Place – Mod Podge Gloss Luster
Mod Podge Waterbase Sealer, Glue and Finish (8-Ounce), CS11201 Gloss Finish (3 Pack)

I am super in love with Mod Podge (I have a whole section of Mod Podge Crafts!) I tend to use the "normal" matte version for my decoupage products, and use the gloss lustre version for creating a hard glossy coating.
What I Love:
It is super affordable (it is the cheapest version of all three of these)
It dries faster than any of them
You can cover a large area easily
What I Don't Love:
Again, my beef with this product is that is that it doesn't make as hard a coating as Glossy Accents. Also that the brush marks stay in the finish after it dries.
4th Place – Fantastic Glazing Glue
This one is not a surprise to me. While I liked this product as a glue medium, I am not as in love with it for making hard glossy surfaces. I feel like they added that as a feature, just because it was possible, but not what it was intended to do.
What I Love:
It really is a good glue that is water-resistant (I used it to make necklaces)
It dries clear on weird surfaces like glass
What I Don't Love:
It isn't as hard as Glossy Accents (I KNOW, I sound like a broken record, but that is my favorite thing!) Otherwise, I would use this one as a glue not as a shine-maker.