Today I am going to make a super cool magazine collage using simple supplies like paint, glue sticks, mod podge, scrapbook paper and tissue paper. Sometimes it is fun to go back to basics and use cheap supplies that anyone can afford!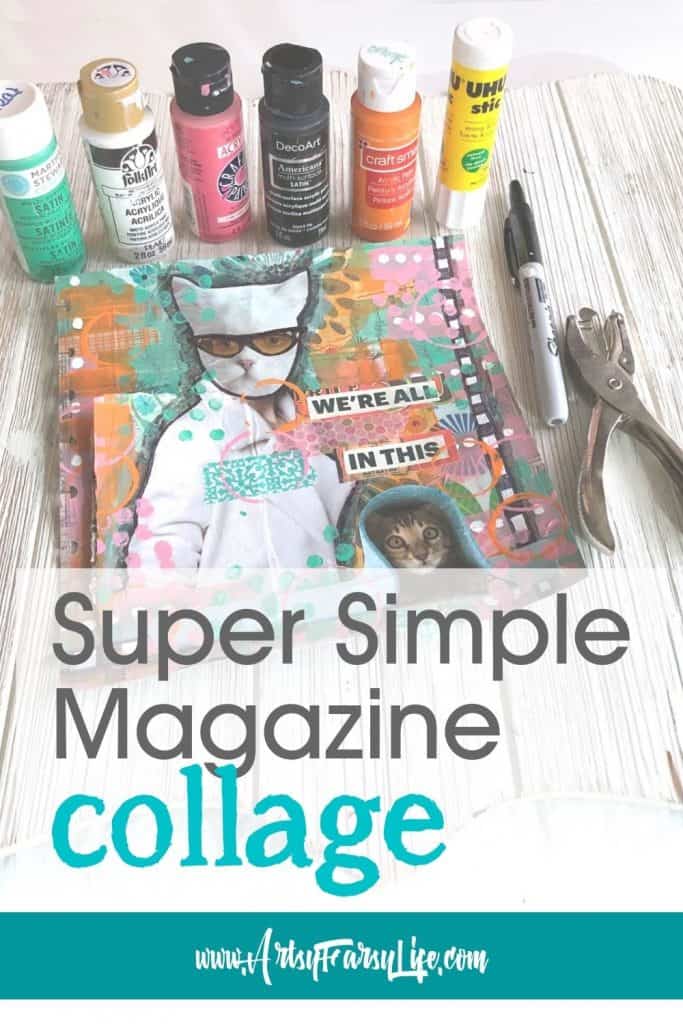 Please note: This article contains affiliate links, and that means that I may earn a commission if you buy something. Read my full disclosure here.
Magazine Collage Challenge
I have a gal who follows my art videos on Youtube and she made a comment that last week I posted one that she could actually make because it had simple supplies.
So I asked her to send me a list of the supplies that she had that and she was nice enough to send it over!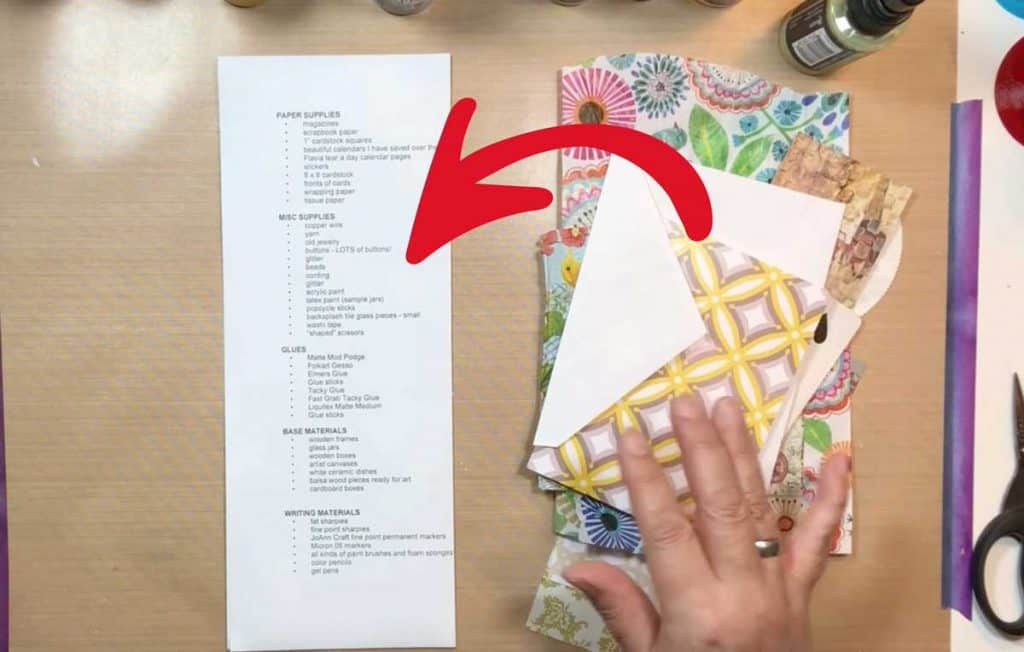 There were things like glue sticks, sharpie markers and acrylic paint… well I can work with that so I decided to take her challenge! Whoo whoo!
Full Simple Supplies Video Tutorial
Supplies Used In The Video:
Magazine Images
Scrapbook Paper
Envelope
Uhu Glue Stick (or Elmers Glue Stick)
Tissue Paper From Gifts
Cheap Acrylic Paint from Michaels
Washi Tape from stash
How To Make This Magazine Collage
In case you are like me and like to see the step by step details of how to make a collage, here are the bits and pieces of this project!
1. Scrapbook Paper
Let's call a spade a spade, we ALL have scrapbook paper laying around that we are never going to use up, so using it to add a layer in our art journal pages is the perfect way to use it up!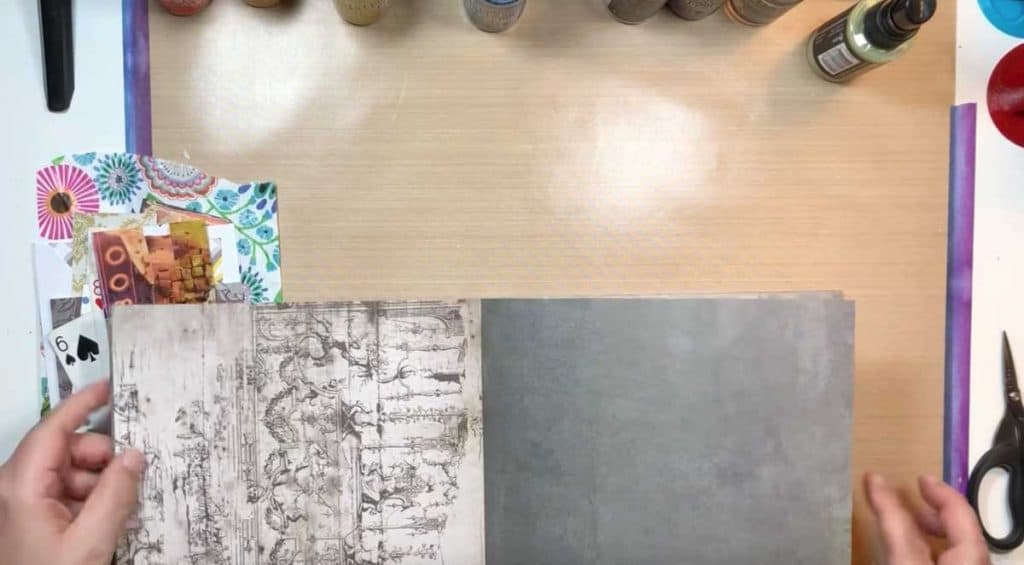 I picked a pretty neutral background from the Tim Holtz Departed paper pad.
2. Envelope For A Secret Tuck Spot
One thing I did want to do on this project is add a fun little hidden tuck spot. I used an envelope cut in half and glue sticked it down.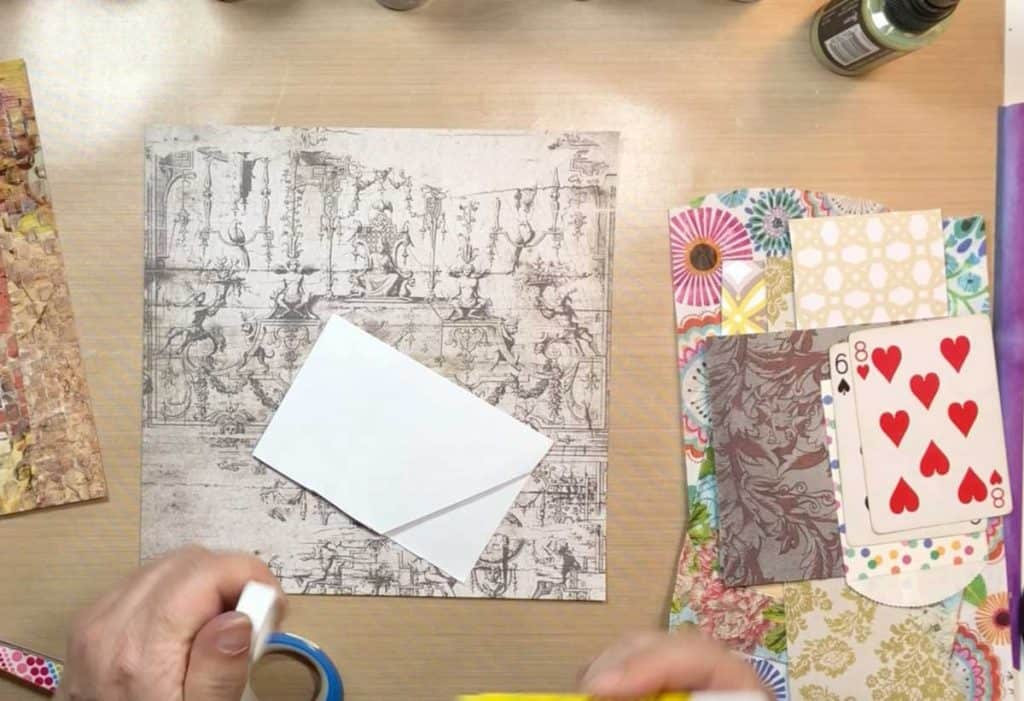 3. Cover With A Piece Of Scrapbook Paper
Since I was trying to use up my stash stuff, I just grabbed another off-cut of scrapbook paper to cover up the white part of the envelope.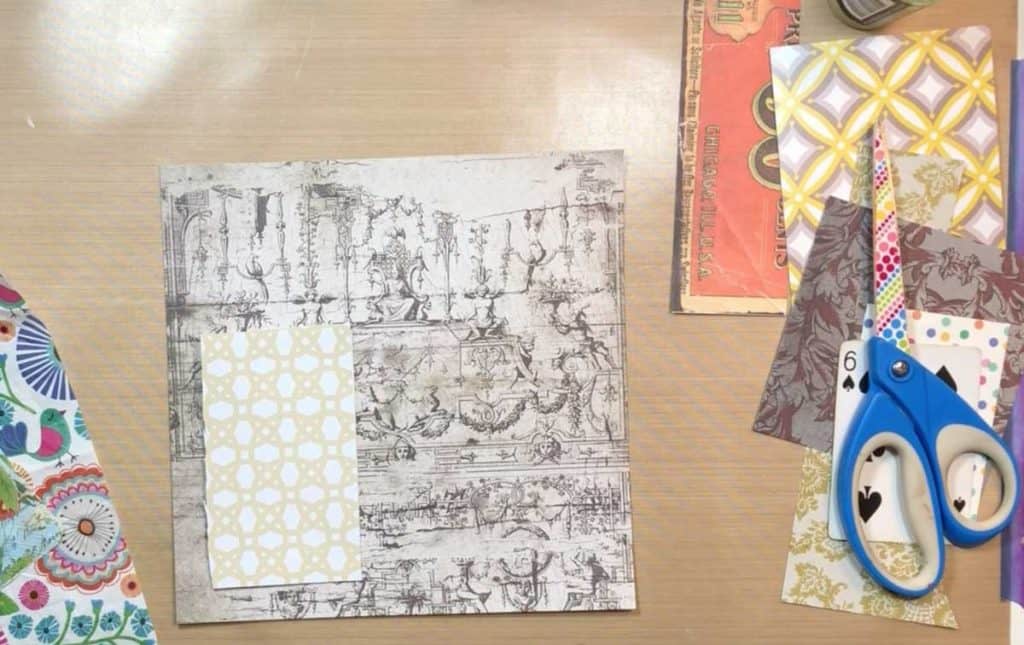 What I have found is that having some texture or pattern will help your project feel more cohesive at the end!
4. Paint Some Marks Over Your Paper To Add Color
I decided to use the tissue paper as a template for my color palate so I picked three different colors… teal, orange and pink to use in this project.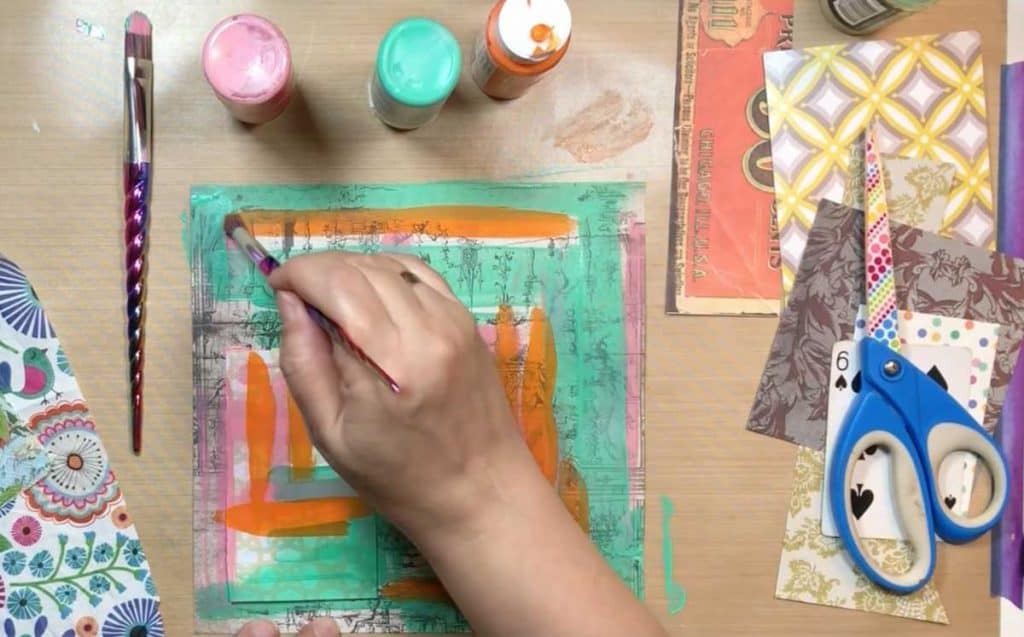 This is already helping that white tuck spot blend into the piece.
5. Use Mod Podge To Decoupage Tissue Paper
I was super bummed this tissue paper was so opaque that I couldn't see any marks through it, but you have to just keep rolling!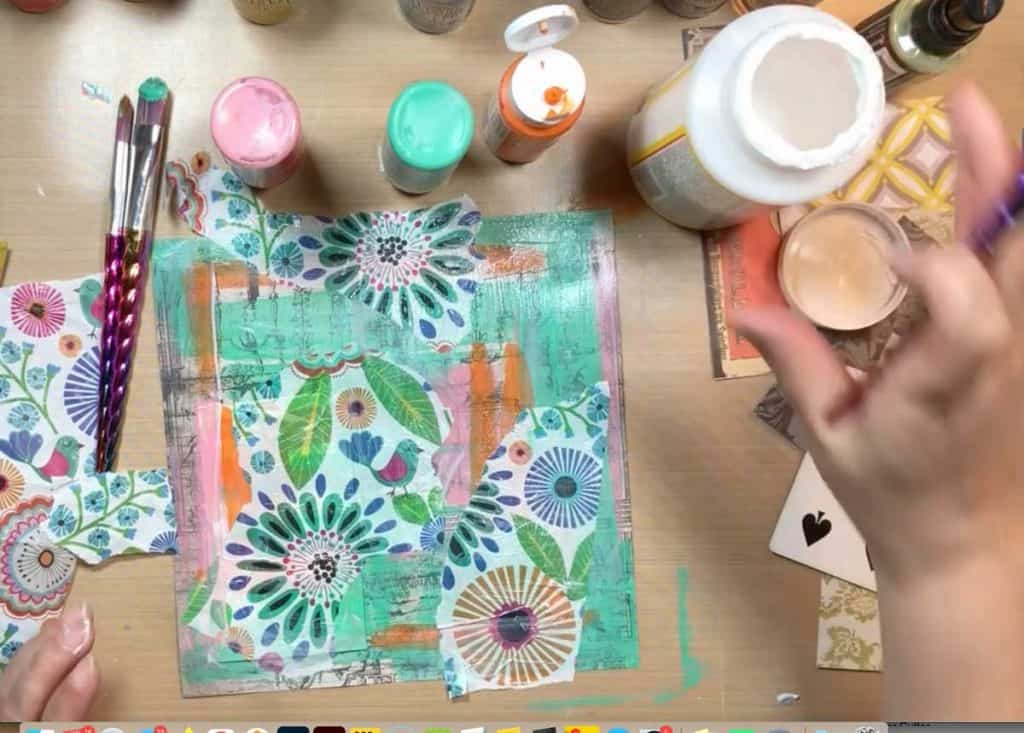 I used lots of Mod Podge to decoupage the tissue paper and whole piece so that I would have a consistent background to work on.
6. Pick Out Your Magazine Images
The next thing you want to do is pick out magazine pages to use in your piece. It is generally better to have too many rather than too few.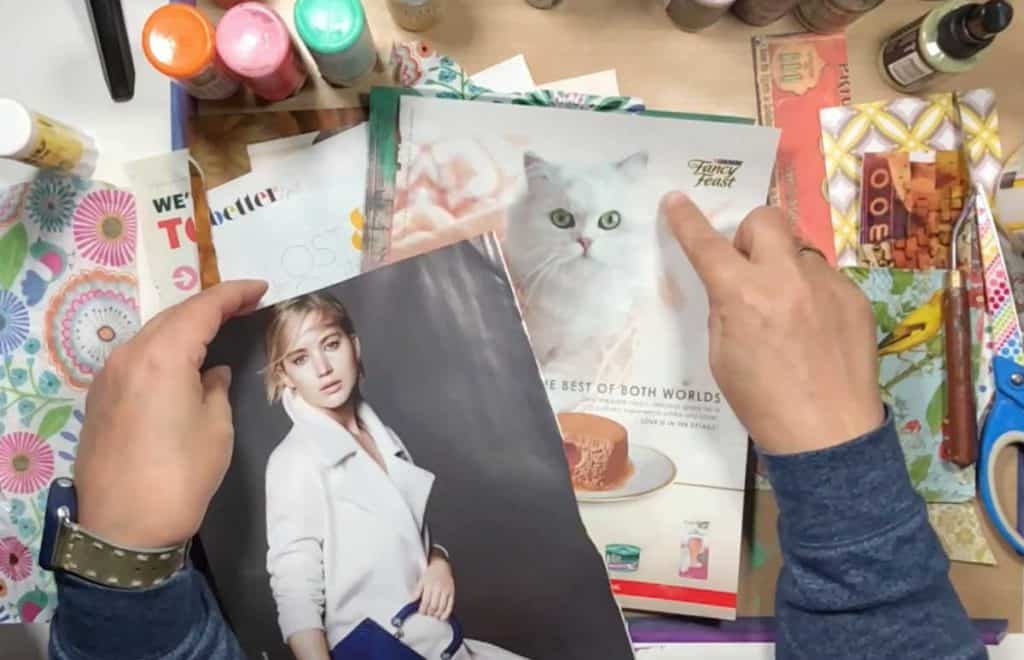 I do try to make sure that they are a good size to fit on your project and that they are a similar size (unless you are going for super funky and abstract…:)
7. Cut Them Out And Stick Them Down With Mod Podge
Sometimes you have to dink around a bit to make your first layer of images. Take the time to find a good layout that you like, BUT don't stress out too much, we have way more layers to come!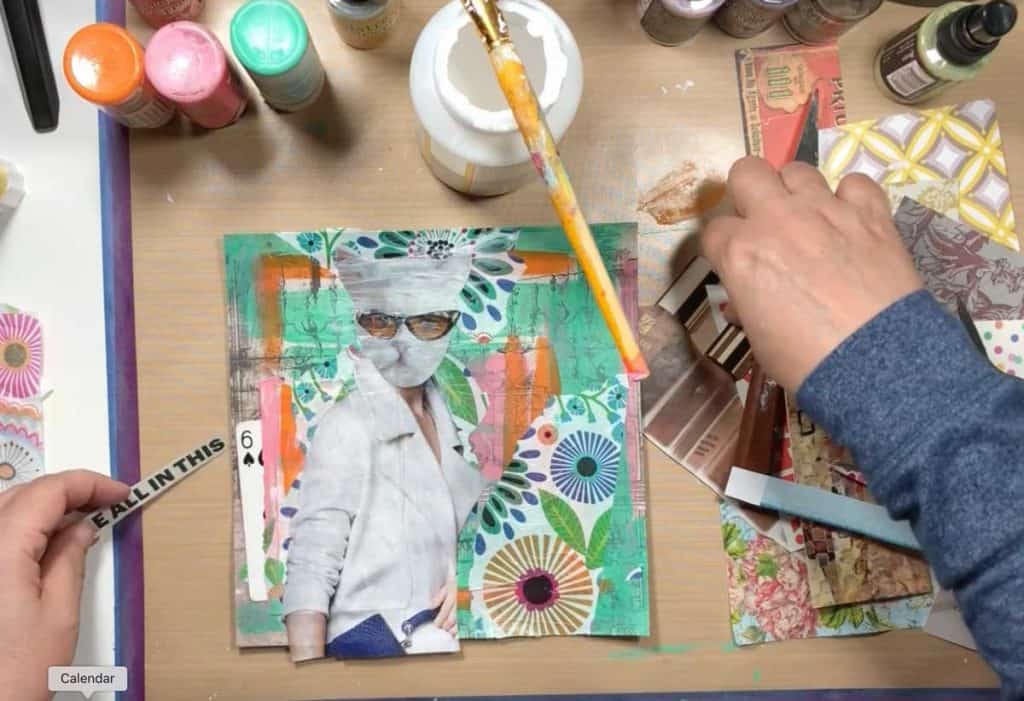 One BIG hint is to stick down a layer of images, then do some more marks, then more images. It is the layering that will help "sell" your collage!
8. Make Another Layer of Marks
Having more marks on top of the magazine images. This will help to increase interest on your piece.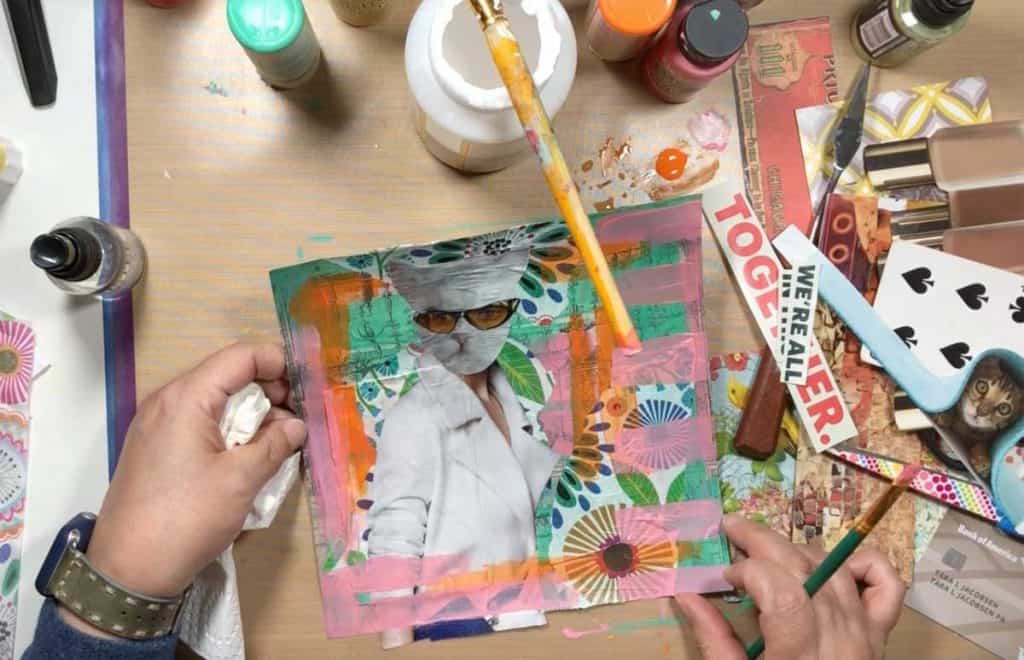 9. Make Tuck Card To Match
I wanted my tuck card to match my project so I used the same kind of tissue paper and paint colors.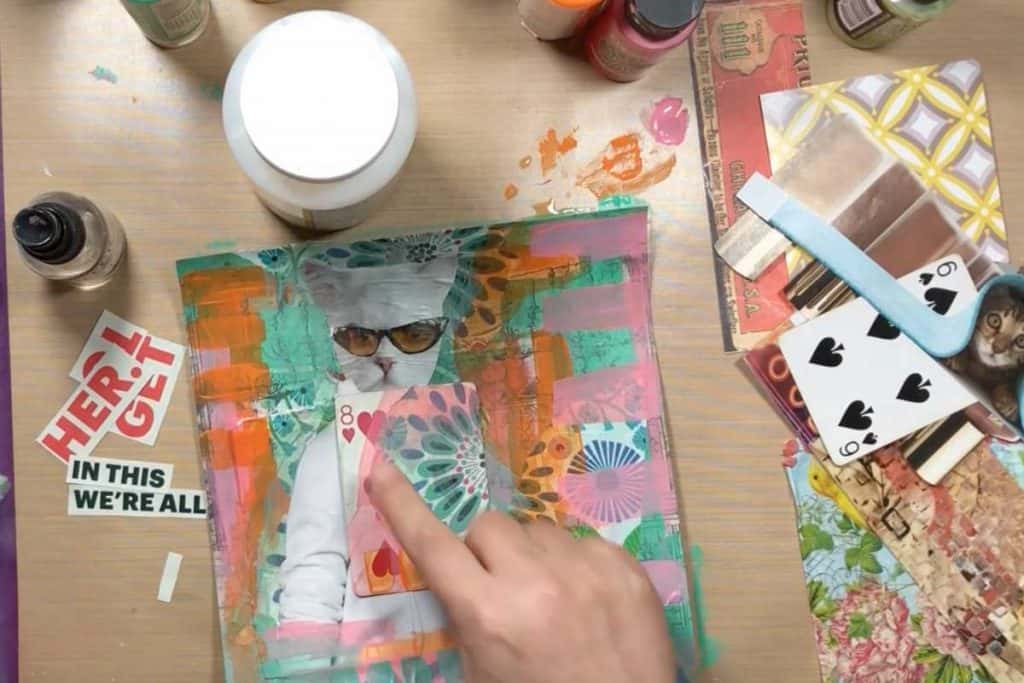 10. Outline Your Collage Image
Next you want to outline your collage image. By outlining it you make it more cohesive (so your cat head and body seem like they ACTUALLY belong together!)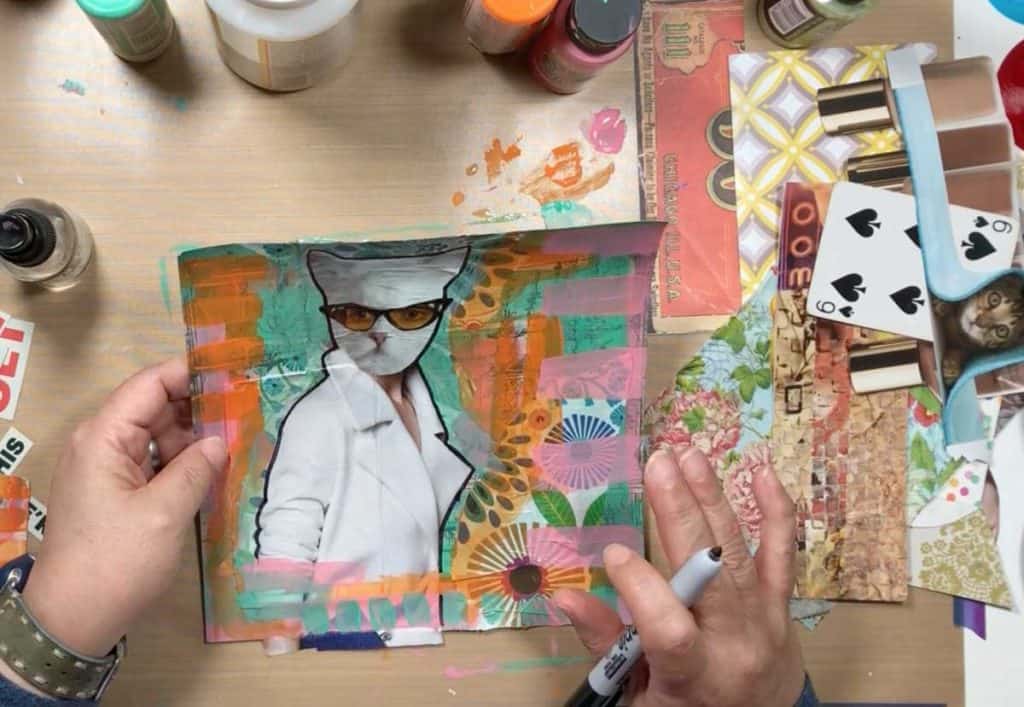 11. Use Paint To Make Marks
Next use some white paint to make marks. I like to have lines with black squares on them and little dots.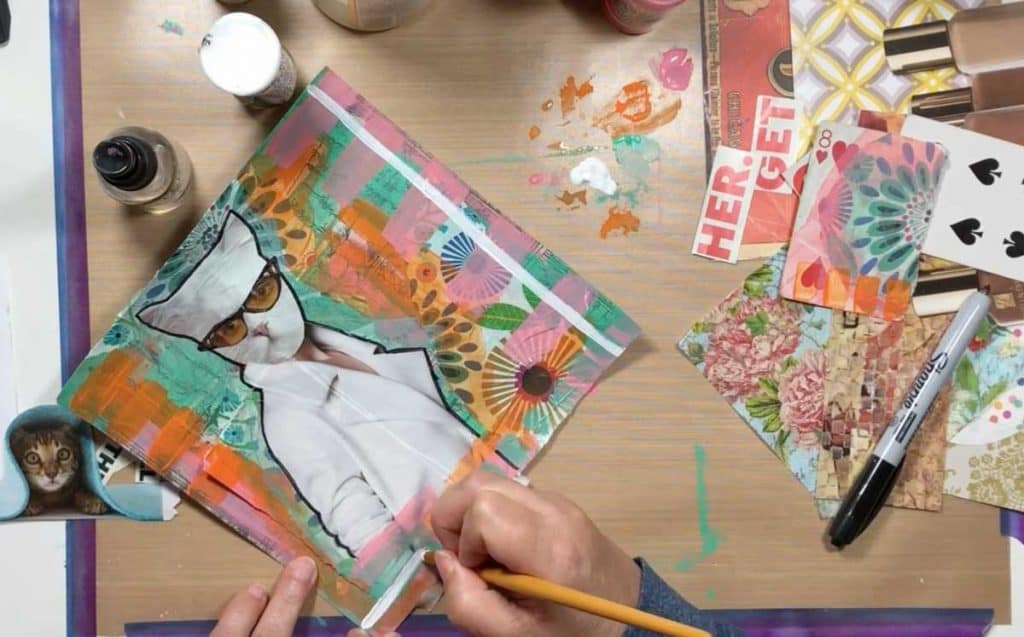 Usually I would use a Posca paint pen instead of paint and a brush… I was super surprised how well this woked!
12. Add Words and Other Images
Now that you have a few layers done, you want to add your final layer of images and any words you are going to use.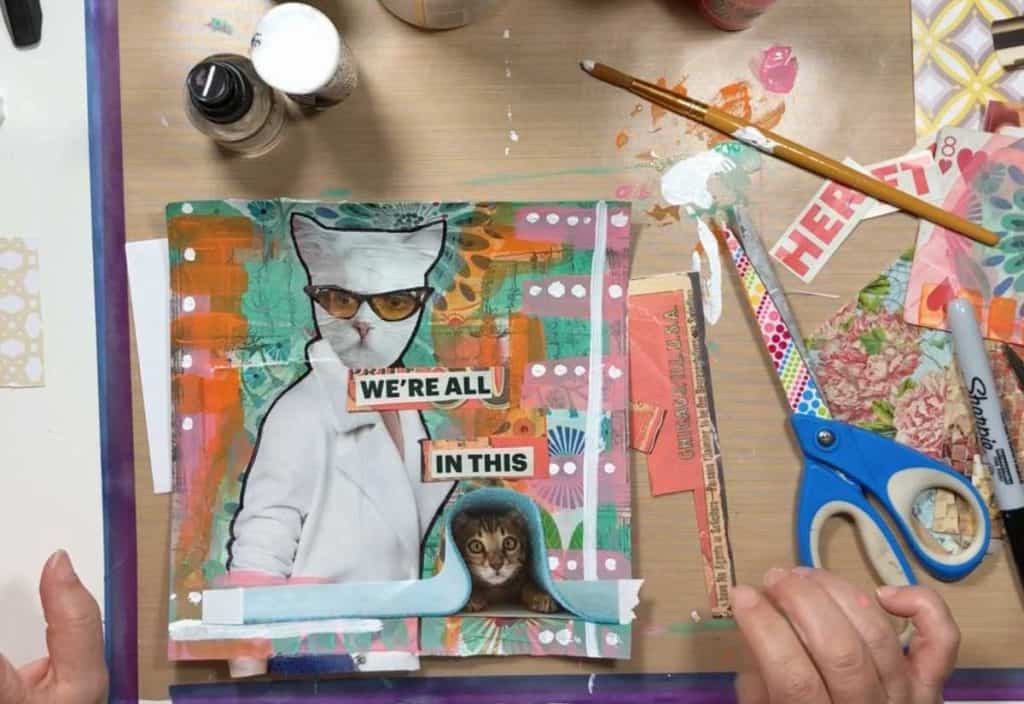 13. Use Stencil To Make Marks
Because this was a cheap art supplies challenge I decided to make a stencil with a hole punch and index card. It worked out great!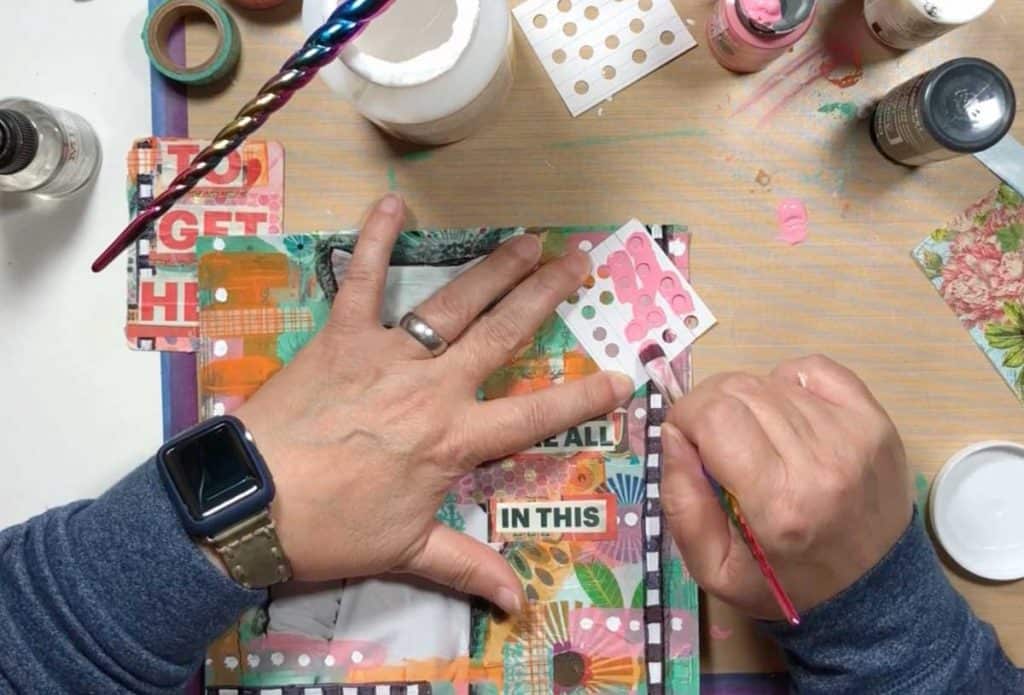 13. The Easy Magazine Collage Final Art Project!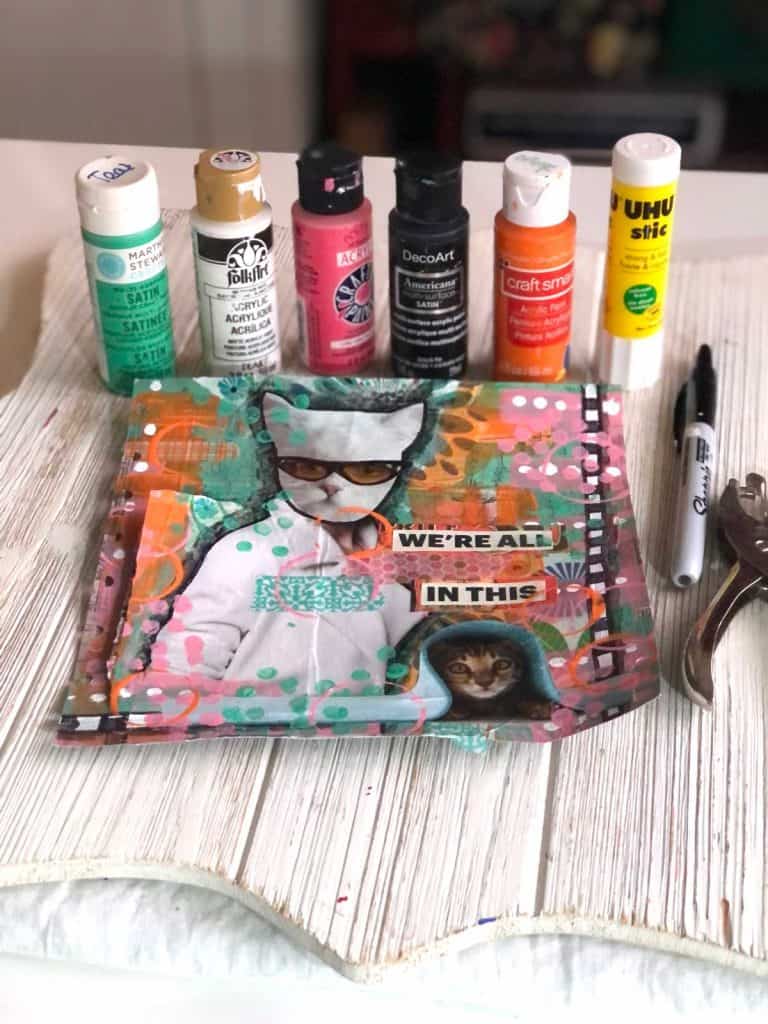 I was super happy with how this magazine collage came out! Sometimes it is super easy to fall into the habit of always using more and more mixed media art supplies, but this was a fun challenge to see how you could just use what you have to make a cool, fun magazine collage!
Check Out More Magazine Collage!
Easy Magazine Collage FAQs
Whenever I talk about magazine collage and my art, altered art, art journal inspiration, whatever, people ask me what the "rules" are! So here are some of my feelings about the rules of collage!
Is it collage art, magazine collage or something else?
Collage is mixing things together to form a new whole. And I often use magazine images so I feel feel really comfortable calling it magazine collage… but could it be other kinds of art too?
There is mixed media collage (which is what this project is because we used magazines, tissue paper, a found card, etc.)
There is art journaling (which is what this is because I am using words to put my thoughts to paper.)
Collage artists should not have to justify their work… they should be able to make art and then let other people sort it out!
Is This Paper Collage?
I think technically because I use all papers, BUT I think of collage art as when you use little pieces of paper to make a NEW whole artwork.
That kind of artwork, paper art feels to me more "fine artist" than what I am making! Kind of like illustration art where someone is actually creating things rather merging existing things!
Should You Try To Make This Exact Piece of Artwork?
Heck to the no! Magazine collage is about finding images that speak to you personally!
Maybe you hate cats or don't like using people. Maybe you love flowers and buildings or jewelry or even fishing and football.
You should find images that you like and then use the techniques I showed to make your own art!