I made these altered rolodex art cards for my DIY Stamp & Die Storage boxes! They are made from actual tab dividers and are super cool and grungy in the modern steampunk style that I love! I wanted to put them all in one place for ideas and inspiration in your artwork!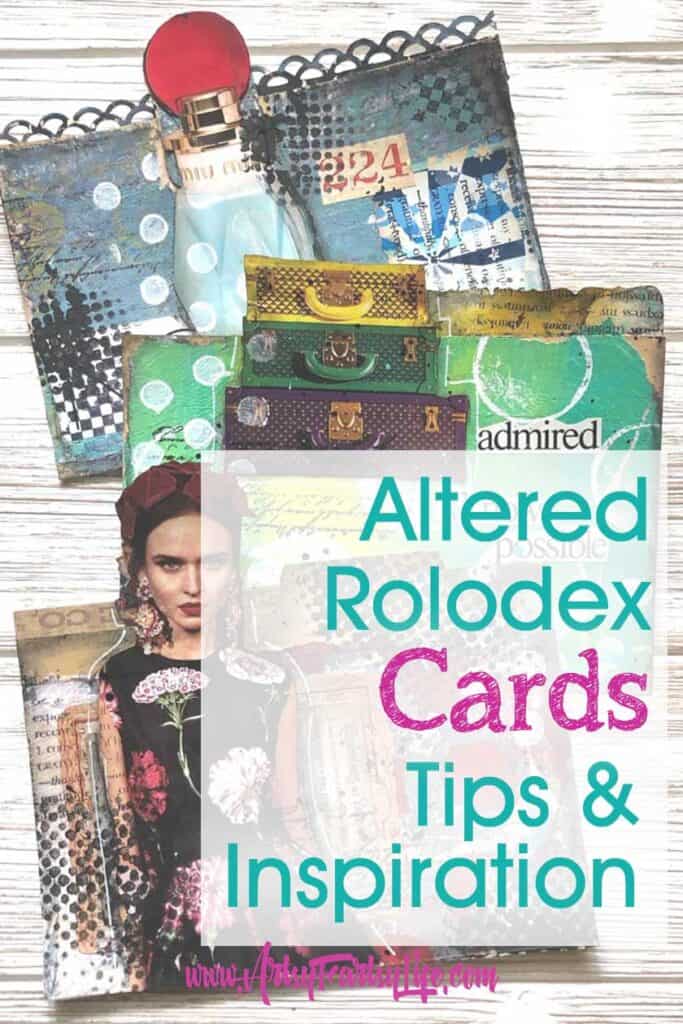 please note :: as an Amazon associate I earn from qualifying purchases, read my full disclosure policy here
Suitcases Altered Card – Green & Yellow Travel Themed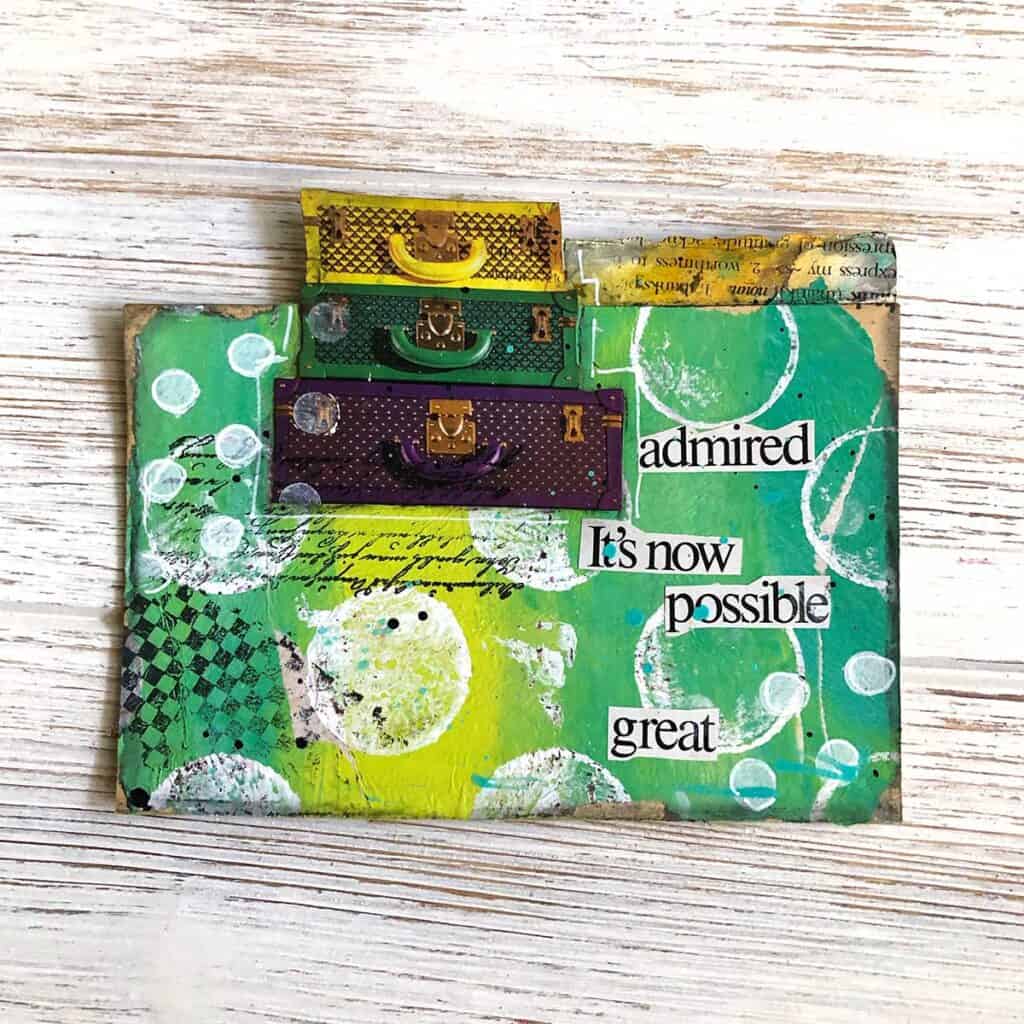 This one was super fun! I found some suitcases that were in a magazine, but they weren't stacked up like that… I saw them and thought they could be a fun tab for my rolodex card. This one also has some fun words that I thought were insightful.
Rainbow Woman Rolodex Card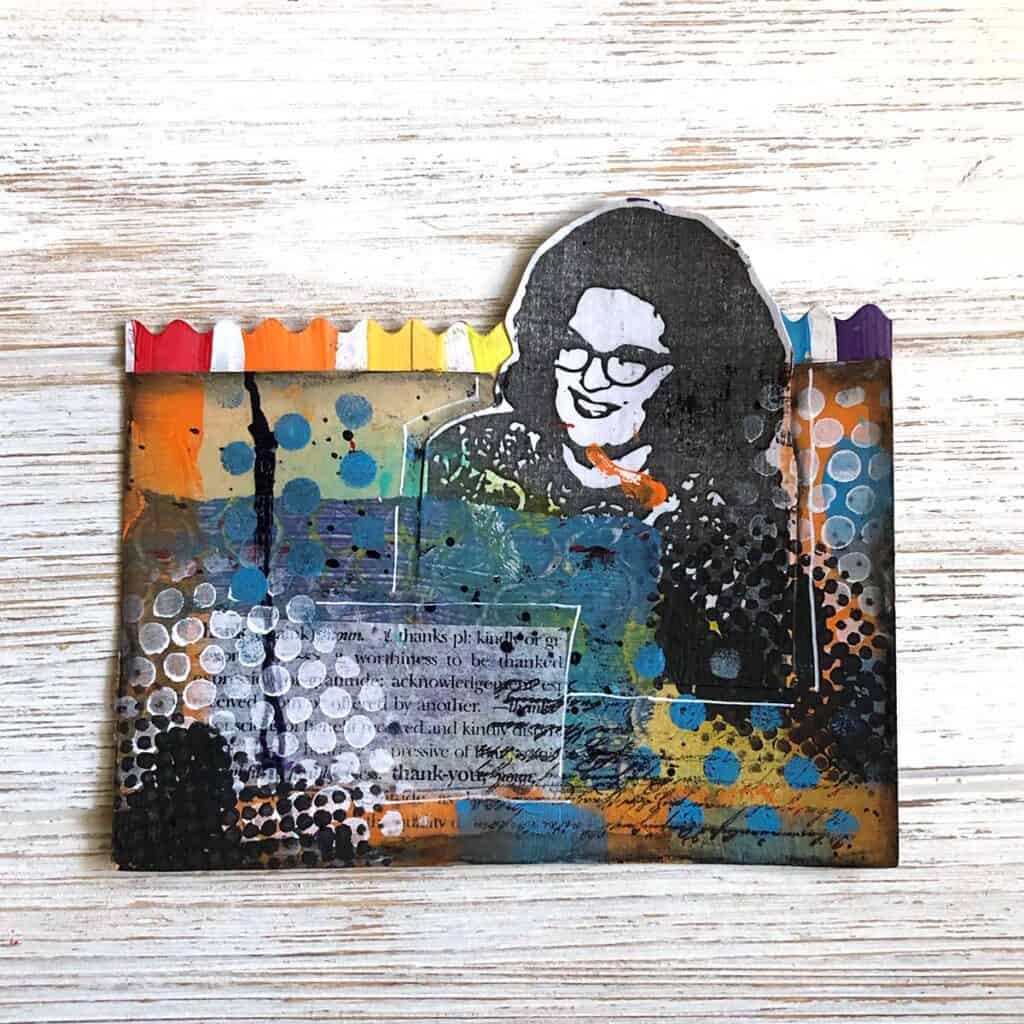 Okay, this one is super close to my heart. This is a picture of my Mom, Dee Shiffer, from the 1960s. I pulled it into Illustrator and traced it to get that cool mod vibe (I am for sure going to use that method in artwork going forward!) This one is a rainbow and family and makes me so darn happy!
Perfume Bottle – Feminine Altered Rolodex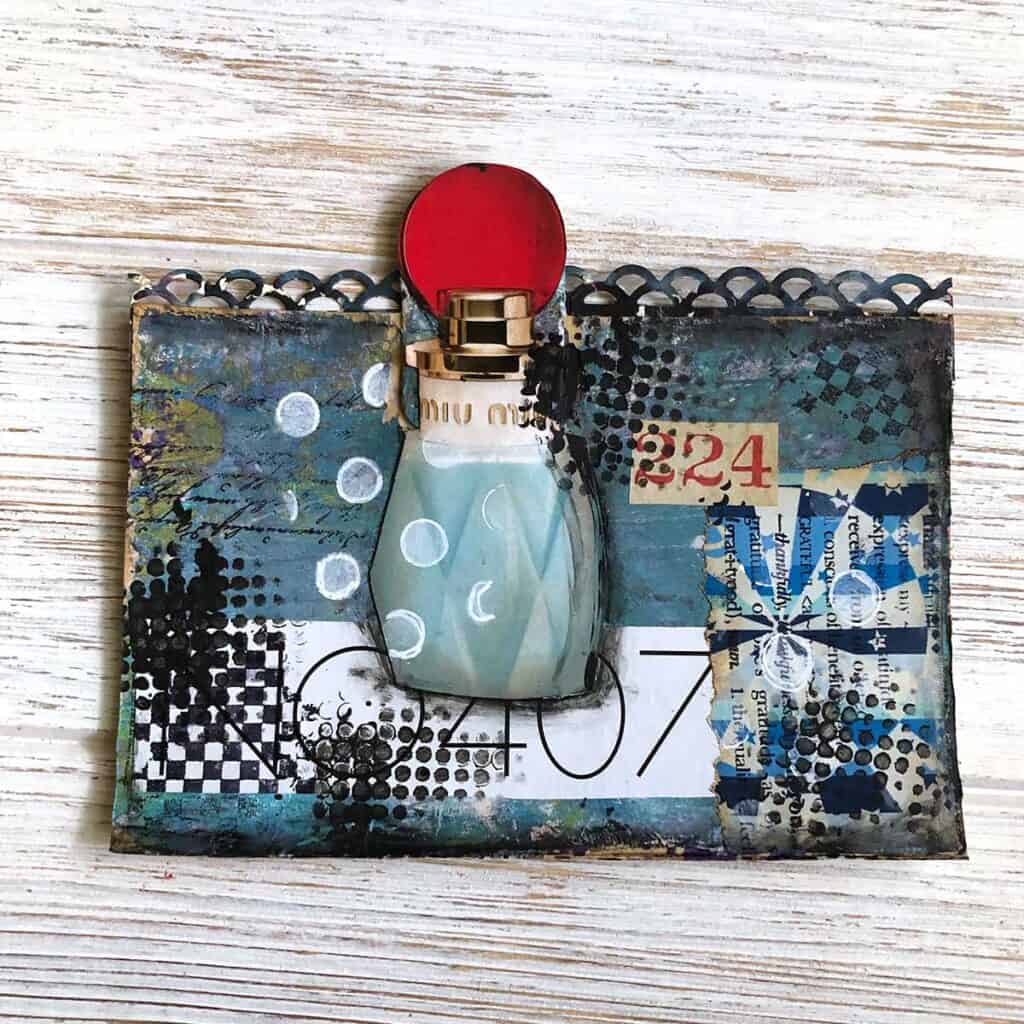 This one came out super cool. I thought the red top of the perfume bottle would really pop and then used a monochromatic palette of blues and blacks around it to make the red the star of the show! This is a true mix of magazine collage and altered cards!
Money Purple Flower Altered Card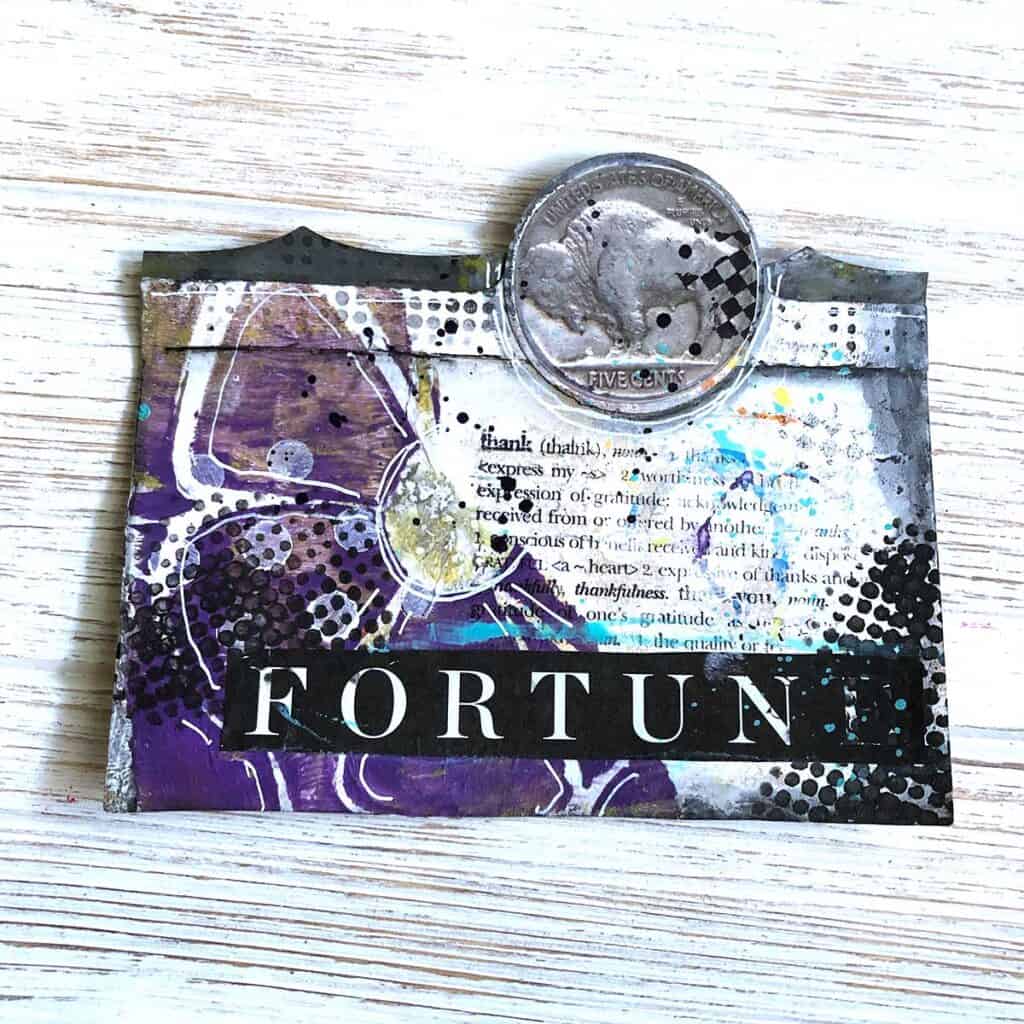 This one was a family affair! I had my teenaged daughter desy do some tissue paper backgrounds and she did that purple flower that came out great! Add to that the buffalo nickel from and old fashioned magazine ad and it was super cool!
Popcorn Movie Theatre Rolodex Card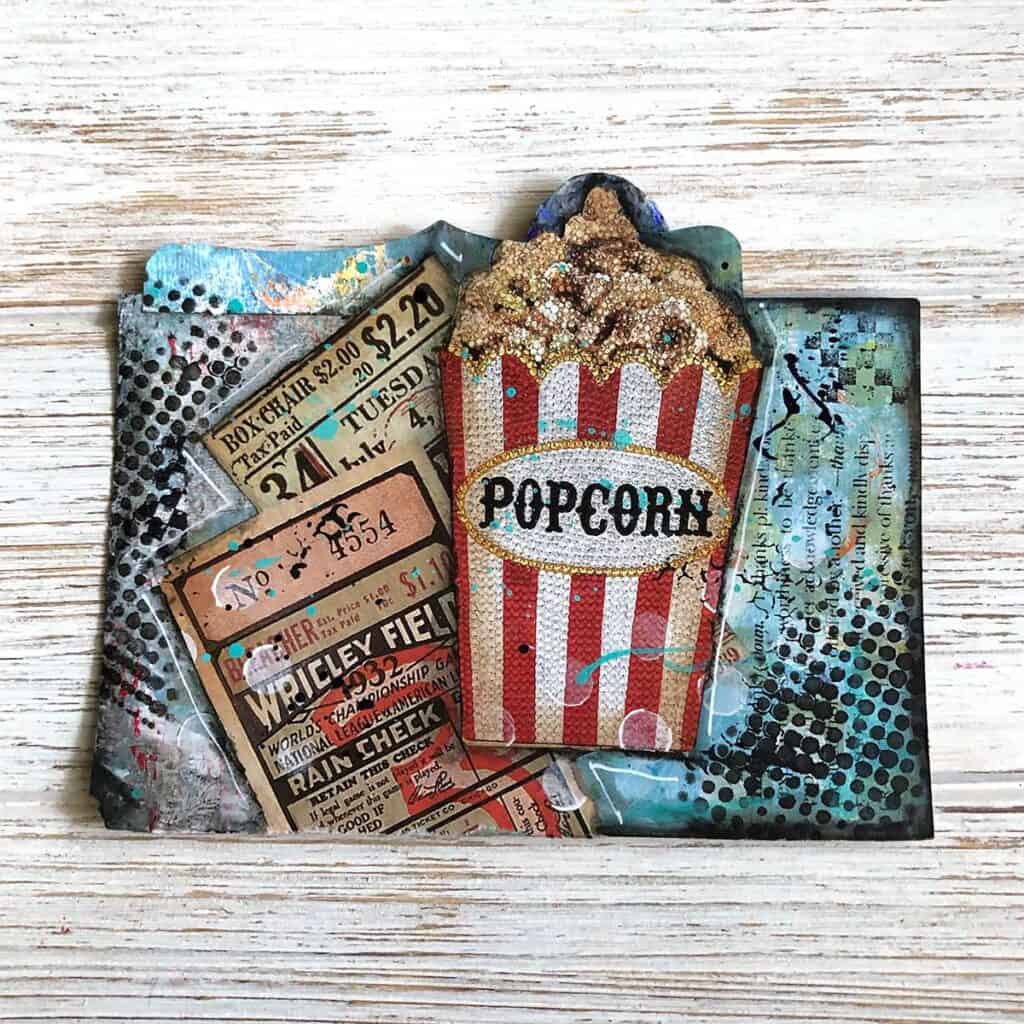 There is no way you can avoid smiling when you see this one! That amazing popcorn box that is bedazzled came from a magazine and the rest of the images and background are just to show her off! This is sparkly and magic in real life!
Red Apple Altered Rolodex Card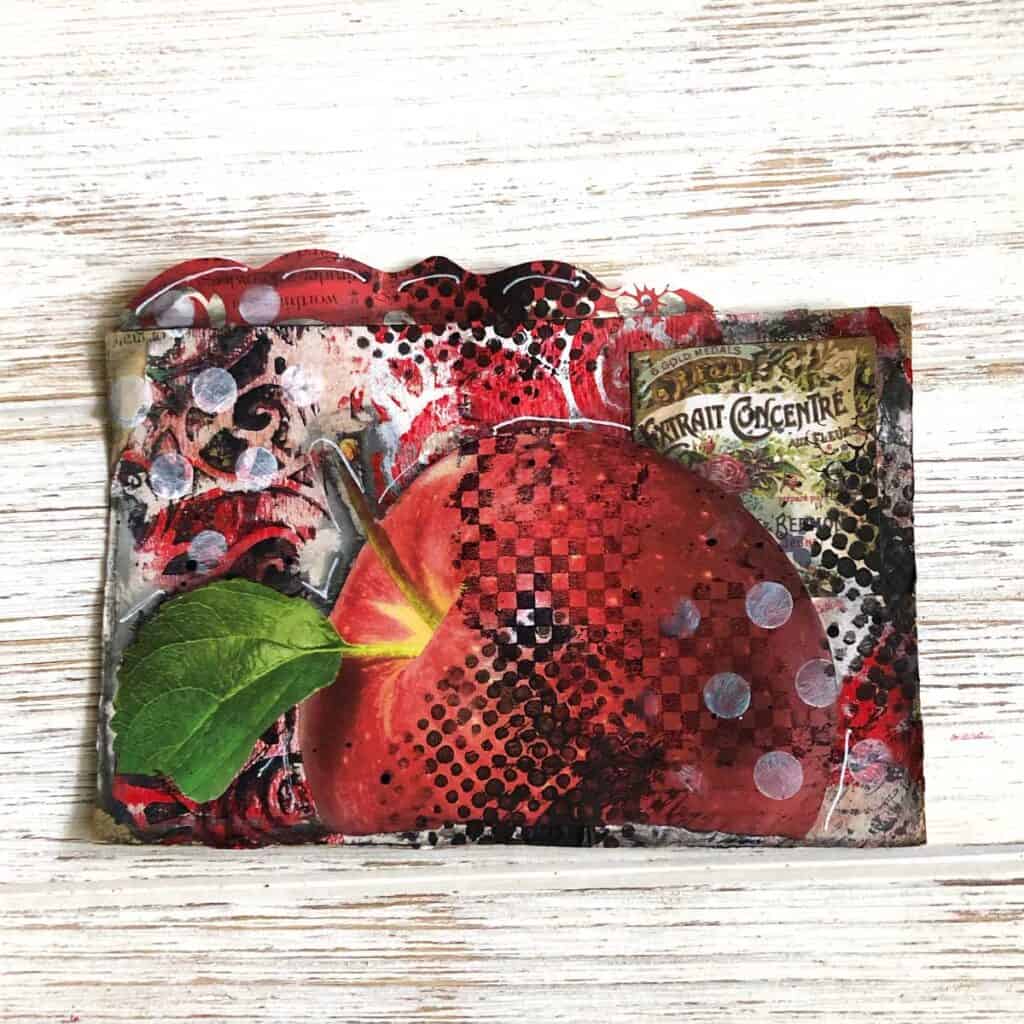 This is probably the most "normal" picture of the bunch/bushel (get it?) I love the little ad behind the apple and the way I could play with red, black and white to make this one work out!
Vintage Labels and Envelope Rolodex Card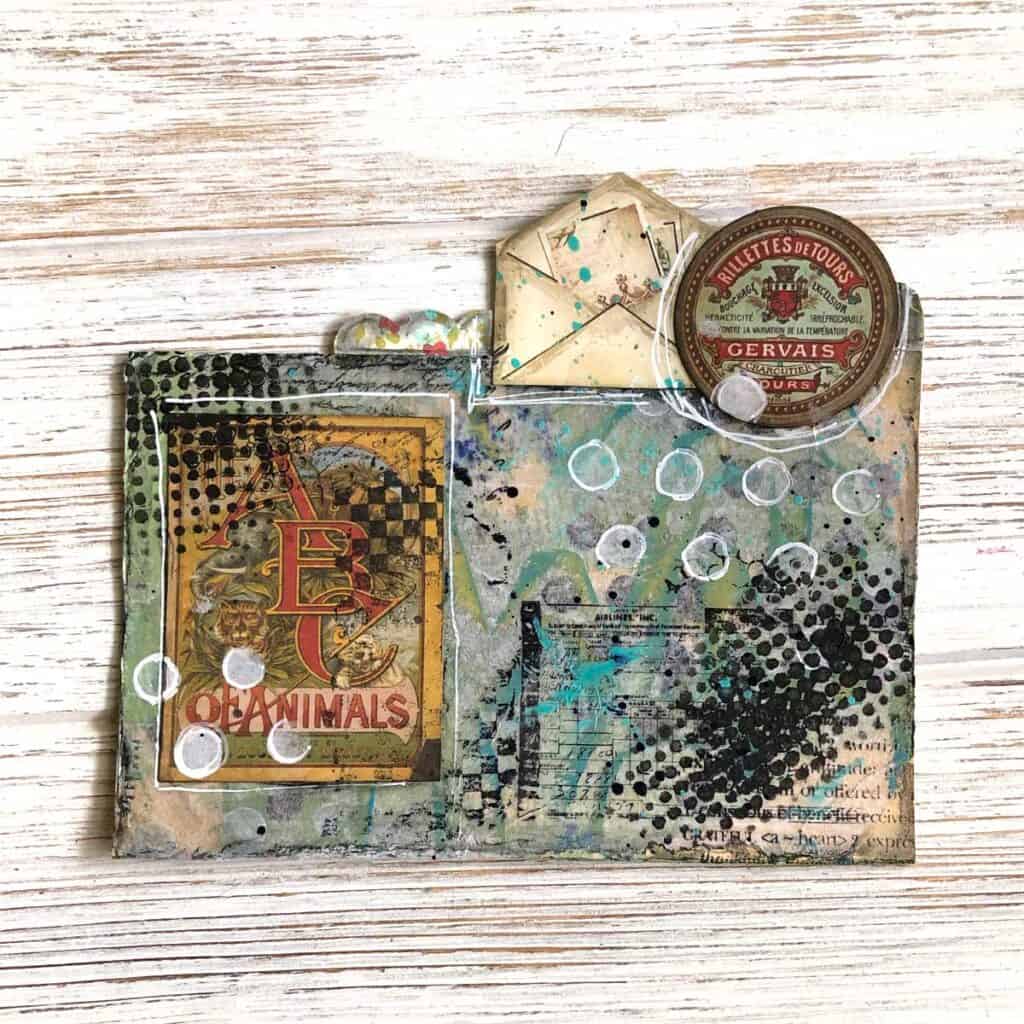 This one is super vintage-y in its feeling! The vintage cigar and box label work well with the letter ephemera (that my husband got for me… he is a keeper!) Red is the accent color and the dirty blue green the background.
Undercover Woman – Purple Black and Yellow Rolodex Card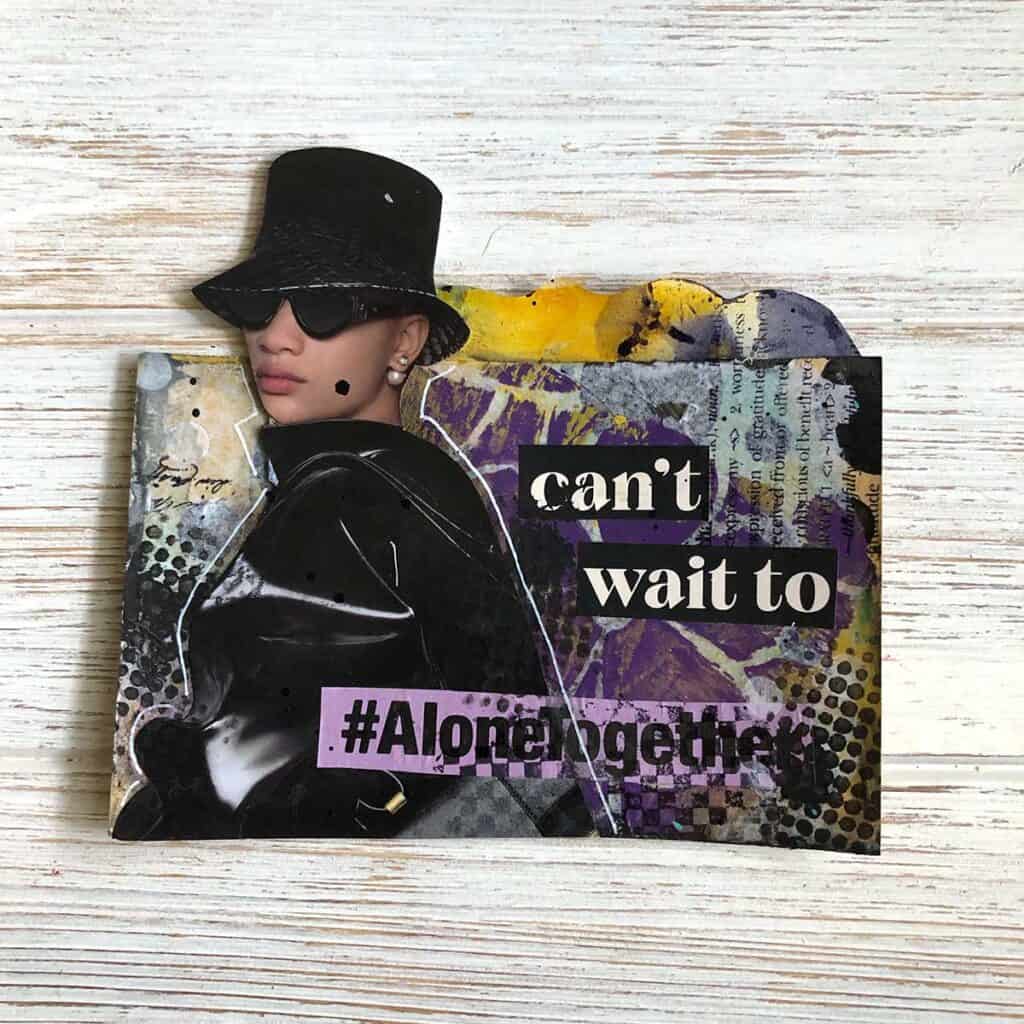 Okay, this one really speaks to me! I like to think that I am dark and mysterious (I am really short, kinda plump and not at all cool!) I love that I found the #AloneTogether hashtag in a magazine that would go perfectly on this tag. You can see another little bit of desy's purple flowers peeking out from behind.
Sunshine Yellow and Rainbow Rolodex Tag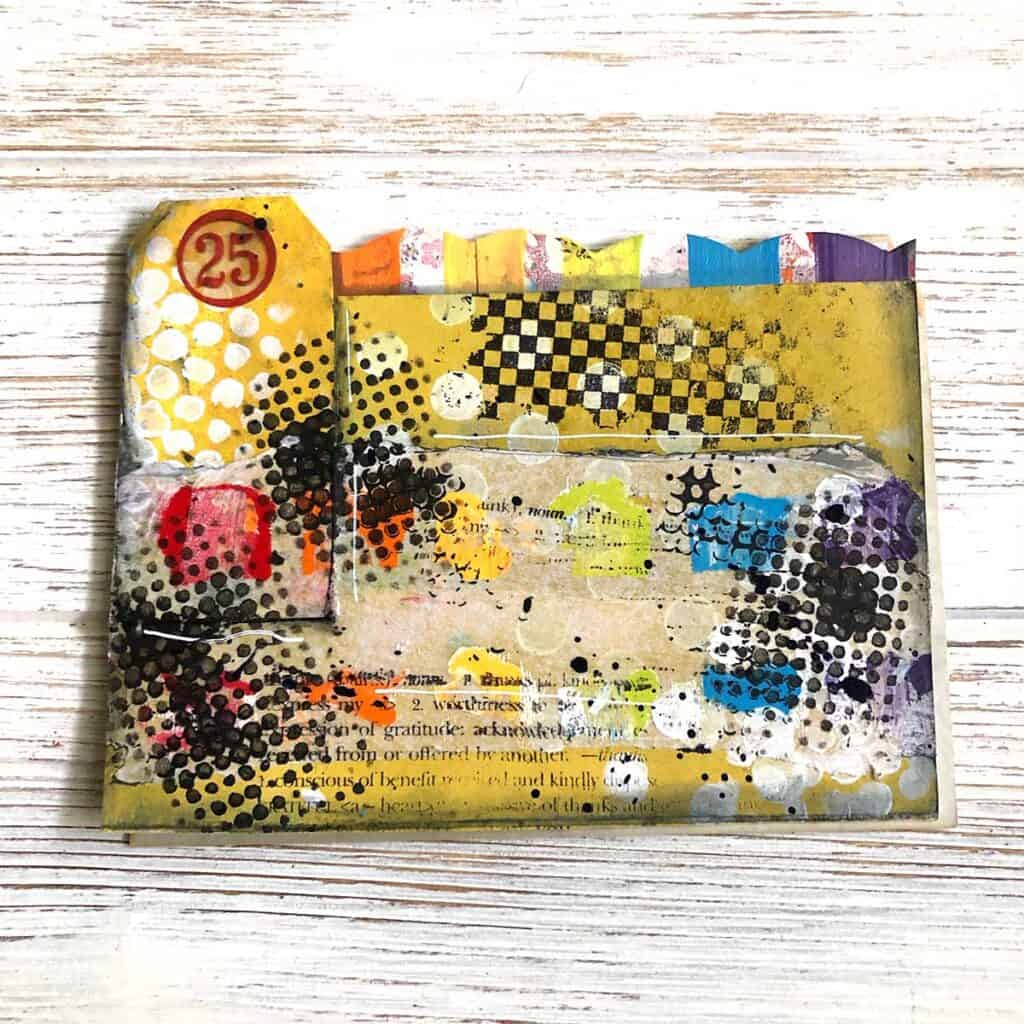 This tag perfectly sums up my approach to art… make something bright and cheerful, throw some pretty colors on it… and then grunge it all the heck up! I love how pretty the yellow is and I had a Tim Holtz ephemera to use on the tag part.
Edit People Rolodex Altered Card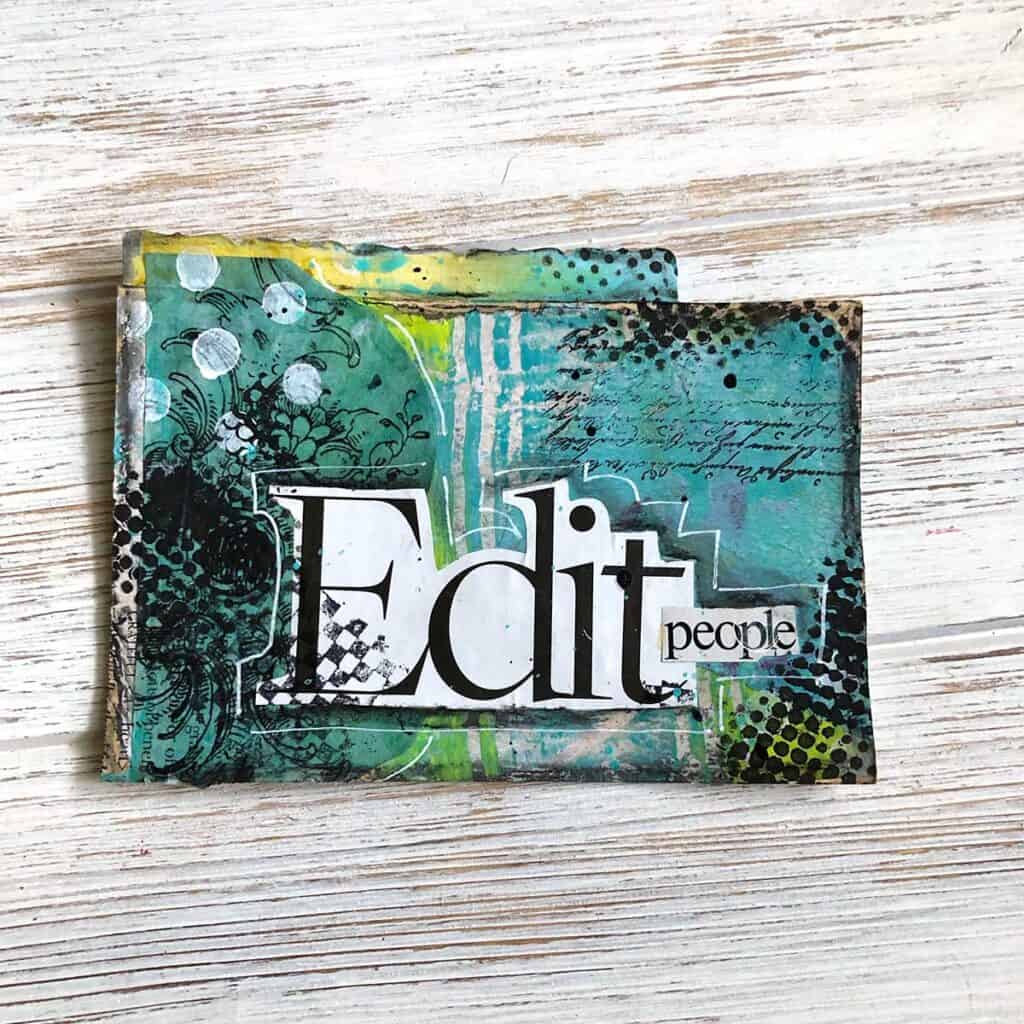 This one was just for me! I am having a hard time dealing with everything going on in the world today and so I have to "edit people" out who are not adding to my happiness. This is the perfect divider for any of you introverts out there!
Rainbow Playing Card Altered Rolodex Card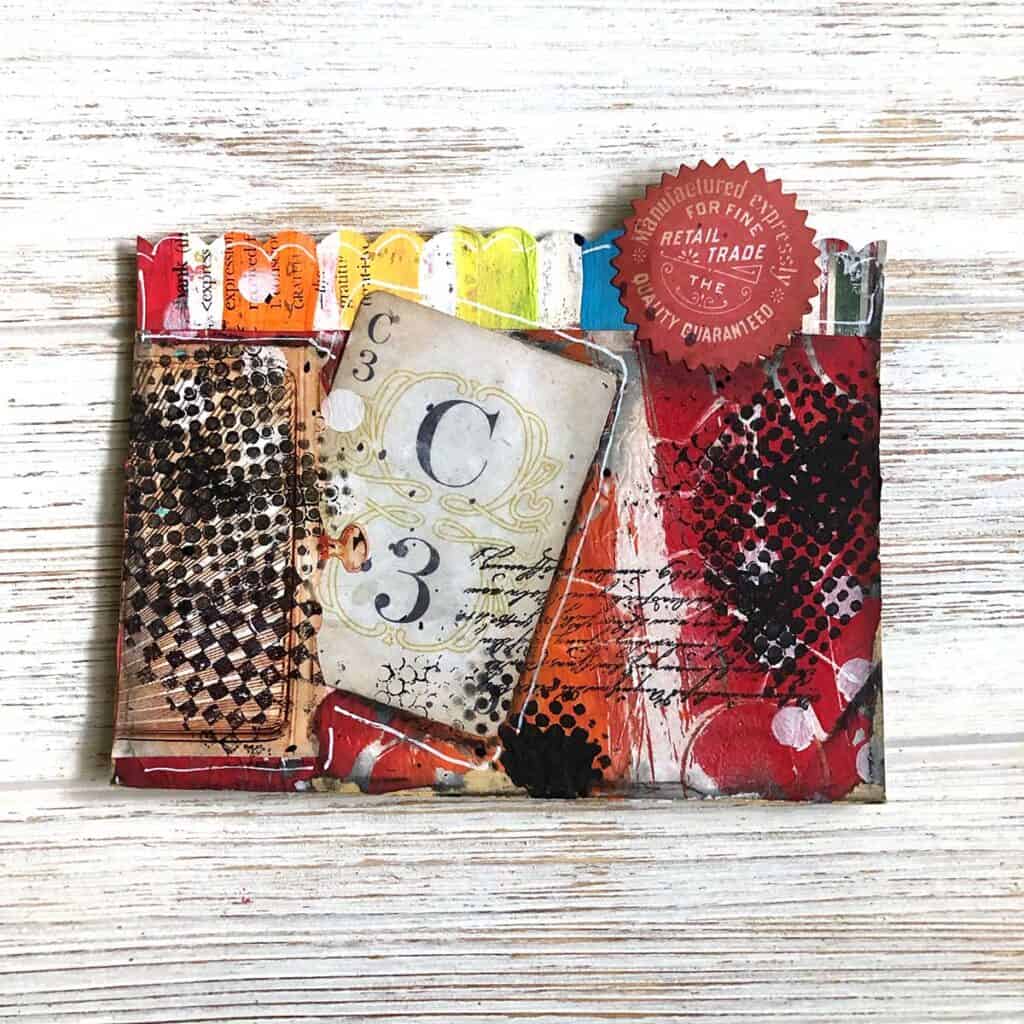 How fun was this one?I love the orange and red background colors and the pop of rainbow color, but the star of this show was two pieces of Tim Holtz ephemera, the playing card and the label. This one was a lot of layer techniques to get the grunge level right!
Modern Steampunk Frieda Rolodex Card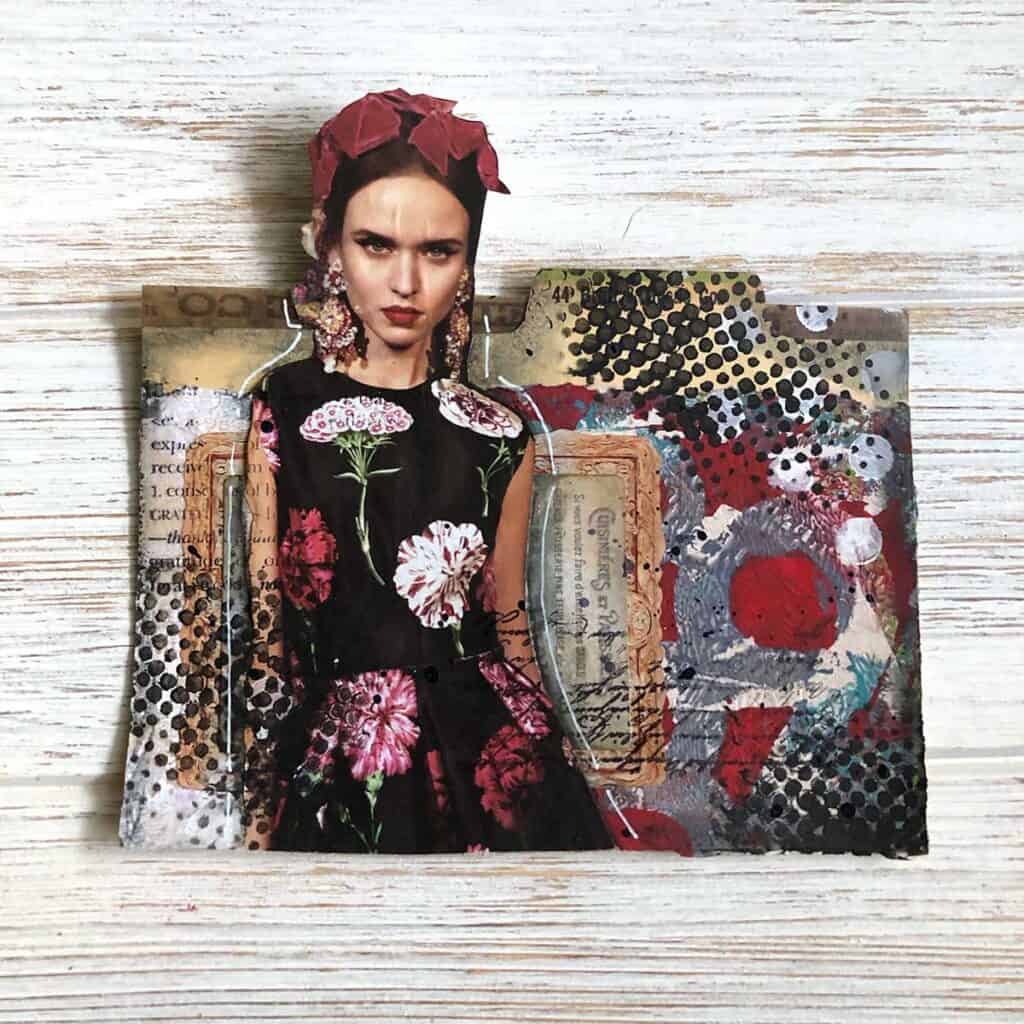 I saved this one for last because so many people have commented on the "Frieda" girl. That is actually a model from a magazine who definitely has that Frieda Kahlo look to her hairstyle and dress. This one was fun too! There is a layer of tissue paper, two ephemera cards, and then Frieda in the front (and of course a bunch of grunge!)