Here are my best tips and ideas for using mason jars for storage and organization around the house. From your office, to your craft room, kitchen and bath, there are so many places you can use these amazing little (and cheap) storage jars!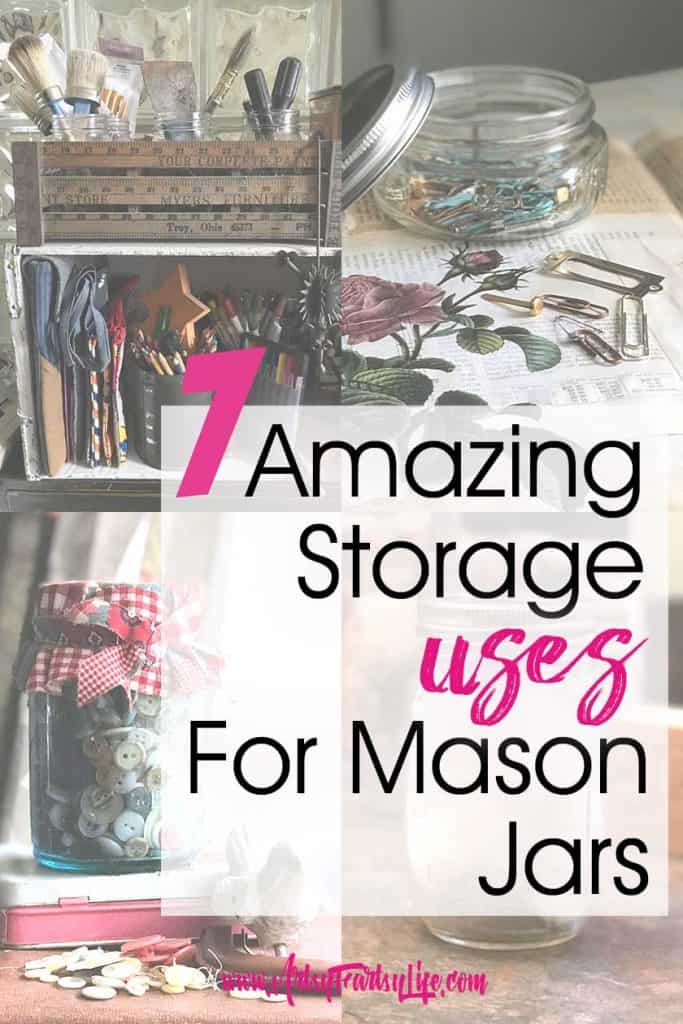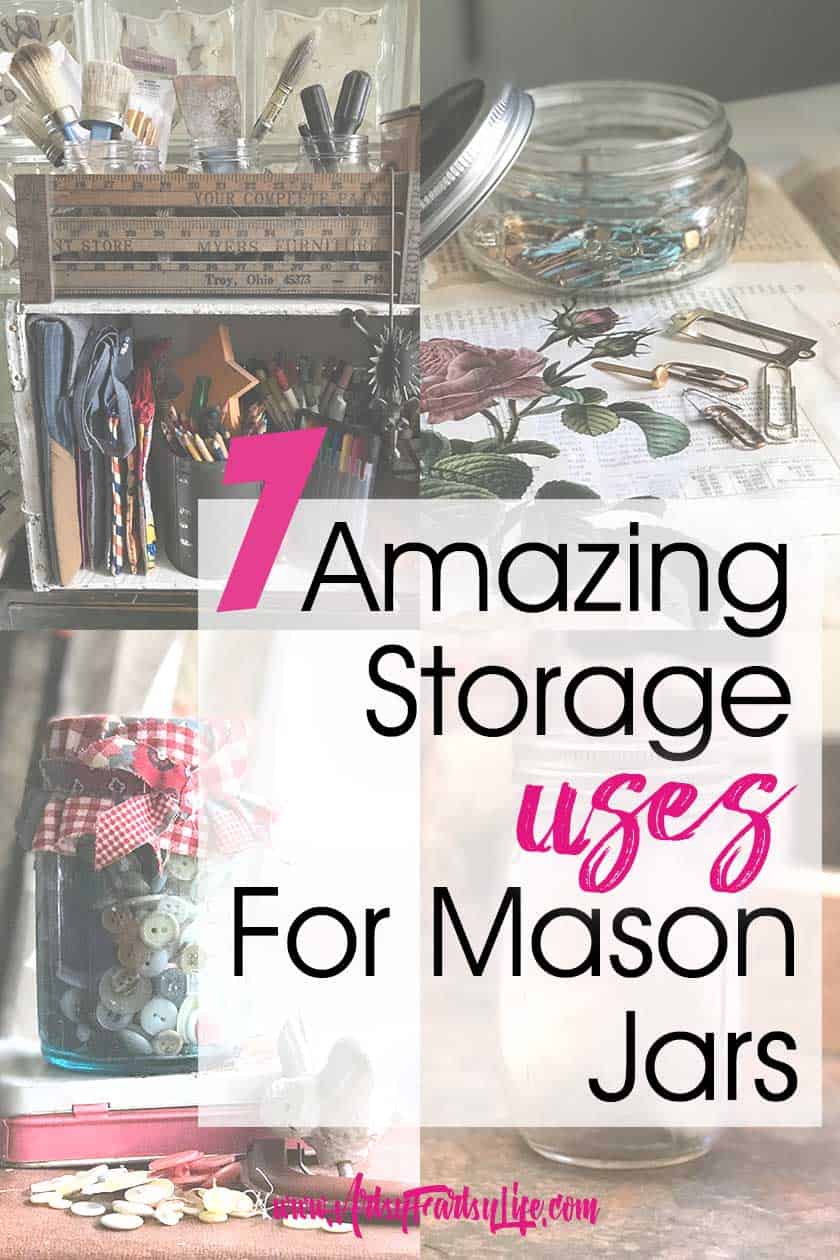 We've all seen them, those glass jars with threaded lids. Originally called Mason jars, but some other companies like Ball, also make them since the original patent expired. They come in all kinds of sizes, the most common 4 oz. to 2 qt. There are so many!
If you are like me you might LOVE these old mason jars with the zinc lids that have a great sign of age. Funny story… I sell mason jars in my vintage store and when I go to the estate sales I pick the jars I like and then swap the out for the old rusty lids that look so cool!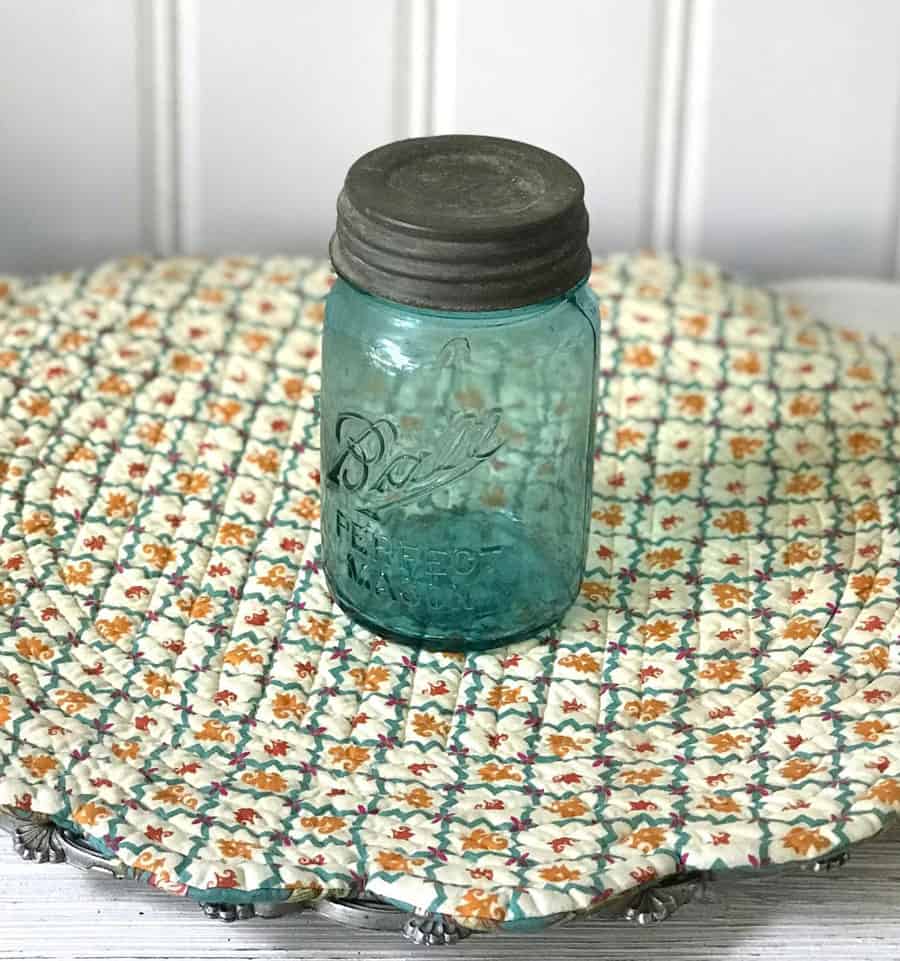 Using Mason Jars For Organizing or Storage
I use ball jars all over the house to organize! They are perfect for a visual person like me who needs to be able to "see" what is in the jar or it disappears forever to me.
1. Organize Art Supplies
As a mixed media gal, I used to have all kinds of craft supplies all over with no way to organize them! Over the years I have gotten better and will show you a couple of the ways that I have found to use mason jars to wrangle all of my bits and pieces.
In your craft room you can use them to organize art supplies, buttons in one, paper scraps in another and so on. You can easily see into them because they are clear glass so nothing ever gets "hidden" and wasted.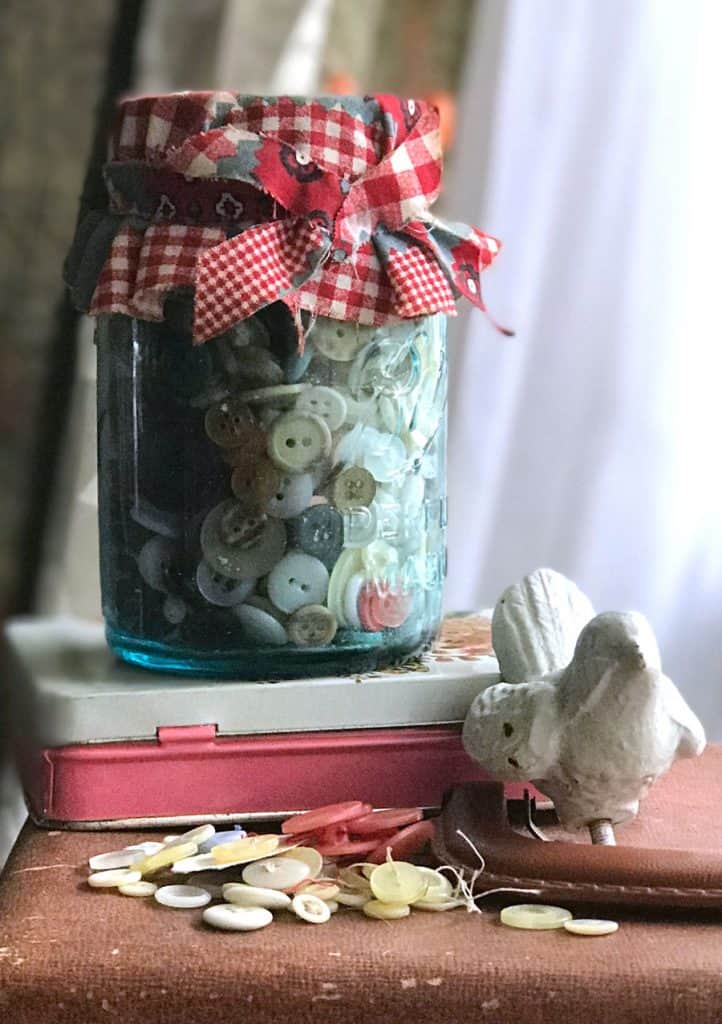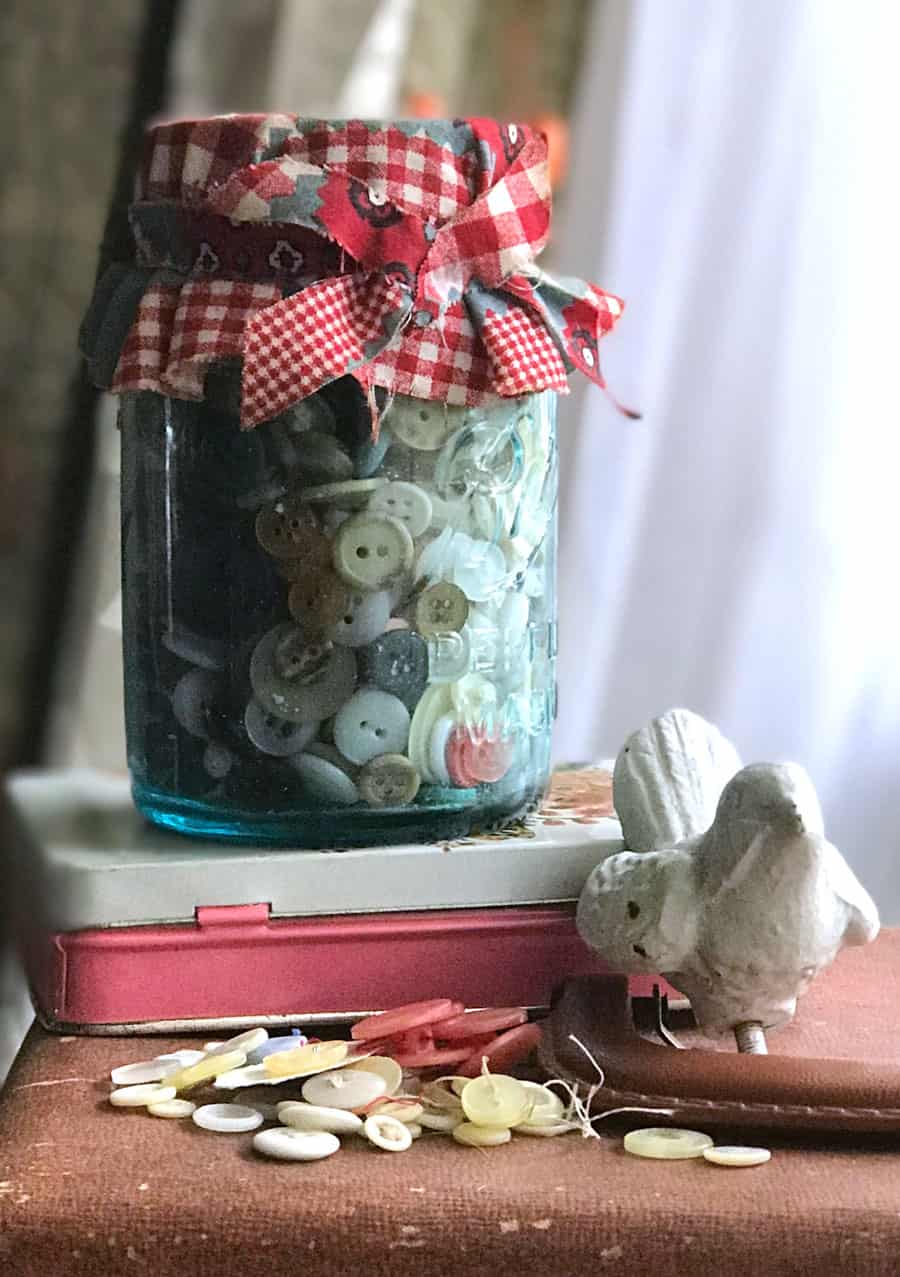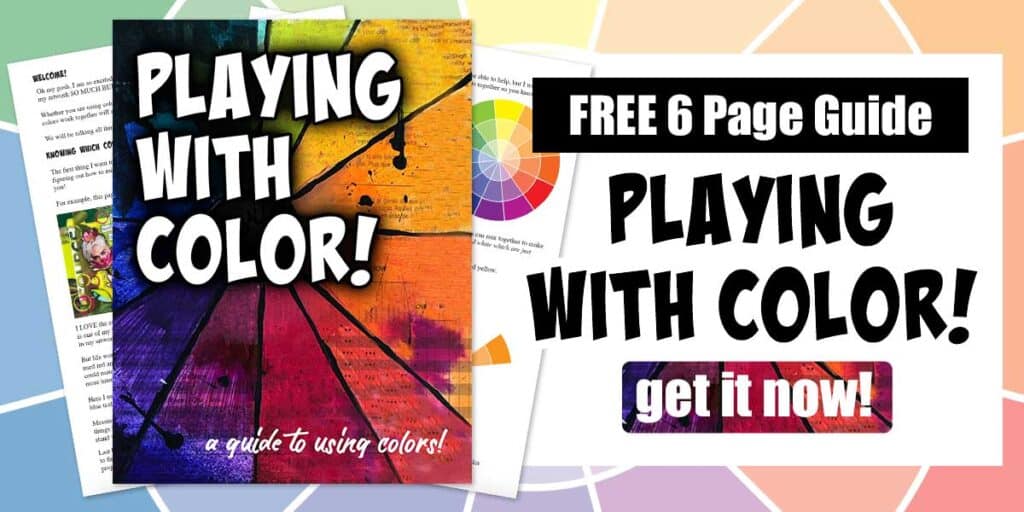 2. Keep Your Tools Handy
I KNOW, most of you have tool boxes, but I am always darting around, trying to find the hammer and a paintbrush and some pliers all at once.
I solved this by finding a cool old crate that had sections just the right size to fit mason jars into!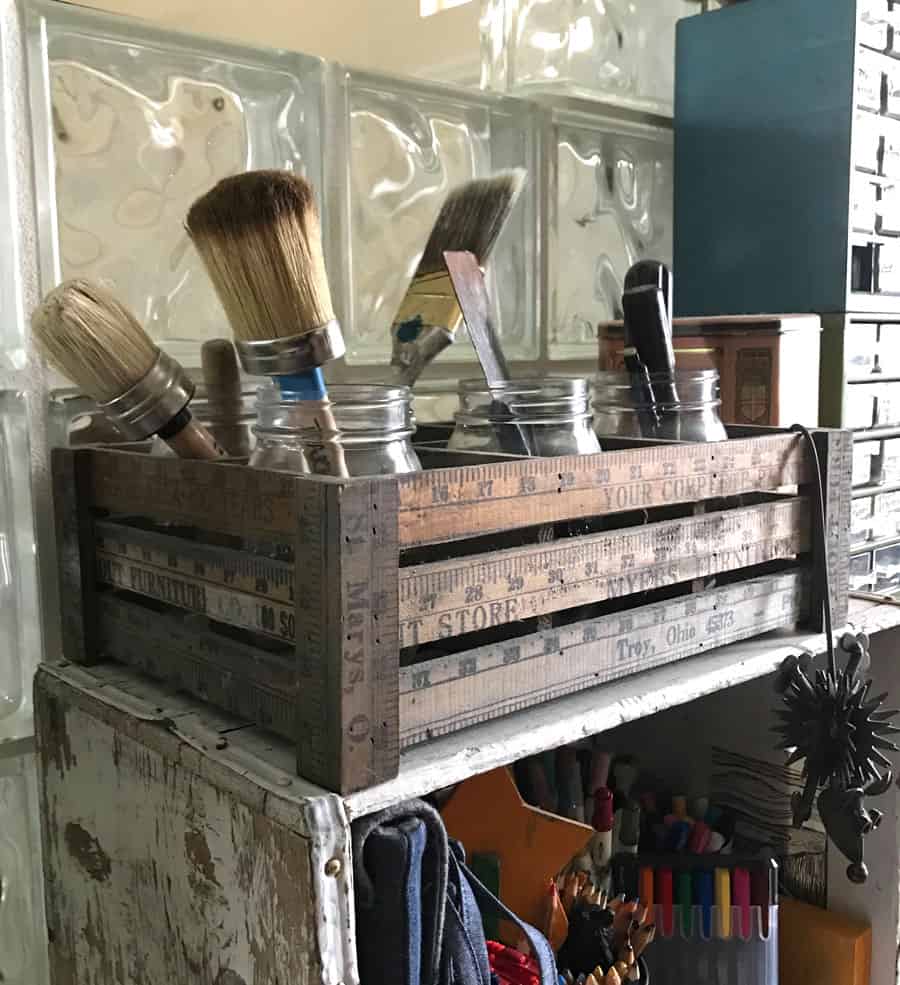 I got this years ago after SO MUCH searching, but the cool thing is that now you can find these on Etsy already made to fit the sizes of mason jars you like to use!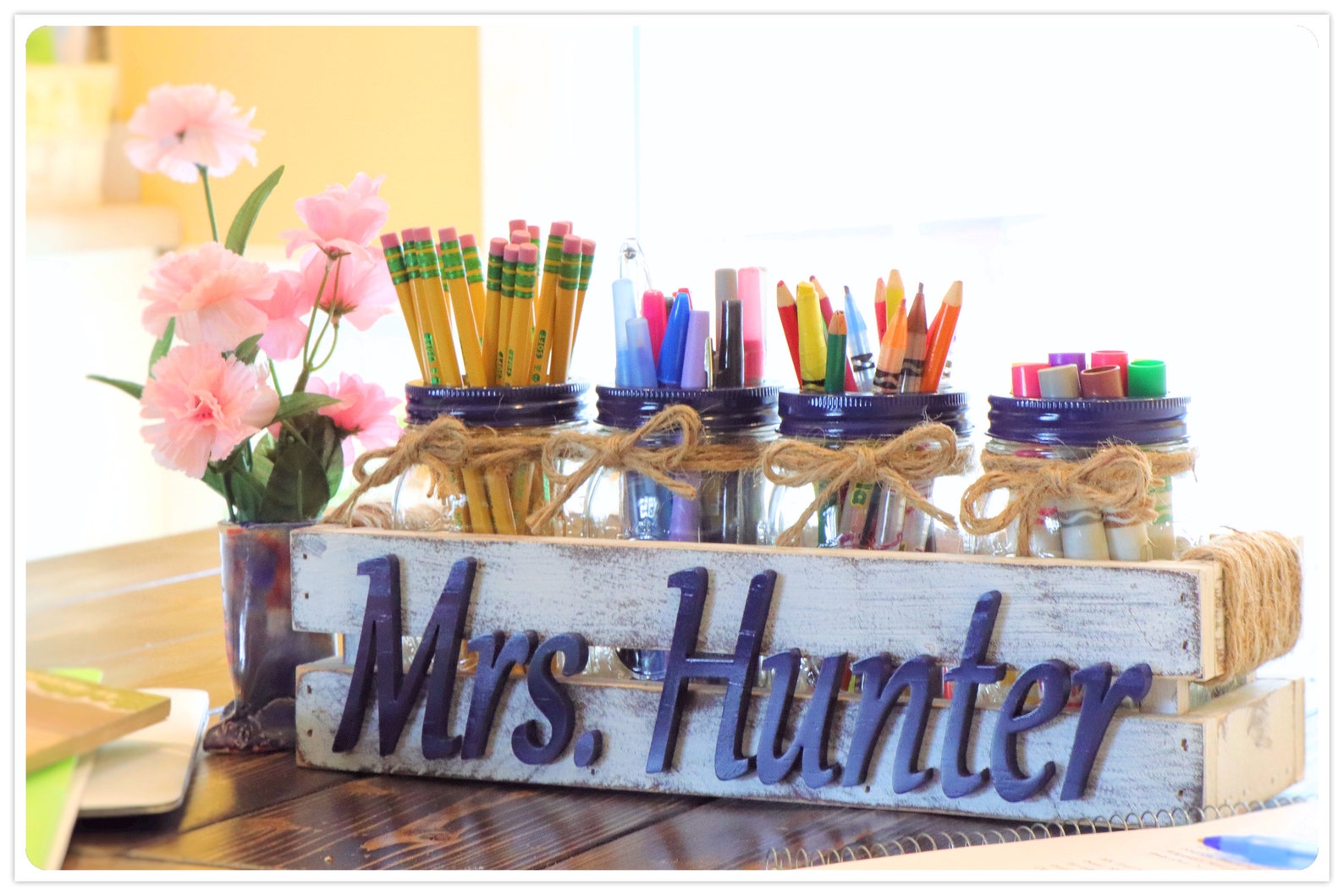 Personalized Crate Box:4 Jar Size WITH JARS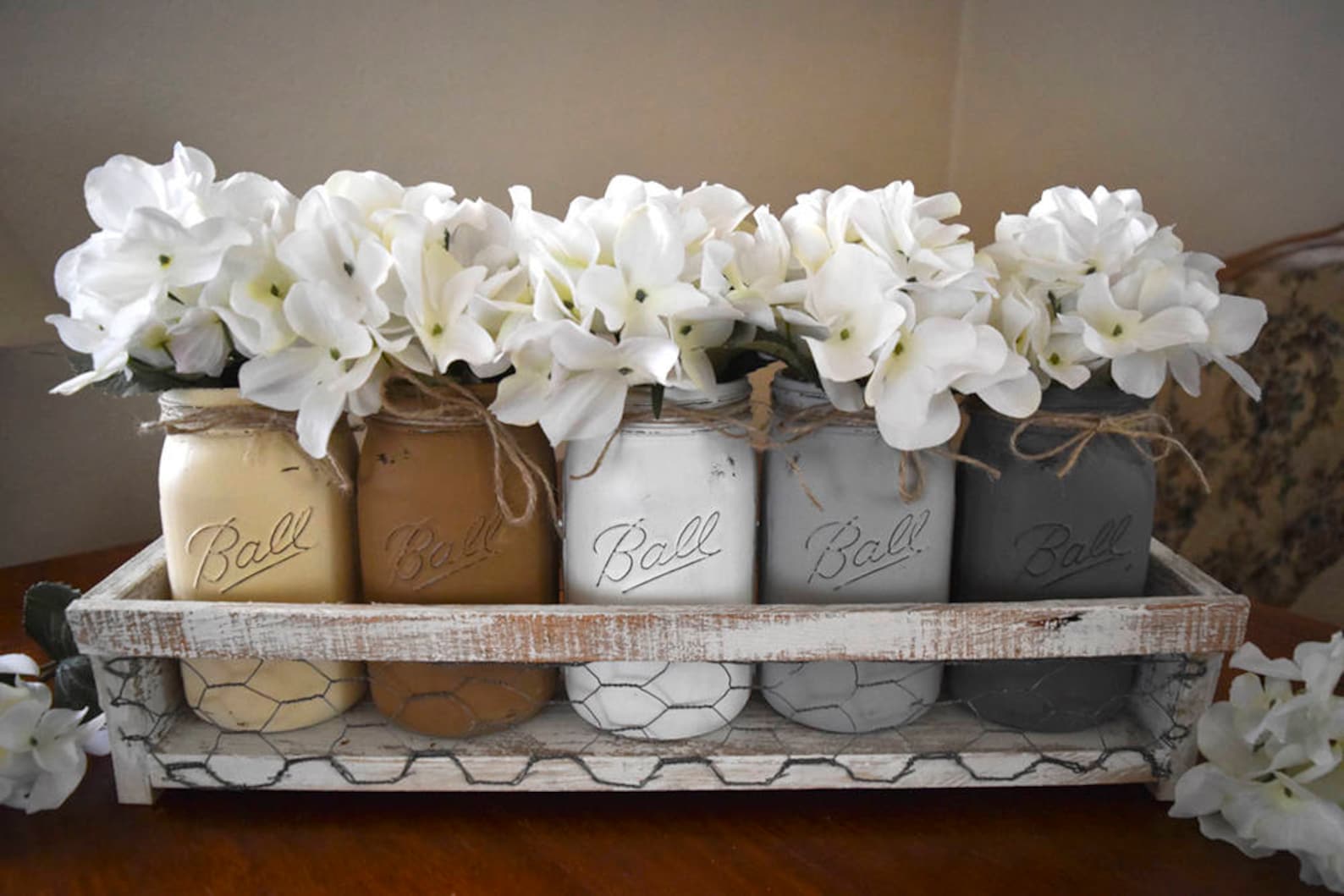 5 jar mason jar planter box

3. Mason Jar Sewing Kits
Even needed a needle or thread and can't find one? Make a Mason jar into a sewing kit. The lid can be a pin cushion by putting a piece of fabric between the lid and band or ring, and putting cotton balls or cotton batting in between the fabric and lid.
Then put things like small bobbins of common colored thread, a packet of needles, small scissors and some buttons or other odds and ends you might find in a sewing kit.
Here is a really cool mason jar sewing kit tutorial from Momtastic and who knew there would be such cute ones already made on Amazon!
Kikkerland CD513 Mason Jar Sewing Kit

Tutu Creative Sewing Organizer

4. Mason Jar Office Organizing
In the office, use them to organize your desk needs. Put paper clips in one, larger ones in another, push pins in another and an open jar for pencils and pens. Again, you can easily see what is inside and find what you need.
I like using the small fat ones for this so it is easy to fish around and get the clip right from the bottom!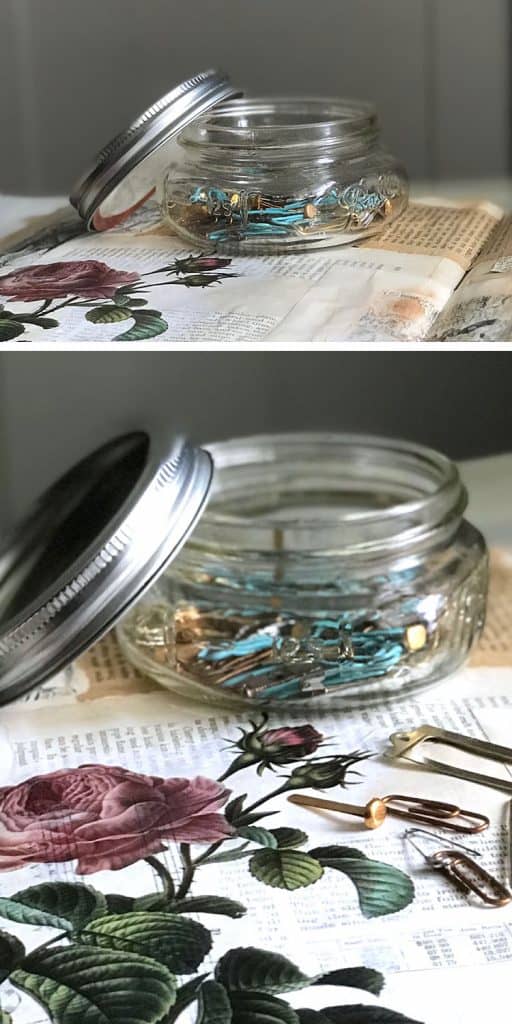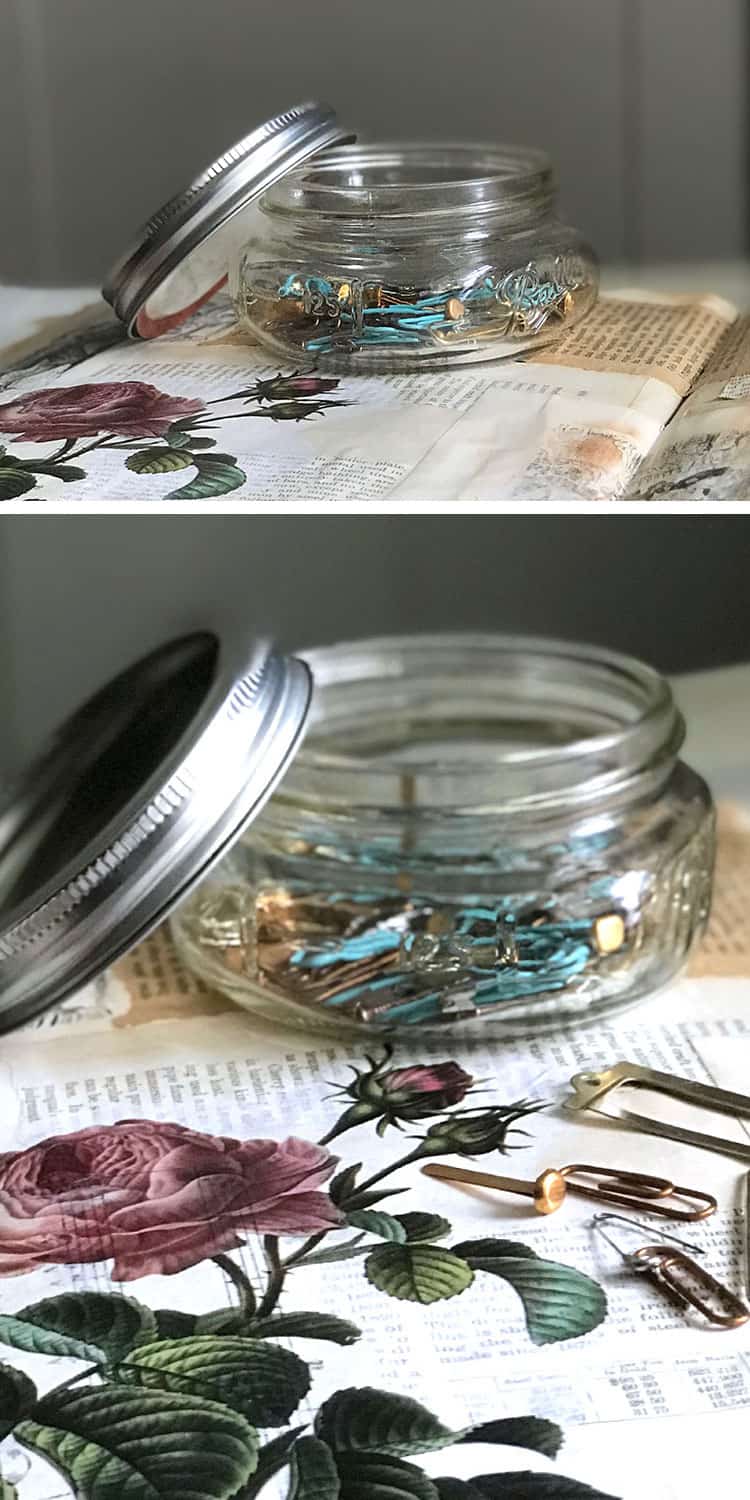 5. Mason Jar Kitchen Organizing
In the kitchen there are so many uses! In your pantry or cabinets, use them to hold spices, bigger jars for flour or sugar, cereal, snacks. Think about how much room the container groceries like cereal, and so on take up in your cabinets. Mason jars take up much less space, are stackable and easily reused.
A cool thing to do for kids is to make these kinds of mason jar ready to eat oatmeal breakfasts that they can grab and make all by themselves!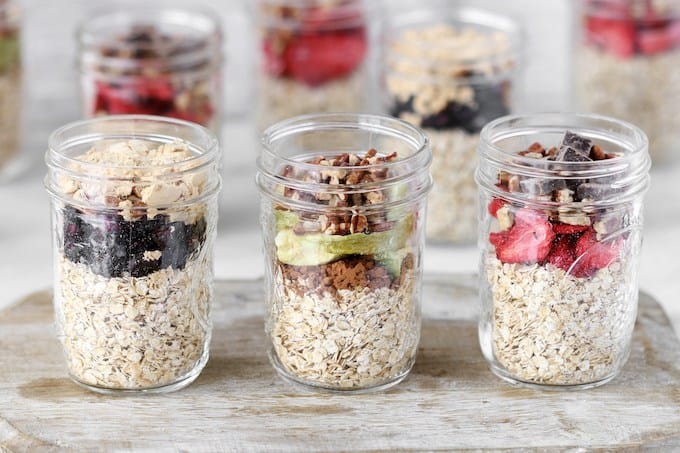 6. Organizing Playrooms
Kids are masters at losing the small parts to games and toy sets. You can use Mason jars to organize small toys like Legos or other small toys. The upside is the room stays organized and the full jars make a colorful addition to shelves.
How cute is this DIY Dinosaur mason jar idea?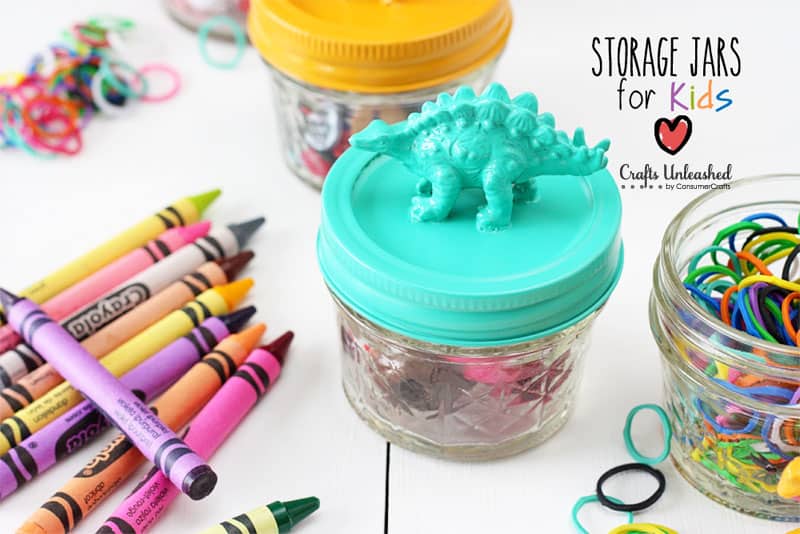 7. Organizing Bathrooms
In the bathroom, use them to hold cotton balls, q-tips, toothbrushes, makeup brushes, makeup and whatever other things might litter your countertops.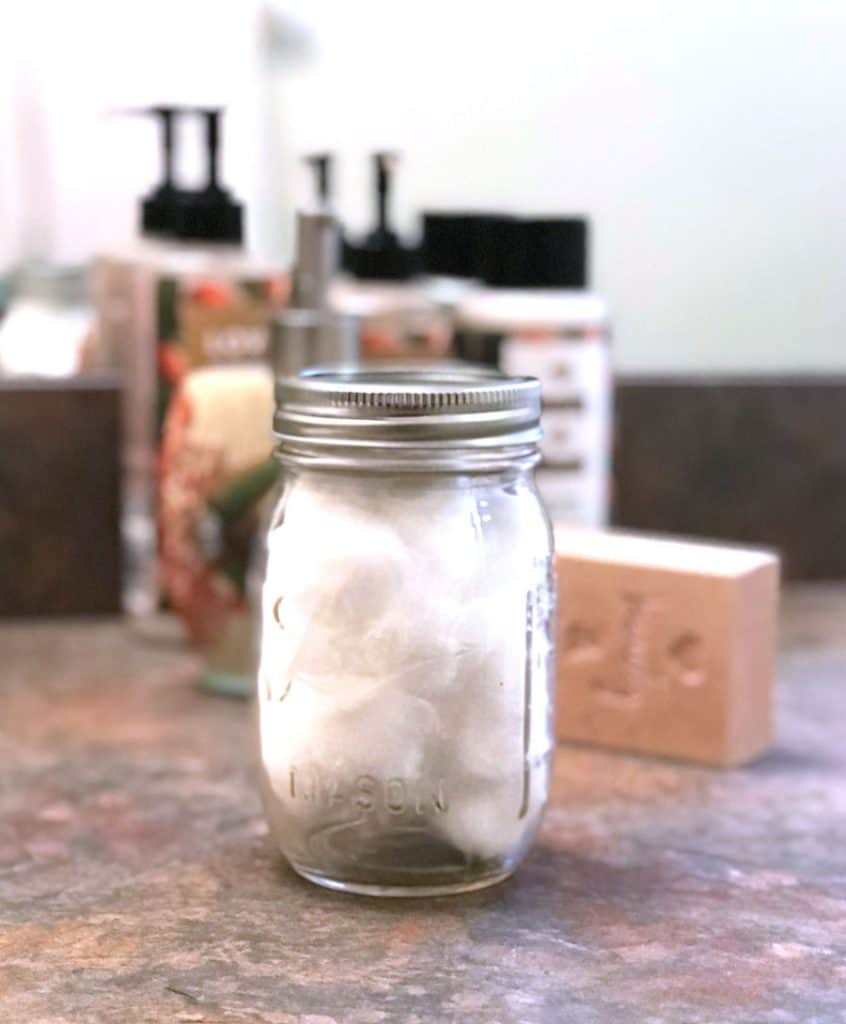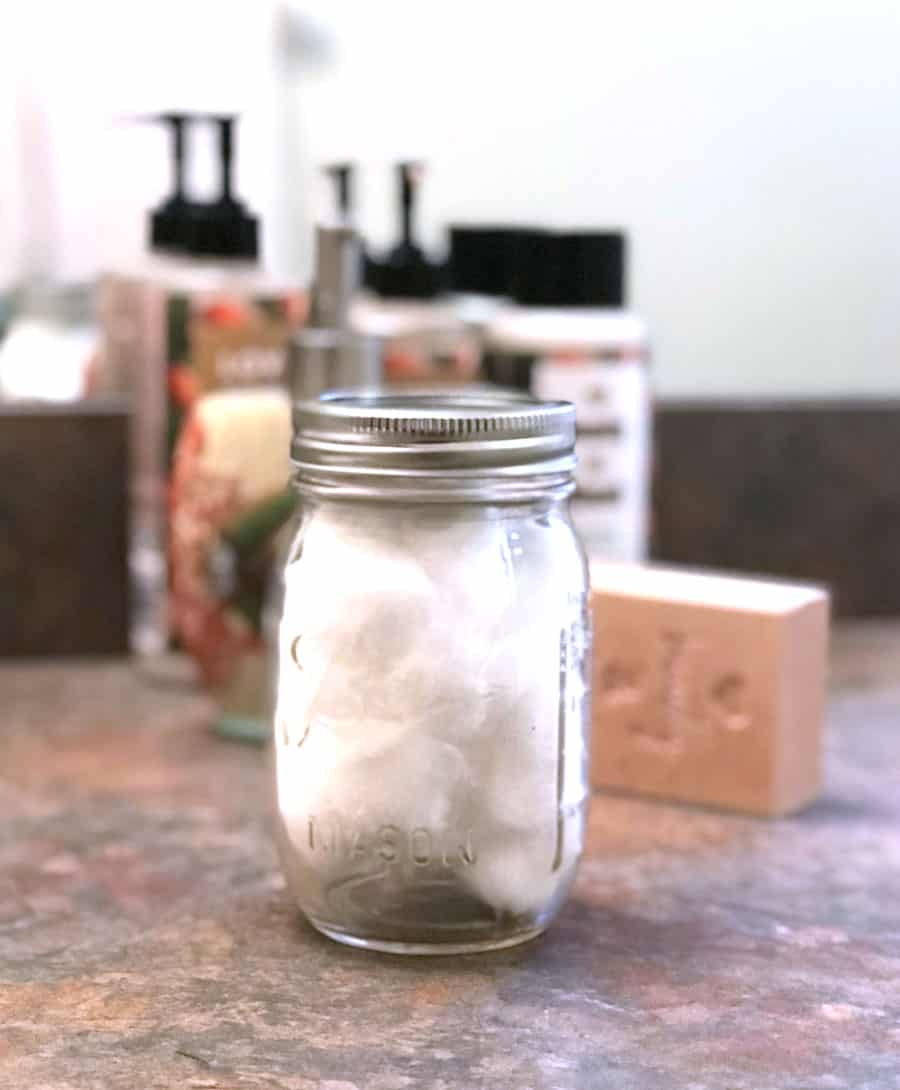 BONUS! Mason Jar Two Tier Caddy
As I was doing research for this post I found a really cool, Mason Jar DIY project to make a two tier shelf! I am super intrigued and may have to make one of these for myself.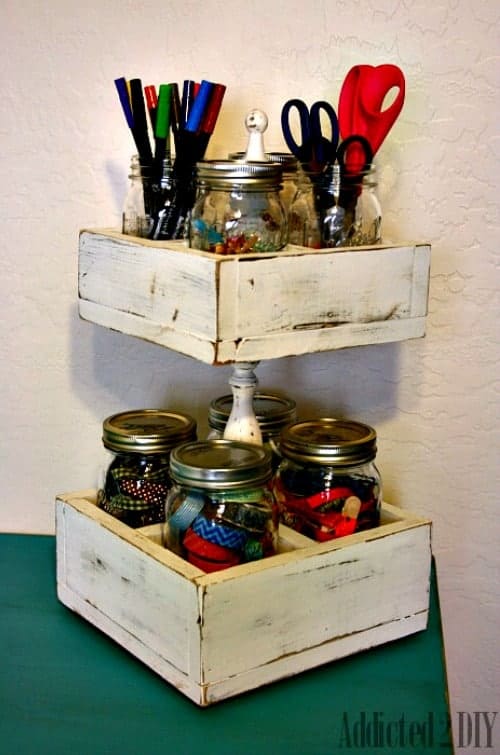 There is so much more that you can do with them. these are just a few things. Remember that lids can be used intact or with holes for different things. Just use your imagination!