I wanted to figure out a way to store my stamps (red rubber OR clear) that would let me see the ones I use all the time easily! This acrylic stamp sandwich is just the solution I needed!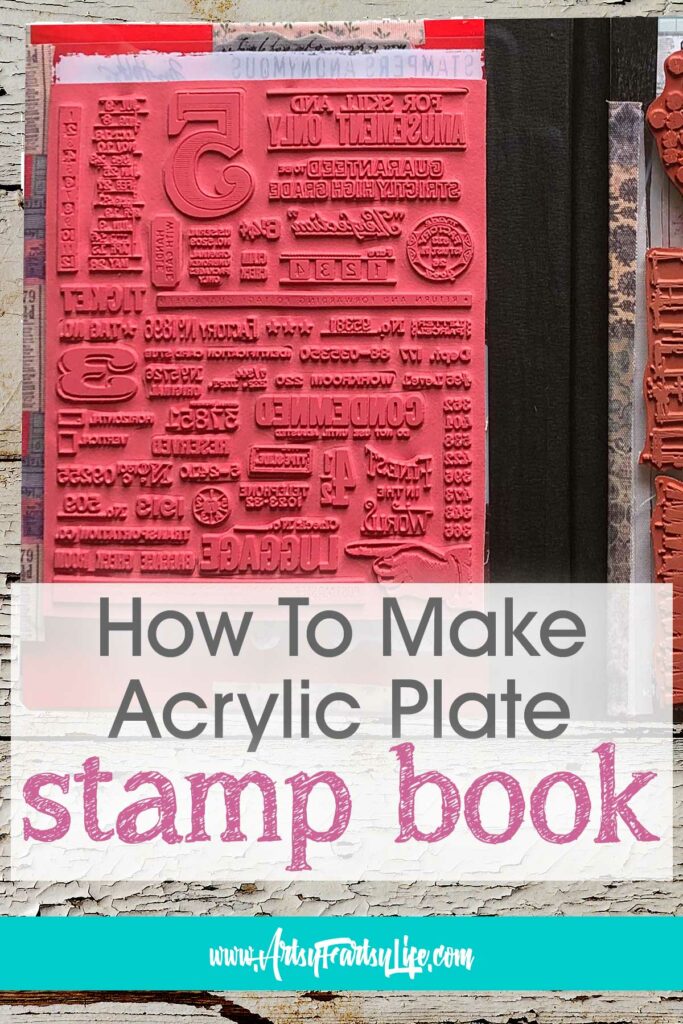 please note :: as an Amazon associate I earn from qualifying purchases, read my full disclosure policy here
Why I NEEDED A Stamp Book
I am the kind of artist that only uses things that I can see AND that are super easy to use. I KNOW there are gals who can "organize" their stamps in separate folders or binders and easily use them… not me!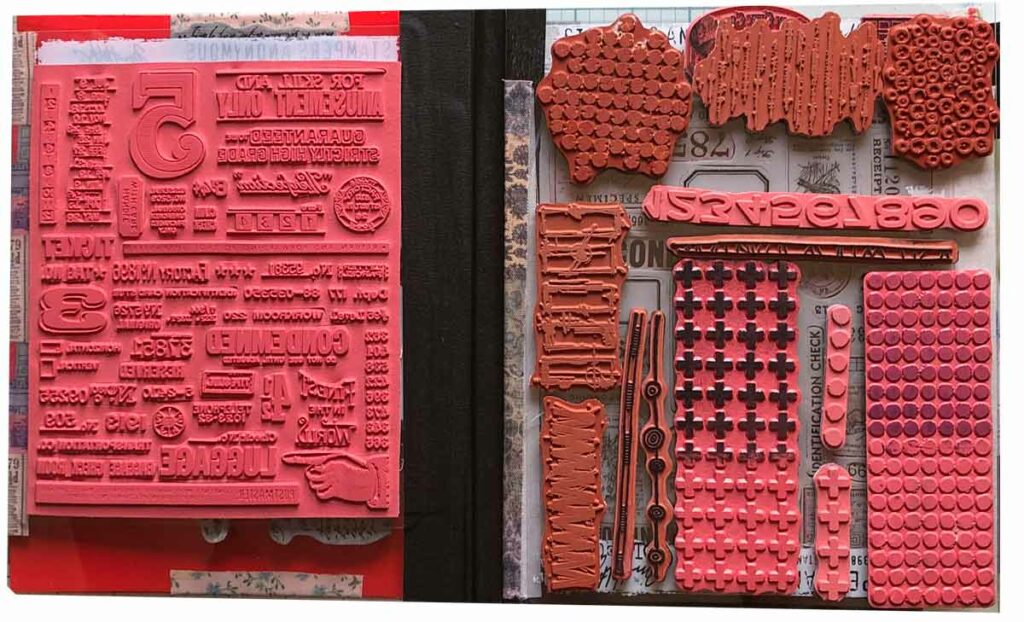 I started using acrylic blocks to store my stamp last year with my dies on the back on magnets and they worked PERFECTLY! (because we use acrylic blocks that stamps stick to already!)
I am still using that system for the remainder of my stamps BUT I need to have my most used stamps handy and available to use in my mixed media artwork.
Now, I KNOW there are stamp binders out there, but I am a binder kind of gal… I don't know why, they just don't work for me the way that others seem to love them.
Here is how I organize my rubber stamps so I that I can use them more!
Video Walkthrough Of How I Made My Stamp Book
How To Make An Acrylic Stamp Storage Book
I am not a great mechanic and this is a little different than my normal projects, but one thing I DO know how to make is books! I LOVE how this stamp book turned out!
Functionally, I used 4 8″X10″ acrylic plates to stick my stamp sets and individual stamps on, made hinges with tape and a cover with a plastic file folder.
Supplies Need For Acrylic Stamp Book
I was super pleased to find out that actual supplies needed (the acrylic plates, plastic file folders and hook and loop closure cost around $25 which is in line with what a pre-made binder that you can buy at the store!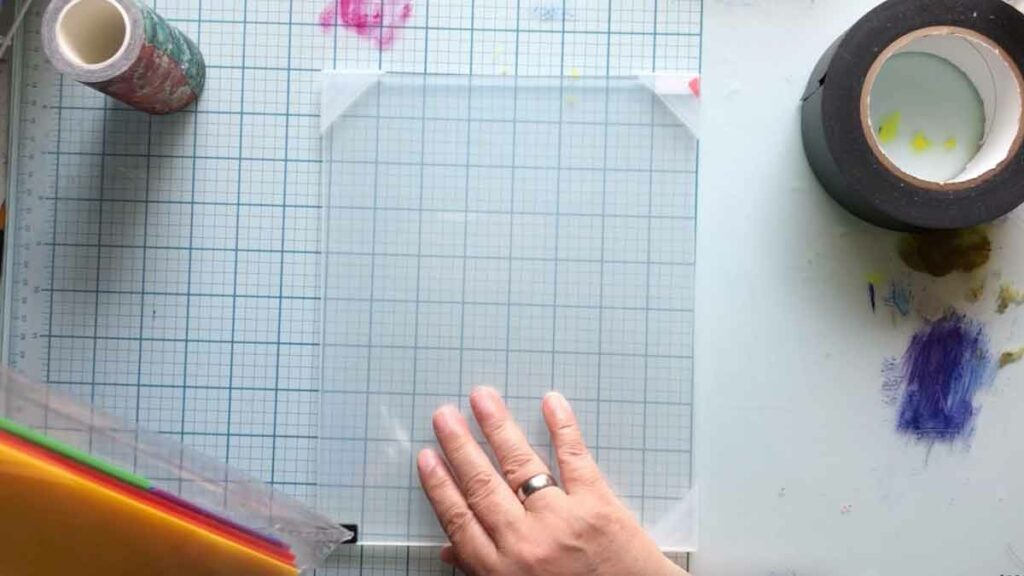 • Acrylic Plates (8×10) https://amzn.to/3bDv87b
• Hook and loop fasteners https://amzn.to/3y4v9IR
• Plastic Folders https://amzn.to/3Abgw9k
• 2″ Black Masking Tape http://shrsl.com/3l8vw
• 1″ Black Masking Tape http://shrsl.com/3l8vr
• 4″ 49th and Market Pretty fabric tape http://shrsl.com/3l8vx
• Tim Holtz Fabric Tape http://shrsl.com/3l8vy
Fabric Tape Full Stamp Sets To Acrylic Plates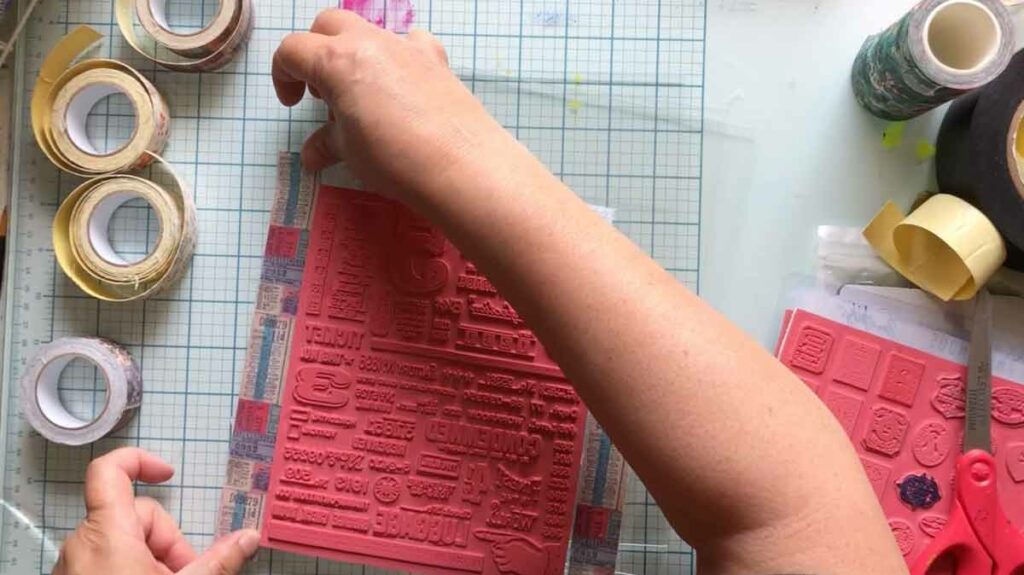 One nice thing about making this kind of acrylic stamp book is that you can either store full stamp sets or individual stamps! If you have full sets you can tape them onto the acrylics.
I used fabric tape because it is pretty AND super sticky!
Pick Your Favorite Stamps To Add Individually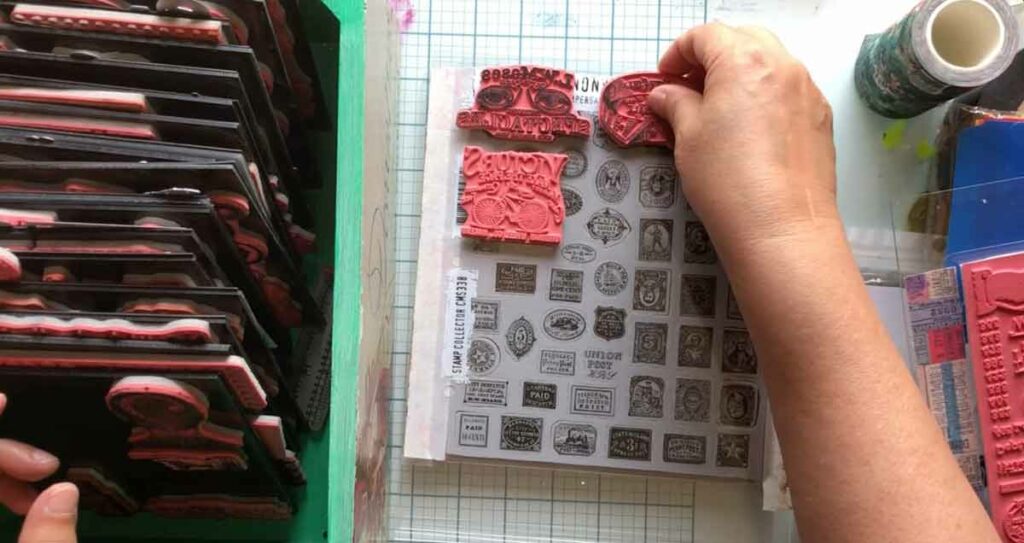 Next you want to pick out your favorite stamps you use all the time! If you make your book the way I did, you will have four acrylic blocks that you can use to add to stamps to.
I made a funky "page", marks, scripts and circles.
Cut Acrylic Folder To 8″ X 10″ To Make Front Cover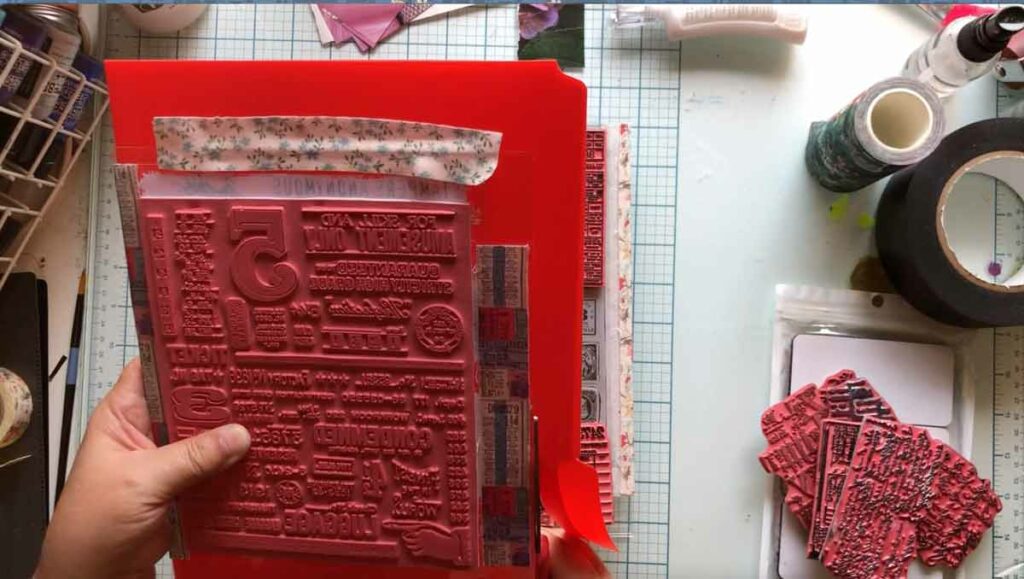 I wanted to have a "permanent" cover for my book to protect the top level of stamps.
Cut the plastic folder to 8″X10″. I cut along the "non-open" sides so the plastic folder would be doubled and more sturdy.
Tape Top Cover On The First Plate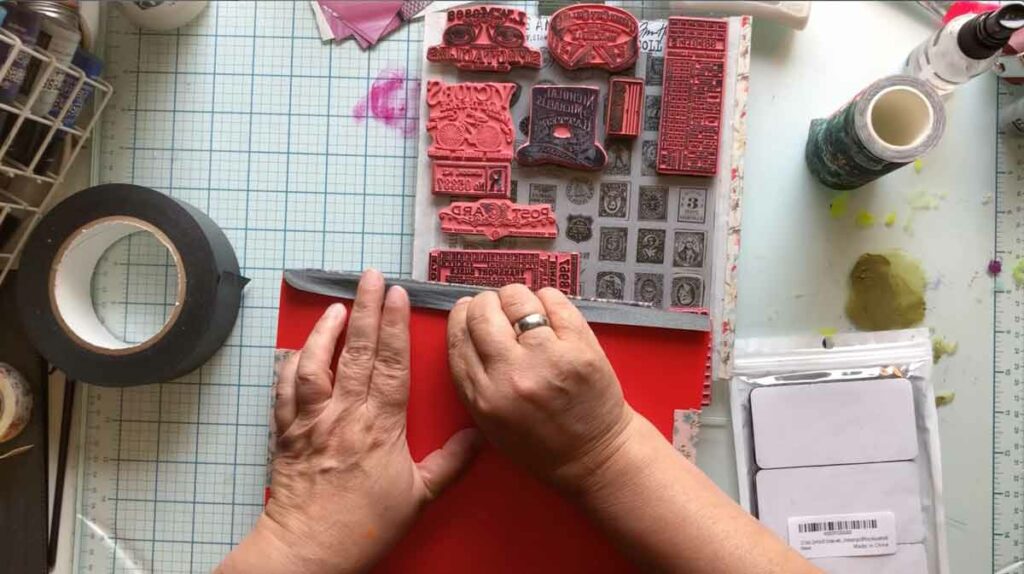 Use masking tape to "hook" the plastic folder to the top plate.
I like this 2″ black masking tape because of the quality and the color. You can use any type of tape for this!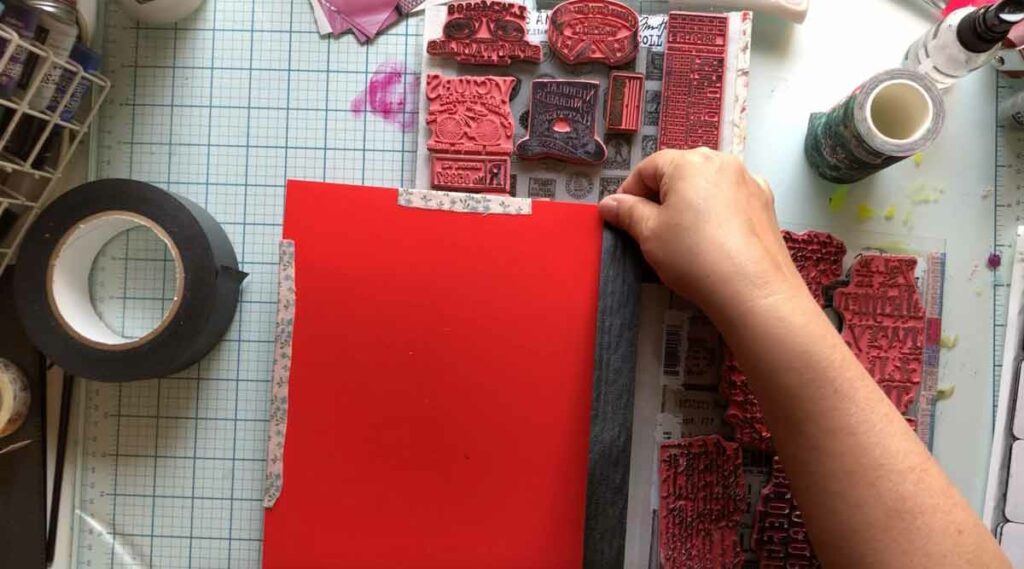 Tape The Plates Together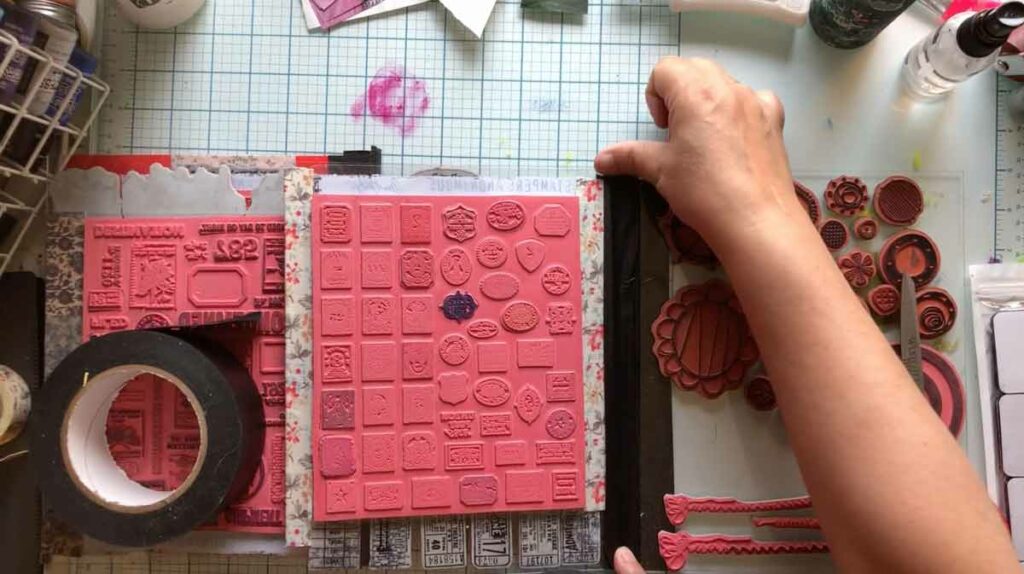 Now is the time to make a "book" of the acrylic plates. I taped the top two together and the bottom two together and then taped each of those sandwiches together!
I taped the inside of the covers also so there wouldn't be a sticky place in the middle of my book!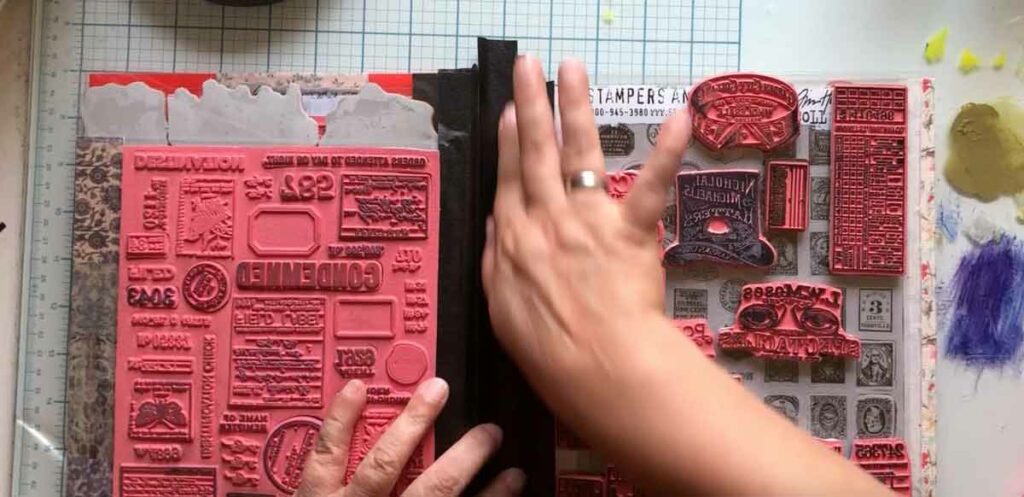 Add A Pretty Outside Binding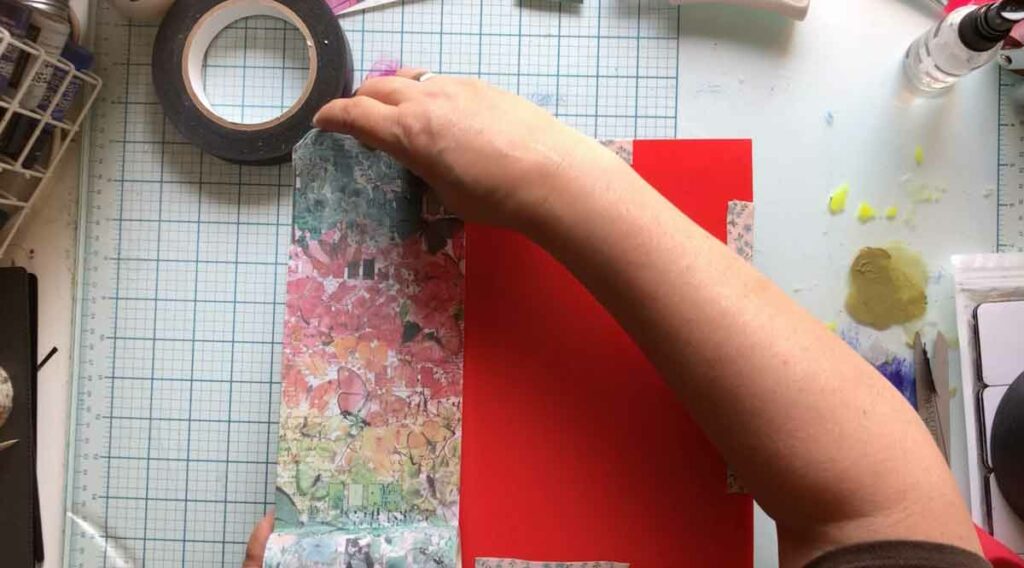 I added an extra 4″ fabric tape binding for pretty-ness and as an extra reinforcing binding to keep the book together.
I find fabric tape to be super sticky AND beautiful!
Use The Hook And Loop To Keep Your Rubber Stamp Book Closed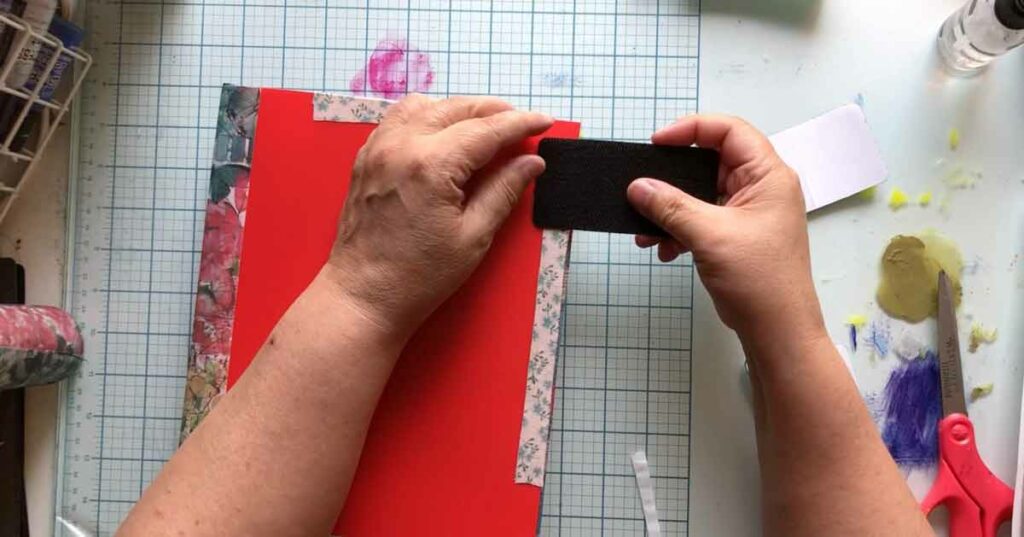 One reason this system works so well is that your stamps are protected AND they are kept stuck onto the acrylic blocks by being in a securely closed sandwich!
I used two hook and loop stickers to make the closure of my book!
Now, I am not sure this would be great if you have a HUGE stamp collection, it is more for specialized selections like my favorite stamps, maybe Christmas or holiday stamps. Just whatever you need to have easy access to!
Note About The Rubber Stamp Storage
I wanted to find out if I needed to put a barrier between the stamps that touch… here is the message that I sent to Stampers Anonymous…
I made a stamp storage book where my stamps face each other and touch. Is that okay (will they stick, degrade each other, etc.) It is no bother, if so I can put a mylar sheet between them, but just wanted to check!
And the answer I got…
You can put something in between just to be on the safe side.
So that leads me to believe you SHOULD put some kind of barrier. I am going to use the extra plastic folders cut to 8″X10″ size, but you could use mylar or any non-pourous material.