When I am making a junk journal or scrapbook page I like to have different papers to tear up and use as backgrounds. These Alice In Wonderland papers feature words from the original book and there is a commercial license for printed items for sale!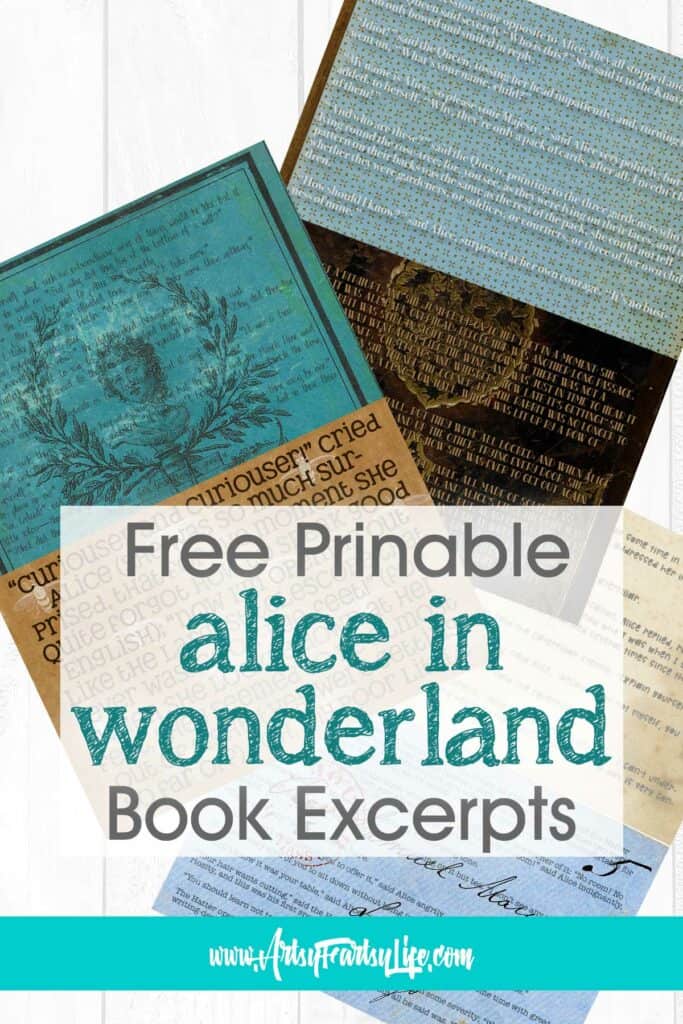 All The Background Papers In One Place
I know I like to see what I will be getting when I am downloading free printables, so here are all three free background papers that come in this set!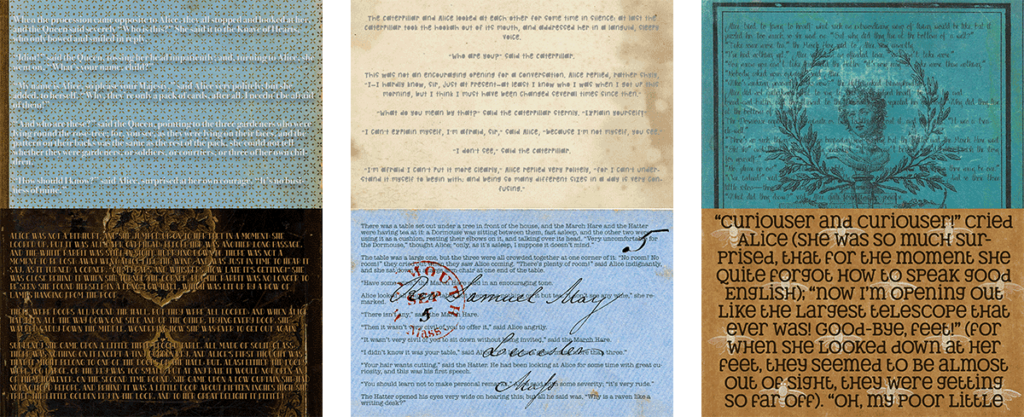 Why I Made These Book Excerpts Background Papers
A while back I made some free Alice In Wonderland tags and tickets, which got me all fired up to make a whole Alice In Wonderland journal… whoo whoo!
And once I started thinking whole journal I knew I would need background papers, but not just any background paper, oh no!
I took excerpts from the actual Alice In Wonderland book and used that as the text in the background of the papers. So fun!
Why They Are Free?
Everyone always wants to know why I give all of these cool printables away for free… so two reasons.
First I make things that I want to use in my own artwork. I am an art journaler and collage maker.. oh and a graphic artist for 20 years so making these kinds of printable pages is easy for me!
Second I am blessed to get to have ads on my website so I earn a wee bit of money when you visit this page (no need to click the ads to help!) If you do want to help, share this page in your favorite Facebook group or pin it to Pinterest… that helps more than you will ever know!
Commercial License Rules
There is a super generous commercial license that I give with these printables.
Because I used a combination of Graphics Fairy, public domain images and my own designs, these printables comply with the fair use rules in place.
With that in mind I can offer a free commercial license for any PRINTED version of these sheets or assets. Here are a few ways people have used these commercially:
Printed out and sold as whole sheets in a bazaar in Africa
Included as tags and tickets in a printed journal book
Used as ephemera in printed journals for sale on Etsy
As long as you have them printed you are fine. There is NO license to distribute these online in an email, on your website, in a dropbox folder and shared on Pinterest. I do claim my copyright when I find them online without my permission.
How To Print and Download These Printable Papers
There is a copyright mark at the bottom that allows for commercial printing at places like Kinkos, UPS or Office Depot.
They are made to print on 8.5″X11″ letter sized paper and will have a white edge around them when they are printed (so make your journal size a bit smaller than letter size!)
I like to use presentation paper or cardstock to print these out on since that gives them a little more weight and they aren't so fragile.
Get The Free Printable Alice In Wonderland Papers!
To get the free printable Alice In Wonderland printable background paper just sign up for my freebie library where I have so many fun printables for your art journal or scrapbook pages! If you already have the password, click here to go to the login page!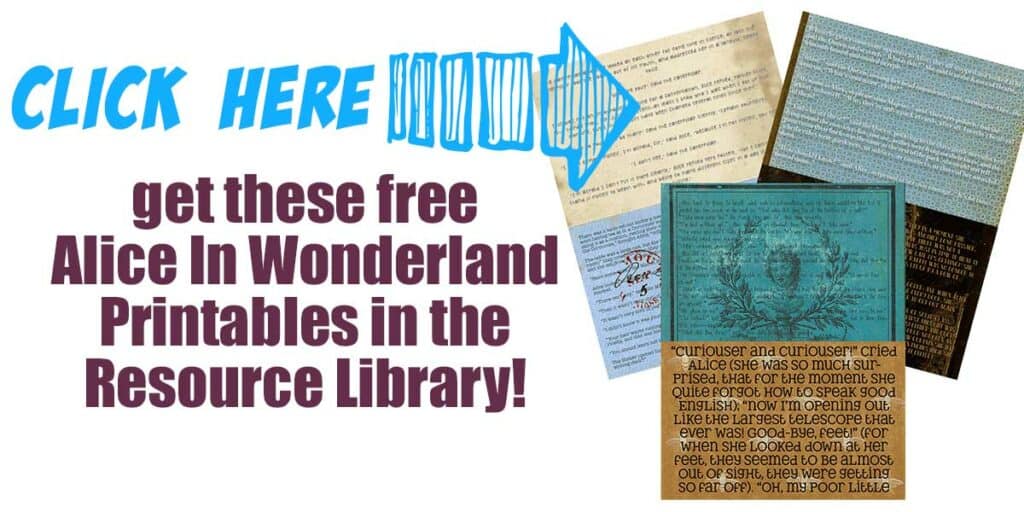 Alice In Wonderland Background Paper Wrapup
It was fun getting to read little parts of the Alice In Wonderland book to find things to include in these background papers. The Tea Party of course, eat me and drink me, but also some talk with the white hair and the "curiouser and curiouser" piece too!
If you have any more ideas for free Alice In Wonderland printables you would like to use in your artwork, please email me, tara (at) marketingartfully.com and if I like your suggestion I might make it for all of us to use!!