I love having cute little snippets to put in my junk journals and scrapbook pages! These are super easy to fussy cut and even include a commercial license to use in printed products for sale.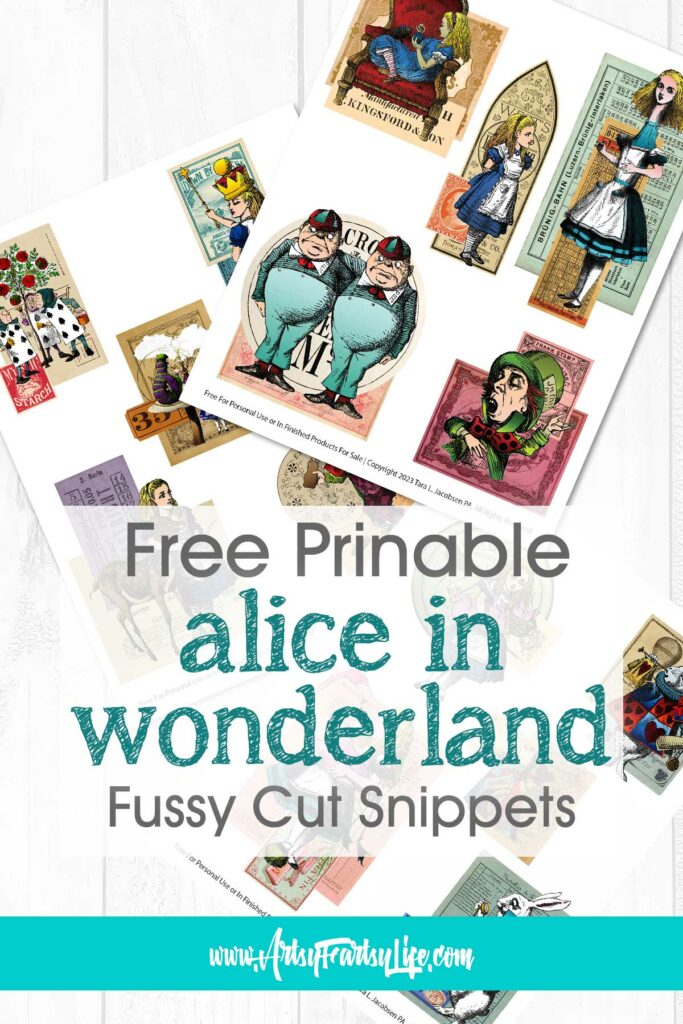 All The Snippets In One Place
I like to see all the printables at once to know if I want to get them, so I thought you might like that too!
Here are the three printables included in the Alice In Wonderland Snippets pack!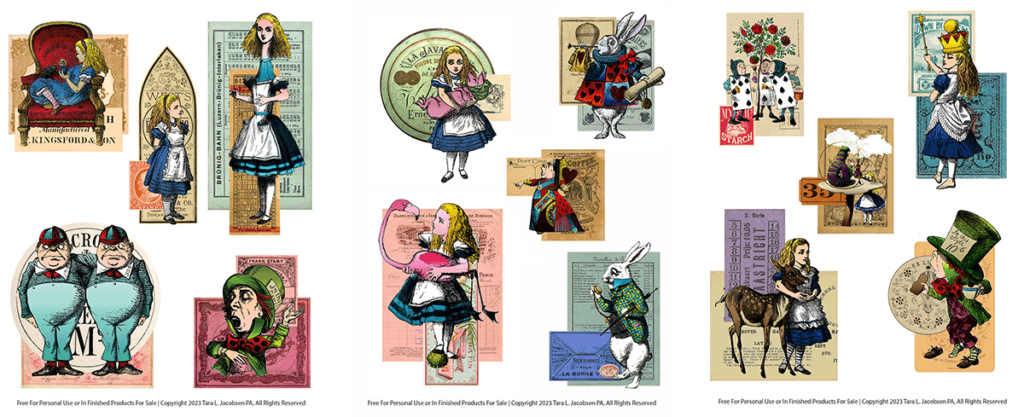 What Are Snippets?
Snippets are ephemera that are designed to be easy to cut out!
While I am a fussy cutter from way back in my magazine collage days, many of my peeps have said that they struggle to see to cut or have trouble with the fine intricate details.
With that in mind, snippets are mostly just straight lines with just a few little bits poking out here and there, making them super easy to cut out!
Why I Made These Free Printable Snippets
I have SO many reasons to make this particular set of snippets! First off, I LOVE the story of Alice In Wonderland (the Mad Hatter and Tweedle Dee and Tweedle Dumb are my favorites!)
Secondly, I wanted to make a whole Alice In wonderland art journal so this is the 3 piece of the puzzle, (the Alice In Wonderland Tags and Alice In Wonderland Background Papers are already done!)
Lastly, I am a long time graphic artist so getting to "play around" and watch true crime YouTube while make art is so fun for me!
Why They Are Free!
I KNOW, I could for sure sell these on Etsy, they are that cute! That having been said, offering them for free helps my peeps who might not be able to afford to buy all the cute mixed media sheets I make.
Also, I am lucky enough to have ads on my site so I get a wee bit of money whenever anyone visits my website… whoo whoo!
You don't have to click the ads to help, just being here is enough to help! But if you do want to help spread the word about these cute printables, share the link your favorite Facebook group or pin it to Pinterest.
Commercial License Rules
I have a super liberal commercial license for any printed item! There is a copyright at the bottom of the page that will let you get these printed at Kinkos or Office Depot in any quantity you want!
Here are some ways that people have used these sheets commercially:
Printed out and used in junk journals for sale on Etsy
Sold whole at a market in South Africa (how cool is that?)
Cut up and sold as tags and tickets for mixed media supplies
The only restriction is that you can't share it digitally in email, on your website, on dropbox or your google drive (I do ask for removals when I see this happen).
If you want to share them, just send the link to your friend so they can get the files too!
How To Download and Print The Snippets
These are formatted to print out on 8.5″X11″ letter sized paper. I like to use presentation paper or cardstock when I get them printed since they are a little more sturdy that way.
To download them, simply sign up for my freebies library below and you will get access to ALL the Alice In Wonderland and other freebies that I have in there!
Get Your Free Alice In Wonderland Snippets!
Click the image below to get your password for the freebie library! If you already have a password, you can log in here!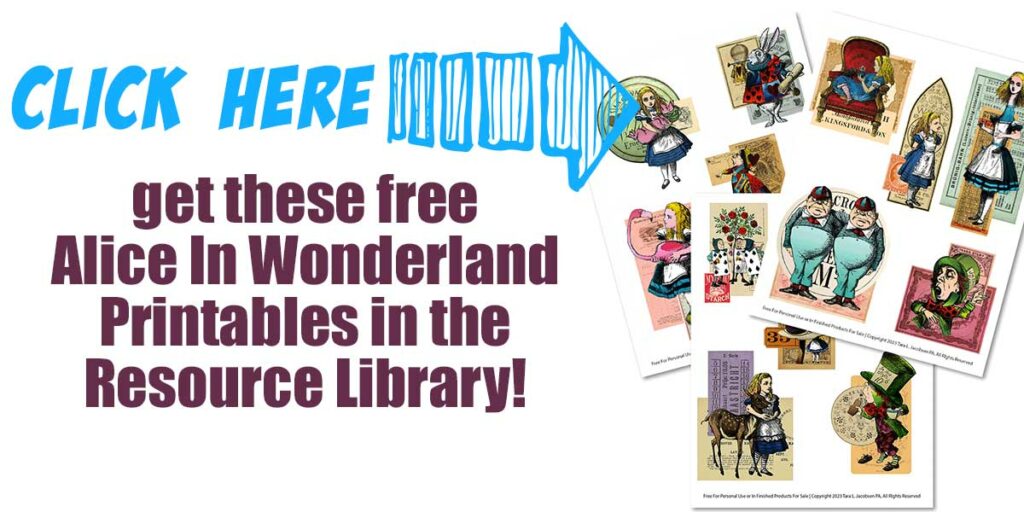 Alice In Wonderland Fussy Cut Snippets Wrapup
These snippets are so fun to make! They are just a cute little pop of fun that are easy to cut out and add to your art journals or junk journals!
If you have any more suggestions for things you would like me to make, email me tara (at) marketingartfully.com and I might just make it for you!