These free printable journal pages for an Alice In Wonderland art journal, junk journal or scrapbook turned out so wicked cute! And even better, they include a free commercial license for use in printed products!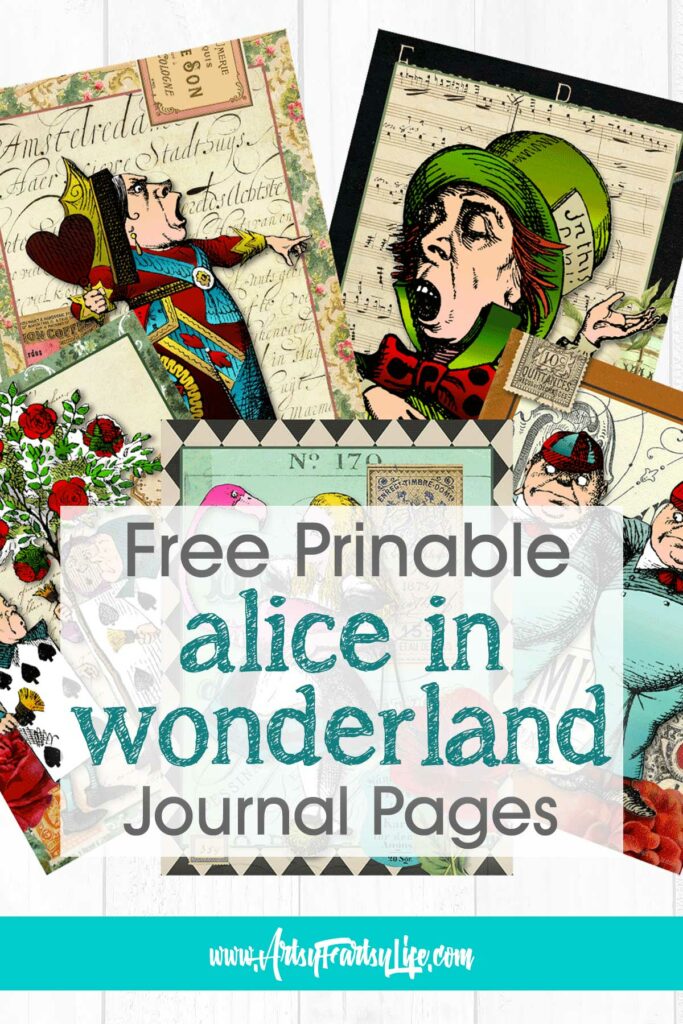 All The Journal Pages In One Place
I know that I like to see things before I decide if I want them, so I figured I would show you all the Alice In Wonderland journal pages all in one place!

VIDEO: How To Use These Art Journal Pages In Magazine Collage Art
Why I Made These Journal Pages
I have a bunch of reasons for making these journal pages! First off, I LOVE LOVE LOVE Alice In Wonderland and all the characters so darn much!
Second off, I am a graphic designer so I make these pages and watch trash YouTube when I am being lazy daisy.
And lastly, I love making pages for my art journals! I make so many journals and love having cute graphics to use in them.
Why Are They Free?
I am so glad you asked! I have ads on my website so every time someone comes to one of my pages I make a little bit of money… whoo whoo!
With that in mind, I can afford to take the time to make amazing free printables to give away for free (and to use in my journals too!)
If you want to help get the word out, share this page on Facebook or Pin it to your Pinterest account! That helps so much… please and thank you!
Free Commercial License
I used a combination of Graphics Fairy images, some Creative Market images and then colored the characters myself in Photoshop. Because I have substantively added my creativity to these designs I can offer a commercial license for you to use these in items you have for sale.
The commercial license includes uses like:
Printing them out and selling them whole in markets or bazaars
Cutting them up and using them in journals for sale on Etsy
Selling them as sets of tags for gift wrapping
Functionally I am fine with you using these in any way printed out. What you can't do is distribute them online in any way.
No emailing them, posting them on your website, linking to your google drive or dropbox. I do request takedowns and strikes if I find that someone has shared them online without my permission.
How To Print These Freebies
These printables are super easy to print! They come in 8.5″X11″ size so you will have a little bit of white space around them when they are printed out.
The copyright will allow commercial printers to print them in whatever quantities you want!
Get The Alice In Wonderland Free Printable Journal Pages
These Alice In Wonderland printables (and so many more) are included in my freebie library! Sign up and get immediate access to a whole library of free printables.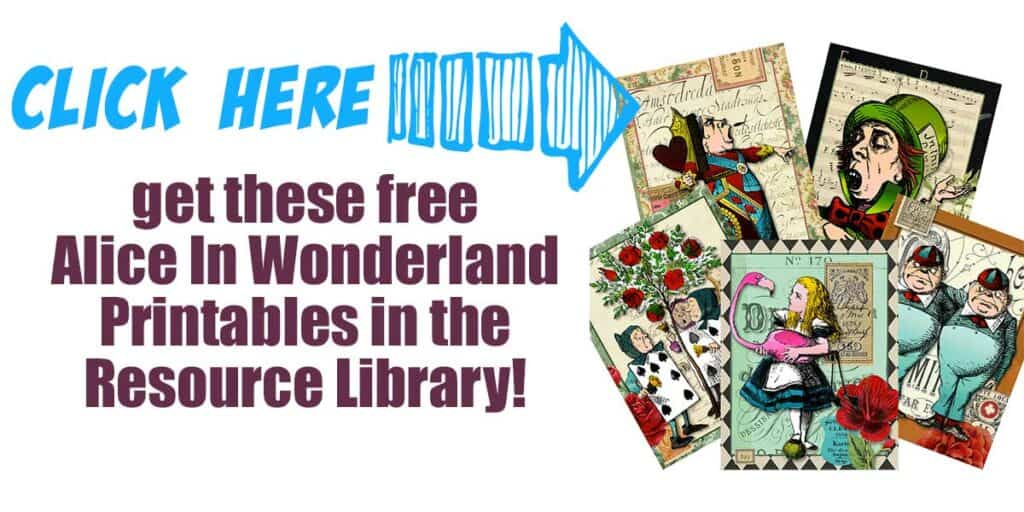 Alice In Wonderland Free Printable Journal Pages Wrapup
I hope you love these free printable journal pages as much as I do! I had such a blast designing them and I already got them printed out to make a junk journal with!
If you have any more suggestions for designs you would like to see, email me at tara(at)marketingartfully.com and I might make them for you and all the other peeps too!