This may be the prettiest collage sheet set I have ever made! These butterfly tickets and tags are super colorful and pretty. AND yes, there is a commercial license so you can print them out and use them in your journals for sale.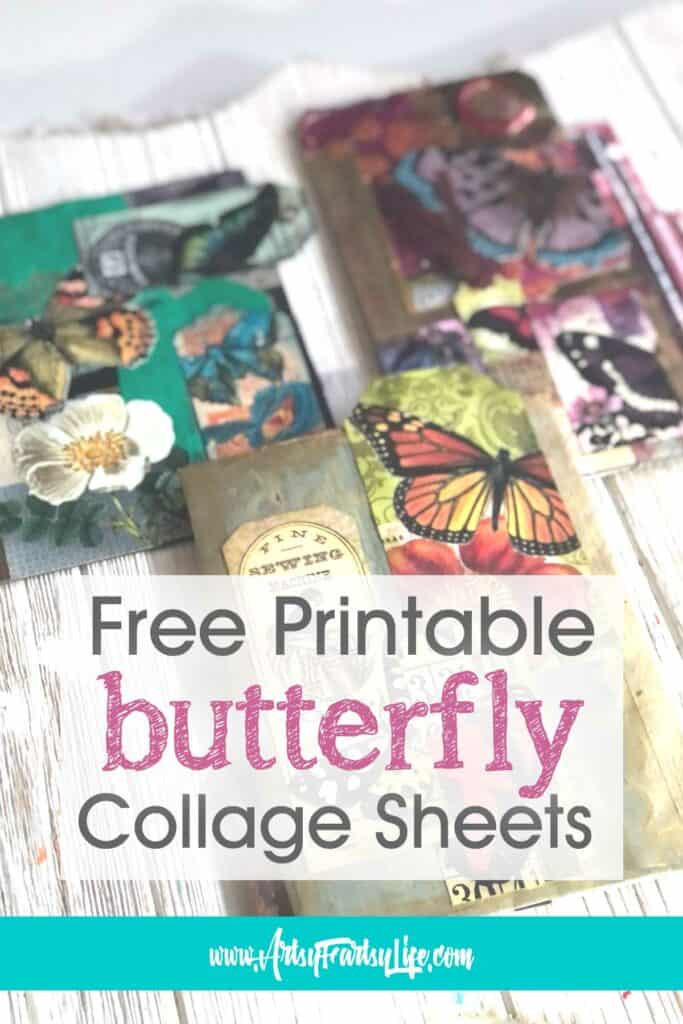 Please note: This article contains affiliate links, and that means that I may earn a commission if you buy something. Read my full disclosure here.
Free Printable Butterfly Collage Sheets Examples
Here are the two butterfly collage sheets! (not printable size… click below to get those!)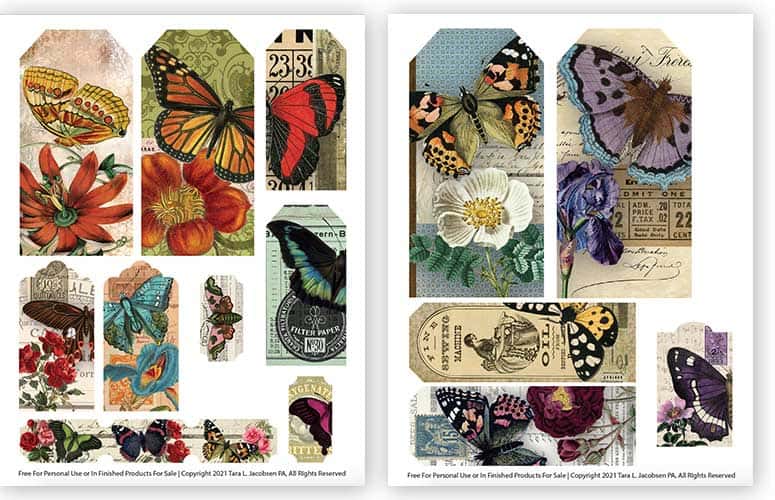 Butterfly Collage Sheets Printed and Cut Out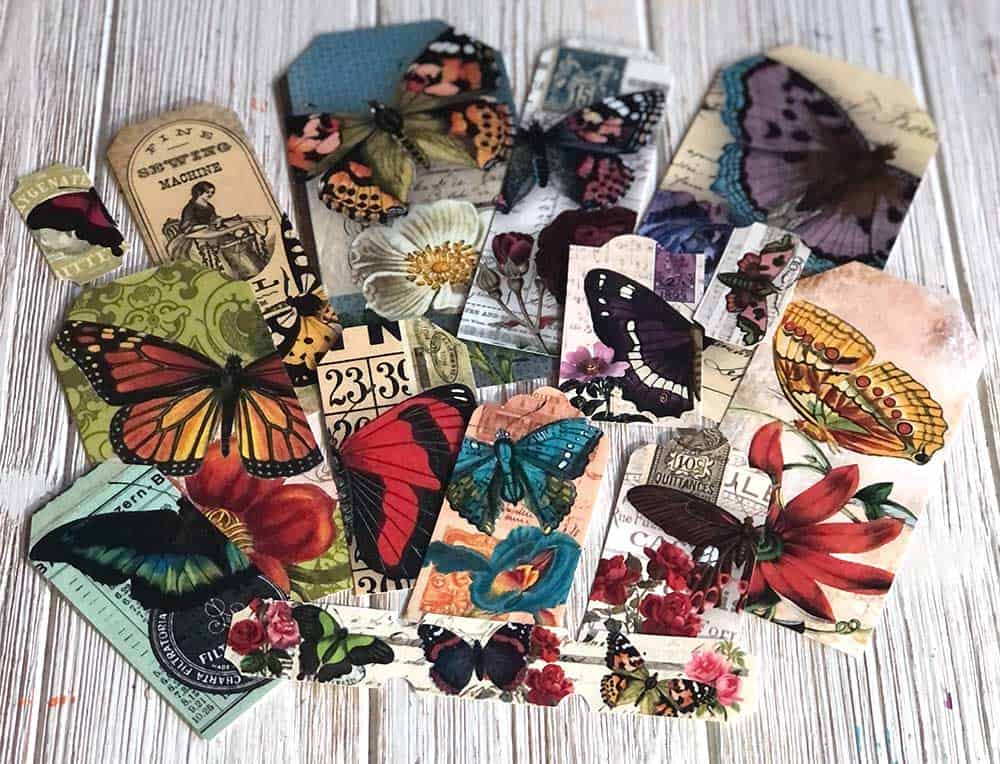 How I Used These In My Collage Art Journal (before embossing)
I did my butterfly art journal pages in two steps, one before I did all kinds of crazy embossing. I thought it would be fun to show you my pages just done "normally" first in case you aren't a crazy embosser like me!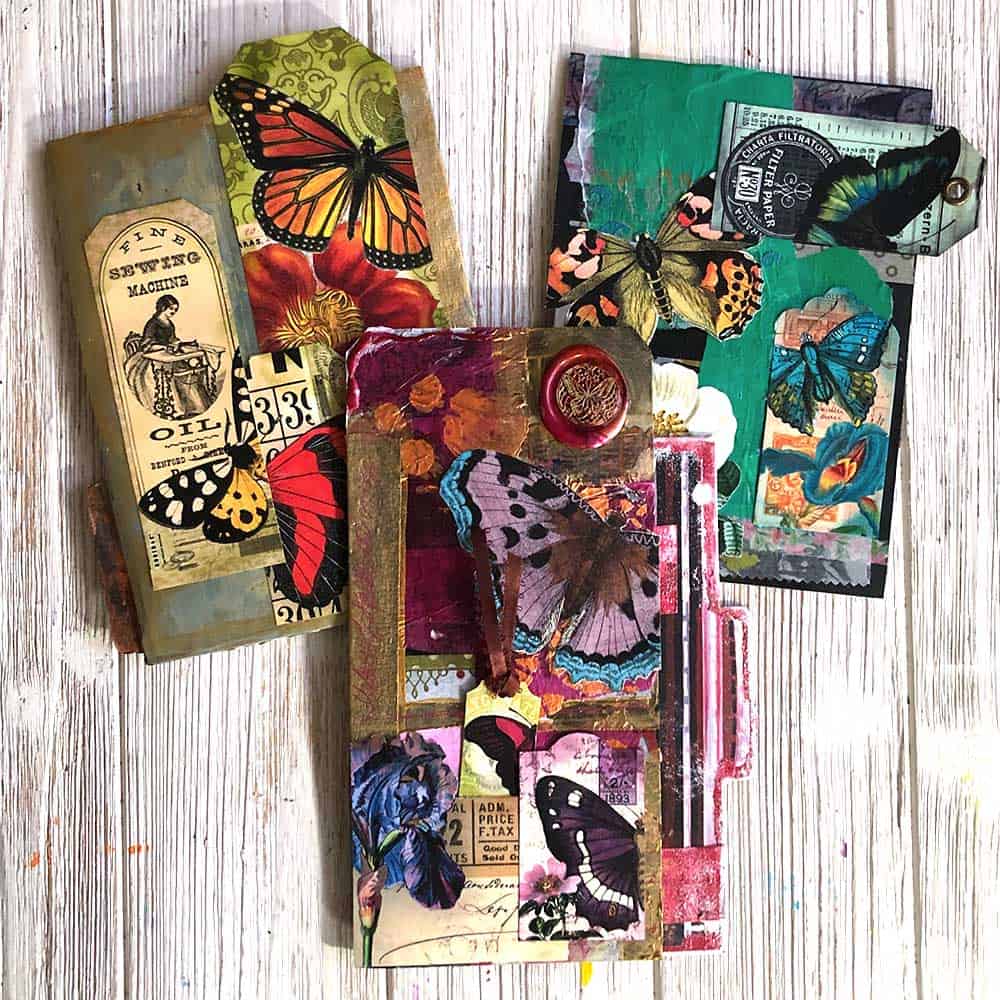 Click Here To Get The Free Butterfly Printables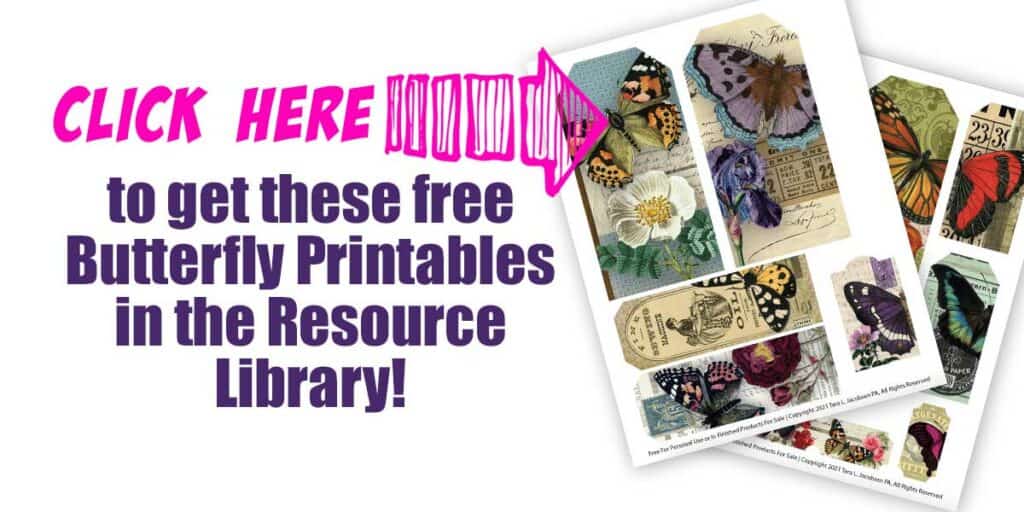 Butterfly Collage Sheets FAQs
I know I always have questions about something for free… so here are the answers to the most asked questions I get!
Why Are These Butterfly Collage Pages Free?
I am a mixed media artist AND a graphic artist so when I want something to use and print in my artwork, I just make it! AND I am super nice so I want to share them with my peeps!
Can I Use These Free Collage Sheets Legally In Junk Journals For Sale?
For these collage sheets I used all TheGraphicsFairy.com vintage images that are in the public domain and comply with their fair use policy.
AND I give you a commercial license to use my designs to print out and sell in journals, as tags or cards, wherever you like. All you can't sell are the digital collage sheets because I give them away for free! Click to see all my policies.
How Do You Print These Out?
Okay, I KNOW I should give you my "favorite printer" with an affiliate link to get the big bucks, but honestly I send the files to my local UPS store and they print them out for about a dollar a copy. That is SO MUCH cheaper than buying a printer, setting it up to print, buying ink and fancy paper to print on!
That said, sometimes you will want to print at home so do the "shrink to fit" and choose the highest quality printing you can do.
Can I Print These From My iPad or Phone?
I have had just a couple of gals tell me they had trouble printing these from their iPads or phones (out of the thousands of downloads I have had). If you have a trouble printing them, try doing it from your laptop or desktop. They are pretty big files and the smaller devices might have trouble sending them!