I love using banners and bunting on my mantle during Halloween to add a pop of color and fun! Full tutorial for how I used a mix of authentic vintage elements, free Halloween printables, Tim Holtz papers and ephemera, beads and ribbons to make this wicked cool banner!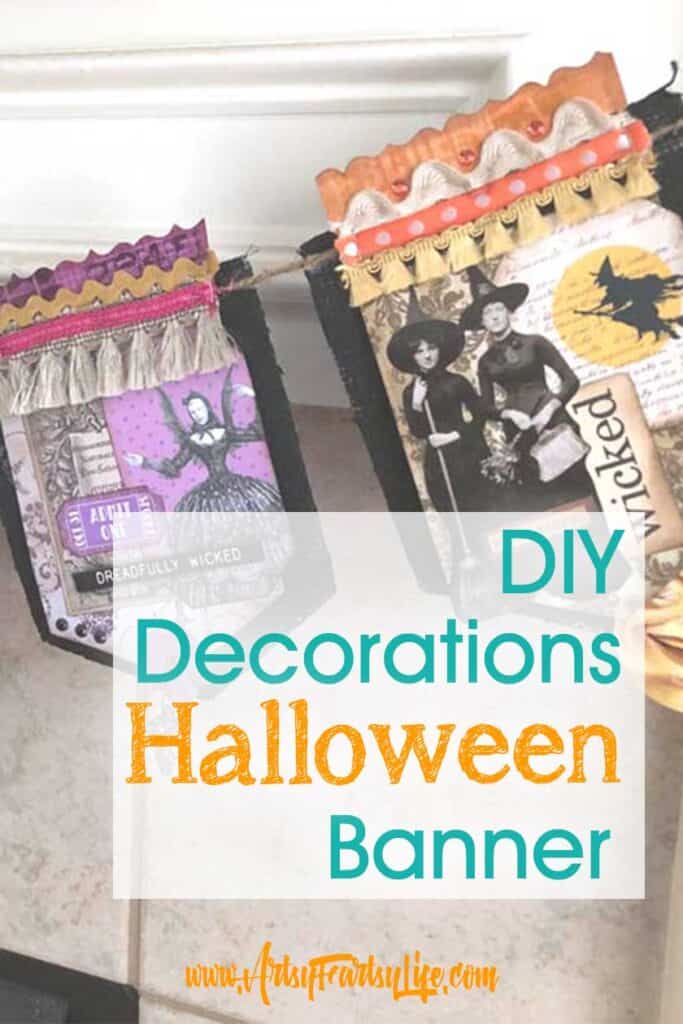 please note :: as an Amazon associate I earn from qualifying purchases, read my full disclosure policy here
Full Halloween Banner Tutorial Video
The Halloween Banner Base
I LOVE when I can find a cheap and easy way to start my craft projects (I am a super lazy crafter!)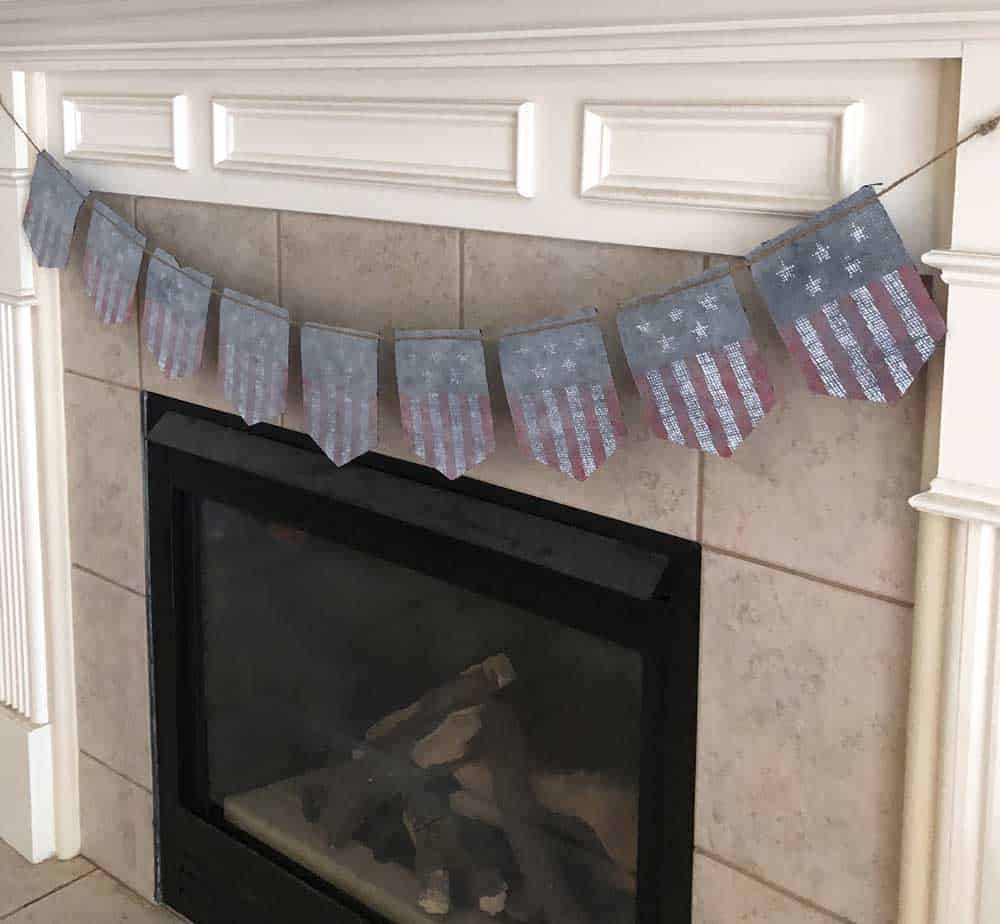 I was cruising the Michaels clearance aisle the other day and found this awesome 4th of July banner already ready-made for me to repurpose into my halloween bunting!
The first thing that I did was paint it black to get rid of the patriotic feel…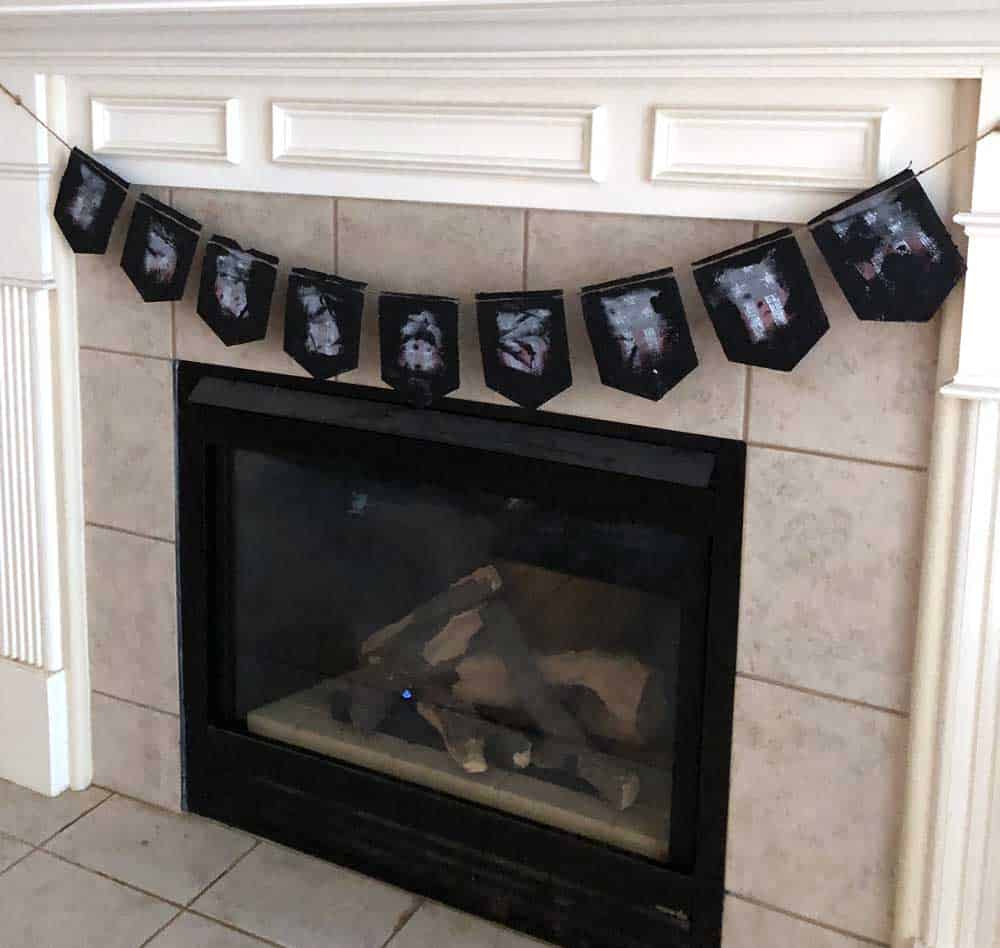 Thank goodness I did that first because I realized that trying to do all the decorating ON the banner would be a flippy-floppy nightmare so I came up with a new plan!
Making The Banner Flags Separately
Whew, dodged a bullet there on my first "official" DIY banner… it was SO MUCH EASIER to use a template and make the flags separately (I stapled them on later as the last step!)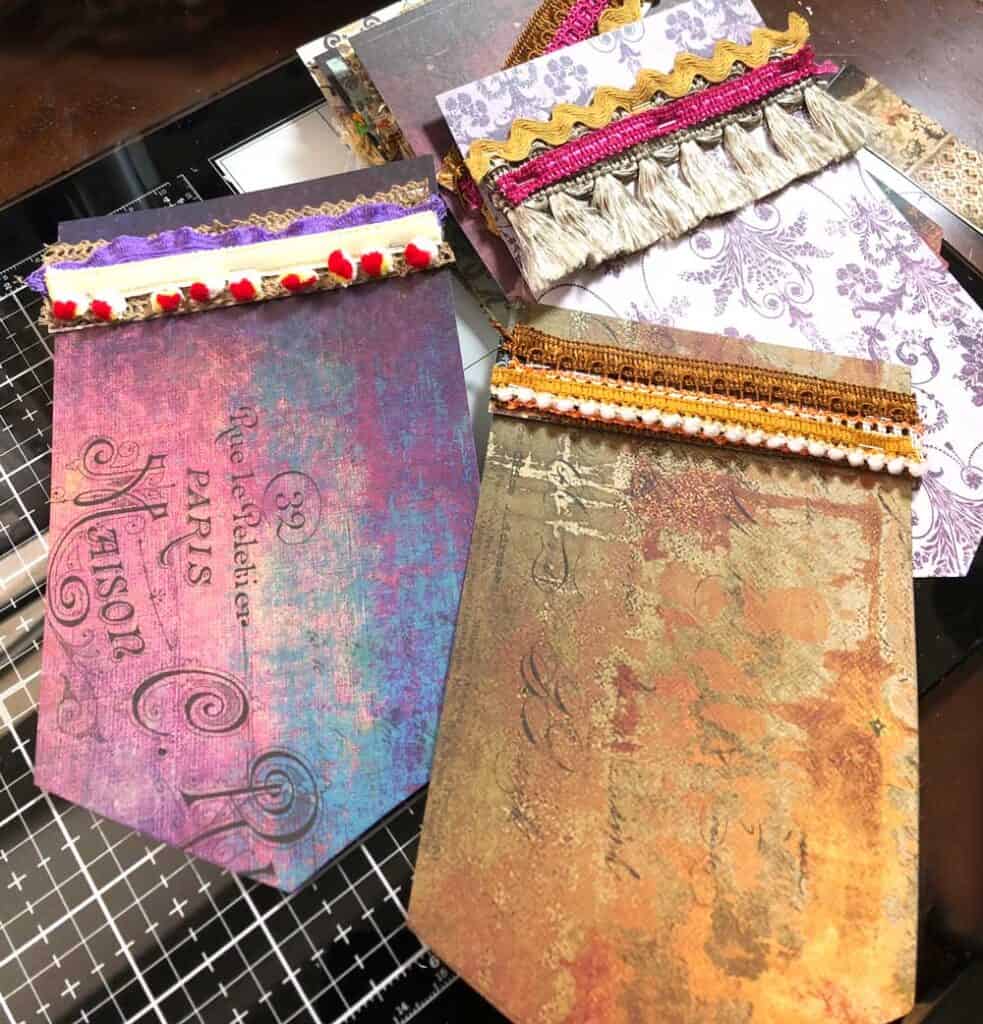 This is midway through… I had the backs and ribbons hooked on! I just used a little template to cut them out!
All these papers came from Tim Holtz… his "Abandoned" Paper Pad and then two different years of wallpapers.
Tim Holtz Idea-Ology 8 x 8 Paper Pad, Abandoned

Tim Holtz Idea-Ology 2020 Worn Wallpaper, Halloween – Bundle of Two Packages

I made the "ribbon bunches" on a separate piece of scrap paper and then stapled those on too! I use the Tim Holtz tiny attacher stapler so that it won't have huge staples all over!
Adding ephemera was super fun (I show a bunch of it in the video!) I used my own Halloween Printables, Tim Holtz Ideology ephemera, paper dolls and vellum sheets and then a BUNCH of vintage beads, stick on gems and cut out words!
Tim Holtz Idea-Ology 2019 Halloween Ephemera and Halloween Paper Dolls – 2 Item Bundle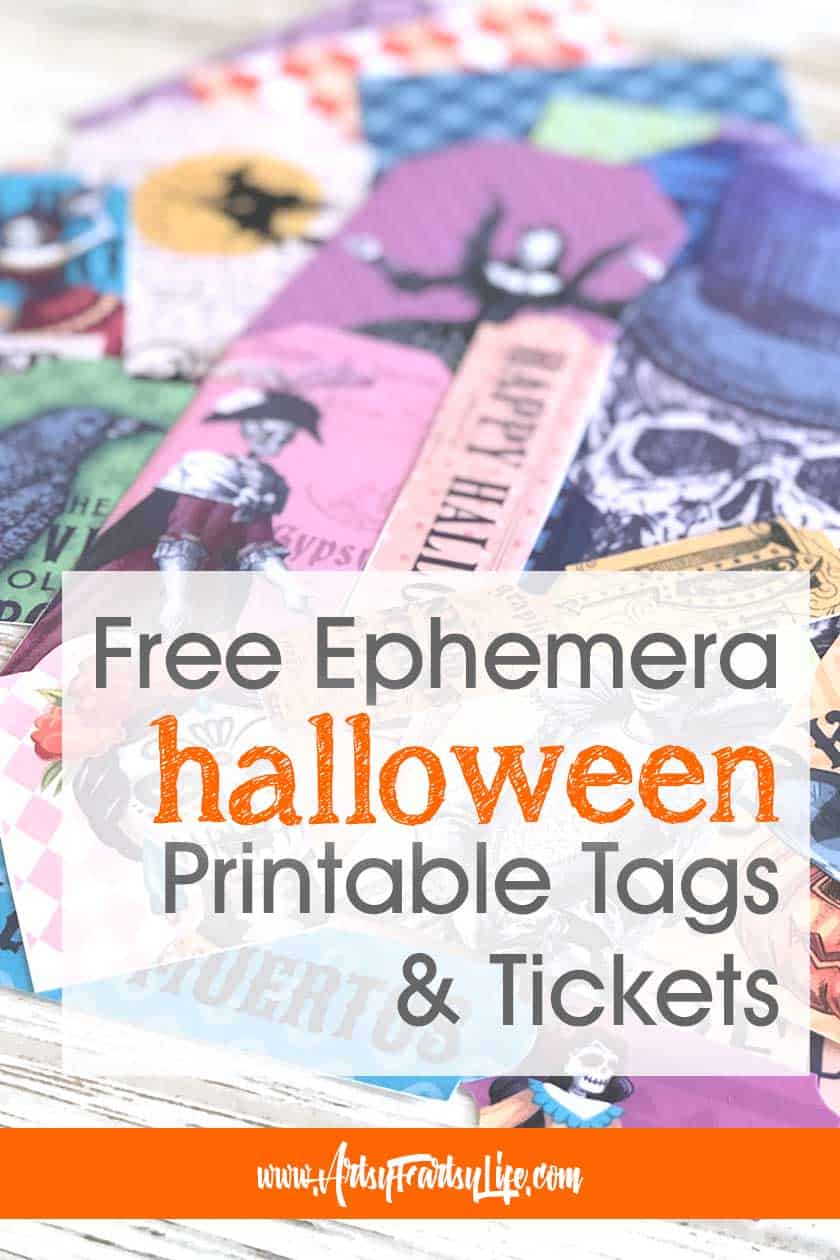 Artsy Fartsy Life Free Printable Halloween Ephemera

Tim Holtz – Advantus TH94028 Vellum Scenes 18/PKG

The Final Halloween Banner Flags
Here are the final flags… even my kids said they are cool and that never happens!
These girls are just a couple of witches hanging out waiting for the moon to rise! I used part of one of my ephemera tags, a word the moon from Tim Holtz's ephemera, and then the witches paper dolls from the Halloween collection. I hooked the moon on with a bubble paperclip!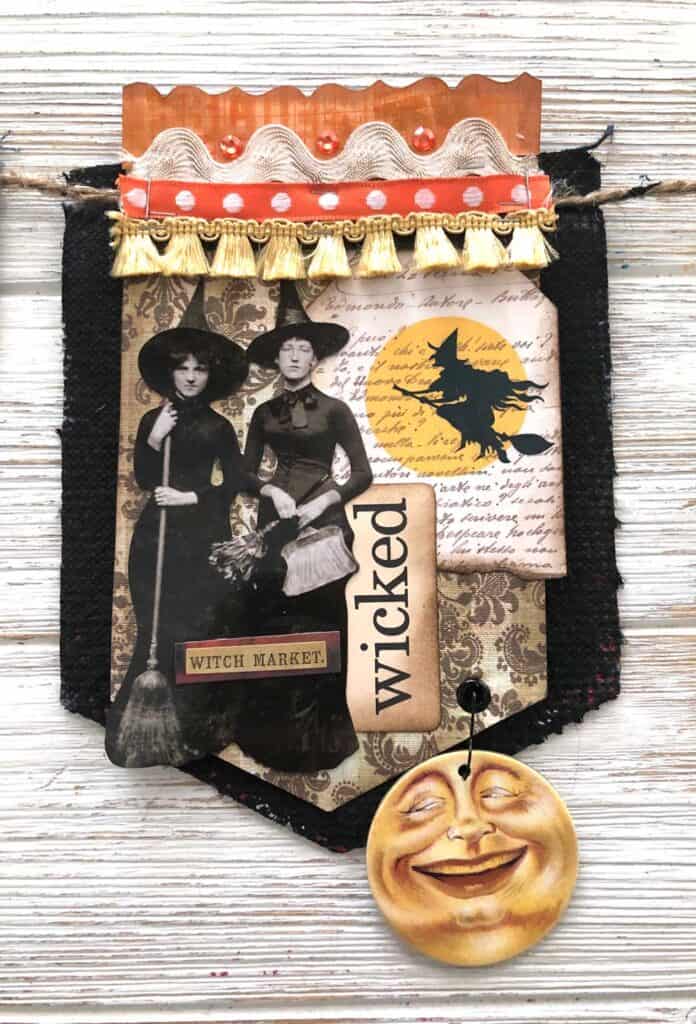 This gal is just creepy cool… she is from my printables, as is the purple tag. The flower is from Michaels, the button and bottom bead are vintage and the word chip is from the Tim Holtz chipboard collection.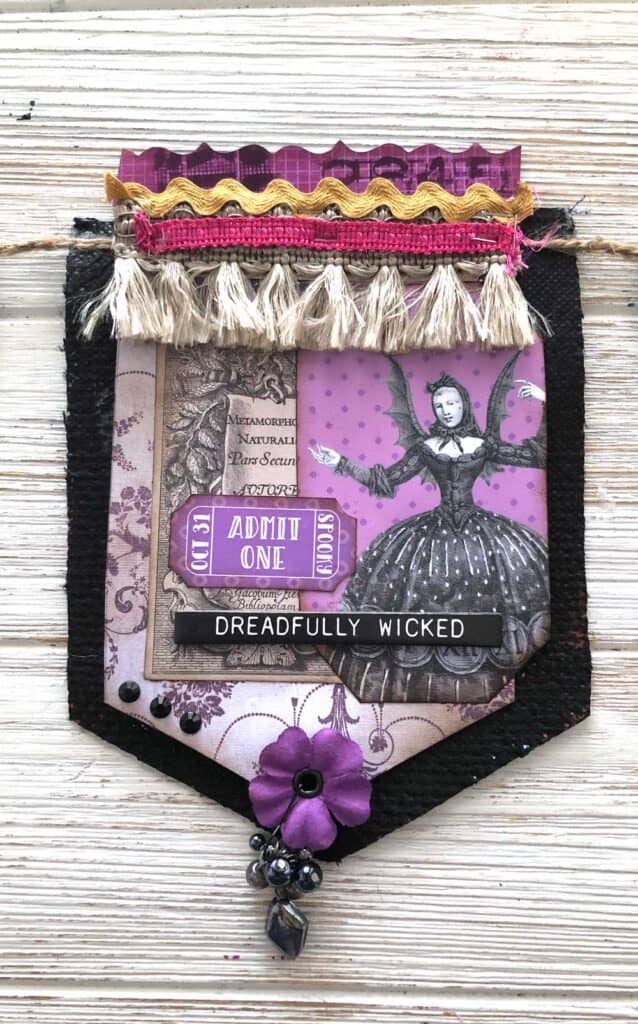 Ohhh this lady is a favorite… she runs a boarding house where everyone dies of poisoning! Vintage bead, Michaels flower, fun brad hooking it on. Assorted ephemera and then two of my printables.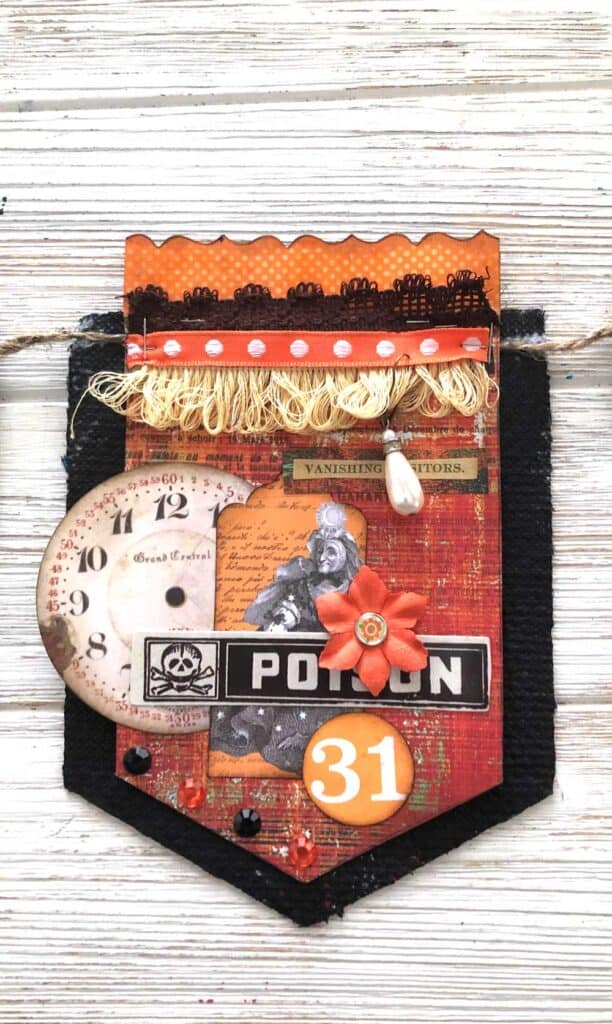 This guy got autopsied, but he doesn't know it! I used the framelets dies to make the tiles, a funky paper clip and then a vintage bead. Ephemera from Tim Holtz collection.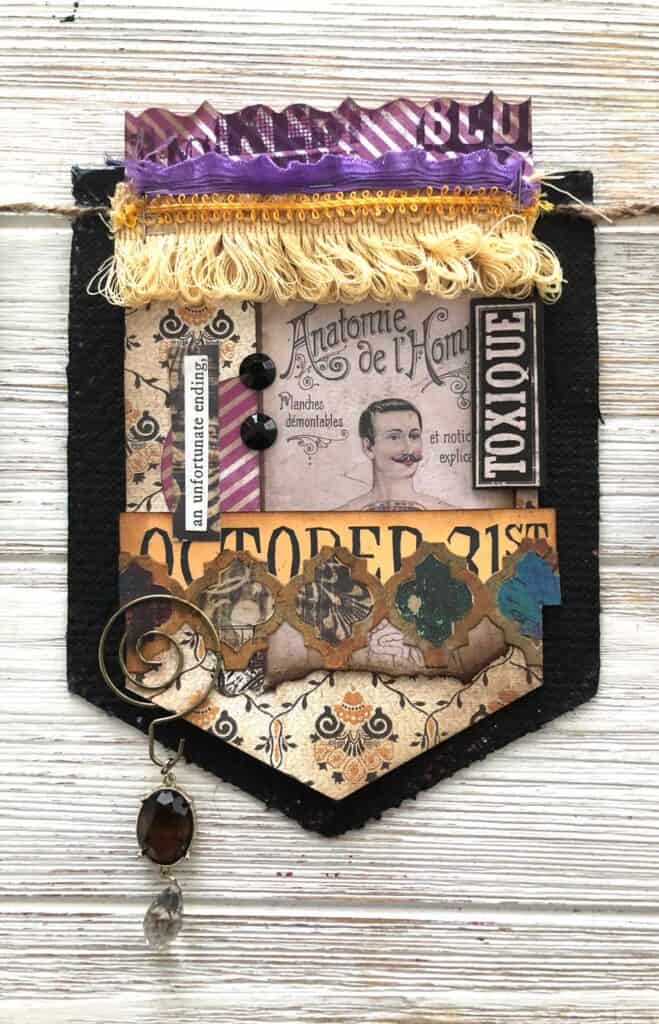 This paper doll lady is friends with the masquerade girl and they are definitely up to no good! Modern charm, vellum paper background, quote chips and my printable.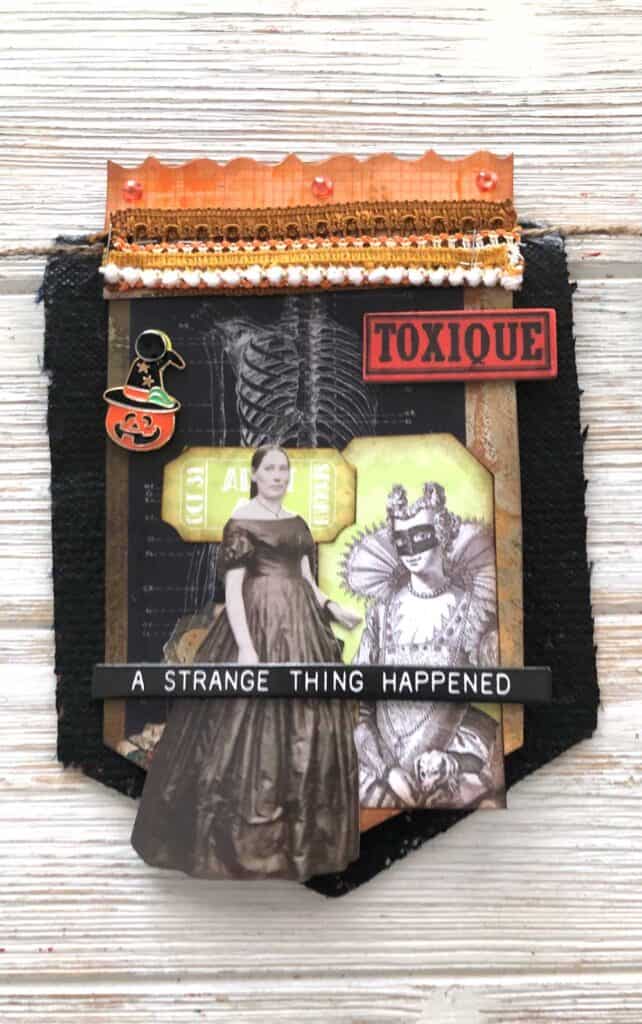 This one is SO pretty in person with the teal and orange! I think this may be my favorite. Framelets die, vellum palmistry, quote chips and ephemera. Vintage bead and modern bead combined at the bottom.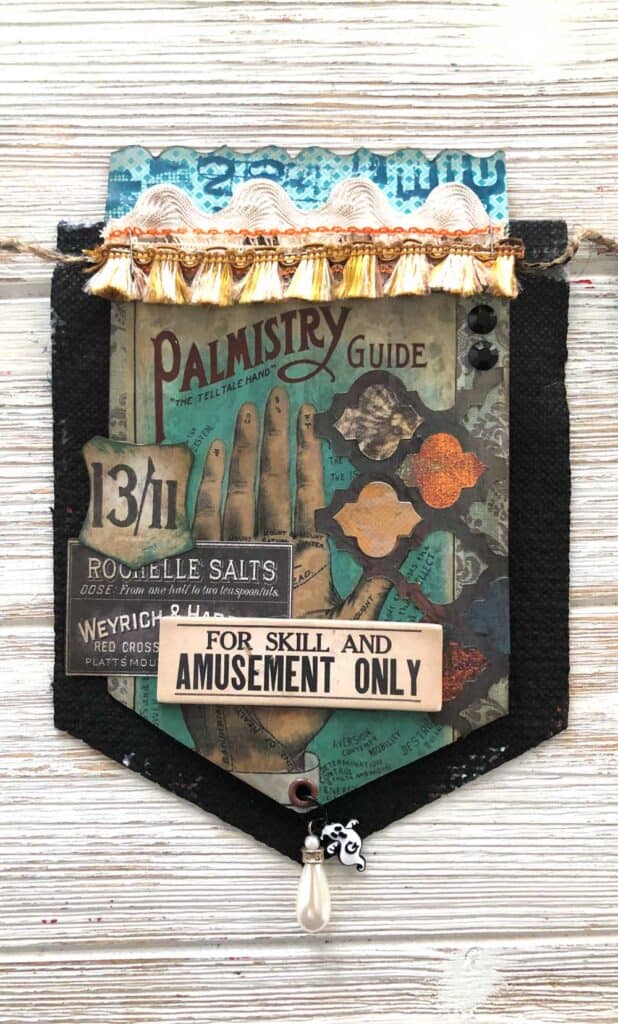 Such a happy Halloween moon! This one has printables, some ephemera and then the framelets tiles. I loved using the heavy chipboard ephemera and grommets to make the make the dangle, hooked on with a jump ring.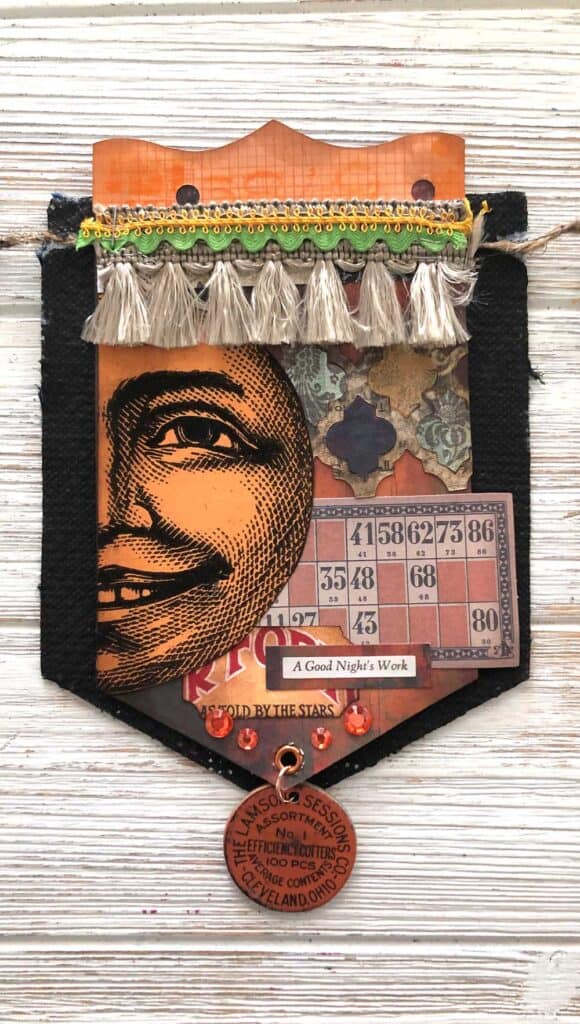 Oh my, she is gone, but don't realize it, she is having a Halloween party tonight! Includes Tim Holtz ephemera, Halloween printables, a vintage stamp and a vintage bead attached with a black jump ring.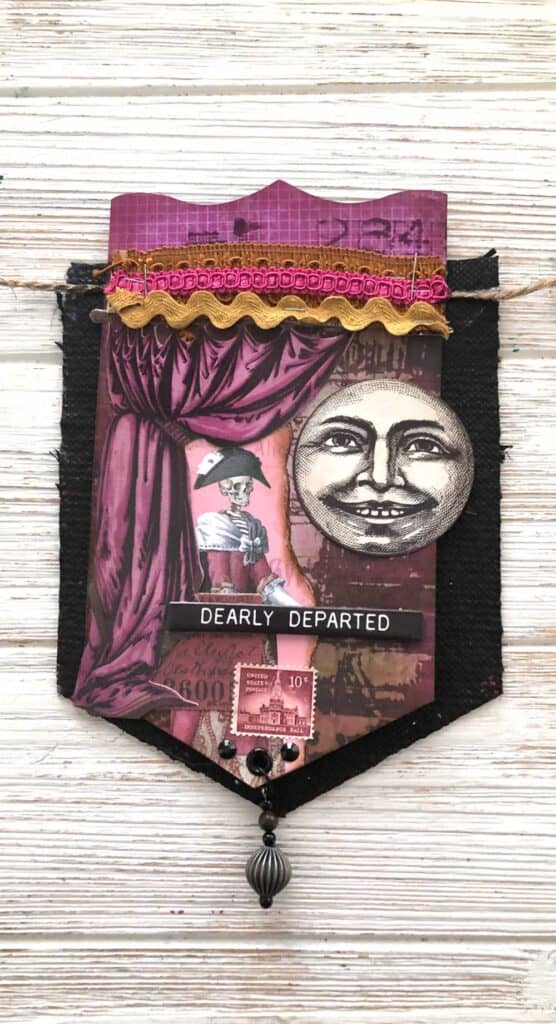 I get a defintite HH Holmes vibe from this guy! He is up to no good! Michaels flower with a vintage bead, vintage earring, Tim Holtz ephemera and paper dolls, vintage stamp and bead dangles.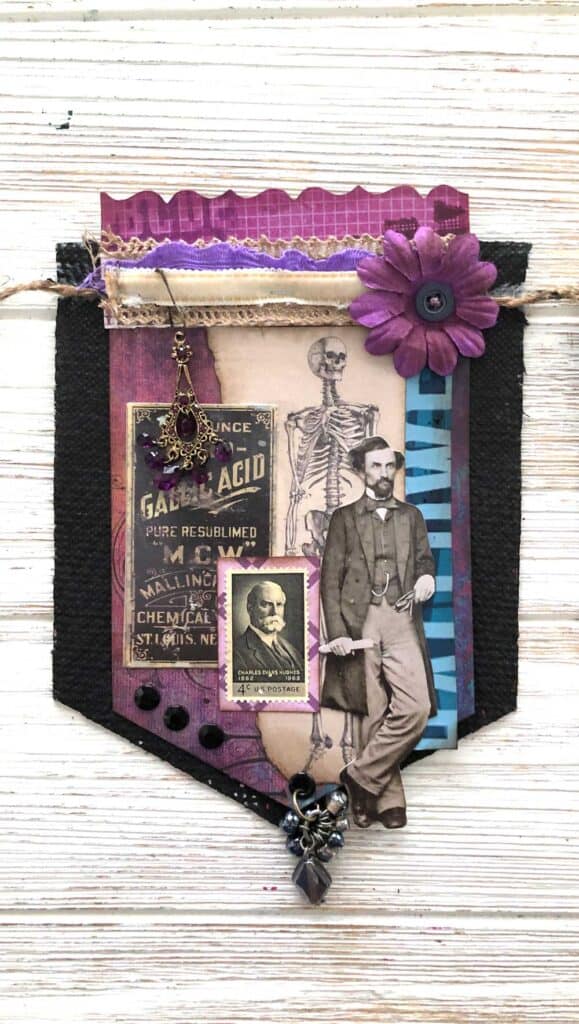 Halloween Banner Wrapup
This was NOT a fast and easy project, but doing it in batches helped! I cut out all of the backs, did all of the ribbons, bedazzled all at once and did the final bits all at once.
I love this for so many reasons, but mostly that it is super easy to hang and store! It covers a HUGE space and gives a lot of interest, but doesn't take up a huge amount of room in my closet!