This is a super fun walk through of how to make metal looking paper for your art journals and mini albums. This is an easy way to make background papers and patterned papers for die cuts and papercrafts.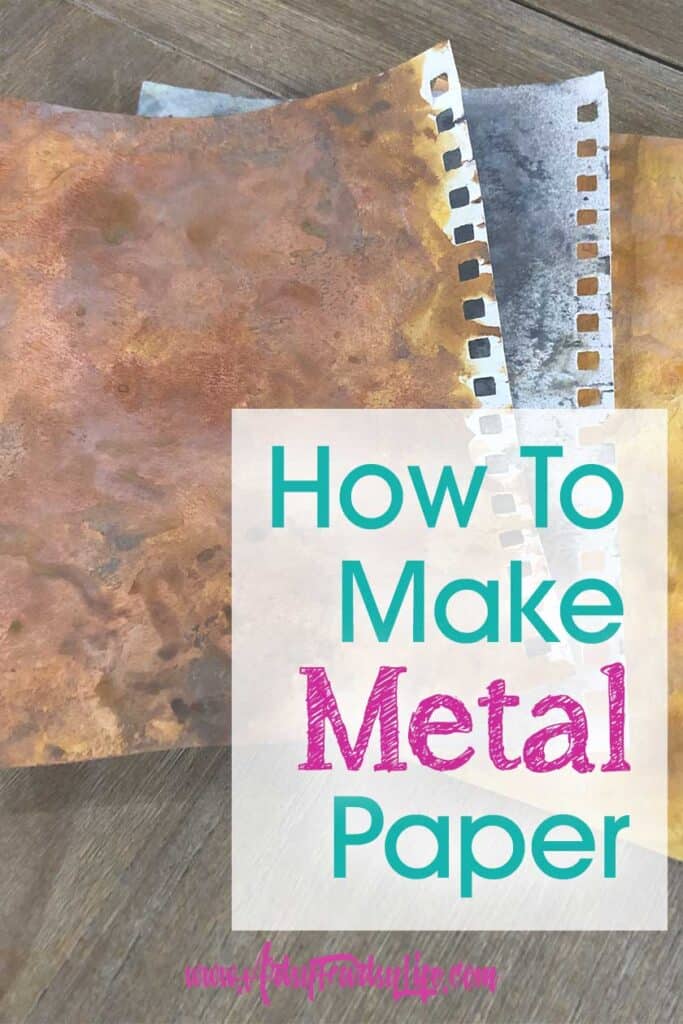 Please note: This article contains affiliate links, and that means that I may earn a commission if you buy something. Read my full disclosure here.
How Do You Make Paper Look Like Metal?
Metallic paper is super fun to use in your artwork! I love to have a way to have metal embellishments and ephemera without having to use tin snips or manage tin to make them look cool!
These kinds of paint techniques are super easy to master. And using the distress oxide over the acrylic paint makes it even more real looking!
Now, I KNOW that there are metal papers out there to buy, but when you have craft supplies like Distress Oxides from Ranger Ink (a USA based company… yay!) why not use them instead of buying a specialty paper at top dollar prices.
Full How To Make Faux Metal Paper Video
Supplies Used In The Metal Paper Sheets Video
Any Kind of Acrylic Metallic Paint – Bright Gold, Copper, Silver
Tim Holtz Tonic Mat – The Glass Mat I Use
Blue Shimmer Mist – (mix with water)
Silver Oxides
Gold Oxides
Copper Oxides
One note about Oxide inks (either the spray or ink pads)… make sure to use a heat tool or embossing tool to dry the individual layers to get the neat layered metal look.
Yield: 3
How To Make Faux Metal Paper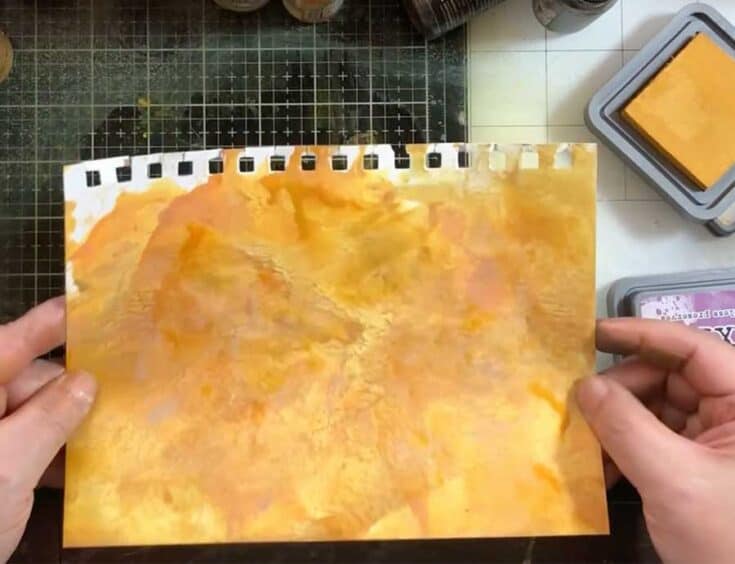 Tips and ideas for how to make faux metal paper using acrylic paint and Distress oxide sprays and ink pads.
Materials
Mixed media paper (or watercolor)
Metallic acrylic paint
Distress oxide sprays or pads
Tools
Water spray bottle
Heat gun or embossing gun
Instructions
For the first layer put out a little bit of metallic paint (I use a glass mat for this), spray a bit of water on it to water it down



Smoosh your paper into the metallic paint (if you want it to spread more you can spray your paper with water too)



Your metallic paint layer should be random, it is just a base layer



For the next few layers spray Distress Oxide sprays or ink from pads (spray with water)



Make sure to dry each oxide layer between smooshing



Final paper looks just like metal!





Notes
You can make these with silver, copper, bronze or gold!