Looking for some great printable paper ephemera for your junk journals, art journals or scrapbook pages? These vintage bee labels are fast and easy to use AND have a commercial license for printing!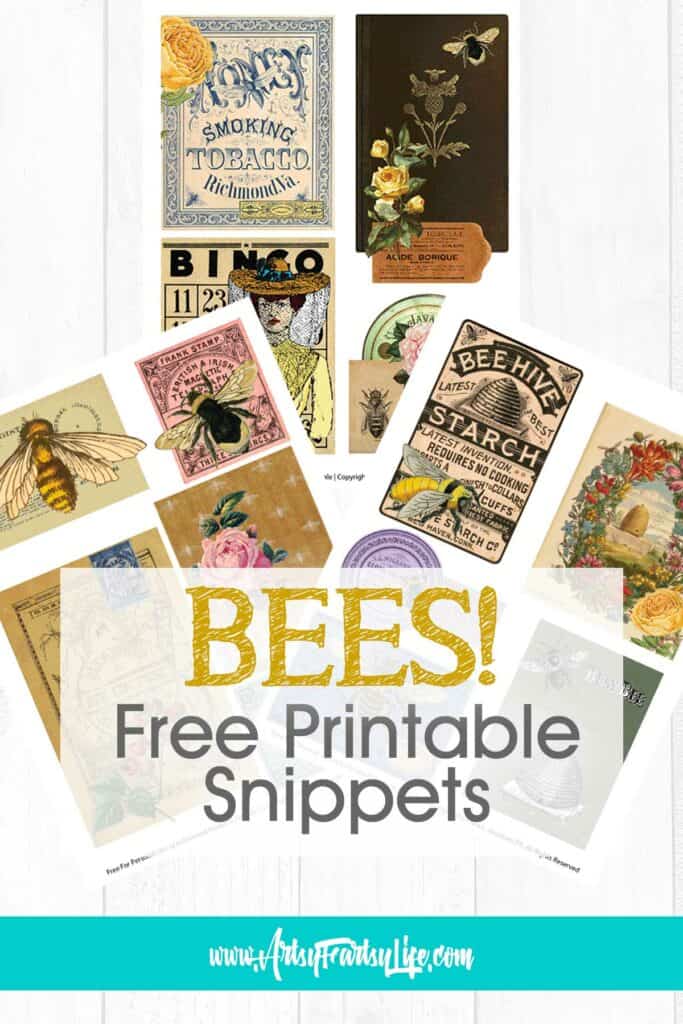 Please note: This article contains affiliate links, and that means that I may earn a commission if you buy something. Read my full disclosure here.
All The Free Printable Snippets
I know I like to see what I might get before investing in a whole page scroll, so here are little versions of the bee snippet printables!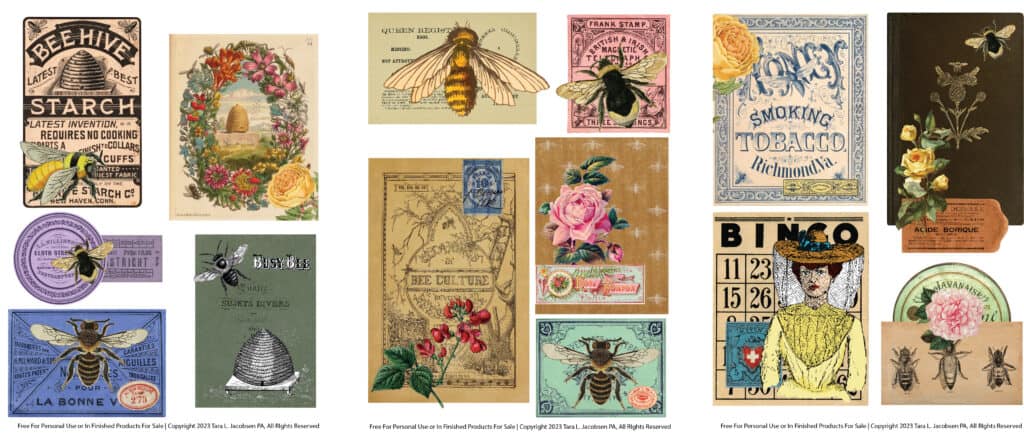 Why Did I Make These Bee Paper Collage Sheets?
First off, I am a graphic artist so sitting around watching junk YouTube and making pretty pictures is fun for me!
Secondly, I do junk journals myself so I LOVE to have fun and pretty junk journal printables to include in my journals and mixed media projects!
And lastly, I have a whole series of bee collage pages that I have made for my peeps! Whoo whoo!
I used vintage images that are in the public domain from The Graphics Fairy, Creative Fabrica and my creativity to make these designs.
Why Are They Free?
I KNOW, whenever I see anything really cool that is free I wonder "what is the catch?" There are tiny catches here!
First off, I have a fun free membership freebie page that I put all the printables on and also email to you each week. That helps get views to my website.
THEN I am fortunate that I have ads on my site so every time someone visits a page I get a wee bit of money. Nope, you don't have to click on the ads to help, but if you do want to help, share this page with your favorite Facebook group or pin it to Pinterst!
Nelly's Bee Journal!
A reader sent in a cute picture of how she used the free bee printables in her junk journal!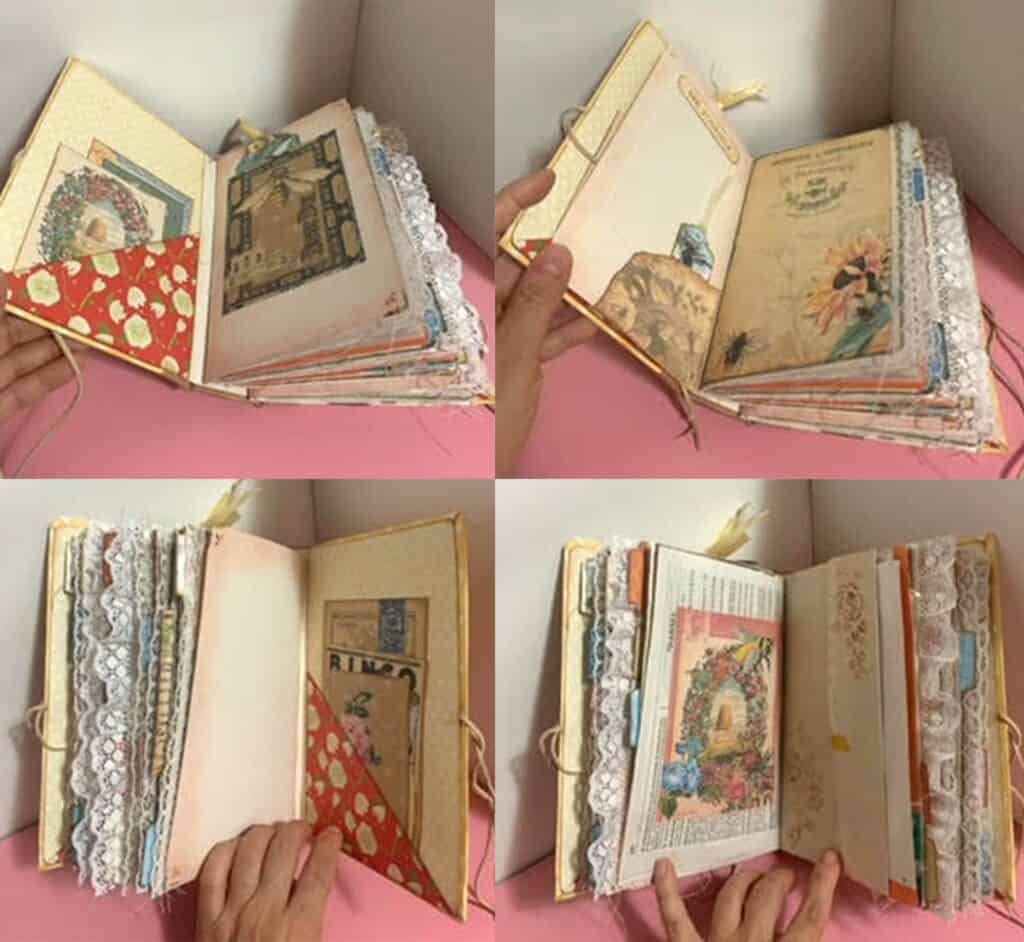 Reader Resource : Check out all the free bee printables!
Commercial License
These printables include a commercial license for printing them out and using them! Here are a few ways people have told me they used them commercially:
Printed out and sold whole at a market in South Africa as collage sheets
Used in a junk journal for sale on Etsy
Sold as tags in a bag at a local craft fair
Functionally you can use them, sell them and share them any way you want as long as you print them out!
You cannot distribute them digitally by email, on a website, sharing a Google drive link or any other online way. I do request takedown orders if I find them online.
BUT, if you want to share them with a friend, you can just send them to this page and they can get access to the whole freebie printable library themselves!
How To Print These Freebies
The snippets sheets are formatted in an 8.5″X11″ US Letter sized format so you can print them out on your home printer or at a commercial printer like Kinkos or UPS.
I like to print them on a heavier paper like cardstock or presentation paper so they have a little more weight like a tag.
Additional resource :: How to print free vintage ephemera
Download The Freebies
This printable ephemera page is in the freebie library, along with tons of other freebies for you! Simply click the image below or get a password here!
(Click here if you already have the freebie library password)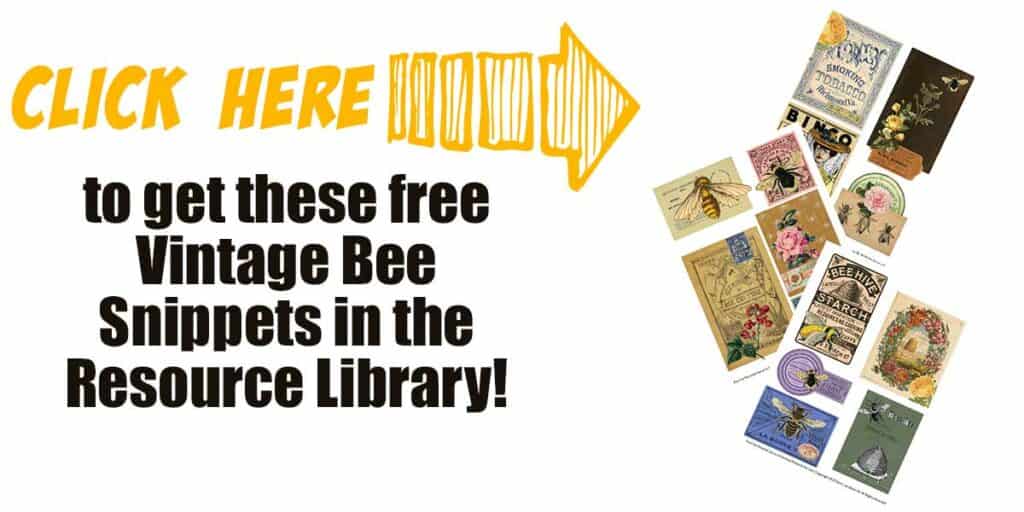 Free Vintage Bee Printable Papers Wrapup
I had such a fun time making these free collage sheets and I hope you love them too!
If you have any suggestions of free printable ephemera I can make for you, please let me know at my email, tara (at) marketingartfully.com and I might just make them for you and all the peeps!