Today I am going to show you how I took a bunch of my "junk mail" that I had collected and made a super fun art journal for my mixed media artwork.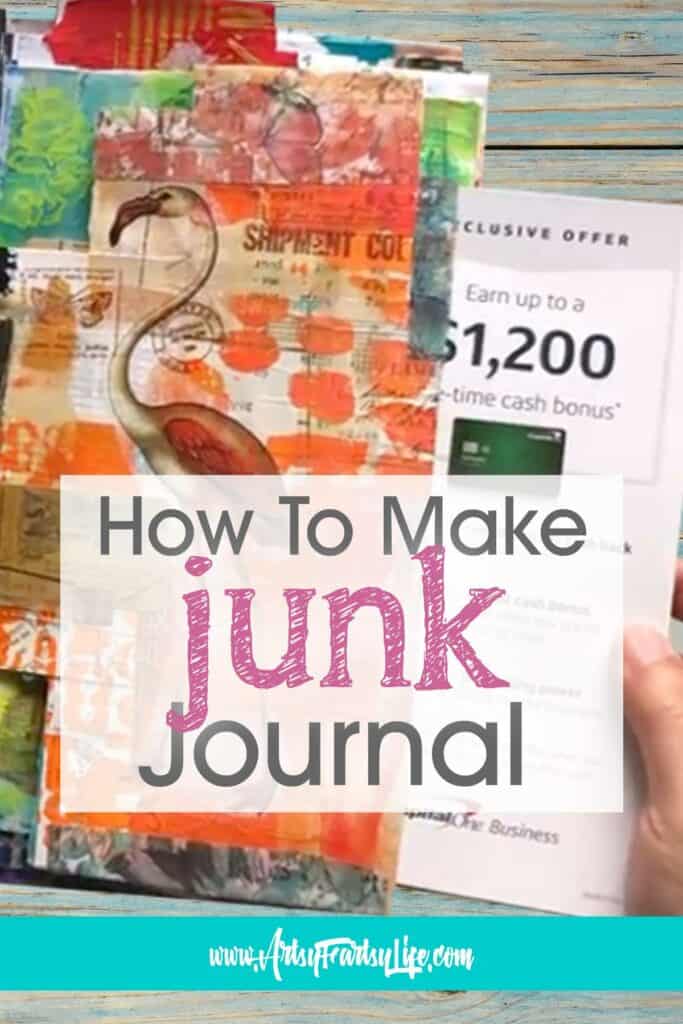 Please note: This article contains affiliate links, and that means that I may earn a commission if you buy something. Read my full disclosure here.
Why I Love Making "Real" Junk Journals
Okay, I am just going to put this out there… I am a wee bit of a hoarder! I hoard art supplies and when I am planning a junk journal I hoard great mail pieces, advertisements and even bags I get from food!
AND I am a bit of a tree hugger, so anytime I can personally "recycle" something and stop it from going into the trash, I am super happy!
There is also a kind of challenge to making these types of junk journals, how to mix all the different elements up and make something that is a beautiful base for art or writing!
Note… while the "papers" I used were junk, I also used new fabric tape and other items. I don't think there should be RULES in art, but I am sure some purists out there will say it isn't really junk…:)
Putting Together A Junk Journal Video
What You Need – Junk Journal Supplies
Just making the base of your junk journal is super LOW cost! Here is all you need…
Junk mail, packaging, paper bags
Binding – tape or jump rings (and hole punch)
Scissors
I KNOW, people will tell you there are "rules" for what you can use in a junk journal. I am super loosey-goosey with my "junk".
Yes, I use junk mail, but I have also been known to use scrapbook paper, craft supplies and even parts of my older journals!
Don't worry about the rules, just have fun and make your journal!
1. Collecting Your "Junk"
I get LOTS of mail because I live in a super up-scale neighborhood that everyone likes to mail into! Postcards, flyers, cool envelopes and all kinds of fancy-pants mail comes to my house.
If you are not as fortunate to be inundated with junk mail, you can still make a journal! Here are a few ways to get cool junk…
Save your packaging… one of my favorite parts of a past junk journal was a flip up page I got from recycling an old Tim Holtz sticker book!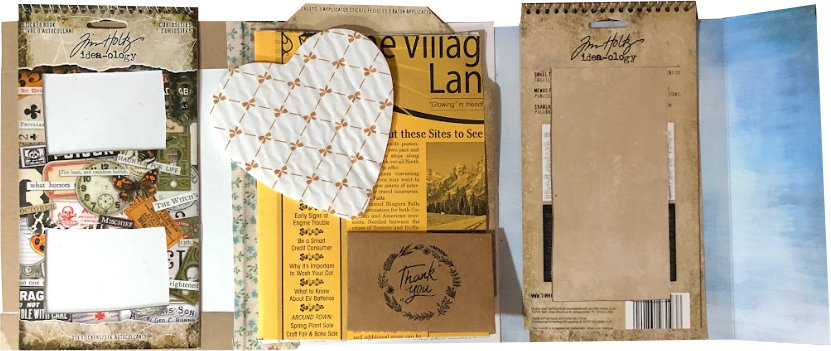 Ask your friends… my friends are super used to me asking them for weird things, but if you have normal friends, just show them a few examples of "cool junk" and ask them to collect it for you!
Check at work… if you happen to work outside the house, check at work! And NO I don't mean to go digging through the trash, find out who opens the mail at your place of employment and get them to save you the good stuff!
2. Laying Out Your Junk Journal
The journal in the picture above is a flip open folio style journal that opens up from the middle.
The journal in the video is a flip open book style… here it is after I have painted the pages!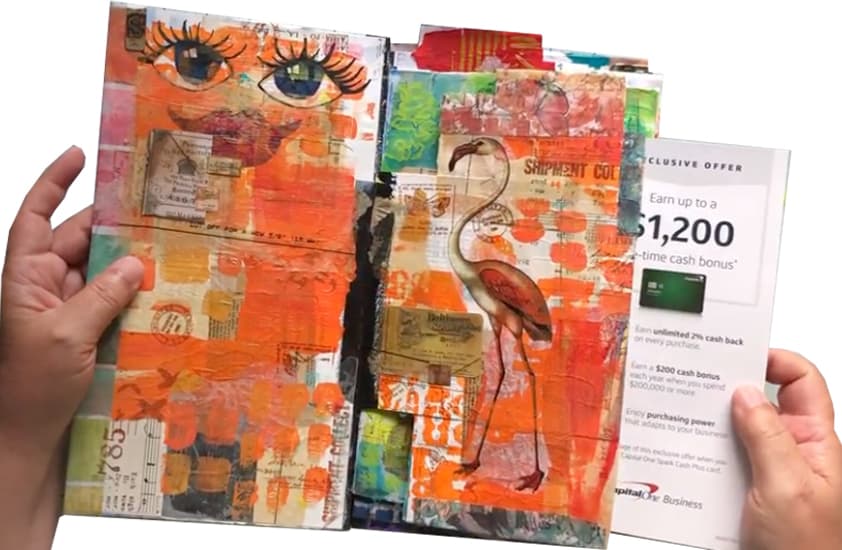 The cool thing about making a junk journal is that you can make any style journal that you want!
Mostly it depends on what the purpose of your journal is!
I love the "peep through" pages in a folio style journal. For these styles, I tend to have the same kind of design or theme.
In my "book style" journals I have an overall style, but don't mind that each page is not the same!
I do find that doubling or tripling up layers is a great way to make your journal cover… I generally just use single layers for my "regular" pages.
3. Binding Your Junk Journal
There are unlimited ways to bind your journal!
Tape Binding
I like to use tape for super easy and fast binding like I did in the video…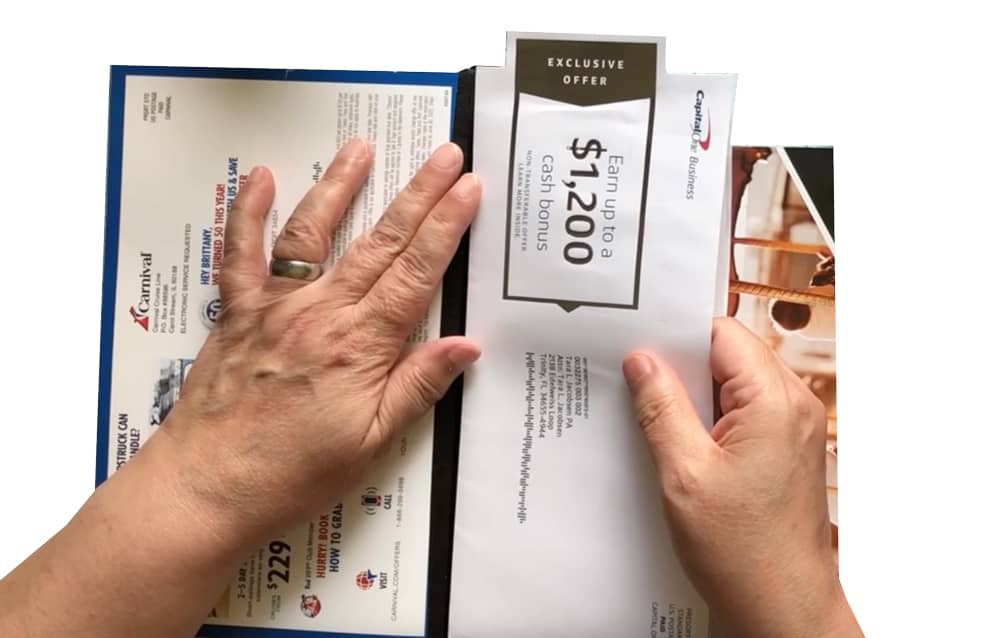 Some things to watch out for when using tape binding…
Make sure you leave a gap between the junk pieces so that your book or folio can fold together (I like to make a BIG gap because I typically make SUPER chunky journals).
I like to put another piece of tape on the inside so there aren't sticky bits to mess up my junk journal pages later
ANY type of tape works great for this, but I LOVE the black tape from Joggles, or the 49 and Market pretty tapes!
Ring Binding
Another way I like to make a binding is to use grommets (eyelets) and jump rings. This is my "heavy metal journal" and I LOVE how it came out!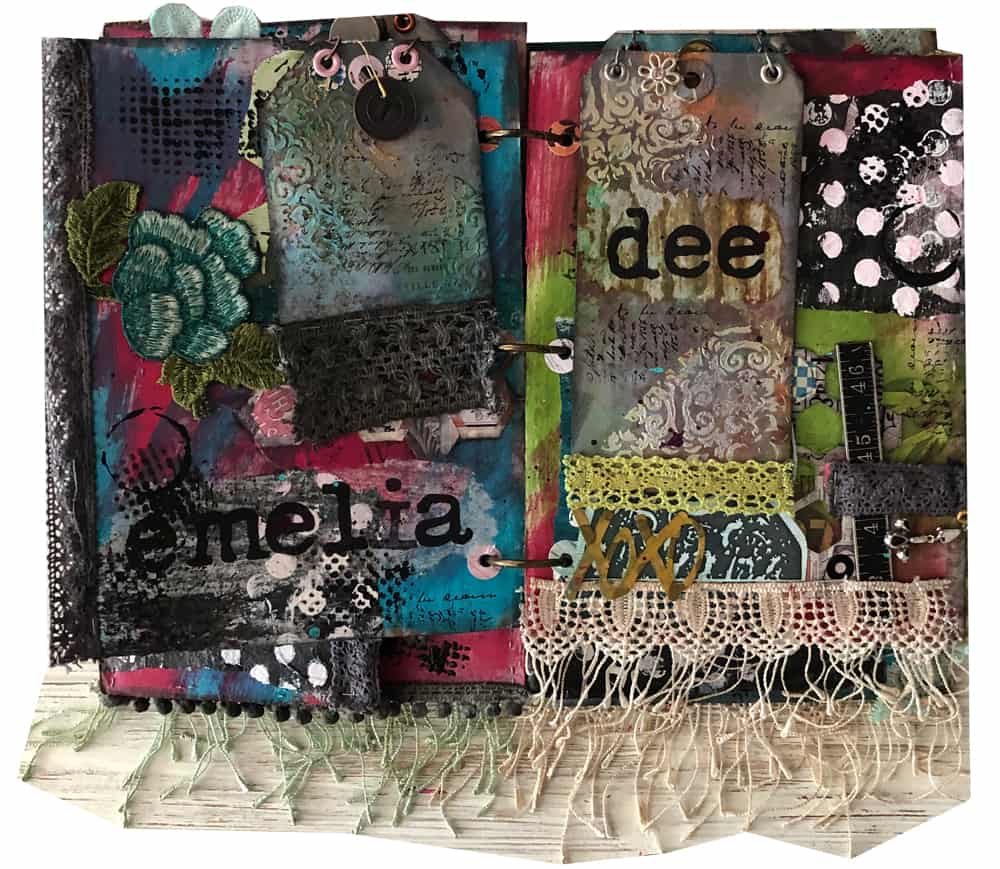 Junk Journal Wrapup
Making a junk journal is a BLAST! I love how you can use things that you would have just thrown away and turn it into a beautiful base for your creativity!
If you would like to see the whole step by step process of making my junk journal, I have a junk journal playlist that shows you how I made it start, to finish!
If yo have any great junk journal tips that I missed, please email me and let me know! tara@marketingartfully.com