If you have a mouse problem, you are probably desperate to find ways to evict them! Tips and ideas for how to get rid of mice in your house.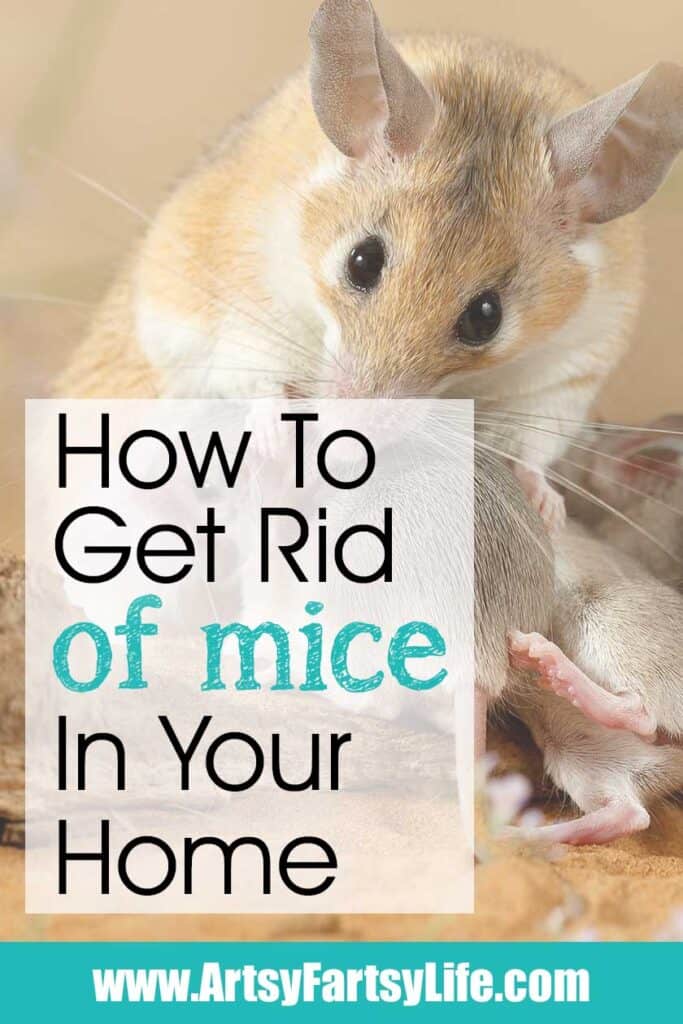 Depending on where you live in the US, the Fall is prime "mice come into the home" season. It's getting cold and they want a warm place to winter.
Kind of like the snowbirds coming from the Northeast down to Florida for the winter! So you may start seeing the signs: teeny trails of mouse poop; holes chewed in boxes in the pantry (or worse, in your clothing!); debris on shelves or in cabinets of said chewing.
Mice bring in more pests – disease, bacteria – and they can cause house fires by chewing on wires either inside or outside the interior walls of your home.
If you see one, there are definitely more and worse yet, they are using your home as their maternity ward! Now before you go grabbing the traps and poisons, read on.
Wait, why not use glue traps or baits (poisons in pellet form that the mice eat)? Well, let me tell you from personal experience that they don't always (and by that I mean hardly ever) leave the home and die.
More likely than not they just go back into the walls of your home and die there. The problem with that? The GODAWFUL SMELL! We're talking rip out the wall to get rid of it smell. It lingers for WEEKS. Don't do it.
Get A Cat
Having a cat may or may not be a deterrent either. I've lived in a home with a cat that actually hunted the mice that came in, and in others that the cat either didn't care or its presence was a deterrent.
While cats do sometimes catch mice, they are not going to be great pest management for a mouse infestation!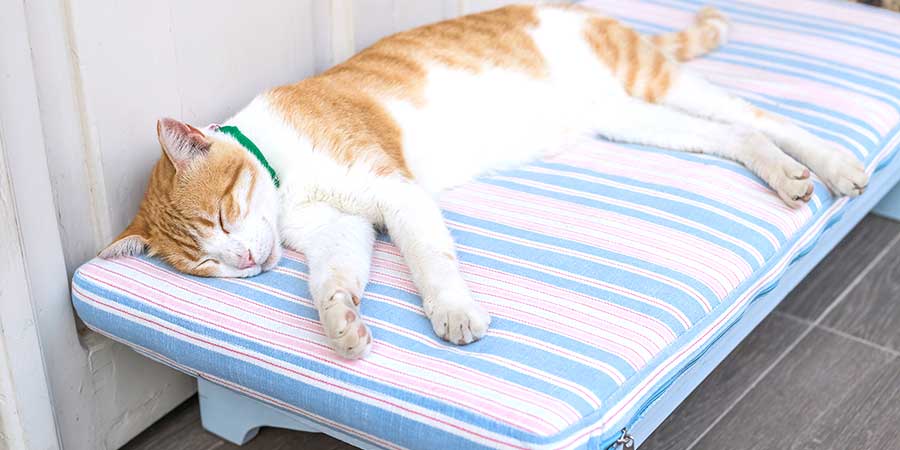 What Will Keep Mice Away Naturally?
You can definitely try things like peppermint sprays, dryer sheets, and cotton balls soaked in oil and cayenne pepper.
Place these around your house in areas where mice might be coming in like doors, windows and pipes.
Unfortunately mice, like other pests, evolve and get used to things like that so you may have to do more.
The good news is that you can get rid of them and prevent them from coming back without necessarily having to call the local pest control company.
Store Bought Mouse Traps
As an aside, actual store-bought, spring loaded snap traps do work do work to kill mice.
Use peanut butter on the release since they can't remove it. The issue there is, of course, removing the dead mouse! Not for the squeamish.
I am a huge "natural living" kind of gal, but sometimes the problem is just too big for humane solutions (and unless you take them far away from your home, they will likely come back.)
Use this as a last resort for sure, but for the safety of your family and pets, don't be too freaked out if you have to do something drastic.
There are no kill traps that you can reuse but remember that if you don't find how they're coming in, they'll come right back.
How Are The Mice Getting In?
First, find out their entry point. That way you can target them where they are.
Use caulk and steel wool to seal up the house. And that means EVERY size hole. Mice are able to fit through openings the size of a dime and even if a hole doesn't start out that large, they can gnaw their way to make the opening larger.
Caulk and steel wool are impervious to them, though, so use it! Inspect the foundation of your home. Use on cracks and where pipes enter the house and along basement foundations.
Also check the weather stripping on doors and windows and screen the vents and the openings of your chimneys.
Same goes for the garage. You definitely don't want mice in there. Your car's engine and interior are warm and has plenty of fodder for nesting. Just ask your mechanic!
Do Your Yard Work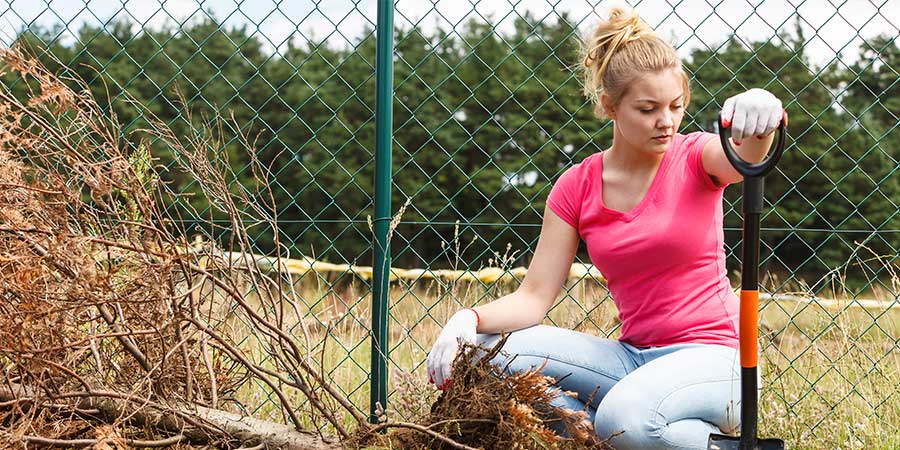 Keeping your yard well manicured also helps. Pruning shrubs and keeping wood piles away from the home is a great idea (also wood piles also can harbor termites!)
You want to think about creating a "zone" around your house where nothing is touching your house (doing this inspection will also give you a chance to look for little entry holes!)
Clean Your Kitchen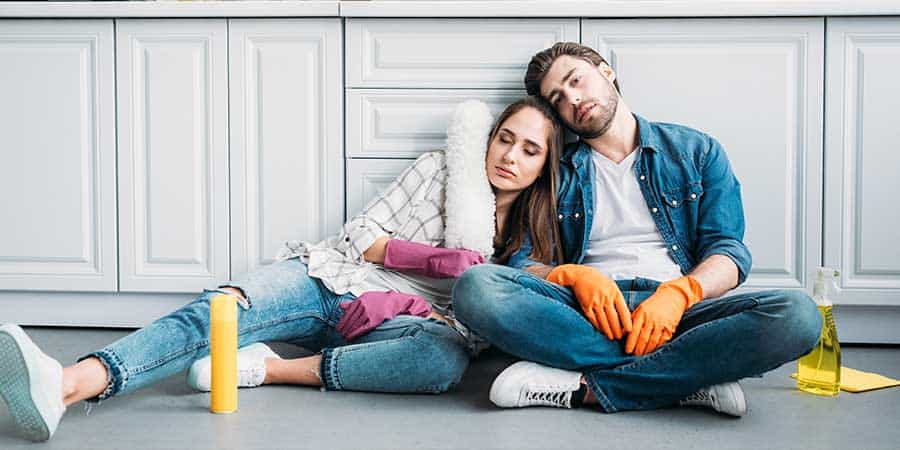 Inside your home, keep food in airtight containers, including pet food!
Make sure to clean your kitchen counters, drawers that catch crumbs and the "floors" of your cupboards (while you are cleaning these look for mouse droppings and see if you can figure out how they are getting in there!)
Additional Resource: Essential Oils Kitchen Cleaning Spray Bottle… Tips and Recipes
Electric Noise Makers
We did find that these kind of noise makers tended to be a deterrent.
While they won't keep mice out of your house, you can use them in your kitchen to keep mice away from your food.
Yield: 1
How To Get Rid of Mice In Your House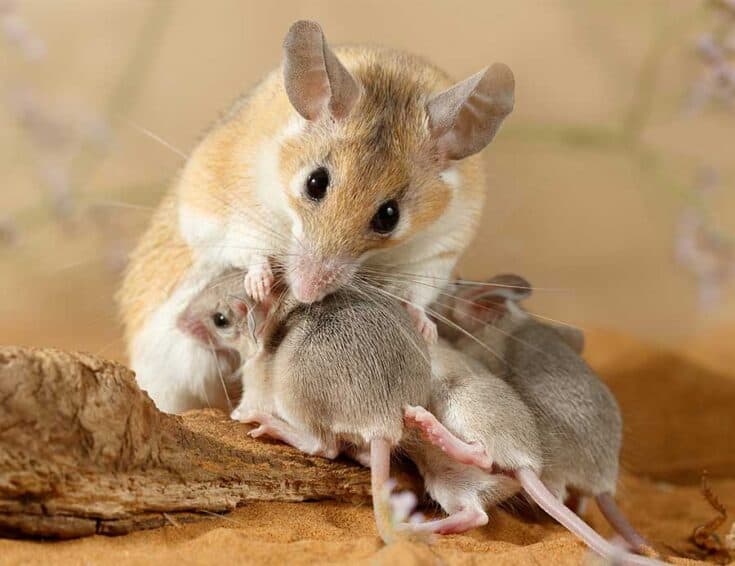 Tips and ideas for how to get rid of mice in your house.
Materials
Cotton Balls
Cayenne Pepper
Peppermint Essential Oils
Dryer Sheets
Steel Wool
Caulk
Pest Repeller Plugins
Instructions
Use caulk and steel wool to close up any holes coming into the house
Put dryers sheets, cotton balls with peppermint oil or cayenne powder around areas they might enter
Clean your kitchen cabinets and counters
Put food in sealable containers
Move brush and debris away from your house
Use plug in mouse repellent noise makers
Getting Rid of Mice Wrapup
I have a LOT of experience with mice (we once lived beside a 600 area "open space" of land!)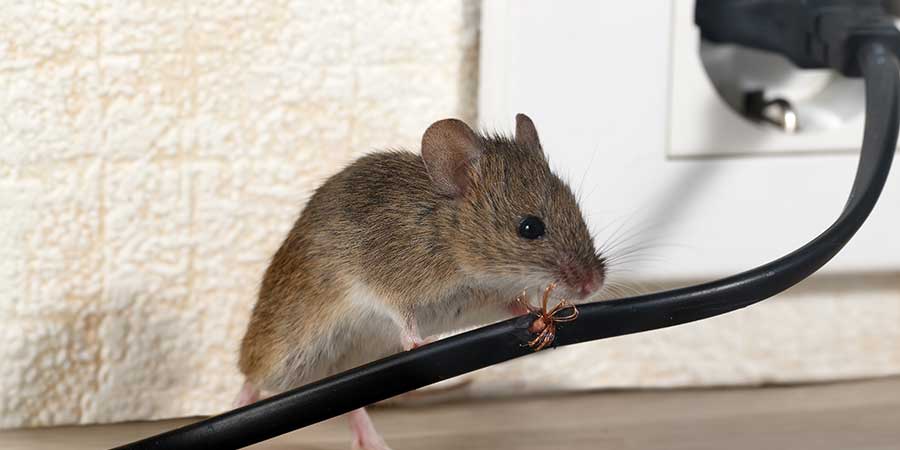 While mice are not classically dangerous they do spread germs and can be a pest problem around the house.
I have to say of everything that I tried doing, stopping them from coming in is the absolute most effective way of controlling them!
They are not trying to be a pest, they are just looking for a source of food water and shelter.
Ok, so that should do it.  And if it doesn't, call a professional.  They know exactly what and where to look and how to evict those pesky, destructive tenants!