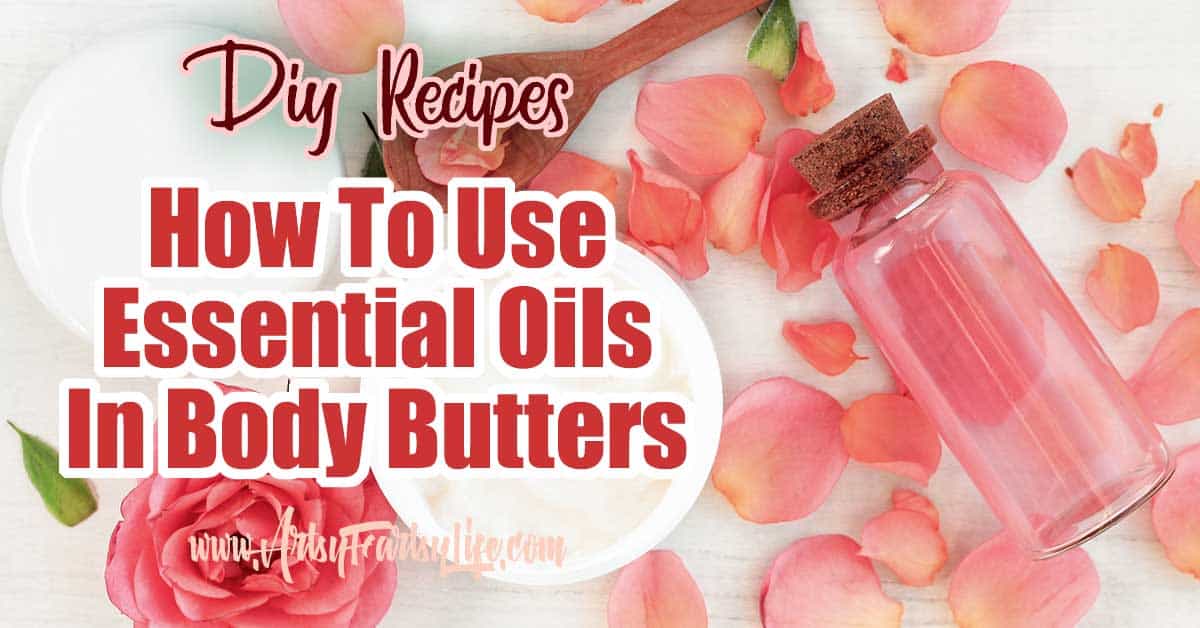 Essential oils aren't just for diffusing or using for medical/home uses. They are also a fantastic way to add your favorite smells to your moisturizing needs. Body butters are a favorite for most of us because they are a bit thicker than lotions and make drier parts of our bodies, like legs, feel great for longer. Plus you do get the benefits of the essential oil too. Win win, right?
There are tons of recipes for homemade body butters out there using different carrier oils and Shea butter to make the base. Here is one that I like very much:
Shea Butter/Coconut Oil/Jojoba Oil
Ingredients
1/2 c. Shea Butter
1/4 c. Coconut Oil
1/4 c. Jojoba Oil
Directions
Place shea butter, coconut oil and jojoba oil in a glass bowl or measuring cup inside a saucepan. The saucepan should have enough water in it that the water touches the bottom of your glass double boiler, but doesn't spill out. If you have a regular double boiler that will work too.
Over medium heat, whisk the oils together until they are melted and combined. Continue until the mixture is almost clear.
Refrigerate melted oils for an hour or until white and solid.
With a stand mixer or hand mixer, beat the oils until they are fluffy like whipped cream.
Once whipped add your choice of essential oils and use the mixer to distribute them evenly. Then fill into a container – a glass jar like a small Ball jar and refrigerate another hour. It will keep at room temperature for about 6 months. If it softens too much in warmer weather you can store it in the refrigerator.
I like this recipe in particular because the body butter absorbs very quickly and doesn't feel greasy. If you want a body butter to absorb more slowly and feel oilier, swap out grapeseed oil for the jojoba oil.
Want a very simple body butter that doesn't need whipping? Put two tablespoons each of grated cocoa butter and almond oil in a microwave safe bowl. Heat at 15 to 20 second intervals until just melted. Add two tablespoons of vodka and mix well, then add your essential oils. Keep in mind that it will probably harden in between uses. If that happens just heat in a warm water bath for a few minutes until softened. Upside? Warm body butter feels fantastic!
You can use one essential oil, such as lavender or rose, or you mix them for different needs. Need ideas for essential oil mixes? Here are a few.
Essential Oil Body Butter Recipes
Calming mix – lavender, vetiver and sandalwood or marjoram. Mix at a ratio of 8/4/2 (I.e. 8 lavender, 4 vetiver, 2 sandalwood or marjoram)
Uplifting mix – wild orange, lemon, peppermint at the same ratio as the calming mix.
Calming & warming mix – bergamot, roman chamomile, cassia at the same ratio as the calming mix.
Balancing mix – patchouli, cedarwood, ylang ylang at a ratio of 3/1/1
Rejuvenating mix – frankincense, cedarwood, white fir at a ratio of 2/1/1
Energizing mix – grapefruit, peppermint, wintergreen at a ratio of 4/1/1
There are so many mixes you can make for whatever your need or prefer. Add the essential oils to the body butters starting at about 10 drops total, then add more a drop or two at a time until it smells as strong as you like.
Men and essential oils
These work for men too. In fact, since most men tend to eschew "girly" mixes use some of these to come up with a more manly smell he will like and use.
Citrus – bergamot, grapefruit, lemon, lime, mandarin, petitgrain, sweet orange, tangerine
Herbaceous – basil, bay (laurel, West Indies), cajeput, carrot seed, catnip, clary sage, coriander, eucalyptus, lavender, lemongrass, oregano, palmarosa, peppermint, rosemary, sage, tea tree, thyme
Rich Base Notes – copaiba basalm, frankincense, myrrh, oakmoss, oakwood, patchouli, peru basalm, sandalwood, vanilla, vetiver
Spice – allspice, anise, black pepper, cardamom, cinnamon leaf (use leaf instead of bark since bark is too irritating to put on the skin), clove bud, ginger, nutmeg
Woods – black spruce, cedarwood (atlas, Virginian), cypress, fir needle, juniper berry, pine
Any spruce, fir, cedar, pine and juniper berry are also good for using as a rub or bath addition for aches and arthritis. I make one for my husband to use as a tub soak that is equal parts juniper berry, Texas cedarwood, Himalayan cedarwood, black spruce, Siberian fir, spruce, Douglas fir and pine needle (all from Rocky Mountain Oils).
It works great and would also work in any of the body butter recipes above. And yes, he smells like a Christmas tree!
P.S. They make great holiday gifts too! Just use small canning jars and use fabric and ribbon to decorate the lids.