I absolutely adore this cool way to keep your ink blending tools handy! The Make It By Marko blending tool holder and clips are a great way to organize your craft room and supplies!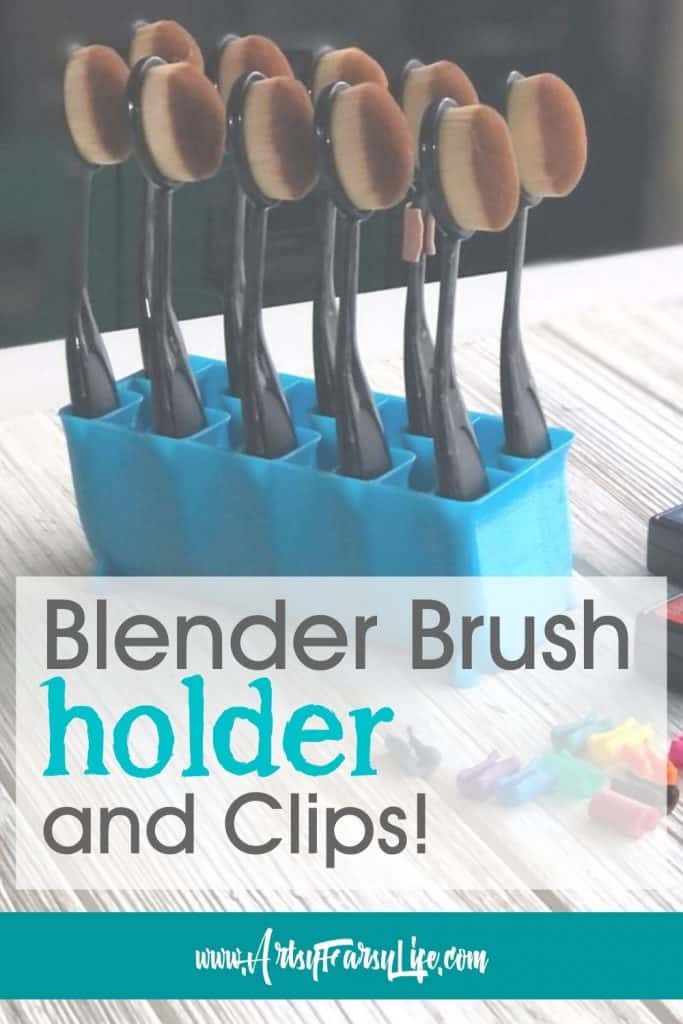 Please note: This article contains affiliate links, and that means that I may earn a commission if you buy something. Read my full disclosure here.
My Blender Brush Story
Okay, I am going to lift my skirt again and show you the mess that is my craft room! Here is my "solution" for all those blender brushes you get from Ranger and Scrapbook.com…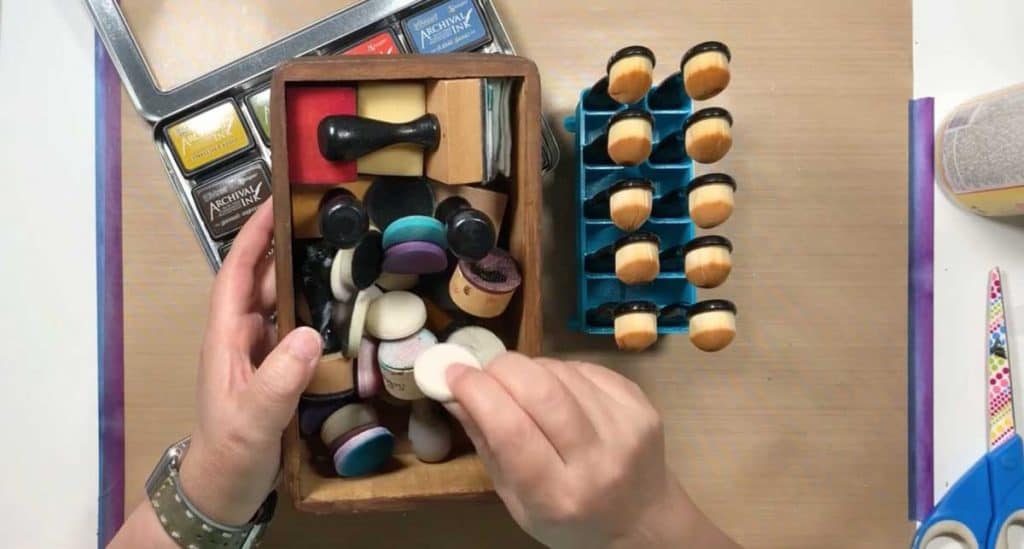 Now don't get me wrong, I love a nice blend tool, but when I decided to try the new, long handled blender brushes I KNEW I had to have a better solution before adding to my "mess".
Show and Tell Video – Make It By Marko Blender Brush Holder
Products Used In The Video!
Make It By Marko Brush Holder
I did a wee search in some of my favorite crafting groups and heard about this Marko guy who had some cool solutions for ink blender tools… so I headed on over to Etsy to check it out!
And found this wicked cool blending brush "bathtub" that holds 10 of those tall, skinny blending tools.
✓ Check it out on Etsy HERE! ✓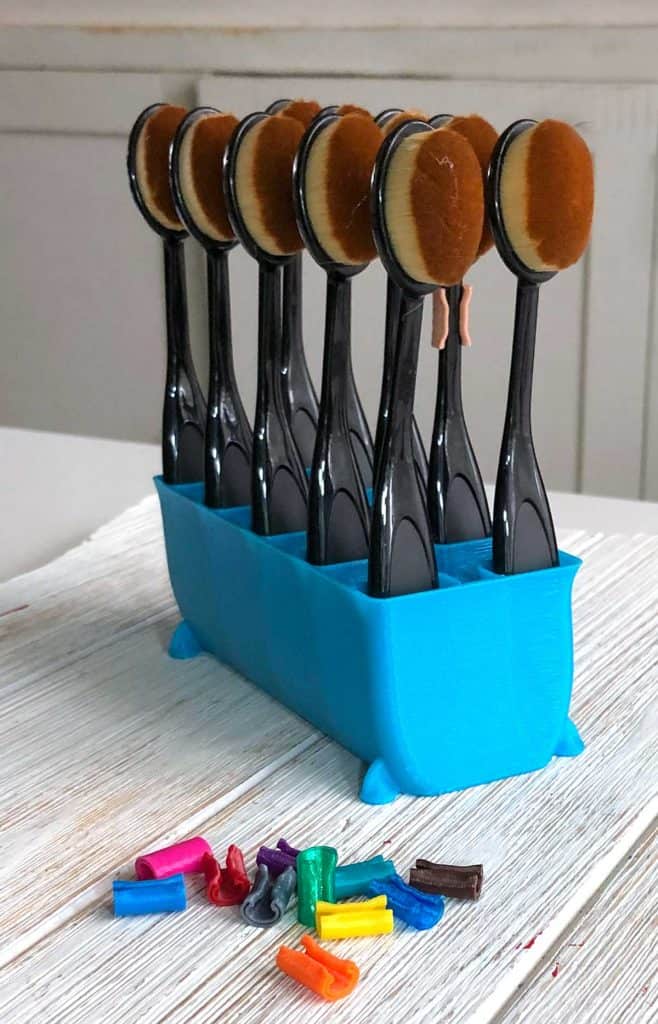 I was thinking it would be good, but I never thought that it would THIS GOOD!
It holds 10 brushes, upright and ready to go. And honestly, after seeing how compact and useful this is, I am going to keep my archival inks and distress minis right on my desktop now, which is awesome for actually USING my art supplies instead of just having them!
Make It By Marko Brush Buddy Ink Blender Clips
Once I saw these black ink brushes I was smitten, BUT I really do like to be able to organize things according to color and I was afraid I would get them mixed up.
With these handy dandy clips it is easy to see which brush goes with which color.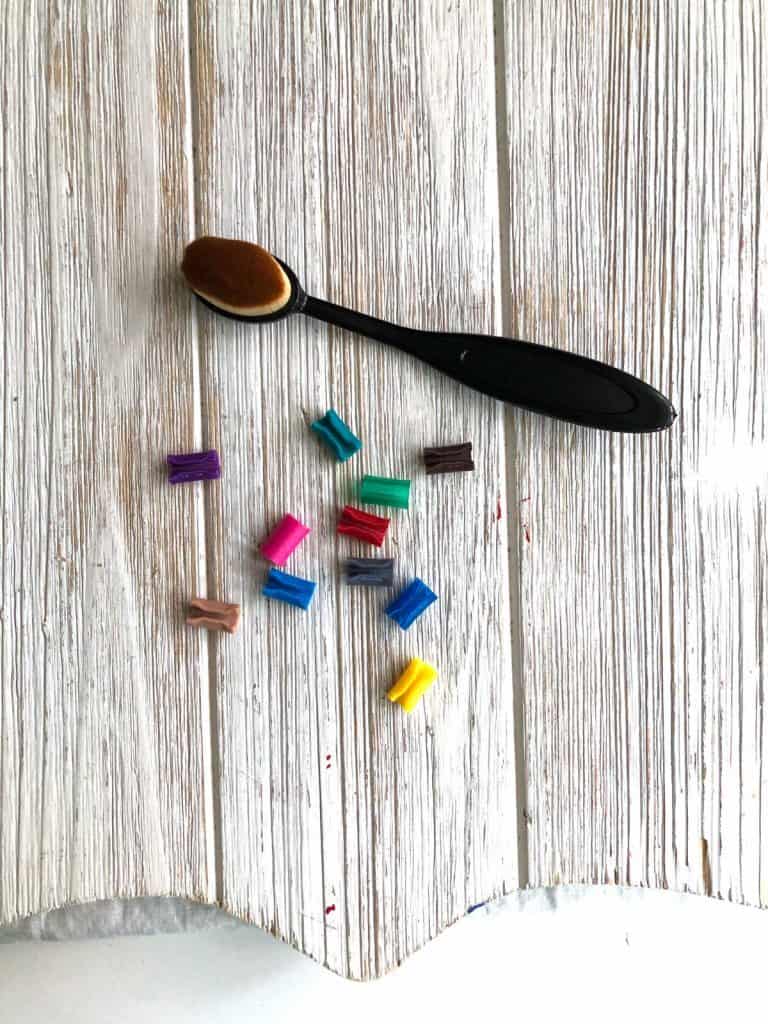 Now red is easy to see, but what about the difference between yellow and orange OR yellow and lime green? From past experience I know that I can mix up those blending tools quite easily.
✓ Check them out on Etsy HERE! ✓
Ink Blender Holder FAQs
I had a BUNCH of questions before I got these brushes, holder and clips. Here is some more info about them if you are considering buying them soon…
How Can You Match The Number of Brushes To The Holes In The Holder?
I got the 10 brush holder in blue for my archival inks and in red for my Distress inks (colored ink brush post coming soon!)
I got two of the same sets of the black brushes and two different sets of the colored brushes to fit in the holes.
5 Pcs Crafting Ink Blending Brushes

Blending Brushes 5 Colorful Pack Set

Blending Brushes 5 Colorful Pack Set

Why Did I Need A Brush Holder?
Okay, I have a wee craft product problem (I HAVE LOTS OF STUFF) and one of the things that I can't stand is something messy. I feel like my current solution for my ink blending tools is a mess!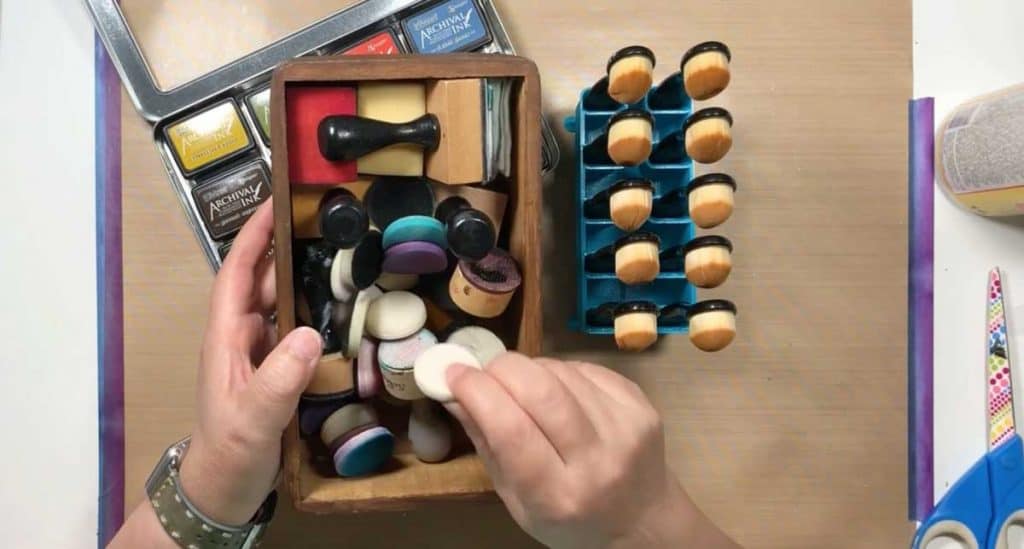 So before I could get a new set of brushes I HAD to know that I had a way to organize them beyond just throwing them into a box and then trying to dig and find each right color.
I really believe that this is a great solution for my mixed media art!
What Color Brush Holder Should You Get?
Okay, there are SO MANY COLORS… I got teal and red because I love those colors together and I figured I would start with my Archival ink pads and Distress Ink pads because I have the most of those (I generally have more distress oxide sprays than pads).
I thought about getting the clear one that they have as the picture in their store….
but then I thought I might get different sets and it just seemed best to have one color for Archival and one color for Distress.